This article has links to products and services we love, which we may make commission from.
It might not be Bolivia largest city but it is its highest at 11,942ft. The Peace of Ayacucho – La Paz, is a 'love it or hate it' type of city. Sitting in a valley, it has an unpolished, don't give two hoots about you, kind of feel to it. Bolivia's capital city is bustling with locals, visitors, backpackers and ex-pats and here are the top 10 things to do in La Paz right now.
Expect to spend around 2-5 days in La Paz, including potential day trips, and to return on your way back from seeing the rest of the country. Be prepared to acclimatise, there are too many things to do to suffer from sickness! A couple of recommendations among these La Paz activities actually take place in El Alto, which is the neighbouring city connected by cable car.
What to do in La Paz, Bolivia
1. Free Walking Tour in La Paz
La Paz is easy to navigate by foot.
Initially, it feels big but once you've visited a few of the plazas such as Plaza Murillo below, you'll find your bearing and get a feel for the city.
Why not add some knowledge to your wandering with a close to free walking tour?
The Red Caps Walking Tour is a La Paz institution and a highly regarded 2-3 hour tour.
While the term 'free walking tour' is used all over South America, these tours are never free.
You must pay the guide in tips or pre-pay and reserve your spot. It's under £3, well worth it.
2. The Witches Market of La Paz
El Mercado de las Brujas, more commonly known as The Witches Market swallows up the streets near Av. Illampu.
It suspiciously looks like a blown-up version of the market on the British soap, Eastenders.
Plenty of Addidas knock offs to snap up as well as fruit, vegetables and popcorn.
Bolivians love their corn. I love their corn!
3. Get High: Ride the La Paz Cable Cars
For the best views of La Paz, pay 22 BS for 2 people at any of My Teleférico (terminals and go 'arriba' into the sky).
The red cars are close to The Witches Market, entrance point 16 de Julio/Jach'a Qhathu – Estación Central/Taypi Uta.
The green turns into the yellow and can be accessed at Mirador/Qhana Pata – Chuqui Apu/Libertador and Chuqui Apu/Libertador – Irpawi/Irpavi (notice that they are the colour of the Bolivian flag?)
Look out for the massive graveyard with coffins stacked up into what can only be described as council houses.
Due to the size of La Paz, there are several coloured lines for the city's gondolas.
Take a picnic – make cable car hopping one of the romantic things to do in La Paz.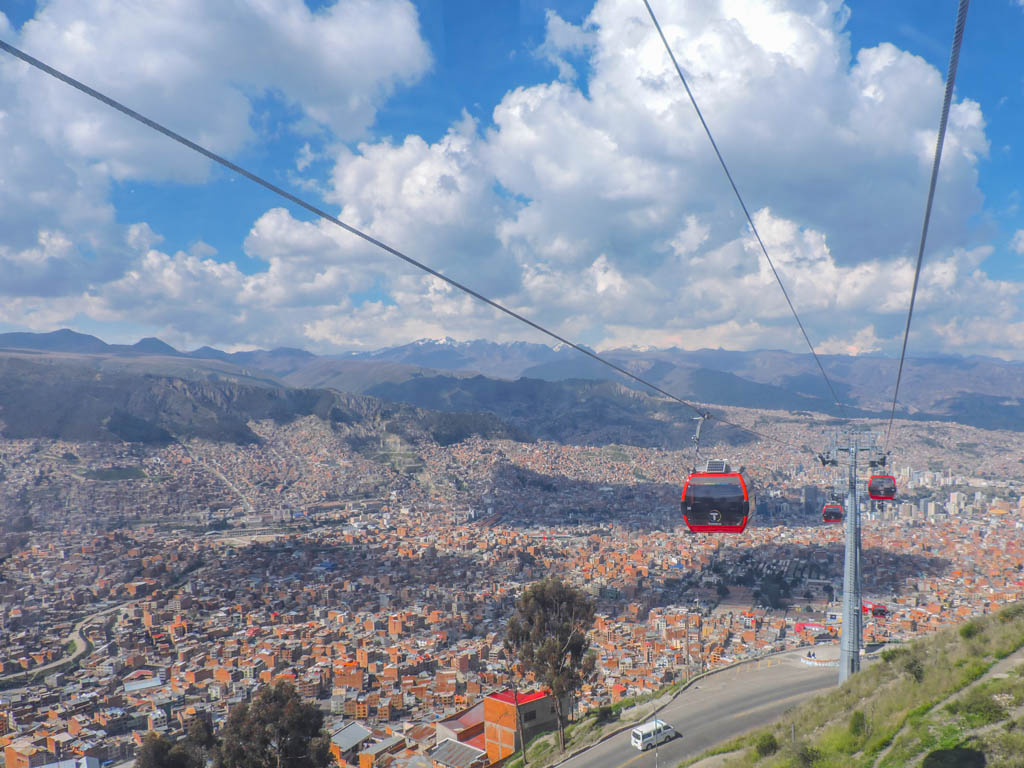 4. Colourful Houses at Chualluma
In 2019, this bright city ramped up its colour scheme with a state-financed street art project 'Mi Qhatu' which sees the homes of the Chualluma area being transformed into traditional murals and geometric patterns.
To see these murals depicting "cholitas" (local woman) and other native symbols to the city, you must climb "The 1000 Steps" or you can ride the cable car to El Alto.
View this post on Instagram
This is a community project so go say hola to the Aymara people who painted their homes with the support of local street artists.
Coined "New Andean" style, uniquely designed houses called "cholets" have been created by Aymara architect Freddy Mamani Silvestre.
Some of these Andean palaces can only be described as Gatsby meets the circus. You can see for yourself in the video below.
5. Fun Things to do in La Paz, Bolivia at Night
La Paz is the party city – your hostel may even offer you a locally brewed beer every day!
Like beer?
Then The Adventure Brew Hostel is for you.
You can expect comfy beds, hot showers, ping-pong, a relaxed bar, and decent food.
Each guest gets a free beer for every night they stay.
Not staying? You can still drink at the bar.
Adventure Brew Hostel isn't the only hostel that puts on social events.
Wild Rover La Paz is still going strong as the highest Irish pub in the world.
Expect shots (below) and snogging on the dancefloor.
Although, in La Paz, the party is often at your hostel, when the hostel boozing ends, the management hook you up with transport to the after-party.
Try the local pisco, Singani Sour.
Dine at Gustu, La Paz's top restaurant with a conscious.
6. Craft Beer Brewery in La Paz
We were mighty impressed with this gem of a visit to the Adventure Brew Microbrewery Tour.
Saya beer has been produced in (and close to) La Paz for twenty years.
During winter, the Brew Master, Remo, opens the breweries doors to travellers during a Sunday beer tour to Achocalla, one hour from La Paz.
50 bs tour price includes a tour of the brewery, beer samples and BBQ food plus transport to and from the hostel.
One of the more unique things to do in La Paz.
Thanks to The Brew Adventure Hostel for the experience! Opinions are our own, as always
7. Colourful Calle Jaen
Calle Jean stands out from the red clay housing and grey tones of La Paz because of the colourful buildings.
An old tale states that Calle Jaen used to be full of drunk men.
In addition to this, there was a lady who roamed the street too.
One night all of the intoxicated men disappeared and the mysterious woman faced the blame.
There are a couple of cafes for you to dine in and an art gallery with an obsession of what us Brits know as 'bitty' after the comedy show Little Britain. Look it up…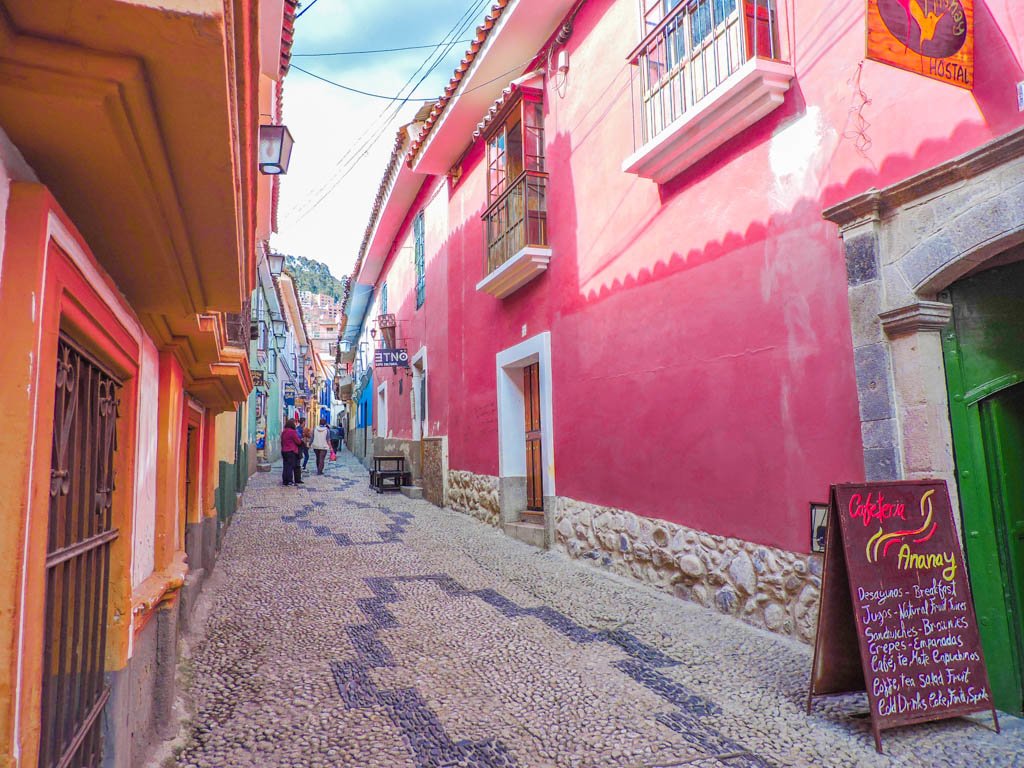 8. La Paz's Heroines – Cholita Wrestling
On a Sunday night, high up in the mountains of El Alto you can watch Bolivian women, suited and booted in their traditional wear, wrestle.
I bet you didn't expect that.
For 80 bs, paid at pretty much any tourist operator, you will be collected from the safe streets of La Paz and driven up the winding road to El Alto, where some people tell you not to walk alone.
Here you can see the WWE (WWF for us oldies) style wrestling from the front seats!
Popcorn provided.
You do, however, need to sit through men in latex fighting also.
We did not go on a tour and it was the same total price at 50 bs at the door plus taxi ride there and a cable car back.
The red cable car is behind the stadium, turn right and go through the market.
The only advantage of the non-tour option is you can leave earlier. The show goes on for 2.5 hours.
9. Death Road, Bolivia
One of the crazy things to do in La Paz, Bolivia is to cycle the 69 kilometres/ 43 miles of Death Road.
The World's Most Dangerous Road also know as La Carretera de los Yungas sees tourists pedal every day.
Since you are cycling at 3,500m, it is not for the fainthearted!
This full-day tour from La Paz is one of the most popular things to do in South America. Are you brave enough?
---
» For our experience and a full guide to cycling Yungas in Bolivia, read Death Road, Bolivia.
---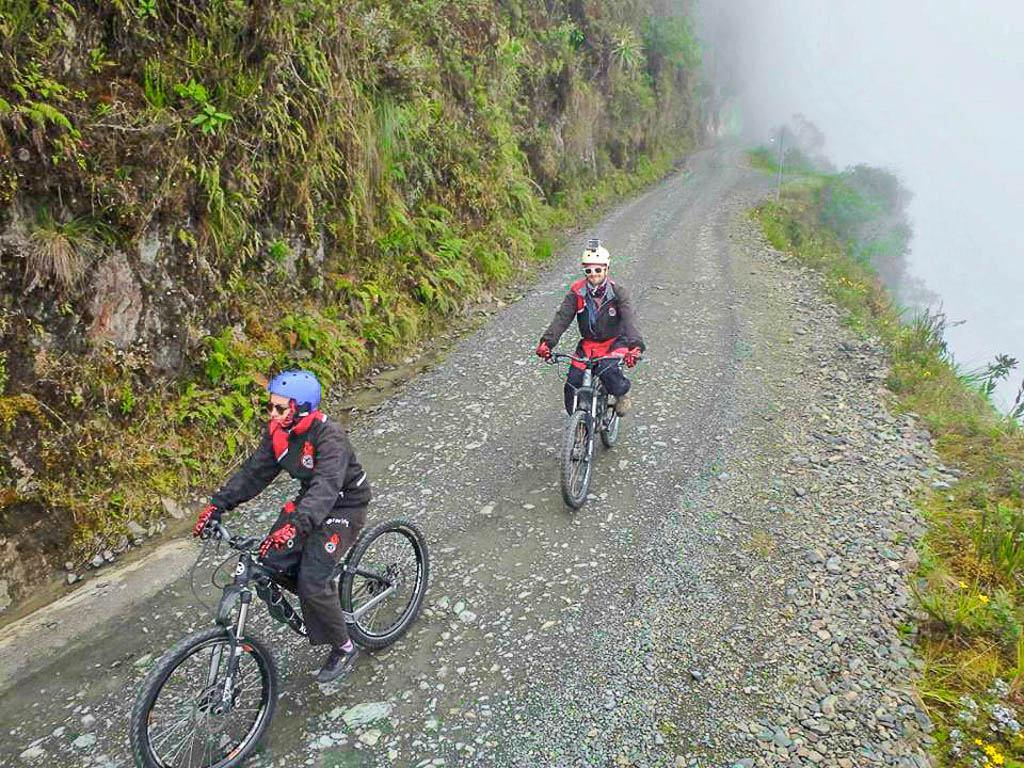 10. We Still Want More!
Have more time?
Want more things to see and do in La Paz?
What about a short trek through The Valle de la Luna, scale down a 17-floor building with Urban Rush, or moving to the 'burbs (Achumani) where the sun always seems to shine!
Bolivia Travel Tips For La Paz
Accommodation in La Paz
Hotels in La Paz
There are a handful of budget La Paz hotels as well as affordable luxury options if treating yourself.
Hostels in La Paz
La Paz hostels are a great option for those looking to save money and make friends.
The most popular include:
Dorm beds can be found as cheap as £7. Here's our full La Paz hostels guide.
Bolivia Packing List
La Paz gets cold, layers are essential!

Merino Icebreaker tops USA / UK if hiking in Bolivia or doing the Salt Flats
Camera and battery

Travel Insurance
Restaurants in La Paz
The Steakhouse: Man v Food challenge, steak platters, rustic setting.
Cafe Vida La Paz: Healthy and vegan options near Witches Market.
Higher Ground Cafe: Cozy, breakfast through to dinner. Coffee, beers and cocktails.
Sol y Luna: Relaxed bar/restaurant serving Bolivia food for tourists. International beers and a variety of cocktails.
Ichuri: Rooftop views.
Gustu: Featured on Ewan McGregor's Long Way Up
Getting to La Paz, Bolivia
The main airport for La Paz is El Alto Airport which is around 25 minutes from the city.
Taxi cost around 70-100 BS.
Getting Around La Paz
La Paz can be discovered easily by foot.
The cable cars connect La Paz with El Alto for the likes of Cholita wrestling and Chualluma street art.
Bolivia's Currency
Bolivia uses the Bolíviano, BOB. For the most up to date exchange rate click here.
Weather in La Paz, Bolivia
La Paz, Bolivia, weather is warmest in October – December, average temperature is above 15 degrees.
The hottest day of the year is November 4th.
The cold season is June – July where the average temperature is 13 degrees.
The coldest day (July 17th) can reach lots of -3 degrees.
Storms are common, as is rain, there is a greater chance of rain during the cold season.
La Paz Altitude
Altitude sickness is not to be taken lightly.
You may feel dizzy when you first arrive in La Paz, especially if you have not had a 'breaking in' period in Peru.
La Paz is 3500m above sea level, El Alto (where the cholita wrestling is held and the airport is) is even higher – 4000m above sea level.
Expect to be a tad out of breath on arrival and you may find walking up hills and stairs more difficult than usual.
Be sensible, if symptoms develop or continue for a long period of time, seek medical help.
---
Further Reading
---
Going to Bolivia?
Why not hover over and pin to Bolivia Pinterest board?
Any questions or comments? 
Leave them below.