This article has links to products and services we love, which we may make commission from.
I've come to the conclusion that Colombia is just paradise. Every stop we make, we step into another postcard!
This time it's Costeño Beach Surf Camp Ecolodge on the wild Consteño Beach.
Travellers will find this heaven on the northwest a great stop for those looking to swing on a hammock by day and have a party at night.
The waves are pretty brutal for surfing, we do not recommend them for those just starting out.
Planning a trip to Colombia? Here's our Colombia travel guide.

Costeño Beach Review

Santa Marta to Coñsteno Beach Directions/Como Llegar
Costeño Beach is about seven minutes away from Tayrona National Park and should be added to your itinerary while visiting Tayrona (which is a must for every traveller).
In Santa Marta, take the bus (Cootransoriente) to Tayrona from El mercado de Santa Marta:Carrera 11 Calle 12
Prices at time of writing 6 COP / £1.55 per person
The buses leave approx. every 20 mins and are well organised with a sign on the front
Mention to the ticket man that you are going to Costeño Beach
Sit next to the open window for a free one-hour session of botox
Stay on the bus for a further seven minutes after Tayrona (or just organise a taxi with the hostel)
Cross over the road and walk for twenty minutes until you reach Costeño Beach Surf Camp Ecolodge, watch out for the…
The Caribbean Coast's Surf Camp
Wow, this place is well organised.
There is a large variety of choice in housing. Feeling adventurous (and cheap)?
Go for a hammock with a mosquito net. The beach camp also offers the standard dorm rooms, private rooms, and also very cute beach huts which open up to an ocean view.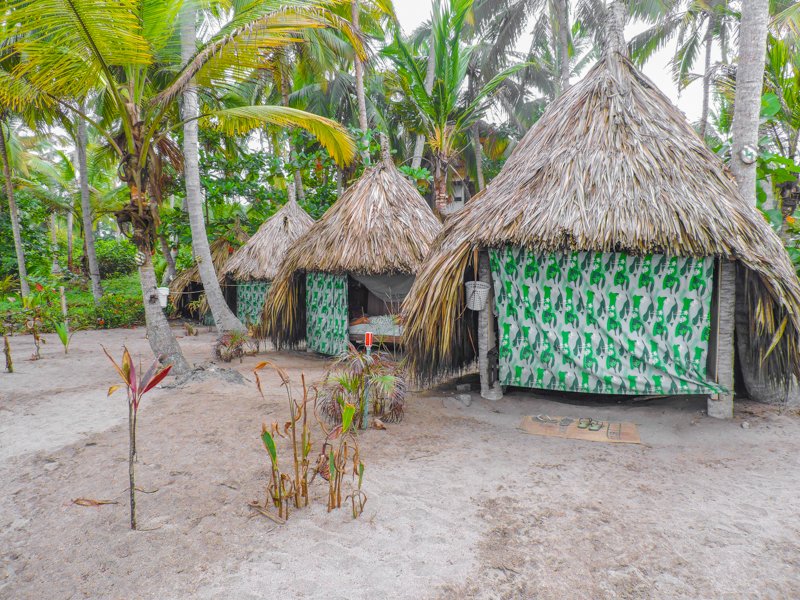 As did the windows in our private room with bathroom (£15 per night for private).
Each day the hostel has five options for breakfast (I miss those banana pancakes) for 6 COP / £1.55.
Lunch and dinner are both 13 COP / £3.36 and did not disappoint us. It's very social and community like -hostel as everyone eats together.
There is nowhere near for you to dine out, not that you would want to when healthy chicken kebab is on the menu.
The hostel just assumes you are eating with them and adds this to your tab.
A couple of thrifty travellers were taking a moto-taxi (motorbike) to buy cans of tuna and skipping lunch.
If you are in this gang, just inform the staff so they don't cook too much food.
Check availability and read more reviews here.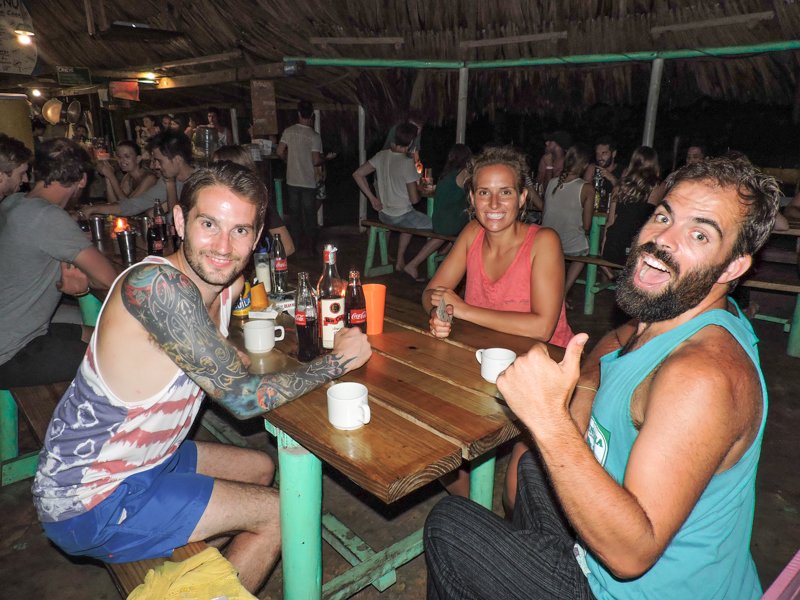 As the hostel is an eco one, the showers and toilets run on recycled rainwater (like Casa Loma in Minca), hence the yellowish tinge.
There is a yellow vat of Gringo friendly water for a cheap daily rate.
You'll need it with all of the 35 COP / £9.04 bottles of ron (rum) and 3 COP / 77p tins of beer you will be consuming in the evenings.
Solar panels are used for electricity so there is none until 6pm in the rooms.
However, Costeño Beach understands that travellers depend on their phones so let's you charge your electrics at the front desk AND has an IPad with WiFi so you can check in with the folks back home.
Personally, I really enjoyed my WiFi free days.
Things to do at Costeño Beach
Surfing in Colombia
I failed miserably in Australia at surfing and Craig had never had the chance to catch some waves so we thought, why not! For 50 COP / £12.91 each we spent two hours 'with' (mostly without) our instructor.
To begin with, we spent ten minutes warming up on the sand and a further ten being taught about the formation of waves and how to jump on the board. Then we were in!
Not quite. Craig and the instructor were, I met a wave and couldn't get past it.
The instructor kept waving me in (like I wasn't trying) but eventually I headed back to the sand. A couple of nice guys offered to help me but I opted for waiting on the instructor.
While Craig was left paddling the Caribbean Sea, I was saved and helped in.
The rest of the two hours were spent paddling in the water towards the instructor, getting there eventually and then he'd point to better waves so I had to paddle again.
Unfortunately, I only had the chance to try the wave four times.
At least I could get on my knees, which was fun…
Craig tried about ten waves.
Other surfers suggested it wasn't the best of conditions to start but I'd give it another try (with a different instructor).
Those looking for a Costeño Beach surf report should check here.
Read next: Why you shouldn't miss Colombia's Tayrona National Park
Stop! Hammock Time!
Ah, the dream!
Relaxing in the warm air (check out Costeno Beach weather forecast), swaying from side to side, you just can't beat it.
The hostel is really social as well as relaxing, we met lots of friendly people on the hammocks.
Watch out for any falling coconuts!
Check out our beach packing list for what to take with you.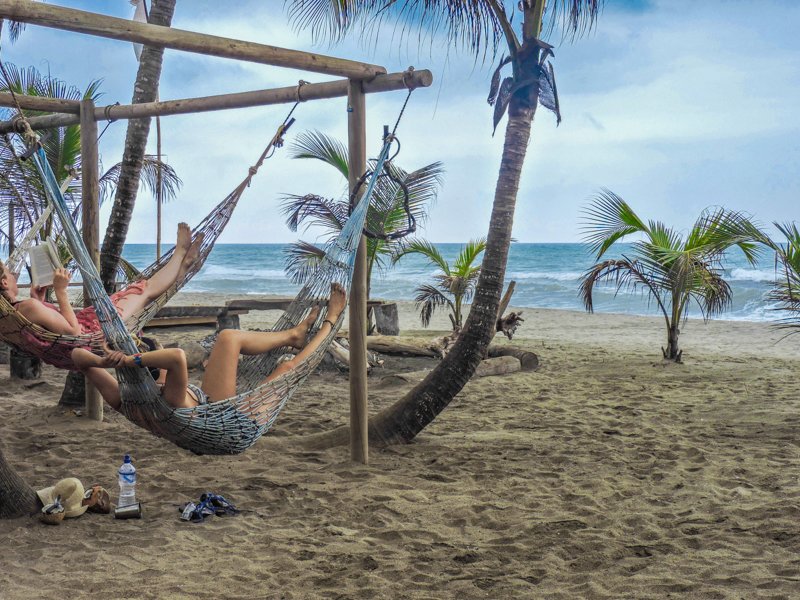 Massages
Yes, this hostel has it all. A half-hour or a full hour of delight.
Sports
As well as surfing (you can just take the boards out yourself), there is a skate ramp and a volleyball net.
Games, Books, and a Bar
Plenty of board games to choose from and books to swap. Did I mention the beer and rum?
Yoga by the Sea
Costeño Beach Hostel offers yoga most days in the mornings.
Unfortunately the day I decided to participate, the class was cancelled but one of the girls staying at the hostel did a wee illegal class.
It's the first time I have had the chance to do yoga near the beach which is enhanced tenfold by the sound of the sea! Definitely up for it again.
Costeño Beach Accommodation
It was evident that this area of Costeño was about to become popular, hammers knocked every day and now Costeño Beach Camp is not alone. In fact, La Brisa Tranquilla hostel has now bought over the older Costeño premises and Costeño has jumped ship to a newer and snazzier site next door.
La Brisa Tranquilla has dorms for under £10 and private room with ensuite bathrooms for under £40.
Click here for the best rates and to check availability of La Brisa Traquilla
Final Words
I really hope I've done Costeño Beach Surf Camp Ecolodge justice.
If you don't believe us, do check out the reviews on Costeno Beach Tripadvisor. I'm not ruling out going back in the reaming 18 days we have left in Colombia.
It's a must! And try the brownies.
Why not pin to Colombia board?
So, is this your kind of paradise? Any questions about Costeño Beach or Colombia, hit me below.
Check out our Colombia travel guide for all itineraries and tips.