This article has links to products and services we love, which we may make commission from.
So you've picked your route and it's time to pack but what does one take on Scotland's answer to Route 66, the North Coast 500? Granted you will be aware that the Scottish Highlands can face four seasons in one day and the summer months are blighted with those wee terrors, the midges, but never fear, this Scot is here and I have your back covered (literally) with our North Coast 500 packing list. If you are just starting your 500 miles road trip with this article, don't miss our NC500 free guide full of itineraries and tips to get you on the road.
North Coast 500 Packing List
My top tip for what to pack for the NC500 is to have a suitcase/rucksack with the majority of your clothes and toiletries stored in, a smaller bag to which you can add your nightwear and 'the next day' clothes to, along with a day bag for the car, full of snacks and other road trip essentials.
The reason I suggest this three bag strategy is because when you only stay in accommodation on the North Coast 500 for one night, you don't want to have to lug your full week's bag in and out of the car each time.
On one occasion our room was pretty small and our suitcase would have caused injuries, as we stumbled in at 1am, full of the 'water of life' (when in Rome and all that)!
We both travel with a larger suitcase/backpack and a day bag for trips and hikes.
---
---
Clothes
You may be sitting in the car for long periods of time while soaking up the Scottish Highland's 500 miles, so be comfortable.
If, like us, there is a constant battle for the aircon to be on (Craig) and off (me, Gemma) a throw or large poncho/cape US / UK is a recommended purchase for your road trip.
They are also great for hiding bags under if leaving the car unattended or throwing over your shoulders on the NC500 stops when the sun nips behind the clouds and leaves a chill in the crisp air. They also make for epic pictures too.
You might also like our beach packing list if you plan to spend the day at the sea, as you should!
Outerwear
You won't be surprised that at some point during your trip you are going to be faced with the Scottish summer: rain.
I never travel without my Marmot Precip rain jacket US / UK comes with me everywhere. because it is thin, light and folds away neatly into its own pocket.
Pack a sturdy umbrella for evenings too but never underestimate how hard our gales blow.
We always carry a waterproof bag cover like this one by Osprey US / UK for our day bags.
We've visited too many countries where downpours can happen at any moment (yes, Thailand I am looking at you) and since we carry our camera and battery packs in our day bag, we need to ensure that they will still switch on after a rain attack.
I wore this fashionable yellow raincoat but didn't do any hikes in it.
For hikes, you definitely need a bonafide waterproof jacket.
Footwear
On the whole, you will be jumping in and out of your car so footwear does not matter too much.
There are paths to most beaches (some made of wooden slats), castles, and caves (Smoo).
You might get caught out at Duncansby Head walking to the Stacks though as you navigate through a field with sheep poop.
If you intend to hike, and I strongly recommend you do set aside two hours in Ullapool to do the short up and down the Stac Pollaidh, pack your hiking boots or shoes.
Craig recently purchased a pair of Scarpa boots and I've been hiking in Salomon for years now.
Both come recommended.
For hikes, I always tape up my feet using Leukotape US / UK to avoid blisters, works a treat.
→ Here's our review of lightweight walking boots.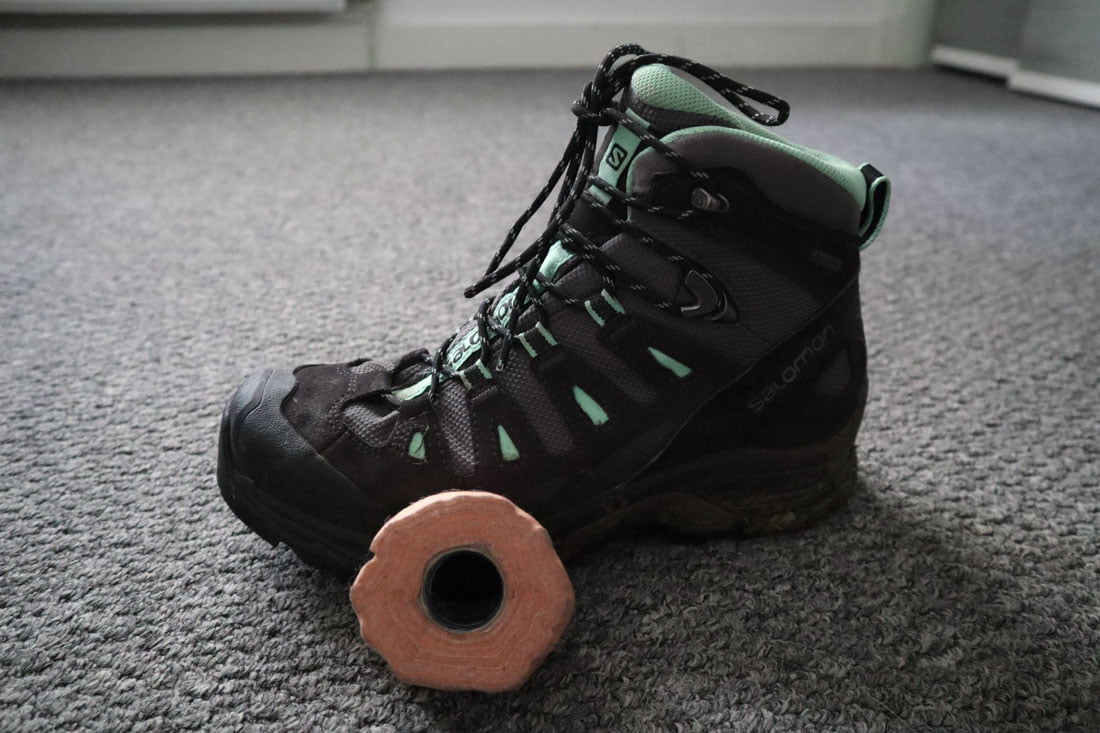 In the past, my preference has always been Salomon Ellipse (US / UK) trek trainers/shoes because they are lighter for packing.
Plus, they do not touch your ankles which suited an issue created with my Achilles during the West Highland Way hike in Scotland.
Now I hike in Salomon Quest boots US / UK.
They are neat, comfortable and good-looking. I think nothing of rocking up to the pub in them at the end of the day.
Craig prefers a boot. He has worn leather Scarpas for the past three years.
You need to wear shoes (not sandals) for Smoo Cave.
If you are staying in hostels or camping, it's advisable to take flip flops, sliders or Crocs with you for the shower rooms. I swear by Havaianas US / UK for durability.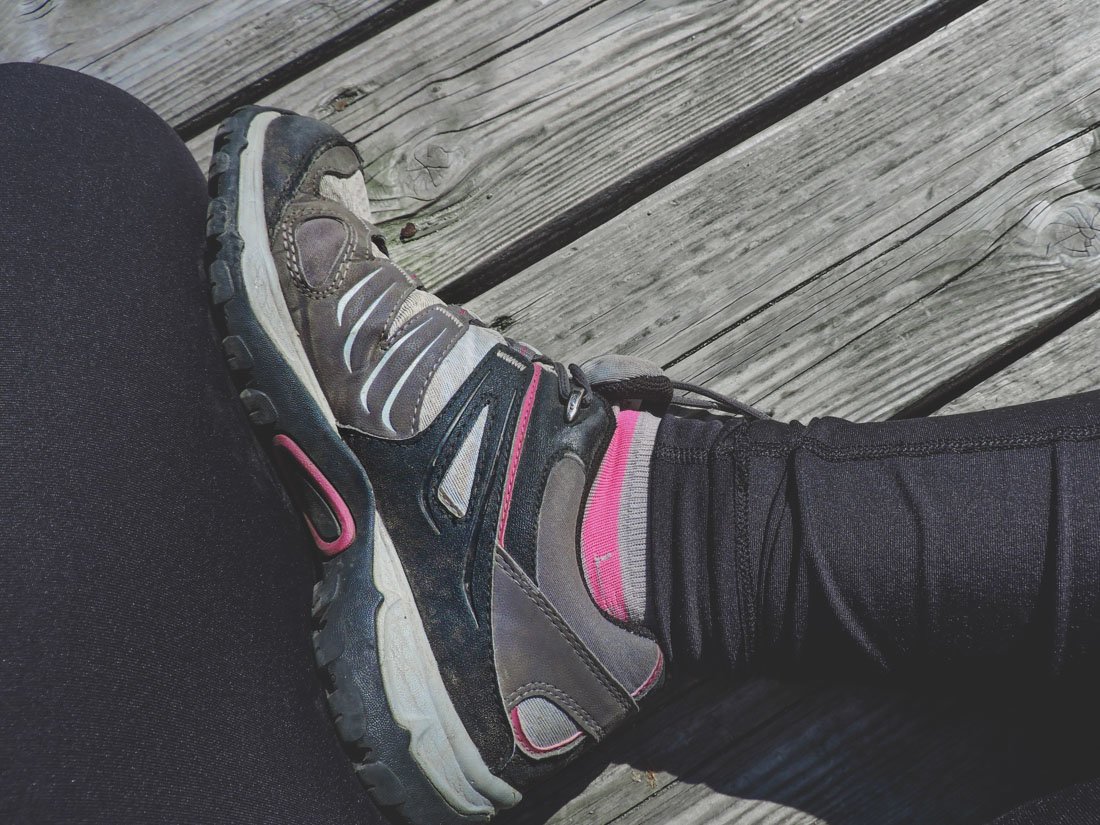 Headgear
If you are camping you definitely want to carry a head torch with you.
Don't rely on your mobile phone for light since you cannot trust the battery not to run out.
Non-campers, a hat comes in handy for hiding windswept hair, keeping your ears cosy up hills or even get a fancy one for those Instagram shots!
Electronic Essentials
It's incredible how much we rely on technology.
Even on a digital detoxing three weeks in Cuba we still used our mobile phones every day for reading, listening to music and taking notes.
It's always wise to carry a charged mobile phone battery pack in your bag so you're not left without any tunes!
We recommend Anker's chargers US / UK. They are slim, reliable and economical.
Be aware that you will be driving without a signal for some of the journey.
We describe how to use the free Google maps app to your advantage here.
Take note of your accommodation addresses and also telephone numbers.
Carry some coins with you in case you need to use our iconic red telephone boxes!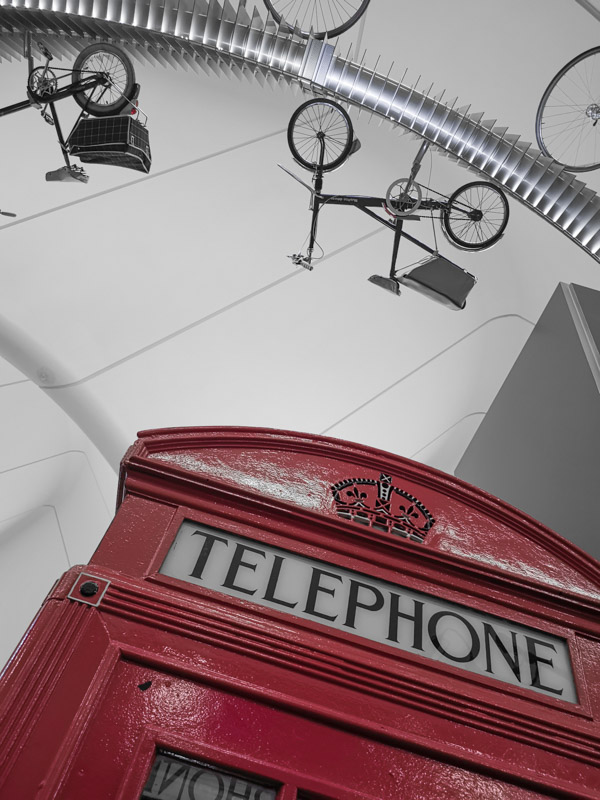 We have a new addition to our family – the JBL clip US / UK.
This wee babe is waterproof and clips onto your bags so you never have to go without tunes again.
Make sure you download your Scottish playlist to your phone from Spotify before you set off as you won't have 4G in the hills (or the villages at times).
Here's a list of our favourite Scottish bands (or alternatively search for @Craigarmit on Spotify and download his Scotland album)
Camera Obscura
Belle and Sebastian
Paolo Nutini
The View
Orange Juice
Siobhan Wilson
Franz Ferdinand
Talking Heads
The Twilight Sad
Primal Scream
Placebo
Big Country
The Jesus and Mary Chain
Calvin Harris
CHVRCHES
Deacon Blue
Annie Lennox
and of course – The Proclaimers (500 miles…)
— The North Coast 500 is one the UK's most scenic road trips so you don't want to forget your camera and an extra battery.
If you are staying in hostels and carrying expensive electronics, you may want to consider investing in a PacSafe net US / UK.
We backpacked around 16 countries using this device and luckily had our belongings untapped.
To use you put your beloved things in your day bag, wrap the safe net around the bag, pull it closed, attached it to a non-moving structure like a bed frame or radiator and padlock shut. You'll also need a padlock.
Pop a throw (that useful item again) over your bag and away you go to enjoy the sunset and/or craft beer.
If you are taking part in any of the water sports around the North Coast, pack a waterproof bag for your phone and camera.
Don't be like Craig at Somoto Canyon in Nicaragua, stuck between a rock and a hard place, literally, with his phone in his hand and very deep water in the way.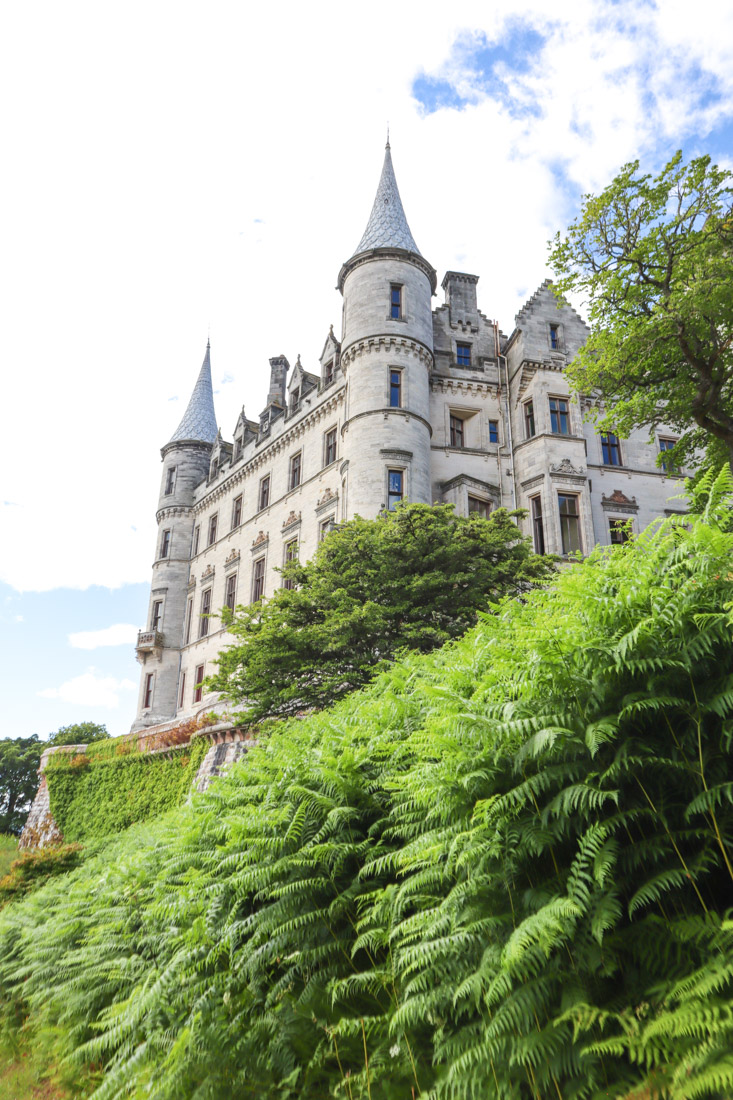 Medical and Toiletries
Kid you not, I was a little red in the face after hiking up Ullapool's Stac Pollaidh.
Silly me for not using my reliable factor 50 La Roche-Posay US / UK.
Pack some sunscreen you just never know.
Don't forget your sunshades too.
Store a first aid kit, it takes up little room in the car but could be a lifesaver, there will be times when you don't see anyone else for miles.
Let's get to the main issue in Scotland; midges.
Midges are winged insects that nip the skin (all over) and leave angry red, itchy marks.
They like the summertime but hate the wind.
There's no way to 100% prevent midges from attacking, and they come with friends (swarms of them) but you can use products such as Avon Skin So Soft US / UK to repel them.
Even if you are not camping it is advised to spray some around dusk time.
They attempted to eat us alive just hopping from restaurant to bar.
After spending a week on the West Coast in Scotland during summer, I am updating this guide to say you have to pack a midge net for your NC500 road trip if you plan to visit the West Coast from mid-May to late September.
You have two choices.
Either a simple head and face covering like this one or a hat with a net fixed to it like this.
Let me know how you get on in the comments below.
In Scotland, we have a zero tolerance for drink driving.
This also impacts on the next morning so be sure that the designated driver is not on the whisky too late into the wee hours the night before or even better, stay a couple of nights in one location and give them time off.
If you are heading to the NC500 distilleries on the east coast you might want to purchase a cheeky wee hip flask before you go.
They make for great gifts too. Prone to a heavy head? Try these hydration tablets US / UK, works a treat (recommended by a medic we met travelling).
---
» Our North Coast itinerary is free and jam-packed full of tips and images
---
Road Trip Gear
Along with your throw, hat, shades and first aid pack you'll also want to buy snacks.
There are small shops in many of the villages.
Inverness, Ullapool, Thurso, Wick, Tain and Dingwall have large supermarkets. Lidl is your cheapest option which can found on the east coast (there is only a Tesco on the west coast in Ullapool).
Food is 1/3 more expensive in restaurants and cafes than in the central belt of Scotland.
Businesses have to pay more and logistics make food transportation more difficult naturally.
Take a bottle and ask your accommodation to fill it up for you, saves you money and the environment!
If you are thinking of proposing, I know a few nice spots, send us a message! Oh, I adore a good love story.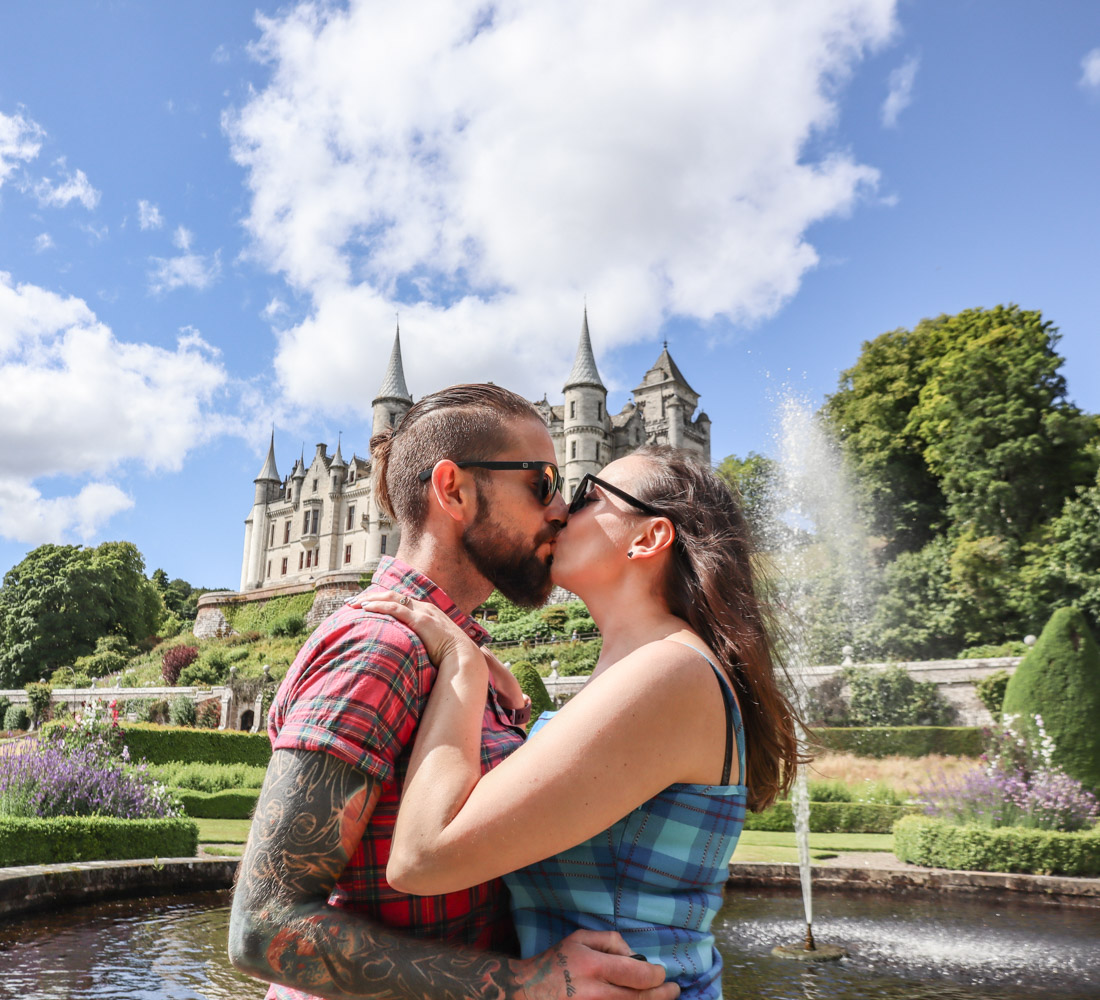 North Coast 500 Packing Guide Checklist
Camera and battery
Torch
First aid kit, anti-bac wipes and hand sanitiser
Hip flask
Cups
Shades, hat, mask
---
Free NC500 Guides
We've created a lot of content to help you make the best of the NC500:
---
What to Pack for the NC500
Come rain, shine, hanger and hangovers you are now equipped for the best 500-mile drive of your life! Naturally, this road trip-packing guide can be adapted for other driving holidays too.
Did you find this useful?
Pin to your planning board
Have we forgotten anything? Tell us in the comments below.