This article has links to products and services we love, which we may make commission from.
La Paz to Uyuni is a popular route that thousands of visitors take each year to visit the magical Uyuni Salt Flats. Coined the world's largest mirror, there are four ways to get to the Salt Flats in Bolivia which we (Gemma and Craig) will look at in this guide.
From the town of Uyuni, you will embark on your Uyuni tour (1-3 days depending on your availability) to see vast landscapes, take fun photos and, hopefully, be in awe of the incredible Salar de Uyuni sunsets.
As with all the attractions in Bolivia, ensure that you are acclimatised before taking this South American highlight. I am confident it will be one of the most memorable, yet somewhat surreal, activities during your trip.
---
»You may also like | What not to miss in La Paz
---
How to Get From La Paz to Uyuni
1. La Paz to Uyuni by Plane
Air travel is the most efficient way to get to Uyuni from La Paz with the flight duration lasting less than one hour.
Two airlines offer this internal route, Amaszonas and Boliviana de Aviación.
However, many backpackers avoid this option because, although the upfront flight cost is somewhat affordable at under $100 USD, the additional costs can add up.
Things to do consider:
Taxi from La Paz to El Alto Aiport: 60-70 bs
Loss of sleep if taking the early morning flight
Additional night in La Paz, the bus is overnight so saving on one night's accommodation
Pre-booked private transfer from Joya Andina Airport to Uyuni, not always enough taxis
Fear of flight being late and missing tour the same morning
Flights don't take off every day and appear to be seasonal for some days. Prices fluctuate between $50 and $150.
Pros: Quick
Cons: Taxis not always available at the airport if connecting to a tour, expensive option when add up fees

2. La Paz to Uyuni by Bus
The overnight bus from La Paz to Uyuni is the most popular way to to the salt desert in Bolivia.
The bus leaves La Paz at 21:00 from the Todo Turismo offices at 102 Uruguay Avenue which is opposite the bus station.
There will be a long line of people waiting.
The bus drives overnight, arriving at Uyuni with a bumpy entrance at 07:30.
You can reserve your seat and your ticket online then show your e-ticket to the driver.
Alternatively, you can buy in person at the above address, which is what we did as we had plenty of time in La Paz.
250 BS per person, paid by credit card, gets you a long bus ride between the two locations and two meals – one as you set off (chicken and rice or vegetarian option) and one in the morning (crackers, yoghurt and marmalade).
If you have any food allergies or requests, email [email protected].
There's an additional charge for bikes.
During the night there is a toilet stop, bring tissues and hand sanitiser.
Note: the bus has curtains, semi-reclining seats and a blanket is provided. While this is deemed expensive for Bolivia, it is a bumpy road I wouldn't want to attempt using a less comfortable bus.
Bus From Uyuni to La Paz
The return bus leaves from the Todo Turismo office at 158 Cabrera Street at 20:00 getting into La Paz at 6:30.
Like us, most visitors move on to another location such as Potosi, one of the highest towns in the world!
Pros: Most affordable and popular option, meals included, semi-reclining seats, saves a night's stay at accommodation
Cons: Bumpy ride
3. La Paz to Uyuni by Train
A lesser-known way to get to Uyuni is by train from La Paz.
You can't actually get the train direct.
The journey stops for transfer by bus at Oruro (Uru) which, according to Google Maps, is 314 km away from Uyuni.
I'm going to be honest here, I can't find any up to date information about this train route so I can't provide details of the journey.
I never met anyone that took the train to Uyuni.
Have you done it recently?
Tell me about your experience in the comments below.
Cons: Limited information online, an unknown option
---
4. Luxury Door to Door Tour
Short on time? Don't speak Spanish? This luxury door to door tour may be for you.
A private taxi collects you from your accommodation in La Paz and takes you to El Alto airport.
From here you fly into Uyuni where a car with an English-speaking driver is waiting for you.
Enjoy breakfast and then start your day tour of Uyuni and the Salt Flats which includes:
Uyuni train cemetery
An educational lesson about the area in Colchani
A drive, with stops, through Uyuni Salt Flats
See the cactus at Incahuasi Island
Lunch, Tunupa Volcano and a sunset drink on the Flats
Then you fly back to La Paz, no Uyuni accommodation required, with a private taxi pick up at El Alto to your accommodation in La Paz.
What a fairytale of a day trip with positive reviews which you can read here.
Pros: Great for those short on time, English-speaking driver, door to door
Cons: Most expensive option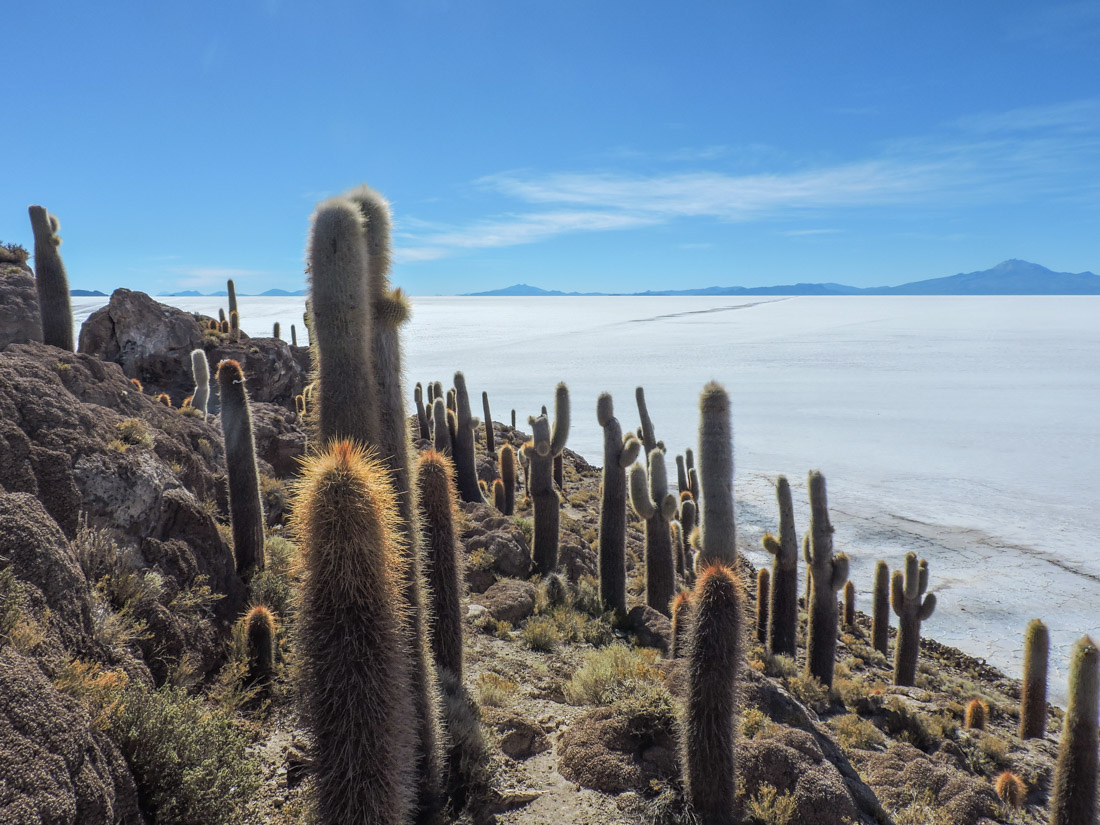 ---
Bolivian Salt Flat Tours
Now on to the good stuff. Taking a Salt Flats tour!
Apologies, the decision process is not over. You now have to decide between a Uyuni 3-day tour or a 1-day trip.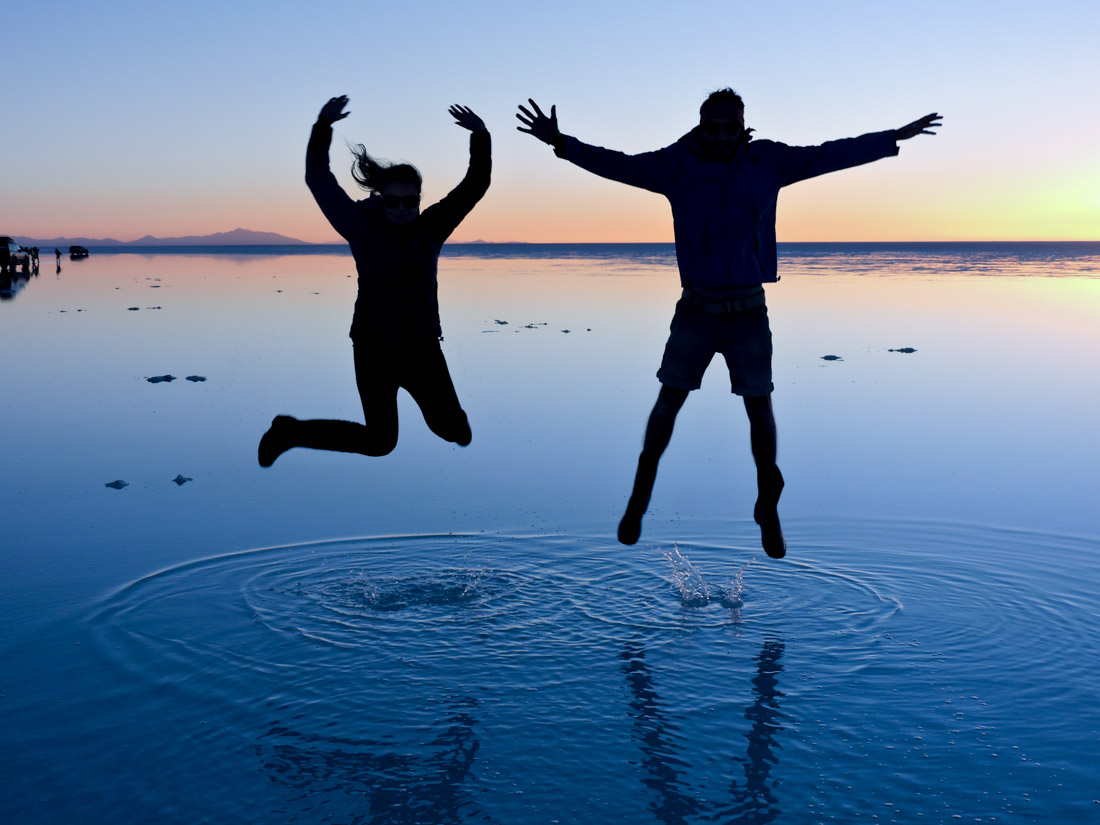 Choosing a Salt Flat Tour Company
Like with the popular Death Road cycle tour, your safety is paramount.
Consider the following:
The safety record of the company – reports of reckless driving have decreased but still happen
Do you need your guide/driver to speak English (more expensive)?
Are you happy to arrive on the day and chance it or do you feel better pre-booking before you go?
Pre-booking online can be more expensive so consider that when booking
Communication can be slow or non-existent unless you book through a third party/agency
Where do you want to end your trip? Bolivia or Chile…
Uyuni 1 Day Tour
This is what we opted for as we didn't want to give up three days of our itinerary and, this is going to sound pathetic but, I hate being cold.
Everyone mentions how cold and often uncomfortable the 3-day tour can be so that put me off.
Regardless of your reasons, sad like me or not, here's what you can expect from a 1-day tour of the Salt Flats.
Central point pick up in a 4×4 car with a small group
A visit to the open-air Uyuni train station to see the rusting and abandoned trains and tracks
A comfort stop at the market where you can buy souvenirs
Various stops on the cracked flats for photos, bring props, plan the pics you want as some stops are short
Lunch. Our guide tried to force us to buy a shade which we didn't need
Incahuasi Island (additional 15 bs fee to enter) which is a nice walk among the tall cactuses
Further stops and then, depending on which tour you choose, the romantic sunset shots, wellies provided
Note: Don't always believe the itineraries that are sold to you. There may be some tweaks due to weather, effort from driver and possibly a wee fib shared by an agency! Go with the flow, 'tranquilo' as they say in South America.
Pros: Great for those on a tight schedule as you only need one night in Uyuni
Cons: No flamingos, gets very cold at sundown
3 Day Salt Flat Tour
The benefit of a three-day tour is that you have more time to explore the area, its natural attractions and you might get to see the Salar de Uyuni flamingos!
What to expect from a three-day Salt Flat tour, which takes in the landscape from the Uyuni Salt Flats to the desert in San Pedro.
Day 1
Meet the group and hop aboard your 4×4 for the trip
Stop at train open-air museum aka Great Train Graveyard
An educational lesson about the area in Colchani
Salt Flats tour
Llamas
Accommodation in a salt hotel for the night. Shared rooms may be offered, discuss before booking
Day 2
Breakfast at the accommodation
A tour of the Salt Flats. Additional park payment 150 bs
Volcano and lagoon sightings
Bolivia's flamingos
Colorado Lagoon, yes the pink one!
Basic accommodation
Day 3
Sunrise tour
Geysers
Hot springs
Salvador Dali Desert
Important: From here you can cross the border to Chile or…
Back to Uyuni starting point
What do you decide to do? Tell us in the comments below.
Pros: Covers a lot more of Bolivia's natural attractions than the day tour
Cons: Cold
Note: Ask if you can take your big luggage or if you should only bring a small bag
Popular Companies
Brisa, Red Planet Expedition, Andes Salt Express, Salty Desert Aventours and Quechua Connection are all popular options used by visitors for one day and three-day tours.
Prices vary depending on whether:
You book on the day at Uyuni which is the cheapest option, run risk of not getting chosen tour operator
You request an English speaking tour guide
You prefer more than 'basic' accommodation
On the whole, I've seen anything from $100-250 for a 3 day/2 night tour.
This 3 day/2 day tour offers an English-speaking guide via Viator.
This one day tour offers an English-speaking guide via Viator.
Salt Flat Pictures
Whether you are a pro or phone camera user, you will have an absolute hoot taking photos with your pals in your group.
Don't be afraid to ask your guide to take shots for you.
They are pros at getting the right angles.
Be quick! Most people complain that they don't get enough time to take shots.
Everything You Need to Know About Uyuni Salt Flats
Why Visit?
During my travels to Australia in 2009, I met a Brit who was doing an around the world backpacking trip.
She showed me some of her photographs from South America and there it was. The coolest thing I'd ever seen in my 28 years of existence, Bolivia's Salt Flats.
I put it on my bucket list and eventually got there during my sabbatical to travel the Americas and Europe.
What is Uyuni Salt Flats and Where are They?
Uyuni Salt Flats, also known as Salar de Uyuni, is 10,582 square kilometres of the Altiplano in South America which is shared between Bolivia, Peru, Chile and Argentina.
However, only Bolivia has the world's largest mirror which appears when rainfall creates a mirror effect on the horizonless stretch of land around Uyuni.
Uyuni is in the southwest of Bolivia.
Some visitors take a tour from San Pedro de Atacama in Chile instead of Uyuni town in Bolivia.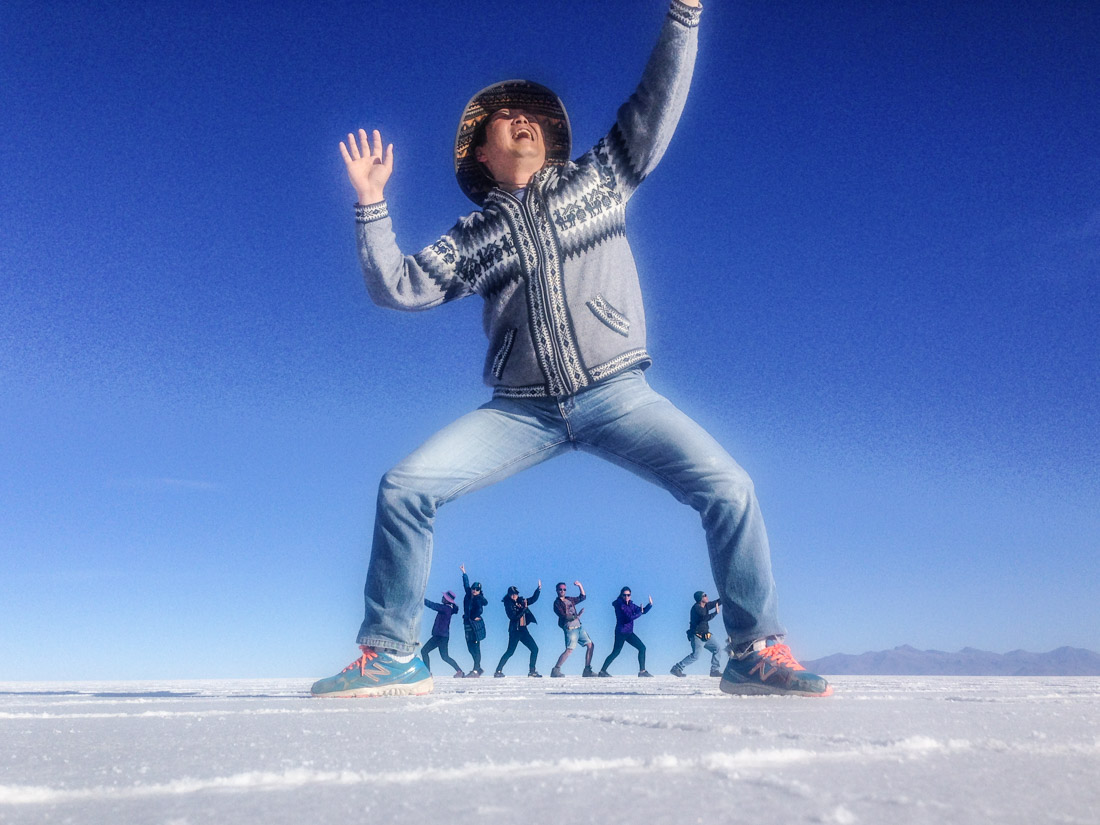 So What is Uyuni?
Uyuni is the small town that hosts visitors before or after their Salt Flat tours.
Salt Flats Packing List
Passport or ID card
Cash (bs), toilets (5-10 bs), snacks, tips for three-day tour
Camera and SD cards
Phone – this is the camera your guide will use
Shades
Sun hat
Sunscreen
Scarf, gloves, hat
Props like dinosaurs, Pringle tubs, anything you want to climb on or fall into
3 Day Tour Additions
Toilet paper
Baby wipes
Dry shampoo
4 litres of water per person
Flip-flops for shared bathrooms
Sleeping bag or rent one from the company and bring a liner instead
Towel
A torch
Swimming gear for the hot springs
Accommodation in Uyuni
Basic accommodation is available in Uyuni.
Hotels in Uyuni
Hostel Jerian: Clean rooms, simple buffet breakfast, central
Casa de Sal: Best hotel in Uyuni, modern, airport pick up available, pricey for Bolivia
Cilos: This is where we stayed, slightly out of town but cheap. Wouldn't stay again
Hostels in Uyuni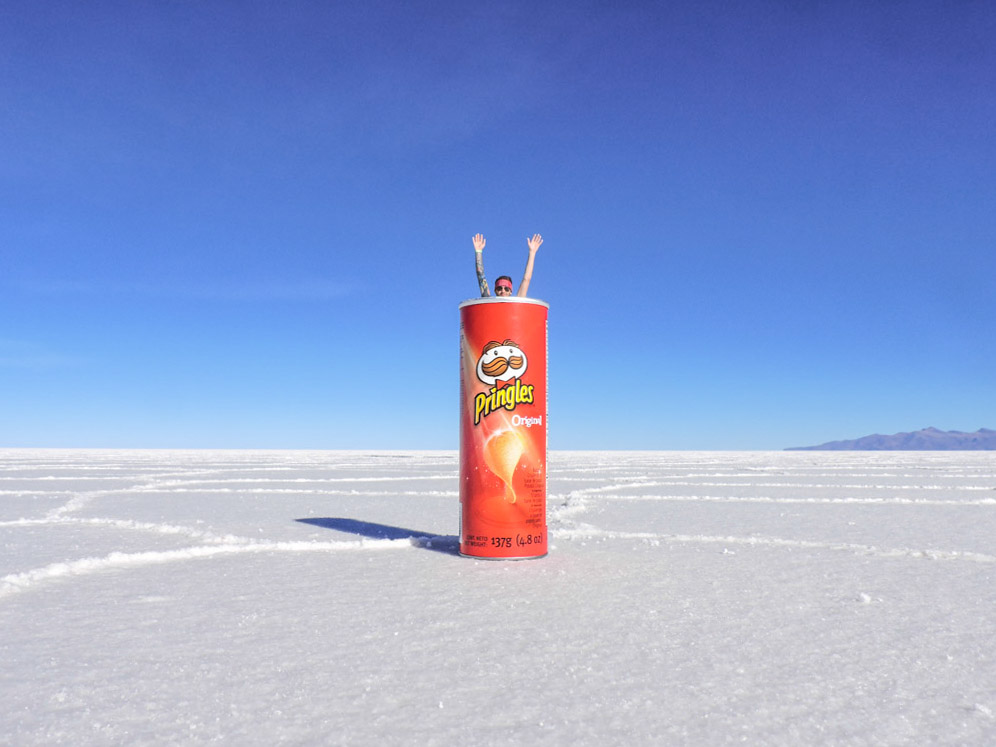 What is the Uyuni Altitude?
Uyuni sits 3,700 m (12,139 ft) above sea level which is similar to La Paz 3,650 m (11,975 ft).
If you've come from Cusco in Peru you will most likely have built a tolerance to altitude, avoiding sickness.
Spend a few days in La Paz beforehand if you can. Here's our list of things to do there.
Best Time to Visit Bolivia Salt Flats
You can plan a trip to the Salt Flats any time of year but both seasons will show a different side to the landscape.
We visited in April which is part of the rainy seasons (November to April).
This allowed us to get the really cool sunset reflection shots such as the one below which spells 'Uyuni' in the puddles.
The dry season is May to November, less rain but more access to the area. Some tours have to divert to other parts during the rainy season.
Are there ATMs at Uyuni?
There is an ATM, which we used, but like with everything in small touristy towns, you can't bank on it having cash.
Bring USD as back up which you can exchange in the town.
---
Things to do in Uyuni
Uyuni might seem a little dusty compared to the likes of La Paz or Sucre but there are some activities to consider during your stay:
Eat homemade pizza and cookies or breakfast at Minutemen (inside Tonito Hotel)
Drink with the locals – if there's a town in South America you better believe there's a bar, one of Craig's best night's out
Plaza Arce downtown meeting point surrounded by pastel buildings and a day market for snacks
Avenida Ferroviaria is the main street with train monuments
Go on a Uyuni Salt Flats tour – honestly, it's what everyone is there for
---
Pin to your Bolivia planning board!
Any questions? Just ask below