Salar de Uyuni, Salt Flats of Bolivia, has been one of the highlights of the 18 month career break so far! It featured highly on my 'to do' list since I awed over another traveller's photos in Oz back in 2009. And it didn't disappoint!
La Paz to Uyuni
Craig and I left La Paz via the Todo Turismo overnight bus. Book in person by tourist operator or in the office itself which is across from La Paz bus station. Our first attempt was fully booked so we had to wait until the next night (Craig tried to book online but the site is rubbish.) The ten hour journey costs 543.43 bs / £51.27 (2 personas)  with a 'dinner' meat (chicken, rice and veg) or vegetarian option. A breakfast of crackers, yoghurt and marmalade cake is provided when you arrive. The seats recline. I really didn't sleep well in all honesty, the road is so bumpy but once you get to Uyuni you see that's just the infrastructure. We were spoilt in Peru with smooth roads and a smoother ride with Peru Hop!
Choosing a Salt Flats Company
Bleary eyed and disorganised I stopped into the Todo Turismo, Uyuni office where the very helpful staff traced Brisa Tours address for me. She tried calling a few times but no answer so another woman who had come to collect a customer for her tour walked us around. The people in Uyuni are so friendly.
Brisa Tours
We chose Brisa because our travel photographer friend, Darren and his wife, Alison, had previously done the one day tour with them and were pleased. Check out Darren's Instagram, you'll see why we placed our trust in their recommendation. Brisa's communication is shocking! The only online presence we could find was a Facebook and email address but we received no reply from either, naturally we were dubious.
The sales advisor booked us on the 10:30 day tour (we thought we were on the 'sunset' tour, miscommunication, but we still experienced the sunset so we were happy). This gave us time to check in to our hostel Cilos and shower. The price was 200.00 bs / £18.87 each.
Our plan didn't quite work that way. Cilos is a good ten minute walk out-of-town, in the middle of no man's land. The staff bent over backwards for us (made us breakfast 'para llavar' to go and called us a taxi). The taxi never came but they called Brisa for us and our driver actually collected us. Back on track.
One Day Salt Flats Tour
Craig, myself, four Koreans and a Chilean piled into the 4 x 4 Lexus with our driver, José, behind the wheel. He never showed any signs of reckless driving (or drinking alcohol which is the big concern with many reviews). We drove for about an hour with two unnecessary (subjective) tourist stops, one to a disused area with rusty trains (turns out it's a museum with some history, had to look that up after the trip).

And the other to a small market (which doesn't sell much needed coffee). You could buy a dinosaur here for your photos.

Ten minutes later we were on the start of the salt flats.

Another half an hour later we stopped for lunch which was prepared by José. He spoke broken English and with our patchy Spanish there was a bit of confusion over whether lunch was in fifteen minutes somewhere else; lasted fifteen minutes here or whatever. He went in a bit of a huff at this point but came around.

After dinner of chicken, rice, vegetables and watermelon which was all delicious, we were free for an hour to explore the area. You had to pay 30 bs / £3 for the pleasure but the views were nice. Not essential if you are budgeting.

Next stop – what we were there for… the comedy photos!

José organised a few group photos. Unfortunately he was only up for using iPhones and not SLRs.

We would have liked more time to mess about ourselves…
…but we had another tourist / toilet stop before catching the sunset. Brisa provided wellies which were a necessity for the area where you watch the sun set on the salt flats. Watching dusk creep in and the sun disappear really was magical and a perfect end to the trip. We had a pushy Korean who wanted to get more snaps which we are so thankful of, she coerced José into it, even rounded up two randoms to create this epic piece of photography.
And José hooked us up with some romantic shots.


We were back at the office for 8pm. The Koreans were heading for nap then out again at 3am for the sunrise trip. If we had time I would have joined them.
The tour exceeded my expectations. I had such a fun day and would recommend Brisa Tours to anyone (we had no affiliation with them).
Three Day v One Day Salt Flats Tour
We decided against a three day tour for a couple of reasons. The cost – three day tours can cost anything between $120-200. It may be possible to arrive on the day and book into a tour cheaper than this but I wouldn't recommend it. We were knackered until lunch time when we got a coffee, that was my first cup ever! Secondly, depending on the company, you may be rammed into a 4 x 4 with eight other people, in a seven seater. We really couldn't be bothered with that potential. We've heard tours from Tupiza are less crowded. Finally, you third day is mostly driving. Tours can drop you off in Chile so if that's your next destination go for a three day with that option. If not, you are driving to Chile then back to Uyuni. I also couldn't be bothered with cold, basic hostels which is what reviews moan about. All this aside, those that have done the three day have also loved it. We did miss out on the lakes which would have been nice to see. Check out this multi – day Salar De Uyuni post to get a feel for what I missed (pink flamingos – noooo!)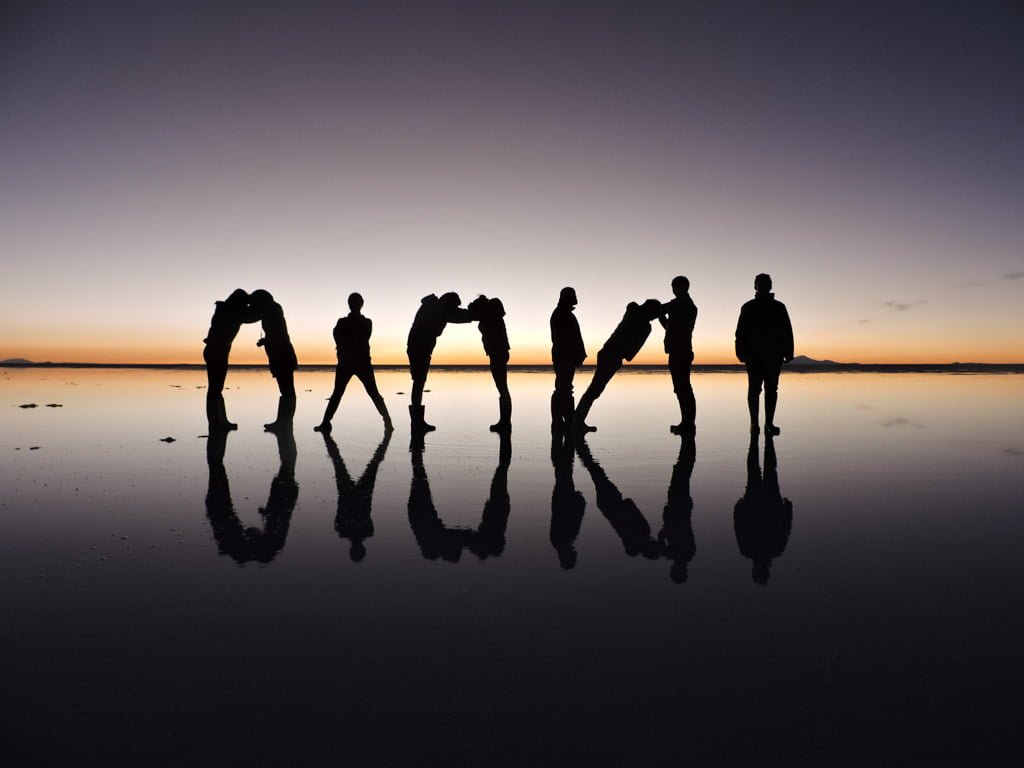 Uyuni
Our night ended with the traditional pizza at Minutemen which is tucked into Tonito Hotel. It took us a while to find, but it was worth it. Like everyone says, Chris the American owner, is a lovely man and his pizzas (and cookies) are tasty. You also get a salad to balance your diet, Craig doesn't do leaves so Chris gave him honey roasted nuts to go with his beer! A must if staying in Uyuni. I heard the breakfast is banging too.

Pizza was washed down with a Bolivian lock in to watch the Manny Pacquiao vs Floyd Mayweather fight then a taxi back to the hostel (10 bs).
Next stop – a local bus to Potosi, one of the highest towns in the world. I'm worried my Mac gets altitude sickness, honestly!
Bus: 543.43 bs / £51.27 (for 2)
Tour: 200.00 bs / £18.87 each (lunch provided)
Viewing Point: 30 bs / £3 each
Find this useful? Pin to your Bolivia inspiration board!
Where is the funniest place you've taken photos?
Ps. We have no affiliation with Brisa Tours or Todo Turismo