This article has links to products and services we love, which we may make commission from.
Pastel houses, cute cobbled streets, crumbling Colonial buildings, killer sunsets, jumping nightlife and salsa! There are so many things to do in Trinidad, Cuba including sightseeing, cycling and a day trip to a turquoise water postcard-perfect beach. Trinidad, Cuba is a UNESCO World Heritage site located in the province of Sancti Spíritus. It can be reached easily from Havana by bus and taxi colectivo (Cuba's private taxis service). There are a variety of accommodation options including hotels and the local Cuban casas particulares. So let's dive into our trip to Trinidad tips, try saying that after a few mojitos!
Trinidad's Top Things To Do
1. Wander Around Plaza Mayor
The palm tree-lined Plaza Mayor is the main square in Trinidad. You literally can't miss it as you wander about the city as this is where the striking Church of the Holy Trinity is located.
The pale yellow Church of the Holy Trinity (Iglesia Parroquial de la Santísima Trinidad), was built in the late 19th century, replacing the previous 17th-century building. It is free to visit but difficult to catch open!

Church of the Holy Trinity at Plaza Mayor
2. Visit Brunet Palace
Brunet Palace (Palacio Brunet) is the large yellow building with tall arches to the left of the church. The ex-family mansion has two floors, the upper floor is where you can see nice views of the square.
The Romance Museum (Museo Romatico) can be found at the Palace and houses a number of colonial artefacts.
Multi-language tour guides explain the items in exchange for payment.

3. Climb the Bell Tower
While the Museo Nacional de la Lucha Contra Bandidos does have an exhibition, the main attraction is its bell tower which you can see to the left of the church and mansion.
360 views of the city and beyond can be enjoyed from the top for a couple of USD.
4. Stay in a Casa Particular
Casas Particulares are private Cuban houses with rented rooms. Casas are popular forms of accommodation and a great way to meet locals.
Many of these homes are beautiful colonial buildings with stunning gardens. We ate breakfast every morning among the flowers at Casa Yaquelín.
Most casas provide a private room with en-suite. Breakfast is offered at an additional $5 USD (approx) which is generally worth it.
You can read more about staying in a casa here.
5. Take a Salsa Class
There are a variety of dance classes in Trinidad but the most touristic is at Casa de la Musica. Group lessons are accompanied by a teacher and live band. You go book a class with your friend, partner or pay extra for a dance partner.
Barrio Cubano salsa classes also come highly rated.
6. Casa de la Musica
Show off your new moves the nightlife hotspot Casa de la Musica.
Everyone in Trinidad flocks to the steps or seated tables of Trinidad's most popular tourist attraction at nightfall. Just follow the music to this bouncing corner of the town and join the groups of visitors of all ages as they chat, drink, dance and enjoy the live music.
As to be expected, the cocktails are a little pricier than other places but it isn't hard to find a 1 USDc cocktail stall closeby. You can pick up some top-up rum from a local store too.
We hung out at the streets close to, and the steps under, Casa de la Musica. It was honestly so much fun, energy levels were high!
Here we swapped Cuba stories and scams, you'll have lots to share too, and arranged to meet new friends at future stops on our Cuba itinerary. Two of the friends we hung out with in Trinidad not only met us in Varadero during our Cuba trip but also in Scotland for our wedding party!
Casa de la Musica may be the institution but it isn't the only club in town. Disco Ayala 'the rave in the cave' is popular if you can handle sweaty crowds and Cubaton (Reggaeton). 5 USD entry includes one drink. Avoid high heels as the walk there is apparently rocky. Ayala was closed when we visited.
We did, however, pile into a salsa club. The lines were long but we'd latched on to a local who managed to get us in. The doors slammed shut and we were witness to what could only be described as the muse for Dirty Dancing. Mature Western women dancing with young talented Cuban men, I'll let you use your imagination. I was pulled to the floor but deemed not good enough to keep up.
For the life of me, I cannot remember the name of the club. You'll just have to go and find your own version! Tell us in the comments below if you do.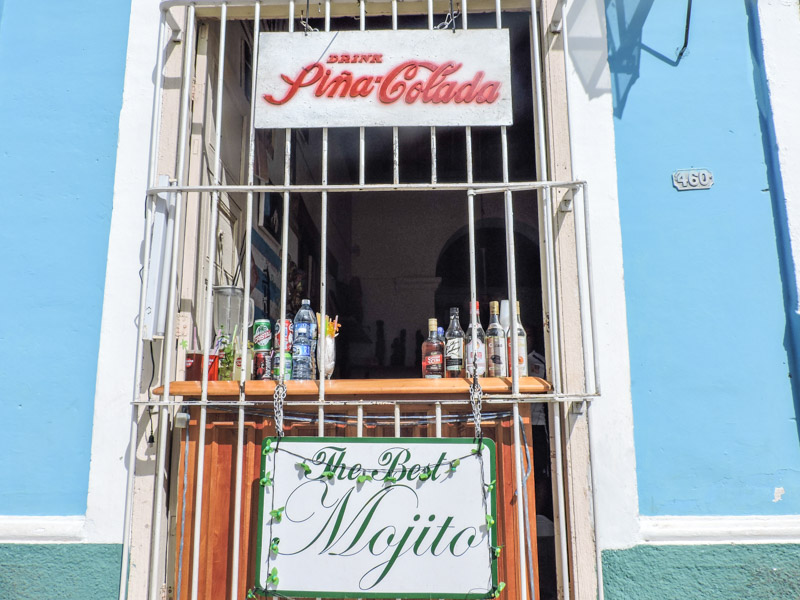 7. Drink Cocktails
There is no shortage of bars and restaurants selling cocktails in Trinidad. Canchanchara cocktail is one of the popular choices native to the town. Canchanchara is made up of honey, lime and of course, rum!
La Canchánchara is the original bar which claims to have invented them. Reviews are mixed.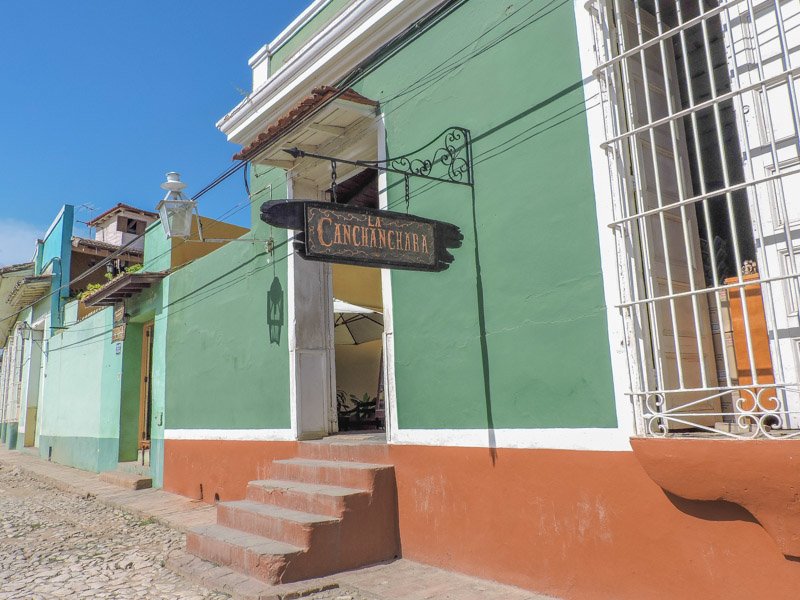 8. Eat Cuba Ropa Vieja
In Cuba, there are private restaurants and government-run restaurants.
The government-run ones are notorious for slow service, poor quality and a lack of variety on the menu.
We, unknowingly, ate in one government-run restaurant for lunch and it became apparent which type of restaurant we were dining at after an hour's wait for Ropa Vieja.
As they say, good things come to those who wait and now his Cuban dish has become a staple meal for us back home in Scotland.
Cuba time is not the same as Western time! You just have to go with flow, tranquilo.
Other Trinidad restaurants worth checking out include:
Restaurante San José: top-rated by tourists but genuinely a great option. Go before 7pm
Taberna la Botija: pork skewers, live music at night, we had lunch here

Ropa Vieja
9. Day Trip to Playa Ancon
This Trinidad beach is perfection, it's exactly what you would expect of Cuba with its blue waters, white sand and palm trees. Strangely, I've heard other Cuba visitors say it is definitely not the best beach in Cuba. Nonetheless, for us, it was a much needed day away from the Cuban hustle in the city.
You can hire bikes in Trinidad and pedal to Ancon if you want to stretch the legs. The cycle there is relatively easy and takes you past a couple of shops for drink stops. The ride back is brutal, I was ready for giving up. Do not underestimate the heat! Especially after a day of sunbathing and cocktails. Dehydration warning.
How to Get to Playa Ancon By Bike
Pre-arrange bike hire so you can collect first thing to avoid the sun
Cycle down and along Simon Bolivar (6 miles)
Stop, take photos, enjoy the ride which should take less than an hour
Bikes are not permitted on the beach, we were charged to lock them up at the side which is pretty typical
Wear your swimming gear as there aren't any huts to change
How to Get to Playa Ancon By Bus/Taxi
There are public buses which go from Trinidad to Playa Ancon throughout the day but the times are not reliable.
Our friend did manage to catch it, you just have to have a relaxed attitude and not be confined by time.
When you arrive in Trinidad ask your casa/hotel what time the buses leave and return
Expect to pay around 5 USD per person
The bus ride takes around 30 mins and stops at Hotel Ancon at the beach
Alternatively, enquire about a taxi. Even better if you can get a group together to keep costs down
You can ask your casa host about taxis or at the bus station

Playa Ancon – beaches near Trinidad
10. Day Trip to Parque el Cubano
Parque el Cubano is the second most popular day trip from Trinidad and ideal for those who like a short hike surrounded by nature.
The hike includes jumping into swimming holes and views of Javira Waterfall which is perfect because Trinidad can get quite stuffy and dusty. Note, there are no changing huts.
Visitors contend with forest paths, stones and manmade bridges during this day tour.
As always, arrive early to beat the heat and also the busloads of tourists. This is a popular stop for group tours.
Entry is 10 USD or book a taxi/guide/lunch tour in Trinidad.
11. Day Trip to Cienfuegos
Cienfuegos literally means 100 fires and it is known as the Pearl of the South. From Trinidad, you can visit the colonial city to see the highlights such as the central Parque Jose Marti, the unique architecture of Ferrer Palace and the mansions of Punta Gorda.
There are two ways to do a Cienfuegos day trip. Firstly, by pre-booking a seat on the Viazul bus. Secondly, by booking a taxi colectivo when you arrive in Trinidad. See our 'getting around' section for more details.
---
Essential Trinidad Travel Information
Getting Around Trinidad
The best way to get around Trinidad is on foot. As the city is small, there is no need for public transport unless you are taking a day trip to the beach or to hike.
Accessibility will be an issue for those in chairs as the streets are often uneven.
Getting to Trinidad
How to Get From Havana to Trinidad
Buses leave daily from Havana to Trinidad. The journey takes around 6-7 hours, stopping at Cienfuegos too.
See the Viazul bus service website for up to date times. You can pre-book your seats using this website.
Viazul is one of the official bus services in Cuba so don't be afraid to use it. It is advised that you book a seat in advance where possible to avoid disappointment.
Conectando is another bus company but it has a very limited online presence. Forums pull up this timetable but we can't say for sure that it is accurate.
Can you? Please tell us in the comments below or use the contact us page. Gracias!
There are, of course, private taxi rides called Taxi Colectivos which will get you between Havana and Trinidad or vice versa.
Colectivos are collective car share rides so it is likely you will meet other tourists in the car. Expect to pay around 30 USD. Don't be alarmed if cars swap halfway during the journey, this happened to us when we drove from Vinales to Playa Larga. This is basically a taxi from Havana to Trinidad but with other people and a potential swap of vehicles!
You don't have to book colectivos before you go. Ask your casa host (they will receive a commission) or go to the bus station and speak to the men who hang about outside. It sounds dodgy but it's not, it's the Cuban way.
Varadero to Trinidad
Varadero is a popular beach town in Cuba. Here you will find many of the all-inclusive resorts that surround the Carribean coast.
The Viazul bus connects the two areas. See the route and book tickets here.
Alternatively, if you are staying in Varadero and want to take a day trip to Trinidad to escape the resort for a while, this tour leaves Varadero at 6:30 and visits Cienfuegos and Trinidad.
WiFi in Trinidad
Now the burning question, is there WiFi in Cuba? Yes, my article will explain how to gain access in detail here.
In short, there is an ETECSA telecommunications centre in Trinidad where you can purchase a card which you use to sign in on using your own device. Some casas now offer this service too.
You can log on using the card anywhere there are WiFi points like the store itself or Iberostar Hotel or parks. You'll know the points by the large crowds of locals and tourists.
Although the plush Iberostar has WiFi access, you must buy a drink so it's an expensive browse on Facebook!
I have heaps of tips on how to save time and money in the article mentioned above.
Places to Stay in Trinidad, Cuba
I know this comes as a surprise but Cuba is not cheap in comparison to the likes of Bolivia in South America. Coming from Peru, Bolivia and Colombia was quite the hit of our daily budget.
Hotels in Trinidad, Cuba are expensive!
The delightfully decorated and gatsby-vibes Iberostar Trinidad starts at $400 (U.S) for one night.
The cheaper alternative to Trinidad hotels is to stay with locals in a casa particular, which is extremely common.
Many advertise as 'hostals' but don't confuse this with a backpacker hostel.
Hostal Casa El Ceramista, Trinidad
Hostal Casa El Ceramista is a friendly family-run casa and a charming house. Alexy, the owner, is a ceramicist which is evident in the decor!
Rooms are bigger than the average in Trinidad and have air conditioning. A microwave, a fridge, toaster, kettle and a coffee machine are available as well as breakfast at an additional daily fee.
This casa has a 5/5 star rating on TripAdvisor and the hosts reply to reviews.
Casa Zenia Ana, Trinidad
Casa Zenia Ana is an older casa that has had a facelift. It is more expensive than typical casas in Trinidad but modern in decor.
Each room has air conditioning, patio, a balcony with city views and a fridge. The room advertised looks super modern, one customer on TripAdvisor states this is not reflective of all rooms however, reviews are all happy.
WiFi is available as of now according to one review. Let us know your experience if you stay there.
Airbnb in Trinidad
There are a variety of casas available via Airbnb in Trinidad, Cuba and the average price for a private room in Trinidad is 30 USD.
However, a few areas I need to make you aware of regarding Airbnb in Cuba.
The Airbnb app doesn't work in Cuba so you can't use it to contact hosts when you arrive
Airbnb has been running in Cuba unofficially since the 90s! Casa owners create a network throughout the island and call ahead to book for you, they get commission in return
It is not uncommon for the casa booked for you to get a better deal (a longer stay) so you are moved elsewhere and you might not know it. Naturally, you will know it if you book via Airbnb
Read the reviews to check whether amenities promised are provided. Hot tubs, doubt it!
Casa owners are now advertising over different search engines like Airbnb, Booking, TripAdvisor, Hostelworld, etc and WiFi is not as readily available so the response may be slower than accustomed to
This is also the case for casa owners updating when rooms are booked/casas are sold out
Reasons for booking with Airbnb
Pre-booking a casa obviously gives you peace of mind
You can pre-pay by credit card with Airbnb, less cash required – read our guide to currency in Cuba here
Airbnb is popular, we trust the resource and customer service is generally on the side of the customer
Properties have reviews
How Much Does it Cost to Travel in Cuba?
Cuba is not as cheap as you think.
Our Cuba daily budget was 90 USD per day for two people with limited activities and one week in an all-inclusive resort.
We had plans to tour the whole island in three weeks but ended up checking into an all-inclusive resort to save money.
Here's a full breakdown of our Cuba travel costs: 3 weeks in Cuba.
---
Personal Experience
We visited Cuba as part of a long-term travel trip so were restricted by our budget. Cuba was our fourth country out of 16 in total. We visited during our fourth month. We were suffering from major travel burnout by this stage, backpacking around Cuba is not easy.
Learn from my mistakes, here's what I would do differently:
Download the bus times between locations. Locals do not know the times and are quick to offer their family taxi colectivo service which starts to add up at 25 USD per ride, per person
Take note of recommended restaurants for each stop. Some restaurants are pretty bad and even Cubans will tell you this
Create a loose itinerary. We are so quick to connect to 4G, you will soon see how much you rely on it since you can't have it
Consider activities. I thought I'd use the time in Cuba to switch off so didn't bother planning anything which is unlike me!
Renting a car? You may have to wait a few days in Havana for one to come in but having that flexibility to move around will be liberating
Don't visit Cuba as part of a big multi-destination trip. Not having a kitchen starts to take its toll
Accept that the Cuban hustle isn't going anywhere! Sure, it's tiring constantly having people trying to sell to you but this two-tier economic system has allowed Cubans to survive and thrive
Trinidad, Cuba Packing List
Sunscreen
Camera and battery
Filter and purifying water bottle like Water To Go [quote TSA15 at checkout for 15% off]
---
Going to Cuba? Pin to your board for later
Any questions or comments?
---
---