This article has links to products and services we love, which we may make commission from.
Bled is a small town, northwest of Slovenia's capital city, Ljubljana. It is located in the beautiful Julian Alps and there are lots of awesome things to do in Lake Bled and around the town. Bled is popular with tourists but what the heck, sometimes tourist hot spots are visited for a reason – Lake Bled is stunning! Just picture a fairy tale story and you are there. Here are the Lake Bled activities not to be missed (and what to avoid).
Things to do in Lake Bled, Slovenia
Walk or Cycle Around Lake Bled
Lake Bled is the obvious reason to visit Bled and the paved road around the lake is only 6k long so it is an easy stroll or pedal for travellers of all fitness levels. The benefit of taking this trip around the lake is that you can see Bled Castle and The Church of the Assumption from different angles. I will never tire of looking at this lake!
Trees make for lovely framing if you are a photography fan and during winter the town displays a heart-shaped wreath for lovers to get a cute picture with.
Cycling is a stress-free activity to do at Lake Bled but if you don't want to cycle you can, of course, walk. It is a pleasant stroll along a paved path (the image below is just off the path).
As you can see from our picture, it rains in Europe, even in summer.
Pack a waterproof jacket.
» » Price: €5

Wheely great time: Lake Bled things to do
Join the locals in the summer months as they cool down from the 27-degree heat in Lake Bled.
There is a designated swimming area so you won't backstroke into a plenta boat! It even has slides and a jump board.
Grajsko Kopališče aka the Castle Bathing Area has relaxing sun loungers and umbrellas (to rent) for those who prefer some shade.
Grajsko Kopališče is open from June until September.
Bled Hiking to a Viewing Point
There are a 15 signposted hikes around Bled which involve leaving the 6k paved road and trekking uphill, but the advantage is that they provide a viewing point, such as #6 Osojnica.
Hikes range from 20 mins to three hours (for more information, see here).
Forgot your walking boots? No stress, Bled Castle also offers nice views (and free WiFi!)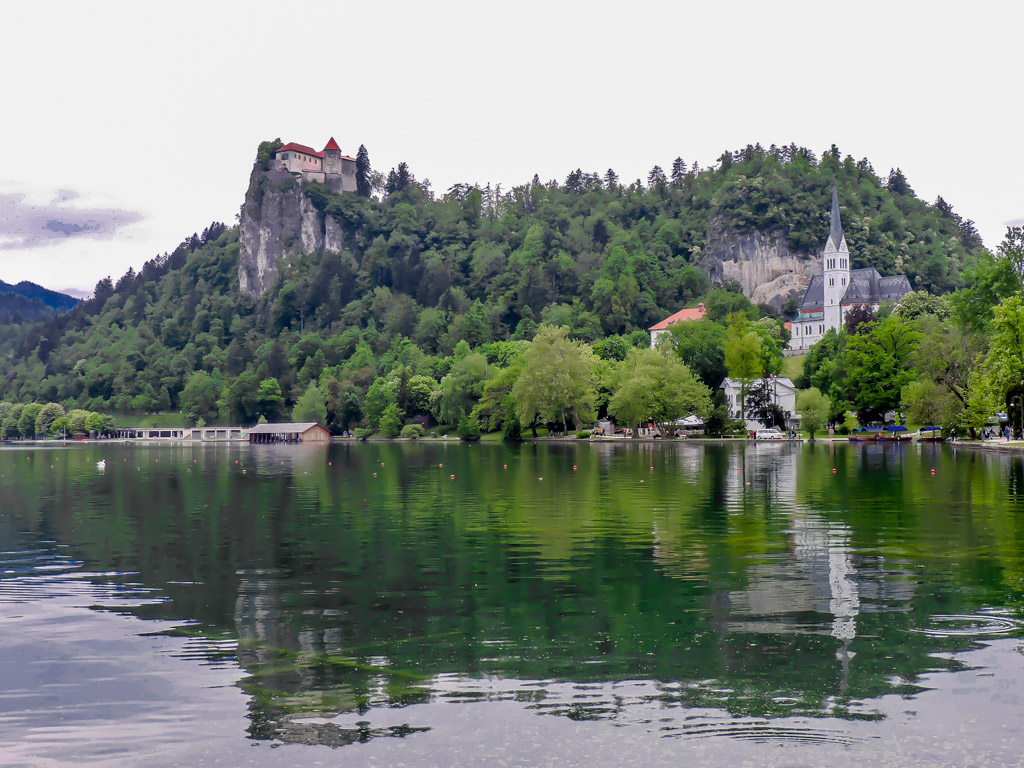 A muse for every fairy tale
Visit Bled Castle, Fit for a King
The oldest castle in Slovenia, according to records, Bled Castle overlooks Lake Bled completing the romantic setting.
Not only can you see the lake from the castle terrace but also the mountain ranges of the Karavanke and the Julian Alps. There are two contrasting structures – the walls of the castle are Romanesque whereas the buildings are Renaissance, representing two different periods of time.
Speaking of time, here's a tip – we managed to sneak into the Castle at night, for free, to check out the views. A nosey inside the Bled Castle would be an ideal thing to do in Bled when it is raining.
» » Price: €11 (Bled Castle Website).
Bled Castle Restaurant offers outdoor terrace dining (capacity 100) and the indoor seating has large windows which frame Lake Bled.
The menu offers traditional Slovene dishes such as sausage but with a modern twist. Meats, fish, cheese and a salad feature throughout.
There is also a tasting menu for those who are indecisive!
Visitors state that the food is high quality, value for money (around 45 euros for two lunches) and the view is priceless! The service is also top class. 4.5/5 star rating on TripAdvisor speaks volumes – one of the more expensive yet romantic Bled activities!
Image provided by Urška VERČ, photographer Vedran Tomšič.
Take A Bite: Bled Cream Cake
Not everything is focused on the Slovenian Lake, there's food to try too.
Officially called Cremeschnitte but affectionally known as Bled Cream Cake, this custard delight can be bought at most cafes and restaurants in Bled town centre.
Bled cake is unique to the area and enjoyed with a coffee. The calorific dessert dream resembles a custard slice in the UK making it a Lake Bled attraction for those with a sweet tooth (yeah that's me!) for sure.
All Aboard! Bled's Boat Rides
A hit or miss activity in Bled is the boat rides.
There are several opportunities around the lake to hire a boat and paddle to The Church of the Assumption on Lake Bled Island in the middle of the lake.
Arms sore from lifting the fork from your plate to mouth?
You can hire a boat with a captain so s/he can do all the hard work for you!
We opted out of this activity as we'd read that it was a bit of a tourist trap. However, it still gets 5/5 on TripAdvisor…
» » Plenta Boat: €15 holds 20 people/40 – 50 mins on the island (not pictured).
Ding Ding! Ring The Bled Church Bell
A traditional thing to do at Lake Bled is to ring the wishing bell of the church on Bled Island. This sound fills the air all day, or as long as there are tourists visiting Bled. Bled Church, The Church of the Assumption, puts 99 steps in front of you before you can ring that bell though. The Slovenian tradition is that the groom carries the bride up the 99 steps!
»» Price: €6 with boat ride required.
This rafting tour is the most popular tour on GetYourGuide. Adventure lovers hit the longest rafting route in the region, taking in 13 km of waves and thrills.
The 2-3 hour tour wasn't an option when we visited or we would have booked it. Especially since there is a Bled pickup and drop-off.
You don't need any experience of rafting, as there are trained guides who provide the equipment. did it in Australia, it was wild. We did it as a couple in Scotland, the water was lame.
»» Price: €35 per person/two person minimum. Reserve your spot here.
---
Add this to your Lake Bled to do list: pick up a can of beer or bottle of wine (starting from €2, wine is super cheap in Slovenia) and some snacks (there's a shop near the campsite) and watch the sun set (or in our case, the mist!) over this cute wee island.
Laśko by the Lake, views from Bled Castle
Did you know that Slovenia is famous for wine? Try seven different types at this wine tasting class set in a 100-year-old cellar. Appetisers are also included during the two-hour wine experience.
»» Price: €37/£32/$42
During the Summer months, visitors can sledge down Straža Hill on a toboggan with beautiful Bled in sight!
A cool activity (boom boom) do in Bled during Winter is to ski or board on Straža. The slope is small (503 – 634m) but you are skiing with Lake Bled in full view.
Magically, the slope is lit up for night skiing.
No gear? No problem as you can rent equipment there. Straža is a very short walk from the centre of Bled.
---
» You may also like our guide Bled in Winter
---
Looking for something a little more adventure and water-based? Check out the guided canyoning experience and lasts for 3.5 hours. The canyoning tour challenges you to climb and jump your way through the waterfalls and rapids of Bohinj Valley with the support of a fully certified guide. Wetsuits, helmets and zip lines provided.
»» Price: €60 (morning and afternoon departures/not available in winter). Check availability here.
Thrillseekers with a full day to spare in Bled should consider this eight-hour kayaking tour which takes you underground and through abandoned mines. There is a 15-minute descent of 95 metres into the mine so this sport is not for the fainthearted.
Once in the mines, your tour will kayak through the passages for four hours. The tour includes paddling and hiking with the use of a headlamp as the only source of light. Drysuits, boots, life vests, helmets and headlights are all provided.
»» Price: €45 per person/two minimum
Prefer to stay dry when you pump up the adrenaline? What about a flying through the air on five different zip lines with a combined measurement of 2.4kms?
If that sounds like your idea of fun then a ziplining trip over the Dolinka River near Bled is for you.
Tours start in the town of Bled where a minivan drives you to the valley. There is some easy hiking involved in this tour.
»» Price: €57/£50/$65
eBike Tour to Vintgar Gorge
Another way to see Bled and beyond is by a 4-hour self-guided eBike tour.
eBikes rides are an easy way to experience Slovenia because they do all the hard work for you.
It starts with an orientation explaining how to use the eBike then it is off on your adventure to pedal through the countryside to the striking Vintgar Gorge.
» » Price: €45/£38/$52.
---
How to Get to Lake Bled
Bled is best reached by bus from Ljubljana. The journey is 75 minutes and buses leave on the hour for €13 euros (return, can use for 30 days). Ljubljana's bus station is next to the train station in the middle of Ljubljana.
See here to check the timetable. Arriving to Slovenia from Hungary? Here's our guide to Ljubljana from Budapest.
Buses going back to Ljubljana from Bled leave the bus station at Glavno Postajališče (next to a bike shop, a three-minute walk from the lake) hourly during the day.
Lake Bled Hotels, Hostels, Camping
Although Bled makes for a nice day trip from Ljubljana, there's something mystical about having the town to yourself in the evening so a night at Bled shouldn't be completely discarded!
Hotels in Bled: start from £46 to £1116+ (!) per night. Check availability here.
Hostels are your cheapest option with dorm beds for under £10 and privates for around £25. Check availability and best rates here at Hostelworld. We stayed at the Ace of Spades Hostel; the staff are friendly and it is clean. It has a big kitchen for personal use and a common room with TV.
There is a campsite in Bled which would be a nice option for the Summer months. If you are into camping you should consider checking out our review of the Big Berry glampsite in the south of the country.
European Travel Essentials
Accidents can happen, never travel without insurance.
We opted for True Traveller after they answered my thousands of questions before our big travel trip. I had to claim in Vancouver, Canada (ear crystals, nothing serious just annoying as they cause dizziness) and they paid out swiftly. Check out their rates here to see if they are a good fit for your adventure.
North American readers should check out World Nomads. You can read our insurance provider comparison guide here.
Bled Weather
The best months to visit Bled for a Summer retreat are June, July and August (25-27 degrees) although weather can be unpredictable.
May and September are cooler but still pleasant. Winter kicks in around November with lows of 2 degrees with the freeze setting in December, January and February (-2 to -4).
We visited around Easter time and it rained which was frustrating but the reality of travelling in Europe!
The wettest months are October and November.
I am keen to head back to Slovenia when the weather is on our side to witness Bled in warmer tones and also to visit Bohinj and the rest of the Slovenian Alps.
Lake Bohinj, Slovenia
Another popular lake to visit in Slovenia is Lake Bohinj. It is the largest glacial lake in Slovenia.
Lake Bohinj is part of the Triglav National Park which can be found in the Northwest of the country.
Like Bled, it is close to Ljubljana so can be visited as a part of a multi-tour day trip! Find out more.
Frequently Asked Questions
Where is Lake Bled?
Lake Bled is located in the Julian Alps, a quick day trip from the capital city of Slovenia, Ljubljana.
Is Lake Bled Expensive?
Bled is no more expensive than Ljubljana.
If you choose to dine at the Castle this will naturally increase your budget but there are more economical restaurants around the town.
The cost of accommodation has definitely gone up over the past years as the town's popularity grows.
If you are travelling to multiple stops in the continent, do read our guide to how much things cost in Europe.
Can you swim in Lake Bled?

You sure can in summer. Not only this but you can fly down the slides and sunbathe on loungers.
Things to do in Lake Bled Bucket List
Walk or cycle around the famous
Row to The Church of the Assumption
Ring the bell of The Church of the Assumption
Hike to a Bled viewing point
Visit Bled Castle
Try Bled Cream Cake
Taste the wine
Canyon or kayak
Zipline
Slovenia Packing List
Camera and battery
Eco water bottle as there are heaps of places to fill up for free – the practical Tree Tribe US / UK
or Water to Go Water To Go [quote TSA15 at checkout for 15% off]
Final Words
Bled is a small but scenic stop in Slovenia which I highly recommend to anyone who is visiting Ljubljana. It was one of those images I saw online and just had to go and it did not disappoint. Biking was one of the highlights of the things we did when we visited Bled. Staying for longer? Check out this post on one week in Slovenia which recommends some other areas in Slovenia to visit.
Bled, Slovenia things to do
Like it? Pin it!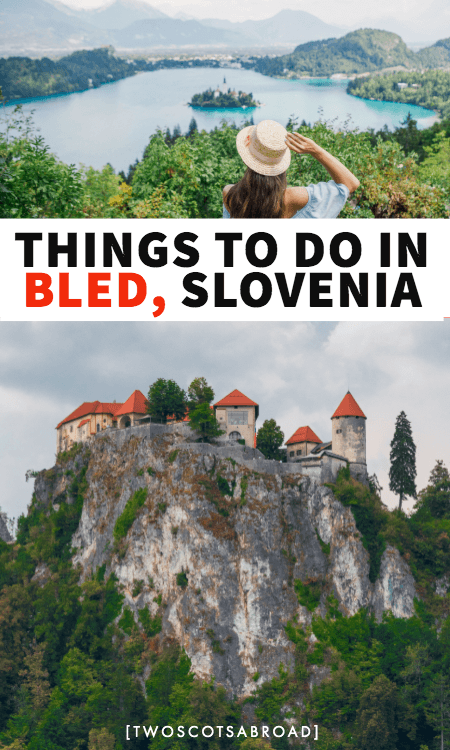 Over to you, any questions or updates?
---