This article has links to products and services we love, which we may make commission from.
Granite City, Grey City or the Silver City with Golden Sands, whatever you call Aberdeen in the north east of Scotland we (Gemma and Craig, two Scots who love to travel) are here to dispel any preconceived ideas and to inspire with our ultimate guide of things to do in Aberdeen. Not only that but we're also throwing in tips to get you out of the city and onto Aberdeenshire attractions and the Royal Deeside.
---
» Have more time? Read our guide to Aberdeenshire – castles, distilleries and landscape
---
Things to do in Aberdeen
Equipped with our Aberdeen bucket list, we spent four nights in the city following tips from locals (thanks to our friend Jen G) and Facebook followers. This guide to the city includes Aberdeen activities, festivals, restaurant recommendations and bar/pub suggestions.
City Centre
Union Street
Union Street or the 'Granite Mile' is the main shopping drag in Aberdeen and locals will be thinking, why is she starting here, but as a new visitor this street is the springboard to other great things to do in Aberdeen. Here you can expect shops like Zara and cafes and bars such as The Grill. There are lots of other streets running off Union Street which also have shops, restaurants and pubs.
Union Row
At first, you'll just see offices, but keep walking to discover four of the Nuart murals from the 2018 street art festival (running again 18-21 April 2019). For three days, Aberdeen becomes a canvas for artists to spray, draw and build on. The four pieces here are created by different artists. The most popular with our Twitter followers is the Big Trash Animals by Lisbon artist, Bordalo II. Look closer at the unicorn…
Popular with our Facebook family, Lithuanian-born artist Ernest Zacharevic is responsible for the boy climbing the building. You may think this style is familiar, Zacharevic also created the famous Little Children on Bicycle in Penang, Malaysia (street art bucket list item or me!)
A favourite of Follow Me Away (yes, that dreamy Instagram account) is Milu Correch's masked people. Correch is an Argentinean artist who started moving from notebook to m2 in 2011.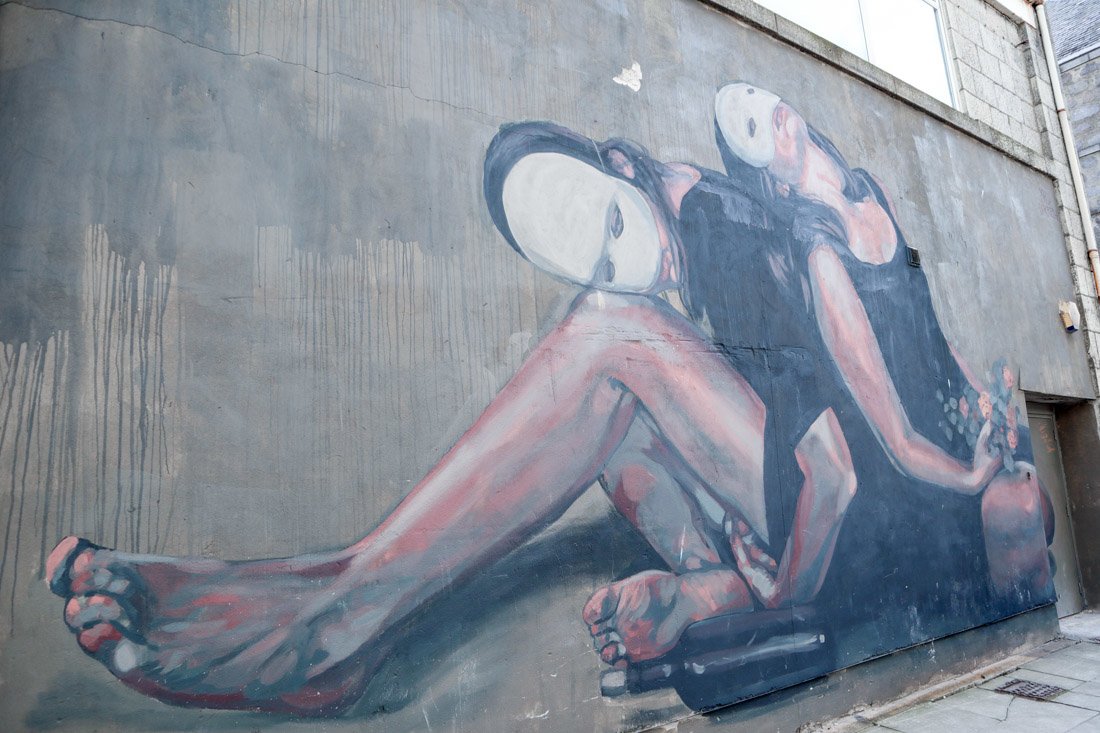 Finally, my favourite is by Norwegian street art duo, Nimi and RH74, the girl the green dress holding Crathes Castle. I'm drowning in her sadness and love it! Legend has it that Crathes haunted by the Green Lady…
» What's your favourite? «
---
» Read next: Aberdeen's mural trail – over 35 pieces of art mapped around the city
---
These are just four of the murals around the city, keep your eyes peeled for floating girls, fighting boys and wee figures attached to buildings.
During the Summer months, you can join the street art walking tour to find out the stories behind the wall art!
Union Terrace Gardens
Union Terrace Gardens is a public garden close to Union Street and Rosemont Viaduct (this is where we stayed, great location). The park is surrounded by His Majesty's Theatre, St Mark's Church and the Triple Kirks so lots of Aberdeen's spires!
The Tolbooth Museum
The Tolbooth Museum is a 17th-century prison building restored now as a functioning free museum. You can climb the tight stairs up to the cells and learn about the crimes that imprisoned real life 'offenders'. Do you agree with their crimes? I would be locked up for two! Can you work out which ones? Tolbooth Museum is one of the Aberdeen attractions that can be enjoyed if/when it rains!
The Tolbooth Museum is historically important to Scotland too, many of the Jacobites (supporters of Stuart King James II) were imprisoned here.
Castle St, Aberdeen AB11 5BQ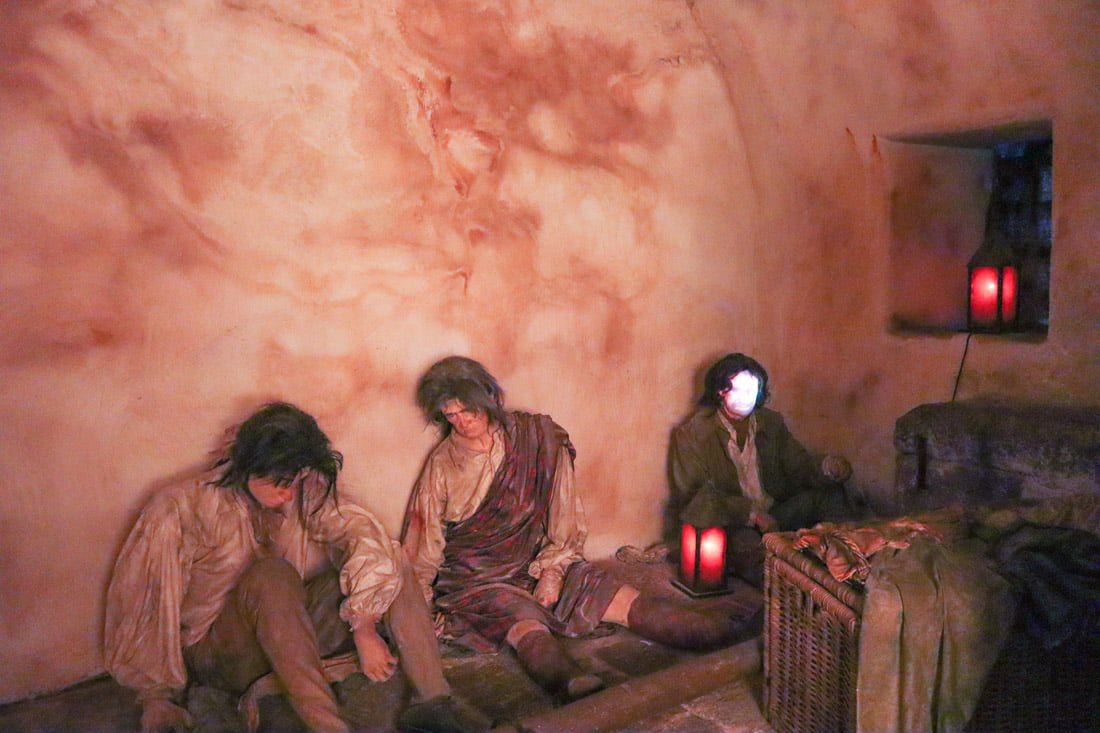 The Mercat Cross/Castlegate
You'll need to put your creativity caps on here as this is where Aberdeen Castle used to stand but it is now a block of flats. Don't worry, Aberdeenshire has been home to just 263 castles so there are lots for you to for you to castle-bag!
Castlegate used to known as Castle Hill and was the hub of the city. Stand in front of the Mercat Cross and imagine stalls all around with wine flowing from the gargoyles' heads during times of celebration! Or let a trained storyteller paint a picture for you…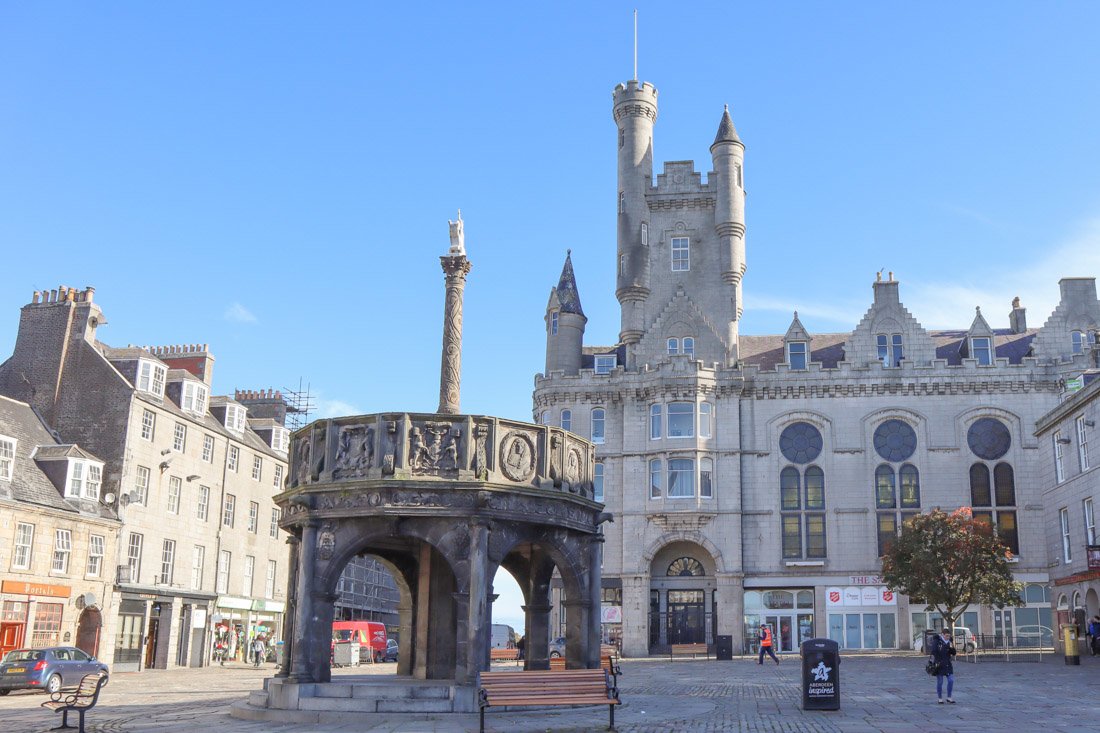 Free Scot Walking Tours Aberdeen
I love walking tours. It's usually the first thing I do when I get to a city so I can get my bearings (terrible sense of direction for a travel blogger!) and ask for local tips.
The Aberdeen Free Scot Walking tour is one of the most informative tours I've been on (we've done many, check out our destinations page) and ran by a one (wo)man band. Lia, the tour guide, walks you through history as you stroll through the streets of Aberdeen discussing war, pirates and of course, granite!
Other tours are available such as the West End (paid for by tips), Old Aberdeen (tips), and Crime and Punishment (£8) tours.
Weekend tours, check here for times.
Payment: like many tours around the world these are tip-based so pay what you can.
Marischal College
A beauty to look at from the outside but no access to its interior, Marischal College (Broad Street) was once Aberdeen's second university. Founded in 1593, nearly 100 years after Aberdeen's King's College (in the Old Town), the two colleges amalgamated in 1860 to form the University of Aberdeen. Now the Aberdeen City Council headquarters but locals can get married here.
Broad St, Aberdeen AB10 1AB
Robert the Bruce
Alan B. Herriot's bronze sculptor of King Bruce was commissioned as part of the 700th anniversary of the inauguration of Robert the Bruce. King Bruce is crowned and clutching the Great Charter of 1319 (which gave Aberdeen the power over the Forest of Stocket area in return for one year's rent – a thank for you sheltering him as an outlaw). The winning sculpture was chosen through a public poll and paid for via the Common Good Fund which was created with the help of Bruce himself. Interesting full circle!
I wonder if Aberdeen gets a mention in the new Netflix TV show, Outlaw King? If you like sculptures, don't miss Aberdeen's Sculpture Trail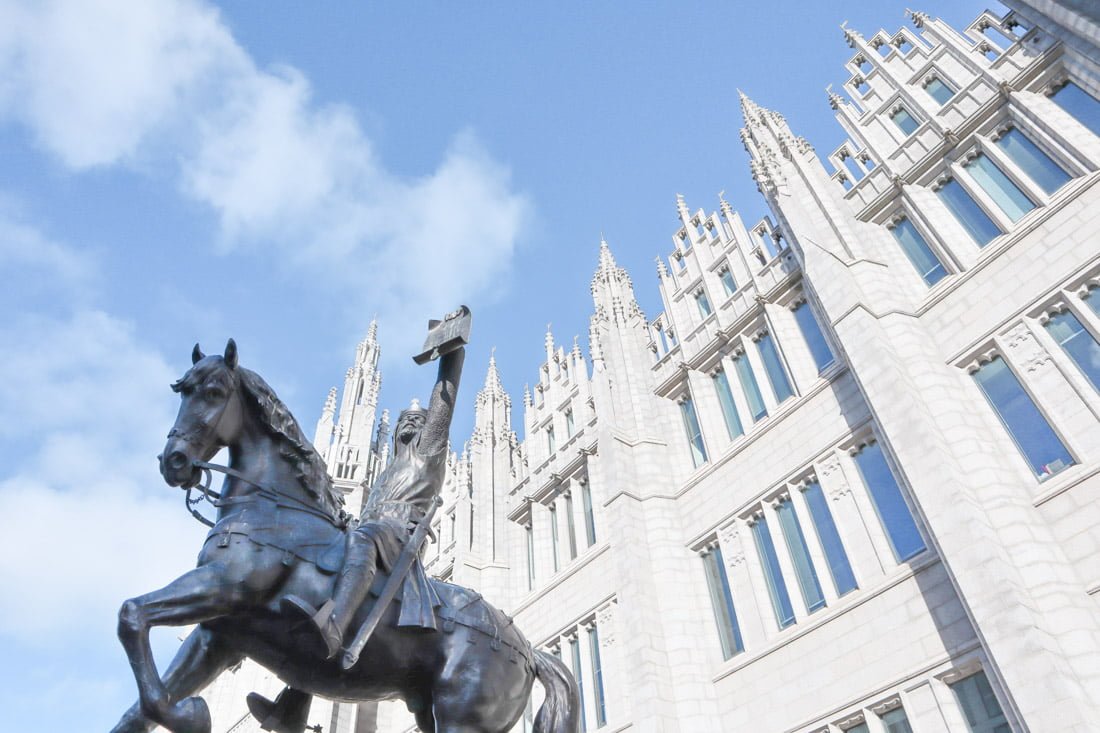 Oldest Building in Aberdeen
Provost Skene's House (Guestrow) is striking and an example of the types of buildings that were removed to create the modern Shiprow street. The house is named after one of Aberdeen's most famous citizens, Lord Provost George Skene.
The period house is temporarily closed, awaiting redevelopment. Keep your eyes open for future announcements (and let me know so I can visit and update this guide!)
Guestrow, Flourmill Lane, Aberdeen AB10 1AS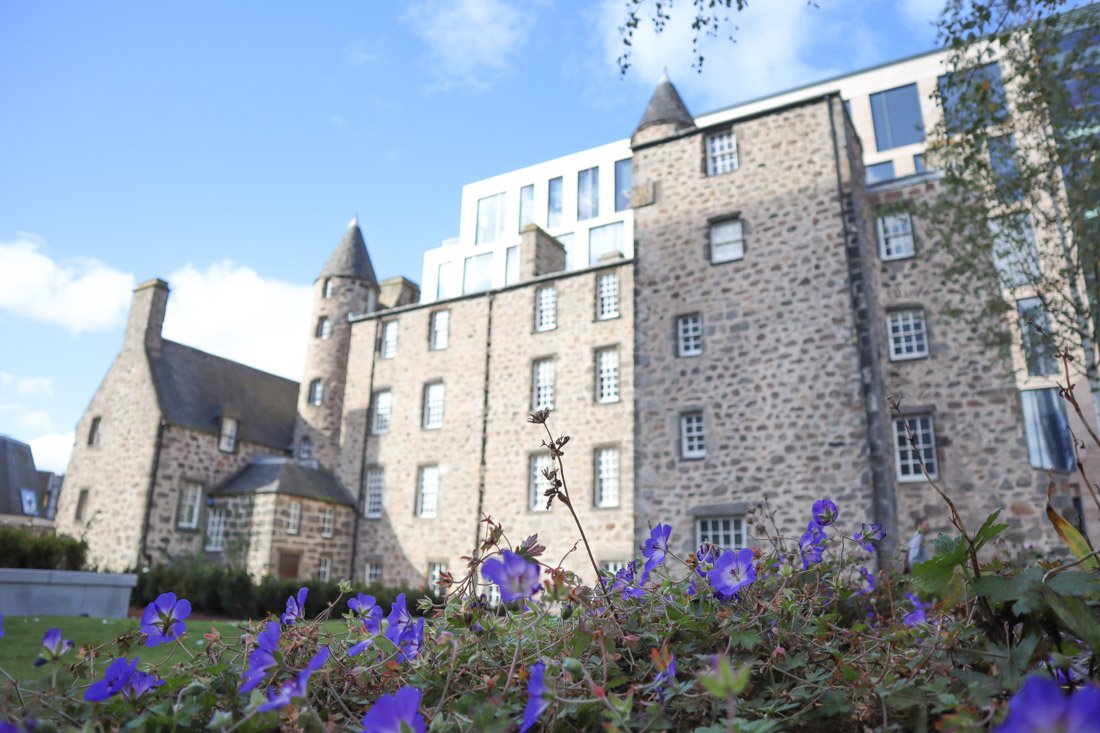 Poised Statue, Marischal Square
Do you recognise the material? Yes! Poised is by the same artist who created The Kelpies in Falkirk. This time Andy Scott has created a two-ton lurking leopard who hangs above elegantly you at Marischal Square.
Why a leopard?
Look at the Aberdeen crest! Also, take note of the city motto as you will see it used often too. I love how this modern piece of art is next to the oldest building in the city; it sums up Aberdeenshire outlook to me – embracing the past but leaping to the future.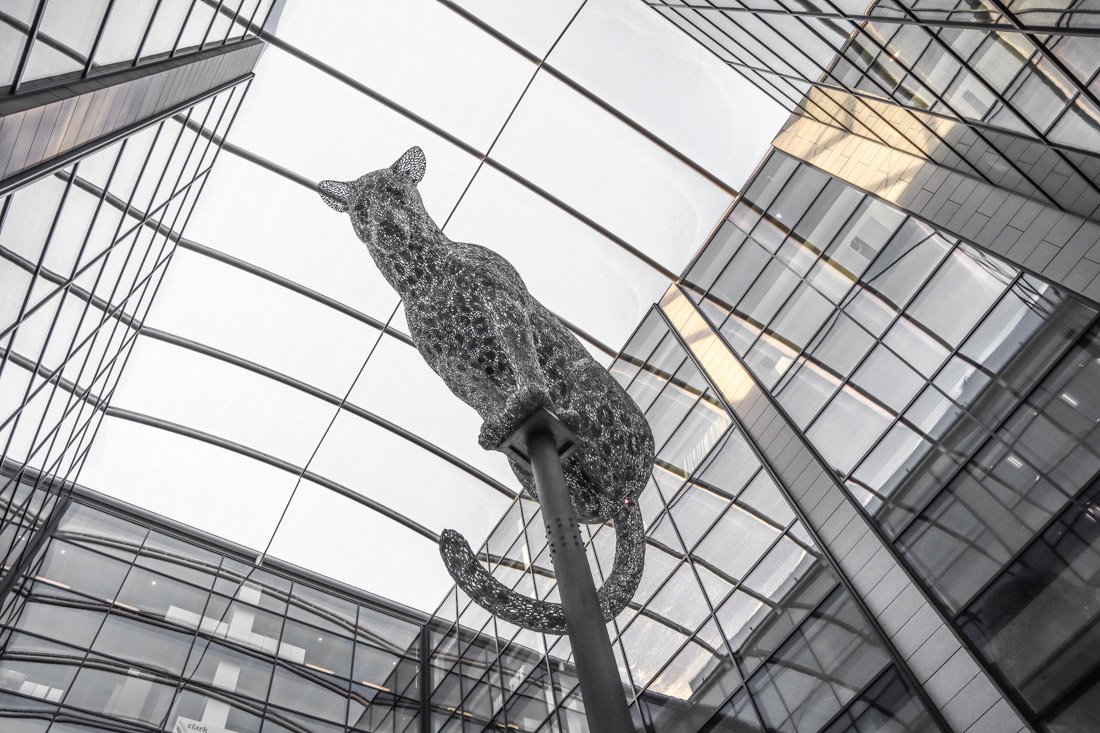 Ice Cream
It would be rude not to grab a milkshake, float, waffle or ice cream at the newest parlour in town, Mackies 19.2. If you go swinging at Go Ape (see below) be sure to ask for a discount card which gets you money off your cone.
7 Marischal Square, Broad Street, AB10 1BL
Russell Head
If it wasn't for the walking tour of Aberdeen I would have walked right past this. The Russell Head is an angry face built in to Provost Skene's House just before Mackies 19.2.
The funny story goes that George Russell's bakery was shut down by the council because it was near a sewer. He believed his neighbour shopped him in so he attached this gargoyle to his neighbour's home on Ragg's Lane. Ragg's Lane was demolished in 1959 so now the angry head lives here.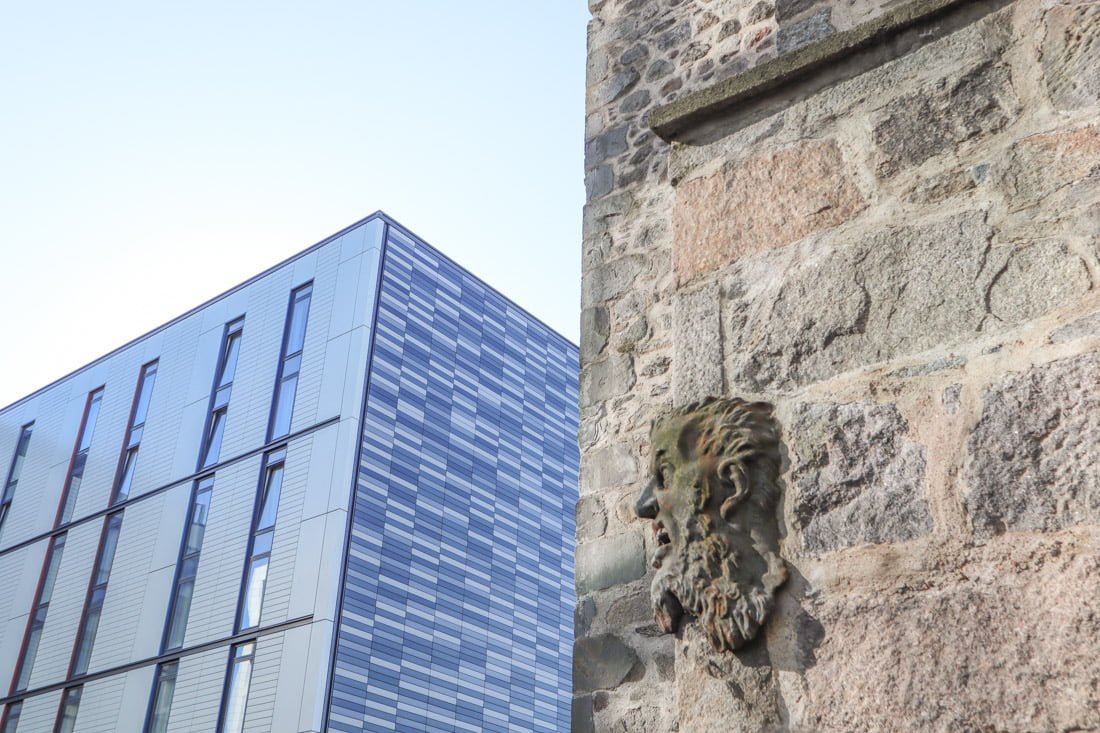 Maritime Museum
There is no denying the importance of the North Sea for Aberdeen. 'Working offshore', fishing and shipping are a part of everyday life for Aberdeenshire families and the Maritime Museum on Shiprow explains what impact this has on the region through multimedia exhibitions.
There is also a nice viewpoint of Aberdeen Harbour from the top of the museum.
Next door to the museum, look out for the 16th century Provost Ross House.
Shiprow, Aberdeen AB11 5BY

Catch a Film
We found ourselves walking through Belmont Street often during our four days in Aberdeenshire and stumbled across the cute Belmont Filmhouse. As well as modern movies, Belmont Filmhouse also shows throwback films, often linked to seasons or events happening around the city.
For example, during the Aberdeen International Comedy Festival, the Belmont screened the likes of Something About Mary and Brides
49 Belmont St, Aberdeen AB10 1JS
Attend a Creative Workshop
Our Lovely Goods is a house goals shop selling sustainable goods for the home as well as beauty products.
Many of the homeware products are created by Nigerian artisans.
The family-run business puts on events which include candle making classes and skincare product workshops.
The Green
Head downstairs from Union Street to The Green to see the flagship Nuart mural of the girl. She's haunting and lovely. Can you spot the lighthouse?
Don't miss the painted doors around The Green too. These are just a few of 24 doors decorated with different designs around the city. You can check this map to discover more.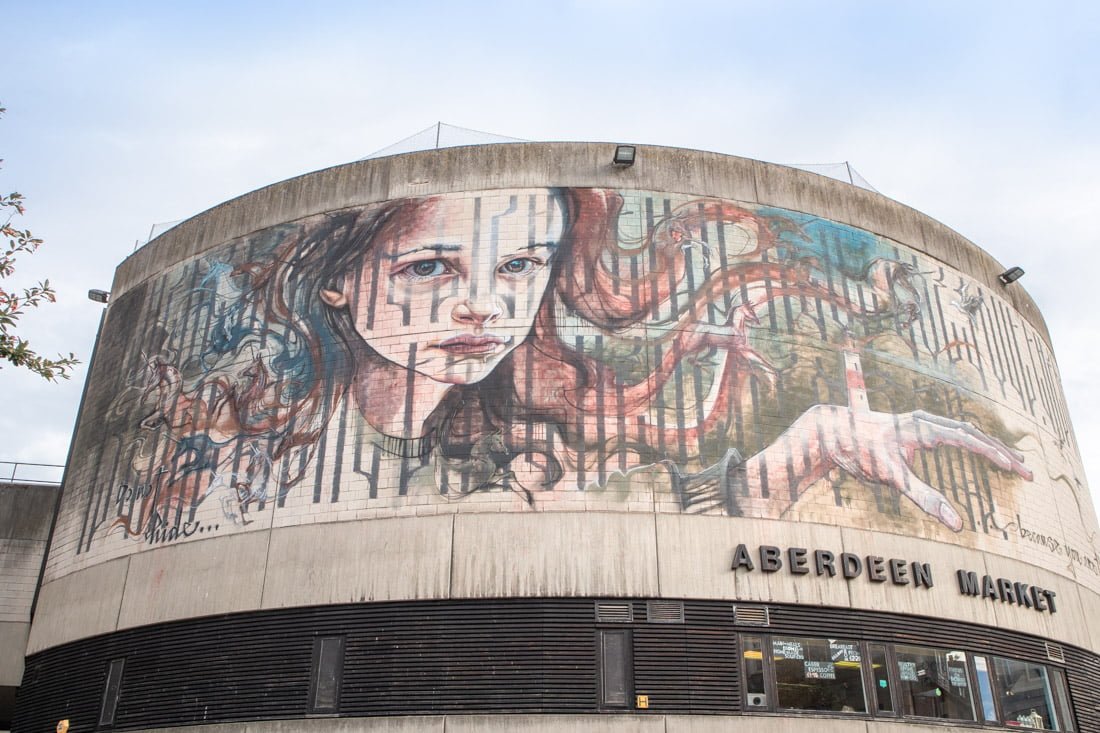 Eat Beer Stew in A Roll Bowl!
The brewery pub Six Degrees North has tasty beer and food in edible bowls. There are two types of meals on the menus which are served in a bread roll, a soup and a stew cooked in beer. You can break the bowl off and dip it in your lunch!
6 Littlejohn St, Aberdeen AB10 1FF

Aberdeen Afternoon Tea
There are quite a few options for afternoon tea in Aberdeen including 1906 Restaurant at His Majesty's Theatre, 210 Cafe Bistro where you can make it a Prosecco or cocktail lunch (booking is essential) and Carmelite in the heart of the Merchant Quarter – served every day in tiers and with teapots!
Aberdeen Beach
The best cities have a beach close to them and Aberdeen's beach is a mere 11-minute drive. There is a stretch of path to walk along while you watch the dogs playing in the sea.
There are also quite a few lunch stop options including lunch on a bus!
Highlander Bus Cafe
Have lunch on a bus by the North Sea! Although there is an element of playful gimmick dining at the stationary double-decker, the food is genuinely really decent.
Craig had the spicy hot dog and I had the chicken and avocado baguette. Alternatively, The Pier, The Sand Dollar and The Silver Darling also come recommended.
Beach Blvd, Aberdeen AB11 5DN
Aberdeen Fairground
Directly across from the beach is Codona's Aberdeen. We call the fairground 'the shows' in Scotland. The shows in Aberdeen have a big wheel, rollercoaster and log flume.
If it's raining you can check out the indoor bowling alley and amusement park – fun things to do in Aberdeen for big kids and wee kids.
Beach Blvd, Aberdeen AB24 5ED

Footdee (Fittie)
Say Footdee to a local and they'll reply Fittie (postcode AB11)! Nosing around the gardens and colourful doors of this Aberdeen's fishing village close to Aberdeen Beach may initially feel strange but the locals don't seem to mind!
The name Footdee comes from the village's location at the foot of the River Dee.
There's a reason Fittie is so photogenic; the same architect who designed the Balmoral Castle also worked on some of the houses in Footdee.
Things to do at Christmas in Aberdeen
We previously visited Aberdeen in December, just before Christmas (the 23rd!), for an evening out and some last minute Christmas shopping (that's how Craig rolls).
Aberdeen has a variety of events on during Christmas including the fabulous lights switch on and parade, food festivals (Taste of Winter and George Street Farmers Market), craft fayres, wreath making and of course the Aberdeen Christmas market. Expect gluhwein and festive gifts buys.
Shows in Aberdeen
The main reason we were visiting the city was to catch the Aberdeen Comedy Festival. 50 shows over 10 days in a variety of different settings from the gorgeous Tivoli Theatre to the comedy centre, Breakneck Comedy Club.
The Comedy Festival is not the only platform for shows in Aberdeen; Aberdeen Festivals puts on a festival nearly every month including dance, street art, light shows, music and tech.
Aberdeen isn't just about the festivals, there are many shows that take place at His Majesty's Theatre (you can also take a tour of the building), Aberdeen Arts Centre, the Beach Ballroom and The Tivoli Theatre.
---
Aberdeen Art
Much of Aberdeen's art scene is actually displayed on the end gables of buildings and on walls around the city. The Aberdeen Art Gallery (Schoolhill) is currently undergoing renovations and is due to reopen Autumn 2019. Keep us posted if you visit.
Schoolhill, Aberdeen AB10 1FQ
Things to do in Old Aberdeen
Aberdeen used to be two separate areas – Aberdeen and Old Aberdeen. In 1891, the two joined and luckily for us are only 35 minutes walk apart or a 20-minute drive/bus journey.
Powis Gate
Hmm, has Walt Disney been here? Powis Gate looks awfully similar to something out of a fairytale! Limited information online states that Powis Gate was built in 1834 by Alexander Fraser for John Leslie of Powis. The Gates are a magnificent entry to Old Aberdeen.

King's College
King's College in Aberdeen is especially glorious in Autumn with the red climbers taking over the ends of the building. Built in 1495, the University still uses its rooms to teach Divinity/Theology, History of Art and Religious Studies.
69 University Rd, Aberdeen AB24 3UB
Sir Duncan Rice Library
Contrast the old against the new at Sir Duncan Rice Library. The distinctive modern building stands out against the historic Old Aberdeen. Be sure to nip inside to take a look at the interior spiral of the upper floors!
75 Bedford Rd, Aberdeen AB24 3UE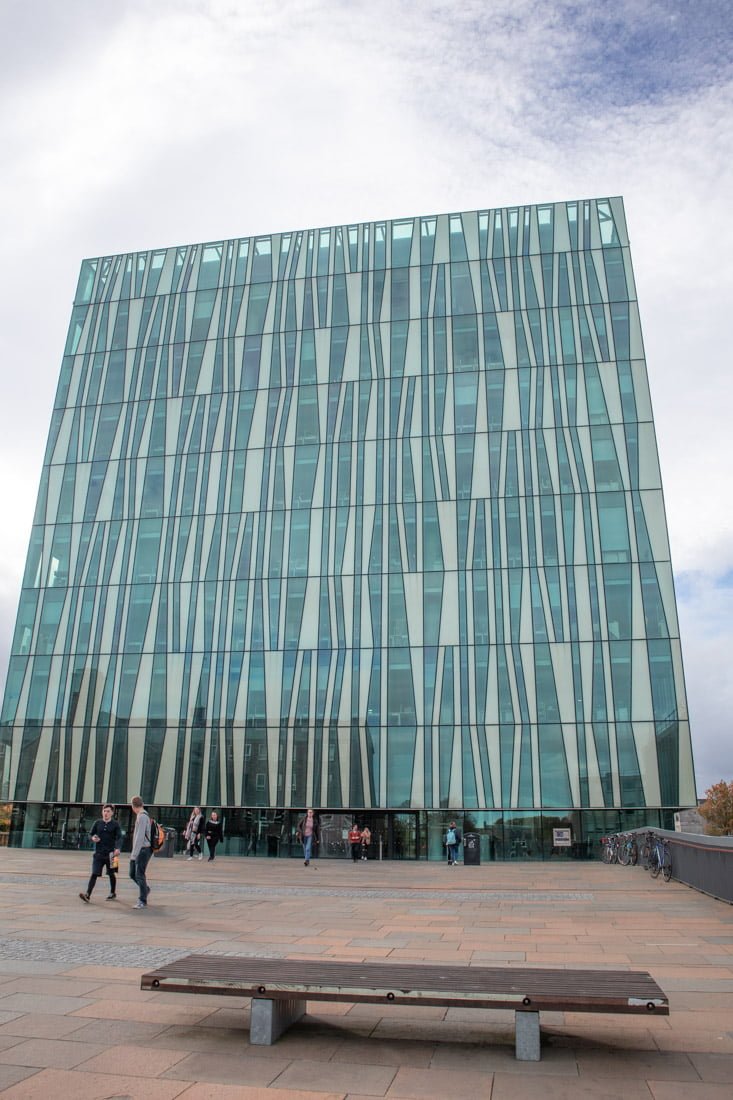 Aberdeen Cathedrals
St Machar's Cathedral is one of three cathedrals in the city. This west end place of worship, and its famous ceiling with 48 heraldic shields, dates back to the 15th century.
The other two cathedrals are St. Mary of the Assumption Cathedral (16-20 Huntly St) and St Andrew's Cathedral (28 King St).
The Chanonry, Aberdeen AB24 1RQ
What to See in Aberdeen: West End
Piper Alpha Memorial Garden, Hazlehead Park
On 6th July 1988, 167 men lost their lives during a series of gas explosions at an offshore platform 120 miles northeast of Aberdeenshire. Only 61 men survived by jumping into the North Sea.
The impact on the region was and still is today, catastrophic. The event still haunts many of the men who survived, the guilt, the worry and the nightmares.
In 1991, a memorial by Sue Jane Taylor was unveiled at the North Sea Memorial Rose Garden in Hazlehead Park. The memorial consists of three workers, one of which is modelled on survivor, Bill Barron. Why was Taylor selected to create the piece? She has and continues to, work closely with the offshore energy sector, documenting the relationship between art, environment and industry.
Taylor had also previously spent one week photographing and sketching the workers of Piper Alpha which were displayed in her own exhibition, Oil Worker Scotland. Taylor recently held the exhibition Age of Oil at the National Museum of Scotland.
Hazlehead Park, Aberdeen AB15 8BJ
The Gordon Highlanders Museum
Winston Churchill described them as 'The Finest Regiment in the World' and you can see if you agree at The Gordon Highlanders Museum.
Located in the west end of Aberdeen (St. Luke's, Viewfield Road), the museum displays exhibitions which detail the Gordon Highlanders regiment action around the world, their weapons and also its silver! This Aberdeen activity gets 4.5/5 on Tripadvisor.
St. Luke's, Viewfield Road, Aberdeen AB15 7XH
Johnston Gardens
The city has many green spaces and another close to The Gordon Highlanders Museum is Johnston Gardens (Viewfield Road). This small public garden is award-winning, picking up the first prize of Britain in Bloom competition several times.
Expect to see spring bulbs, heathers, ponds with irises, Muscovy ducks and the occasional wedding photoshoot!
Viewfield Rd, Aberdeen AB15 7XE
Food in Aberdeen
There are a variety of restaurants for every budget in Aberdeen including the following which was recommended to us by locals. Don't forget to pick up an Aberdeen buttery (sometimes known as a Rowe) from the bakers. The salty breaded snack is an Aberdeen favourite.
Madame Mews – 7 Summer St. – Cheap, huge plates of Thai food.
Musa Merchant Quarter – Need to book/art, music at weekend.
Foodstory 13-15 Thistle St. – Popular vegetarian cafe.
Bonobo Cafe 73-75 Skene St. – Vegan cafe.
Cafe Harmony 21 Bon-Accord Terrace – Italian.
Mackies 9.12 ice cream 7, Marischal Square.
6 Degrees North 6 Littlejohn St. – Beer soup in roll bowl.
Cafe 52 at The Green – Lunch, alfresco with heaters.
Moonfish Cafe 9 Correction Wynd – Upmarket.
Nargile Restaurant – Turkish.
The Highlander Cafe Bus Aberdeen Beach – Delicious.
The Pier (beach) – Busy on sunny weekends.
The Sand Dollar beach – Busy on sunny weekends.
The Silver Darling (beach) – Nice views.
Takeaway Lunches
Fresh Mex 145 Holburn St. – Open late, licensed.
So…NYC Bagels & Brew 269 Union St – Towering, fresh bagels.
Muchacho 9-11 Rose St – Mexican street food.
Grub Fresh Food – various locations – Sandwiches.
The Pigs Wings 22 Upperkirkgate – Sandwiches.
Ross Bakery 44 Chapel St – Tasty pies served most of the night.
Pubs
Soul 333 Union St – Cocktails in a converted church.
6 Degrees North 6 Littlejohn St. – Craft beer brewery.
Casc 7 Stirling St. – Whisky.
Under the hammer 11 N Silver St. – Basement bar, craft beers.
Brewdog – various locations – Craig's favourite craft beer.
Fierce 4-6 Exchequer Row – Really neat craft pub with other drinks.
The Grill 213 Union St. – Whisky.
The Stag 6 Crown St. – Nice decor, old man's pub(ish).
Blue Lamp 121 Gallowgate – Off the beaten track.
Ma Cameron's 6-8 Little Belmont St. – Beer garden 'Aberdeen's best-kept secret' at 300 years old.
Cocktails
Bar 99 1 Back Wynd – Relaxed.
The Tippling House 4 Belmont St – Cellar bar.
Dusk 45 Langstane Pl. – Bar to be seen at yet low light.
Orchid – Distillery 51 Langstane Pl. – Huge bar with live music.
Rye & Soda Unit 17, The Academy, Belmont St – Wine, gin, brunch.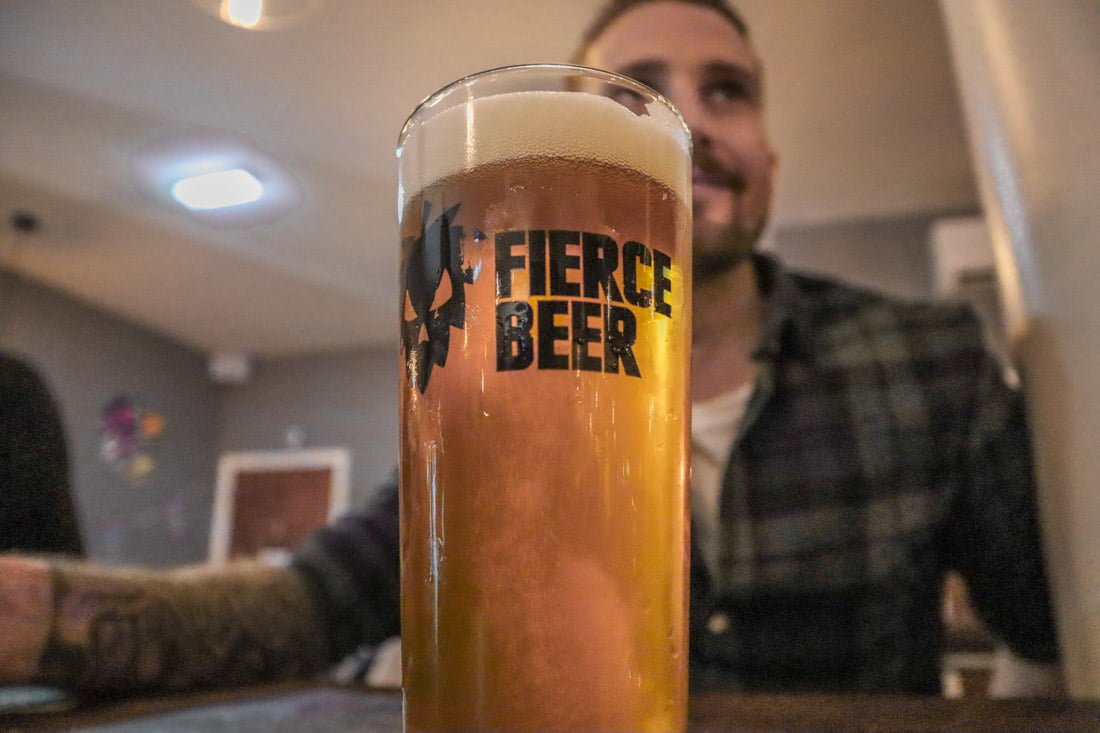 General Information
Where is Aberdeen?
Aberdeen is a city in the northeast of Scotland. It is 127 miles from the capital of Scotland, Edinburgh, 149 miles from Glasgow, and 66 miles from Dundee, making it a perfect stop of any east coast of Scotland road trip. Inverness, the gateway to the Highlands, is 103 miles from Aberdeen city.
Getting to Aberdeen
Aberdeen is easily reached by train and bus from the bigger Scotland cities like Edinburgh, Glasgow. The Edinburgh to Aberdeen train takes just over two and a half hours whereas the Glasgow to Aberdeen train can take an hour longer.
There is a direct link between the Aberdeen to Inverness train route. It takes just over two hours.
Aberdeen Railway Station is the only train station in Aberdeen and can be found at Guild St, Aberdeen AB11 6FD.
There is a cafe, bar and shop at the station as well as toilet facilities and public WiFi.
Megabus operates in Scotland as a cheaper alternative to the train. The Glasgow to Aberdeen bus is around three hours and the Edinburgh to Glasgow, three to four hours. The Aberdeen to Inverness bus takes five to six hours.
Although there are public transport connections, it is ideal to have a car in Aberdeen so you can take an Aberdeenshire road trip.
Get Your Bearings
Union Street is the long shopping street with Mercat Cross the Castlegate at the end.
From here, take Broad Street to see Marischal College (or Shiprow to lead you down to the River Dee) then Upperkirkgate to Backwynd for The Green (cafes, shops and the famous street art mural of the girl).
Union Terrace Gardens is very close by if you are looking for green space in the city. Old Aberdeen is a thirty-five-minute walk from The Green. The walk is pretty industrial which makes the Old Aberdeen appear even more majestic!
Aberdeen's west end is a 40-minute walk from Union Street.
Alternatively, use Google Maps or Maps.me app to get about.
Aberdeen Accommodation
We stayed at Skene House Rosemount (96 Rosemount Viaduct, Aberdeen AB25 1NX) which is brilliantly located close to Union Street (7 minutes walk) and Aberdeen's top attractions.
The room itself was actually three rooms – a spacious apartment in the city. This is great if you are looking to keep costs down as there is a small kitchen. Continental and hot breakfast are available each morning.
Private parking is included in the room rate which is great if you are off to do an Aberdeenshire road trip as we did!
Final Words
There are a crazy amount of activities in Aberdeen to keep you busy for a long weekend, especially if you choose to escape the city for the 'shire! From the Castle to Whisky Trail and Aberdeen's street art, food and museums a jam-packed trip to Scotland's northeast awaits.
Like it? Pin it to your Scotland board.
Any questions or comments?
Tells us below.
» » Thanks to Visit Aberdeenshire for working with us.
We really had a brilliant time rediscovering Aberdeen city while discovering new areas in Aberdeenshire and the Royal Deeside. « «