This article has links to products and services we love, which we may make commission from.
Tucked away in the north east of Scotland you will find the city of Aberdeen and the surrounding towns and villages which make up Aberdeenshire. This really is the region of trails for those who love history and the water of life, whisky! With just over 250 castles in Aberdeenshire throughout the ages, it is a great destination for 'castle bagging' and also living like royalty does on the Royal Deeside. While planning your trip to or around Scotland, do consider this northeast 4-day itinerary. Aberdeenshire and the Royal Deeside is lesser-known which means fewer tourists, the east tends to get fairer weather and there are fewer midges! Let's dive into this guide of things to do in Aberdeenshire. We're Gemma and Craig by the way, two Scots who love to travel at home and abroad.
Don't miss our guide to the city of Aberdeen!
Things to do in Aberdeenshire
One of the main attractions in Aberdeenshire is the coast and also the castles. Awash with beautiful beaches and steeped in history, there are plenty of locations to keep you busy on your Scotland road trip.
1. Fettercairn Distillery
Unlike distilleries on the likes of the North Coast 500 in the Scottish Highlands, Fettercairn is small, intimate one so tour sizes are wee which means you get to ask lots of questions. Fettercairn uses its location well, positioned at the foot of the Cairngorms the distillery uses the fresh mountain water as an ingredient.
Distillery Rd, Fettercairn, Laurencekirk AB30 1YB
2. Stonehaven and Dunnottar Castle
The harbour town of Stonehaven is small town famous for its Hogmanay fireballs ceremony, fish and chips and also Dunnottar Castle. Dunnottar Castle is just one of the many castles near Aberdeen worth a visit.
This is definitely one of the most popular northeast Castles because this iconic landmark sits out on a cliff over the choppy North Sea. The best views are from the top of the segregated area looking on to Dunnottar, however, visitors can pay to enter the 15th and 16th-century castle buildings itself. Dunnottar Castle once housed Earls Marischal (you'll recognise the name if you spend time in Aberdeen!)
3. Footdee (Fittie)

Footdee or Fittie (postcodeAB11) as locals call it is a quaint wee fishing village close to Aberdeen Beach. It is normal to see visitors wandering the gardens and taking photos of the colourful doors and welcoming decor. Footdee gets its name from its location – at the foot of the River Dee. The same architect responsible for Balmoral Castle also designed some of the Footdee houses.

4. Brewdog Tour, Ellon

Things to do near Aberdeen don't have to involve castles, promise! Brewdog is now an internationally renowned craft beer but did you know that it all kicked off in Aberdeenshire? This business started by two friends (and a dog) now employs over 1,000 people. Luckily for beer lovers, there isn't just a tap room but also a Dog Walk brewery tour. There are three brewhouses at the Ellon site including the Lone Wolf Distillery. Tours take place every day, check the times here.
Unit Balmacassie Industrial Estate, Ellon AB41 8BX

*Lickleyhead Castle
There is a reason that Lickleyhead Castle in Aberdeenshire is searched for often on Google, holidaymakers used to be able to book a room at this L shaped castle built in 1600. Not only this but Game of Thrones star, Rose Leslie (Ygritte), grew up here and there were rumours she was to marry Kit Harington (Jon Snow) here too but the wedding took place at Wardhill Castle according to the papers. I've not added Lickleyhead Castle to our itinerary because you can't actually visit it, I thought it was an interesting sidenote for GOT and history fans.
5. Slains Castle
Slains Castle is an interesting one for photographers because the ruin with big windows casts cool shadows in the afternoon light. Located on the coast of Aberdeenshire's Cruden Bay, this 1597 castle ruin is free to access and is close to Bullers of Buchan.
Did you know that it is said that Slains Castle inspired Bram Stoker's Dracula? You'll see why when you are met by flocks of blackbirds that guard the castle ruins.
Cruden Bay, Peterhead AB42 0NE
6. Bullers of Buchan

How have I've never heard about Bullers of Buchan? This collapsed sea cave is a striking attraction 25 miles outside of Aberdeen, five minutes' drive from Slains Castle. I hear that there's a great chance to see puffins here too (we weren't lucky).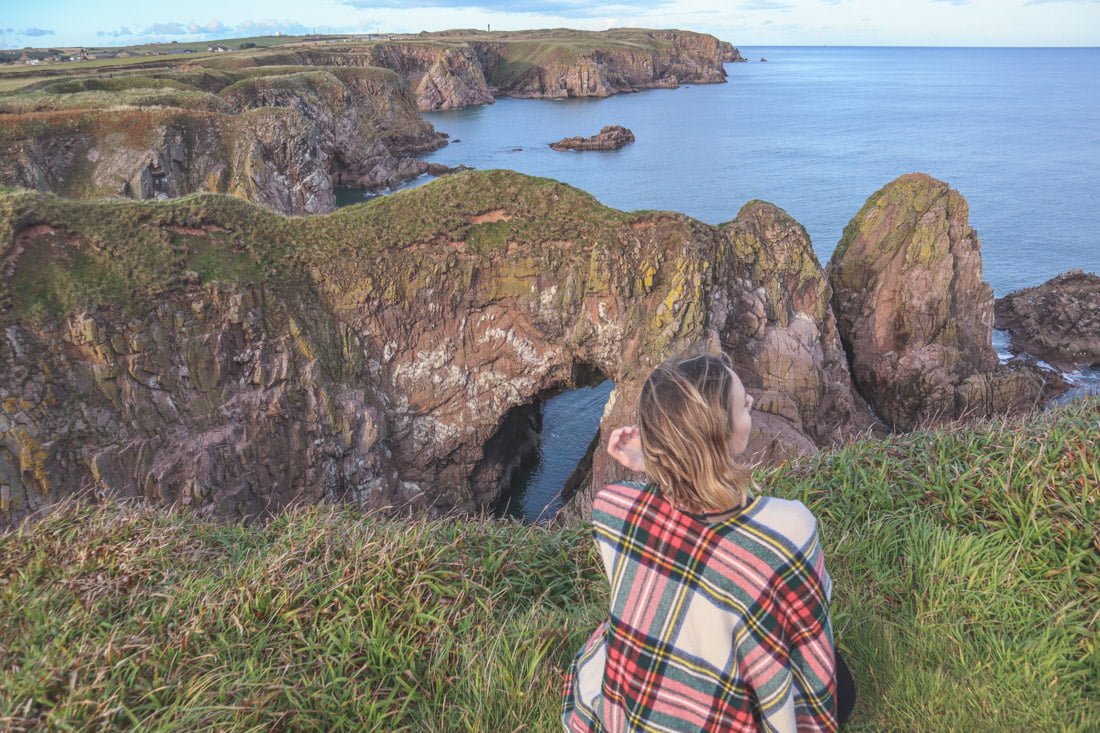 7. Peterhead Prison

HM Convict Prison was a fully functioning prison which opened in 1888. Now closed, this building shares interesting stories in the form of audio tours which covers life in prison throughout the ages. Group tours are available from Wednesday through to Sunday. We did the audio tour which took around 1.5 hours. There is also a cafe on site.
8. Glenglassaugh Distillery
Glenglassaugh Distillery is an interesting one for whisky lovers because this distillery has been brought back into production after being mothballed in 1986. There are actually a variety of tours on offer including a taster and behind the scenes.
Forgue By Huntly AB54 6DB
9. GlenDronach Distillery
GlenDronach is one of the oldest distilleries in Scotland and they've been making single malts for 200 years. You can find out more at the 'Journey of Rediscovery' daily tour. The tour lasts 45 minutes, taking you through the traditional whisky process and of course a sample of GlenDronach!
Forgue By Huntly AB54 6DB
10. Glen Garioch Distillery
This one hour Founders Tour of the Glen Garioch Distillery discusses the process of the award-winning single malt whisky created by the Manson brothers. Like above, the tour ends with a dram.
Distillery Rd, Oldmeldrum, Inverurie AB51 0ES
11. Craigievar Castle
This is the 'pink castle' in Scotland and I confirm that the filter has not lied, it really is baby pink. This fairytale castle is said to have inspired Walt Disney's, Cinderella Castle. Since Craigievar was actually a family home until the 1960s there are quite a few artefacts inside for visitors to check out. No Aberdeen sightseeing trip is complete without snapping the pink castle, add it your bucket list now.
Craigievar, Alford AB33 8JF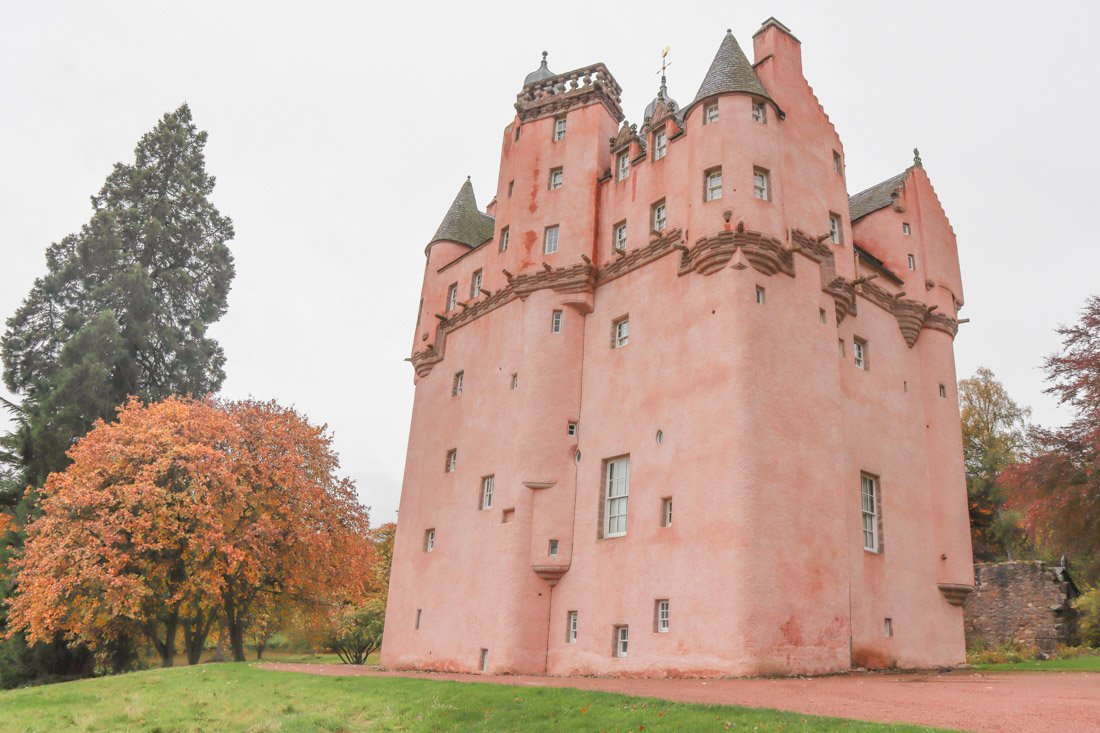 12. Drum Castle
Close to Crathes Castle, near Drumoak (five miles), Drum Castle boasts of a 13th-century tower and a mix of Jacobite mansion with Victorian additions. The castle grounds have accessible woodlands and a rose garden wall.
Drumoak, Banchory AB31 5EY
13. Crathes Castle
Crathes Castle is a brownish coloured castle dating back to the 16th century. It is surrounded by beautiful gardens and the yew hedges date back to 1702. Crathes Castle shares the same grounds as the adventure park, Go Ape, making it an ideal day out for thrill-seekers and culture vultures.
Crathes, Banchory AB31 5QJ
14. Go Ape Aberdeen
Go Ape is a UK-based treetop adventure park? in the grounds of Crathes Castle. Participants are trained to independently hook ropes to themselves and the Go Ape apparatus. This safely gets you around the obstacles amongst the trees.
It really is a thrill, and many of the challenges differ like the hanging loops or Tarzan swings. Set aside up to three hours to complete the monkey business and don't forget to pack warm clothes including hats and gloves.
Want a laugh? See here to see our Facebook live from Go Ape Aberdeen.
15. Braemar Castle
When we first posted an image of Braemar Castle on Instagram, followers pointed out that the castle looks like it is upside down! Local volunteers are happy to guide you around the 17th-century castle which was once owned by Clan Farquharson.
Braemar, Ballater AB35 5XR
https://www.instagram.com/p/BegEvM_AYBO/?taken-by=twoscotsabroad
Castles Near Aberdeen Bucket List
I know we've spoken a lot about Aberdeenshire's castle and I know I was confused about their locations so here's a quick bucket list for you. There are so many castles in the northeast that the area has been coined The Castle Trail in Scotland. The most famous is the Balmoral Castle (as this is where the Royals holiday in Scotland!) but there are many more to explore. Some of which have been featured in films or were muses for famous authors.
Dunnottar Castle – Stonehaven AB39 2TL (on a cliff)
Slains Castle – Cruden Bay, Peterhead AB42 0NE (Inspired Dracula)
Craigievar Castle, Alford AB33 8JF (the pink one from Instagram)
Drum Castle – Drumoak, Banchory AB31 5EY
Crathes Castle – Banchory AB31 5QJ (next to Go Ape)
Braemar Castle – Ballater AB35 5XR (star-shaped/upside down)
Aberdeen Whisky Distilleries Bucket List
Not only is there a Castle Trail in Aberdeenshire but also a Whisky Trail is also known as 'The Secret Malts of Aberdeenshire'. Why secret? Well everyone knows about The Speyside but the Aberdeenshire distilleries are lesser-known. There are more than eight distilleries an hour away from Aberdeen, with a handful opening their doors to share their story.
Fettercairn Distillery – Distillery Rd, Fettercairn, Laurencekirk AB30 1YB
GlenDronach Distillery – Forgue By Huntly AB54 6DB
Glen Garioch Distillery – Distillery Rd, Oldmeldrum, Inverurie AB51 0ES
Glenglassaugh Distillery – Forgue By Huntly AB54 6DB
Scotland has a zero tolerance policy on drink driving. Consider this distillery tour so you don't need a designated driver.
Aberdeenshire Itinerary
I know it can be confusing to envisage where Aberdeenshire's top attractions are. Here's is how we split up our time which includes time in the city and day trips from Aberdeen.
Day 1 Stonehaven/City
Stonehaven and Dunnottar Castle
Aberdeen beach
Lunch at Highlander Cafe Bus
Old Aberdeen
Aberdeen's west end
Pub grub dinner
Don't miss the Nuart art murals – here's our guide
Day 2 Aberdeenshire
Footdee
Slains Castle
Bullers of Buchan
Brewdog at Ellon + snacks
Peterhead Prison
Distilleries (we didn't partake in the water of life ourselves)
Dinner at Nargile Turkish Restaurant
Day 3 Aberdeen City
Aberdeen walking tour
Street art mural and painted doors
Coffee at Contour on The Green
Lunch at Six Degrees North (beer stew in an edible bowl)
Shopping/museums
Dinner at La Lombarda Italian
Day 4 – The Royal Deeside
Craigievar Castle
Go Ape
Crathes Castle
Braemar Castle
Final Words
Admittedly, our previous visits to Aberdeen and Aberdeenshire have involved drinking and being hungover. I am so happy that we finally got to see more of what Scotland's northeast has to offer, especially the castles. Craig was ecstatic to try a fresh beer at his favourite craft beer brewery and we both had a laugh testing our nerves at the adventure park, Go Ape. What will be your Aberdeenshire bucket list priorities? Tell us below.
Like it? Pin it to your Scotland board.
Any questions or comments?
Tells us below.
» » Thanks to Visit Aberdeenshire for working with us.
We really had a brilliant time rediscovering Aberdeen city while discovering new areas in Aberdeenshire and the Royal Deeside. « «