This article has links to products and services we love, which we may make commission from.
Looking for things to do in Mostar? Most known for 'that bridge' in the Balkans, the secret is out on this cute cultural capital of the Herzegovina region. So whether you are stopping by as part of a day trip, joining a tour or staying overnight let's take a look at what to do in Mostar.
Best Things to do in Mostar
1. Visit Stari Most – Old Bridge
Number one on our list of things to do has to be the star of the show, Stari Most.
Stari Most translates to 'Old Bridge' and this old bridge sits in Mostar's Old Town over the Neretva River.
It will come as no surprise that the old town was built centuries ago in the 15h and 16th centuries by the Ottoman Empire, designed by the chief Ottoman architect, Mimar Sinan.
Later the Austro-Hungarians occupied Mostar during the 19th and 20th century.
As this is the most popular Mostar attraction, expect lots of crowds on the bridge, which you can walk over, during high season.
Note: the bridge is slippy so wear shoes with grips or be careful as you walk over at the very least.
---
» You may also like | What to eat in Bosnia and Herzegovina
---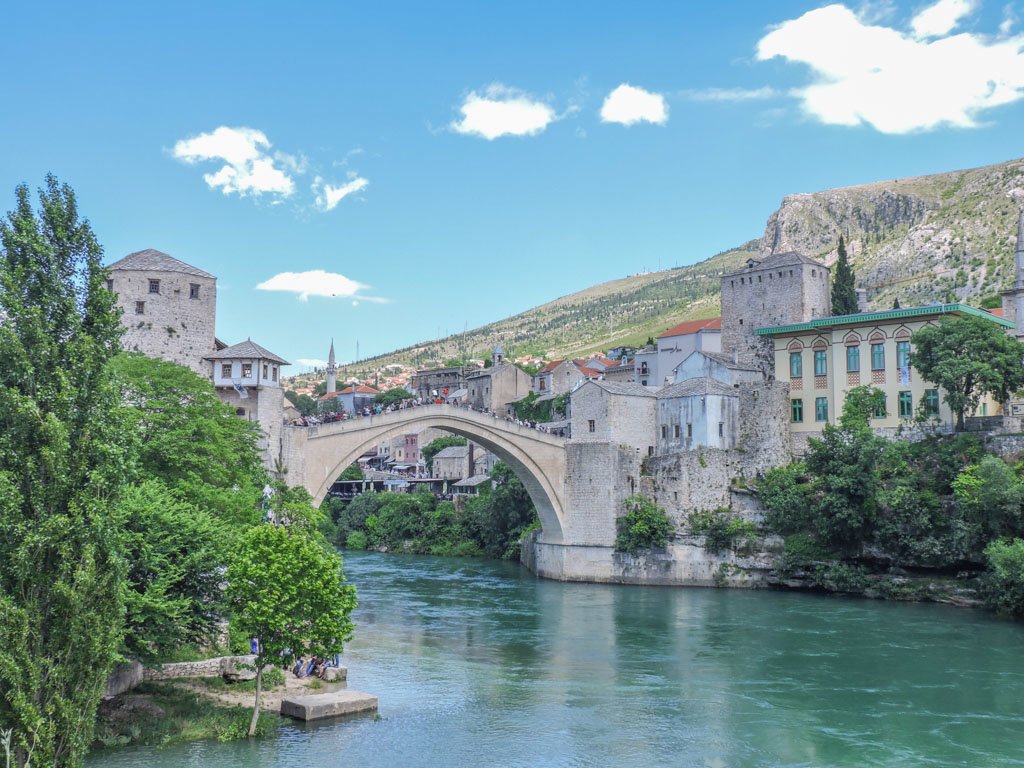 2. Watch the Mostar Diving
The story to share with your family and friends when you return from your trip to Mostar will be about the time you saw locals dive from the Mostar bridge into the Neretva River.
These entertainers jump from the Old Bridge akin to a circus act but like everything in tourist areas, this act is not free!
Divers collect a donation from onlookers and once they are satisfied with their coin they dive the 23m into the water.
This isn't a tourist fad though. The tradition dates back centuries and it is a rite of passage for young boys in the town to dive, by feet first or by swan diving.
Red Bull has hosted many competitions at the Stari Most.
3. Join the Mostar Diving Club
Yes, you read that right, my friends, tourists can jump off the bridge too.
However, you have to do this with the guidance of the Mostar Diving Club.
Entry fee is 25 euros.
For this, you receive brief training which includes getting used to the water temperature and a chance to jump off the practise board which is half the height of the bridge jump.
Once at the top of the bridge you climb over the small fence and then face your fears.
The instructor will tell you when to jump and when to change your arm placement as you fall.
You will not be doing the spins and summersaults like the profressional Red Bull guys!
After the jump, you need to use your adrenaline to swim through the current, if present, and to the rocky shore.
It is expected that you wear a half jumpsuit and bring a towel.
Take time to make the decision, not many tourists do it and there is a risk of injury if you fail to jump right.
4. Stari Most Viewing Points
This the last recommendation related to the bridge in Mostar, honest.
It's pretty hard to miss it but there are a few decent spots if you are into photography.
Best Views of Stari Most, Mostar
Place yourself on the main cobbled street of Mostar's Old Town with Stari Most to your left.
You want to take a path to the right, away from the bridge, walking over the river using another bridge (like in an 'L' shape).
Take the stairs down to the water.
There are two viewing areas of Bosnia's most beautiful bridge.
The smaller area (area 1, see image below) is nearly directly underneath the bridge and next to a cafe.
The larger (area 2) is where I took my best photographs of Stari Most.
There is an elevated area, next to a destroyed building, which shows off Stari Most at a nice angle.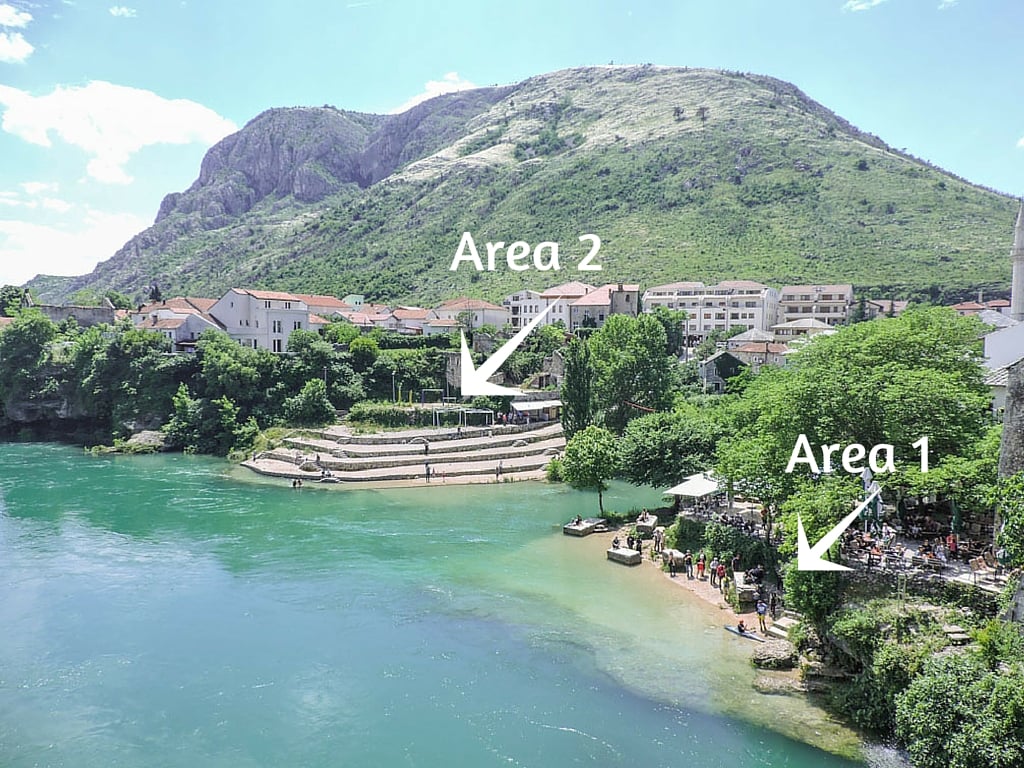 Image taken from Stari Most
On the lower half of this viewing area, you can take nice shots of you and the bridge, go on, prove you were actually there.

There is a step/wall which is useful for setting the timer for solo travellers or romantic couple shots!
I took the below shot from the viewing area #1 (next to the cafe), it didn't smell great so we moved on quickly!
5. Rafting in the Neretva River River
Prefer to be on the river? Some tour in Mostar use the river as the road.
A professional tour guide takes you through the city, tackling rapids and sharing tales about Mostar.
The adventure kicks off in the morning so it is advised to stay in Mostar the night before which means you will get the town to itself after the tour buses leave.
Pack swimwear, sunscreen and a towel.
6. Mostar Old Town
The Old Bridge is part of Mostar's Old Town. Both are protected by UNESCO.
You can easily lose an hour wandering about the pebbled streets of theOld Town popping into the small shops which sell coffee sets, lanterns and souvenirs.
7. Drink Bosnian Coffee
If you are an avid coffee drinker you may be excited about trying a new kind of coffee, Bosnian coffee.
Coffee connoisseurs should prime their tastebuds for something a little different to the coffee in the likes of the UK or North America. However, it is not as bitter as Turkish coffee.
Here, coffee isn't served in a takeaway cup with a misspelt version of your name.
Coffee drinking is a process and experience to be enjoyed over time and quality conversation.
The coffee will be presented in a copper-plated džezva pouring cup with an empty cup for you decant your coffee in to. On the tray, there should also be water, sugar and if you're lucky a kind of Turkish delight treat, lokum.
However, this is not Turkish coffee and locals will ensure you know it!
Spoon the cold water into the džezva to help the beans sink to the bottom. Use the spoon to help create a creamy texture.
Next, add a layer of the foam into the empty coffee cup with your spoon before pouring the body of the coffee from the džezva into the cup. Enjoy.
We visited on a sunny Saturday and commented on how different our culture is to that of locals in Mostar who were spending a lazy afternoon catching up, drinking coffee while sitting at outside cafes.
In Scotland, if the sun is out on a Saturday, it's 'taps off' and down the nearest pub with a suntrap for cider.
Check out Cafe de Alma in Mostar for traditional coffee with some training!
8. Mostar Tour From Sarajevo
Learn about the history behind the city and that iconic bridge on this Mostar tour.
Your tour guide will pick you up at your Sarajevo accommodation and drive you along the beautiful journey to Mostar whilst sharing stories of war and progress.
Highlights
5/5 rated tour with 'excellent' knowledgable guide
First stop, Konjic – a town known for its wood carvings
Lunch (not provided) in Mostar
Marvel at the Stari Most bridge
Return to Sarajevo
9. Bosnian National Monument Muslibegovic House
This building has a dual purpose.
Firstly, it is a preserved traditional house/museum which used to be the home of noble families in the 17th century.
Secondly, it is an award-winning hotel so you can sleep overnight in the museum!
10. Shopping in Mostar
Walk the (very tight) cobbled streets of Mostar which are lined with tourist shops selling fringe magnets, clothes, art, and jewellery.
Buy some gelato/ice cream and watch holidaymakers slip on the shiny floor surface of the Stari Most!
11. Mostar Sniper Tower
A crumbling high rise building with bullet holes in Mostar.
This ex-bank is now a street art mural gallery.
You have to be 'inventive' during entry and mindful of the staircase.
12. Mostar Mosque
Koskin-Mehmed Pasha's Mosque is a mosque built during the Ottoman Empire which allows tourists to enter for 6 euro.
Visitors say it is well worth the fee to see the decor and views of the bridge.
15. Museum of War and Genocide Victims 1992-1995
13. Mostar to Kravice Waterfalls
With the increase in photography being shared on social media, visitors to Kravice Waterfalls has increased in popularity!
It is best to go by a tour to see the 'Mostar waterfalls' but you can go independently by hiring a driver in Mostar or by taking a public bus to Ljubuski which takes around one hour and then hiring a taxi from there.
To enter the falls cost around 12 KM.
Pack your swimming gear if you fancy a dip but be mindful of your belongings.
Lunch/drinks can be bought at restaurants at the falls.
14. Dervish Tekke
Another short trip worth taking is one to Blagaj Tekija – the cute monastery under a cliff.
The white building sits stark against the turquoise waters with cliffs towering over it. Very photogenic.
Visitors can take a boat ride into the cliff.
Check out this tour from Sarajevo which includes both Mostar and Blagaj Tekija.
Practical Information for Visiting Mostar
Mostar War
If you look at the buildings on the streets of Mostar (away from the Old Town) you will see very clearly the destruction that this scenic city faced during the Siege of Mostar in '92.
This is when the Croats and Muslims fought against the Serb-dominated Yugoslav People's Army.
The siege occurred again in '93 – '94 when the Croatian Defence Council (HVO) and the Army of Republic of Bosnia fought against each other this time, both aiming to gain control of Mostar (obviously a far more complicated story than this summary).
This period of conflict created refugees, death, and damage – including an attack on Stari Most itself.
In '93 the bridge fell while under attack by Croatian shells.
Post-war, as the people of Bosnia began to build their own bridges, an international scientific committee established by UNESCO helped restore Stari Most, and much of the Old Town, to its former glory.
Fun fact, Croats and Muslims in Mostar could not agree on a whose statue would stand as a symbol of peace in their city so they finally agreed on… Bruce Lee!
If this aspect of Mostar's history and culture interests you, there is a museum called the Museum of War and Genocide Victims 1992-1995 in Mostar.
Accommodation in Mostar
Mostar Hotels
Hotels in Mostar are modestly priced for such a touristy town.
Mostar Hostels
Hostels are a great option for solo travellers looking to make friends and for couples of groups on a budget.
Rooms Deny: The owner, Deny, also offers tours. Guests love the community he creates. Dorms and private rooms.
Hostal Majdas: Solid reputation. Family-run hostel with breakfast.
Airbnb in Mostar
Airbnb apartment rentals are available. An entire apartment averages at 108 KM but go as low as 56 KM.
Mostar Campsites
There are three campsites in Mostar.
Mostar Packing List
Camera and battery
Or Water to Go Water To Go [quote TSA15 at checkout for 15% off]
A towel and sense of adventure if you plan to jump the Mostar bridge!
» » Don't travel to Bosnia and Herzegovina without travel insurance
Read how to choose here « «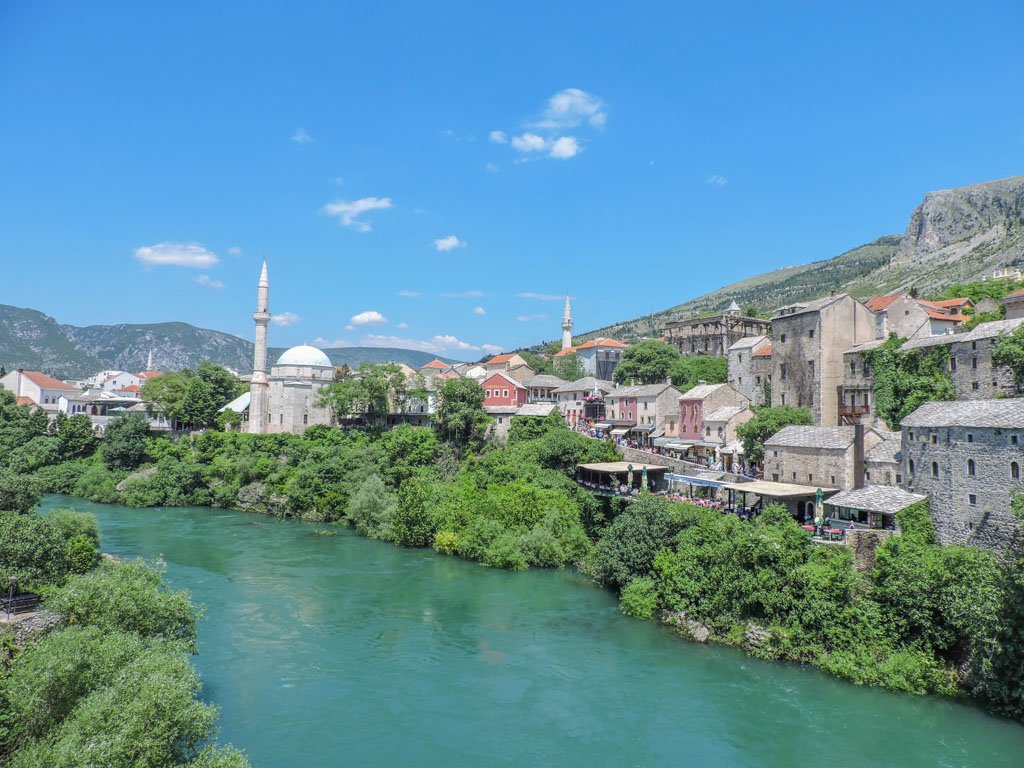 Restaurants in Mostar
Sadrvan: Grilled meat dishes.
Cafe de Alma: Traditional coffee with a lesson.
Food House: Popular with all visitors. Vegan options in keeping with the local menu.
Mostar Weather
Mostar experiences all four seasons with the warmer months starting June 10th and ending September 8th.
The hottest day in July can reach temperatures of 34 degrees.
The cold season starts November 22nd to March 7th with temperatures reaching lows of 1 degree.
November and December see the most rain but it is also prevalent throughout the year.
We planned our trip to Mostar on the sunniest day during our time in Bosnia as there is more to do in the rain in Sarajevo than there is in Mostar.
Best Time to Visit Stari Most, Mostar
To avoid the Mostar tours which flood the Stari Most, arrive in Mostar in the morning.
If you have the time, stay overnight. See our accommodation advice below.
Mostar Currency
Bosnia-Herzegovina Convertible mark is the main currency in BiH. You can check today's rates here.
Major credit and debit cards are accepted in most accommodation, shops, supermarkets and bigger restaurants.
ATMs are widely available. Currency exchange is also available in the Old Town.
Tipping is not expected but shows gratitude for good service. Rounding up or 10% is acceptable.
---
» Budget saving: How much does it cost to backpack around Europe?
---
Languages in Mostar
Most PRs, tour guides, shop assistance, etc speak English but the official languages spoke in Bosnia and Herzegovina are Bosnia, Croatian, and Serbian.
Sarajevo to Mostar By Bus
The bus station in Sarajevo is close to the Avaz Twist Tower.
Don't be fooled by the small number of bus stances at the front of the station, there are more through the turnstile inside as well as a cafe and toilet.
It is advised to book your bus ticket a day before you intend to travel, the booking office is at the station too. There is also an ATM.
Tickets have seat numbers but no one followed them (our numbers didn't even exist!)
Bus from Sarajevo to Mostar

Price: 17 KM
Duration: Approx. 3 hours
Picture of Mostar Bus Station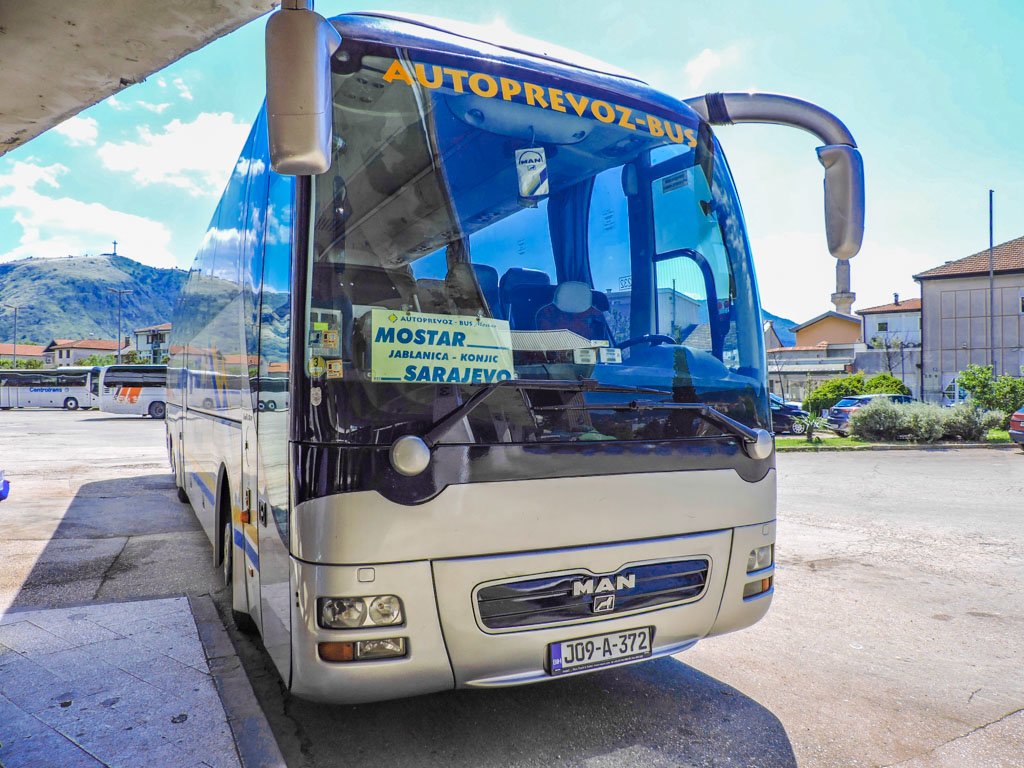 Best Seats: Sarajevo Mostar Bus
'It's not just about the destination, it's the journey' as the quote goes.
The bus journey to Mostar offers a bit of eye candy!
The best side to sit at is the right (window seat) on the way there.
On the way back the left had a bit of a view but again the right trumped it!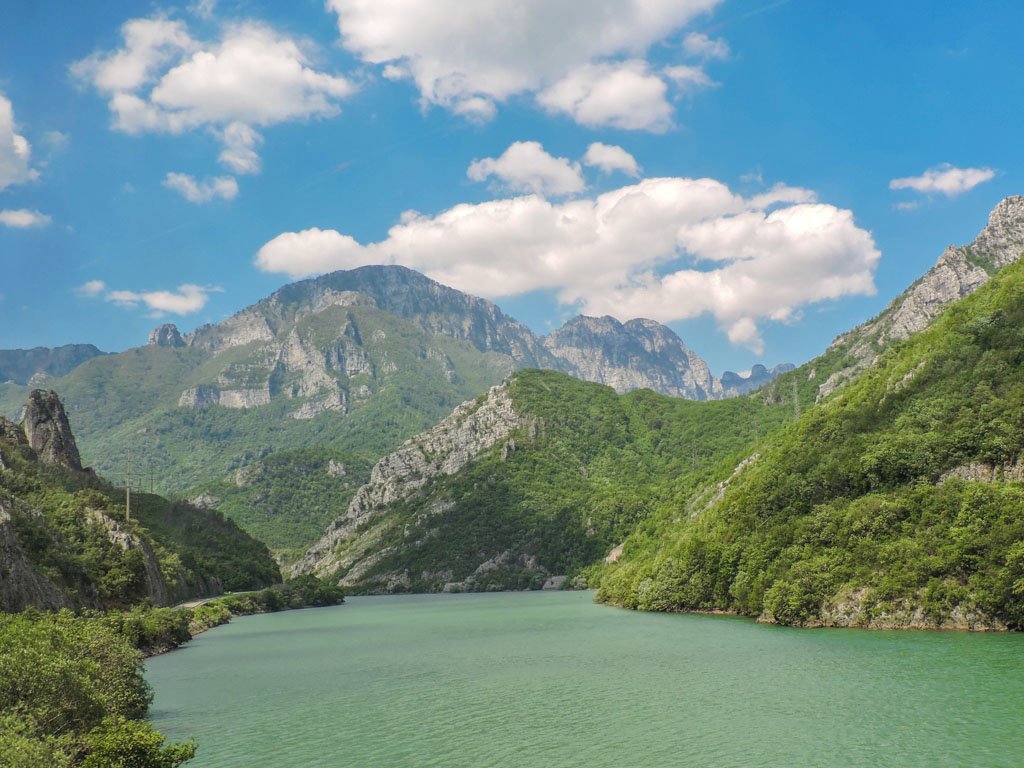 Sarajevo to Mostar by Train
Trains run every day from Sarajevo to Mostar and takes around 2-3 hours. You can book tickets at the station.
Sarajevo to Mostar Private Pick Up
Arrange a private hire which collects from your accommodation here.
Croatia to Mostar
There is a bus that runs from Croatia's Dubrovnik to Mostar every day and costs around €15 per person.
The Bus Croatia website shows three departures 16:00 and 17:15.
The journey takes around 3-4 hours.
It is likely that it is cheaper to book directly at the bus station but we used this online booking service between Slovenia and Croatia and recommend it.
There are four buses from Split to Mostar that run throughout the day.
The journey is 3-4.5 hours long and the price depends on which bus around €16.
Mostar to Montenegro
GetByBus offers a bus from Mostar to Kotor leaving early in the morning.
There's a night bus going from Kotor to Mostar too.
The Montenegro Hostel was very helpful when I enquired about transport between Mostar and Montenegro (which we ended up not doing).
According to their information, there is a bus from Mostar to Budva, Montenegro (via Dubrovnik) at 7am (£28) or a direct bus at 4pm (£24).
Both journeys take 8 hours.
The hostel also organises car transfers for the same price as the €35 bus.
The car journey takes around 4.5 hours.
We have no affiliation with the hostel, they were just super helpful, we now plan to head to Montenegro next year.
Check out this post on where to go in Montenegro to see why I am pining!
Final Words
Regardless of the bustle in Mostar, it is still worth a visit. The town really is beautiful, and I encourage tourists to put money in the pockets of Bosnians, regardless of the 90s conflict being over, there is still a daily struggle for many with around 40% off the country drowning in unemployment.
---
Further Reading
Heading to Sarajevo? Don't miss our gushing review of one of our new favourite European cities!
---
Going to Bosnia and Herzegovina?
Hover over and pin to your Pinterest board!

Over to you! Any questions about Mostar or Bosnia and Herzegovina?