Everyone says that scuba diving in Cuba is done at some of the best diving spots in the world, and also the cheapest, so we thought that this would be a great opportunity for Craig to take his first dive and we were right. Diving in the Bay of Pigs amongst the electric bluefish and the coral was spectacular!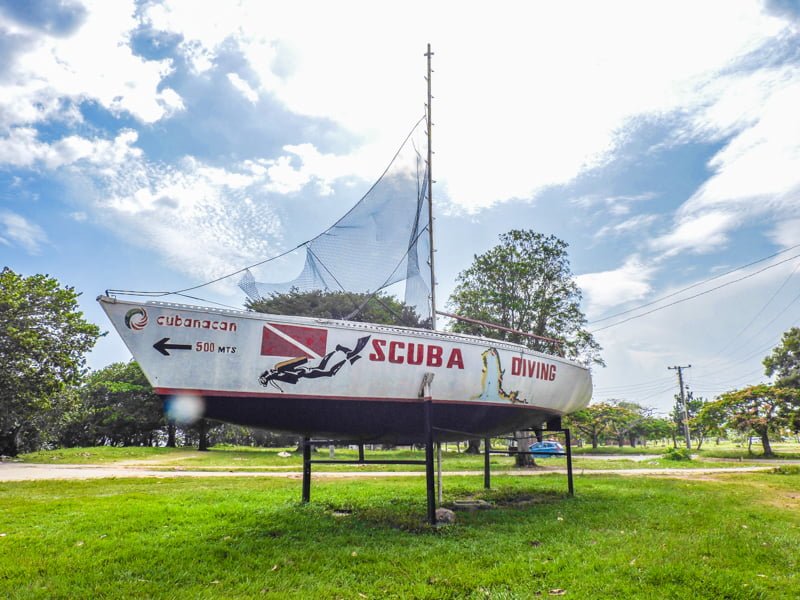 Why Scuba Dive?
It's a surprise that Craig hasn't dived before since his Dad has just retired as a deep-sea diver (aka Master Salvage Operator, great name) with the Ministry of Defence. I'd like to add that his Dad has retired as a result of diving induced medical reasons and not age, before Andy kicks off! To be fair on Craig, I can't imagine the River Forth (in Scotland) has much to offer bar the occasional trolley and shoe. Exotic!
I've dived once before in Australia's Great Barrier Reef and was keen to do it again in the turquoise waters of Cuba. It has been a highlight of our three week trip to Cuba and at 35 CUC each, an absolute bargain (do tell us if this was too expensive for Cuba, we won't be surprised after three weeks enduring the Cuban hustle!)
Scuba diving in Varadero is so much more expensive, you'd be looking at double this price and then some.
Potential divers – please read the entirety of the post. I often get frantic emails from travellers who are keen to dive in Cuba asking how to book the dive online before arriving in Cuba. We did not book online and everything worked out fine. I am the biggest over-planner but you have to let go in Cuba, it's just the Cuban way!
How to Get to Playa Larga / Bay of Pigs
We left Viñales via taxi (vintage car, standard) with three other friends.
The four and a half-hour drive cost 25 CUC each door to door with a short snack/toilet stop (ham roll for 1 CUC each, cost of an upset tummy for some of our group, free!) and a car swap halfway.
We hadn't arranged our casa in Playa Larga at The Bay of Pigs so we let the driver help us out.
We bartered for a casa in the small (very small) town of Caleton and got it down to 10 CUC each (we stayed in a double private, Sarah and Annie shared and Geoff had the other private), with the catch of paying for a 4 CUC breakfast.
It was the breakfast of kings but we've now learned that we should 100% not spend more than 10 CUC with breakfast.
The Bay of Pigs
The Bay of Pigs has two main beaches – Playa Larga and Playa Gerón.
A local in Viñales recommended Larga over Gerón, we hadn't mentioned we wanted to dive but this turned out to be the best option for the plunge.
Playa Girón is where Fidel Castro defeated the Americans during the famous attack at the Bay of Pigs. It has a museum and plaques for history fans. I was super keen to see this but it was going to cost too much in a taxi and as per, no one knew what times the buses came (such a headache).
We later found out there was a bus to Cienfeougos (then on to Trinidad, 12 CUC) which should stop at Girón at 10:00.
However, it actually arrived at 09:40 which nearly caused our amiga to miss it. Another two travellers also took the last seats so, taking that into consideration, a few out of the nine of us trying to leave Playa Larga would not have got on. This is typical of Cuban transport!
Gerón, Then Be Gone!
When we arrived in Caleton, we hailed down an American school bus which took us along to Larga itself to find something to eat.
Little did we know there wasn't anything!
The sea itself was quite dark, not what you see on Cuban postcards, nonetheless still pretty.
There was a resort but it looked like a ghost town. An employee told us that it did open during the day but because June is low season it closed early.
Annie says she felt like we'd only been dropped off in Playa Larga to feed the mosquitos. She wasn't diving in The Bay of Pigs though.
We were then jumped on by a man promoting his friend's restaurant and promised us the world, as Cubans do – lobster, chicken, deer (have yet to see Bambi in the fields), prawns, pork and crocodile.
Since Craig doesn't eat anything from the sea we clarified that there was definitely chicken…
Alas, when we arrived at the casa there was no chicken, or prawns. However, they did have pork. So for 9 CUC each, drinks included (haggled down from 10) we ate the feast with rice and salad. In Trinidad we managed to haggle a dinner with meat down to 5, you've just got to keep trying!
It's exhausting.
Organising Scuba Diving in Cuba
Our casa mum arranged the diving for us and the next day we were collected from the house at 9am, not Cuba time on this occasion which left us all flapping!
There was only one diving company, so there was no choice for diving in Cuba.
There is no need (or option!) to book a diving slot in advance. Arrive in the area the night before, ask around (casa owner, taxi driver) and someone will help you book a dive for the next day. This is very typical of life in Cuba.
Cheapest Diving in Cuba But The Best?
The bus took us to Playa Larga where we were kitted out by an angry man who then bussed us to the dive site. This is where Cuba from the TV is – crystal turquoise blue sea which smashes right up to the side of the 'beach' (grass and rock)!

Diving in Cuba
The beauty of diving in Cuba is that there is no need for a boat which keeps costs down (25 CUC), you just walk directly into the sea.
The diving instructors divided us into two groups – PADI certified who then went off to investigate a wreck at another dive site and us, the non – certified, who stayed at this initial dive spot.
After a quick 'equipment' lesson from the angry drill sergeant 'press this for up, this for down and this means OK' we were in the water.
Diving Panic
Initially, I was concentrating too much and had a slight panic, was I breathing too heavy? Too much? Was this normal? Why did I eat five pancakes and now feel like voming?
Craig confirmed he too was breathing heavily and long so this calmed me down and I was good to go. Craig said he panicked a little because he felt light-headed after his ears equalised (diving chat for 'popping') but that did not tamper the overall experience, which was magical.
Our first ever Youtube video! Check us out diving in Cuba!
Down we went to the bottom of the Caribbean, can't say that happens every day.
It felt like flying through the water amongst the colourful fish. The advice was to stay away from the bottom, I can confirm that coral hurts when you scrape your leg against it! At one point I was fixated on the bubbles escaping from the instructor's equipment, it looked like massive mushrooms of silver mercury rising to the top of the water, truly like a Disney movie.
We were underwater for forty minutes and when we returned to civilisation, Geoff said 'damn it, that'll be another expensive activity I'm sucked in to,' he was a first-timer too. Diving lovers! Check out this scuba diving bucket list. How many have you done?
Non Divers? No Stress – Snorkelling
Not up for diving? For 15 CUC you can hire a snorkel kit, although I think this price is really steep.
We were told it was because of the bus journey but we were only on the bus for twenty minutes max (maybe investigate a taxi to the beach and hire the kit there?) Into snorkelling, check out this post on snorkelling in Palau, an island near the Philippines – jaw-dropping!

Did you find this post useful? Pin for later!
---
Throughout our Cuba series, we've expressed that the three weeks in Cuba were the most challenging chapter of our 17-month travel trip. At the bottom of each article, I've highlighted what we enjoyed and what challenged us.
What We Love About Playa Larga
What We Shove

The hustle (it continues!)
The bank being closed, luckily we had euros to change (Cambiar also closed for lunch) and new friends to bail us out
The mosquitos
Duration: 1 night (I'd do 2 and get the bus the next day if taxi isn't feasible)
How to Get There
We took a taxi collectivo from Viñales for 25 CUC each but there is a bus
How to Get Out
Taxi for 20 CUC each to Trinidad (12.50 CUC to Cienfuegos)
Bus at 10:00 (arrived at 09:40)
Next stop: Trinidad (salsa and cocktails)
Where was the best dive spot for you?