This article has links to products and services we love, which we may make commission from.
Affordable, accessible and unusual. There are many reasons that scuba diving in Cuba is recommended for experienced and new divers. This guide looks at four popular diving spots in Cuba including the historic Bay of Pigs, the freshwater hole at Cueva de Los Peces, postcard-perfect Playa Ancon near Trinidad and Guardalavaca near Holguin. As well as some tips for those who prefer to snorkel with the fish and the coral of Cuba.
---
» Don't miss out | Click for our first timer's guide to Cuba
---
Best Cuba Scuba Diving Tips
It is unlikely you can book a dive online, WiFi and 4G work differently in Cuba. Read our guide
It is perfectly normal to book a scuba diving day trip through your casa or hotel
It is best to arrive the day before you want to dive and book a tour for the next day
Not all diving instructors speak English but generally enough to get by
Equipment is provided and included in the price
Some of the best diving in Cuba are very affordable and the more dives you book, the cheaper it gets
Diving at, or from, Varadero is the most expensive option, dive elsewhere if you can
You don't have to dive, you can snorkel in Cuba too
---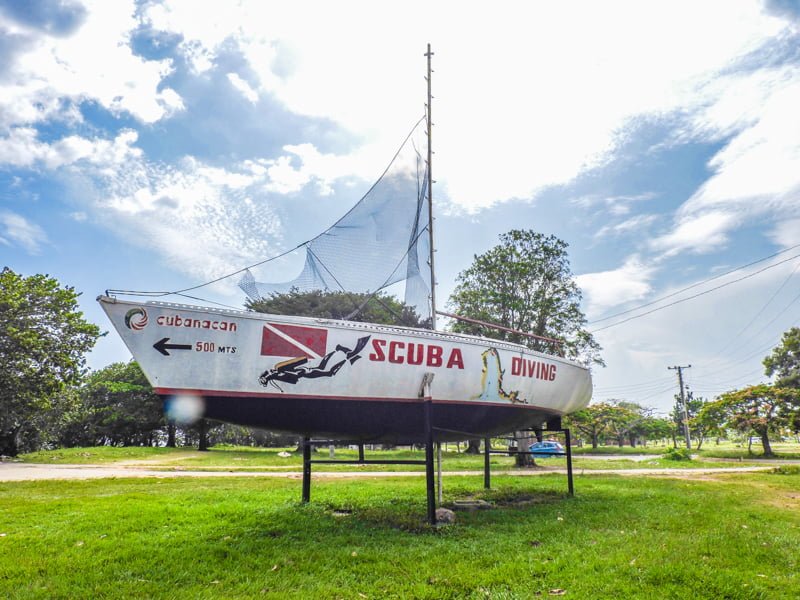 ---
1. Diving at The Bay of Pigs
The Bay of Pigs has two main beaches – Playa Larga and Playa Gerón.
A local in Viñales recommended Larga over Gerón, we hadn't mentioned we wanted to dive but this turned out to be the best option for the plunge.
Playa Girón is where Fidel Castro defeated the US during the famous attack at the Bay of Pigs.
It has a museum and plaques for history fans. I was super keen to see this but it was going to cost too much in a taxi from Caleton were our casa was and as per, no one knew what times of the bus which is such a headache.
The dive does not require a boat, you just walk straight into the water. However, you do need a lift from the dive company to the site.
PADI certified divers may have the chance to do a different dive which involves investigating a wreck at another dive site.
How to Book a Dive
The best way to book your dive is to ask the owner of your casa or hotel. Failing that, a taxi driver should be able to help you out.
The Octopus Club dive centre will collect you in the morning around 9am and take you to the dive centre where you will be kitted our and then driven for 20 minutes to the dive site.
This is where Cuba from the TV is – crystal turquoise blue sea which smashes right up to the side of the 'beach' (grass and rock)!

How Much Does Diving Cost?
The beauty of diving in Cuba is that there is no need for a boat which keeps costs down (25 USD) as you just walk directly into the sea. I think this is the cheapest diving in Cuba. If you know differently, please tell us in the comments below.
Our Experience
Initially, I was concentrating too much and had a slight panic, was I breathing too heavy? Too much? Was this normal? Why did I eat five pancakes and now feel like vomiting?
Craig confirmed he too was breathing heavily and long so this calmed me down and I was good to go.
Craig said he panicked a little because he felt light-headed after his ears equalised (diving chat for 'popping') but that did not tamper the overall experience, which was magical.
Down we went to the bottom of the Caribbean, can't say that happens every day.
It felt like flying through the water amongst the colourful fish. The advice was to stay away from the bottom, I can confirm that coral hurts when you scrape your leg against it!
At one point I was fixated on the bubbles escaping from the instructor's equipment, it looked like massive mushrooms of silver mercury rising to the top of the water, truly like a Disney movie.
We were underwater for forty minutes and when we returned to civilisation, our friend Geoff said 'damn it, that'll be another expensive activity I'm sucked in to,' he was a first-timer too.
Diving lovers! Check out this scuba diving bucket list. How many have you done?
Non Divers? No Stress – Snorkelling
Not up for diving?
For 15 USD you can hire a snorkel kit, although I think this price is really steep.
We were told it is because of the bus journey so it might be worth investigating a taxi to the beach and hiring the kit there. Into snorkelling, check out this post on snorkelling in Palau, an island near the Philippines – jaw-dropping!
Here's very amateur footage of our dive at Playa Larga.
How to Get to Playa Larga/Bay of Pigs
There are two ways to get to Playa Larga.
Firstly, the public bus operated by Viazul.
Another option, which is often price matched, is by taxi colectivo shared car ride. From Vinales, this costs 25 USD per person for a 4.5-hour drive with a short snack stop and a car swap halfway.
We hadn't arranged our casa in Playa Larga at The Bay of Pigs so we let the driver help us out.
We bartered for a casa in the small (very small) town of Caleton and got it down to 10 USD each with a mandatory 4 USD breakfast.
Staying in Caleton was fine for the dive but there really isn't much around. We dined in a local's front room after a PR found us wandering around an off-season resort.
This isn't usually the case but it was clear than the local didn't really want us there. You won't experience that often in Cuba!

---
2. Diving in Cueva de Los Peces, Playa Larga
The Bay of Pigs is well known for great diving straight off the beach in Cuba.
But what about diving in freshwater?
Cueva de Los Peces is a freshwater hole only a few hundred meters from the beach.
Wrapped in lush, green jungle this gem is well worth it for those who only come for a refreshing swim.
However, if you get on your scuba diving gear and sink beneath the surface there is a whole different world.
First of all, Cueva de Los Peces means "Cave of the Fish" in Spanish. There are no fish to be seen.
Following the end of the pool bottom, there is a narrow cave continuing beneath the river.
The dive goes down to approximately 25 meters, but the cave ground is most likely double the depth.
You will get a flashlight to guide your way once you enter the cave, though your guide will make you turn around once there is no more natural light.
The most beautiful thing about this dive are the rays of sunlight that cut their way through the darkness.
To get the most out of this breathtaking sight, turn off your flashlight for a while. Diving in Cueva de Los Peces is, without a doubt, one of the most unique things you can do in Cuba.
How to Book a Dive at Cueva de Los Peces
You can book your dive through your casa particular at the Bay of Pigs.
There is no need to book in advance like other places, they will make a call and assure your place the night before.
You will probably have to go on a whole day trip with a bus that takes you to another dive site off the beach too.
You can choose if you want to do both dives or not.
How Much Does Diving Cost?
The regular beach dives cost 25 USD while the Cueva de Los Peces cost 40 USD.
However, there is a dive center at Cueva de Los Peces, so if you travel independently you can check for prices there too.
You need minimum Advanced Open Water to do this dive.
» By Linn at Brainy Backpackers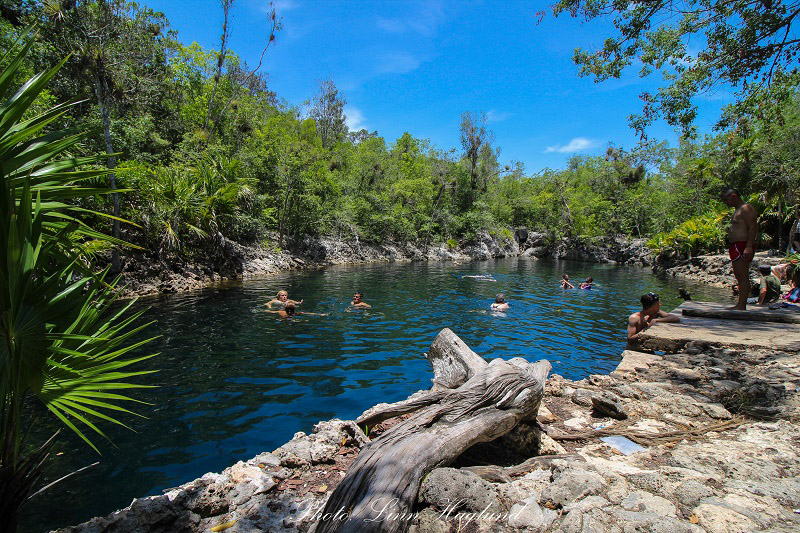 ---
3. Diving in Trinidad – Playa Ancon
Playa Ancon is a popular beach located some 15 minutes by car from Trinidad, and it's the most popular beach in the area.
Getting here is easy with a taxi colectivo.
Some tourists also rent bikes to come here, but a taxi is the most convenient way to get here from Trinidad.
---
» You may also like | Best things to do in Trinidad 
---
How to Book a Dive at Playa Ancon
You can book both the catamaran and scuba diving next to the hotel bar on the beach.
How Much Does Diving Cost?
Scuba diving typically costs 40 USD per person for a dive, equipment and transportation.
When is the Best Time to Dive?
The most pleasant time of the year to come here is from November to April when it's the dry season.
Snorkel Instead of Diving
The diving here isn't that interesting though, snorkeling and spending time on the beach is a better option.
The beach is very pretty with palm trees and crystal clear water. Nearby, there are three resorts with all the amenities needed.
If you want to snorkel, it's recommended to hire a catamaran for about 10 USD, which will take you further out to the reef.
There are plenty of types of fish, and most trips will be around one hour. It's possible to stay longer of course, but one hour is enough.
It's easy for families as snorkeling here doesn't require great swimming skills.
The reef is about 1-2 meters below the surface.
You can rent snorkel equipment on the beach, but it's recommended to bring your own.
» By Alexander at Destinavo

---
4. Guardalavaca
A great spot for scuba diving in Cuba is the tiny village of Guardalavaca.
Guardalavaca can be found in the Northeast of Cuba, it's approximately one hour from Holguin and three from Santiago de Cuba.
There is only one dive school in Guardalavaca called the Eagle Ray Marlin Diving Center.
There are usually two dives a day, at 9 am and 11 am.
How to Book a Dive at Eagle Ray Marlin Diving Center
The best thing to do is go to the dive school one or two days before you want to go diving and ask if there are spots available the next day.
How Much Does Diving in Guardalavaca Cost?
Of course, you are curious about the dive prices, these vary between 25-40 USD per dive.
The exact price depends on the number of dives you do. The more dives, the lower the price per dive.
Do I Need Gear?
No, the divemasters will help you select your gear and assist you in assembling said gear (if you need this).
They will then explain about the dive sites you will be visiting that day and will tell you about the marine life you can expect to see.
Though of course there are never any guarantees what you will come across!
There are plenty of spots for scuba diving around Guardalavaca, well over 20 sites! I did three dives and went to these three dive sites:
Laberinto
Coral Garden
Sirena
I'm sure they are all beautiful, so it probably doesn't really matter that much which one you visit during your dive(s).
When is the Best Time to Dive at Guardalavaca?
The best time to go diving here is between December and April.
» By Lotte at Phenomenal Globe
---

Did you find this post useful? Pin for later!
---
Final Words
This was Craig's first dive which is surprising since his Dad is a retired deep-sea diver for the Ministry of Defence and although he felt panic at first, once he eased into the experience he was raring to go again.
I've dived once before in Australia's Great Barrier Reef and was keen to do it again in the turquoise waters of Cuba. It has been a highlight of our three week trip to Cuba and at 35 USD each, an absolute bargain.
If you don't want to dive, you can try snorkelling in Cuba instead.
Did you dive or snorkel? Tell us in the comments below?