Want to travel but can't afford to? Workaway and HelpX (and possibly Volunteers Base) may be the solution. If you want to live abroad for free, have time to offer and basic skills to swap then you, like us (Gemma and Craig – thrifty travellers), could experience travel through a local's eyes while on a budget. Here are the benefits, the downsides, and the process of programmes such as Workaway, HelpX, and Volunteers Base for those who have considered work and travel.
What Is Workaway and HelpX
Programmes such as Workaway, HelpX, and Volunteers Base allow travellers to live with and work for hosts all over the world. Generally, the traveller does not pay the host, financially, for the opportunity and the host does not pay the traveller a wage (salary) for the use of their time, skills, and experience. It's an exchange of help for board that is the payment. Workaway, HelpX and Volunteers Base differ from housesitting as there is an element of work involved.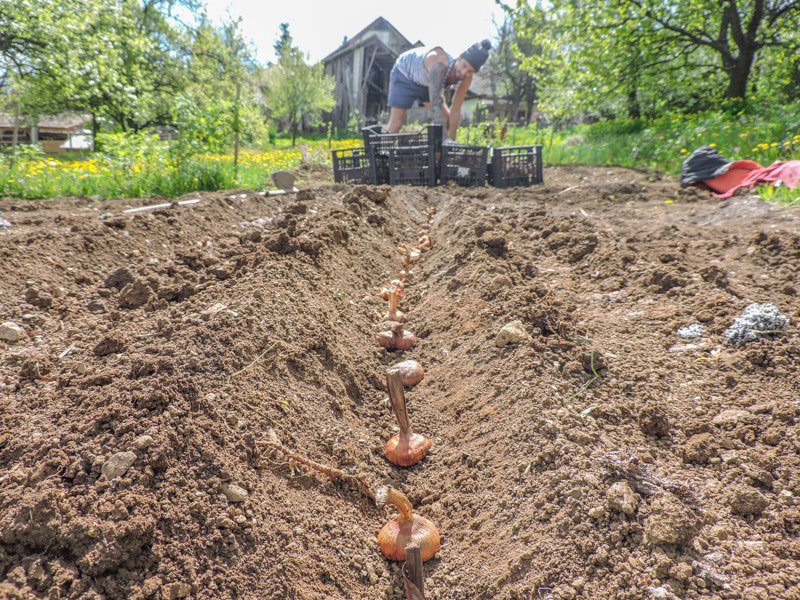 Learning new skills in a Hungarian village near Eger
Who Are Workaway Hosts?
My personal experience is with the website Workaway. Workaway hosts come in all shapes and sizes! Some are hostel / hotel owners, others are organic farmers. Families often need some help with childcare, sometimes stables need people to muck them out! We have lived in a beach hotel in Nicaragua, with a (mostly) self-sustainable household in the Hungarian countryside, I've volunteered my services as an English native, and we've been dog walkers in Granada, Spain. Workaway does not hold the monopoly on travel exchanges, there are alternatives! HelpX has been mentioned often on the road, where as I've not met anyone in person who has used Volunteers Base.
Types of Jobs – Workaway and HelpX 
The type of work you do will depend on the host and the time of year. Hostel and hotel owners may expect you to clean, cook, and interact with guests. We've planted potatoes, flowers, and painted fences (all of which was new to me!) Craig has made furniture out of crates and fixed water systems (he's a gas engineer to trade). I've dabbled in social media promotion and website help. Sensible hosts will tap into your skills base and utilise them! I have seen call outs for the likes of social media strategists on a near full time basis – don't do it! Personally, I think this host was abusing the point of Workaway style programmes, it's supposed to be a voluntary position, not stealing a paid job from someone with solid industry experience!
Painting wood for the common good!
Workaway Experiences
Nicaragua
Hotel help in paradise aka Las Peñitas. I served customers, helped in the café, took photos, wrote for the website. Craig made furniture, fixed water issues, made a bathroom roof.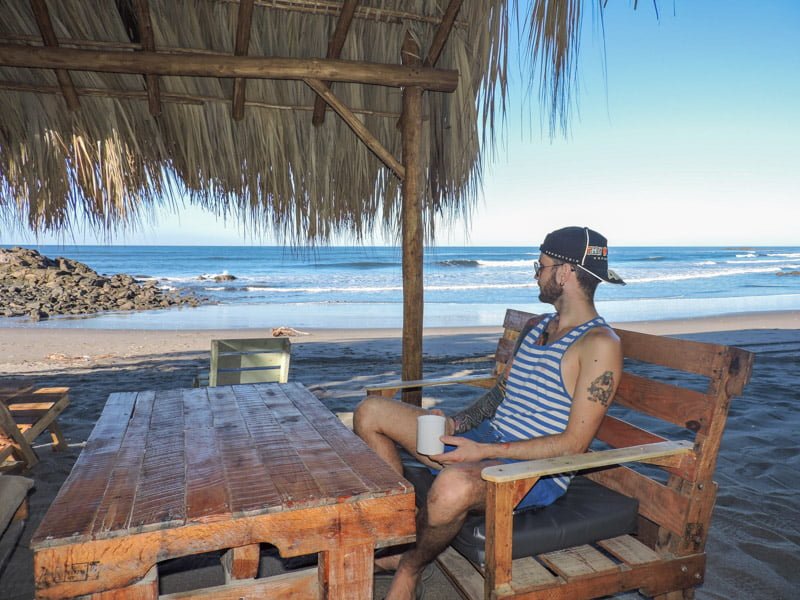 Life's a beach volunteering abroad – Craig made that chair out of crates!
Hungary
After a week partying in Budapest (eating Lángos and drinking pálinka) we moved to the countryside to help a family turn their outhouse into a guest room as well as doing a spot of a light farming, while eating a ridiculous amount of home cooked food!
Duration: 3.5 weeks
Reward: private room with kitchen and bathroom, 3 meals plus snacks
Check out more of 

Budapest

 and 

Budapest day trips
Before the above Workaway placement I left Craig in Budapest and attended an English language programme where I spent about 12 hours a day over five days with Hungarian natives who wanted to improve their language skills. A fun experience with a very impressive and motivated group of adults! Some of the volunteers found this programme through HelpX.
Duration: 5 days
Reward: private hotel room (some people shared), 3 very big meals, use of the hotel facilities (gym), tour of Budapest before the programme kicks off
Sometimes hosts feed you, a lot! Hungarian sour cherry soup – yums
Spain
The second last country on our 17 month long term travel itinerary was Spain. During the 1.5 months in Spain we moved in with a single parent who had four dogs! Our main role was to walk our furry friends three times per day and make dinner. The family child was around at the weekends and I walked him to the bus stop for school sporadically but that was the extent of childcare. This family were not very transparent in their profile, they sold themselves as a three person family who required childcare help as the mum was sick, we were a bit miffed at not being notified of the changes before we arrived at the house.
Duration: 3.5 weeks
Reward: private room, swimming pool, 15 minute bus ride from Granada
Have a gander at our 

tips for Granada, Spain
Dog – sitting in Spain
Hours of Work
Hours of work can vary from 2.5 to 5 hours per day / 5 days per week, anything more than that wouldn't be worth it (unless short term and unique to you) in my experience. The expected hours should be stated on the advert, reconfirm on arrival! Obviously the nature of the business might require flexibility but remember – you are a volunteer, not a paid member of staff! The Hungarian / English language programme did take place from 8:30 to 21:30+ with 1.5 hours of free time in the afternoon but it was only for five days and the point of the programme was immersion for the participants!
Does Workaway and HelpX Pay?
Workaway style programmes do not offer paid work abroad. Hosts don't tend to pay in cash, a bed and sometimes meals are exchanged for your help. We've had everything from no meals, to three meals and plus snacks (so much food)! However, if you do want to earn some cash,  here are some ways to earn money and travel.
How Long Are Exchanges?
Length of stay depends on the needs of the host and availability of the volunteer. Our longest was five weeks and shortest five days. We initially agreed on two weeks in Nicaragua but extended this to five. Hosts tend to be ex backpackers too so they know how backpacking life works, tranquilo! If you are only in a city for a short period of time it might be worth checking out Couchsurfing, where you stay with a host for a set time, for free, with no work expected.
Accommodation
There is no standard for Workaway, HelpX or Volunteers Base exchange accommodation. We've slept in a private garden house with bathroom and kitchen, a private room with shared bathroom (and pool!) and a four bed dorm. The latter was not really great for us as a couple but would suit others. There are many hostels which offer a bed in their staff dorm, it all depends on their set up. Sleeping arrangements should be stated in the advert.
How Workaway Works
To create a Workaway profile and access adverts you need to pay $29 / €24 / £22 or $38 / €34.79 / £29 for a couple which has been totally worth it for us. Create a profile, add some photos / a video, tick the boxes of the work you would like to do and the countries you are interested in. Be honest! If you don't want to get muddy, don't tick gardening!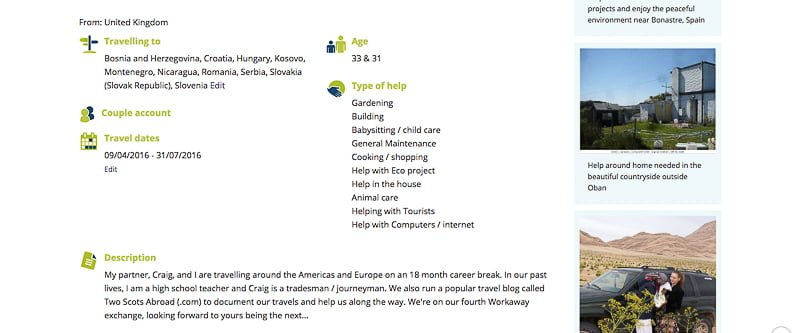 Workaway Profile
Searching for Workaway Hosts
There is a search function on the website. Select the continent and country you are interested in. This will pull up hosts in that area. Check the calendar for availability (green means the host is looking) and read the advert. Double check the type of work, sleeping arrangements, hours of work, and perks! There may also be reviews at the bottom. If that programme seems suitable, use the email system to contact the host. Personalise the email, our Hungarian host says he gets lots of generic emails where the prospective volunteer hasn't even bothered reading the profile! Our Nicaraguan (actually Argentinian) friend told us that he was inundated with emails, so you need to stand out! Use the host's name, tell them why you are suitable for the position, and give your availability. We also stick our availability in the email header.
Workaway reviews – for hosts and volunteers 
Another handy function is the 'wish list' button which allows you to store adverts you like the look of for later. However, early bird catches the worm and all that!
Fed up of seeing the same adverts? Select the last minute, new listing or updated listing buttons. This will filter out older profile.

Select continents, countries, keywords or go anywhere!
Become a Workaway Host
Unlike Wwoofing, it is free to sign up as a host on Workaway, HelpX, and Volunteers Base. Complete the form online, let the company vet your information (Workaway creates a headline for your advert) then wait on the awesome volunteers to contact you! Remember to update your calendar regarding your availability *pet hate* Adding images will also increase your likeliness of gaining attention. Our host in Hungary, Robert, is also an avid Workaway volunteer!
How HelpX Works
HelpX offers two levels of membership – free and premium. Under free, you can create a profile and hosts can contact you. To use the search facilities and wish list similar to Workaway, the price is €20 / €18 / £15. This will also give you access to previous reviews.
Workaway vs HelpX
Workaway definitely has a more polished website but is €4 more expensive. Workaway allows you to upload a video to your profile as well as images. It also runs social activities like photo competitions. It's not apparent from the website how many jobs HelpX has on the site, Workaway states '1000s of jobs in 135 countries'. Sonja from Migrating Miss used HelpX to find an exchange in a traditional house in Spain. The only way in was via Land Rover which drove over a dry riverbed! The hosts invited multiple volunteers to help clean around the house, cook, plant, etc which suited Sonja as she was a solo traveller. Another bonus of volunteering abroad – meeting new friends! The reason she choice HelpX over Workaway was simply down to word of mouth, a friend had completed an exchange with HelpX and recommended it. Sonja also liked how HelpX set out adverts on a map, she said there was plenty of variation in work and that hosts were 'so-so' at replying (like Workaway then). Check out her experience of the work exchange in the Spanish countryside!
Volunteers Base
Volunteers Base sells itself as a free alternative to Workaway, HelpX, and Wwoofing. No one pays, the volunteer or the host. The site covers a variety of positions from farm work to child care all over the world. They also claim to check over profiles before they are published live. I've not tried this personally, but it does looks like a legit free alternative to Workaway and HelpX. Have you used Volunteers Base? Tell me about your experience in the comments below.

Live here for free! Las Peñitas, hidden gem in Nicaragua 
Benefits of Work or Volunteering Abroad

Local experience. Many programmes give you the chance to work with local people in their own environment so you learn about their culture. We've tried heaps of homemade Hungarian food, this wouldn't happen during the normal hostel hopping type of travel!
Hidden areas. Many programmes take you away from the gringo trail; countryside, mountains, islands, and villages that Lonely Planet misses out!
Saves money. Volunteering while travelling makes a small budget last longer. We saved £20k for our 18 month career break to travel the Americas and Europe but without Workaway (and this travel blog) we would have been packing our bags for home by month ten!
Slow travel. The one night here, two nights there, type of travel is exhausting. Believe me, we did it for the first three months and it resulted in major 

burn out by Cuba in June

! Not only is stopping to volunteer reducing your carbon footprint but it's also a nice way to give back to local communities. Plus, if like me you are a fast fat, there's more chance you'll pound those mean streets with your sneaks or hit the gym / pool / sea, when in one place for a period of time.
Downsides of Exchange Websites
Responses. Don't get your heart set on one advert, there is a good chance they won't reply! Especially if you are applying for programmes in popular destinations like Costa Rica. For every one response we received, I had applied for 10 – 15 all over Costa Rica. I imagine lots of backpackers get to Costa Rica, freak out at the cost of living / travel and scramble for volunteer work! There are however, extremely cool options in the land of Pura Vida so if you do get one, high five! Apply for more than one exchange your desired destinations, but remember, personalise!
Grey Areas of Workaway and HelpX 
A couple of things to be cautious of while considering volunteering while travelling. Visas – technically you are working so it's probably best to omit to immigration control that you are about to set sail in Croatia as a chef or train huskies in Canada (genuinely two opportunists!) E.U residents – I know we can work in each other's countries (well maybe we can't soon) but normally you would give an employer your national insurance number, we've never been asked for this (a copy of our passport has been taken).
Get travel insurance. Accidents can happen when climbing ladders, washing sloths, or leading a bar crawl! Double check that your provider covers manual work (and alcohol?!)
Days off are made for swinging in hammocks
If budget dictates, or you are fed up of the booze cruise type of travel, or maybe you are looking to engage your brain again, Workaway, HelpX and Volunteers Base projects are a great way to enhance your travelling experience in exchange for your time and helping hand. If you want to gain accreditation for working abroad why not try this cheap TEFL course? Work exchange conclusion: Workaway is worth it but iron out the expectations before volunteering abroad!
Looking for travel and work abroad?
Hover over this pin and save for later
Over to you, any questions? What's your experience?