This article has links to products and services we love, which we may make commission from.
Krakow has become an increasingly popular city in Europe. From long weekend getaways to party trips. Full of history, some of which is dark and historic monuments, this premier destination city is a good introduction to Poland as a country. This ultimate guide on how to spend 3 days in Krakow, will give you suggestions for things to do, the best tours, and a couple of bars in Krakow that you shouldn't miss!
Three Day Krakow Itinerary
Day One
Morning
Market Square, Krakow
With so many things to see in Krakow, it can be a minefield on just where to start.
For me, there's only really one place to start, The Market Square Krakow. The square, set in the heart of Old Town, allows you to understand the architecture that Krakow has to offer.
Nestled in the center is the Cloth Hall. You can walk freely through this area and soak up the atmosphere of the market inside. Amber is one of Poland's popular souvenirs so if you are looking to take home gifts for family, check out the precious stone items at the market.
The square itself is a hive of activity, with street performers, art and music for you to enjoy.
As you wander among the various artists and performers, you really are able to soak up the atmosphere and understand just what sort of entertainment Krakow can offer you.
In the square, the Lone Town Hall stands majestically, yet has a not so secret underground restaurant.
There is also St Mary's Basilica with its spires to admire. Every hour on the hour, a lone trumpeter plays his music in each of the directions, from the highest tower.
Four meters beneath your feet is another of the best Krakow attractions and one of Krakow museums, the Rynek Museum.
Limited to 300 people at a time, the museum takes you through the history of Krakow from the very first settlers right up to Pope John Paul II. Using multimedia mixed with authentic objects, it is a museum with a difference.
After a coffee and cake or one of Krakow's famous Obwarzanek krakowski (bagels see image below) in the Old Market Square, I would suggest you take one of Krakow sightseeing tours. This comes in the form of a 'golf buggy' and you can take your pick of these in the Square.
Top Tip: if booking in Krakow, make sure you get this in the Old Market Square as the prices are regulated there. If one attempts to get your business while you are walking, they charge almost double the price.
You can also book your golf cart tour in advance here. Just show your booking via mobile.
The tour takes you around Krakow top attractions.
It helps you get your bearings of the city and see things you might not have known about, such as the Basilica of St Michael the Archangel, which has a fountain with Holy water where you are able to drink from! (Do so at your own risk!)
The buggies also save your feet! It's a huge area to cover.
However, if it is a walking tour that you want, there are more than a few to choose from. Here are three which will give you an idea of where to start.
An Old Town Walking tour: 3-hour tour with a local guide, variety of languages and times to choose from. Reserve here.
An introductory walking tour of Krakow: 8 am start, 2.5-hour walking tour. Book here.
A family-friendly tour: 2-4 hours walking tour. Kids welcome. Book the best time slot here.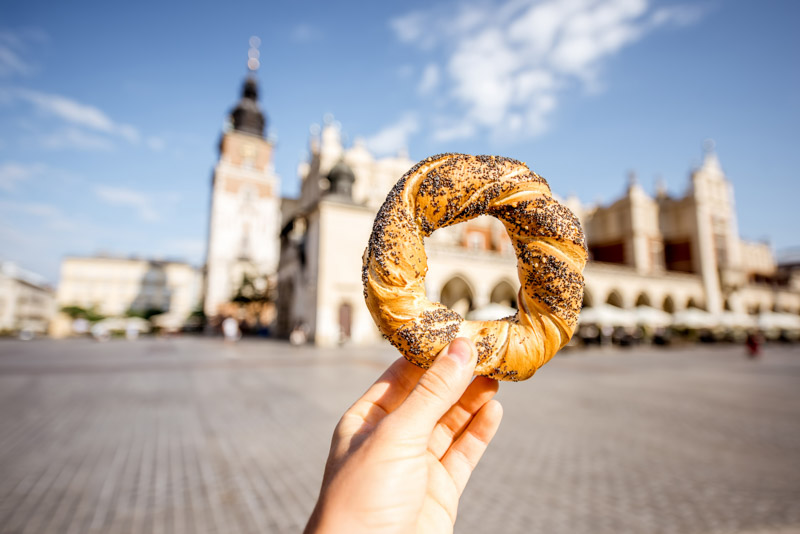 Afternoon
After all that, you'll be needing lunch. Head over to Plac Nowy, (New Square). It is here that you will find an abundance of street food for you to try. The pizzas here are amazing! They will fill you up for your busy afternoon.
Schindler's Factory
The next place you should visit is Oskar Schindler's Factory Museum. It is where they filmed 'Schindler's List'.
Situated near the former Krakow Ghetto, the factory tells the story of Krakow and the people who lived there during WWII. Walking you back in time through the horrors that the Polish people and Polish Jews had to deal with, you can see how important Schindler's work was during the Nazi occupation.
To get to the Factory, you can either walk, bearing in mind it does take around 45 minutes to get there, or you can hop on a tram.
Using your Krakow card, (more about this later), you can hop on the tram and get off at Plac Bohaterow. The Factory is only 550 meters from there.
I would suggest a fast pass as the lines can be very long at peak periods and you don't have time to waste when there are so many things to do in Krakow.
Need brightening up after this visit? You are less than 15 minutes walk from Krakow's rainbow stairs.
Evening
Jewish Quarter Dining and Bar Hopping
After that busy day, you'll need a place to eat. I can recommend Qrudo, situated in the Jewish Quarter. This is the same area where you picked up your lunch.
This vegan-friendly restaurant, allows you to relax, sip a glass of wine and enjoy the world going by.
With its mixture of Jewish and Polish foods, you will not be hungry when you leave here!
If you're looking for a lively bar after, then head for 'Pijalnia Wodka', in the heart of the Jewish Quarter.
Yes a Vodka bar but with a difference. Here you can really understand prices in Krakow.
For 1 euro, or 4 PLN you get you shot of vodka, I suggest the raspberry one, just watch out for the sore head in the morning. I also tried the tabasco vodka, but it blew my head off!
Consider packing some hydration tablets US / UK to save yourself the next day.
The decor is something else. With old communist newspapers plastered over the walls and a black and with TV whirring away, this really is one of the best things to do in Krakow at night.
If you don't fancy the sore head, then one of the most romantic things to do in Krakow is to take a horse and carriage ride around the city's streets.
The sight of these white horses pulling the carriage is something to behold. You can easily pick one up from the Old Market square as this is the pickup and drop off point.
Day Two
Welcome to another full day of exploring the attractions that Krakow has to offer.
Auschwitz, a Must Visit for all Travelers
Today is the day I recommend Auschwitz and Birkenau. It is best to get there early and complete the early morning or full day tour. Grab breakfast at your accommodation as there is an early start ahead.
The camps in Auschwitz should be something that every traveler experiences in Europe.
The visit to Schindler's Factory yesterday will help you visualize and put into context the reasons why Schindler saved the people that he could. As you make your way through the death camps, you will find it difficult to comprehend just how the Jews and those who opposed the Nazi regime, managed to survive what they did to them.
To get to Auschwitz, you can either organize the trip yourself or go through a tour company.
When you arrive at Auschwitz, if you have organized your own trip, you will be met with a line, even at 06:30 in the morning.
Be prepared to wait for up to 2 hours to get in. You do have to book your entry in advance.
As I've mentioned before in this detailed guide on how to get to Auschwitz, it is highly recommended to book a tour in advance.
The following tours feature fast-track entry. They are the most popular tours for Krakow on GetYourGuide.
An Auschwitz-Birkenau full day guided tour from Krakow which picks you up at a designated spot takes you to the camp and waits for you. Book here.
Fast track ticket with no tour guide or transport. Buy your fast pass here.
Organize the more personalized transport with this minivan tour. Check availability.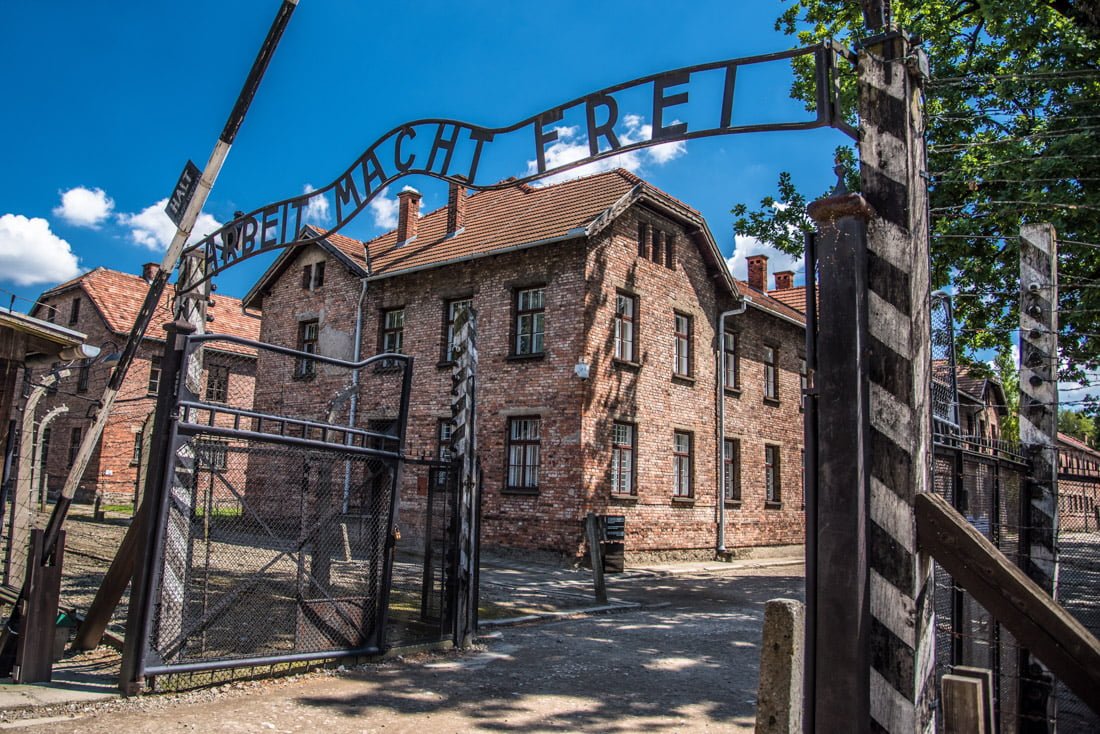 Visit the Salt Mines
If you are happy to just spend the morning at Auschwitz, you can also add a visit to the Salt Mines today. It's a place you do not want to miss as it is also a UNESCO World Heritage site.
Delving deep into the earth, you will be met with works of art that have been crafted over centuries.
The Tourist Route involves almost 800 steps to climb and over 2 kilometers of meandering corridors. Consider what shoes your wear and set your pedometer!
Your guide will take you through the history and the many stories of the Salt Mines. Reserve your spot in advance. Check availability here.
It is worth noting that you must pay separately for your photo pass at the Salt Mines. Without one, you will not be able to take photographs. This is approximately 10 PLN ($3 or £2).
Evening
After this mammoth day, you will be in need of some good food. I suggest Pod Baranem.
This is an unassuming restaurant from the outside, however, the food is something that will settle your soul after a long, arduous day. Pre-booking is recommended.
→ Thanks to our Facebook follower who advises us that Krakow is vegan heaven. Vegab gets a shoutout!
Note: Many people feel somber after a day at Auschwitz, you may want to build in some reflection time back at your accommodation before dinner.

Day 3
Morning
Castles and Dragons
Start the day with some ridiculously Instagram-friendly pancakes at Mr Pancake.
https://www.instagram.com/p/BxC3V4lj5k0/
Next, work the calories off at Wawel Castle, one of Krakow's top tourist attractions.
Set on top of a hill, on the edge of Krakow's Old Town, this castle in Krakow offers you a walk through the best of Krakow's history.
As you meander up the hill, you will be able to enjoy the views over the whole of Krakow and see the Vistula River winding its way through the city.
Looking up to the Castle you will see the amazing architecture and get a feel for what an imposing building this is.
At the top, you will be able to purchase your tickets if you decide to do this yourself. It is not as simple as asking for an entry ticket, you need to book-entry times to the various areas within the Castle and stick to them due to a large number of visitors.
There is some note of caution here, the visitors are limited on a daily basis to the Staterooms so purchasing a ticket in advance is advisable. Guided tour and 'skip the line' passes are available here.
Inside the Castle grounds, you can wander freely and see the many views from the castle walls. There is also a cafe where you can get a much-needed refreshment or ice cream.
Once you have completed your tour, take the path down to the river and meet the Wawel Dragon. Watch out for the fire that this local legend breathes.
Afternoon
Lazy Lunches and Sailing
For lunch, you must try one of the many river dining boats on offer in the shadow of Wawel Castle. These offer anything from fine dining to bar style food. I recommend The Augusta for a long lazy lunch after all that walking.
To complete the afternoon, a sail on the River Vistula winds you down after a very busy three days.
As the boat glides down the river, you are able to see different areas of Krakow that you wouldn't have seen from the road and listen as the guide talks you through the history and architecture of Krakow.
---
» You may also like: 34+ Europe's best cities for Christmas markets
---
Shopping in Krakow
After this lighter afternoon, a bit of shopping is always a good way to finish the day.
The streets of Krakow are lined with different tourist shops and designer boutiques.
If it's good bargains and high street prices you're after, head to the Krakow Galeria. You will find every shopping need fulfilled under one roof.
Be warned – the prices in Krakow are so good, you may need another suitcase to go home with!
Reload the sugar levels with one of Europe's famous chimney cakes!
https://www.instagram.com/p/BxpLpj9IJHl/
Evening
It's your last evening in Krakow and time to let your hair down! For your evening meal, I would suggest that you try Enoteka Pergamin.
This hidden gem is one of the best places to eat in Krakow. It's an affordable family bistro, set in a historic building, where you will see the chefs at work behind a long deli counter of local delicacies that they use to create delicious cheese and meat plates.
You can have brick-fired pizzas, different kinds of pasta and fresh seafood dishes.
Once you have enjoyed your dinner, why not try a vodka tour? After all, Poland is the home of vodka.
Another way to see different restaurants on your final evening is to do an evening city and food tour. Taking you to three different restaurants where you will enjoy a different course in each, you can experience Krakow by evening in a different way.
If you prefer to avoid the bars, consider the Royal Chamber Orchestra show which takes place at Chopin Gallery, a beautiful 15th-century building.
---
» Read next | Europe's most romantic destinations
---
Handy Tips for Krakow
Krakow Card
This Krakow Tourist Card allows you to hop on and off the many trams in Krakow. The card offers you unlimited journeys over your three-day visit and also gives you entry into 40 museums. The cost is $32 or £25.
Krakow Currency
The currency used in Krakow is the Polish Zloty. You should exchange your money before you go as it will give you the best rate.
However, if you need to change money whilst you are there look for a Kantor. Try to avoid those nearer the Old Market Square as they are notorious for giving poor exchange rates. Check today's rates here.
Best Places to Stay in Krakow
You will not be short on choice for hotels in this city.
My advice on the best area to stay in Krakow is to choose a hotel near the city center as you can access all the train and bus links easier.
Most hotels are on a bed and breakfast basis as there are so many places to eat out.
I have stayed in Home Hotel, Krakow. This hotel was only a 7-minute walk from the Old Market Square and offered a comfortable stay. It is around 191 PLN per night. ($50 or £39.)
Check the best rates at TripAdvisor or Booking.
Best Time to Visit Krakow
Krakow is a year-round destination. I have visited the city in April and July and the sun shone constantly! It is warm in April but even hotter in July. The visitor traffic is heavier in July but April isn't that quiet either.
Be prepared to wait in lines if you haven't booked fast track tickets.
Krakow Packing List
Camera and battery
Or Water to Go Water To Go [quote TSA15 at checkout for 15% off]
Planning a trip?
Pin to your Poland board to save for later.
Final Words
This Krakow travel guide has given you the best things to do in Krakow, an idea on where to eat out and an itinerary which is full to bursting! Whenever you travel to Krakow, Poland, enjoy your trip, learn something new and tell us what you did in the comments below.
About the author – Ruth is a school teacher and a travel fanatic with a bucket list that's getting smaller.