This article has links to products and services we love, which we may make commission from.
Magical winter markets, hot thermal baths and cool Christmas events, there are lots of festive things to do in Budapest in December. This guide details what the locals love to do in Budapest during winter as well as the popular must-see attractions. 
Why trust me? I'm Robert, a Hungarian digital content creator who lives in Budapest. I'm actually good friends with Gemma and Craig, Two Scots Abroad. They lived with me for a short time!
Don't miss their all year round Budapest itinerary too.
Things to do in Budapest in Winter
Budapest Christmas Markets
1. Vörösmarty Square Christmas Market
Budapest Christmas markets have a big reputation amongst visitors as they have an unbeatable vibe.
Get lost under a million sparkling fairy lights, stroll from vendor to vendor with mulled wine in your hands and try our famous chimney cake treat or poppy seed strudel.
Don't be afraid to go for the traditional Hungarian savory food too Look out for sült kolbász (sausages), tökipompos (special pies) or soup in bread bowls.
You can purchase Christmas gifts such as handmade souvenirs, craft chocolates and speciality coffees. There are over 100 stalls to choose from.  
The oldest and most popular market is at Vörösmarty Square (verr-ersh-mor-ty tay-r). 
2. Basilica Christmas Market
The biggest, Basilica Christmas Market, is in front of the famous Szent István Basilica (St Stephen's Basilica).
At this market, you are surrounded by wonderful buildings and architecture in the heart of the city. 
Musicians play at both markets for the entirety of December. Expect Christmas carols creating a festive atmosphere, even in the daytime.
3. Food Market for Locals
Although the Christmas markets are just popups for winter, Budapest has permanent markets which I recommend visiting.
Hold Utcai Piac is gastronomic heaven with a Michelin-star bistro in the middle of the market.
Whether you are looking for cheese, cold cuts, fish dishes or restaurants with traditional or unique food, this is the place to go. More touristy travel guides will tell you to go to Budapest's Central Market, which is alright, but locals prefer Hold Utcai Piac.
---
» Love food? Here's where and what to eat in Budapest
---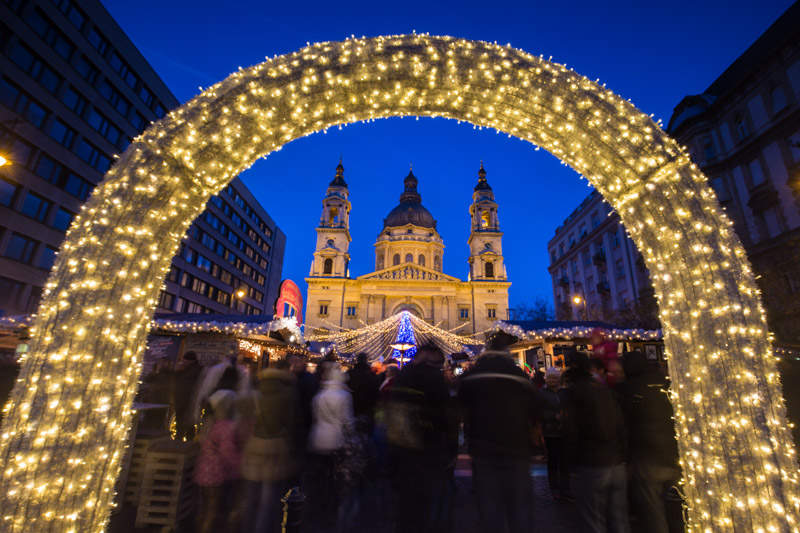 4. Philosopher's Garden and the Castle
Psst, don't tell it to anyone!
Whether there is snow or not, check out Philosopher's Garden on the way up to Gellért.
→ Pro tip – Use the western side of the hill. As it is separate from the main tourist route, it is less crowded.
Bring hot tea with you in a thermos flask and meet the "Philosophers", the great religious leaders from the past.
5. Buda Castle at Christmas
From here you can walk around Buda Castle, another amazing building overlooking the Danube river.
There are always seasonal exhibitions and art galleries inside the main building, as well as their main exhibits, so it's easy to spend a whole day just exploring the hidden alleys, twisting steps and cultural heritage of the past and present.
You don't have to pay to enter the castle, just for the exhibitions! During the run-up to New Year's Day, there are free celebrations at the castle too (29th-31st).
---
» You may also like: Best places to stay in Budapest
---

6. Ice Skating Under the Castle
One of the oldest and most beautiful ice rinks in Middle-Europe is based in Budapest.
Next to Heroes Square, under the watchful eyes of Vajdahunyad Castle, you will find Városliget (City Park) ice rink, where you can play on the ice with hundreds of happy people enjoying the winter wonderland!
Expect some mulled wine here as well. This is our ultimate cinnamon and anise drink for winter, warming your body from the inside.
If you can, visit at night to enjoy the romantic lighting of the castle and the square, romantic!
---
» Here are the best 34 cities to visit to experience Christmas markets in Europe
---
7. Budapest Thermal Baths in Winter
Can you imagine a better way to rest your muscles than lowering yourself in hot and steaming thermal water?
Budapest offers a bunch of thermal spas varying in size, price and crowds.
Széchenyi is the biggest, the most well-known, the most beautiful, but also the most crowded.
Skip the line with this pre-paid entry ticket. 
Looking for a Budapest bath party? This is the place you want to go.
Check out the website for upcoming parties and programs.
If you are hoping for a smaller, more hidden bath, you don't even have to go far from Gellért hill.
Right at its base is Rudas thermal bath, a lovely and more relaxing spa for those who would like to enjoy the steaming water and get lost in their own thoughts.
Gellért thermal bath is also a great option, especially if you are looking for stunning architecture: surrounded by an exceptional building, you really feel the walls can tell you some great stories from the past here.
There are literally over a hundred options for spas in Budapest (including wellness hotels), so it is hard – and not recommended – to miss your chance to soak in the hot water for a couple of hours.
8. Sledding in Budapest
Normafa is a popular spot amongst Budapestians with nice slopes for sledding, strudel vendors and lovely views.
Catch 21 to reach Normafa here.
9. Christmas Streetcar
Budapest is famous for its streetcars and come December, some of the trams get the twinkle light treatment for locals and tourists to enjoy a festive ride!
Check out the schedule here. 
You can use your Budapest Card to ride the festive tram.
There is no heating on the streetcars so wrap up warm. 
10. St. Stephen Basilica Budapest Christmas Concerts
Listen to an award-winning organist fill the Basilica with Bach, Beethoven and Schubert.
These events are ticketed and only on select days. 
Find out more here. 
11. Christmas Shopping in Budapest
The main shopping area in Budapest is Váci Street (utca).
This pedestrianized area runs from Vörösmrty Square to Central Market Hall and has lots of recognizable shops.  Designer wear can be bought on Andrássy Avenue and vintage shops can be found around the Jewish Quarter. 
Don't forget you can pick up some gifts at the Christmas markets too.
New Year's Eve in Budapest
Szilveszter is the day we celebrate the 31st December celebrations in Hungary. We typically spend time with loved ones, eat good food, and drink alcohol, of course! 
Traditional alcohol in Hungary is called Pálinka which means 'to distil' or 'to burn'.
The latter is not in reference to what happens to your throat after you taste it although some tourists, like Gemma and Craig, would argue it is a perfect description! It is common for families to make their own Pálinka at home (my Grandad makes it) but you can buy it in bars too.
Don't worry, Hungarians are friendly, if you want to try a local version it won't be hard to find someone who will give you a taste.
The older generation use it as the anecdote to everything, sore stomachs, toothache, heartbreak!
12. Fireworks in Budapest
There is a big party in Budapest to celebrate New Year's Eve which includes a massive fireworks display over the River Danube at midnight.
13. New Year's Eve Parties
There is always a party on in the ruin bars of the Jewish Quarter but on this night the party will be harder and longer! 
Traveling alone but don't want to miss out on the Szilveszter fun?
Book this Budapest bar crawl to meet likeminded party people and to enjoy drinks inclusive of the price. 
14. New Year's Eve Balls
Looking for something a little more upmarket?
Check out the gala balls on the Danube cruises. Danube Palace also puts on a special five-course dinner.
These are not the cheapest of NYE options naturally.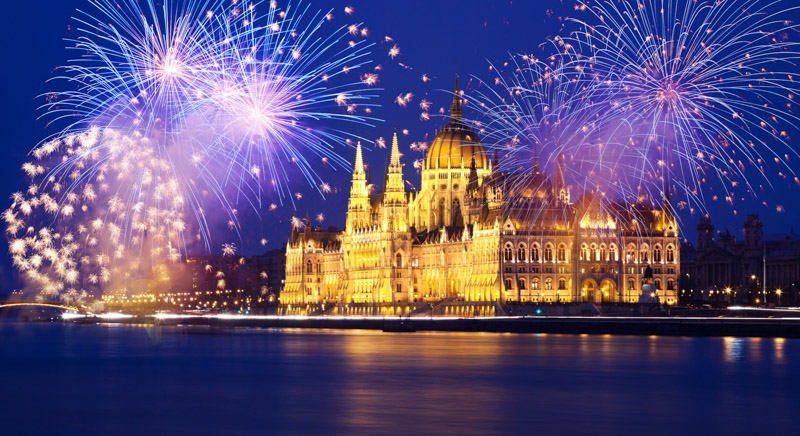 ---
Budapest Weather in Winter
Does it snow in Budapest in winter?
We are in a continental climate, which means winters can be cold sometimes.
The average temperature for Budapest in December is 31-37 F, so fresh snow is always a possibility. 
Especially in the surrounding hills, which can be easily reached with public transportation.
If you are lucky enough to visit a snow-covered Budapest, you don't even have to use mass transit for a nice hike.
Gellért-hegy, the iconic hill right next to the Danube, is a great option for a winter walk. Expect fairy-tale pathways amongst snowy trees leading you above the city.
→ Top tip: Follow the green line tourist sign! Thank me later.
---
Getting to and Getting Around Budapest
Buses are frequent from the airport and take you directly in the middle of the city. 
You can use mass transit easily around town, or walk the city center.
You can pick up free maps of Budapest in tour offices and at the airport.
Arriving from Slovenia?
Here's how to get here or go there by train, car and taxi. 
Pro tip → If you have ample time in the city, do consider some of the popular day trips from Budapest in winter such as a train ride to Eger (wine and history), a tour to the Danube Bend and Miskolctapolca cave baths (below).
Find out more in Gemma's guide to easy day trips from Budapest. 
---
Where to Stay in Budapest
---
What to do in Budapest in December
So this is my guide of the best things to do in Budapest in winter.To summarise:
Eat famous chimney cake at Basilica Christmas Market

Enjoy mulled wine at

Vörösmarty Square

Visit

Hold Utcai Piac and try langos, which is actually a summer snack but Gemma's fave

Go for a snowy hike up and visit Philosopher's Garden

Visit an exhibition at Buda Castle

Soak in thermal water in one of the baths

Party in a spa
---
---
Final Words
Although many of Europe's capital cities put on a great Christmas show, baths, chimney cakes and Christmas streetcars are unique to Budapest.
Tell me in the comments below, are you visiting Hungary this December?
---
Save to your Hungary board!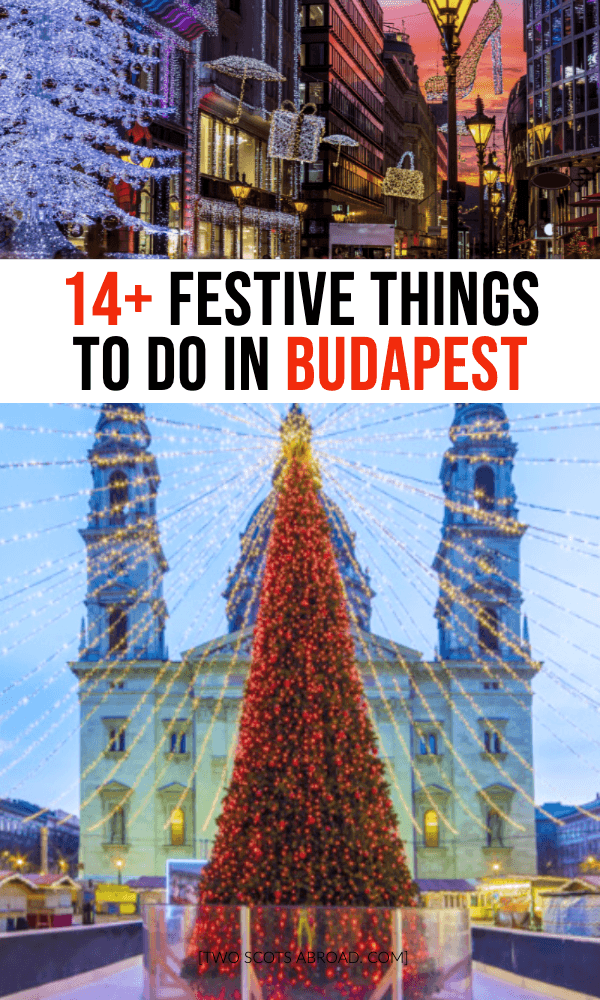 ---
About the author
Robert is a journalist from Hungary who has lived in many different placed in Budapest in the last few years. He loves music and food. Gemma and Craig, Two Scots Abroad, actually stayed with Robert when he was living just outside of Eger! Gemma thanks him for introducing her to sour cherry soup. 
---
» Read next: Two Scots Abroad Hungary travel guide