This article has links to products and services we love, which we may make commission from.
So you've decided on Budapest as your next city break. You've followed our where to stay guide and now it's time to plan your 3 days in Budapest itinerary. This is a city full of history, baths, wholesome food and ruin bars so there really is something for everyone. Hungary has never been so accessible! This ultimate guide on things to do in Budapest will look at both Buda and Pest sides, and give you a Budapest 3 day itinerary covering everything Hungary's capital is famous for.
---
» You may also like: What and where to eat in Budapest
---
Three days in Budapest Itinerary
Day One
Morning at Buda Castle and Fisherman's Bastion
Wondering what to do in Budapest when you first arrive?

For me, the best place to start is on the banks of the River Danube, on the Buda side.
Simply just standing on the sidewalk, overlooking the river and across to the Hungarian Parliament Building, is breath-taking.
Starting here is ideal because it gives you an idea of the size of the two Budapest sides which helps you find your bearings.
As you look around from this point near famous The Chain Bridge, you can spot Buda Castle, Fisherman's Bastion and see the sheer scale of the historic buildings you will be exploring.
As I stayed on the Buda side, I used the Castle Tour Bus to get to Buda Castle.
This is a small golf cart type buggy which takes you to the top of Castle Hill to Buda Castle.
This is a godsend as it saves your legs for all the ground you will cover walking around the attractions on Castle Hill.
Entry to Buda Castle is free.
The whole of the Buda Castle buildings covers an area of around 4.73km squared. As you wander through the beautifully paved streets, one of the first buildings you stumble across is The Presidential Palace.
It is here you will find the Changing of the Guards. This is performed every hour on the hour. It is a spectacular sight and as they march around the courtyard, you can take videos and photos.
After watching this, you wander down towards the National History and the National Gallery.
With your Budapest Card, you can gain free entry into these museums. Wandering along the walls of the Castle, you have the city vistas on both sides and gain tremendous views and you understand why it is such a beautiful city to visit.
---
→ Top Budapest Travel Tip
My top investment tip is to purchase a Budapest Card.
This card is worth its weight in gold.
You can use it as a travel pass and go on public transport free, gain access to many attractions at no cost and also get into the famous Lukacs Thermal Baths.
The card is valid for anything from 24 hours up 120 hours, depending on the duration of your trip.
I purchased the 72-hour card and saved the money paid on the first day.
---
After spending some time wandering around the Castle, your next point of call is The Fisherman's Bastion.
Situated in the Holy Trinity Square, this building is world-famous for its turrets and spires. The panoramic views from the terraces are the best in the city.
Entry to the lower terraces is free and with your Budapest Card, you benefit from a 10% discount for entry to the upper terraces.
St Micheal's Chapel offers you a 3D show of Hungarian History which is free with your Budapest Card.
With your ticket, you also get into Matthias Church or Church of Our Lady. This iconic colored roofed building can be seen from the Pest side of the river.
Matthias Church is not only the most visited and most popular Roman Catholic church in Budapest but its seven-hundred-year-old history also serves as a symbol of the capital's rich historic past.
Also in Trinity Square is the Magdalene Church Tower. The tower offers views from the top that are breathtaking and is worth climbing a total of 170 stairs to the top. Entry prices for these attractions are 4300 HUF, $15 or £11.
If you want to have a more in-depth tour of the Castle, I suggest the three hour Buda Castle walk. This tour allows you to visit the Royal Palace, a World War II bunker, the National Széchényi Library, Matthias Church and Fisherman's Bastion. (From $54 or £43 per person).
---
Afternoon: Labyrinth and War Museum
After all this walking, you'll be glad to rest for lunch.
The restaurants around the Castle offer plenty of choices to sit and rest before you start your afternoon of exploring.
Be warned, they are in District V, which is one of the most expensive districts, so will be pricier than others at the bottom of the hill.
After seeing the top half of Buda Castle, you should explore the underneath.
The Labyrinth under the Castle takes you to an underground maze of the Buda Castle Hills. Wandering through the dark maze, you encounter coffin, special lighting, and fog.
I suggest using your mobile phone torchlight here, as it can be poorly lit. While it's not a scary experience, it can be a little unsettling for younger members of the party. Prices are 3000 HUF, $10 or £8 per adult.
Walking back into the daylight, you will be ready for the next part of the afternoon.
The best way down the hill is to hop back on the Castle Bus Tour buggy. This will take you a different way down the hill that you came up.
At the bottom of the hill is the War Museum, translated for Hungarian as 'A New World was Born.' This well laid out museum takes you through the military history of Hungary in very visual and interactive displays. It takes about 2 hours to walk through and enjoy all the exhibits and has the bonus of being free entry with your Buda Card.
Once you emerge from here, you find yourself on the banks of the Danube and it is about a 15-minute walk back to where the Castle Bus Tour picked you up in the morning. There are plenty of cafes along the way if you fancy an afternoon coffee.
---
Evening – Hungarian Food and Danube Cruise
After a busy day, you'll be ready for a good meal. I can recommend Csalánosi Csárda Óbuda. Situated in District III, Old Buda, this traditional Hungarian Restaurant offers you huge portions of great food.
Not only is the food a great price but the wine and beer are too. I had the delicious Hungarian rose wine.
If you are after a romantic evening, then a Budapest night river cruise on the Danube is worth checking out.
There are some with live music and others that just allow you to enjoy the scenery as you sip a glass of wine. Prices start from $11 or £8 up to $14 or £11 person.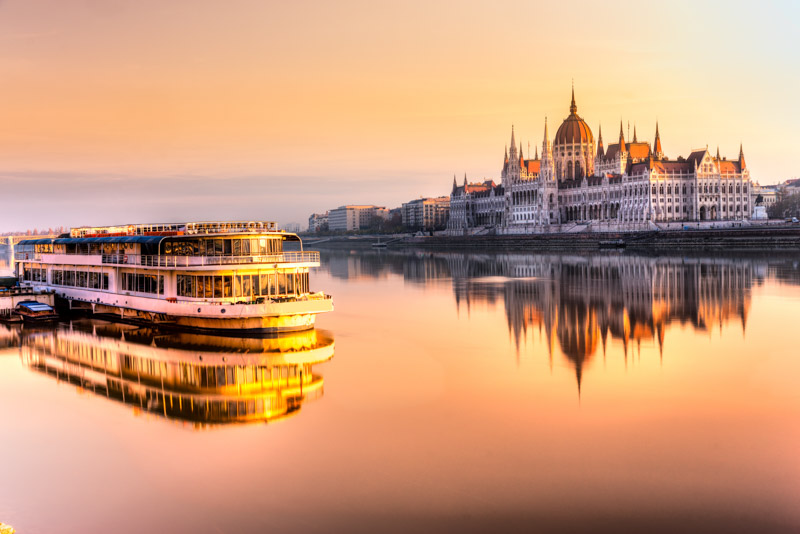 ---
2 Days in Budapest
Welcome to another full day of what Budapest has to offer. Remember your swimsuit today!
Morning Chain Bridge and City Park
One of the top ten things to do in Budapest is to walk across the famous Chain Bridge and that's where we start today.
Once you have reached the Pest side, you will see the difference between the two sides of Budapest. It is a more bustling area to explore and it's on this site that most of the shopping malls are situated.
To get there walk over the Chain Bridge. This is the iconic bridge that connects Buda with Pest. It was built in the 1800s and is classed as a Hungarian national symbol.
Once over, grab a bite to eat at local gem, Hold Utcai Piac market at Budapest, Unit 22, Hold u. 13. Goulash is a firm favorite in Hungary.
Don't fancy walking? You can purchase a ticket for the City Sightseeing bus tour before you go here. If you want to save your feet, then this is a great way to explore what the Pest side of the city has to offer before you decide what to do.
With durations from 24 hours to 72 hours, I would highly recommend purchasing this ticket. (Prices from $25 or £20 to $37 or £29.)
Getting on the bus at Chain Bridge, you stay on and watch the wonders of Pest go by. You are given earphones so you can listen to the commentary of the history in your language.
Hop off the bus at the furthest away point, Heroes Square. Located at the end of Andrassy Avenue, this is one of the most visited squares in Budapest. This is a monument to mark the 1000th year of Hungary's Heroes.
Right opposite Heroes Square is the City Park.
On the outskirts of the park, is a Castle modeled on a Transylvanian castle called Vajdahunyad Castle.
There is an artificial lake here also where you can hire a pedalo and have a sail on the water. A lot of fun!
In the winter, the lake becomes an ice rink which is a favorite with the locals. Check out more things to do in winter here. The buildings surrounding the lake have recently been refurbished and there is a choice of eateries here from cheap to expensive. Don't eat too much if you plan to spend the afternoon at the baths.
As you cross the bridge and walk into the castle grounds, there are plenty of photo opportunities. The architecture is spectacular. There are a couple of museums here which allow you to wander around the castle. If you are interested in agricultural history, this one's for you.
Once you have explored the castle, the park has many different attractions that you can enjoy.
If you have time, check out the Botanical Gardens. With your Budapest card, you will get 25% off the entry price. Prices from 2500 HUF, $9 or £7.
---
Afternoon Enjoying Széchenyi Baths
After you wander around the Gardens, you should go to the Széchenyi Baths, Budapest spa.
These are the most famous public baths in Hungary. From the outside, you would be forgiven for thinking that this was a palace, so stately is the building.
In high season, the baths are busy with tourists and locals alike. You can reserve a skip the line ticket here before you go.
It is a great place to relax and enjoy the healing waters, or to take a few laps in one of the 18 swimming pools!
Some of these pools are indoors and others are outdoor and 15 of these pools are spring-fed and the locals like to go along and indulge in a game of chess while sitting in the steaming water. It's a great way to ease your feet and muscles after all your exploring.
Admission includes a locker and access to all of the indoor and outdoor pools, saunas, steam baths, and the gym. If you stay less than two hours, you will get a partial refund.
Things to Know Before Going to Budapest Baths
Choose a cabin to get changed in. It allows you more privacy, especially if there are two of you.

Take two towels, one to keep in your cabin/locker and/one to take with you as you get in and out of the different pools.

Some of the pools are as hot as 40 degrees!
You must book any treatments in advance.
The baths are social, people talk to each other.
There is a water rapid which is fun.
After you have enjoyed this, wander back through the park to the City Sightseeing bus tour stop.
Then enjoy the ride and seeing all the sights as you head back to the town center. The good thing about the City Sightseeing bus tour is that once you are back in the busy parts of Pest, you can hop off and back on another to get to the Buda side.
Just look out for the 'Buda Side' signs on the front of the buses.

---
Alternatives to Széchenyi Baths
There are a number of baths in Budapest so if spas really are the main reason for visiting Budapest you can try out a few.
The Gellert (pictured) can be found on the Buda side of the city. If you choose the Gellert baths, do the hike up Gellert Hill for vast views of the city.
Rudas is spa which has the cool glass dome looking over the city.
You can reserve a spa day at Rudas here which also includes dinner at the complex which overlooks the Danube River.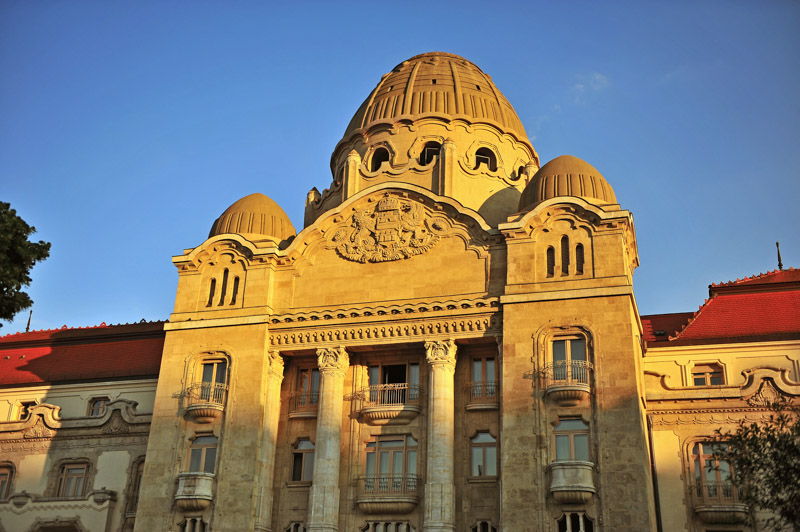 ---
Evening Ruin Bars
You're ready to sample Budapest nightlife after the baths, I suggest checking out the Ruin Bars in the Jewish Quarter of the city.
These are bars that have been set up in the old ruined buildings of WW2. Often unassuming and you can walk by one without knowing it is there!
The most famous is Szimpla Kert. This huge building is filled with live music, characterful rooms, and a great atmosphere. Hungary is famous for pálinka. This is a fruity brandy that is extremely potent and will give you a bit of a sore head the next day!
Next to Szimpla Kert there is a food truck area called Karavan which is great for grabbing a quick meal.
---
Day Three
Morning at
Hungarian Parliament
Remember your rehydration tablets US / UK today, after your big night out!
We begin today, on the Pest side again.
As you walk along the banks of the river Danube, towards the Hungarian Parliament building, you will find the Shoes on the River Danube memorial.
These shoes are cast in bronze and symbolize the Budapest Jewish lives that were lost during WW2. They were lined up on the side of the river and had to remove their shoes as shoes were a valuable asset at the time. They were then shot by Arrow Cross militiamen. It is part of the dark history of Budapest.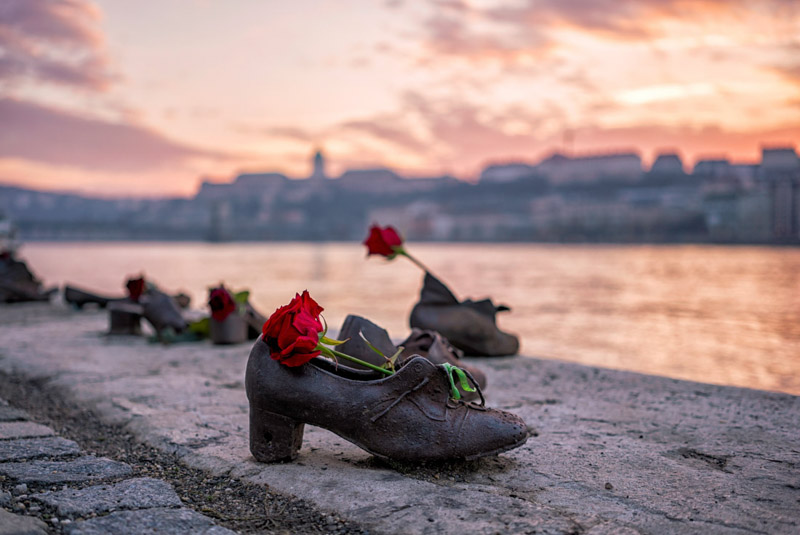 From here, you carry on along the banks towards the Hungarian Parliament building. This is one of the most striking and memorable buildings in Budapest. The architecture is simply stunning. This is a must-visit for every visitor to Budapest.
The inside of the Parliament is where the crown is kept and it is well guarded by the soldiers. The tour guide, which is in your language, is knowledgeable and takes you around some of the very important government rooms.
The tour takes around one hour. You must book this in advance and the tickets are only available through the Parliament website.
Tickets cost 3500 HUF for EU citizens ($11 or £12) and 6700 HUF for non-EU citizens ($22 or £17).
While you are waiting for your time slot, there is an underground exhibition for you to explore in the grounds. This is in memoriam of the massacre in the square in front of the Parliament building. This occurred in 1956 on October 25.
The exhibition is based mainly around photographs and video clips along with soundbites from survivors of the event. In Kossuth Square, you can also witness the changing of the guard and wander around the various monuments of old rulers.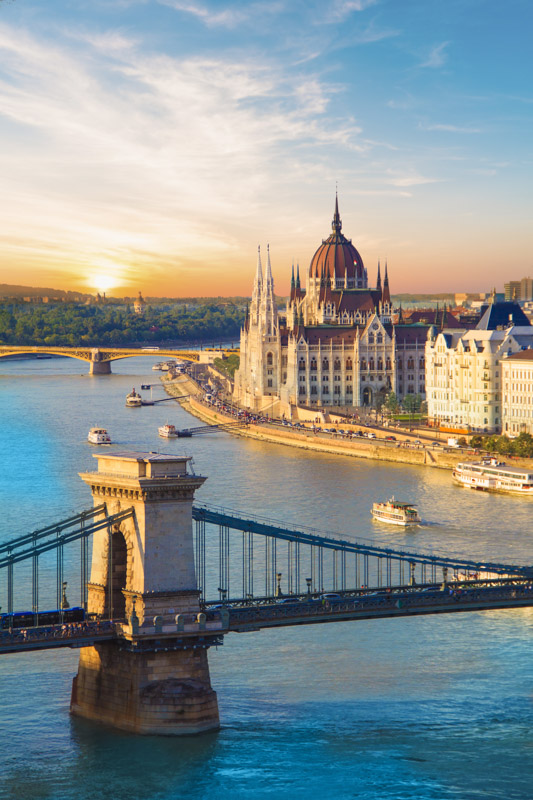 Afternoon Butcher Lunch and Walking Tour
Lunch today is a unique experience at Belvarosi Disznotoros approximately 20 minutes walk from the Parliament.
Belvarosi Disznotoros is a butcher/deli which specializes in meats and soups. Stand with the locals at the outside leaning tables or sit down inside to enjoy a hot bowl of soup.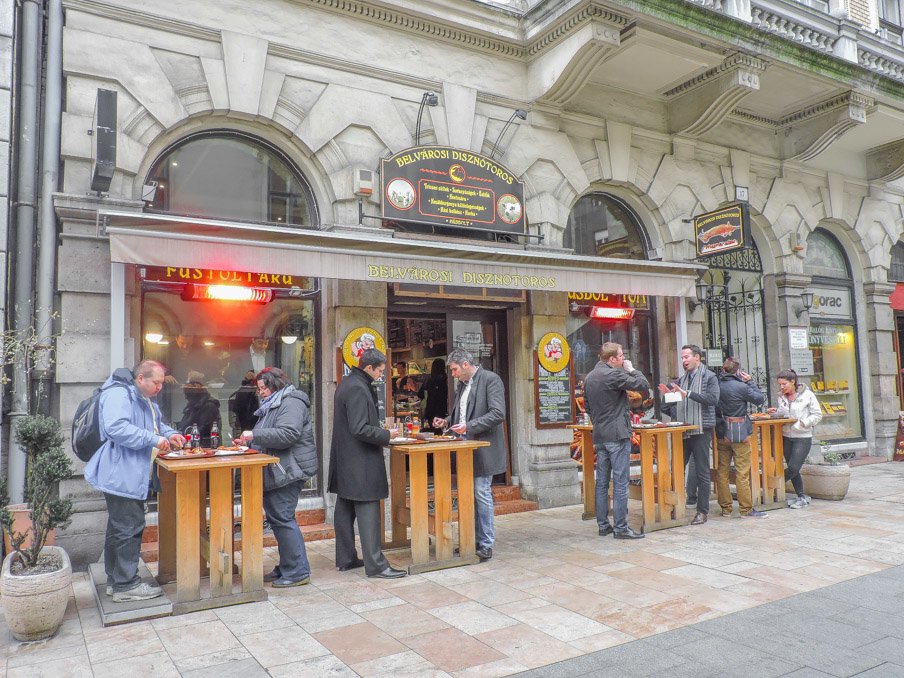 Next, get to know the city a little more intimately during a free (pay by tips) walking tour.
This free tour starts at 14:30 daily, leaving from Elisabeth (Erzsebet) Square at the city's Ferris wheel.
Learn more about Budapest attractions such as St Stephen's Basilica, Gresham Palace and Chain Bridge.
If you want something a little different, then why not book an alternative Budapest tour.
This takes you off the beaten track and you explore music, graffiti, and fashion of the city. Prices are from $23 or £18.
Meeting point is less than 5 minutes walk from lunch at Deak Ferenc Ter.
Evening New York Cafe
As it's your last evening in Budapest, I suggest the New York Cafe for dinner. This world-famous cafe is billed as one of the most beautiful cafes in the world, you will not be disappointed as you walk through the doors.
Stunning interiors match the delicious food on offer.
All that's left to do is wander back to your hotel room enjoying Budapest lit up at night and remember all the amazing experiences you've had.

---
Other Things to do in Budapest
We always like to provide as many options as possible as we understand that not everyone travels for the same reasons. There are honestly so many places to visit in Budapest that three days is a good taster but you will want to go back.
Gemma from Two Scots Abroad first visited when she was 19 years old and has now spent just under two weeks in Budapest over two trips, Craig has visited a further two times and is booked up to go again. They have a friend called Robert who they like to hang out with in Pest.
Budapest's House of Terror Museum
Looking for a bit of history of the Hungarian people and the two terror regimes that they have survived?
Look no further than the House of Terror also known as Terror Házá Múzeum located at 60 Andrássy Avenue near City Park.
The 2 – 3-hour audio journey through the rooms of building used to terrorise and torture is a sobering experience but one you will remember, as many Hungarians try to forget.
Central Market Hall
The most popular food spot for tourists is Central Market Hall (Vámház krt. 1-3). Here stalls serve langos which is a delicious fried pudding based meal with sour cream and cheese topping. So fatty, so good.
You can also drink Unicum and try strudel.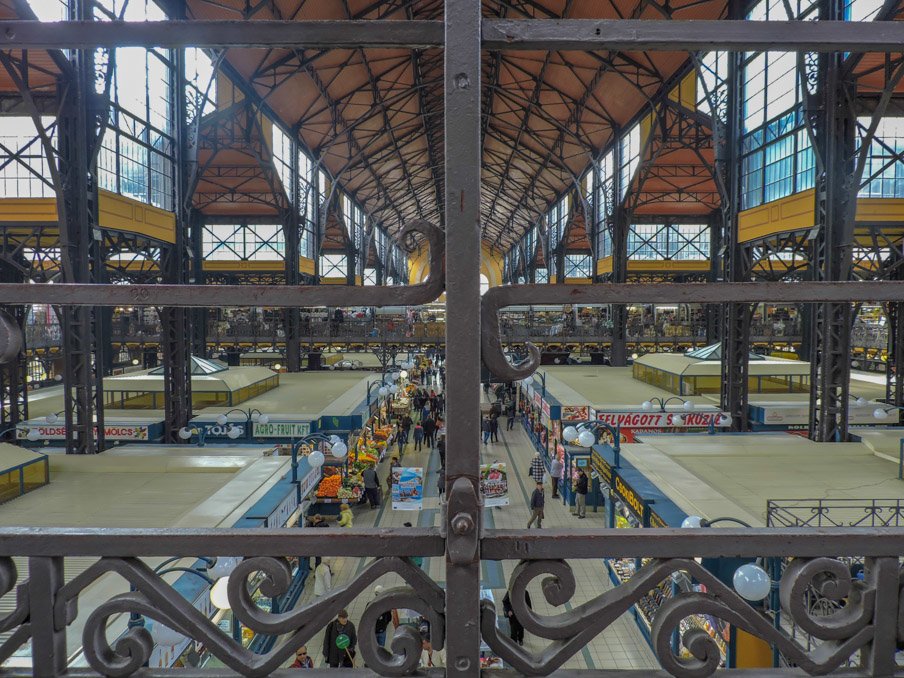 Shopping
The main shopping street is Váci Street (utca) which runs from Vörösmrty Square to Central Market Hall.
You will find vintage shops dotted around the Jewish Quarter.
Erzsébet Square

Erzsébet Square in the very heart of Budapest. Here you will find an open-air shallow pool.
It's time to slip your shoes off and pop your feet into this wee bit of heaven. Sitting on the side, you can watch the world go by whilst enjoying an ice cream from one of the vendors nearby.
There is even a Ferris wheel if you want to see the city from a different viewpoint.
Also a nice evening spot for chilled out beers in the park.
Memento Park
If the public baths are not for you, then you could always head out to Memento Park.
This is a park that displays 42 pieces of art from the Communist era between 1945 and 1989. A very different way to see the Communist history which Hungary has. The park states that it is about dictatorship and that only a country with democracy can think freely about dictatorship.
To get there, you will have to use public transport. The Memento Park Direct Bus transfer from Deak Ter, in the center of Budapest. It leaves every 15 mins, so it is only a short ride away.
Using your Budapest Card, entry to the park is free as is your bus journey. Otherwise, it is 1200 HUF, $4 or £3.
Margaret Island
In summer, locals flocks to Margaret Island to cycle around the green space and eat a picnic lunch.
---
Essential Budapest Information
Budapest Currency
Budapest uses the Hungarian Forint. You can exchange before you as it is not difficult to get hold of. I will say, Hungary is great value for money and you may feel like you are spending lots because it is mainly in 1000s, but you really won't be spending much at all.
Getting to and Getting Around Budapest
Buses are frequent from the airport and take you directly in the middle of the city.
You can use the mass transit system easily around town, or walk the city center.
Coming from Slovenia? Here's how to get here or go there by train, car and taxi.
Tip → If you have ample time in the city, do consider some of the popular day trips from Budapest like the train ride to Eger (wine), a tour to the Danube Bend or Miskolctapolca cave baths.
Find out more in Gemma's guide to easy day trips from Budapest.
Best Time to Visit Budapest
The best time to visit really depends on your reason for going. Hoping for glorious sunshine days to spend in the park and at the baths, but don't mind crowds, June, July and August are for you.
Hoping to catch dry weather with fewer people around? April/May and September/October do see some rain but fewer crowds.
Looking for a festive trip to drink mulled wine at the Christmas markets, skate at the city ice rink and see a show? December is the perfect month for you. You can find out all the best things to do in December in Budapest here.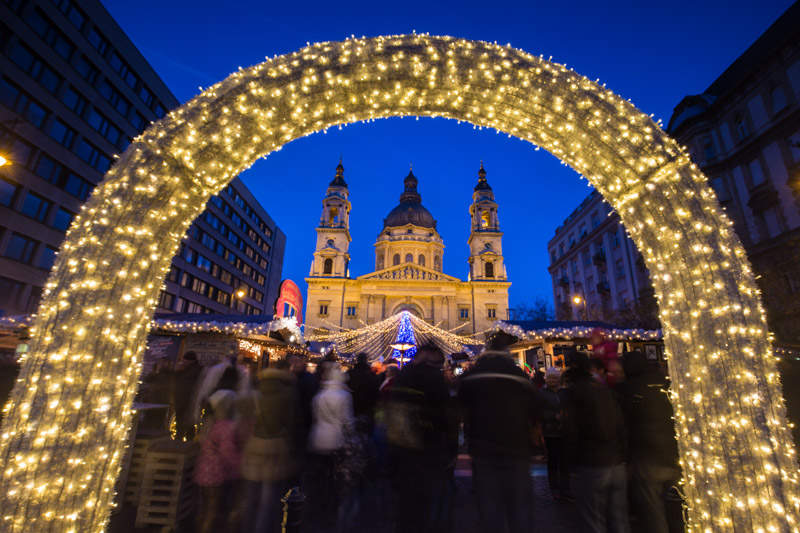 Where to Stay in Budapest
I chose the Aquincum Hotel at Old Buda/District III as it is a three-minute walk from the train station, right next to the tram stops and looks right over the Danube.
The Jewish Quarter is a popular spot for those looking to drink palinka until dawn and need to stumble back to their accommodation. Check out The Roombach Hotel for a boutique hotel in this area.
How Many Days in Budapest?
You could spend a week in Budapest and still not experience all of the activities and eat all of the local treats. Ideally, three days is enough to touch baes with the top attractions on both sides of the river and get one decent night out in the Jewish Quarter.
You could just concentrate on one side if you only had 48 hours.
If you are visiting as part of a day trip, I would suggest using the time during your one day in Budapest wisely by either using the hop-on/off bus tour and/or doing a tour.
---
Pin to your Budapest travel board for later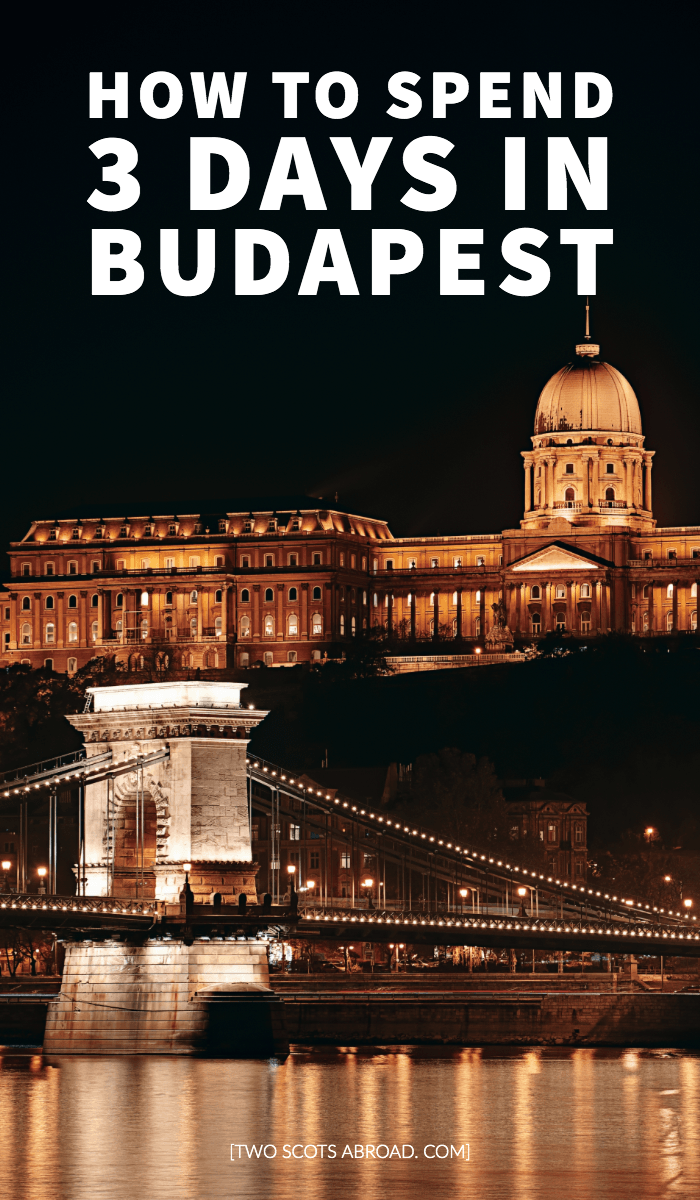 ---
---
Final Words
Budapest is a huge city. You will thoroughly enjoy your time here. The history is immersing and the people are so friendly. This itinerary could have been filled three times over, so if you find something fun and new to do, drop us a comment in the box below.
About the author – Ruth is a school teacher and a travel fanatic with a bucket list that's getting smaller.