This article has links to products and services we love, which we may make commission from.
We could make a hundred jokes about being peckish in 'Hungary' but for those visiting the capital city, Budapest, there is no reason to be, with Taste Hungary and Insight Cities tours! Budapest is a dramatic-looking city, packed with intriguingly plush buildings and an interesting and jaw-dropping history which has heavily influenced the food consumed by Hungarians and visitors. Taste Hungary's Gastronomy and History Tour (a collaboration with Insight Cities) mixes up both the foodie side of Budapest with a background of the city's past in perfect measures.
---
» You may also like: Budapest our jam-packed itinerary
---
Taste Hungary Tours: Gastronomy & History
The morning (from 10am) starts with a food tour, and concludes at the Tasting Table with three glasses of local wine; a nice bridge over into the afternoon (2pm) walking history tour. Here are four reasons to stir up your trip to Budapest with Taste Hungary.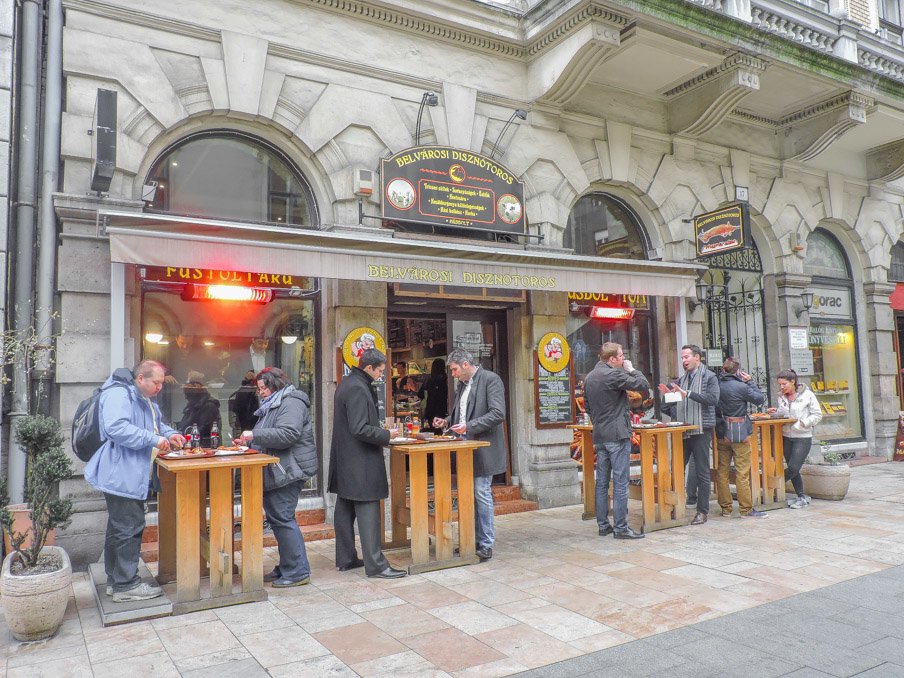 Belvarosi Disznotoros
Hungarian Food
Hungarian food is so much more than goulash! Hungarians love food and many of their popular dishes have been influenced by the people who have invaded as well as those who have immigrated.
Paprika is a very important spice for cooking in Hungary, it's in most meals, which suits me as it's not the dreaded coriander!
It flavours many of the meats found at the butchers such as Mangalica, a very tasty pig! Cabbage and pickled foods are very popular too. If you are not a meat-eater check our Amélie's guide to vegan food in Europe, scroll to the section on Budapest.

Éva, our fabulous culinary tour guide!
Hungarians do not waste anything! We saw rooster testicles, sampled cow tongue, and passed on cooked goose fat (the night before).
Lángos is always a winner, deep-fried batter (similar to Yorkshire pudding, but flat and even more unhealthy!), topped with garlic sour cream, cheese, then whatever you fancy. Extremely fatty and filling. Hungarians like to eat this at the beach (baffling!)
Sorry, Austrians, apparently you don't own the rights to the strudel! Hungarians via the Turks do! The poppyseed strudel is an unusual choice, tastes a little 'earthy.'
Lángos, a national favourite
Hungarian Drink
Hungarians like to drink as much as the visiting British stag (bachelor) parties do! Local drinks include Pálinka (not to be confused with pelenka, which is a baby's nappy!), Unicum, beer, and wine!
Zwack Unicum is a family run business which has survived the communist regime!
The Zwack family fled when the company was nationalised leaving one brother behind who then handed over a fake recipe for the 40% alcoholic liqueur. Péter Zwack returned after the fall of communism and reintroduced the original Unicum after buying back the business in 1989.
Our tour guide, Éva, kicked off the food tour with a pohár of Unicum and Unicom Next, it certainly warms up your insides and cleans the palate!
The Tasting Table wine programme was one of my favourite parts of the tour. Hungary boasts of twenty – two wine regions, each with their own unique type of grape and wine.
New to me, was 'Wine of Kings, and King of Wines', Tokaji. This Hungarian sweet wine is very thick and honey-like, delicious!
The number on the bottle represents the number of baskets of raisins used in the process.
---
» You may also like: Where to stay in Budapest
---
Unicum, Central Market Hall
Budapest's Popular Spots
One thing I love about city tours is getting my bearings with local help!
Starting at the Central Market Hall, we walked around the busy shopping and meeting place with Taste Hungary food tour.
Next stop was central Budapest for a cool standing up lunch experience at Belvarosi Disznotoros (butchers) and a satisfying sweet tooth stop at the award-winning chocolatiers, Rózsavölgyi Csokoládé, pointed out future prospective visits to the Gellert and Rudas Spa on our way to the Tasting Table.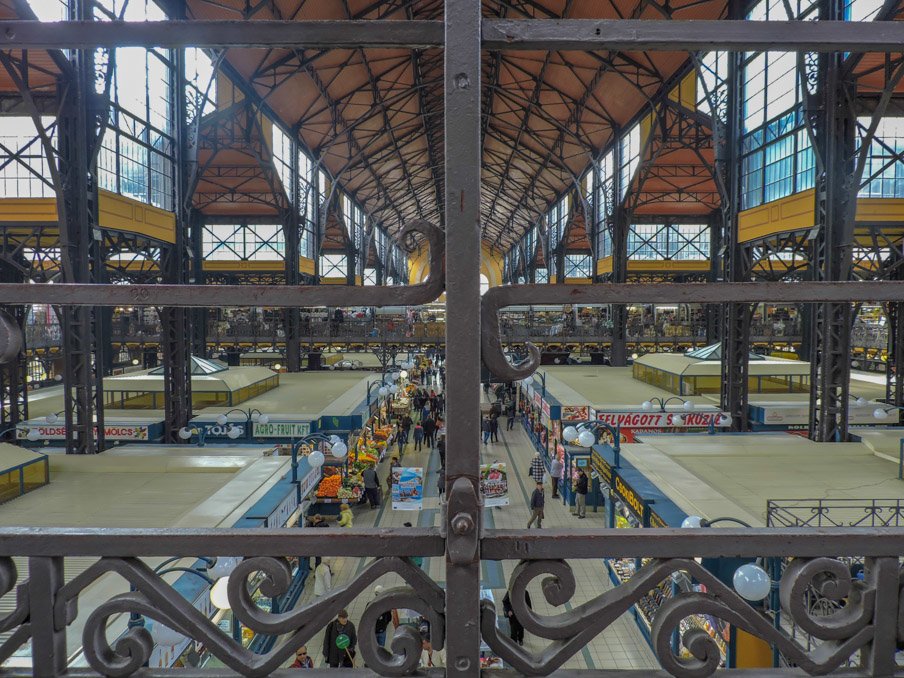 Central Market Hall, Budapest
Henk, our historian tour guide from Insight Budapest, showed us around the more modern ruin bars and food cart area, Karavan, in the social Jewish Quarter, before storytelling his way to the Champs – Élysées of Budapest, Andrassy Avenue, then the politically important buildings near the Danube River.
St Stephen's Basilica, where St Stephen's right-hand lives!
Hungarian Culture
City tours, like Taste Hungary, are a fun way to learn about a country's culture. I love listening to the stories about the owners of, say, the cake shops, which would be missed if I just popped in for some Eszterházy cake myself (cakes fit for royalty at Auguszt Cukrászda).
I can't bypass the chance to find out the feeling of the nation towards the government and the political system, albeit subjective to the tour guide's views, naturally.
Henk told us his son and all of his friends' children have left Hungary to attend university elsewhere, opting not to stay in the country after disappointing policy changes which have reduced the number of university places for students.
This has been backed up by the lovely Hungarian people that I met during volunteering as an English mentor after our time in Budapest, many of the parents (and their children) are keen for their young ones to study elsewhere.
It's that personalisation of being able to ask tour guides questions about their lives in Budapest that trumps mooching about the city with a map!
Tasting food is obviously great, washing it down with booze is even better, getting to a know a city's hot spots by foot is a decent balance for the body and the opportunity to learn about Hungarian culture with locals (and an expat in Henk's case) tops it off!
Eszterházy Cake (left) and Dobos Cake, mmm!
---
Take a Look: Website / Insight Cities
Contact: [email protected] +36 30 551 9932 (HU, EN) / [email protected] +420 777 039 515
Price: $150 / £107 per person
Times: Gastronomy: 10am / History 2pm
What We Ate / Drank / Learnt
Unicum, lángos, meat platter, strudel, pickled pepper, chocolates, soup, sausages, pasta and cabbage, duck leg, bread, Esterhazy cake, coffee, Dobos Cake, three glasses of wine (white, red, Tokaji) with cheese and bread, historical background to Budapest and Hungary as whole, present-day politics, discussion around historically important and impressive buildings – worth the price? Yes!
What do you think of city tours?
Going to Budapest? Pin to your inspiration board!
Thank you to Taste Hungary and Insight Cities for hosting us in Budapest, our honest opinion, as always.