When I say Texas you think of cowboys and guns, correct? Wrong! Say hello to Austin – the hipster, colourful, anti-Texas city in The Lone Star State. Just under 950, 000 people reside in Austin, over our two visits here we've met around 30 of them and one even married us. Yes, you heard that right. Craig and I (Gemma) love this city so much we returned one year after our first visit and got hitched by Lady Bird Lake on Lou Neff Point. Read on to find out why. Here's our guide to fun but cheap things to do in Austin today (which are awesome!)
Affordable yet Awesome Things to do in Austin
1. Eat Breakfast at Juan in a Million

The first thing to do in Austin is to grab a Tex Mex breakfast.
Juan in a Million is a legend.
Not only does the ex-high school teacher, Juan Meza's sell no frills, great homemade food, he also greets every single customer at the door with his signature handshake! Now that is a personal welcome.
Our taxi driver said one day he drove past and couldn't believe the size of the queue, Juan had just made it to the big screen.
Casey Webb from the notorious hit TV show Man v Food had taken on the challenge to eat eight Don Juan tacos stuffed full of eggs, potatoes, bacon and cheese. Think you could make it on the Juan of Fame? Webb managed four and a quarter… Tell us how many you manage in the comments below!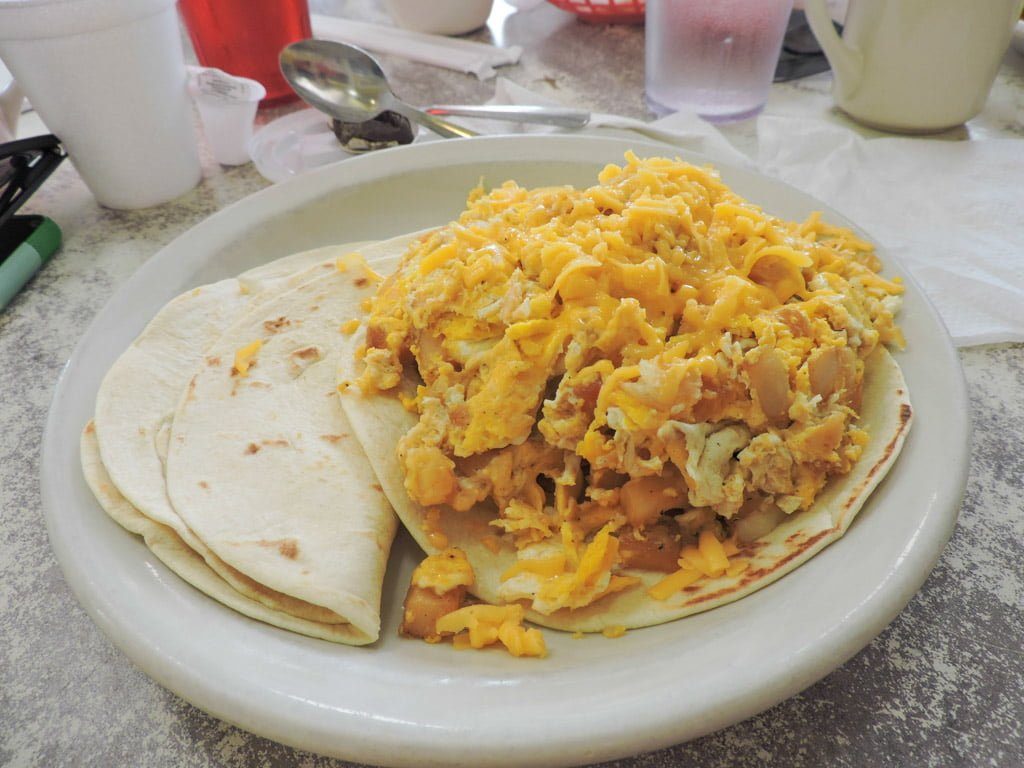 Address: 2300 E Cesar Chavez St, Austin, TX 78702, USA
Contact: +1 512-472-3872
2. Stroll Along Lady Bird Lake
Austin's hike and bike trail are bustling come Spring/Summer.
During our first trip, we stayed at the ultra-cool HI Hostel (private room) which was an absolute steal during South by Southwest.
Those are familiar with the music festival will know that accommodation prices triple during the 9-day tech, digital and music festival. Since the hostel is located by the lake, we walked along the designated path cooing at the cute dogs and dodging the runners to get the parties in the centre of the city. The lake itself is dominated by kayaks, boats, river bikes, birds and turtles.
A stroll by the lake with the sun on your face is one of the more romantic things to do in Austin so much so, we returned the next year and said 'I do' with the lake as our backdrop.
3. Make a Splash at Barton Springs
This place is cool. Barton Springs is a natural spring for the public to sunbathe around, kayak, and swim in.
Or sunbathe on your kayak as I saw some girls do. Located in Zilker Park, there are two options for the pool. The first is to pay $3 (locals) $8 (visitors) to use the swimming pool style spring which has a nice grassy hill to sunbathe on. The sun can get pretty powerful so remember your factor 30.
The second option is to use the neighbouring (there is just one fence that separates the two) spring for free. Don't make the mistake we did – take the turning before the bridge and use the concrete hill for sunbathing. We were stuck on the muddy and stony ground which was fine with a towel.
The locals will laugh and ask if you went into the water… It was National Puppy Day when we went so there were heaps of cute dogs.
We walked there from the HI Hostel which took around 50 minutes and then cycled back. Save some cash a pack a picnic. Don't forget the
collapsible cups and wine.
UPDATE: We stayed in this area for our wedding in Austin using Airbnb. We lived in a hipster garden shed in a shaded neighbourhood. The night before our wedding we ate tacos and Craig even managed to find an Irish (not Scottish!) breakfast the morning of the big day while I got the best beehive you've seen this decade. It's a nice area, really makes you feel like a local.
Address: 2201 Barton Springs Rd, Austin, TX 78704
Contact: +1 512-867-3080
4. Wander Along South Congress (SoCo)
Dirty 6th is a cool, messy street full of filthy bars and definitely one of your first stops for things to in Austin at night but if you are looking for a street that is laden with seriously gorgeous looking people (everyone has fully committed tattoos, even saw a girl with a leg sleeve), see SoCo.
South Congress is lined with lots of vintage shops and delicious eateries.
On Saturdays, a pop-up market sells artwork and jewellery. Look out for the topless cowboy on a horse. Yes, that happens.
Don't forget to pack a
water bottle, save money and the environment and check out Torchy's secret menu new secret recipe.
5. Shop for Treats at Big Top Candy Shop
Aka heaven for me! This circus-themed candy shop also sells ice cream and floats on South Congress (yes, I adore this area). Not just one of things to do in Austin with kids, it's for big kids too right? Their stock will fill you with nostalgia as well as sugar.
6. Get Snap Happy – Street Art in Austin
There is a lot of street art in Austin. Mooching along the hipster street of South Congress is a good place to start. Follow the strong smell of spray paint to the Graffiti Park of Castle Hill for an abandoned area aka an artist's (and photographer's) dream.
We loved this spot so much we went back the year later for our wedding elopement pictures. Add this to the list of free things to do in Austin.
We never made it to the Cathedral of Junk but if you like art and trash it might be worth a quick visit if passing by (it's smaller than most people imagine). If you like street art why not visit us in Fife, Scotland! This lesser-known area of our home country has an emerging scene worth checking out.
Back at South Congress, you'll see a large gathering at the end of a shop – this is the 'I love you so much' wall.
As the story goes, the artist spray painted the message, I love you so much, on her girlfriend's shop wall after they broke up.
Not up for all that smooshy love crap? Well, Austin has something for everyone.
There is an alternative message, the 'I hate you so much.' Not a direct response from the shop owning girlfriend thankfully! The message was ruined but you can see a third version (the second was put on wood but warped) on the wall in Bungalow (bar) on Rainey Street.
I love you so much wall: 1300 S Congress Ave, Austin, TX 78704, USA
I hate you so much wall (3rd version): Bungalow 92 Rainey St, Austin, TX 78701, USA
7. Rainey Street
If you are looking for things to do in Austin at night head to Rainey Street. We ate curry at G'raj Mahal Cafe which is a typical (for the area) wooden house style restaurant decked out in not so typical bike wheels and umbrellas. A starter samosa, two curries and two naans came to $44.59.
If you are having a few beers, remember it gets hot come March (check out how sweaty we are!) Stay hydrated and consider packing these
electrolytes for the next day, there's nothing worse than a hangover in the heat. A British doctor in Cuba recommended them as a hangover cure, I don't travel without them now.

PS – this area has exploded in the last year! You heard it here first. Rainey Street is now packed with places to eat in Austin. It's also a go-to area if you are seeking out the free South by Southwest music events.
8. BBQ, Austin Texas Style!
Do it like Texans do! One of the most popular Austin attractions are the BBQ houses.
Franklin BBQ on the east side is the most talked about BBQ joint, therefore, you have to get there fast (11am opening) and expect to queue (it closes when the food is gone).
During our trip, a taxi driver recommended Blacks (Guadalupe St), on our way there, we stopped for directions and a local pointed out Green Mesquite so we settled for there.
No need to settle, Green Mesquite serves up a decent plate of two types of meat and two sides! This Austin restaurant is very close to Barton Springs so you can bathe and then BBQ, just don't burn baby.
Address: 1400 Barton Springs Rd, Austin, TX 78704, USA
Contact: +1 512-479-0485
9. Hire a Bike
Like many cities (in London they call them 'Boris bikes' as the initiative was started by the ex-mayor, Boris Johnson), Austin has bike stations where you can hire a bike for short distance around the centre of the city. To do so, you insert your credit card into the machine, it takes off $12 per bike for 24 hours and as long as you dock it every 60 mins (to avoid people not returning them throughout the day I suppose) you will not incur any other charges (unless you crash into the lake).
This is ideal if you are buzzing about the centre. We used them from Barton Springs to South Congress as that was the closest station to our hostel.
They are pretty clunky; take it for a spin on the sidewalk before you hit the road. We used the designated bike lanes and felt safe enough. They have cute baskets for your belongings and a bell to warn walkers. Naturally, Craig carried his
travel speaker in his basket, he never travels without this thing.
10. Stay in an Airstream
A what?! All over Austin you will see silver food trucks in little clusters like outdoor food courts or standing proud individually. Well, some homeowners take these food trucks, remove the cooking equipment and kit it out with kitsch home stuff and let you stay in them!
We found three on Airbnb (a rental website – if you book through us here you can get money off your first stay, and we get credit too). We stayed with Alexandria in East Austin near 11th Street. The airstream sits in her back garden and you have access to your own bathroom, which is attached to the house. It was cosy and just what we needed to end our stay in awesome Austin!
GET HITCHED IN AUSTIN!
Craig and I loved Austin Texas' points of interest SO MUCH  we went back the following year and eloped! We headed back to the lake and married at Lou Neff Point, took photos around the city, ate Italian, and then partied to Junior Boys at Mohawk.


Image by Corey Mendez Photography I Castle Hill, Austin
Accommodation in Austin
We've stayed in five different areas of Austin over the two years that we visited for SXSW.
We totally lucked out on our first year, bagging a private room at the HI Austin. This hostel is super modern and in the loveliest of locations along the river.
Strolling along the water into the city is honestly one of the nicest things to do in Austin on a sunny day. I am not lying when I say this experience is what prompted us to wed at Lady Bird Lake. The HI has a kitchen, free breakfast, large social area and friendly staff.
Going to Austin?
Pin to your Awesome Austin board!
What have we missed?
Tell us your recommendations that make Austin awesome.
We have no affiliations with any of the places mentioned in this Austin attractions article. It's all out of love!