This article has links to products and services we love, which we may make commission from.
Looking for free things to do in Austin, Texas? This guide shares the best free attractions so you can get the most out of this hip city without breaking the bank.
Whether you are a visitor on a budget or a local looking for something cheap to do, our article explores affordable options without skimping on fun.
If you are on a really tight budget but would still like to experience Austin's art galleries, plan your trip to include a Thursday! We'll explain why below…
You might also like our food guide to ATX and our article on unique things to do.
Things to do for Free in Austin
Since this Texan city enjoys lots of warm weather during summer, let's take a look at free stuff to do via Austin outdoor activities.
This section includes walks, parks and water sports.
Free Outdoor Things to do in Austin
Enjoy Zilker Park All Year Round
The jewel in the heart of Austin, Zilker Park is a 351 acre space at the juncture of Barton Creek and the Colorado River.
Locals spend sunny days lazing around on the grass with friends, walking their dogs or getting into the water which we'll discuss in the next free Austin activity.
In winter, a 155ft string of lights decorate the park during the Trail of Lights!
There are a handful of restaurants such as Chuy's and Green Misquite near the park at Barton Springs Road if you get peckish.
Hike Barton Springs Greenbelt
Starting in Zilker Park you can walk the 7 miles of trails which offer biking, climbing and swimming opportunities too.
Perfect for those who like the outdoors and nature.
Twin Falls is a popular part of the trail; a rocky route ending in natural water.
There are no restrooms, prepare before you set off.
Sunbathe and Swim at Barton Springs
Inside Zilker Park is the free swimming area, Barton Springs.
The official 1000-foot long pool has a cover fee but just outside is another area where you can swim for free.
The water is pretty cold though so get ready for cool temps!
Lady Bird Lake and The Boardwalk
Running along Lady Bird Lake is the official city 'Ann and Roy Butler Hike-and-Bike Trail' and Boardwalk.
This well used path sees footfall from walkers, joggers and pedal bikes.
E-bikes are not allowed on the Boardwalk.
Views include the large stretch of water, bridges and the Austin Downtown skyline.
Absolutely stunning.
Lou Neff Point at Lady Bird Lake is where we got married.
It's a free wedding location!
Enjoy Art at Pease Park
Austin is an arty city but it isn't just all about its street art murals.
Pease Park (1100 Kingsbury St) is a free, 84-acre green space lined with huge art installations.
The trails, volleyball court and tennis facilities make it a decent option for outdoor sports fans and the play park and splash pad is enjoyed by kids.
Dog-Friendly St Edward's Park
St Edward's 80-acre park features over 4 miles of trails which lead to Bull Creek.
The park has dog-friendly trails.
Mount Bonnell at Sunset
One of the best free things to do in Austin that costs absolutely nothing is to enjoy the sunset over the city.
Mount Bonnel is a super sought-after spot with views reaching over the Colorado River and Hill Country.
At 775ft above sea level, it is said to be the highest point within Austin City Limits.
To get to the viewpoint you have to walk up just over 100 steps.
A free car park is available at the base of Mount Bonnell.
Bats at South Congress Bridge
Did you know that Austin sees a mass exodus of flying bats every evening at sunset from mid-spring?
Thousands of free-tailed bats fly from under South Congress Bridge which is located over Lady Bird Lake!
Check the best times to see the bats via Austin Bat Refuge.
One of the free things to do in Downtown Austin that most tourists enjoy.
360 Bridge Overlook
The 360 Bridge, also known as the Percy V. Pennybacker Jr. Bridge, is a popular place for photographers.
To get the best shot looking down on to the bridge, park your car on the northwest side and take the very short hike to the viewpoint.
For more photography tips, check out our guide to Austin's best photo spots.
Free Yoga in Austin
There are a number of yoga classes that run throughout the year.
Some meet in parks, others are indoors.
More often these yoga classes are free, acting as a taster session for future events.
Some yoga classes also include meditation and/or a mimosa meet up!Keep an eye on Eventbrite or Facebook communities for the latest free yoga sessions.
Free Live Music in Austin Outdoors
Have you even been to Austin if you didn't listened to live music?
Austin is the music capital of the world and there are a whole host of outdoor venues including the rooftop at Handlebar (121 E 5th St), Banger's Sausage House & Beer Garden (79 Rainey St) and Lazarus Brewing Co (1902 E 6th St).
Rainey Street Historic District
Rainey Street is an interesting stretch of buildings built before or around the 1930s which have caused a fair amount of conflict with locals.
The area once housed residents in its historic homes but now it is a mix of gentrified bars and shiny towering hotels.
This is a lively street at the weekend and during city events.
There's a nice mix of food here too including, BBQ, Indian, Mexican and food trucks.
Dirty 6th
You have to see 6th to believe it.
A main street lined with bars, bars and more bars (and the occasional pizza shop) make up this high energy area.
Sticky floors, rooftops bars and lit up retro signs – Dirty 6th tends to be avoided by locals but something first time visitors should see for themselves.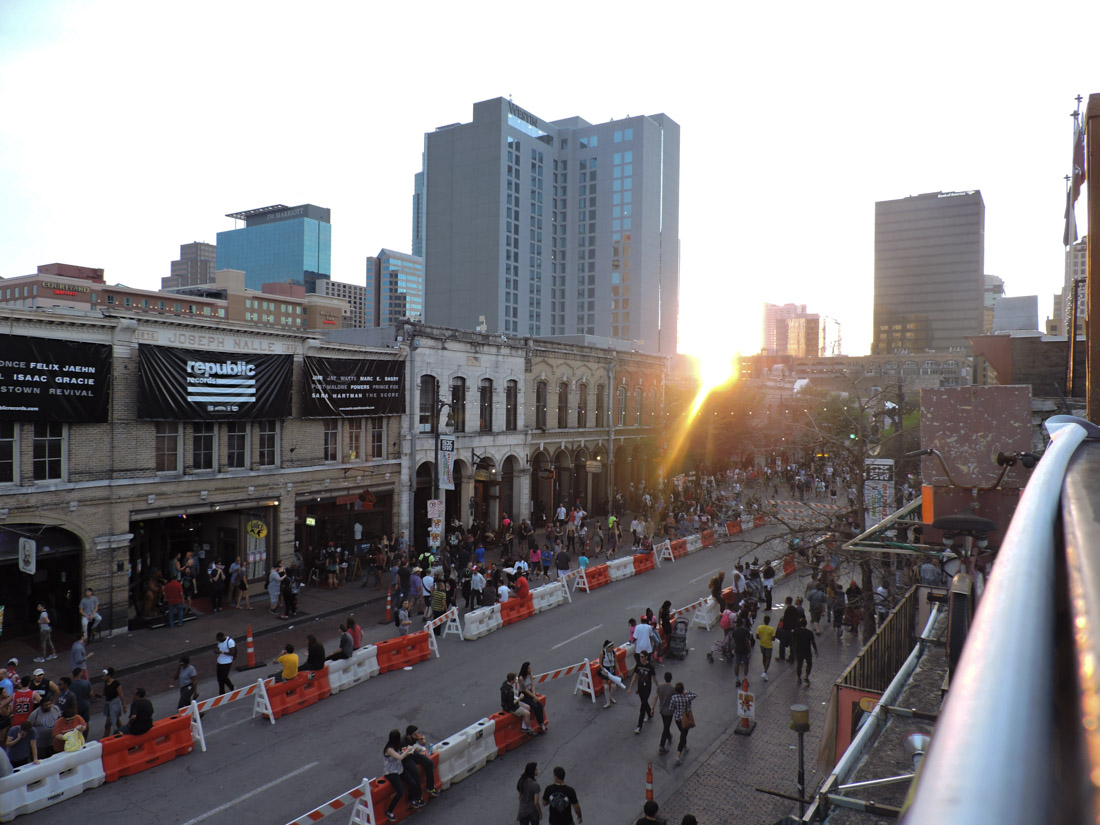 SoCo
Another famous street and neighborhood you'll want to devote an hour of wandering to is South Congress.
This upmarket street is a vast contrast to the dingier Dirty 6th!
Dotted along SoCo you'll find brunch spots like South Congress Cafe for biscuits, cowboy boots shops like at Allens and take out ice-cream at Big Top Candy Store.
While you'll need a little pocket money to really enjoy SoCo, you can get by not spending a penny if you are there to just to people watch as you walk down it.
Look out for the topless dude on a horse.
SoCo is where you will find the popular 'I Love You So Much' wall.
I Love you So Much Wall & Other Street Art Murals
As mentioned above, the 'I Love You So Much' wall is located on South Congress and is one of the many murals in the city.
Story has it, the owner of this shop split with her partner and they wanted to show some love, on a wall.
There is also an 'I Hate You So Much' wall at Rainey Street
Greetings from Austin Postcard
If you've spent time in any US city you will be familiar with the 'Greetings From' murals.
Austin's is located at 1720 S 1st St which is a little out of the way compared to other murals you will stumble across unplanned.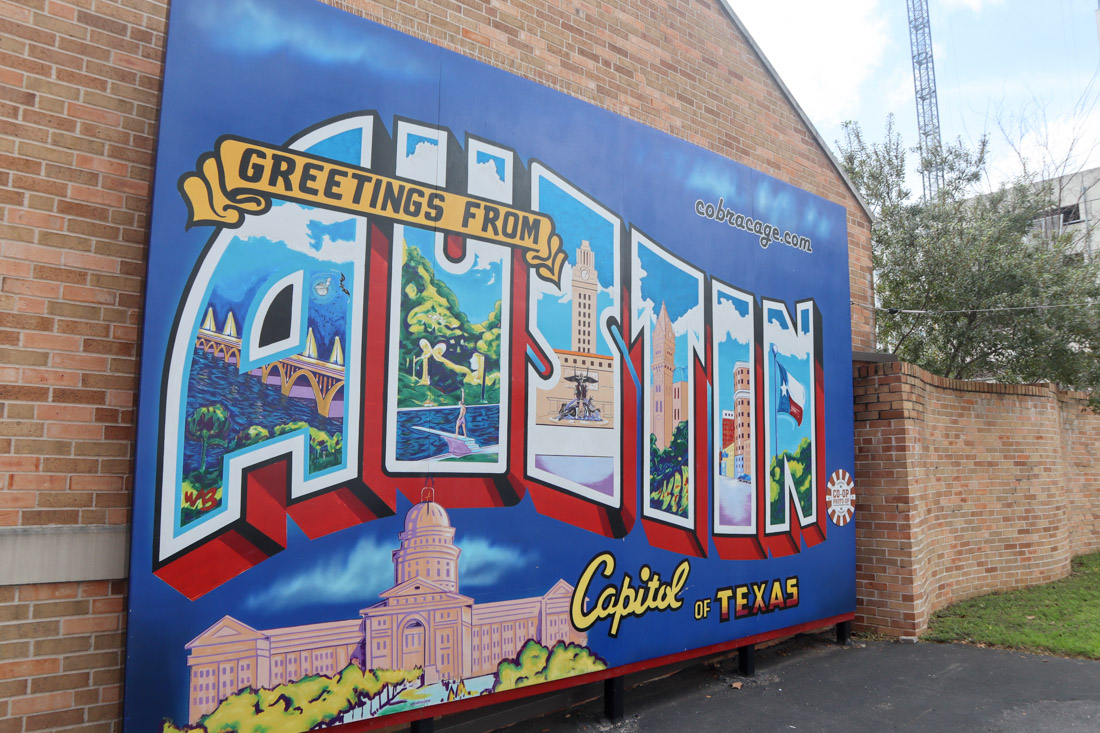 You're My Butter Half
'You're My Butter Half' is really popular with couples doing engagement shoots!
It has also been made into lots of Austin souvenirs such as postcards and house decor.
The mural can be found at United Way for Greater Austin (2000 E Martin Luther King Jr Blvd) and was part of a rebranding strategy for the community organization in 2012.
It is a little out of the way so you may need a car to get there.
We discuss more of ATX's murals in our photography locations guide as they make Austin a very photogenic city!
Free Indoor Things to do in Austin
If it's raining, cold or the sun is too strong you will want to plan fun things to do in Austin for free that are inside or at least under a cover!
Texas State Capitol Building
Texas State Capital is a very attractive building located at 1100 Congress Ave.
It is located in 22 acres of land and there are 17 monuments dotted around the Capitol!
If you are interested in finding out more about its architecture, you can join the free guided 30 minute tour.
If you like history, continue reading for more free attractions in Austin that explain more about the city and the state.
LBJ Presidential Library
If you are a student, under 12 years old or your name features the word 'Lyndon' then you can visit the LBJ Presidential Library (2313 Red River St) for free!
If you don't meet this criteria you can still visit for a small entry fee.
This historically significant Austin museum shares the story of the 36th President of the United States (1963-1969), Lyndon B. Johnson and his wife, Lady Bird, Claudia Alta Taylor, Johnson.
Pick up your free "I Vote" enamel pin on August 6 to celebrate President Johnson signing the Voting Rights Act of 1965!
Bullock Museum
The state's official history museum, the Bullock Museum (1800 Congress Ave), has three floors of exhibition galleries, IMAX® Theater, Texas Spirit Theater, Story of Texas Cafe, and Bullock Museum Store.
While there is an admission fee for most areas, you can enjoy free entry to exhibitions on the first Sunday of every month and every year on July 10th for Lieutenant Governor Bob Bullock's birthday.
One of the free things to do in Austin with family.
Blanton Museum of Art
Enjoy the exhibitions at Blanton Museum in Austin (200 E Martin Luther King Jr Blvd) for free every Thursday!
Here you can take a look at the permanent collection by American painter, sculptor, and printmaker, Ellsworth Kelly as well as temporary and seasonal exhibitions.
The Contemporary Austin
The Contemporary Austin has two locations, the Jones Center Downtown and Laguna Park, which are also free on a Thursday.
The Jones Center offers temporary exhibitions throughout its 8,000 square-feet of museum space including the rooftop deck—the Moody Rooftop.
The Contemporary Austin's Betty and Edward Marcus Sculpture Park at Laguna Gloria exhibits permanent outdoor art installations.
Free Days in Austin
Some of the Austin museums such as the J Presidential Library offer free admission on the following holidays:
Martin Luther King Day
Presidents' Day
Explore UT
Juneteenth (June 19)
Memorial Day
Independence Day (July 4)
August 27 (LBJ's birthday)
Austin Museum Day
Veterans' Day
Cheap Things to do in Austin
Some activities are worth paying for if they save you time or tap into local knowledge!
Check out the following inexpensive things to do in Austin and book your ticket by clicking the link.
Austin: City and Hill Country 90-Minute Tour
Discover over 50 points of interest and their stories told by a local guide during this tour.
See the major sights of Austin, East Austin, and some of the beautiful Hill Country.
Tour operates via a 4-passenger Mercedes-Benz sprinter.
You may also like our Austin to Big Bend road trip itinerary.
Ghost Tour and Pub Crawl
A cheap thing to do in Austin at night if you are traveling alone or would like some company, is to join this pub crawl which also talks about the ghosts in the city of Austin!
Free Things to do in Austin in Winter
While most people visit Austin when it begins to thaw out from March onwards, there are still plenty of things to do around Christmas.
Zilker Trail of Lights and Tree
As mentioned above, there is a light installation show at Zilker Park which is free to enter.
Minor Mishap's Winter Solstice Lantern Parade
Follow the 25-piece renegade brass band as they put on a mobile show along the banks of Austin's Lady Bird Lake in December.
Chuy's Holiday Parade Downtown
The popular Tex Mex joint, Chuy's hosts Austin's holiday parade each year.
Expect school marching bands, festive decor and maybe a visit from the big man himself.
Find out more about Austin at Christmas here.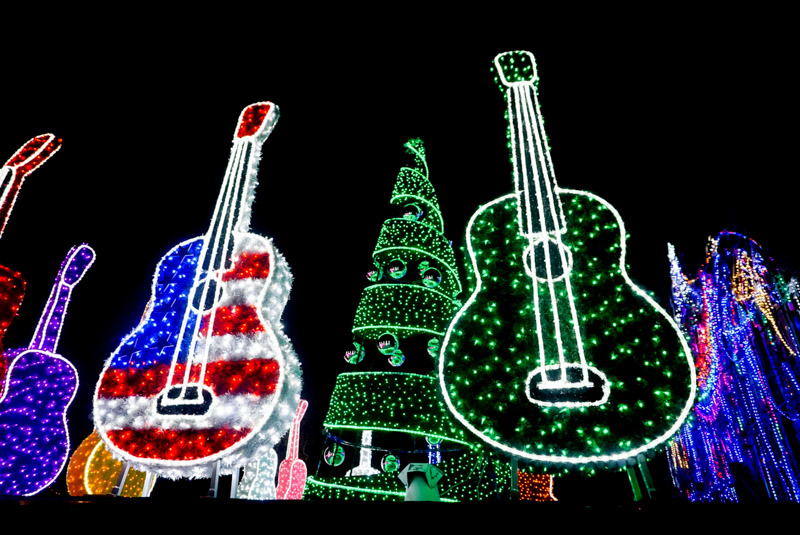 Free Events and Festivals in Austin
Pecan Street Festival
Pecan Street Festival is a free street food event held in the Sixth Street Historic District.
Visitors can gorge on food from local vendors, listen to live music and pick up crafts from artists.
The street festival takes place twice during the year, once in spring and again in fall.
Honk! TX
Ready to get loud?
For one weekend, community street bands from all genres meet up to blow their horns and bang some drums during Honk! TX.
There's a mix of indoor and outdoor events during the three days of the festival.
SXSW Festival
If you are a big music fan, South By Southwest has to be on your bucket list.
This 10-day music, film and interactive festival takes over the city and many of the events can be attended without a badge, if you have a little patience and can do some planning beforehand.
While there are heaps of shows in bars and venue spaces, the free activities don't just center around music so you can hear speakers and eat for free too.
Most locals leave the city when SX kicks off as it becomes rammed with instruments, session leaders and party people!
If you are interested in finding out more, read our guide to SXSW for free and where to stay for SX.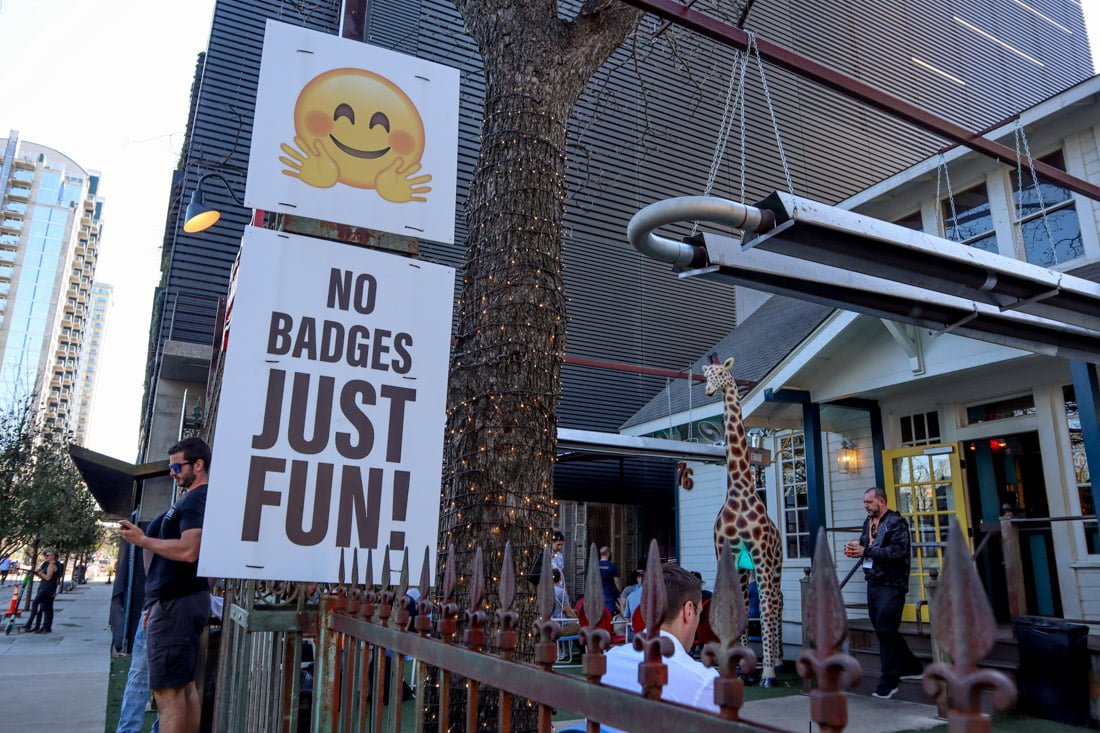 Affordable Accommodation in Austin
For those on a budget, check out the Days Inn which has rooms for under $100 in summer.
Alternatively, consider this 2-bed apartment in East Austin.
Or if you don't mind sharing space, Firewater Hostel in Downtown is one of your cheapest options.
How to Get Around Austin on a Budget
The cheapest way to get around Austin is by foot.
The streets are organized in blocks so it is pretty easy to get around.
You'll find e-bikes and scooters all over the city.
If you want to get a location quickly you can just use the app to fire up the device and pedal away, leaving the bike or scooter at your end destination.
Uber and Lyft operate in Austin so you can use those apps to book a taxi.Alternatively, consider the bus system, CapMetro, which also operates from Austin-Bergstrom International Airport.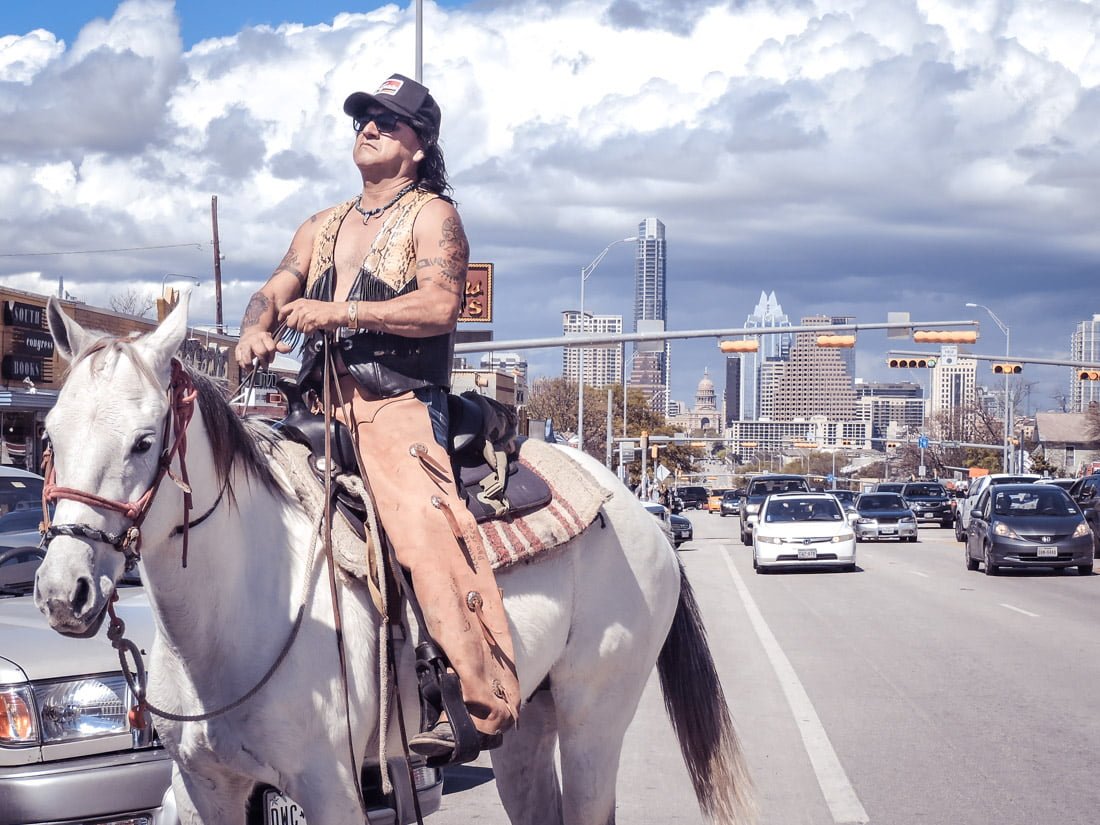 Have we missed any free tourist attractions in Austin? Tell us in the comments below.