This article has links to products and services we love, which we may make commission from.
Hello there! Now, I know what you're thinking – why would two Scottish bloggers write about trips to Scotland? After 17 months of travelling around 16 countries in the Americas and Europe, Craig and I (Gemma) agreed that we had to get out in our own back garden and see more of this beautiful country we call home! Hence this honest article – HAGGiS Adventures 3 Day Skye High Tour review.
Bus about to the jaw – dropping Eilean Donan Castle
Isle of Skye Tour
This is not the first time that Craig and I have driven to the West Coast of Scotland and over the Skye Bridge (which, like all bridges in Scotland, is now toll-free thanks to the SNP Government). We took a road trip to the Inner Hebrides' biggest island with friends back in 2013, and we fell in love, so when HAGGiS Adventures invited us to participate in their 3 Day Skye High Tour, we jumped at the chance.
HAGGiS Adventures
HAGGiS Adventures 3 day tour is more than just a trip to Skye. Our tour guide, Jamie, kicked off his endearing storytelling of fact and fiction (and quite a bit of downright tomfoolery) as soon as we pulled away from the Royal Mile office in Scotland's capital, Edinburgh. This drive – by storytelling is what, for me, makes this tour so fulfilling.
Fife – Dunkeld – Culloden – Fort Augustus
HAGGiS Adventures tours are rapid. Within the first two hours, the 'wild and sexy' 29 seater bus makes a few stops. Firstly, at the very edge of the southern shore of the Firth of Forth at Scotland's most famous bridges – the Forth Rail Bridge (the old red one), the Forth Road Bridge (the well-used grey one), and the New Bridge (officially called the Queensferry Crossing). The next stop is Dunkeld Cathedral to rub the Wolf of Badenoch's helmet (for fruitful fertility, apparently).
Dunkled Cathedral
After lunch in Aviemore, a tour and a toot at Tomatin whisky distillery.
Whisky, Scotland's national drink!
The final stop is a poignant one – Culloden. Jamie from HAGGiS Adventures marches us over Drumossie Moor where the last pitched fight on British soil took place, the Battlefield of Culloden. Our kilted tour guide then reenacts, with crowd participation, the 1746 conflict where an outnumbered Jacobite uprising led by Bonnie Prince Charlie (Charles Edward Stuart) is defeated by Britain's King George II's Red Coats, headed by Duke of Cumberland (William Augustus) aka The Butcher. If you are interested in history and Hollywood you might like our guide to Outlaw King filming locations.
Battle of Culloden – last stop on day one of our Isle of Skye tour
Fort Augustus – Isle of Skye
Day 2 of HAGGiS Adventures Skye tour takes you past the second most photographed castle in Scotland, Eilean Donan, at the stunning Kyle of Lochalsh, then over the bridge to where brave souls seeking eternal youth can dunk their faces in the Sligachan River. If you have some spare cash and are about to get hitched, why not get married here?! On another note, did you know that you can actually sleep in a castle in Scotland?
Face freeze! Would you?
The day is spent driving along the winding paved roads of the Isle of Skye with the occasional stop at Skye's famous landmarks…
The Fairy Falls

Lealt Falls

Kilt Rock
The Old Man of Storr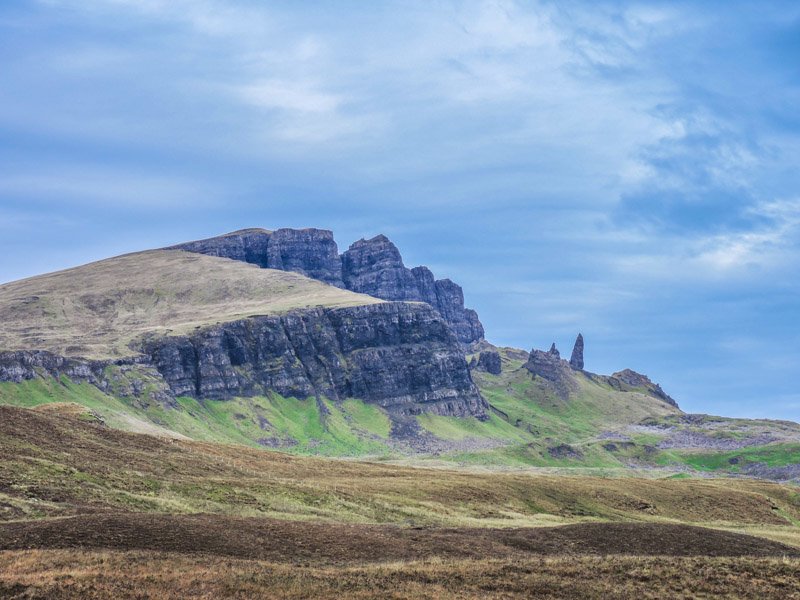 Fort Augustus – Loch Ness – Glencoe – Stirling
The final day begins with a wake-up Highland fling on the bonnie banks of Loch Ness in an attempt to entice Nessie out of the water (fail). Then it's back on the bus to listen to the Scottish folklore that surrounds the area until we reach one of my favourite spots in Scotland…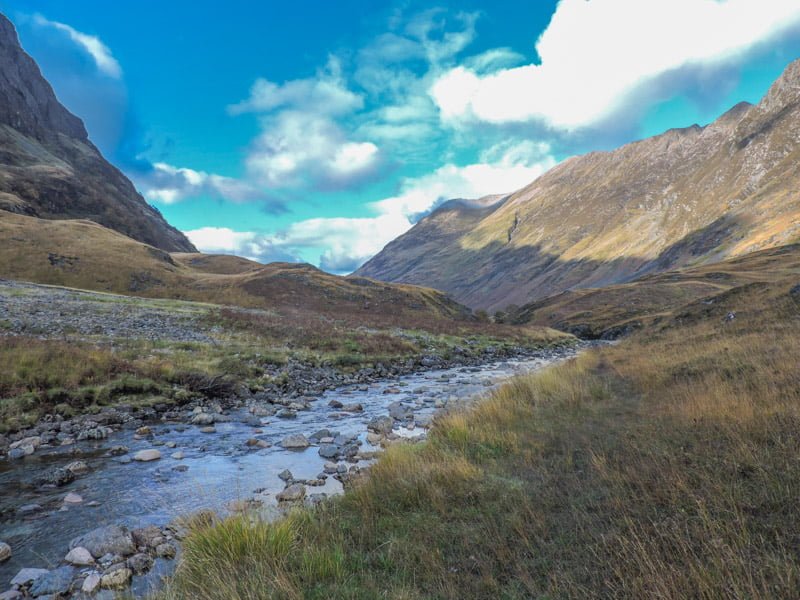 Glencoe
I adore how small and inferior Glencoe makes me feel, it's almost as if the giants in these Scottish tales could be lurking in the background.
Did you know that both Harry Potter (Hagrid's hut) and James Bond (Sky Fall) were filmed in this area? Neither did I! A HAGGiS Adventure fact.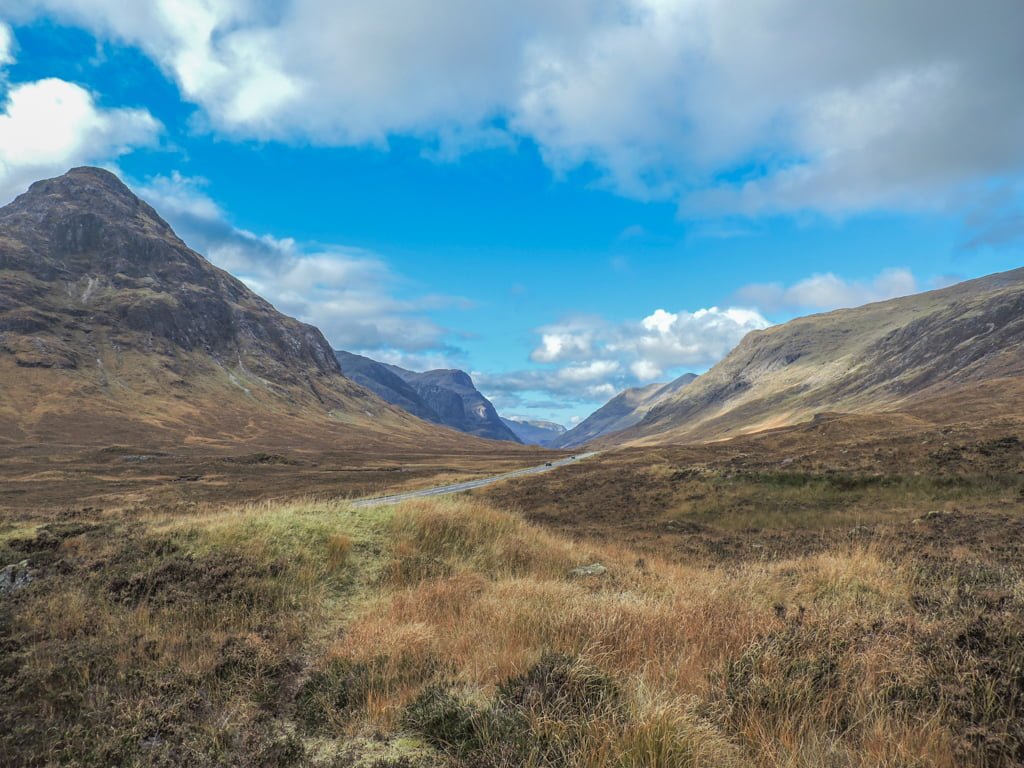 HAGGiS Adventures – Scottish tours from Edinburgh
Our final stop, lets (a de-kilted) Jamie, pick at the flaws in Mel Gibson's Braveheart with Stirling's Wallace Monument towering over. The drive out of Stirling back to Edinburgh, passes the scene of the Battle of Bannockburn (1314), with the words of the previously sang national anthem still ringing in our ears.
Wallace Monument, Stirling
HAGGiS Tour Accommodation
Both nights, we stayed in a mixed sex, six-bed dorm at the exceptionally clean, Morag's Lodge in Fort Augustus. As a married couple flirting with 30 (the darker side), Craig and I aren't normally ones for staying in dorm rooms but it really wasn't an issue on this type of short-term trip. We had dinner at the hostel on Friday night (£7.80 for a main meal) then opted for dinner out in the small village of Fort Augustus on Saturday (The Bothy – £32 for fish and chips, steak pie and two drinks) . Entertainment consisted of a pub quiz in the hostel's cosy bar, Craig won the best chat up line! There was no obligation to take part in the bar activities if that's not your scene. Accommodation can be pre-paid at the time of booking for £59 per person, which also includes your HAGGiS t-shirt and the entrance fee to the distillery. There is also a pay as you go option where HAGGiS reserves your bed, you just pay the hostel directly.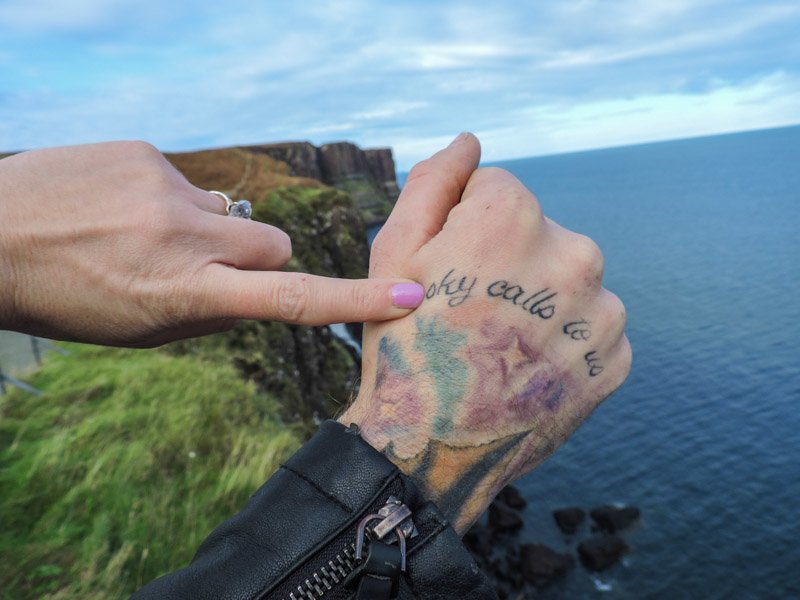 Wild and Sexy HAGGiS Bus
You can't miss HAGGiS Adventures buses because they are bright blue and yellow with WILD AND SEXY splattered on one side. I love it! The mid-sized 29 seater is comfortable enough. It has leg room, air-con (insert jokes about never requiring air-con in Scotland), and a sound system with microphone for the guide to tell their gripping Scottish stories and terrible jokes. Small rucksacks/suitcases can be stored in the boot/trunk of the bus. We made plenty of toilet, food, and photo stops – the longest we sat down was around an hour, bare this in mind if hitting the bar hard, sick bags provided! The HAGGiS Adventures office does not have storage so if you have luggage bigger than a 262 case (height 66cm, width 44cm, depth 29cm, max 15kg), check that your Edinburgh accommodation store it for you (very likely).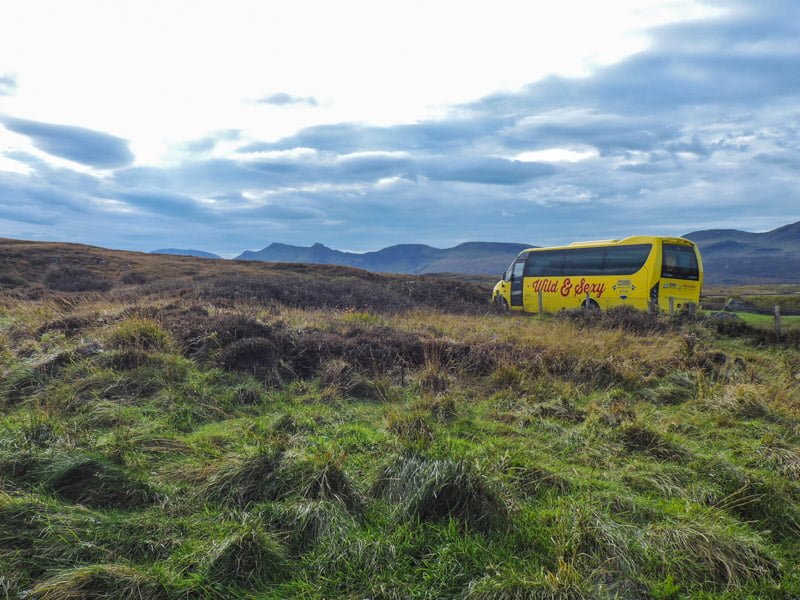 Colourful bus tours of Scotland. Want to see more of Europe? Check out Busabout tours.
Accommodation in Edinburgh
Since the tour starts at 08:15 and the meeting place is in Edinburgh's Old Town it is advised that you stay over in Edinburgh the night before. Backpacking through Scotland is not cheap but there are a variety of types of accommodation to meet every pocket. Budget backpackers should check out the hostels in Edinburgh, which start at £14 for a dorm, hotels in Edinburgh are naturally more expensive, a private room can be found for £44 – £425. Airbnb also operates in Edinburgh, private rooms average at £50 and full houses £114, however, do go for as low a £25 and £60.
Warning – Edinburgh in August is crazy busy as we have our famous three weeks of comedy, theatre, and dance Festival Fringe, prices tend to increase at this time. We also have Über for cheaper taxi services.
Heading to Edinburgh? Check out my favourite pubs.
Haggis Adventures 3 Day Skye High Tour Review
Naturally, you might be thinking – can I trust a travel blogger reviewing a tour, and I applaud you for that. This is an honest review of HAGGiS Adventures 3 Day Skye High Tour, and the only issue I could envisage a traveller facing would be that the fixed itinerary means that there is a lack of flexibility. It's not like an independent tour where you can pull over the car to catch that shot of Nessie when she appears (I am 100% certain Jamie and other HAGGiS tour guides would stop the bus for that million-dollar shot!) However, on self-guided tours of Scotland, you miss out on those stories of giants, fairies, and kelpies, and as I mentioned at the start it is this folklore that makes HAGGiS Adventures 3-day tour of Skye one to remember. Want to see more than just Edinburgh but don't have time? Check out HAGGiS Adventures day tours.
One of the downsides of a group tour in Scotland is that you lack flexibility when it comes to itineraries.
For example, from Skye you can easily visit the Isle of Uist in the Outer Hebrides too.
HAGGiS Adventures 3 Day Skye High Tour
HAGGiS Adventures 3 Day Skye High Tour is for the traveller who loves the enchanting scenery, charming storytelling – some factual, some myth, enjoys terrible Scottish music, and meeting friends from around the globe which now all have one thing in common – they all formed a clan and got (euphorically) high in Skye! Aye!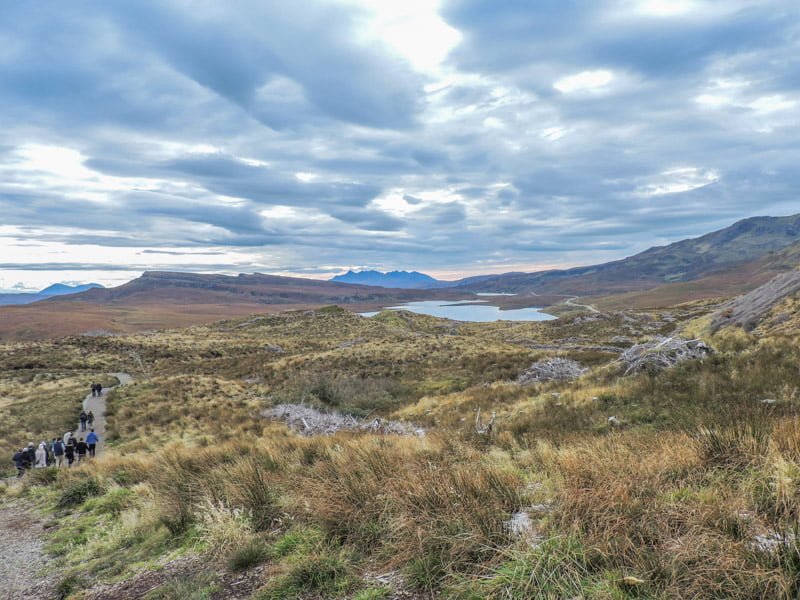 Views from The Storr
Bonus tip: there's a new kid on the block. Have you heard of the North Coast 500 road trip? Coined Scotland's route 66, this scenic tour starts in Inverness then goes east or west as far as Dunnet Head and then around the other side. It is honestly one of the most beautiful trips I've taken. Read more at our NC500 guide.
Coming to Scotland?
Hover over image & pin to Scotland board for later!
Thanks to the HAGGiS team for covering the cost of this tour and accommodation for us Two Scots. If you'd like to find out more about our partnerships, read our small print.
Have you been to Scotland?