This article has links to products and services we love, which we may make commission from.
Looking for the best places to visit in October in USA? Get inspired to explore! Whether you're seeking those classic fall colors, fun festivals, or Halloween destinations, October in the US offers an incredible variety of options.
We adore the US in fall and have also written about National Parks in October, best things to do October, Oktoberfest in the US, and best Caribbean islands to visit in October, some of which will be introduced in this guide.
Best Places to Visit in October in USA
October in the US means pumpkin patches and apple picking, hayrides and haunted houses. From the delicious to the terrifying, October is the perfect month for cultural activities across the country.
Traveling in October often yields better prices and smaller crowds, too. Take advantage of off-peak prices while the kids are all in school and parents are busy.
Although, if you are hoping to see peak fall colors, book accommodation well in advance.
Note there is a holiday weekend in October (the second Monday), so you'll want to avoid popular spots if you're seeking more affordable travel.
If you'd prefer destinations with guaranteed fewer crowds, check out our guide to the best places to visit in the US in September or the start of the holiday season in November.
Best Places to See Fall Colors in USA
Fall colors in the USA are iconic.
The deciduous trees start losing their leaves in preparation for heavy winter snow falling on bare branches. But, before those leaves fall, they shift from standard green to a wild variety of reds, oranges, and yellows.
This fiery display offers a last hurrah before the depths of winter take over.
If you're keen to see this beauty for yourself, there's no better place to travel in autumn than New England.
But while the region is synonymous with autumn colors, there are several other places to see fall colors in the US that you just shouldn't miss!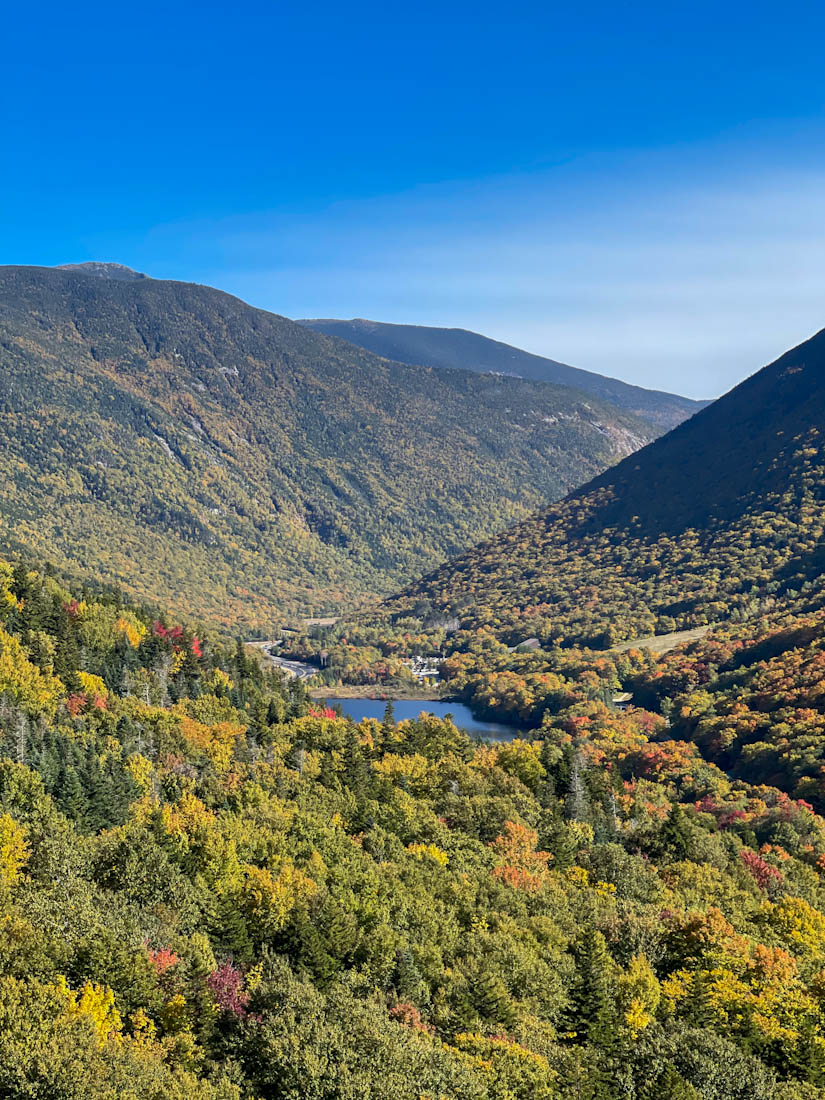 Best Places to Visit in New England in Fall
New England in the fall offers a stunning display of color. From the multitude of state parks to the rolling Appalachian Mountain Range, this region is a must for fall colors!
An autumn road trip through New England is required, with every bend of the road providing more beautiful vistas.
1. New Hampshire and Vermont
New Hampshire and Vermont are utterly idyllic this time of year and they are less than a three-hour drive apart, making it one of the best places to vacation in the fall as you can visit in both without the hassle of a lengthy East Coast road trip.
Plan a weeklong road trip, staying in quaint B&Bs along the way as you explore the White Mountains of New Hampshire and the Green Mountains of Vermont.
Hopefully, both will be colorful mountain ranges during your trip!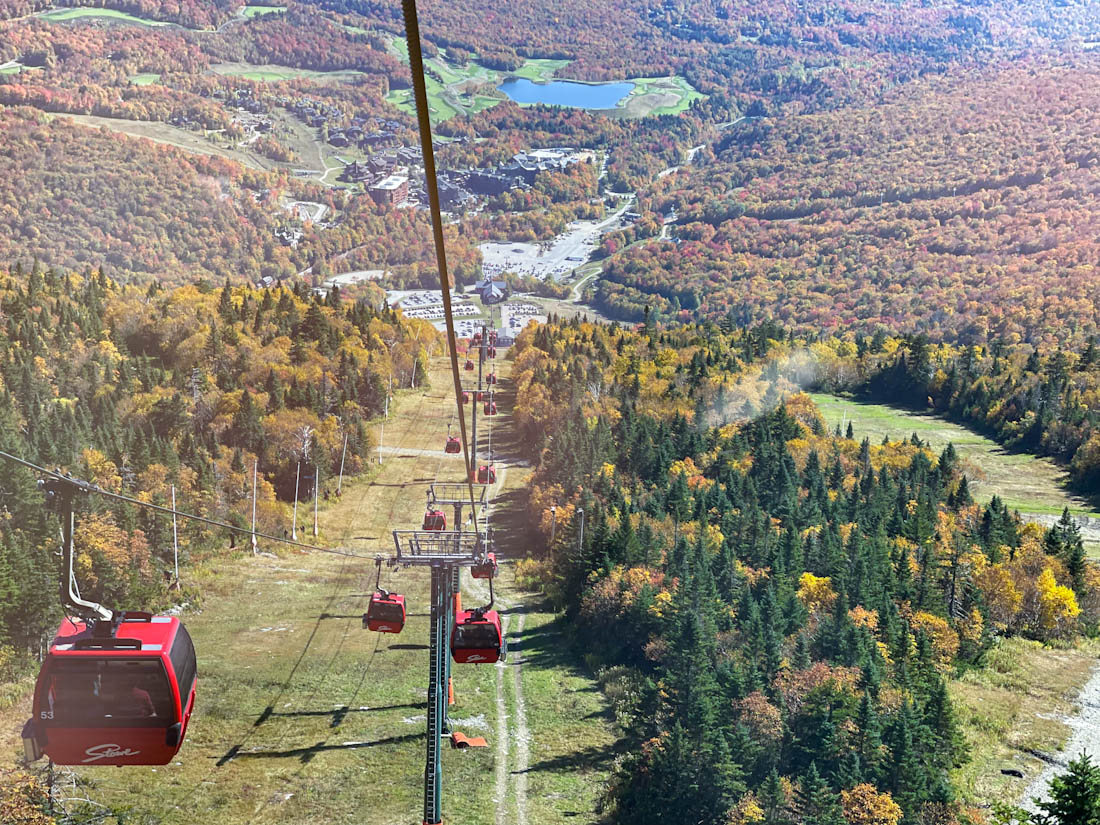 Did you know that Montpelier in Vermont is the smallest state capital city in the US?
Don't forget to pick up seasonal chocolate at Rabble-Rouser on Main Street.
It really is a chocolate box town not to be missed any time of the year but especially in fall.
Montpelier in Vermont also features in our most romantic places to visit in the US.
You can read the guide here.
30 minutes drive from Vermont is Stowe.
While Stowe is the 'ski capital of the East', it is also paradise for autumn fans because of its sea of foliage.
Home to some of the best breweries in Vermont, you're going to want to check out a craft been tour in Stowe.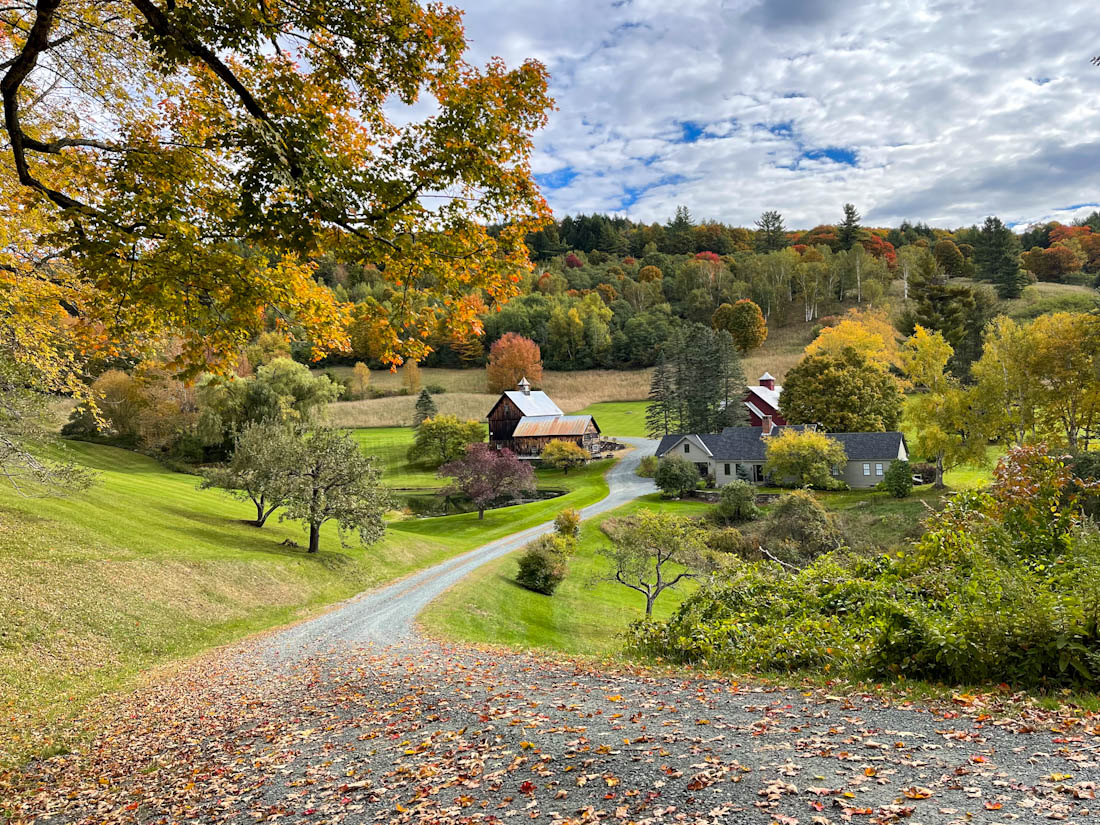 2. The Berkshires
In Western Mass (few locals actually say the full state name of Massachusetts), you'll find yourself in the Berkshires.
October in the Berkshires is a jaw-dropping scene straight out of a Norman Rockwell painting. Rent a cabin and bask in that natural, blissful beauty.
Known for its farm to table food scene, plan for full bellies as well as cozy autumn walks.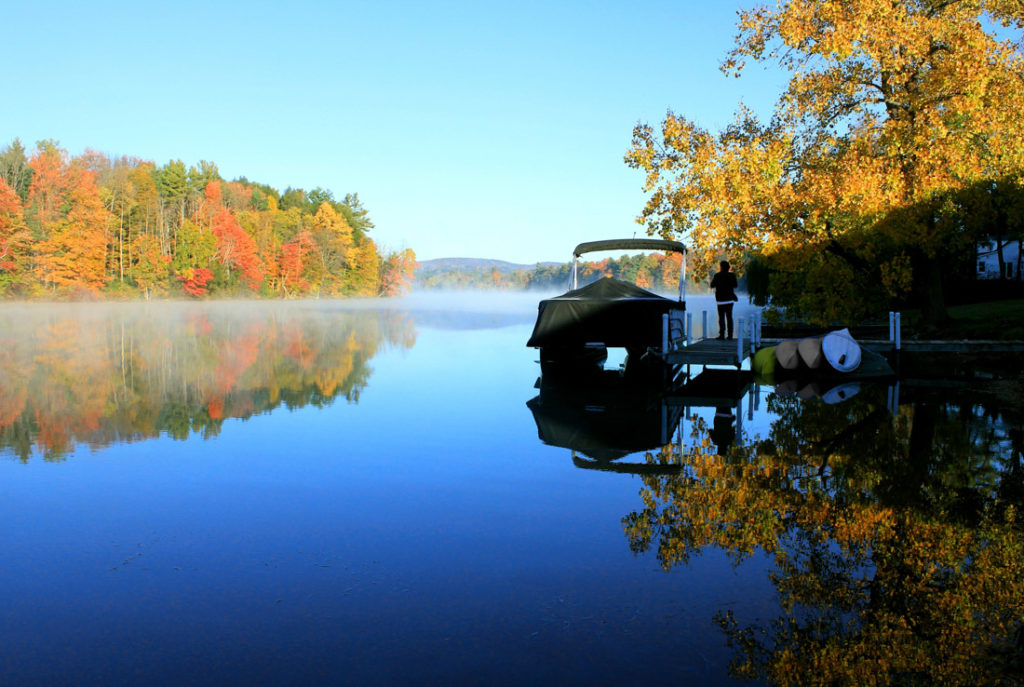 3. Maine
Looking to get outside?
Hike the trails of Acadia National Park near Bar Harbor, Maine, which also features in our guide to the best national parks to visit in October and free things to do bar Harbor and Acadia National Park.
The Beehive and Cadillac Mountain are personal favorites.
You will need a vehicle pass which is separate to your park pass to drive up Cadillac so be prepared!
The best time to see fall colors in Acadia is around the end of September into the first week of October but this can change so keep an eye on foliage reports.
The beauty of October in New England is only countered by the volatility of the weather.
You could get warm days of sushine or early snow. You never quite know, so it's best to be prepared for anything!
With luck, you'll enjoy clear blue skies as a backdrop to those vibrant autumn leaves.
Mid-October is usually a safe bet for leaf-peeping, but keep an eye on general seasonal conditions to see if it will be an early or late color change.
---
» You may also like | Things to Do in New England
---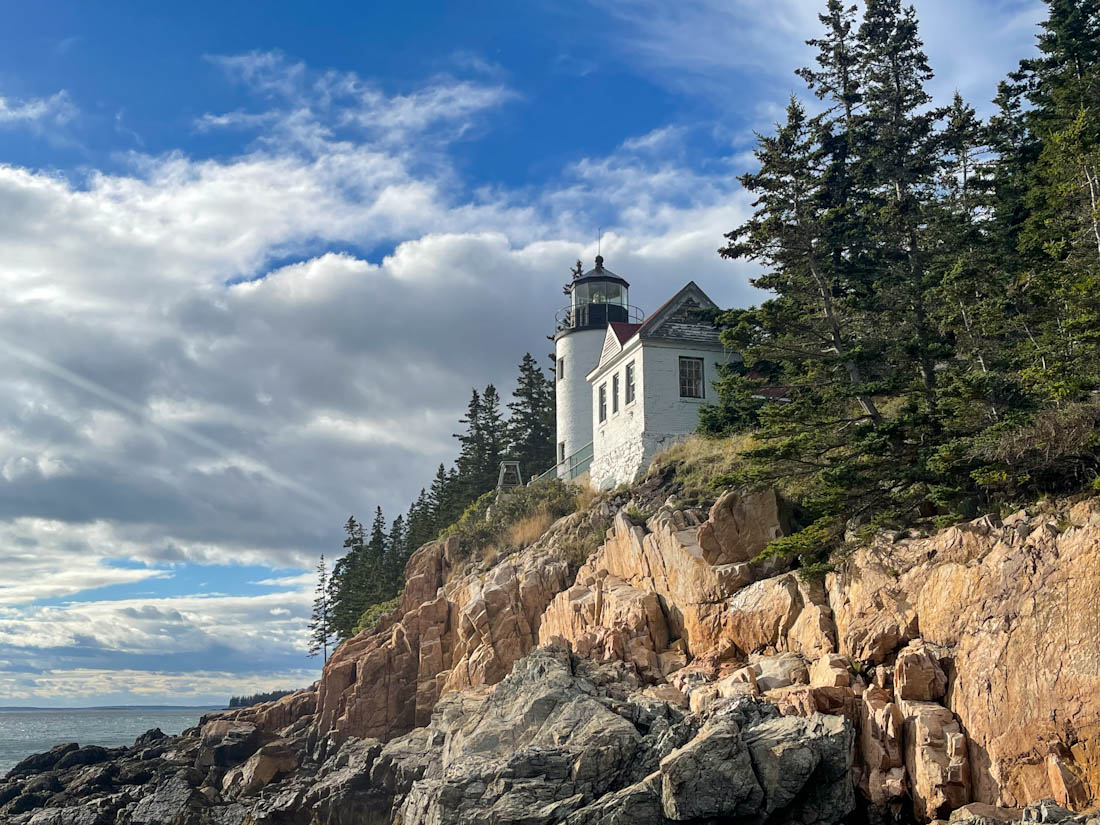 Best Places to See Fall Colors Outside of New England
New England gets most of the attention for the best place to see fall colors in the US. But it's certainly not alone!
4. Autumn in Michigan
Michigan's fall colors are another sight to behold.
While the state hasn't gained the same reputation as the New England states, it's a fantastic alternative to the more popular Vermont fall road trips.
Michigan's locations which particularly look lovely during autumn are Tahquamenon Falls and the River Road Scenic Byway.
Check out this nifty fall color map before you set off to see Michigan glow up.
Montana and Wisconsin also provide stunning fall colors.
5. Visit Virginia and West Virginia in the Fall
Another alternative option: Virginia and West Virginia.
Virginia is for Lovers and West Virginia is known as Wild and Wonderful, so you're bound to fall in love with this natural beauty.
Road trip along the 105-mile Skyline Drive to bask in the beauty of the Shenandoah National Park and the Blue Ridge Mountains.
This autumn road trip must be on your bucket list!
6. Explore Upstate New York
Leave NYC and you'll quickly reach the Hudson Valley, making Upstate New York another stunner of a trip.
From natural beauty to the renowned local food and drink scene, this region boasts plenty to entertain you for a long weekend.
Check out the local farms and small breweries and wineries in the region to complete your fall-themed fun.
Love Halloween? Check out The Blaze in New York's Hudson Valley for The Great Jack O'Lantern Blaze.
Located in an 18th-century landscape, over 7,000 illuminated jack o'lanterns are designed and put on display for visitors to be amazed at.
That's not all! There's a planetarium, a windmill, the Headless Horseman and much much more.
---
» You may also like | New York State Bucket List
---
7. Southern Appalachia in Autumn
Asheville, North Carolina (Lin Cove Viaduct picture below), and Chatanooga, Tennessee, are both popular autumn destinations in this region.
Throughout the region, there are plenty of small towns to explore and boundless vistas for those who enjoy hiking.
Take advantage of an extended October vacation, with hiking in the Great Smoky Mountains National Park for elk-spotting and leaf-peeping.
Asheville is a popular city which features in our guides to the best places to visit in the US in November, most romantic locations and where to spend spring break!
Best Festivals in October in the USA
October festivals range from food-focused to outdoor fun which is an added bonus to consider when choosing the best fall vacation spot.
Add these fun October festivals to your calendar and book your trip accordingly!
8. Cape Cod
Wellfleet OysterFest: Held on Cape Cod, MA, annually the weekend after Indigenous Peoples Day (more commonly referred to as Columbus Day).
Cap Cod also features in our guide to places to visit this May as an idea for a Mother's Day getaway.
There's no denying the the Cape is expensive so you might be interested in our guide to the free things to do in Cape Cod.
9. Albuquerque
Albuquerque International Balloon Fiesta: Held every October over a 9-day period, this hot air balloon festival attracts visitors from around the world.
Follow the crowd, this is one October event you absolutely cannot miss.
Albuquerque features in our cheapest places to visit in the US! Check out costs here.
10. Hawai'i
Hawai'i Food & Wine Festival: Typically held every October, the Hawai'i Food & Wine Festival extends your summer vibes with the warmest water temperatures of the year plus extraordinary food and drink.
Let your tastebuds wander.
The location of the festival is announced on the website.
You can find out more about Hawai'i's islands in our guide to warm winter destinations.
11. West Idaho
The Trailing of the Sheep: Ready for a quirky alternative?
Head to Idaho and join the Big Sheep Parade during this annual October festival.
The festival features sheep herding dog competitions, wool sheering, music, food and the parade at Sun Valley where over a thousand herded sheep take to the street while crowds watch.
Bonus points for their Scottish connections!
Sheep herding is a big tradition in Idaho which locals want to celebrate and educate others about.
This is "One of the Top Ten Fall Festivals in the World".
12. Portland, Maine
Head to Portland, Maine, to enjoy eclectic local food at the Harvest on the Harbor before you continue your New England road trip for fall colors.
Portland's restaurant scene is booming!
Fancy Portland? It's expensive, so you'll appreciate this guide to free things to do in Portland, ME.
13. New Orleans
Voodoo Music & Arts Festival: Visit New Orleans to see some of the world's top bands and artists perform in New Orleans' historic City Park.
New Orleans also features in our guide, best places to visit in February and March for Mardi Gras.
Read this guide for more ideas on things to do in New Orleans in the fall.
14. San Francisco
Hardly Strictly Bluegrass Festival: San Francisco in October offers comfortable temperatures and this recently-added annual festival.
It's an alternative (or addition) to the more traditional Fleet Week events. Head to Golden Gate Park with a picnic and enjoy the tunes!
See our San Francisco Itinerary and guide to California in fall for more.
Best Halloween Celebrations in USA
Halloween is a favorite US holiday, but there are definitely some places that do it better than others.
Check out these top places for Halloween and plan your next costume!
(Just remember the tips from above. Learn the history and understand cultural appropriation first.)
15. Salem, Massachusetts
Learn the terrible history of the Salem Witch Trials during this 1-hour guided tour.
The tour includes Salem's most prominent attractions such as Ropes Mansion, Old Burying Point Cemetery and Witch House.
Also learn the stories of modern witches and Halloween celebrations.
Salem celebrates its past and present all October-long.
Even the cop cars have witches on their logo.
Check out the Haunted Happenings for details.
Prices for hotels in Salem increase in October and reach their peak during the days surrounding Hallowe'en so if you plan to stay in Salem during the spooky season, be prepared to pay and book early.
---
» Read next: One Day in Boston Itinerary
---
16. Sleepy Hollow, New York
Sleepy Hollow, of literary Headless Horseman fame, attracts plenty of visitors to the Hudson Valley in New York throughout the month of October.
Visit Philipsburg Manor or Lyndhurst Castle, depending on how much fright you can handle.
17. San Antonio, Texas
Celebrate Dia de los Muertos in San Antonio, Texas, with ofrendas, poetry, dancing, local vendors, and more!
This free, two-day event honors Mexican and Latin American traditions, attracting big crowds every year.
18. St. Helens, Oregon
Head to St. Helens for a town-wide celebration a la Halloweentown, the old-school Disney Channel film.
The town revives its role annually.
Bonus: Fans of the Twilight films can also visit a film location while there.
19. New Orleans, Louisiana
Second only in scale to Mardi Gras, the Halloween celebrations in New Orleans are massive.
This city is vibrant all year round, but Halloween highlights the locals' particular affinity for costumes and masks.
If Mardi Gras interests you, read our guide on the best places to visit in March.
20. Irvington Hallowe'en Festival
Head to Indianapolis for a week-long Hallowe'en celebration!
Expect house decor, vendors, games, ghost tours, competition and a 5 mile run.
21. New York City, New York
For the Dogs: Tompkins Square Halloween Dog Parade in NYC. It's an annual classic!
And, for the humans, the NYC Village Halloween Parade is another classic.
Check out Bootsy The Corgi looking dashing for the show. Give Bootsy a follow on Instagram!
Save for later! Pin to your planning board