This article has links to products and services we love, which we may make commission from.
Looking for the best places to visit in the November in the USA? In this guide, we've detailed options for every type of vacation. So whether you want to escape to somewhere warm, catch the start of the ski season, add to your Christmas shopping or catch some Thanksgiving activities and parades, let us help you plan your November vacation.
As always, we've outlined the temperatures in November for each location, the fun festivals and events taking place, what the prices are compared to summer and why you might want to visit that destination.
The following US destinations offer lots of variety so be sure to tell us in the comments where you choose to visit. We love to hear it! If we've missed your favorite spot, do tell us.
You may also like our guide to national parks in November, where you can enjoy free entry on Veterans Day.
If you are still deciding what month to travel in, check out our guide on the best places to visit in the US in October too.
Best Places to Visit in USA in November
The following guide will discuss cities, towns, beaches and snowy locations.
Note: Fall foliage is difficult to predict. Choose a November destination for more than just leaf peeping just in case it peaks earlier than expected.
Best US Cities to Visit in November
Portland, Oregon in November For Independent & Tax-Free Xmas Shopping
Portland is a fun city to visit all year round, but November is great if you enjoy shopping at independent stores and warming up in craft beer breweries!
Expect some rainy days and cooler temps during your trip with November temperatures range from 42°F to 52°F (5°C to 11°C).
Luckily, crowds disperse when summer tourists head home, and you might just get the added bonus of some leaf peeping with autumn clinging on until the start of November.
Portland in November is a good time to visit for events.
Check out the popular Northwest Food & Wine Festival where attendees sample hundreds of regional wines and food from Portland's best chefs.
If you're not familiar with wine, try sampling the Pinot Noir, which Oregon is famous for.
Book worms will enjoy the annual Portland Book Festival that features pop-up readings and a massive book fair.
If you don't fancy the festival, be sure to check out the famous Powell's Books instead.
Other things you have to do in Portland is grab a doughnut from Voodoo Doughnuts and some java from Stumptown Coffee.
Oregon is also known for hazelnuts, fresh crab, Tillamook Cheese, Moonstruck Chocolates, and marionberry pie.
It's Portland so you have to bar hop to get to know the craft beer scene!
Start at Backwoods then stumble over to 10 Barrel then Deschutes.
Christmas starts early in Portland so you will be able to see lights at the likes of Oregon Zoo in November.
Shop local at the Portland Holiday Market weekend where you will find food, gifts, artwork, jewelry, home décor, clothing, spirits, craft items, books, ornaments, leather goods, bath and body and more!
Oh, and Oregon doesn't have any sales tax on shopping.
To escape the cloudy weather, tour the oval-shaped Pittock Mansion – the historic home of one of Portland's most influential families which puts up impressive decorations
It is also a recommended place to visit for Christmas things to do in Portland.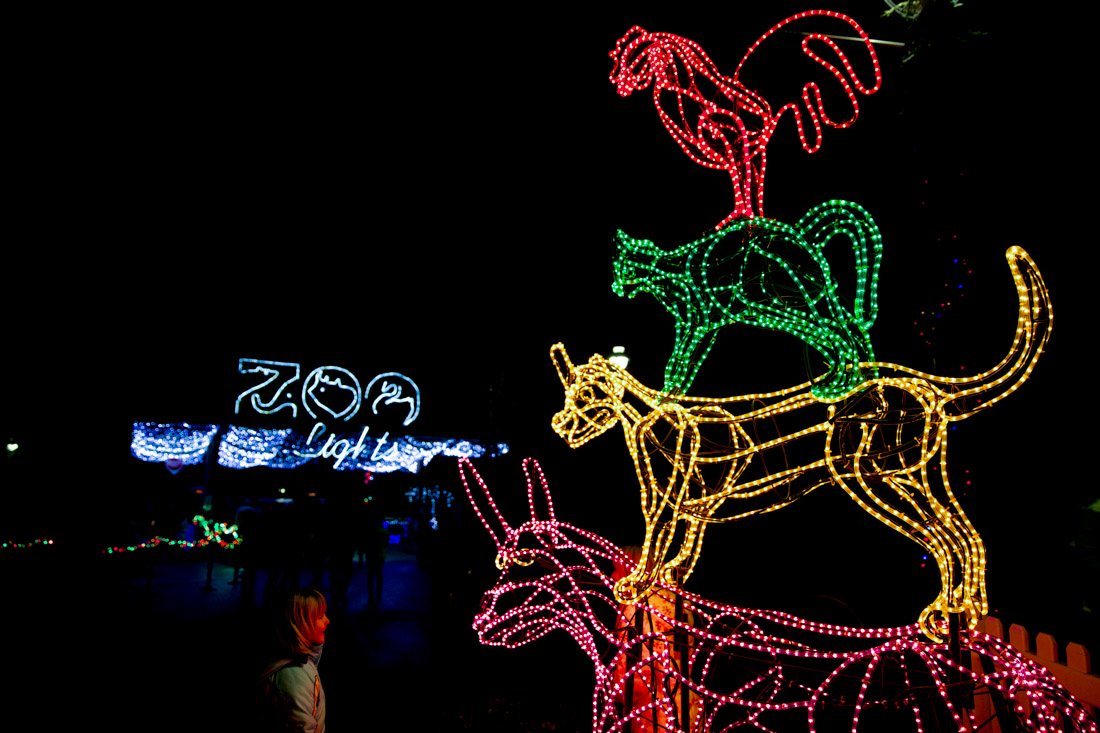 If you ask a local what to do when visiting Portland there is a good chance they will mention coffee, beer and nature.
Washington Park in downtown Portland has family-friendly attractions including The Portland Children's Museum, 150-foot Coast Redwoods in Hoyt Arboretum, along with other gardens.
Check out the Multnomah Falls (below) which is only 30 minutes drive from the city.
If you find yourself exploring the beautiful Oregon coast, keep an eye on the water for migrating Gray whales which are spotted from June until mid-November.
There isn't much difference in pricing when it comes to comparing hotels in Portland in November and summer.
Portland also features in our guide, the best places to the visit in July in the US where you can join in a craft beer festival.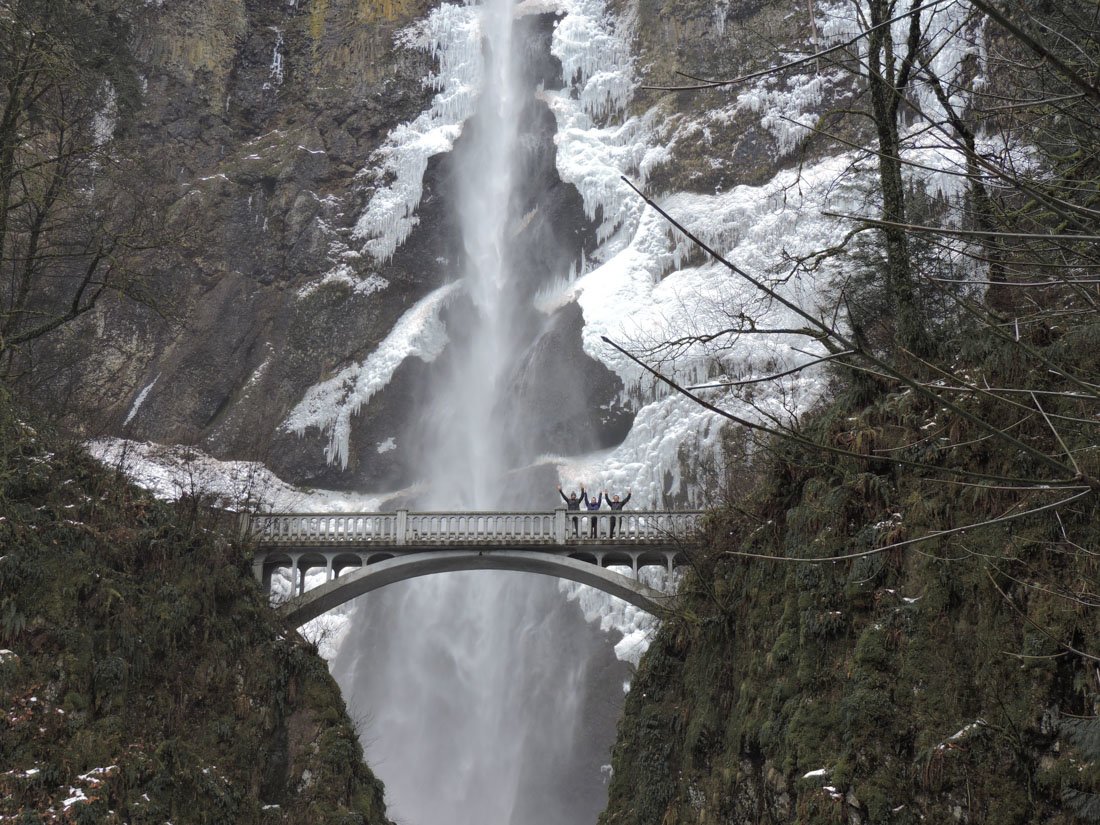 Montpellier, Vermont in November For a Small Town Fall Getaway in New England
If you're looking for a cozy, quiet fall getaway, take a trip to Vermont's charming capital city, Montpellier.
The city of only 8,000 residents is the perfect destination to hunker down, eat local food, and enjoy small-town life.
The city prides itself on its commitment to local businesses – it's the only state capital without a McDonald's.
Visitors can meander through downtown Montpelier's local shops, tour the impressive Vermont State House, and stroll through nearby Hubbard Park.
Local ingredients influence Montpellier's food scene and inspires plenty of unique farm-to-table dining experiences.
Visit the Bragg Farm Sugar House to learn about Vermont maple syrup, and to try a few tasty samples.
Always save room for dessert in Montpelier.
You'll love the hand-crafted chocolates, delectable cakes, and tempting pastries.
Montpelier is tucked in the Green Mountains, which means visitors are in for scenic drives dotted with covered bridges.
If you're hitting the shops on Black Friday, be sure to wear a flannel shirt for Flannel Friday.
The city's "Flannel Fairies" could help you win a special prize.
Novembers are usually cool and dry, with temperatures ranging from 43°F to 59°F (6°C to 15°C).
Although the fall foliage is gone by November, visitors can take advantage of steep hotel discounts and smaller crowds.
Booking accommodation in November can save you $100-150 compared to a summer trip to Montpellier!
Asheville, North Carolina in November For the End of Foliage in the Award Winning City
Asheville was dubbed the "Paris of the South" in the early 1900s for its artisanal charm and unique architecture.
Today's Asheville holds on to a lot of those early characteristics.
Plus, U.S. News and World Report has ranked the city the #1 Best Fall Vacation, and we can see why.
Today, artists, craft breweries, and nature lovers make the mountain town a special place in the South.
Asheville has the most breweries per capita of any U.S. city with about 100 local beers to sample.
Visitors should embrace the Appalachian cuisine that influences Asheville's food scene.
Look out for local favorites like cornbread and country ham.
November visitors happen to be in town for the end of the best fall colors.
Drive along the Blue Ridge Parkway, or hike through Mount Mitchell State Park located along the Parkway, for stunning views.
Nature enthusiasts can spend even more time outdoors at Pisgah National Forest for stunning vistas, primitive camping, and unique waterfalls.
Fall is also the perfect time for exploring the galleries and boutiques in downtown Asheville.
There's also the eclectic River Arts District where you can visit working studios and galleries of local artists.
Get in the Christmas spirit at the lavish Biltmore Estate.
The estate's 250 rooms are decked out in festive decor and twinkling lights for the annual Christmas at Biltmore.
Book your trip in advance for the best prices if you want to see the end of the fall colors.
Accommodation is slightly cheaper in November compared to summer rates.
Dress warm if you go. November temperatures range from 38°F to 58°F (3°C to 14°C).
Biltmore Estate is also features in our guide to visit in the US in May and most romantic getaways.
New York City in November For Thanksgiving Parade & the Start of Xmas
It's never a bad time to visit The Big Apple, but the crisp autumn air certainly brings out New York's loveliest side.
November temperatures range from 41°F to 54°F (5°C to 12°C).
Although you may need to bundle up, runners participating in the annual New York City Marathon certainly enjoy the cooler temperatures.
Expect heavier-than-usual crowds around Thanksgiving.
That's when the famous Macy's Thanksgiving Day Parade takes over the city with festive floats and marching bands.
Serious shoppers can spend Black Friday on 5th Avenue for the very best luxury products on sale.
November visitors can catch the Big Apple Film Festival, which celebrates independent filmmakers.
There's also the New York Comedy Festival with a stellar lineup of comedians.
Before we start talking about the C word, depending on the foliage map, you might just hit NYC in peak fall season.
Central Park is an obvious choice to see the leaves turn golden and frame the pond.
After Thanksgiving, it's time to think about Christmas and just like in the Hollywood movies, New York goes big from the mid/end of November.
There are also dozens of holiday markets around the city to buy decorations, snacks, and handmade gifts.
Don't miss the huge Christmas tree and ice skating at Rockefeller Center. There's also skating in Bryant Park.
If Central Park is too cold, head to the New York Botanical Garden for the Holiday Train Show.
For those who prefer Halloween to Christmas, take a spooky tour through the catacombs of New York at the Basilica of St. Patrick's Old Cathedral.
Hotel prices in November are similar to summer prices. NYC is an all year round destination.
Check out our NYC itinerary and New York State bucket list.
Washington DC in November For Fun Runs, Markets and Foliage
While Washington DC is better known for its cherry blossoms, check out our guide to US in March and April for more on that, it does put on a pretty good foliage show and you might just get the end of it while visiting in November.
Expect a mix of weather, DC can be pleasant or experience sleet with highs of 62°F and lows of 38°F.
You might want to factor indoor attractions into your itinerary to combat the unpredictable weather.
The good news is that DC is packed with free museums including the Smithsonians so you won't be short of things to see.
If you are around over Thanksgiving, watch the Trot for Hunger run starting at Freedom Plaza.
From the end of the November you can shop at the Downtown Holiday Market located at 8th and F Streets.
If the weather is onside, walk by the National Mall, Tidal Basin and the many memorials such as the Martin Luther King Jnr Memorial.
If you like street art, head to Columbia Heights, Union Market, and U Street.
Another bonus about visiting DC is its proximity to other states and the Lumino City Festival takes place in Vienna, Virginia in November which is less than 30 minute away by car.
Hotel prices in Washington DC are in November are similar to summer prices.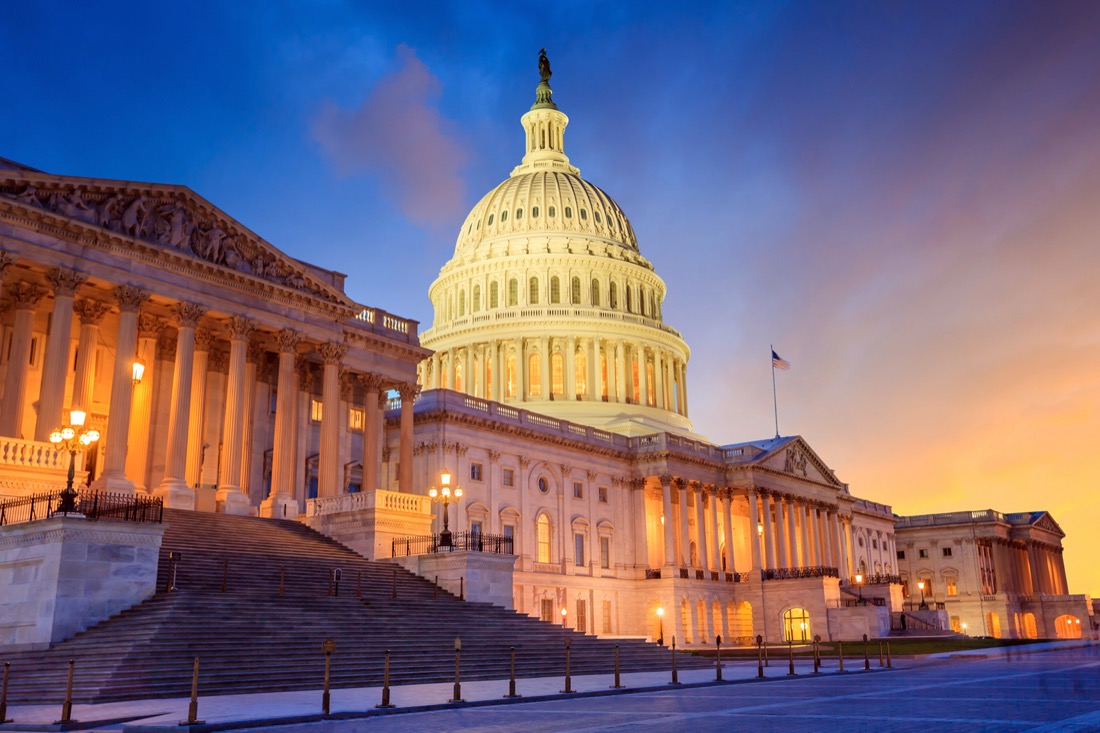 Chicago in November For Parades & Lights
Chicago in November, you must be crazy, right?
Sure temperatures drop in The Windy City in November with highs of 62°F and lows of 36°F but there are many reasons to brace the cold.
Firstly, NYC is not the only city to put on a Thanksgiving Parade.
Marching band music fills the air and giant character balloons take over the Chicago sky from State Street to Randolph.
November is a good month for parades in Chicago with the US's third biggest also taking place to celebrate the lights switch on at the Magnificent Mile.
This weekend-long event kicks off with the ceremonial tree-lighting in The Wrigley Building Centennial Plaza then moves on to family-friendly events at Lights Festival Lane (401 North Michigan Avenue) before the parade takes over to spark up 1 million lights along The Magnificent Mile!
The famous Christkindlmarket opens in November so you can enjoy a mulled wine and pick up some souvenirs at the stalls or hit up the brand stores on The Mag Mile.
McCormick Tribune Ice Rink opens from mid-November, one of the many benefits of visiting a colder destination is that November feels festive!
Find out more Christmas things to do in Chicago.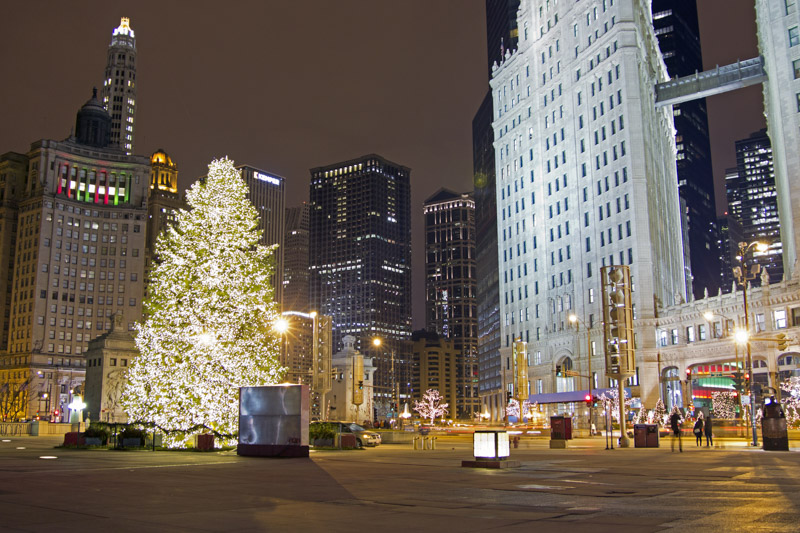 If this is your first trip to Chicago consider booking a show, taking a picture of the Bean aka Cloud Gate at Millennium Park and dining on a deep dish pizza!
Willis Tower or the 360 Chicago will give you magical views over the twinkly city.
If you like to explore the local neighborhoods head Wicker Park for bar hopping or Pilsen for art and museums.
You may also like our guide on 3 days in Chicago.
There are some hotel savings at around $50-70 per night if you decide to visit Chicago in November instead of summer.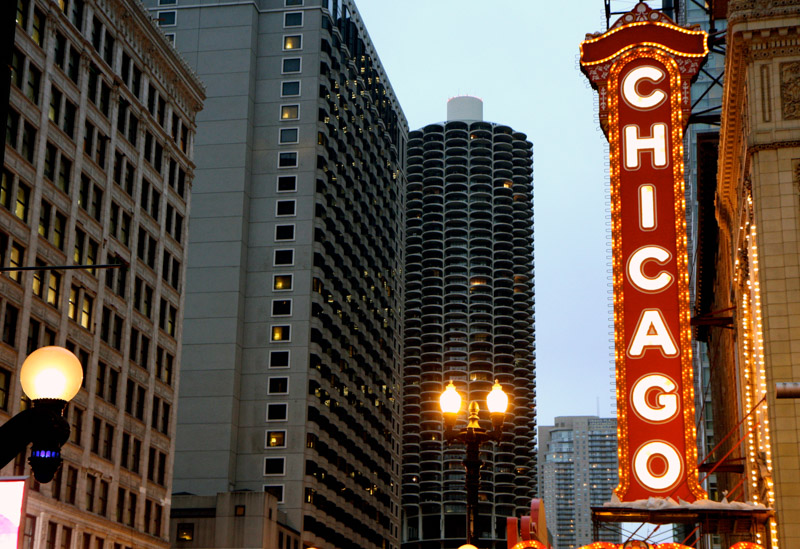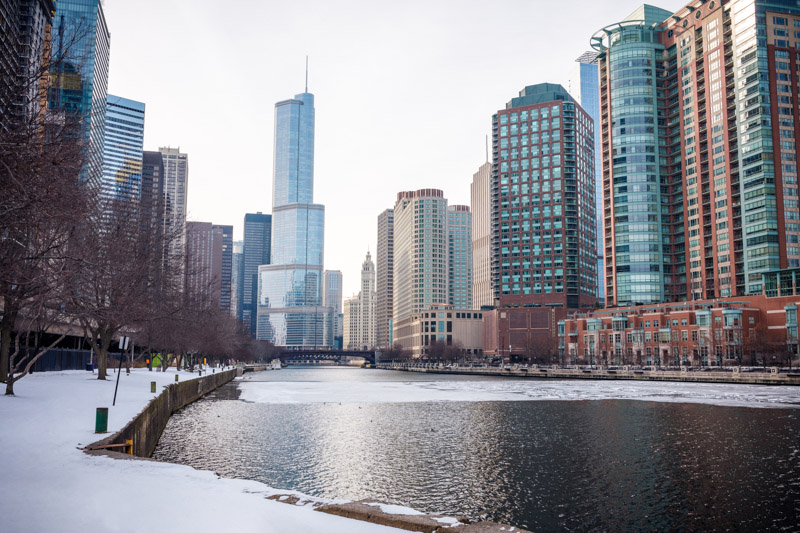 Boston with a Day Trip to Plymouth for a Balanced Thanksgiving
Another cold city worth a visit for its history and day trip options is Boston in beautiful Massachusetts.
Pack your bag with the temperature highs of 63°F and lows of 38°F in mind – lots of layers and waterproof options.
This student town, has more than just Harvard to offer but a campus tour is recommended.
There's lots of food and drink bucket list things to do in Boston.
Have a drink at the Cheers bar (84 Beacon Street), sink a Sam Adams in a historic pub, eat your way around Faneuil Hall (4 S Market Street) then pick up holiday shopping at South Market, North Market, and Quincy Market.
Walk it all off during the 2.5 mile Freedom Trail covering 16 locations. Join a tour if you want an expert guide to tell you about the spots.
Treat your eyes to a performance of The Nutcracker which begins at the end of the month.
Side note: Boston knows how to do St Paddy's Day very well, read about it out guide to the US in March.
Hotel prices in Boston in November are similar to summer prices.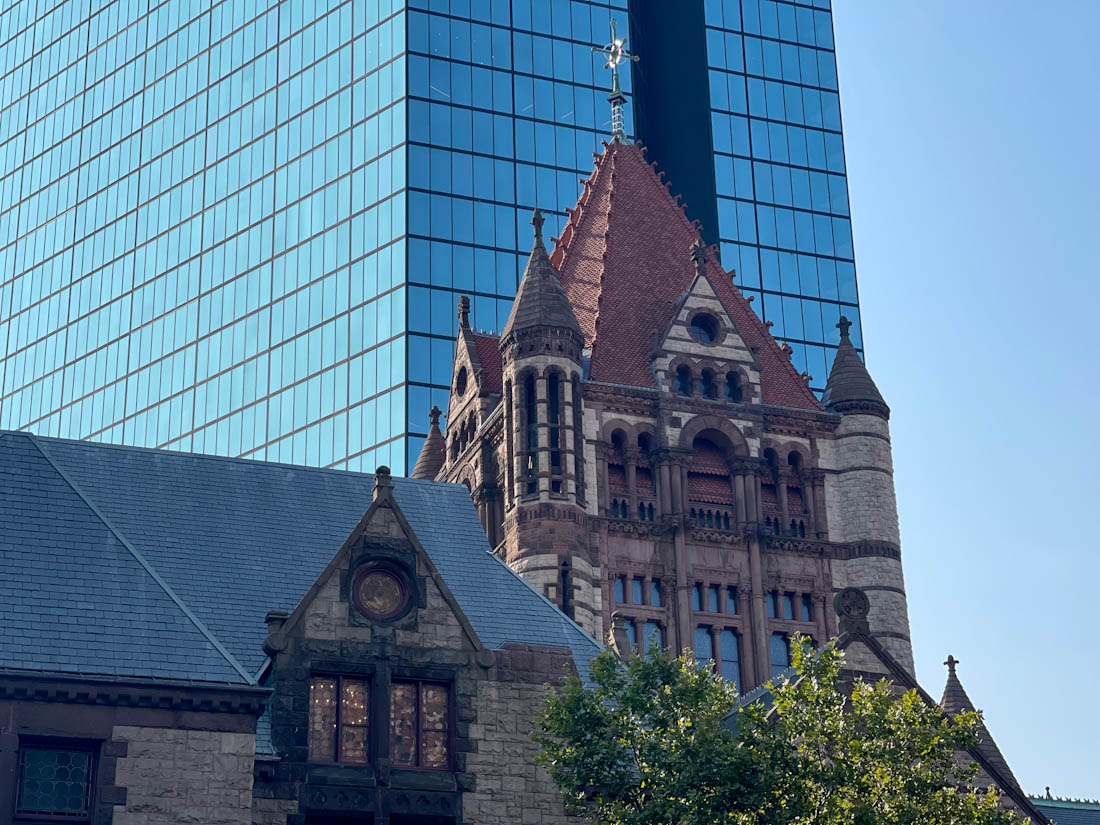 For Thanksgiving, watch runners endure the Turkey Trot along the Charles River or consider driving less than an hour to Plymouth, for two reasons.
Firstly, to observe the traditional Plymouth Thanksgiving Parade at the historic Plymouth Harbor and Waterfront.
Secondly, to learn more about the National Day of Mourning with the Indigenous People of Mass and their allies.
The Thanksgiving myth busting event takes place on Cole's Hill overlooking the Plymouth Monument and includes speeches, prayers, dance, music and a parade to remember the ancestors who helped the Mayflower Pilgrims.
The National Day of Mourning has taken place in Plymouth since 1970 after the leader of the Wampanoag, a man called Wamsutta, who was also known as Frank James, after he was uninvited to the 350th Thanksgiving celebrations in Plymouth.
Initially, was asked to write a speech for the dinner and the organisers said it was inflammatory so he took to Cole's Hill and created the annual event.
If you visit before or after it you can still see the statue of the Massasoit Great Sachem of the Wampanoags and a plaque explaining the National Day of Mourning.
Warm Places to Visit in November in the USA
Tempe in November for Lanterns, Street Art & Marketplace Shopping
Tempe is a cool location in Arizona for hikes, art and culture.
Temperatures start to drop as the month goes one with highs of 82°F and lows of 48°F.
Tempe is an inner suburb of Phoenix, so you can do enjoy both areas during your November vacation.
Popular things to do in Tempe include holiday shopping at Tempe Marketplace and Arizona Mills, Christmas decor at Mill's Avenue and Peterson House and paddling in a swan boat on Tempe Town Lake.
Follow the public art and street art murals throughout the town using this free map.
Hike "A" Mountain at ASU Hayden Butte Preserve at sunset. It's a short walk at only 30 minutes up and down.
Catch the end of the fall concerts with a stunning backdrop at the Desert Botanical Garden.
Take part in the November Water Lantern Festival, don't worry, the lanterns are cleaned up by the festival team at the end of the event.
Start to feel the Christmas buzz at the Fantasy of Lights Opening Night Parade at Downtown Tempe or the World of Illumination on Reindeer Road.
Hotels in Tempe are little more expensive in November compared to summer but they are affordable making it a great option for budget travelers.
Tempe also features in our guide to warm winter destinations guide.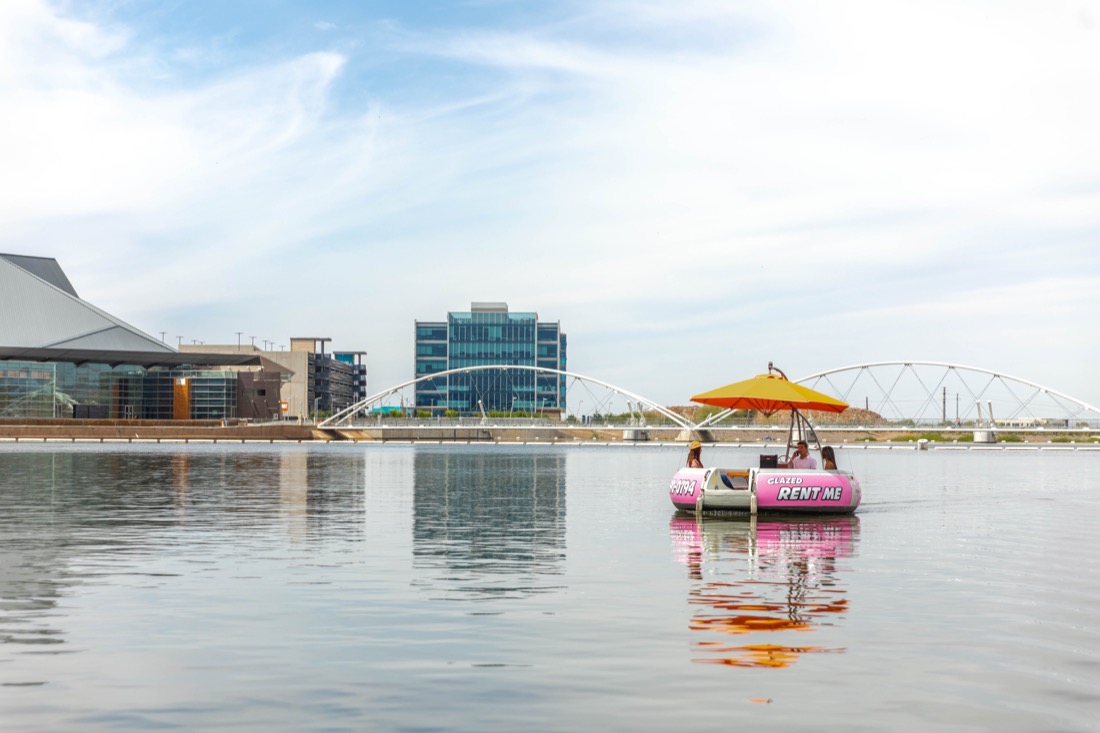 San Francisco in November For Shows, Sports & Food
Head to San Francisco, California this November for fewer crowds and lots of culinary options.
Pack for all four season, regardless of when you visit The Golden City it can always feel like it has a chill.
Expect lows of 55°F and highs of 63°F.
Enjoy outdoor activities such as a cruise to Alcatraz or a Chinatown food walking tour.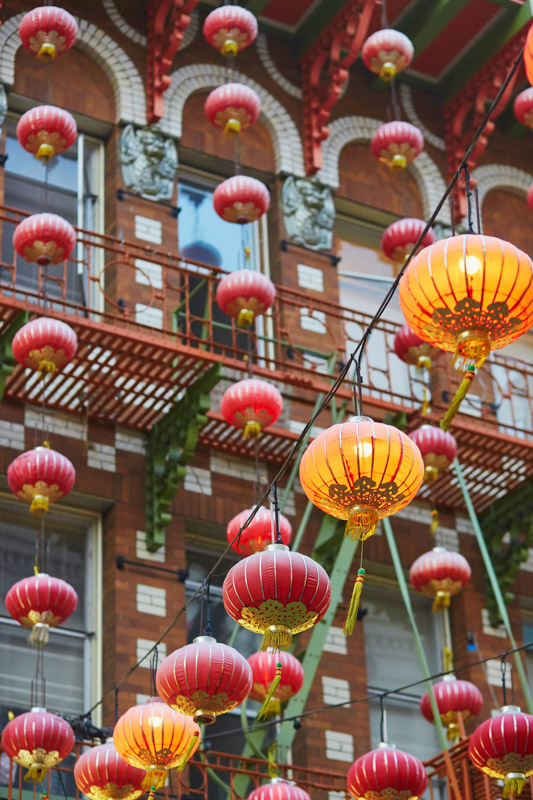 Embrace the early festivities with an xmas theater production such as A Christmas Carol at the Golden Gate Theater.
Watch the Pier 39 Fisherman Wharf's tree lighting from the end of November and while you're there why not pop into Musee Mecanique for vintage arcade games?
Be blown away by the talent at San Francisco Opera which puts on performances at the the War Memorial Opera House and Wilsey Center for Opera.
Catch a home game for NBA The Golden State Warriors.
Watch the best dance companies perform at the award-winning The San Francisco International Hip Hop DanceFest (SFIHHDF).
This is the first international show to celebrate Hip Hop dance artistry and is a family-friendly event.
If visiting over Thanksgiving, consider the Alcatraz Indigenous People's Sunrise Gathering Thanksgiving.
This is a sell out event where Indigenous People and allies travel by ferry from Pier 33 to Alcatraz which closes to the public from 04:15 to 06:00.
This Un-Thanksgiving event is open to everyone.
Hotel prices in San Francisco in November are similar to summer prices.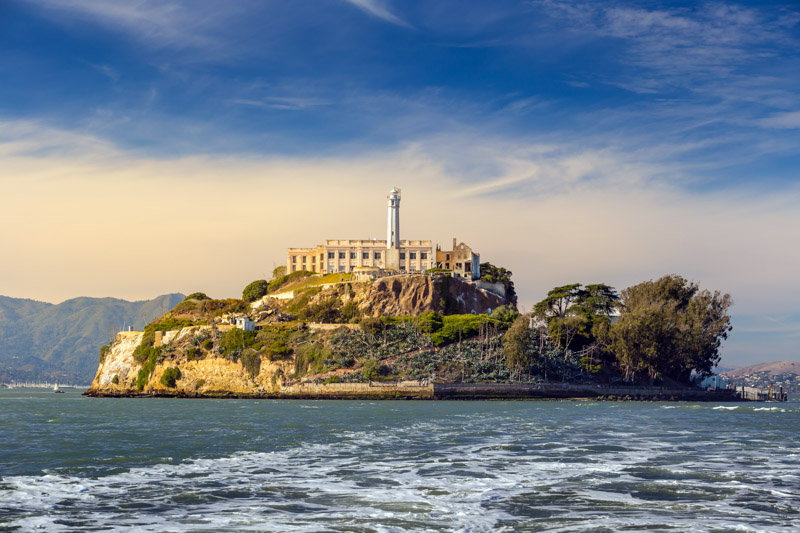 Napa in November for Fewer Crowds, Fall Colors & Cabernet
Those who love Napa and know it well often return in November to take advantage of the great deals on accommodation and less people around.
November is often a good time to see Napa's foliage and it is Cabernet season!
Plan for highs of 68°F and low of 39°F.
If visiting over Thanksgiving there are plenty of restaurants to dine at from Michelen star (Yountville) to local fayre.
Popular ongoing events include Farmers' Markets, live music and meet the maker events at vineyards.
If you've not managed to make it over to Europe in a while, Napa has you covered with its European style wineries, Chateau Montelena, Domaine Carneros and Castello di Amorosa.
There are over 375 wineries in Napa so you can't do it all which gives you a reason to go back!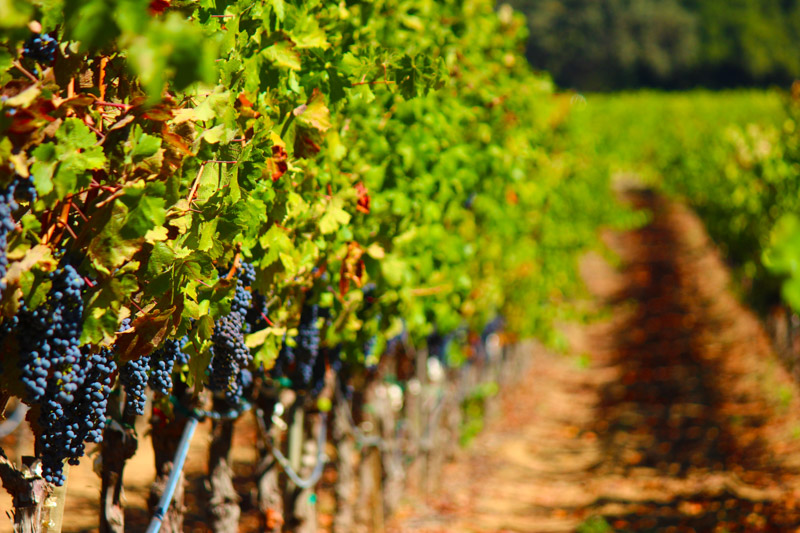 New Orleans For Food and a Lesser-Know Carnival in November
New Orleans is a party city so if you like food, drink and fun, NOLA is the obvious choice for your November city break.
As the city moves from November in to December you will experience cooler temperatures with highs of 76°F and lows of 54°F so pack accordingly.
Festivals kick off from the start of the month with Bayou Bacchanal – the original Caribbean Carnival of New Orleans.
Expect Caribbean cuisine, dance, music and celebration over two days.
If you like sandwiches you'll love this event – The Oak Street Po-Boy Festival!
A Po-Boy is soft bread rolls stuffed with filling and you can try from over 30 vendors at Oak Street.
Keeping with the food festival theme is the Treme Creole Gumbo Festival at Louis Armstrong Park.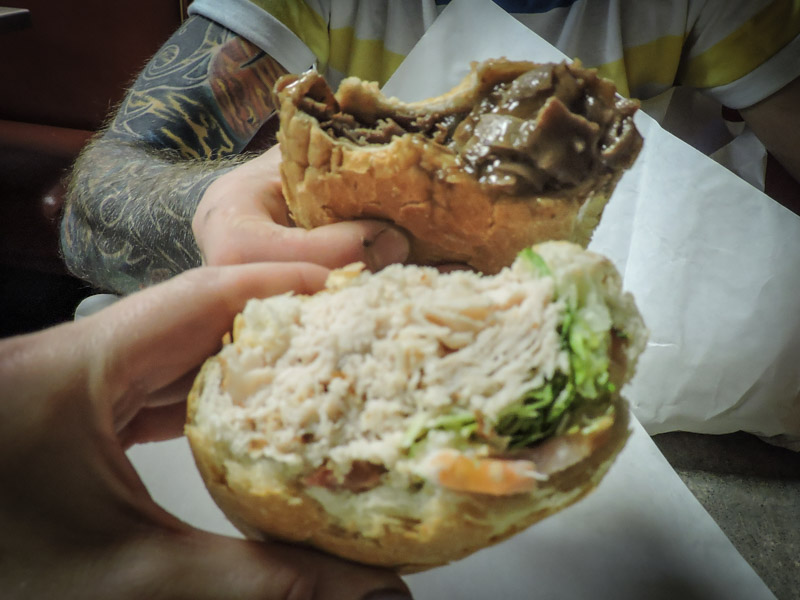 If this is your first time in New Orleans in the fall, don't miss drinks on Bourbon Street, especially the hand grenade cocktails and hurricanes at Pat O'Brien's.
Lose a day to jazz music on Frenchmen Street and keep the sugar levels up with Cafe Du Monde beignets.
Learn about voodoo and the darker side of New Orleans during a 2-hour tour, get on the water to listen to more jazz on the Steamboat Natchez and enjoy lunch in the upmarket Garden District.
Accommodation is more expensive in New Orleans in November compared to summer, often by just $20-30.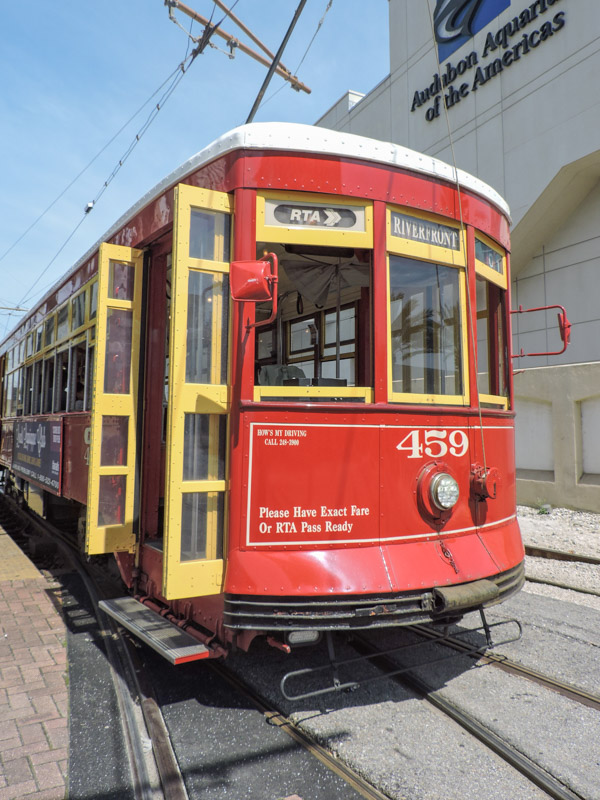 New Braunfels, Texas for 10 Days of Meat
If you like bread with your meat, the New Braunsfel Wursfest is a unique sausage festival in Texas.
Located at the Comal River in New Braunfels, locals and visitors dine on tasty food, listen to music, dance and drink German, Texan and domestic beer.
So look out your lederhosen, get ready to do the Chicken Dance and learn the words the famous Oktoberfest song, Ein Prosit as you'll need it all for this high energy 10-day festival.
You may also like our Texas road trip guide.
If you like meat, check out Pennsylvania's Bacon Fest.
Terlingua, Texas For Chilli Cook Off
Terlingua is also known as the Texas 'Ghost Town' referring to its past in mining (1800s).

Before WWII, thousands of people were part of the Terlingua community. Today there are less than 100.
However, visitors still stay in Terlingua all year round for solitude and as a stopover on the way to Big Bend National Park.
In November, the infamous Chill Cook Off, which started in 1967, takes place here!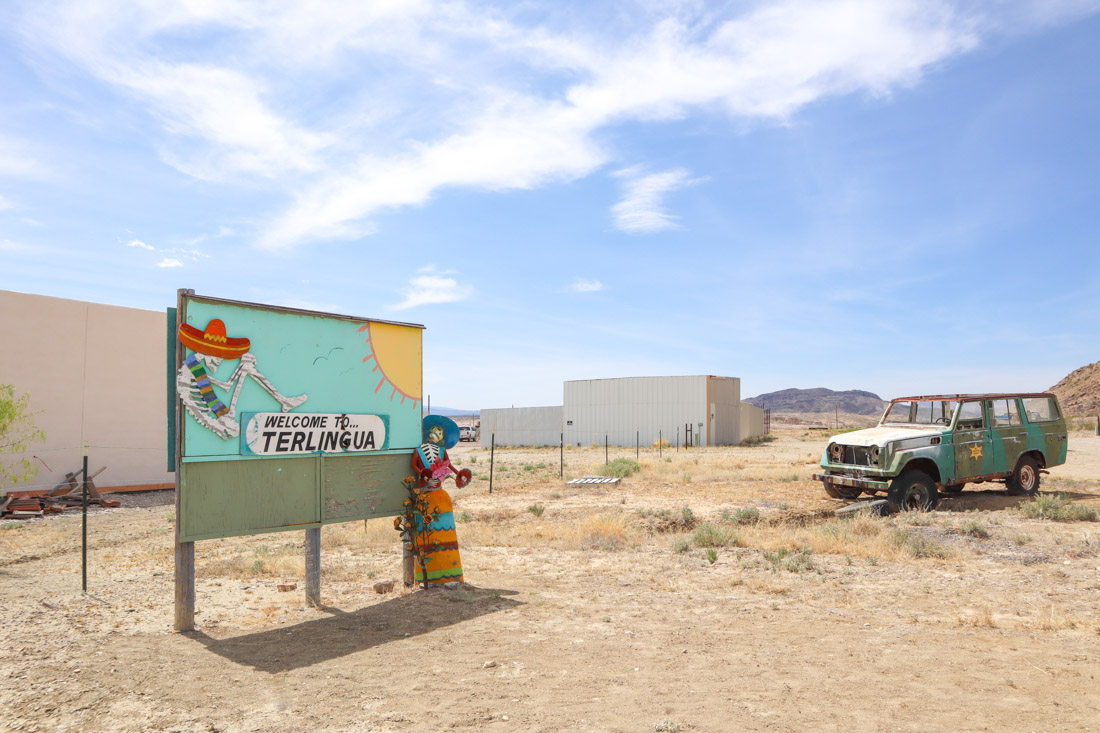 Things to do in Terilingua in November
Take part in the 3-day Chilli Cook Off events and competitions
Visit the mining ruins
Dine at the Starlight Theatre
People watch with a beer on the Starlight Theatre porch
Stay in a wigwam
Palm Springs, California for Cheaper Prices, Nature & Events
Once an enclave for classic Hollywood icons, Palm Springs is once again a trendy vacation destination in the California desert.
November in Palm Springs is dry with mild temperatures ranging from 52°F to 79°F (11°C to 26°C).
November travelers can enjoy great weather and still beat most of the snowbirds.
It's a great time to enjoy one of the cities many golf courses or unwind at a luxury spa.
Outdoor enthusiasts will have plenty of desert wilderness to explore.
Just outside Palm Springs is Joshua Tree National Park – 800,000 acres of desert vistas under starry night skies.
There's also Mount San Jacinto State Park, home to the second-highest mountain range in Southern California and some great hiking trails.
You can skip the hike to the top of Mt. San Jacinto and enjoy the views on the Palm Springs Aerial Tramway – the world's largest rotating tram car that takes you to the top of the summit.
Visit The Moorten Botanical Garden to learn about the desert plants you may encounter in the surrounding wilderness.
There are also plenty of opportunities to explore the city's rich history and culture.
Palm Springs has a thriving LGBT scene, and November is when the city celebrates the annual Greater Palm Springs LGBT Pride.
There's also the Props and Hops Craft Beer Festival each year in November featuring beer and classic warbirds.
Tour Elvis Presley's Honeymoon Hideaway and take a step back in time to experience Palm Spring's glitzy heyday.
For even more classic celebrity homes, hop on the Palm Springs: Legends and Icons Tour.
November hotel pries are around $30-70 more expensive than August per night.
Palm Springs also features in our guide the best bachelorette locations in the US.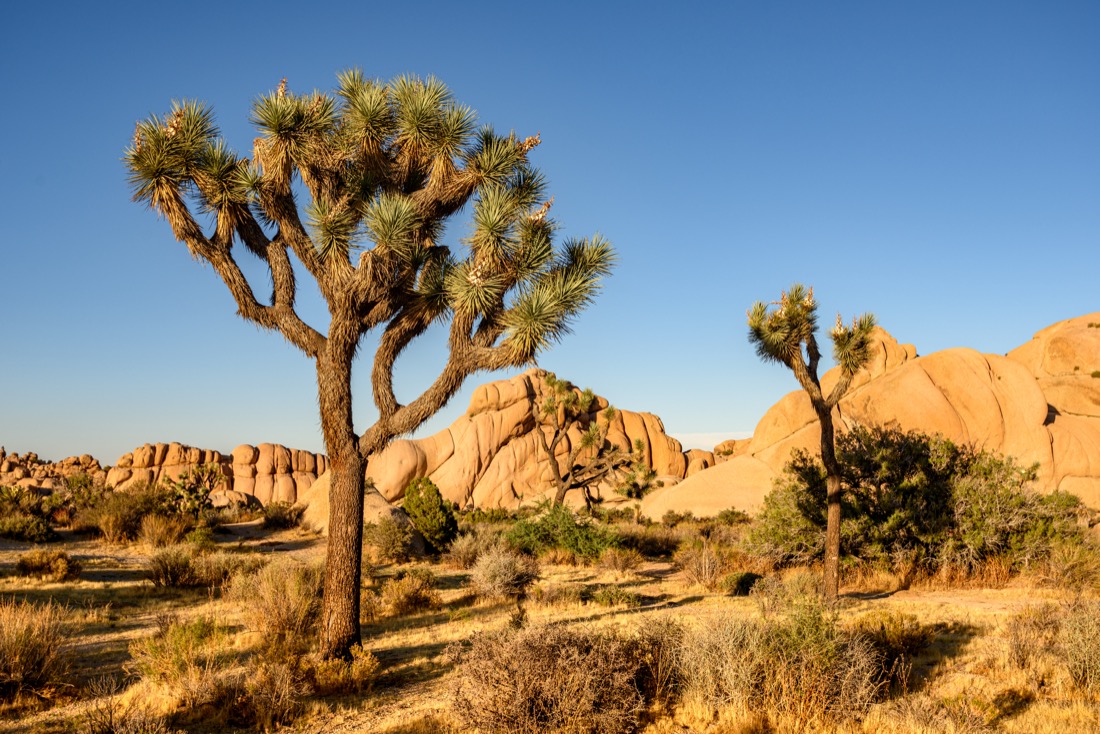 Key West, Florida For Best Beaches to Visit in November
For a different kind of start to the holiday season, make your way down south to the tropical beaches of Key West, Florida.
The island's laid-back vibe inspires you to leave worries behind and simply enjoy the warm weather and relaxing waves.
Expect sunny, warm days all month in Key West. November temperatures range from 72°F to 79°F (22°C to 26°C)
November travelers will hit the tail-end of hurricane season, but the worst of the storms are usually done by early October.
That means you can still score some great hotel and flight deals in November before the winter residents arrive.
Each November, Jimmy Buffet fans come to Key West for the annual Parrot Heads in Paradise meeting, which features live music and fun beachfront events.
Water sports fans can check out the Race World Offshore Championships.
Escape the sunshine to tour the Ernest Hemingway Home and Museum, or sit among the butterflies at the Key West Butterfly & Nature Conservatory.
The Key West Holiday Fest kicks off in late November, along with the annual Key West 'Bright' Before Christmas nautical holiday lights display.
Don't forget to indulge in some of Key West's favorite local dishes like key lime pie, conch fritters, and conch chowder.
You'll also see Cuban-inspired eateries and plenty of fresh shrimp and lobster.
At the end of a long day, hoist the sails and set out for a 2-hour sunset sail tour aboard Schooner America 2.0.
Expect West Keys accommodation to double in November compared to August. You're paying for that winter sun!
Key West also features in our guide on the best places to visit in January as this is when a couple of popular food festivals take place.
Best Places to Travel in the US in November for Snow
Stowe, Vermont for the Start of Ski Season
Looking to catch the start of the ski season in November?
Stowe is known for the best ski in the east coast so give Vermont some consideration!
Temperatures ranges from 23°F to 49°F.
Even if there isn't much natural snow, the resort has extensive snow-making infrastructure.
Stowe has 116 ski trails, 13 lifts and gondolas connecting Mount Mansfield (4,395′, highest sku elevation 3,625′) and Spruce Peak.
To avoid crowds, skip the weekends when locals ski and use the Mountain Road Shuttle from Main Street.
According to Forbes, Stowe is one of the 'Top 10 Ski Towns in America' and there is plenty to do if you don't want to ski such as sleigh-riding, snowmobiling, snowshoeing, ice skating, spas and shopping.
Follow weather reports at the official website.
Surprisingsly, accommodation in November is similar to prices in summer.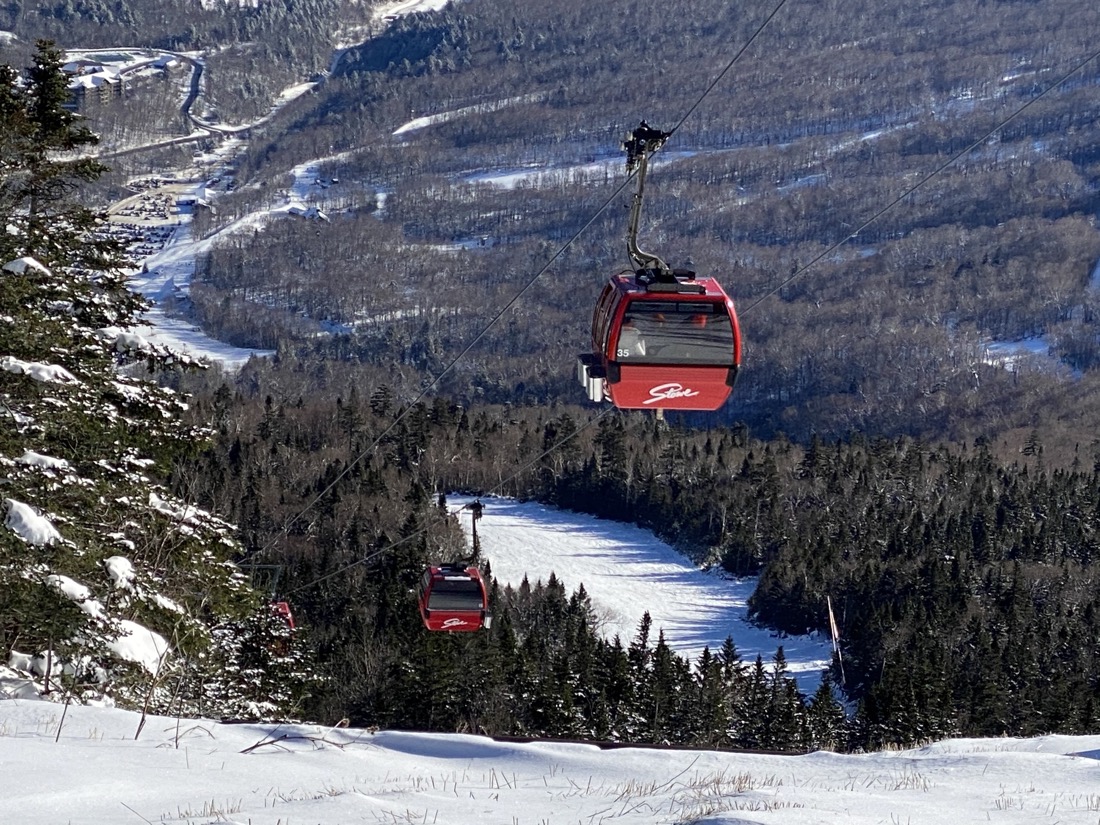 Leavenworth for a Hallmark Movie Experience
Leavenworth in Washington is one of the places to visit in winter if you love decked out villages, mountainous backdrops and festive activities.
Expect temperatures highs of 43°F and lows of 32°F. Snow is not guaranteed in November but it is possible at the end of the month.
If you really want snow and can handle the crowds, visit closer to Christmas.
Festivities run from Thanksgiving through to February but be warned, December is very busy with day trippers.
Enjoy walks in the fresh, crisp air, dark evenings wandering around the Village of Lights and a visit to the reindeer farm to see Santa's helpers before they set off on their international journey on Christmas Eve.
Kids will enjoy sledding (if it snows), hot chocolate by the fire and tubing.
For the big kids there's pubs (indoor and patios), spas and The Nutcracker Museum.
Pick up cookies at The Gingerbread Factory, go for sugary souvenirs at Das Sweet Shoppe and get your meat feast on at Leavenworth Sausage Garten.
Parking can be a nightmare so consider using the free shuttle bus or plan your trip for Monday through to Wednesday for fewer crowds.
If you can't make it this year you can still see this magical Christmas town as Visit Leavenworth has live cams around the village!
Where do you plan to visit this November? Tell us in the comments below.

You may also like our guide to where to see the best Cities in US to visit in December and warm weather vacations if you prefer to escape the cold!