This article has links to products and services we love, which we may make commission from.
Portland, Maine is an exciting New England city that offers everything from gorgeous coastline and lighthouses, to an awesome culinary scene and fascinating history.
If you're looking to stick to a budget, this guide will tell you all the best free things to do in Portland, ME so you can still have an amazing Maine experience. 
You may also like our guide to free things to do in Bar Harbor and Acadia National Park.
Free Things To Do In Portland, ME Outdoor
New Englanders love to be outside year-round, but especially when the weather is warm and the sun is out.
So this list is going to begin with all the best free outdoor things to do in Portland, ME, including beautiful waterfront parks, historic walks through the city and incredible lighthouses.
Old Port
Portland's historic waterfront district is loaded with character and cobblestone streets, and has everything from beautiful 19th century buildings to trendy bars and restaurants.
There are so many great spots in Old Port to take photos that will definitely be Instagram-worthy, including the dock just outside the American Flatbread Company restaurant.
While in this neighborhood, be sure to stop in Eighty 8 Donuts for an insanely delicious treat that won't break the bank.
Commercial Street
Commercial Street in Downtown Portland has been named one of the 10 best streets in the entire U.S.!
A walk down Commercial Street is always exciting with lots of working fishermen piers and unique shops and boutiques.
Some cool shops to visit along Commercial Street are Pinecone+Chickadee, Suger and Edgecomb Potters.
Via VECCHIA (10 Dana St), one of the most photographed restaurants in Portland for its intense ivy is located just off Commercial Street!
Eastern Promenade
For the best strolls along Portland's waterfront, you'll want to head over to the Eastern Promenade.
This walking path is about 2 miles long, and provides gorgeous views of Casco Bay.
If you want to make this walk a bit longer, you can connect to the Back Cove trail from here!
Portland Trails
Portland Trails is a system of over 70 miles of paths through the city where visitors can take scenic walks or bike their bikes.
A great trail for tourists to hop onto is the Back Cove trail, which is a 3.6 mile loop path along the cove that provides a mix of water and city skyline views.
East End Beach
At the end of the Eastern Promenade, you'll be rewarded with the shorelines along East End Beach.
Visitors can go for a swim here, or enjoy the awesome views of Casco Bay during a walk along the beach.
Portland Freedom Trail
Portland's Freedom Trail is a self-guided walk through some of the most historic parts of the city, and highlights the important role Maine played in helping slaves reach freedom while fleeing from Kentucky to Canada.
While on the trail, you'll stop at landmarks and learn about Maine's anti-slavery activists who were crucial to the success of the Underground Railroad.
This trail is dedicated to the slaves who died or were captured before safely reaching the Underground Railroad.
Deering Oaks Park
Stretching over 50 acres, this gorgeous park is the perfect place to enjoy some quiet moments, a picnic or a walk.
Featuring a pond, a picture-worthy bridge, a splash pad and even a castle, you'll feel like you've left the city while at Deering Oaks.
The park is also the home of the Portland Farmers Market, which is open seasonally every Wednesday and Saturday from 7am-1pm.
Longfellow Gardens
Open seasonally from May through October, these gardens located at 489 Congress St can be found behind the Wadsworth-Longfellow House, a historic home from the 1700s.
An oasis within the heart of downtown Portland, the gardens were once the Wadsworth family farmlands, and were transformed into the garden you see today by the Longfellow Garden Club in the 1920s.
Street Art In The Portland Art District
Through the streets of Portland's Art District, you'll find all kinds of amazing street art.
Be sure to stop by the Clam Diggers mural, which can be found outside the The Snug bar (221 Congress Street).
Free Outdoor Activities in South Portland and Beyond
Willard Beach
This small beach in South Portland has a nice stretch of sand to walk on, and is a great place to escape the hustle of the city.
While here, be sure to walk to the end toward the beach shacks, and stroll through the walking paths for more amazing views over Casco Bay.
You'll see lots of boats coming and and out from the beach too.
Restrooms and parking available.
Spring Point Ledge Lighthouse
Also in South Portland, Spring Point Ledge Lighthouse sits on the end of a long breakwater along Portland's coast.
This lighthouse is the only caisson-style lighthouse in the country that you can walk right up to, making this a really fun and unique experience.
Bug Light
Sometimes also called Portland Breakwater Light, this little lighthouse is one of the most unique in all of New England, making it a must-visit while in Portland.
With intricate and elegant detail work, the design of this lighthouse was inspired by Greek architecture, and you may feel transported to a different world while visiting.
The lighthouse sits within a park called Bug Light Park, which has lots of places to enjoy the water views, and is a great place to bring a picnic.
Portland Head Lighthouse
Portland head Lighthouse is the oldest in Maine, first lit in 1791, and one of the most iconic landmarks in all of New England.
It is located in Fort Williams Park, Cape Elizabeth, which is a quick and easy 15-minute drive outside of downtown.
At the lighthouse, you'll find stunning walking paths and dramatic coastline views, all of which are free to explore.
Access is free and you will find picnic tables if you want pack a lunch.
There is a gift shop and museum in the former keepers' house which was built in 1891.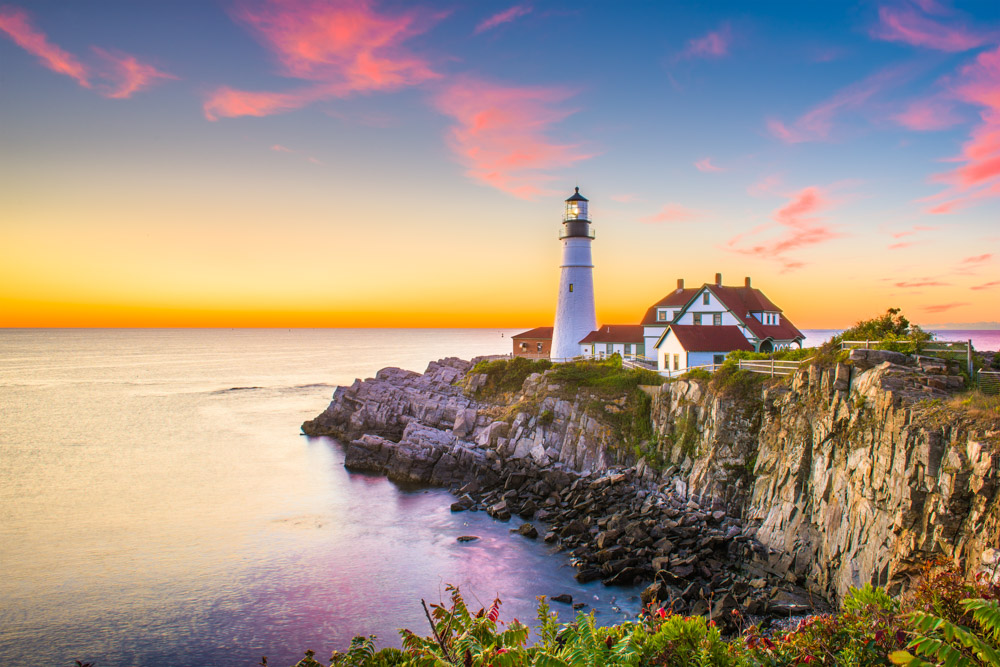 Free Indoor Things To Do In Portland, ME
New England weather can be unpredictable and moody, so on a rainy day, these are the best free indoor things to do in Portland, ME.
Portland Public Library
Portland's public library has four branches throughout the city, and offers free events that anyone can attend year-round.
Some events include book readings and discussions with authors, lectures and story time for children.
For literary lovers, there's also a rare books section with titles from the 19th century.
The L.L. Bean Flagship Store & Giant Boot
A short drive to Freeport, Maine will bring you to the flagship L.L. Bean store, which is more like a campus than a store.
You'll be able to spend hours perusing the different buildings during a rainy afternoon, and be sure to snap a picture of the giant Bean Boot while you're here!
Word Portland
On the first Monday of each month, join other like-minded literary fans for a free event that showcases poetry and book readings from local writers.
If you're a writer looking to share your work, you can submit your piece to Word before your trip to Portland for a chance to be able to read during one of the events.
Maine Jewish Museum
The Maine Jewish Museum highlights works from Maine's original Jewish immigrants.
Some exhibits inside the museum include Holocaust survivor photography works and a Maine summer camp series.
Portland Museum of Art
The Portland Museum of Art is free for everyone on Fridays from 4-8pm.
Highlights that are a must-see are the Andy Warhol collection, The Seine at Vétheuil by Monet, and L'Estaque by Renoir.
Cheap Things To Do In Portland, ME
There are so many awesome things to do in Portland for free, but for a few extra bucks, you'll be able to have some memorable experiences.
City Tour In A Vintage Fire Engine
It's worth budgeting for this 50-minute tour through the city, where you'll sit on top of a vintage Fire Engine (which will be totally Instagram worthy), and learn history and stories about Portland along the way.
Ferries To The Casco Islands
The Casco Bay Passenger Ferry takes visitors to 7 of the Casco Bay Islands off the coast of Portland, and it'll only cost you between $8-$12 per person for a round trip ticket, depending on which island you choose.
A great choice is Peaks Island, which is home of the Umbrella Cover Museum, which is completely free to visit, and the only one of its kind in the entire world.
While on Peaks Island, be sure to stop by Peak's Cafe for one of their famous cinnamon buns.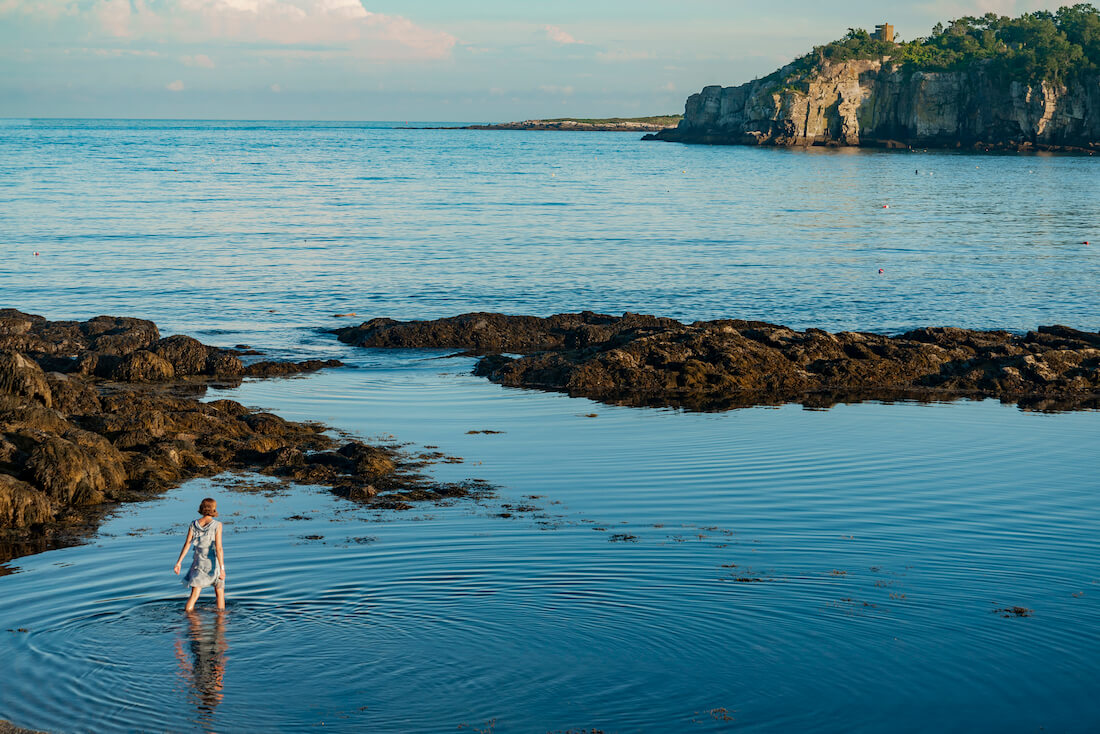 Free Events in Portland, ME
First Friday Art Walk
On the first Friday of each month from 5-8pm, different art galleries and local artists will open their doors for special events, and they're completely free to join.
Summer In The Park Concerts
In July and August, Portland hosts free concerts in their parks for anyone to experience.
Visitors bring blankets and picnics, and enjoy a lovely evening outside with live entertainment. 
Portland Wine Week
Portland Wine Week isn't a free event but it is a good opportunity to try delicious wine with food pairings and attend seminars with tickets starting at $14.
Check out our guide the best places to visit in the US in June for more.
Free Things To Do In Portland, ME In The Winter
Christmas Boat Parade of Lights
Head to DiMillo's Marina or Maine State Pier and watch as boats float by, illuminated with Christmas lights.
This event is typically held on the second Saturday in December, and is a great way to get into the holiday spirit.
Ice Skating at Deering Oaks Park
If you have your own skates, ice skating on the pond at Deering Oaks park is completely free.
The town monitors ice conditions for safety and clears the pond of snow so everyone can participate in this fun winter activity.
Affordable Accommodations In Portland, ME
If you're on a budget, consider LaQuinta Portland, which has rooms for around $150 throughout the year.
Another budget-friendly option is the Black Elephant Hostel, which is the city's only hostel, and has private twin or double rooms with a shared bathroom.
How To Get Around Portland, ME On A Budget
The cheapest way to get around Portland is to walk.
Portland, ME is a very walkable city, and no matter where you are, chances are you'll be a mile or less from your next destination.
Portland also has an awesome public transit system with buses, light rails and street cars.
Day passes for the public transit system are only $5 per adult, making it a very budget-friendly way to get around the city.
Uber and Lyft are also available in Portland, and you'll be able to use the apps to request a ride if you don't want to walk or take public transit.
Portland, ME is also regarded as one of the most bike-friendly cities in the U.S., and bike rental shops are located throughout the city.
Car parking garages in Portland start at $30 per day so it is advised to leave your car at home if you can.
About The Author
Sam is a travel blogger at New England Wanderlust with a focus on New England coastal destinations in the U.S., and has been exploring every corner of the Northeast for the past 10 years. When not traveling New England, she loves to explore the world with both her husband, and on solo adventures.
Follow Sam on Instagram.