This article has links to products and services we love, which we may make commission from.
Situated along Maine's eastern coast, Mount Desert Island is home to numerous charming seaside towns and beautiful landscapes. With endless hiking trails, hidden beaches, and lovely parks worth exploring, there is no shortage of free things to do in Bar Harbor and Acadia National Park in Maine!
Especially in the summertime, the small towns of Maine can be quite, well… expensive. If you're looking to take your family on a family vacation or your partner on a romantic getaway, it's easy for the money to add up.
Mid-September to Mid-October also sees accommodation prices hike up and footfall increase as this is when the fall colors explode in Acadia!
But, staying on a budget around Bar Harbor, Maine isn't impossible. In fact, after reading everything outlined in this post, you'll know plenty of fun and free activities to try, affordable places to stay, how to get around without spending a fortune, and even when to plan your trip so you can take advantage of some awesome free events!
No matter your budget or travel style, there are always convenient ways of saving money in an area as upscale as Mount Desert Island. Also, a quick tip if you're visiting in the summer: you may want to brush up on your French as there is a large influx of French Canadians during these months.
Bar Harbor and Acadia National Park also features in our guide to the best national parks to visit in fall and places to visit in the US in October.
You may also like our guide on free things to do in Portland, ME.
Free Outdoor Things to do in Bar Harbor
It is important to mention that while many things in Acadia National Park are free, there is an entrance fee of $30 which covers a private vehicle for seven days (no limit on people). This fee is waived for all veterans and gold-star families. It can be bought online in advance at Recreation.gov.
Stroll the Streets of Bar Harbor
Covered in art and pottery galleries, elegant seafood restaurants, and quaint bookshops with tourist souvenir stores scattered everywhere in between, the streets of Bar Harbor perfectly depict quintessential New England.
Take some time to wander the streets, pop in and out of some stores if you're hoping to find an affordable souvenir, or simply appreciate the town's charming appeal.
You may also like our New England road trip guide.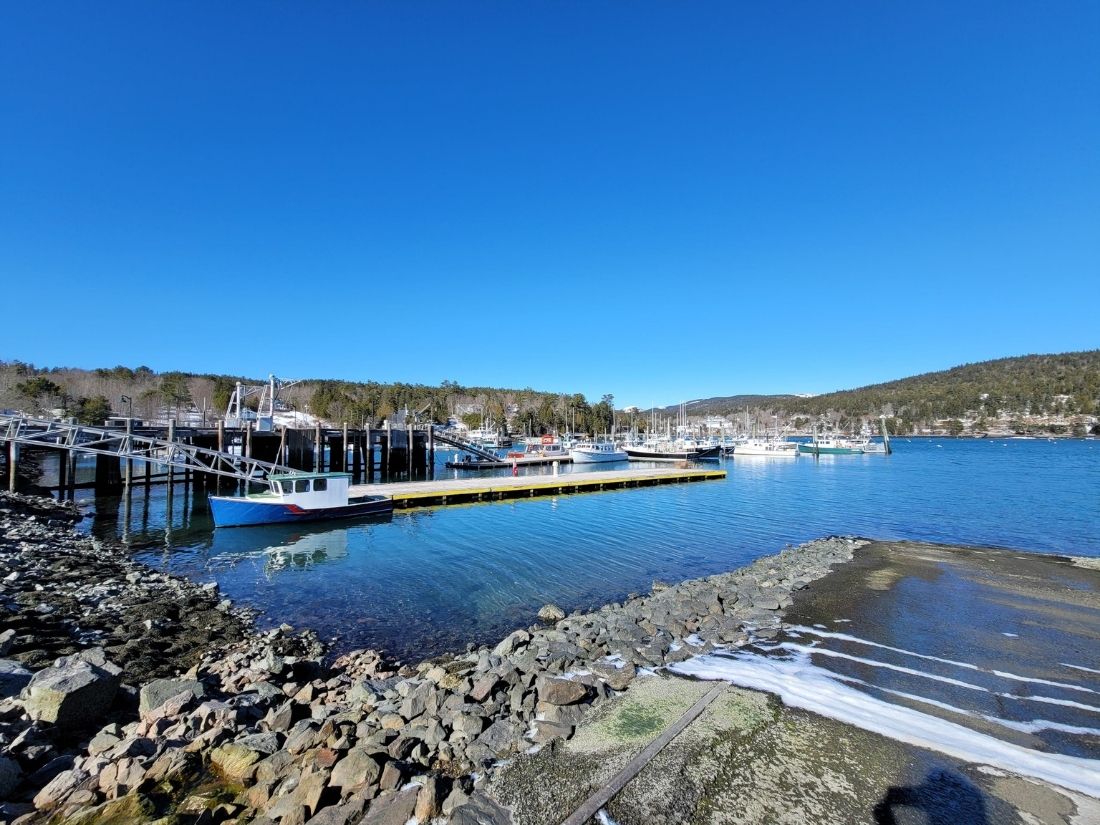 Have a Picnic on Village Green
This lovely park is located right in the center of Bar Harbor (just off of Main St.) and makes for a wonderful spot for a picnic.
You'll be nearby several delis and restaurants offering take-out, so you can have yourself a quiet afternoon people-watching and even have the option to break out a kite if you wish!
Sand Beach
Located a quick 10-minute drive south of Bar Harbor, Sand Beach is a classic stop to include on your Mount Desert Island itinerary.
Often recognized by Down East Magazine, this secluded cove is covered in fine, golden sand and crystal clear (but also chilly!) Maine waters, while being surrounded by dense pine trees and rocky shorelines.
Bass Harbor Head Lighthouse
If you're up for a drive to explore the island, make your way over to Bass Harbor where you'll get to see the beautiful cliffside lighthouse which peers over the Atlantic and offers stunning vantage points.
Kids can safely roam the tide pools and look for ocean life throughout the visit!
Free Outdoor Things to do in Acadia National Park
Bike along the Old Carriage Roads in Acadia National Park
Dating back to the early 20th century, John D. Rockefeller Jr. created over 45 miles of carriage roads that allowed for horse-drawn carriages to access the interior regions of Mount Desert Island.
They are an excellent way of exploring Acadia National Park without the use of hiking boots (regular sneakers will do the trick), and can be accessed via any one of the free parking areas in Acadia (with the entrance to Jordan Pond and the Bubbles being the busiest and most popular).
Surrounded by dense forestry and many opportunities for spotting wildlife, this is easily one of the best free things to do in Bar Harbor and Acadia.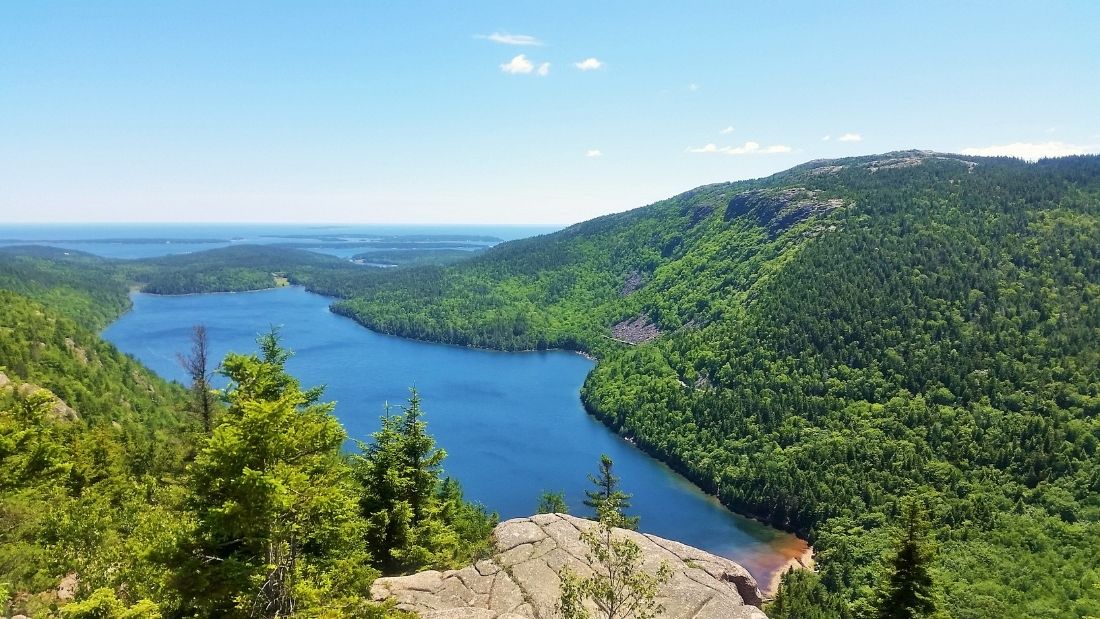 Ocean Path Trail
Heading to Sand Beach and want to explore the rugged coastline?
You'll notice a parking area on the left side of Park Loop Road (when coming from Bar Harbor) just before the entrance to Sand Beach.
This is the trailhead for the Ocean Path Trail where you'll get to enjoy stunning lookouts over Maine's rocky coast and even get to stop by and see the famous Thunder Hole along the way.
Be sure to get there early as parking fills up fast and the trail is about 4.4 miles roundtrip.
Watch the Sunset over Frenchman Bay
Maine is one of the best places on the East Coast of the U.S. to watch the sunset with Frenchman Bay being a top pick year after year.
Grab yourself some snacks and maybe a bottle of wine and drive 10 minutes north of Bar Harbor to the Lookout Point to see a vibrant after-dinner show!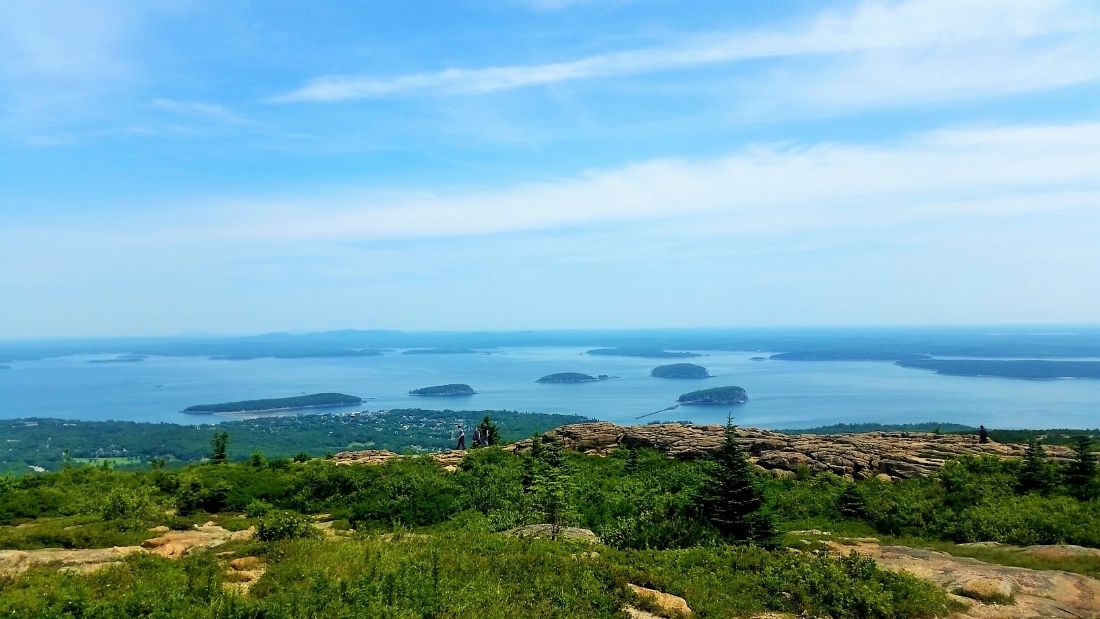 Take in the View at Somes Sound
Centrally located on Mount Desert Island, Somes Sound is an excellent spot for swimming and boating.
It also provides excellent access to Acadia National Park with the main parking area only being an 8-minute drive from the bay.
So, you can be sure that if you stay in the area during the busy summer months you won't need to worry about finding a parking spot as long as you get there early.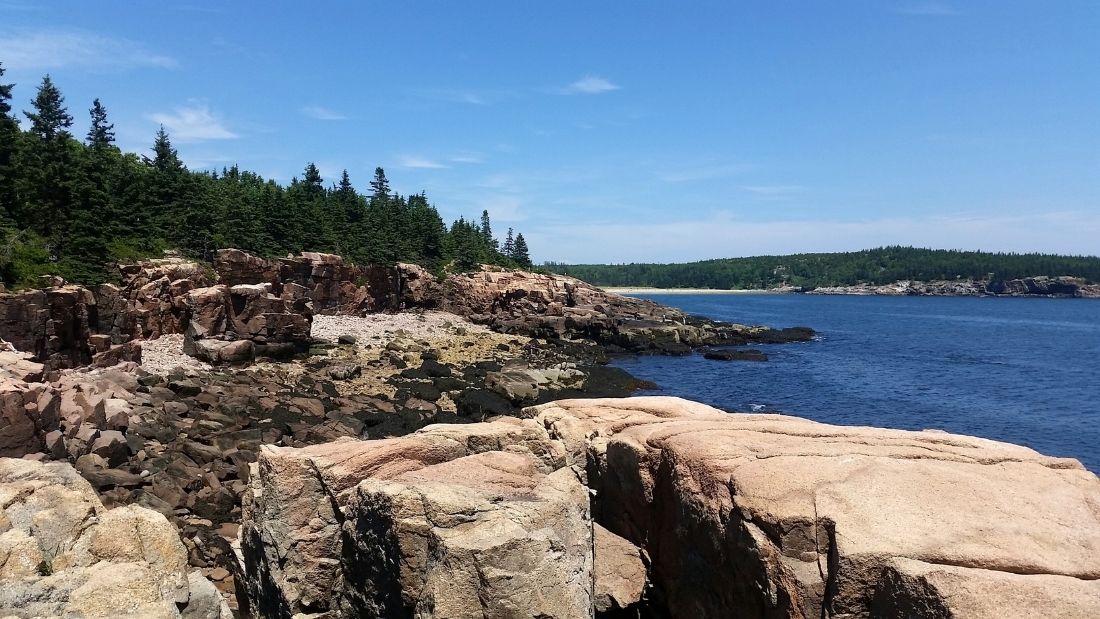 Check out all of the Local Produce at Eden Farmer's Market
Visiting Eden's is a great way to spend an hour or so chatting with local artisans about art, antiques, local produce (including mouth-watering honey), and even fresh cow's milk.
Pick up some stuff for dinner or simply enjoy strolling the market for its delightful ambiance.
Look for Sea Glass on the Beaches of Seal Harbor
All along the southern ridge of Mount Desert Island, you can find small unnamed beaches with boatloads of perfectly smooth sea glass.
Bring a towel and a resealable bag for an afternoon on the less-touristy beaches of Acadia!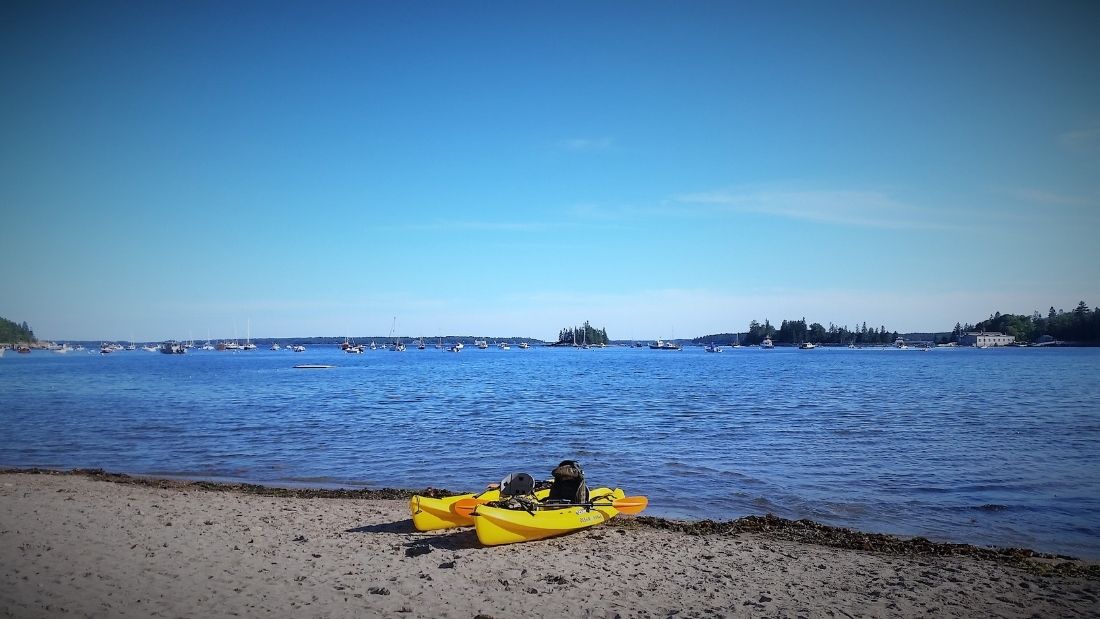 Free Indoor Things to do in Bar Harbor/Acadia
Get Lost in Sherman's Book Shop
Easily one of the most popular book shops in New England, you can find everything from books in every genre, to kitchen items, and even ocean-themed souvenirs.
Many of the items in the store are on the expensive side, but it is fun to pop in and look around while exploring Bar Harbor.
Appreciate Local Art at Argosy Gallery
Situated right on Main Street in Bar Harbor, Argosy Gallery is a great spot to appreciate local paintings and sketches from numerous artists.
Visit the Great Harbor Maritime Museum
Free to the public, children and adults can learn about the maritime history of Maine through interesting exhibits and displays.
Great Harbor Maritime Museum is located on Main Street in Northeast Harbor.
Get Cozy with a Book at the Jesup Memorial Library
Rainy day? Too cold to enjoy the outdoors?
Bring along a thermos of your favorite hot beverage and cuddle up in a corner of this charming library to a good book, magazine, or even podcast!
Catch your Favorite Sports Game at Dog & Pony Tavern
If you happen to be wandering Bar Harbor around the same time that your favorite sports team is playing, don't worry.
Just head right into Dog & Pony Tavern on Rodick Place and grab a seat at any table or bar for excellent sports TV viewing.
Treat Yourself to a DIY Spa Day
Feeling like you need a vacation after your vacation is never fun.
Relax by taking advantage of your hotel amenities and use your bathroom as your personal spa room!
There's plenty of souvenir shops in Bar Harbor to pick up bath salts and soaps at.
Cheap Things to do in Bar Harbor/Acadia
Enjoy a Hot Chocolate at Choco-Latte
A personal favorite spot to grab a chai, latte, cappuccino, hot chocolate, or anything sweet and decadent!
Pro Tip: try the cinnamon-vanilla latte with extra cinnamon dusted on top!
Visit the Abbe Museum
With a low entrance fee cost of just $10 per adult (seniors are $7 and kids 11-17 are $5; kids 10 and under are free), you can learn about the Wabanaki people in Maine and check out artifacts from earlier centuries at Abbe Museum.
Go on a Self-Guided Driving Tour through Acadia
This self-guided driving tour can be done from the comfort of your own vehicle!
Simply purchase one $10 tour per car which includes live GPS, audio narration, a route that includes the best stops found all over Acadia National Park, and even animated videos that will give you an inside look at what may not be available to see on the day you decide to drive the route.
The tour can be done at your own pace and is available to you forever after purchase via an app.
Taste the Popovers at Jordan Pond House Restaurant
After a hike in Acadia National Park, pop into the Jordan Pond House restaurant for a cup of hot tea and some delicious popovers and jam.
This classic combination has been served since 1893 and is a true piece of history in the area.
Just be prepared for a long wait in the busy summer months.
Free Festivals and Events in Bar Harbor/Acadia
Enjoy a Free Outdoor Concert During the Bar Harbor Music Festival
Typically taking place every year from late June through July, you can enjoy free outdoor concerts, special kids concerts, and more!
Attending the Bar Harbor Music Festival is one of the best free things to do in Bar Harbor for many summer visitors.
Join a "Pay What You Like" Yoga Event
All throughout the summer, you can find free or "pay what you like" yoga retreats that take place in the various parks around town.
Just head to the Bar Harbor Events website to see what's happening in the area while you're there!
Bar Harbor Bed Races
Every year, Bar Harbor hosts the Early Bird Pajama Sale & Bed Races where teams from local businesses and organizations race down down Cottage Street pushing decorated beds!
Free Things to do in Bar Harbor in Winter
Walk over the Ice on Jordan Pond
In the dead of winter around January-February, Jordan Pond completely freezes over from end to end.
As long as you get enough consecutive cold days, it is very safe to walk on!
This is super fun for kids, families, and even couples with a dog looking for unique free things to do in Acadia National Park.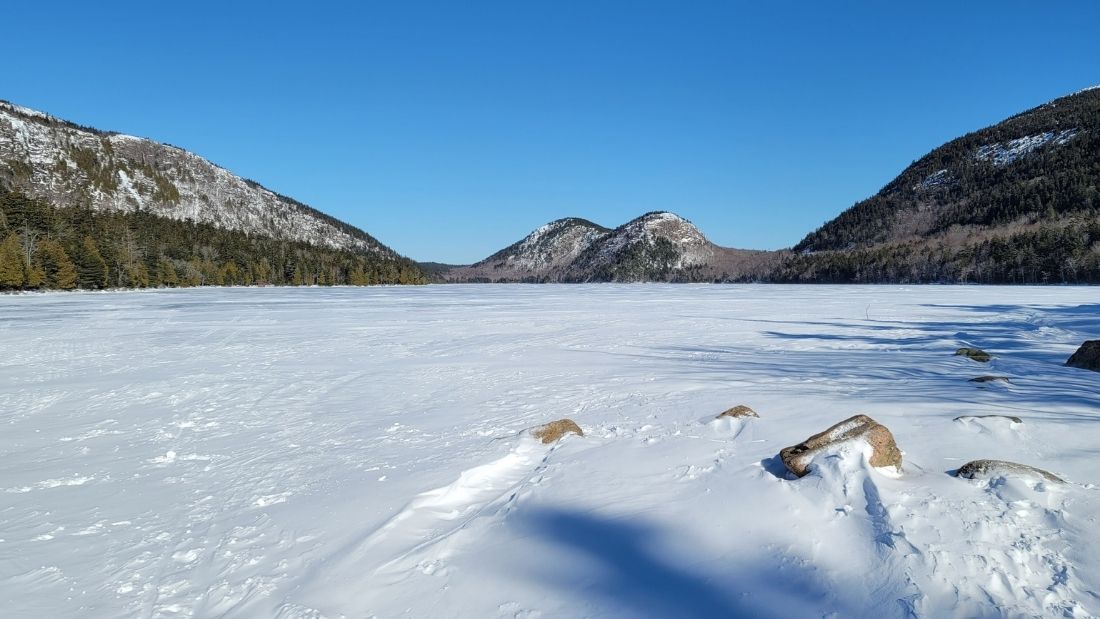 Learn about Ice Fishing with a Local
If you do make your way onto Jordan Pond in the winter, you'll notice dozens of people out there ice fishing.
Maine locals are extremely kind and are always willing to share their knowledge with you if you ask nicely.
Make a Snowman on the South Bubble
Take the trailhead to the Bubbles on the north side of Jordan Pond and build a snowman once you get to the top!
Pro Tip: you may need crampons and possibly snowshoes depending on the level of snow and ice.
Have a Barbecue on the Far Side of Jordan Pond
Not only do the locals enjoy ice fishing and even snowmobiling across the popular pond in winter, but they aren't shy to whip out a barbecue out there either!
Join the locals and bring along a small propane grill for a lunch you won't soon forget.
Pro Tip: be sure to dress warm!
Photograph Bar Harbor in a Blanket of Snow
Bar Harbor is beautiful in the summer, but it becomes a winter wonderland in the winter.
Bring along your favorite camera or phone and take some epic shots of the coastal town in a blizzard!
Doesn't it look like a snow globe scene?
Affordable Accommodation in Acadia/Bar Harbor
When staying on Mount Desert Island, finding affordable accommodations can be difficult depending on what season you're visiting.
For example, you can find a room midweek in May for under $100 but the same room costs over $200 in late September/early October as this is when the leaf peeping visitors are in town.
But, with seemingly endless options for camping and a few great motels located right in the center of town, you can ensure you don't blow your vacation budget on your accommodation.
Anchorage Motel is simple, traditional motel in a central location.
Edenbrook Motel offers big, comfy rooms and free parking.
Camping on Mount Desert Island
Somes Sound View Campground is a highly recommended campground offering cabins, tent, campe and RVs open from May 1st to October 31st.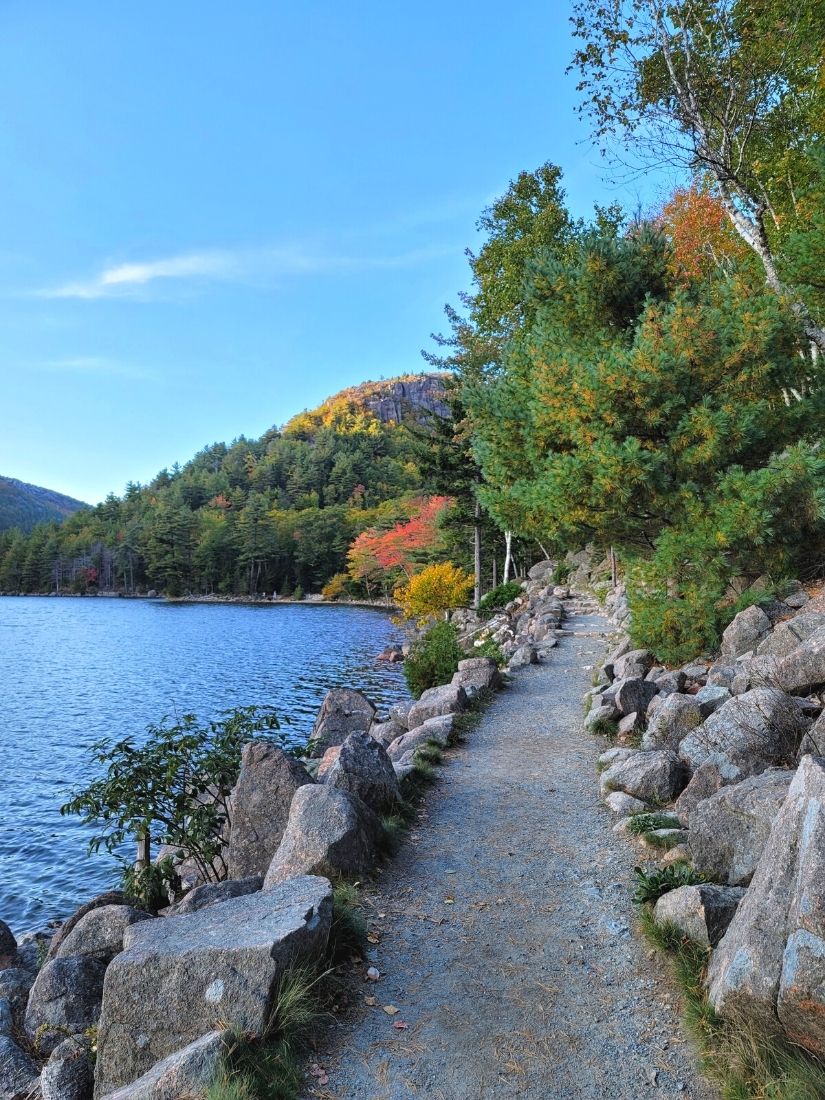 How to Get Around Acadia/Bar Harbor on a Budget
Luckily for visitors, Bar Harbor is extremely walkable.
You can go from one side of the town to another in just over 30 minutes, or only about 15 minutes by bike.
There is also the option of renting an e-bike for the day, but those can cost you over $100 each per day from most companies.
If you prefer to get around a bit faster, you can take advantage of the Island Explorer bus.
It's completely free to use, and it covers the entire region surrounding Bar Harbor, Acadia National Park, and even acts as a shuttle from the Bar Harbor Airport!
It's unlikely to have success booking an Uber or Lyft around Bar Harbor, but there are several reputable taxi companies to choose from including Bar Harbor Coastal Cab & Tours.
Overall, the fastest and most efficient method of transportation on Mount Desert Island is to have your own vehicle.
About the Author
Emily from Emily Embarks has lived in New England for over 25 years and has called Maine her home for the last 3. With numerous visits to Acadia National Park and the surrounding region, she is a true local expert on this coastal gem.
Follow Emily on Instagram.
Some of the images included in this post are the property of Emily Embarks and cannot be used for other purposes without prior consent.