This article has links to products and services we love, which we may make commission from.
Dreamy of fresh ocean air, sweeping landscapes and charming seaside towns on the west coast?
This guide shares the best coastal towns in Washington. Whether you are traveling as a couple, family or with friends this guide will provide some inspiration for you next trip.
We've included cities on the Washington coast for vacations for foodies who enjoy history and cultural attractions as well as small towns with big attraction.
You may also like our guide to coastal towns in Oregon.
Washington's Coastal Towns You'll Want To Visit
We'll start in the north then introduce the beaches near Seattle before discussing central and southern beaches.
We've also included maps of the following Washington state beach towns so you can visualize your next trip!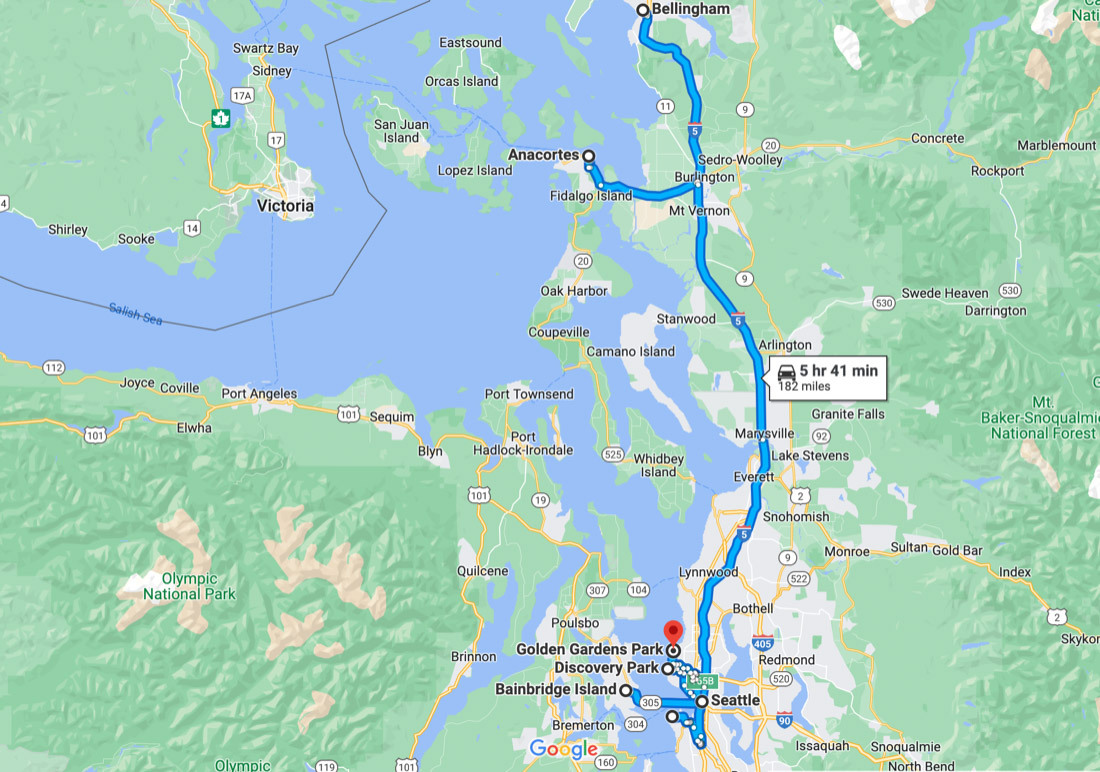 Northern Coast of Washington
Bellingham
One of the northernmost towns in coastal Washington is Bellingham, a perfect town for anyone who loves the outdoors.
The Skagit Valley Tulip Festival is one of the best things to do in spring on the coast of Washington state.
Throughout the month of April, head to Skagit Valley and wander amongst millions of tulips in bloom.
You can also enjoy art shows, a gala event, and even an alpaca farm!
Skagit also features in our guide to the very best places to visit in April.
If you're ready for amazing outdoor adventure, Larrabee State Park is 2,748-acre park along miles of shore line and freshwater lakes.
Whether you camp, hike, or fish, you'll always find something fun to do in the park!
Check out our Washington bucket list for more seasonal reasons to visit!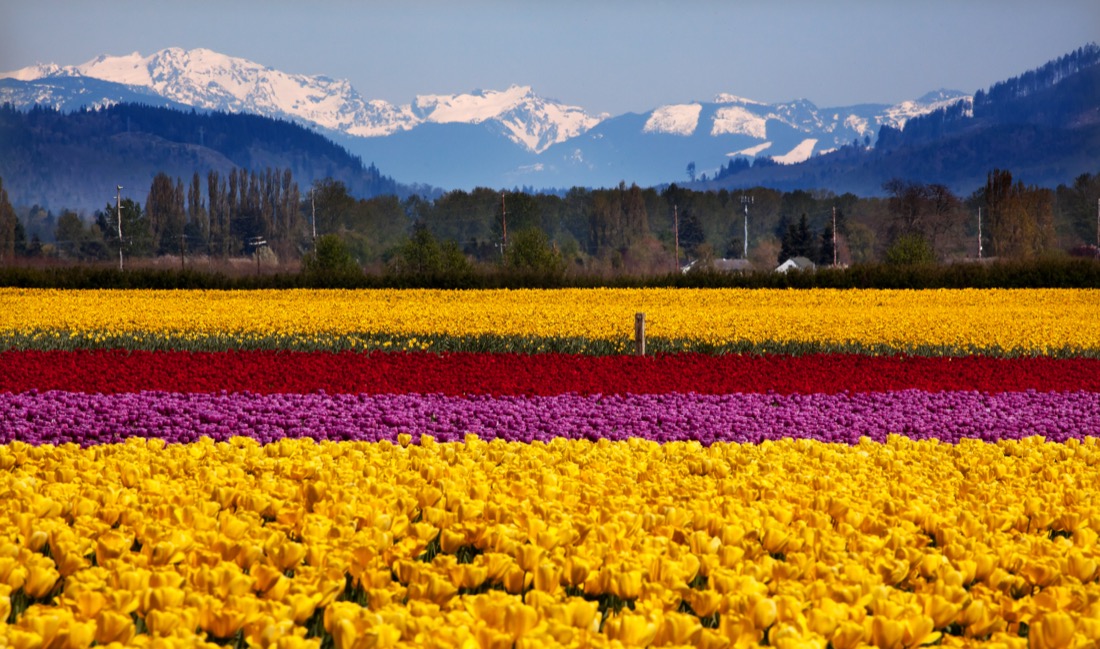 Anacortes
The town of Anacortes is a perfect weekend trip from Seattle!
Nestled on the coast of Washington, this town on the Fidalgo Island boasts high quality restaurants, galleries, and amazing views of the Cascade Mountains.
When you visit Anacortes, you can't miss traversing Deception Pass Bridge, the two, two-lane bridges on Washington State Route 20.
The bridges connect Whidbey Island to Fidalgo Island, and it is the most photographed bridge in the state of Washington!
After you've explored the bridge, make sure you stop by Pelican Bay Books and Coffeehouse (520 Commercial Ave), a new and used bookstore in the heart of downtown.
They buy and sell thousands of books every month, so you'll always find something new to read when you visit!
Seattle
You can't make a trip to the Pacific Northwest without visiting Seattle, one of the most iconic coastal towns in Washington state.
Seattle is the largest city in the Pacific Northwest, known for its coffee, its grunge music scene, the Space Needle, and more.
Did you know it is where the Original Starbucks is located?
Forget chains though, Seattle is rammed with independent food, drink and and craft businesses.
If you're a total foodie, you will love the Pike Place Market Chef-Guided Food Tour.
Featuring nine different vendors and the detailed knowledge of a talented local chef, you'll get to skip the line at some of the best food spots in the city.
Seattle has lots on offer but we're going to focus on the best beaches near Seattle next and you can check out our one day in Seattle guide for more city tips.
You may also like our guide to Seattle in fall.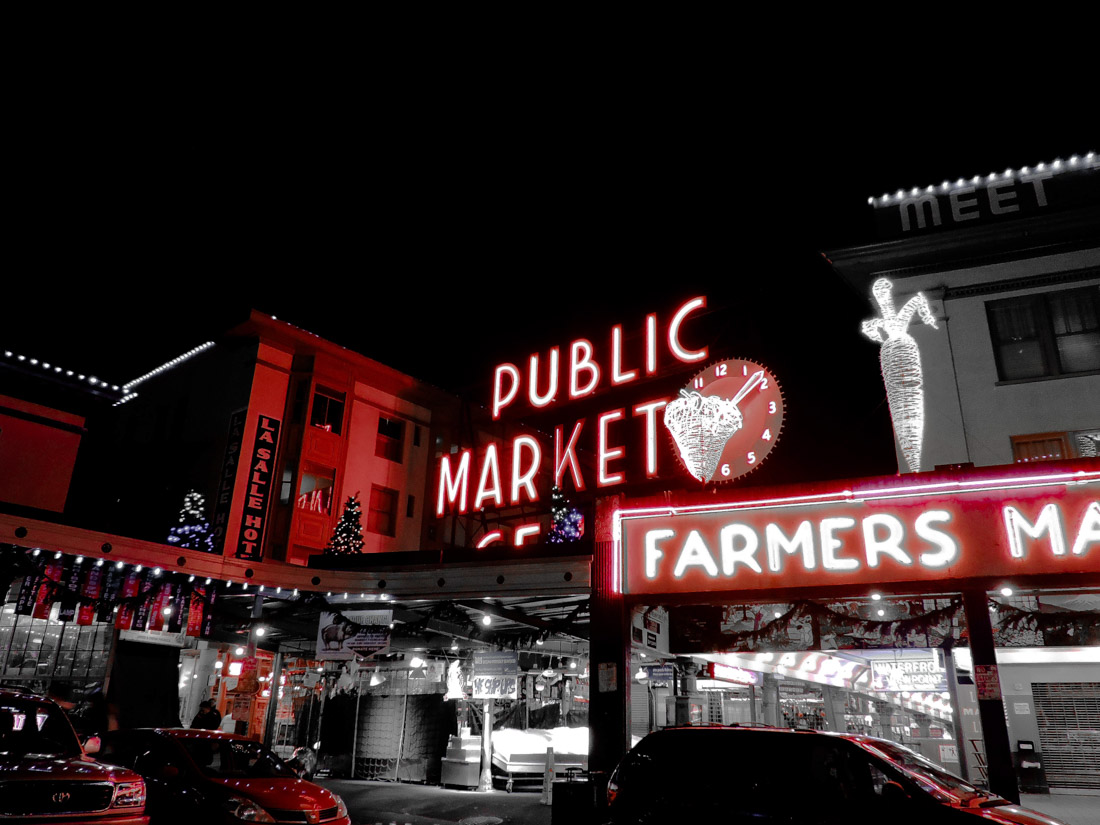 Beaches Near Seattle, Washington
Discovery Park
For a lovely beach experience on the shores of Puget Sound, you have to check out Discovery Park (3801 Discovery Park Blvd).
Explore more than two miles of secluded tidal beaches, sea cliffs, sand dunes, and more in this protected natural area.
Parking is not widely available at the beach, so make sure you secure a parking pass from the Visitor Center if you have small children or are otherwise unable to walk to the beach from the park's lot.
Discovery Park is just 20 minutes from Seattle.
Bainbridge Island
Accessible from Seattle by a 35-minute scenic ferry ride, Bainbridge Island is a small stretch of land perfect for those looking to escape the bustling city life.
You'll love the quaint downtown area, the free museums, and especially the miles of hiking in Grand Forest!
Downtown features bustling restaurants like Agate Restaurant (500 Winslow Way East), a unique dining experience with fresh, local, and creative dishes.
Both the Bainbridge Museum of Art (550 Wainslow Way E.) and Bainbridge Island Historical Museum (215 Erickson Ave NE) are free to all visitors and are some of the best museum experiences in the region; make sure you check their open hours online before you visit!
Alki Beach
For the classic, traditional beach lover, Alki Beach Park (2665 Alki Ave SW) is the perfect spot for you.
More than 2.5 miles of soft sand line the shores of Puget Sound, running from Duwamish Head to Alki Point.
The beach also features a pedestrian walkway of the same length, allowing the most active locals and travelers to run, walk, or bike from end to end.
Alki Beach is also the site of the landing of Seattle's first white settlers in 1851.
Once you've enjoyed your afternoon at the beach, make sure you stop by Spud's Fish and Chips (2666 Alki Ave) when you leave.
They're the longest-standing seafood restaurant in Seattle, and have been an iconic fixture in the city since the 1930s.
Golden Gardens Park
One more Seattle beach to mention: Golden Gardens Park (8498 Seaview Pl) is the spot for the more adventurous type.
Wetlands, trails, and rugged coastlines mark this park and beach as a great place to spend the afternoon exploring all Seattle's natural landscape has to offer.
The beach also is dotted with fire pits, which are open for use in the afternoons.
Make sure you check the website before visiting to make sure they are open and for other beach fire rules!
Just about 20 minutes south of Golden Gardens Park is an incredible Harbor Cruise, which launches from the Seattle Waterfront.
Going strong for more than 70 years, this tour is perfect to view Seattle's gorgeous skyline and both the Cascade and Olympic mountain ranges.
You'll love this cruise so much, you won't be ready to get back to land!
Forks and La Push
With lush rainforests, rocky coastlines, and tons of wildlife, Forks and La Push are beautiful coastal Washington towns.
They are truly some of the best coastal towns in Washington for the nature lovers.
The Forks section of the Olympic National Forest is accessible by the Bogachiel River Trail, one of four 'rain forest valleys' in the state.
Twilight fans probably know this coastal town already because Forks is Stephenie Meyer's primary location for the Twilight series making it one of the best Washington beach towns! for literary and movie fans.
The Olympic National Forest boasts the only temperate rainforest in the lower 48 United States.
If you're looking for a cozy and quiet spot to stay while you're visiting Forks, the Far West Motel (251 North Forks Ave) is great for a no-frills trip!
With the necessary amenities and a great location, you can't go wrong with the Far West Motel.
If you'd prefer some luxury, check out the Quileute Tribe's Oceanside Resort along First Beach.
Central Washington
Pacific Beach
Quiet, peaceful, and nestled up against Olympic National Park, you'll love Pacific Beach if you're ready to skip the crowds and simply get outside.
This small town is a hidden gem, perfect for the adventurer.
Clamming and crabbing are super popular in this town; all you need for clamming is a clam gum and a little bit of knowledge about where to search!
Check the Fish & Wildlife website for more information before you go.
Explore the beaches, wander through the forests in Pacific Beach State Park, or even camp in a yurt!
Stop by Paddy's Perch for breakfast (41 Main St) and then strike out into the forest.
While this is a super small town locals love, the larger towns of Seabrook and Moclips are great to check out if you're looking for a little more action!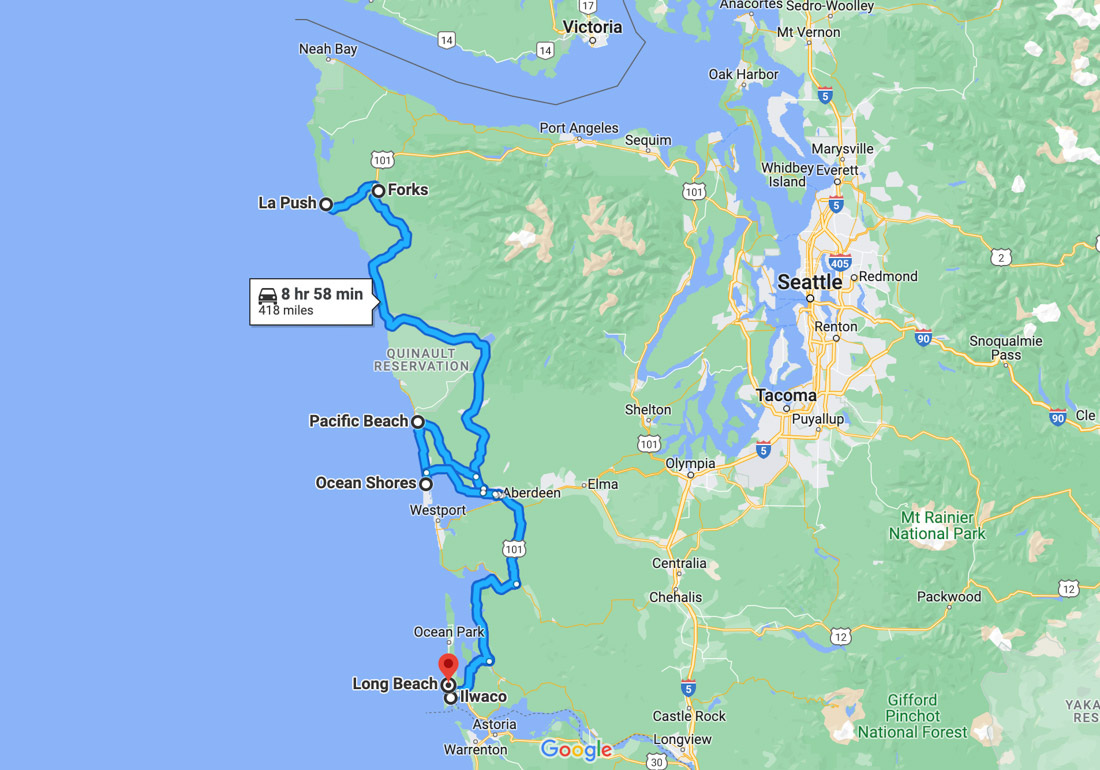 Ocean Shores
Another charming coastal town in Washington State: Ocean Shores is a quaint beach-lovers dream.
Featuring miles of sandy beaches on the ocean and access to Grays Harbor as well, you'll love spending your trip exploring the coasts and the bustling downtown area.
Whether you're sticking to Ocean Shores or using it as a base to travel to nearby destinations like Astoria and the Olympic National Forest, there's always something exciting to do.
Access the beach from Ocean Lake Way or Taurus Blvd, have a fire, swim in the chilly water, or clamber on the North Jetty to explore tide pools.
Ocean Shores is definitely home to some of the best ocean beaches in Washington state.
Southern Washington
Long Beach
Stretching out at 28 miles, the sandy shore lining the city of Long Beach is the longest contiguous beach in the lower 48.
If you're tired of loud, chaotic boardwalk experiences, you'll love the quiet half-mile stretch of boardwalk at Long Beach, suspended over sprawling dunes and featuring incredible views which feature the North Head Lighthouse.
Parking is free at any of the seven access points to the beach, so don't worry about saving your quarters for the meter.
Check the Long Beach's website before you go, in case you need to prepare: some access points don't have any restrooms or waste bins, and have limited parking available.
Ilwaco
One more coastal town on the south shore of Washington: Ilwaco is a scenic town with a thriving art scene.
For shore activities, make sure you visit Cape Disappointment and check out the historic lighthouse.
You can also access the North Head Lighthouse by way of N Head Lighthouse Rd, which is just a short walk from the parking lot.
One more fun activity for the nature lover: the Willapa National Wildlife Refuge features over 17,000 acres of mixed natural areas, from tidelands to temperate rainforest.
Explore the trails and spot amazing migrating birds in their protected habitat!