This article has links to products and services we love, which we may make commission from.
Just because Maui in Hawaii can be expensive does not mean it has to be.
While resorts and activities can be very pricey there are also tons of free things to do in Maui, in fact, many of the highly recommended attractions are free.
As Hawaii's second-largest island full of natural beauty, amazing beaches, and a large range of accommodations, Maui attracts tourists from the US and around the world looking for family vacations, honeymoons and even solo travelers.
This guide will share fun, free things to do in Maui to save money to make a Hawaii getaway more affordable.
Maui also features in our guides to the best warm December destinations in the US and most romantic locations.
Things to do in Maui for Free
Free Beach Days in Maui
Likely the main attraction at the center of a trip to Maui is the beaches.
The good news, is they are all free to visit.
Even if there is a resort located directly in front of the beach, anyone can enjoy the beach.
Here are some of the most popular beaches in Maui.
Makena Beach
Makena, also known as "Big Beach," is a favorite among locals and visitors alike.
There are a few different parking areas that are easily accessible and since the beach is so expansive, once you find parking, finding a spot on the sand is pretty simple.
Wailea Beach
Located in front of a line of luxury resorts, many tourists may not know there is public parking available here.
There are bathrooms and an outdoor shower in the parking area.
You can walk along the beach and enjoy some time relaxing on the sand.
The main attraction is the sea turtles.
Bring some snorkeling equipment as you can usually see some sea creatures, especially near the rocks at either end of the beach.
Ka'anapali
Ka'anapali Beach is one of the most beautiful beaches in Maui.
This is a great area to go for a swim, body surfing, skimboarding, and boogie boarding.
It is also a perfect place to watch the sunset.
Honolua Bay is a must-visit for any nature lover.
Honolua Bay
This Marine Life Conservation District is home to a diverse array of fish and coral, making it a popular spot for snorkeling and diving.
Keep in mind the water is murky near the shore, so you do need to swim away some to get to the great snorkeling.
Kapalua Bay
Kapalua Bay is one of the most beautiful beaches on Maui.
It's well-known for its clear turquoise waters, white-sand beaches, and lush vegetation.
The bay is also a popular snorkeling spot, thanks to its coral reefs and abundance of fish.
Honokalani Beach
Honokalani makes the list of our favorites because of the black sand.
The beach is along the Road To Hana and is usually pretty busy with tourists.
It isn't the most relaxing beach, but it is unique and there is a lava cave you can enter.
Free Outdoors Activities in Maui
Hike the Pipiwai Trail
The Pipiwai Trail is one of the most popular hiking trails in Hawaii.
The trailhead is located near the town of Hana, and the trail winds through a dense forest of Banyan trees before reaching a series of waterfalls.
Visit Lahaina
Lahaina is a coastal town and it is home to pristine beaches.
Here you can explore historic landmarks such as the Banyan Tree, or shop and dine in one of the many trendy boutiques and restaurants.
There are also a couple of festivals held in Lahaina which we'll discuss below.
Go Whale Watching From The Shore
If you are in Maui during the whale season, you do not need to take a whale watching tour to see whales, just head to McGregor Point!
You can also see whales from many of the local beaches.
Take a Drive on the Road to Hana
Hawaii's Road to Hana is one of the most scenic drives in the world.
The winding road hugs the coastline, offering breathtaking views of turquoise waters, lush jungle, and cascading waterfalls.
Instead of joining a group tour to navigate the Road to Hana, rent a car and explore it at your own pace.
Along the way, there are numerous stops where you can hike to hidden beaches.
Take a beat at one of the food stands to buy the iconic banana bread and other great food stands.
Go Stargazing
Maui is well known for its stunning beaches and picturesque sunsets.
However, the island also offers a unique opportunity to experience the night sky.
On a clear night, you can see thousands of stars, as well as the Milky Way and other constellations.
Some people make the trek up Haleakala, but another option is to just find a secluded spot away from all the resorts.
Watch Surfers at Ho'okipa Beach Park
Maui is a surfer's paradise, with waves that offer something for everyone from beginners to experienced riders.
Maui's south shore is home to some of the most popular surf spots on the island, including Ho'okipa Beach Park and Sugar Beach.
Ho'okipa Beach Park has a great outlook with food trucks and a fun atmosphere.
Go Snorkeling with Sea Turtles
The coastline of Maui has several areas where you can go snorkeling with Sea Turtles.
Turtle Town (Maluaka Beach), as the name suggests, is where you can find turtles.
Go to the end of the beach where the sand ends to the reef for optimal turtle spotting.
You can also see them at Black Rock Beach, Turtle Lagoon, and many other beaches.
The Maui Swap Meet
The Maui Swap Meet is one of the largest and most popular flea markets on the Hawaiian islands.
Every weekend, hundreds of vendors set up shop at this bustling outdoor marketplace, offering a wide variety of goods from hand-crafted jewelry to vintage housewares.
Enjoy Lula Dancing
Spending time in Maui, it is easy to find a free hula dancing performance without trying very hard by visiting the shopping malls.
There are performances at the Outlets of Maui Wednesdays and Sundays at 5:00 pm, every Tuesday and Thursday at 5:30 p.m at The Shops at Wailea, and Saturdays and Sundays at 1:00 p.m at the Lahaina Cannery Mall.
Lahaina Cannery Mall even has lessons for learning Hula Thursdays at 5 p.m.
Learn to Play The Ukulele
Free Ukulele lessons are offered at various locations including the Royal Lahaina Resort and the Lahaina Cannery Mall.
Fee Free Days at Haleakala National Park
Haleakala National Park is one of the most popular tourist destinations in Hawaii.
The park is home to the world's largest dormant volcano, and its summit offers breathtaking views.
Fee Free days happen on a few days year including Martin Luther King, Jr. Day, National Public Lands Day, and a handful of other holidays.
Cheap Things to do in Maui
Since not everything is free, here are a few activities that will not break the bank even if you do need to pay.
Whale Watching Tour
This two-hour whale watching tour leaves Lahaina Harbor and will high-speed catamaran to watch whales.
Self Guided Road To Hana Audio Tour
When you are driving the Road to Hana, the cell service is abysmal.
Download an audio tour to guide you along the way to learn more about the itinerary and locations on it.
Free Events in Maui
Maui Friday Town Parties
Every Friday night, some town of Maui comes alive with Friday Town Parties.
The atmosphere is always festive, and there is something for everyone to enjoy.
You'll find plenty of delicious local specialties at these community-minded and kid-friendly parties.
Lahaina Whale and Ocean Arts Festival
Every year, there is an annual migration of the Pacific Humpback whales and this festival puts on educational presentations, marine-themed art, music, and hula dancing.
Lahaina Moon Festival
Lahaina's two-day moon festival celebrates the island's harvest through moon cake and latterns.
Check out our guide to the best places to visit in the US in September for more.
Festival of Aloha
For free cultural exhibits, activities, Hawaiian music and hula, consider Maui in September for the Festival of Aloha!
The Shops at Wailea "Concerts at the Shops"
The Shops at Wailea is a popular shopping and dining destination on the beautiful island of Maui, worth a visit on its own.
The Shops also host free concerts featuring local musicians that play everything from island-inspired folk tunes to smooth jazz hits.
Affordable Accommodation in Maui
Maui accommodations can get very expensive, easily over $500 a night.
But there are still a few affordable accommodations to allow you to explore Maui on a budget.
The most affordable option is to rent a cabin.
You can do that at the National Parks or at a few other campgrounds.
You can also save money by getting a larger apartment rental split between more people.
Here are a few well-rated, affordable options.
How to Get Around Maui on a Budget
The most affordable ways to get around are renting a car, booking transfers, or a combination of the two.
The attractions in Maui have very spread apart, so unfortunately paying for transportation is necessary.
In the past, rental cars were fairly affordable but more recently the cost has increased.
More and more, travelers are deciding to book a transfer from the airport to the hotel they are staying at.
From there, it is possible to book group tours that will pick you up at your accommodation or rent a car for a shorter amount of time.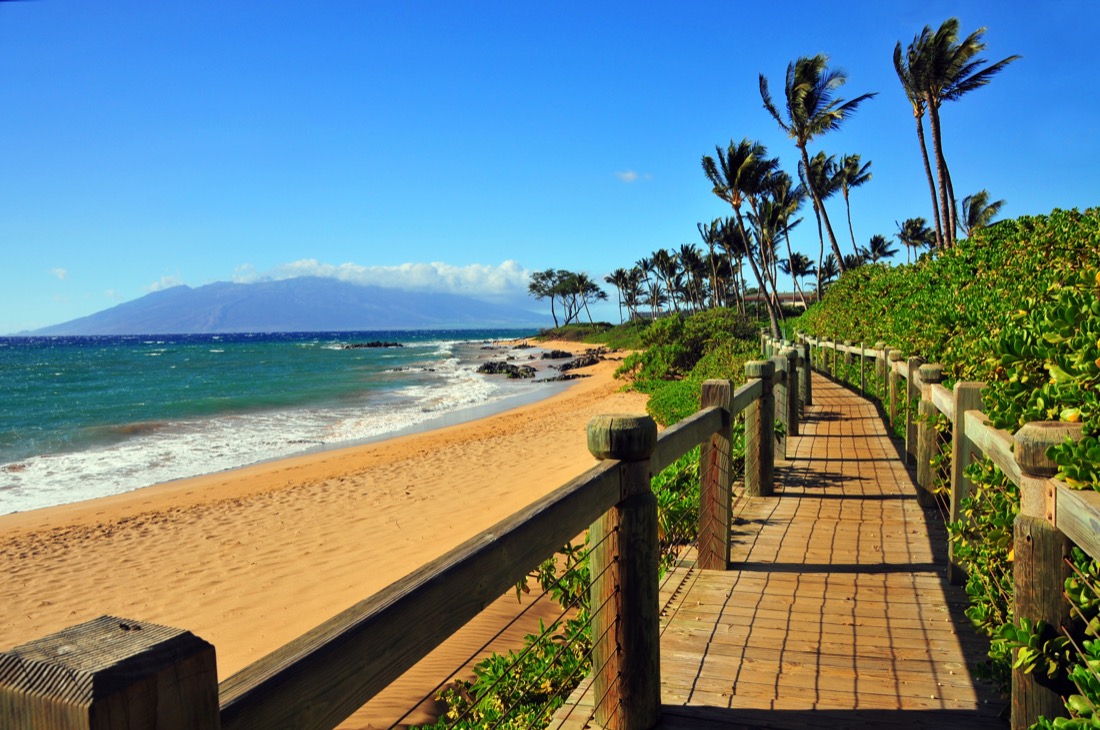 About the Author
Dan Bagby is a travel writer at HoneymoonAlways.com where he visits the most popular honeymoon destinations in the world, Hawaii included.