This article has links to products and services we love, which we may make commission from.
Planning a summer trip to find adventure and fun or maybe sun and relaxation – or perhaps all of the above?!
There are definitely the obvious choices like Florida or California, which have a whole host of ideal summer getaway spots, but in this guide, we've also got some hidden gems to add to your list of best places to visit in USA in June.
Take a hot air balloon ride over the mountains, snorkel through sea caves, hit the links on a professional course, or just snooze in the sun with your favorite book.
As with all of our US by month travel inspiration guides, we've outlined the temperatures in June for each location, the fun festivals and events taking place, what the prices are compared to off season and why you might want to visit that destination.
Which US destination do you hope to visit this June? Tell us in the comments below. We love to hear about your travels!
Check this guide for the best places to visit in May or July.
Best US Beaches to Visit in June in the USA
Ft. Lauderdale in June For Lazy Beach Days & Lively Nights
Ft. Lauderdale, Florida has it all; the nightlife, the beaches, art & culture, and even activities for the whole family.
If you haven't yet visited for a vacation in June, you'll definitely want to next year.
If the sunshine state is the place for you, extend you Ft. Lauderdale trip and check out our Florida bucket list to inspire you for the rest of your travels.
Temperatures start at 76F and hit 89F by the end of June.
Princes vary between resorts but most charge more in June compared to March and some increase rates by $100 per night!
Things to Do in Ft. Lauderdale
Las Olas Boulevard – Whether you want to shop at boutiques, grab a happy hour drink, check out an art gallery, or grab a snack at a sidewalk cafe, you can do it all at Las Olas Boulevard.
Las Olas Beach – Las Olas Beach is full of white sand, palm trees, blue water and has a basketball court & a volleyball net, and incredible views.
Bonnet House – Bonnet House is a museum and garden that you can visit with a self guided audio tour or take a guided tour.
Hollywood Art Murals – The outdoor Hollywood Art Murals are created by local, national, and internationally recognized artists and bring color, livelihood, and culture to the area.
Family Pirate Cruise Adventure – This family-friendly activity comes with face painting, pirate tattoos, treasure, and a pirate certificate; get your tickets here.
La Jolla in June For California Beaches, Golf & Shows
If a vacation in June doesn't scream California to you, what will?
Head to La Jolla Cove for top notch beaches, pristine golf course, and don't forget about the world class theatre productions you'll see here as well.
So much to see and so little time to see it? Our California bucket list guide will help you prioritize.
There's a bit of a mark up on June hotels compared to March in La Jolla.
Expect to pay $20-50 more per night.
Temperatures range from 61F to 73F so pack accordingly.
Things to Do in La Jolla
La Jolla Playhouse – If you want to see some of the best Broadway shows before they get to Broadway, visit the La Jolla Playhouse, where brand new shows regularly make waves.
La Jolla Shores – Relax with the gentle waves at La Jolla Shores, a mile-long beach that is family friendly and known for its amazing sunset views.
Torrey Pines Golf Course – Tee off with amazing views at Torrey Pines Golf Course, where you'll hunt for your missing golf ball atop cliffs looking out over the Pacific Ocean.
La Jolla Underwater Park – La Jolla Underwater Park is one of the top 10 places to snorkel in the world; the crystal clear water means to can see amazing undersea creatures, swim through sea caves, and maybe even see the secret underwater graveyard.
Sea Cave Kayaking Tour – Embark on a guided sea cave kayaking tour at La Jolla'sJolla's Ecological Reserve and Seven Sea Caves; get your tickets here.
Lewes in June For a Small Beach Town Getaway
Lewes in Delaware is a little beach town is beloved by many, with people flocking year after year to get to one of the best US cities to visit in June.
Have fun doing some tax-free shopping at the outlets and the boutique shops, spend your days on the perfect beach, or just take a lazy walk around the beautiful old mansions.
Want to know more about the Delaware beaches? This guide will help.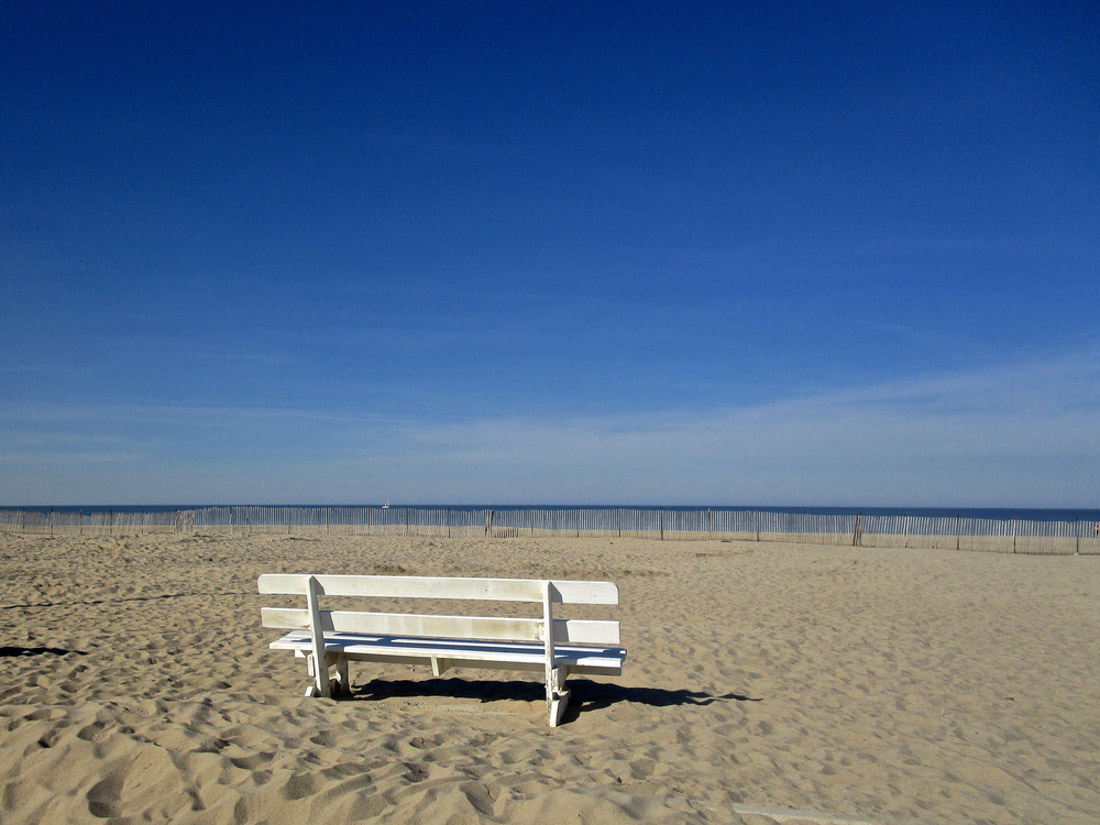 Things to Do in Lewes
Lewes Beach – Lewes Beach is a small, family friendly public beach that is great for playing the water or reading a book on the sand.
Shopping at the Outlets – Thanks to the tax-free shopping, a day at the Tanger Outlets in nearby Rehoboth Beach is the perfect way to grab a new summer wardrobe.
Second Street – Stroll down Second Street, a quaint and popular street filled with shopping places and eating surrounded by historical homes and buildings.
The Lewes Historical Society – Known as the "First Town in the First State," The Lewes Historical Society can tell you all about the rich history of this little town.
Get a photo of the famous Purple House on Savannah Road.
Cape May Sunset Cruise – If you take the ferry from Lewes to Cape May, you can spend the evening on a cruise watching the sunset – just don't forget to keep an eye out for the dolphins; get your tickets here.
Lewes also features in our guide to best US beaches.
Virginia Beach in June For Beach Life, Jazz & Soccer
A classic beach vacation, you might already know that Virginia Beach is one of the best US vacation spots to visit in June.
You'll probably spend all of your time in and around the beach, but you can also play soccer, listen to live jazz, and even take a haunted ghost tour.
For more on the best East Coast beaches, read this guide.
You can expect lows of 64F and highs of 75F at Virginia Beach in June.
It is summer, so hotel prices double in June at Virginia Beach so choose your accommodation wisely!
Things to Do in Virginia Beach
Hilton Head in June for Beaches & Golf
If you're looking for the best US beaches to visit in June in the USA, Hilton Head in South Carolina is one of them!
You won't want to spend a minute indoors with the many choices of beaches and golf courses to spend your time at; you won't ever want to leave.
Temperatures range from 70F to 88F.
Did you know that Hilton Head has a rich Gullah Heritage?
The island celebrates Juneteenth every year at Historic Mitchelville Freedom Park with traditional food and family-friendly entertainment.
Expect to pay at least an extra $80 per night on hotel rooms.
Things to Do in Hilton Head
Harbour Town Golf Links – Go golfing at Harbour Town Golf Links; this public park is used for PGA tournaments and is a world class place to play.
Burkes Beach – Not only is Burkes Beach is a great place to have fun in the sun, but it is also well known to be a great place to cycle, thanks to the many paved trails.
Gullah Museum Of Hilton Head – Learn about and celebrate Gullah culture at the Gullah Museum Of Hilton Head.
Self-guided tour of Mitchelville Freedom Park – Find out more about the formerly enslaved sea islanders of Hilton Head.
Coligny Beach Park – Coligny Beach Park is one of the most popular spots on the island; there is free parking, outdoor showers, restrooms, a fountain, boardwalk, umbrella & chair rentals, and of course, a beautiful beach.
Scenic Helicopter Tour – Get the best views of the island with this scenic helicopter tour that the whole family will love; get your tickets here.
Check out our fun guide to free things to do in Hilton Head too.
Best US Cities to Visit in June
Anchorage in June for (Nearly) 24 Hours of Daylight
When you think about places to visit in the USA in June, Alaska isn't usually the state that springs to mind – but that's about to change.
Your trip will have almost 24 hours of sunlight, celebrations, beautiful gardens, and even the opportunity to mine for gold! What more could you want?
Temperatures in Anchorage range from 47f to 65F in June.
Hotel prices do double in summer compared to low season (March) so consider this when budgeting your trip.
Things to Do in Anchorage
Summer Solstice Festival – Celebrate the 22 hours of sunlight at the Summer Solstice Festival, including a downtown celebration, marathons, fishing, baseball, cookouts, parades, and more.
Anchorage Gardens – Known as "the City of Lights and Flowers," the city has over 80,000 flowers in 460 city beds; Town Square Park is one of the most popular spots to see the sights.
Anchorage Museum – The Anchorage Museum has a wide range of exhibits and programs that span everything from the Native history of Alaska to a planetarium.
Crow Creek Mine – Relive the Gold Rush at the Crow Creek Mine, where you can pan for gold and even camp. (All June)
Sightseeing Trolley Tour – See some of the city's most historic and scenic parts on the trolley tour, complete with narration and indoor heating; get your tickets here.
What about Anchorage at Christmas? Check out our best places to visit in December guide for more.
Portland, Maine in June For Wine & Water Sports
Is there anything lovelier than Maine at the beginning of the summer?
Sip the best wines, walk through the parks in full bloom, and go out onto the water. No matter what you want to do, Portland will have it ready and waiting for you.
Can't get enough of New England?
This guide will help you find all the best things to do.
Portland, ME sees highs of 75F and lows of 51F during June with lower temps forecasted for the start of the month.
Hotel room rates also double in June compared to March but there are lots of outdoor activities that don't cost much which could balance things out.
Things to Do in Portland
Portland Wine Week – Get ready to drink at the Portland Wine Week; it has tastings and special events, seminars, wine brunch/lunch/dinners, and more. (Mid June)
Portland Museum of Art – The Portland Museum of Art has collections from Andy Warhol to Claude Monet and over 18,000 items to keep you entertained.
Visit the social media darling, Portland Head Light at Cape Elizabeth.
Bug Light Park – Take a walk through Bug Light Park, and you'll see Portland Harbor, the skyline, the Portland Breakwater Lighthouse; visitors picnic, fly kits, fish, and enjoy seasonal events here.
Victoria Mansion – The late 19th Century Victoria Mansion has been open to the public since 1941, and visitors love to take a walk back in time and learn about gilded life.
Schooner Tall Ship Cruise – See the views of the town on a schooner tall ship cruise and keep an eye out for seals and other wildlife; get your tickets here.
Portland can be expensive, so check out our guide to free things to do in Portland, ME too.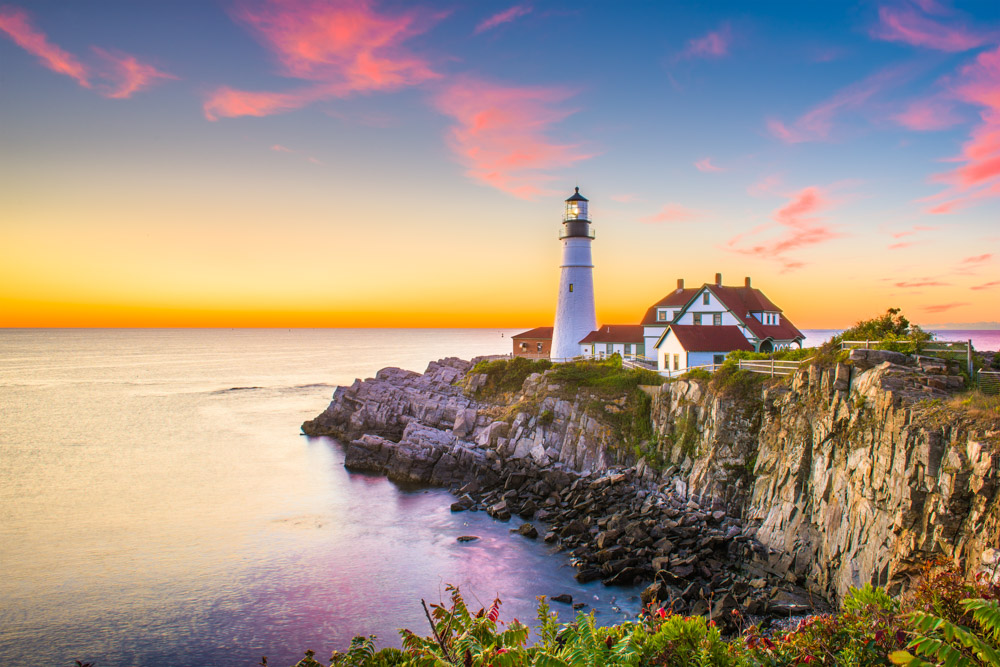 City Island, New York in June For Seafood & Getting Away From NYC Pace
Even if you've visited New York a hundred times, odds are you haven't visited City Island, a neighborhood in northeastern Bronx.
An oasis from the craziness, City Island is much more like a town from New England instead of less than 20 miles from Times Square, so if you need to get away, this is one of the best places to travel in the US in June.
Expect NYC temperatures to reach 96F by the end of the month.
There isn't much difference between accommodation rates in the Bronx but Manhattan hotels have a slight increase of around $30 per night compared to March.
Things to Do in City Island
Eat Fresh & Local Seafood – Anywhere you look; you'll see signs for fresh & local seafood that was most likely caught that same morning; from lobster to shrimp to calamari if you want it, they've probably got it.
Go Fishing -Grab some bait and tackle or take a charter and see what you can catch.
City Island Historical Museum – Learn about this tiny island's nautical history on weekends all summer long at the City Island Historical Museum.
Orchard Beach – Orchard Beach is just across the water, once known as the "Riviera of New York City" the beautiful beach is a great way to spend the day, and you can walk (or drive) into City Island for dinner.
Bronx, Queens, & Brooklyn Tour – Get out of Manhattan on this tour of the best parts of the Queens, Brooklyn, & The Bronx; get your tickets here.
Cincinnati in June For The Fringe, Pride and Juneteenth
Cincinnati, Ohio might just surprise you, but it is on our list of best places to go in June in the USA for good reason.
The Cinci Fringe, Pride, and Juneteenth festivals hold a world of cultural and community based ways to get to know this great city.
Pack for temperatures starting at 59F and reaching 84F.
Hotel rates don't change much between June and March, you might pay $10 more per night at some hotels.
Things to Do in Cincinnati
Cinci Fringe Festival – Inspired by the Edinburgh Fringe, the Cinci Fringe Festival has all sorts of live acts for you to enjoy. (Early-mid June)
Summerfair – Head to Coney Island to join in on one of the oldest continuous art fairs in the country; Summerfair has hundreds of artists and craftspeople selling everything you could imagine. (Early June)
Cincinnati Pride – March and celebrate in style at the Cincinnati Pride with floats, entertainment, and more. (Late June)
Cincinnati Juneteenth Festival – At the Cincinnati Juneteenth Festival, you'll find music, dancing, historical and educational activities, and more. (Mid June)
Riverboat Tour of Ohio River – Board the vintage riverboat and take an afternoon cruise down the Ohio River while you enjoy lunch and listen to live music; get your tickets here.
Manchester in June For Music Festivals, Jack D & a Day Trip to Nashville
Music lovers will flock to Manchester, Tennessee for the infamous Bonaroo Music Festival, but that's not the only reason this is one of the best places to travel in June in the USA.
You can also spend time in the beautiful outdoors and even get the freshest bottle of Jack Daniels to bring home as a souvenir. 
In Manchester, temperatures go as low as 60F and reach 87F in June.
There isn't much difference between hotel rates comparing June with March.
Things to Do in Manchester
Greenville in June For Lesser-Known City Getaway
Greenville in South Carolina is a bustling and fast growing city well known for its art scene; you can check it out for yourself at the many galleries and museums.
It also is home to some of the best southern eats you'll find anywhere, so come hungry!
Temperatures lows start at 64F and highs reach 88F in Greenville in June.
Hotel prices don't change much in June compared to March.
Things to Do in Greenville
Albuquerque in June For Romantic Hot Air Balloon Rides
Did you know that Albuquerque, New Mexico is the ballooning capital of the world?
Just imagine a gorgeous mountain range with colorful hot air balloons dotting the sky, and that's what you'll find here.
Even if heights aren't your thing, you can hang out in the river, check out a museum, or go for a scenic cycling route.
Another great thing about Albuquerque is affordability.
It is one of the cheap places to visit in June and all year round which is ideal for budget travlers.
Temperatures range from 58F to 93F in June.
Hotels in Albuquerque don't change too much in summer compared to low season, expect to pay $20-30 per night if that.
Another bonus about visiting Albuquerque is affordability.
This New Mexico city also features in our cheapest cities in visit in the US.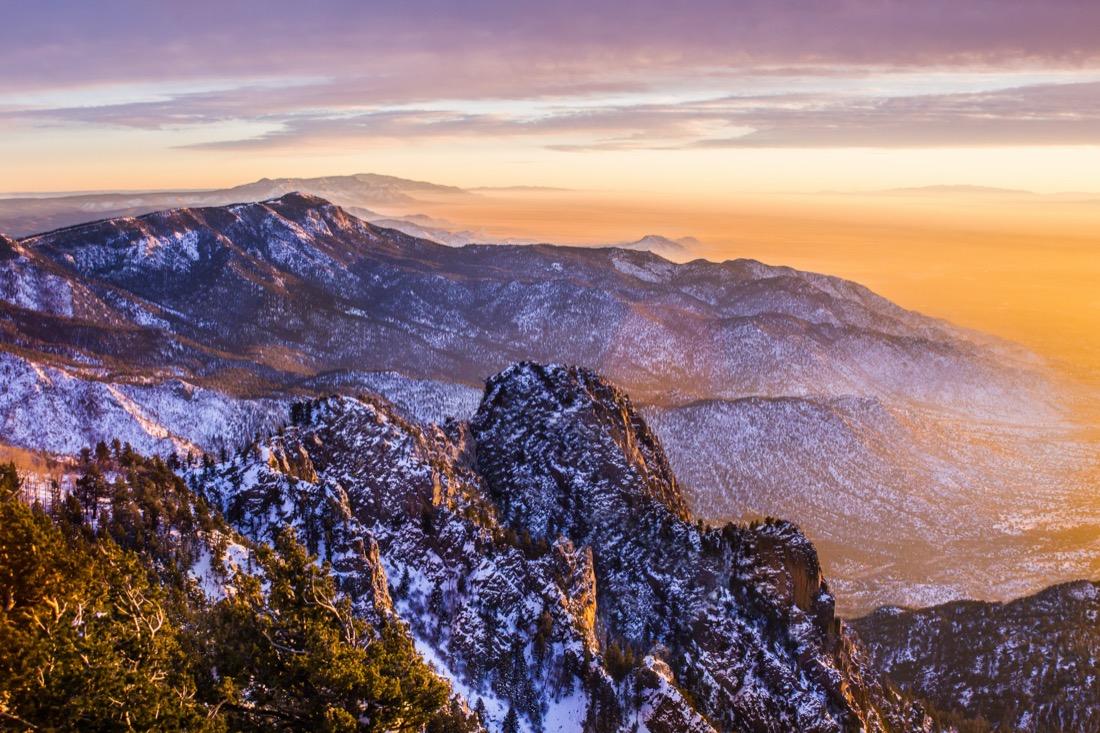 Things to Do in Albuquerque
Albuquerque also features in our romantic places to visit in the US and places to visit in October.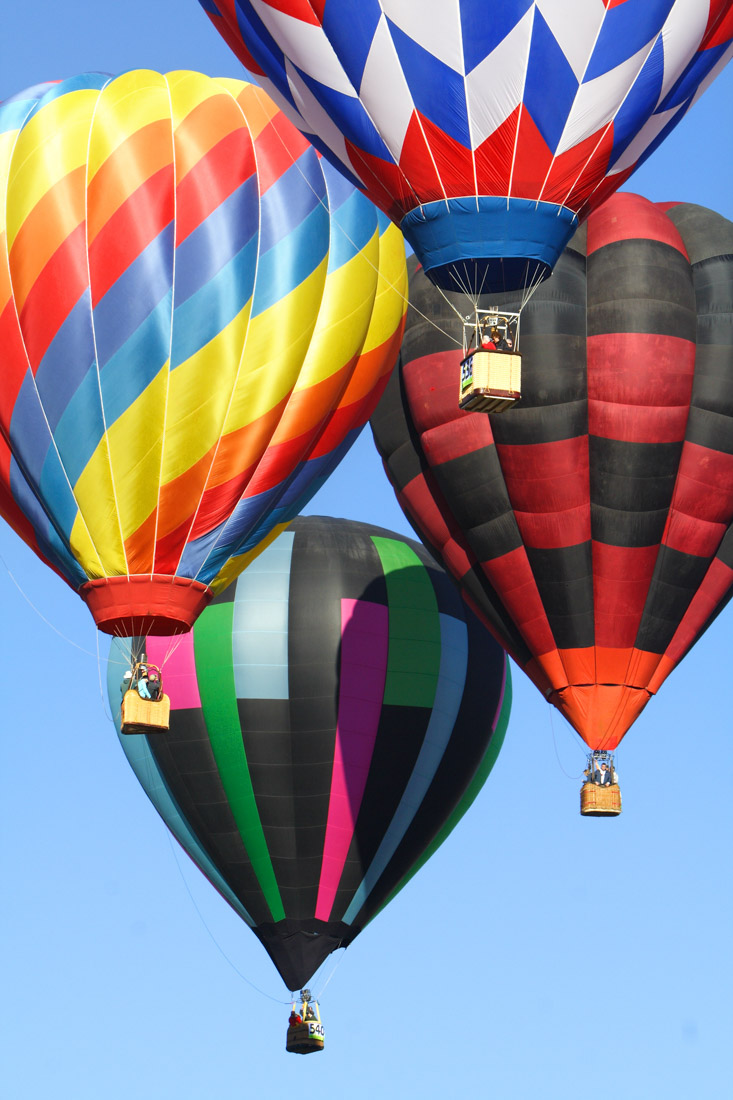 Dallas for Juneteenth Celebrations
Visit Dallas in June for Juneteenth, a celebration commemorating the ending of slavery in the United States.
On the 19th June 1865, two and half years after President Abraham Lincoln's Emancipation Proclamation declared "that all persons held as slaves" within the rebellious states "are, and henceforward shall be free", enslaved people in Texas were finally freed.
Things to do in Dallas
Hop aboard a boat party for live music, food and drink
Listen to live music at Dallas Juneteenth Festival
Join in or watch the Juneteenth March which ends at Fair Park
Volunteer at the MLK Clean Team Initiative, in the South Dallas
Keep an eye out for more events on Eventbrite.
Dallas All Year Round Activities
Visit the Dallas Cowboys stadium during this tour
Learn about the JKF assassination
Enjoy a walk around Dallas Arboretum and Botanical Garden
See one of the largest African American Folk Art collections in the US at African American Museum of Dallas
Experience art from Asia including China, Japan, India, Korea, Nepal, Vietnam, Cambodia, Thailand, Indonesia, Myanmar and the Philippine at Crow Museum of Asian Art
Dallas temperatures in June see highs of 93 F and rarely fall below 81°F.
Best Places to Visit in June For the Outdoors
Cannon Beach, OR in June For Nice Temperatures
Cannon Beach is a striking area of the Oregon Coast.
Daily highs 65F and lows 50F, with temperatures increasing towards the end of the month.
Day trippers visit to take photos of the Haystack Rock.
Enjoy a takeout coffee at the beach
Check out Cannon Beach Distillery
Learn more about the area at Cannon Beach History Center
Eat fish and chips by the beach
Head to Hug Point for another sandy beach cove hangout
Hike Ecola State Park 2-4 mile trails and see the coastline views
Sunset at Cannon Beach
Cannon Beach also features in our guide to the best beaches in December.
Jackson in June For National Park Adventures
If Jackson in Wyoming isn't on your list of best places to visit in June in the USA, it should be; your trip will be nothing but fun and adventures.
Visit one of America's most beloved National Parks, get to know the locals at the market, and even partake in the longest running shoot-out.
Prepare for cooler temps at the start of the month going as low as 31F then increasing to highs of 76F as June comes to an end.
Hotel rooms are pricer in June, 2 x more than March. Ouch!
Things to Do in Jackson
Grand Teton National Park – Grand Teton National Park is one of the most popular national parks in the country for a good reason; with a gorgeous mountain range, a scenic highway, a National Elk Refuge, forest, river, and more, there are endless ways to explore. Early summer is the best time to spot elk!
Jackson Hole Shootout – The Jackson Hole Shootout gives a glimpse into life on the frontier; see how justice was one served at the longest-running shootout in the entire country (All June)
Jackson Hole People's Market – The People's Market focuses on and celebrates all things local, community, and sustainable; get some fresh produce or handmade items here.
Summer Solstice Celebration – Kick off the new season at Rendezvous Park with live muisc, food, and fun for the whole family. (Late June)
Sunrise Hot Air Balloon Ride – Start your day off with a champagne toast and see the world from up above in a hot air balloon ride of Grand Teton National Park; get your tickets here.
Colorado Springs in June For Outdoor Playground & Live Music
There are so many free things to do in Colorado Springs; it is one of the top cheap places to visit in June in the USA.
Listen to live music, wander through a Farmer's Market, walk through beautiful gardens, check out local art, and more, all without spending a dime.
Colorado Springs temperatures double by the end of the month of June, starting with lows of around 49F and hitting 83F.
As with the beach locations featured in our guide, the nature locations are also in demand so look forward to hotel rates doubling in June.
Things to Do in Colorado Springs
Woodland Music Series – The Woodland Music Series is a great way to enjoy live music all summer long; you'll hear from the best local talent from all musical genres. (All June)
Old Colorado City Farmers Market – Grab some delicious and fresh produce & goods at the Old Colorado City Farmers Market, a 20-year love favorite with dozens of vendors to choose from. (Mid to Late June)
Pikes Peak International Hill Climb – Watch as cars "Race to the Clouds" at the Pikes Peak International Hill Climb, an automobile hill climb to the summit of Pikes Peak. (The last Sunday of June)
Garden of the Gods – Aptly named, the Garden of the Gods is a gorgeous nature center with free admission where you can hike, cycle, rock climb, & more.
First Friday Artwalk- On the first Friday of every month in Old Colorado City, local businesses and artists put on the Artwalk; this free event gives you the chance to see art galleries and open artist studios.
Four Wheel Drive Tour – See the Pike National Forest on a four-wheel drive guided tour; get your tickets here.
Canyonland in Utah for a Fun National Parks Getaway in June
Utah is no stranger to National Parks and Canyonland is its biggest at 527 square miles.
This dramatic Southeast Utah red toned landscape looks like a Hollywood version of Mars but is warmer than the planet with highs of 93F and lows, 60F.
While spring and fall are the best times to visit Canyonland, June sees the most daylight and humidity lower than July and August.
There is also the added bonus that it falls just before the Colorado Plateau's high desert's monsoon season July-September.
Things to do at Canyonland National Park
Choose a region that suits your travel style best, getting between them is difficult
Sleep under the night's sky at Needles or Island in the Sky campgrounds
Stay overnight in the town of Moab, northeast of the park
Explore the park by four-wheel drive
Stretch your legs on a cycle
Get a sunset picture at Mesa Arch with the La Sal Mountains in the background
Do a Utah road trip hitting all five national parks
Final Thoughts
It's easy to see why these destinations are among the best places to visit in the USA in June.
You can choose to go to the mountains, the ocean, small towns, or big cities but you're guaranteed to have a great time at all of them.
When you're ready to start planning for fall, this guide will help.