This article has links to products and services we love, which we may make commission from.
Are you looking for the best college spring break destinations to say see ya later to winter and hey to warmer days? This guide suggests spring break locations for the classic beach party, city breaks, places for music fan, ideas for those who prefer a low key R&R trip and the last of the ski season because some students just can't say no to the slopes.
For many students this will be the first time they've experienced seeing dolphin or touching snow. How cool will it be to create those memories together?
So put down your books, take a break from quizzes and get lost in this spring break inspo so you can start planning the best places to visit this spring break.
If you're traveling in March, check out this guide for even more ideas.
Best College Spring Break Destinations for Students Who Like Beaches
Panama City Beach, Florida for the Classic Party
Known as the "Spring Break Capital of the World," this is the place to go if you want the quintessential experience of sand, sun, surf… and spring break!
Panama City Beach is in the northwest part of the state, 3 hours east of Pensacola and two hours west of Tallahassee.
While Panama City Beach is popular with families, during the spring, the area is dominated by college students looking to get away, blow off some steam, and have a great time at one of the top college student spring break destinations.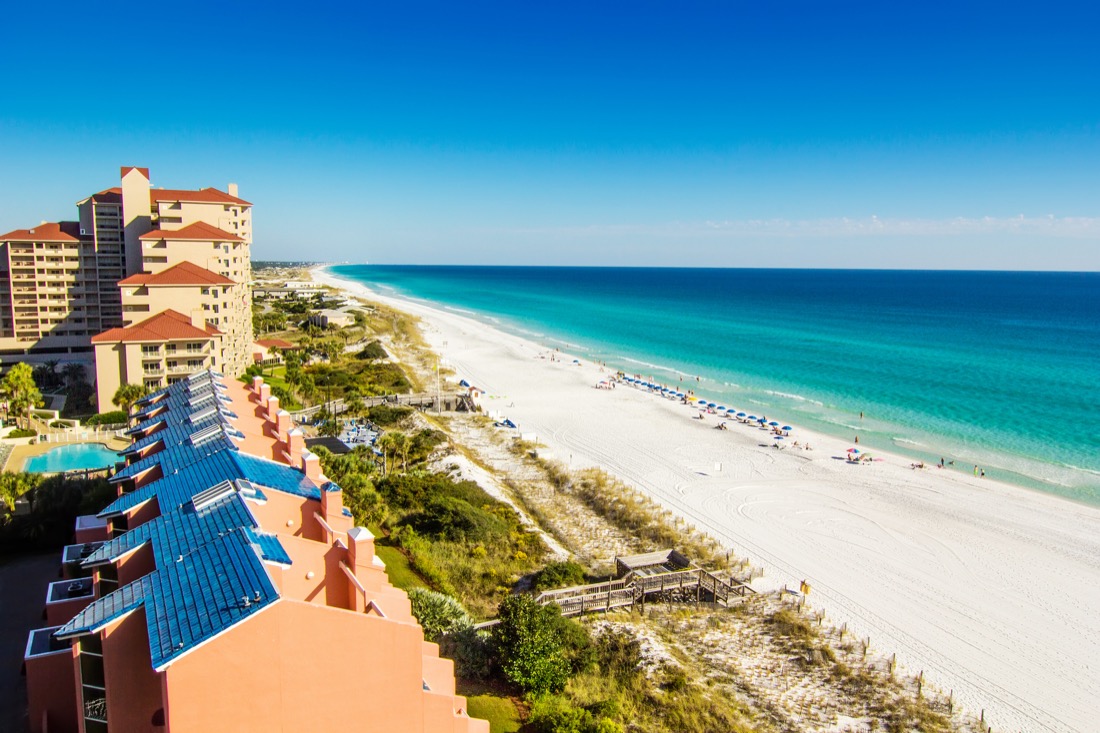 Know Before You Go
The closest airport is Northwest Florida Beaches International Airport, only a half-hour away.
Average springtime temperatures are in the mid 70s during the day and high 50s at night.
Be sure to pack sunscreen, sandals, bathings suits for the day, and light layers for the evening.
You can get around town on foot, the Bay Town Trolley, car rental, or taxi.
Because this is such a popular spring break town, you'll want to pre-plan as much as possible.
You can fish here, but you have to get a license; 3-day out of state licenses can be purchased for $17.
Alcohol is allowed on the beach from April to February; it is not allowed in March.
Dogs are not allowed on the beach except at the pet-friendly area located on the Westside of the Russell-Fields City Pier.
Camping or overnight sleeping is not allowed on the beach, but you can have a bonfire if you get the appropriate permit.
Things to Do in Panama City Beach, Florida
Sunbathe on Panama City Beach – This 27 mile long beach is popular for jet skiing, sunbathing, dolphin watching, swimming, and more; Panama City Beach is one of the most popular beaches in the country; it also has a strong seafood scene and nightlife.|
See a Live Concert – Panama City Beach has so many live events and concerts throughout the spring break season.
Collect Shells on Shell Island – This uninhabited island is only accessible by boat and is exactly what the name sounds like; you can collect shells of all shapes, sizes, and colors here while you enjoy the pristine white beaches of Shell Island.
Spot the Dolphins at St. Andrews State Park – A popular dolphin-watching and shell-collecting spot, St. Andrews State Park is also known for its snorkeling and shallow swimming area, called the "kiddie pool."
Go Shopping at Pier Park – This is the top spot for shopping, entertainment, and restaurants; you can spend a day here having fun in the sun, souvenir shopping, getting drinks, or just having fun.
Join in on the nightlife – Coyote Ugly is a favorite for locals and tourists, listen to live music at Tootsie's Orchid Lounge at Pier Park, or sing your heart out at karaoke at Ms. Newby's.
Happy Hour Biker Gang E-Bike Adventure – Join a biker gang for a tour of the city on an e-bike to see the spots for the 'gram as well as learn the insider's perspective & finish off with happy hour; get your tickets here.
Check out more things to do in Florida with this bucket list guide.
Miami Beach for Sand, Watersports and Partying
It's no surprise that Miami features in this guide to college spring break locations!
Miami Beach is a let loose vacation destination that will help you say goodbye to the semester and hello hangover.

Sun, sea, sand, parties, music, cocktails, food and art, the perfect potion for a crazy spring break.
Enjoy temperature highs of 83°F and lows of 57°F.
Things to do at Miami Beach
Buy liquor and get lit. Grab a spot on the sand and remember to top up on sunscreen.
Drink at over 100 bars open most of the night.
Listen to over 300 acts at the electronic Miami Music Festival.
Party at a pool with live DJs and drinks. Check out Nautilus by Arlo and National Hotel for events.
Hop aboard a 2.5-hour jet ski tour of Miami Beach, Fisher Island, Hibiscus Island, and Watson Island. Pick up from local hotels.
Visit the World Erotic Art Museum by Naomi Wilzig.
South Beach for More Sand, Watersports and Wild Partying
In the past, South Beach saw less action from spring breakers but now, with more disposable income, young visitors hit this Miami beach area for fun during their vacation too.
Miami Beach and South Beach are a quick taxi ride apart.
Things to do at South Beach
Dine at one of the many bars, restaurants and cafes on Ocean Drive.
Party on the rooftop or pool at the iconic Clevelander.
Hit the South Beach Clubs.
End one of the days on a 1.5-hour sunset cruise through Biscayne Bay and South Beach.
Other Things to do in Miami
Miami isn't just about the beaches. Here's other attractions and activities to consider during your spring break.
Boutique shopping and food at Coconut Grove.
Visit the Vizcaya Museum and Gardens, a historic building filled with art.
If you like public art spend time in the Miami Design District or Wynwood Walls.
You might find the architecture and roof top bars of Miami's Brickell neighborhood worth a visit too.
Join a cruise from Miami to the Bahamas if you want to travel farther afield.
Miami also features in our guide to the best US bachelorette party destinations.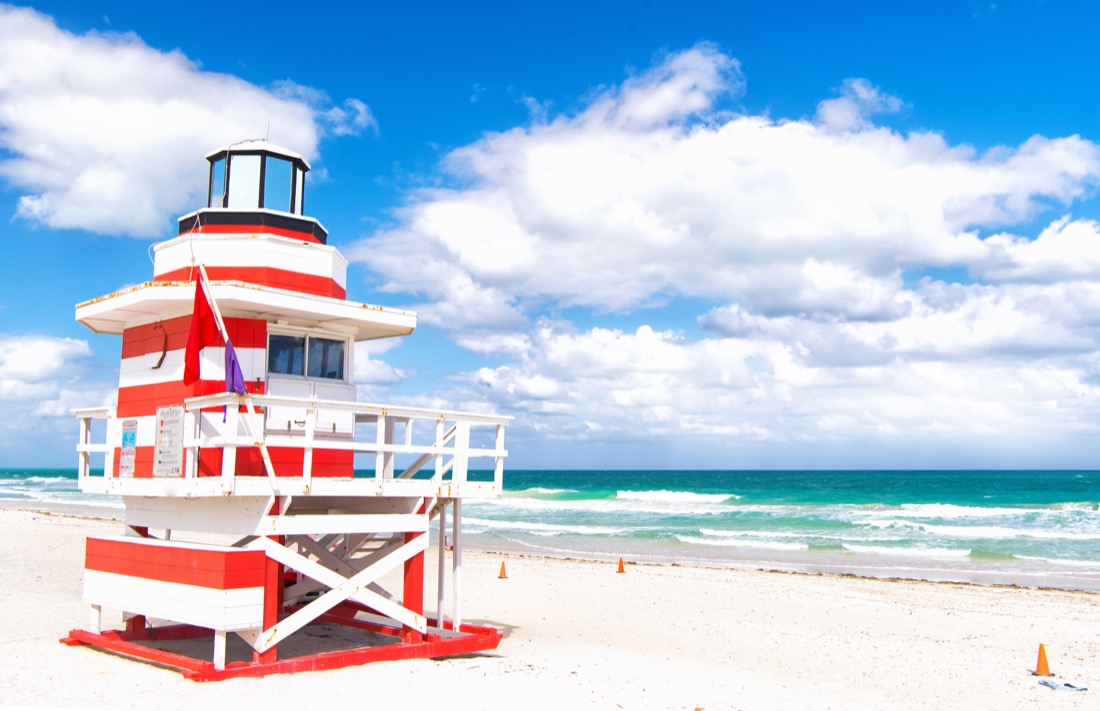 Myrtle Beach, South Carolina for Beach Life
Two hours north of Charleston and a half-hour south of the North Carolina border is one of America's most beloved beaches with over 20 million annual visitors.
Known locally as The Beach, Myrtle is popular for its affordability, golf, shopping, entertainment, and gorgeous 60 miles of beach; clearly, it is one of the top places to visit during spring break.
Know Before You Go
The closest airport is the Myrtle Beach International Airport, which is just minutes away from the beach.
Average springtime temperatures are low 70s during the day and low 50s at night.
Be sure to pack beach gear for the day and warmer options for the evening like long sleeves and jeans.
You can get around town by car, on foot if you're only planning to stay in the beachfront areas, taxi, bike, or bus.
Tents/umbrellas are permitted on the beach from Labor Day to Memorial Day; you can rent them (and beach chairs) through various beach services.
If you plan to fish from the shore, piers, or charters, do not require one.
Dogs are allowed on the beach but must be leashed at all times.
Glass and fireworks are not allowed on the beach.
It is illegal to cut, break, or otherwise destroy sea oat plants, beach grass, and sand fencing.
Things to Do in Myrtle Beach, South Carolina
Sunbathe at the Beach – Myrtle Beach, also known as "The Grand Strand" due to its 60 miles of beach and beautiful blue water, is made up of many beaches; Garden City Beach is full of southern charm, Surfside Beach is a family-oriented sport, Litchfield Beach is known for golf, and fine dining and Myrtle Beach is where most college spring breakers will spend their time.
Have fun at Broadway at the Beach – The most popular attraction at the beach; there's shopping, live entertainment, attractions, events, nightlife, and more – you'll find yourself heading to Broadway at the beach every day!
Hang out on the Boardwalk – Grab some classic beach food, have a blast on the SkyWheel, thrill rides, and arcade games on the Myrtle Beach Boardwalk.
Find an Adventure -Take your adventuring to another level on this aerial course with over 50 elements for your whole group to get an adrenaline rush at Myrtle Beach Zipline Adventures.
Second Avenue Pier – Walk down the pier to watch the anglers wait for a catch (or try for yourself), try to spot some dolphins, and people watch from above.
Go shopping in the Market Common – The tree lined avenues and small-town village feel of the Market Common might seem out of place at a beach but is a great way to spend your afternoon shopping and eating at some of your favorite well known spots.
Go Golfing – Myrtle Beach is one of the top golf destinations in the country, with several gorgeous courses to choose from that even PGA pros are sometimes seen playing at.
Go (mini) golfing – If a day on the green isn't for you, Myrtle Beach is the mini-golf capital of the world, so you'll get chance to practice your (mini) hole in one.
See more East Coast beaches to visit here.
Gulf Shores, Alabama for a Budget Trip
An hour south of Mobile is one of the best budget friendly destinations if you're looking for cheap places to go for spring break.
Gulf Shores is the combination of everything needed for the perfect college getaway; sandy beaches, affordable accommodations, and a lot of fun.
If you want to party, there's plenty of chance for that, but if you just want to enjoy the sun and a little bit of adventure, there's plenty of that too.
Know Before You Go
The closest airport is the smaller Jack Edwards National Airport that is just minutes away from the shores but will most likely find the best options at the Pensacola International Airport one hour away.
Average springtime temperatures are mid 70s during the day and mid 50s at night.
Be sure to pack beach gear as well as warmer options for nighttime.
You can get around town by car or taxi; there is no public transportation system, nor is there a beachside boardwalk.
Alcohol is not allowed on the beach from early March until mid April
Be wary of alligators; while not a major threat, it is possible that you will see them.
Any open fire will require a permit.
Things to Do in Gulf Shores, Alabama
Escape to Gulf State Park- The more secluded two miles of beach and campground are ideal for swimming, hiking, biking, reading on the beach on Gulf State Park.
Join the Crowds at Gulf Shores Public Beach – The more popular Gulf Shores Public Beach is the place to go to feel the party vibe; this spot also has pavilions and picnic areas.
Slip and Slide at Waterville USA – The 20 acre water and amusement park is an easily accessible 1/4 mile from the beach and will add a little adventure rush to your beach-lazing.
Zipline at the Gulf Adventure Center – Soar above the water on a zipline, kayak, paddleboard, and even have a picnic at the Gulf Adventure Center.
Drink at Orange Beach – A short taxi ride away to Orange Beach where you can let loose at the country's most famous beach bar, the Flora-Bama Lounge that has five live music stages and multiple beach front bars to have a drink and watch the sunset.
Party at The Hangout- Enjoy the live music, oyster cook offs, fire pits, and tasty food and drinks at The Hangout.
South Padre, Texas for Spring Break Island
South Padre knows it does spring break well, so well its marketing campaign suggests reasons (lies) to tell your parents when you want to ask them if you can go!
Expect stretches of beaches along the Southern most part of Texas on the Gulf, late night partying and dancing and drinking competitions.
South Padre is one of the best beaches in the US for lovely sands and entertainment.
Things to do at South Padre
Make friends drinking funnels and playing beer pong on the beach.
Cool down with frozen cocktails.
Hit up Louie's Backyard for all you can eat ribs and seafood
Check out Laguna BOB for seafood, burgers and a full bar at a laid-back waterfront deck.
Watch live DJs are the open air Tequila Sunset.
Beach hop along Texas best beach towns.
South Padre also features in our best places to visit in the US in July guide.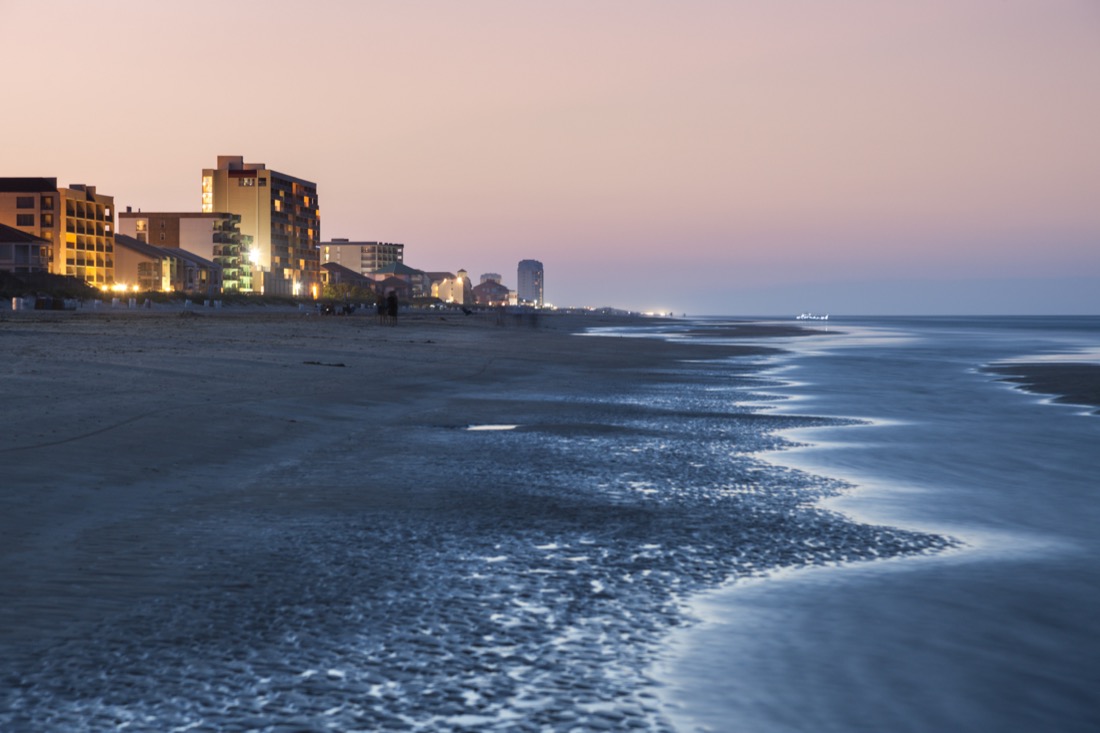 Grand Oasis, Cancun in Mexico for Group Fun in the Sun
If you and your friends are planning a to fly out of the States for your spring break, consider Cancun.
Join hundreds of other college students at the number one spring break resort, the Grand Oasis.
This party resort has 1,500 rooms, 8 restaurants and 8 bars onsite so you never have to leave.
Expect basic rooms, huge pools which are quiet in the morning then filled with people parting by afternoon, and entertainment such as DJs and drinking competitions.
The Grand Oasis is not for spring breakers looking for a relaxing holiday in the sun so prepare your liver and remember your cool cup.
Enjoy temperatures from 72°F to 83°F.
Things to do in Cancun while on Spring Break
Get to know the other holiday-makers over a beer or ten.
Take part in the drinking competitions.
Lose a night at the infamous Coco Bongos watching singers, acrobats and performances.
Enjoy drinks at a beach front bar.
Do this day trip to see ruins and swim in cenotes.
Consider this catamaran tour but only if you're not hungover.
Best Places to go for Spring Break for Outdoor Adventures
Stowe, Vermont for Skiing
Some people prefer bathing suits and sandy beaches for their spring break getaway, but if that's not what you're after, a trip to Stowe, Vermont, is about as polar opposite as it gets!
Most people head to Stowe, which is about two and a half hours north of Concord, for all sorts of fun in the snow and to get the last little bit of winter before the sun melts it all away.
Outside of winter sports, Stowe is a charming small town with lots of local amenities that the locals and visitors all love; it is definitely one of the best spring break vacations for college students who love small towns and winter sports.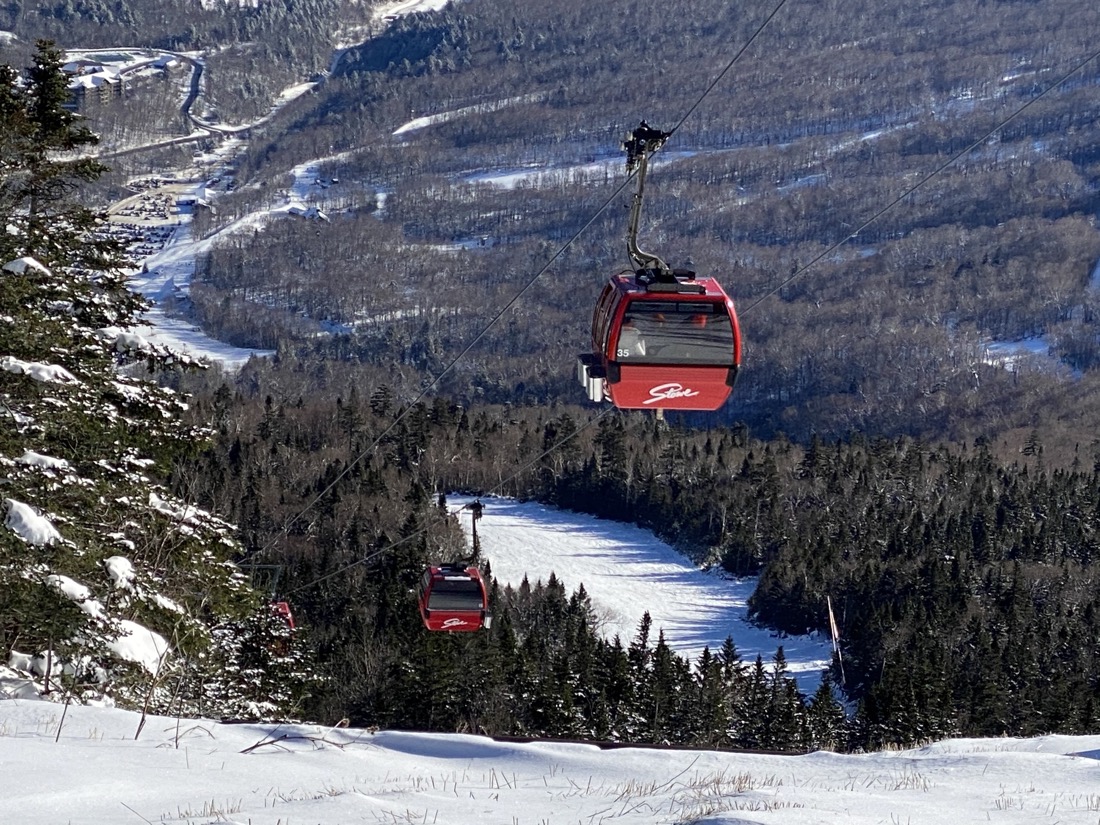 Know Before You Go
The closest airport is Burlington International Airport which is 40 minutes away.
Average springtime temperatures are mid 30s during the day and low 20s at night.
Be sure to pack lots of layers, sturdy footwear for muddy grounds, ski pants/jacket, winter coat, thick socks.
You can get around town by car (but there is only one car rental service in the town), taxi, or bike, which are easy to rent.
Decent snowfall can still occur; plan your transportation accordingly.
Things to Do in Stowe, Vermont
Go Skiing on Stowe Mountain Resort – With two mountains, Mount Mansfield and Spruce Peak, 116 trails, and 12 lifts, the Stowe Mountain Resort is an east coast skiing staple.
Visit the Village at Spruce Peak – You can ice skate, shop, eat, drink, and immerse yourself in the life of the locals at The Village at Spruce Peak, plus they often have events and other fun activities throughout the year.
Learn About Maple Sugaring – Maple sugaring season kicks off from February to late March, and you can head to the local sugar houses around the area to see how it's done (and get a sweet souvenir)
See the Vermont Ski and Snowboard Museum – Can't get enough of the winter sports life? The Vermont Ski and Snowboard Museum collects, preserves, and celebrates Vermont's skiing history.
Visit Historic Downtown Stowe – The quintessential New England town, Stowe has so many cute cafes, little boutiques, hidden gems, and delicious restaurants that will make you want to spend a whole day exploring.
Go to the original Ben and Jerry's- Tour their factory, grab your favorite ice cream flavor and see the Flavor Graveyard, where you can reminisce about all of the discontinued flavors you once loved.
Tour the Trapp Family Lodge – The Von Trapp Family of The Sound of Music fame settled in Stowe upon fleeing Austria and opened up this lodge that you can visit or stay in – the family still owns and operates it too!
Take a Local Brewery Tour – Spend your afternoon tasting the best beers, ciders, and spirits of Stowe in the most popular sports in the area; relax while someone else drives you around, including hotel pickup and drop off – get your tickets here.
Cumberland Island, Georgia for Camping
Two hours south of the metropolitan Savannah, Georgia, Cumberland Island is a barrier island that is home to undeveloped beaches, marshes, forests… and mansions!
Cumberland Island is a popular destination for day trips from nearby towns and cities and for those who want to camp and get away from the bright lights and big cities and surround themselves with the wilderness and the sea.
This also makes for a very affordable trip; for the cost of the ferry and a camping permit, and your own camping gear + supplies, you can spend up to a week here under the sun and stars.
If you're looking for spring break ideas that won't break the bank and will give you access to nature, look no further.
Know Before You Go
The closest airport is Jacksonville International Airport, about one hour away.
Average springtime temperatures are in the mid 70s during the day and high 50s at night.
Be sure to pack sunscreen, food, water, insect repellant, sturdy shoes, layers for the evening, and all of your camping gear; there are no restaurants or shops on the island.
You can get around the island on foot or bike; rentals are available on the island, but if you choose to bring your own, you will need to prepay a fee to bring them onto the ferry.
There are no amenities on the island, so bring everything you need with you.
The island is only accessible by ferry crossing at St. Mary's; the ferry costs $28 for adults, and you need to be there 1 hour before departure time.
It costs $10 for adults to enter the park; entry fees are valid for one week.
Camping requires a reservation that can be made up to 6 months in advance; it costs between $9 and $40 per night depending on which site you camp at and how many people are in your group, and campers can only stay for up to 7 consecutive nights.
Fishing regulations require anyone over 16 to have a Georgia Fishing License, and a Saltwater Information Program Permit (SIP) is required if you intend to saltwater fish.
Swimming is permitted but at your own risk; there is no lifeguard on the island.
Things to Do in Cumberland Island, Georgia
Live Like a Carnegie- Tour the 22,000 square foot Plum Orchard Mansion, once owned by a Carnegie, for free to see what life was like in the Edwardian High Society of the early 20th century.
See the Dungeness Ruins- Once a 35,000 square foot mansion, the Dungeness Mansion caught fire in 1959 and is now viewable as ruins as remains a popular destination, especially due to the feral horses which people often see here.
Head for a hike – The island has over 50 miles of hiking trails; the 4.5 mile Southend Loop will take you through the forest, and into the beach is the most popular trail.
Enjoy the beach- This 17 mile beach is undisturbed by docks, houses, or amenities; it's a great chance to enjoy the calm and serene life of the island.
Get Spooky in Savannah- On this pub crawl & ghost tour in nearby Savannah, your group can crawl your way through the most haunted city in America, stopping off at various pubs along the way; get your tickets here.
Bozeman, Montana for Small Town Mountain Life
In between the state capital of Helena and Billings (about a 2 hour drive either way) is the small town of Bozeman, Montana, which packs a big punch, and you'll quickly see it's one of the top college spring break destinations.
Initially popularised by the Gold Rush in the late 19th century, today most people visit Bozeman to see the nearby Yellowstone National Park but, this town has so much of its own to see and do it needs to be a destination all of its own.
Especially popular with the beer loving outdoorsy crowd, Montana is home to the most breweries per capita in the country and thousands and thousands of hiking trails with the best views.
Know Before You Go
The closest airport is the Bozeman Yellowstone International Airport, which is only 15 minutes away.
Average springtime temperatures are low 50s during the day and high 20s at night.
Be sure to pack sturdy shoes, a waterproof jacket, bear spray for outdoor activities, swimwear for the hot springs, and comfortable layers for exploring the town.
Leave no trace; pick up after yourself to leave the beautiful nature undisturbed by humanity.
Keep to the trail when hiking; the trails are there to protect vegetation, wildlife and keep you safe.
The weather is known to be very unpredictable, so it is best to be prepared for anything.
You can get around town by car, bus (Streamline Bus a free service that goes throughout the town), taxi, scooter rental, or on foot or bike in the more local areas.
Things to Do in Bozeman, Montana
Explore Yellowstone National Park- Only an hour and a half away is the first national park in the world; Yellowstone is 2.2 million acres of wildlife, active geysers, and beautiful scenic views.
Check out the Museum of the Rockies – If you've got a dino lover in your troupe, you have to go to the Museum of the Rockies; it has the country's largest collection of dinosaur fossils along with various other exhibits and a planetarium.
Enjoy the Bozeman Hot Springs – Relax after a long day hiking (or shopping) in one of the 12 indoor and outdoor naturally heated or cooled pools in the Bozeman Hot Springs filled with minerals to rest and rejuvenate you.
Walk Down Downtown Bozeman – Chock-full of locally owned businesses, you can spend ages wandering in and out of the shops, boutiques, restaurants, and cafes to get a taste and feel of local life.
See a Waterfall – After a short, easy walk, you will find the stunning Palisade Falls, which are popular in the warm and cold months.
Go Hiking – The M Trail is named for the giant M on the sound of the mountain; it has three options to get there in various levels of difficulty.
Make Your Own Bar Crawl- Bozeman has dozens of bars, eight breweries, three distilleries, and a winery, cidery, and meadery; explore the city until you literally can't drink anymore.
Bozeman Art Museum – The city's only fine arts museum, along with its permanent collections, the Bozeman Art Museum also has workshops, exhibits, lectures.
Sedona, Arizona for Wellness & Hiking
Some believe Sedona has "vortex" areas that are filled with energy that are said to be healing and meditative, and thousands come each year to see for themselves.
If mid-terms have you stressed out, or you're changing your major for the third time, or you just need to find a little zen, a trip to Sedona can give you what you need.
Year round warm weather, dozens of unique art shops and galleries, tons of options for outdoor adventures make this one of the great spring break destinations.
Know Before You Go
The closest airport is the Flagstaff Pulliam Airport, about a 40 minute drive away; you can also get there from the Phoenix Airport Center, but that's two hours away.
Average springtime temperatures are mid 70s during the day and low 40s at night.
Be sure to pack light layers for nighttime temperatures, sturdy shoes for outdoor activities, and hiking layers such as insulation and a waterproof shell.
You can get around town on the Verde Lynx bus service, bike, or by car; on foot is not recommended.
This is Sedona's busiest season, so book all attractions and amenities as soon as possible.
If you plan to hike, you'll want to arrive at your destination by 7 am to avoid overcrowding.
Download maps of the trails if possible to avoid getting lost if you lost cell service.
Things to Do in Sedona, Arizona
Go hiking – There are endless hiking options, and all of them more beautiful than the last, you really can't go wrong with any of these trails, but some of the most popular ones are
Devil's Bridge Trail, Oak Creek Canyon, Broken Arrow Trail, and Boynton Canyon Trail
Drive Down Red Rock Scenic Byway – If you've got a car, the Red Rock Scenic Byway is a must do activity; it is 16 miles of gorgeous red rock scenery with pull off areas for photo ops or mini explorations.
Get a Souvenir at Tlaquepaque Arts & Shopping Village – For 50 years, the Tlaquepaque Arts & Shopping Village has been the "art and soul of Sedona"; authentically designed as a traditional Mexican village, you'll find dozens of specialty shops and galleries.
Find Zen in Amitabha Stupa & Peace Park – The free park is frequented for spiritual experiences; it is home to many spots for reflection and meditation, two Buddhist stupas, a Native American medicine wheel, and a wooden statue of Shakyamuni Buddha.
Learn About the Navajo Nation- The Navajo Nation Museum is a great place to go to learn all about their culture, language, history, and sovereignty.
Sedona Heritage Museum – In Jordan Historical Park, the Sedona Heritage Museum is the best place to learn about the history of this city; their exhibits range from early settlers, ranching & cowboys, the orchard industry, movies made in Sedona and Sedona Schnebly.
Take a Guided Tour of the Sedona Vortexes- Experience the spiritual energy of the Sedona vortexes with your group, where you will learn why they are so heralded for their healing properties; get your tickets here.
Fun Places to go for Spring Break for Food, Drink & Culture
Nashville, Tennessee for Music Lovers
In the middle of the state, two hours north of Chattanooga, lives the heart of American music.
A common misconception might be that Nashville is strictly about country music, and while there are a lot of country roots there, this city also has classical, blues, pop, rock, and more, definitely something for everyone.
If you somehow get bored of all the music-themed attractions (not really sure how that's possible), there's actually so much you'll love that you'll rant about how it is one of the best places to visit for spring break.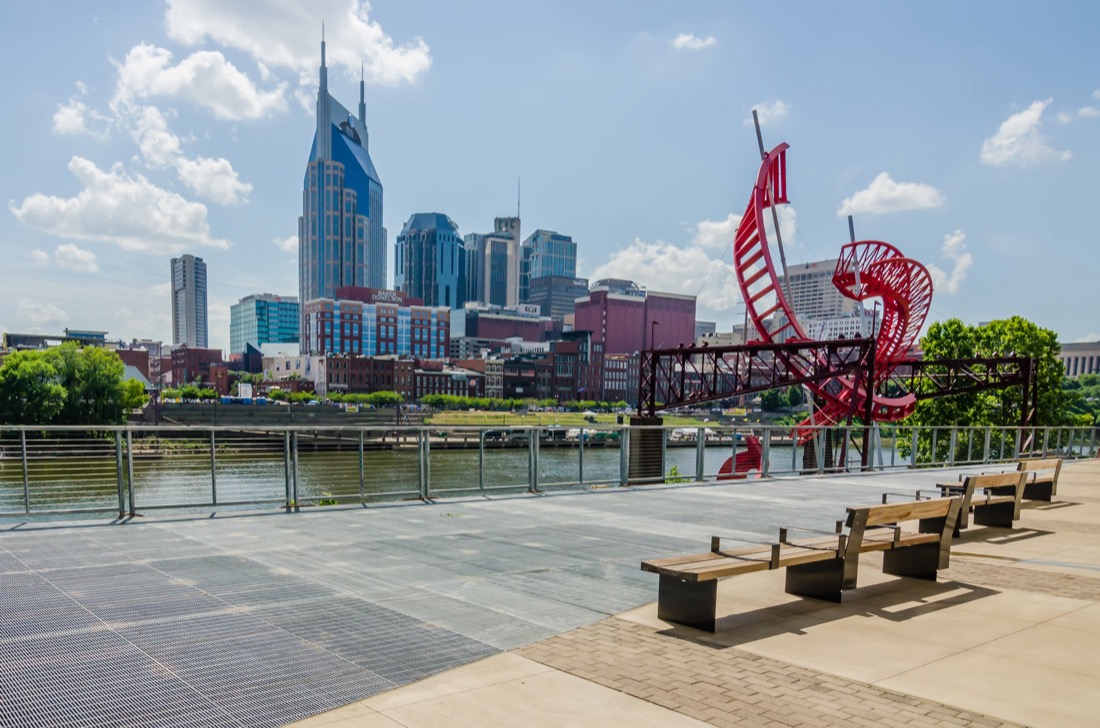 Know Before You Go
The Nashville International Airport is the city's closest airport, which is just minutes away from all the action.
Average springtime temperatures are the high 60s during the day and mid 40s at night.
Be sure to pack options for warmth during the day and cool at night; versatile items that can be layered are best.
You can get around town by cab, Music City Circuit bus, golf carts (downtown only), hop on hop off bikes, electric scooter, car, and by foot in the downtown areas.
There are often celebrity sightings so keep your eyes peeled but be respectful of their space and peace.
Skip the cowboy hat – it will out you as a tourist immediately!
Things to Do in Nashville, Tennessee
Go to the Home of Country Music – You can see a show or take a daytime or post-show tour of the Grand Ole Opry, home to the longest-running radio broadcast in US history.
Hangout in Downtown Nashville – You'll be spoiled for choice; there are events, concerts, shows, art and gallery openings, games, and more to keep you entertained all day long in downtown Nashville.
Johnny Cash Museum – Johnny Cash fans cannot visit Nashville and not spend some time at the Johnny Cash Museum – and even if you aren't, this museum has been ranked as the top music museum, so you'll still find something to enjoy. 
Marathon Village – The former Marathon Motor Works Marathon Village is now a turn-of-the-century community full of retail space, small businesses, and even a bourbon distillery!
Nashville Parthenon – In the middle of Centennial Park stands a full-sized replica of the Parthenon in Athens with a 42-foot sculpture of Athena inside.
Ole Smoky Distillery & Yee-Haw Brewery- The combined distillery and brewery are a favorite spot for their beer garden, moonshine tastings, live music, and events.
Nashville Country Music Hall of Fame and Museum – This museum is full of photos, recordings, limited-time exhibitions, and more that tell the story of American country music; get your tickets here.
Learn about the violent reality of slavery at Belle Meade during the Journey to Jubilee tour.
Find out more about the city in our Nashville in fall guide.
Philadelphia, Pennsylvania for a City Break
Philadelphia is a central city, only 20 minutes from the Delaware border and 15 minutes from the New Jersey border; it's a popular spot for a city break.
It's a city shrouded in culture, history, art, and really good food, so it's unsurprising that it is one of the best places to go for spring break.
Know Before You Go
The Philadelphia International Airport is just minutes away from the city.
Average springtime temperatures are low 60s during the day and low 40s at night.
Be sure to pack a raincoat and comfortable shoes for all of the walking and something for bar hopping at night.
You can get around town on foot, by bike, or SEPTA bus/subway.
Things to Do in Philadelphia, Pennsylvania
Get a Philly cheesesteak – Rival spots, Pat's, and Geno's are the two best known places for a cheesesteak; when you order, be sure to specify if you want it "wit" or "without" onions.
Get a pic for the 'gram- You absolutely cannot go to Philly and not get a pic for the 'gram in front of the infamous Love Sculpture.
Tour Independence hall – The birthing place of the Declaration of Independence and the Constitution, Independence Hall has to be on the itinerary.
Get a Treat at Reading Terminal Market – This indoor market was erected in 1893 and has been going ever since, visit Reading Terminal Market for baked goods, fresh flowers, local produce, homewares, and more.
Stroll Along the Delaware River Waterfront – The Delaware River Waterfront is a great spot to visit and people watch, but also to dine with scenic views and partake in the local events that frequently pop up.
Get Cultured at the Philadelphia Museum of Art – Not only is the Philadelphia Museum of Art home to 200 galleries, but it is also the spot for the iconic Rocky Steps!
Elfreth's Alley – This historic street dates back to 1703, and then walking down it and seeing the 32 homes there are like taking a step back in time; bonus points- it's very close to the Betsy Ross House.
Get Scientific at The Franklin Institute – An interactive science museum, The Franklin Institute's exhibits, planetarium, and events cater to visitors of all ages (and many just for adults!)
Guided Philly Tour with Tasting & a Meal – Spend your day traveling to some of the best breweries with an expert guide learning about the best of Philly in between stops and finishing off with a delicious meal; get your tickets here.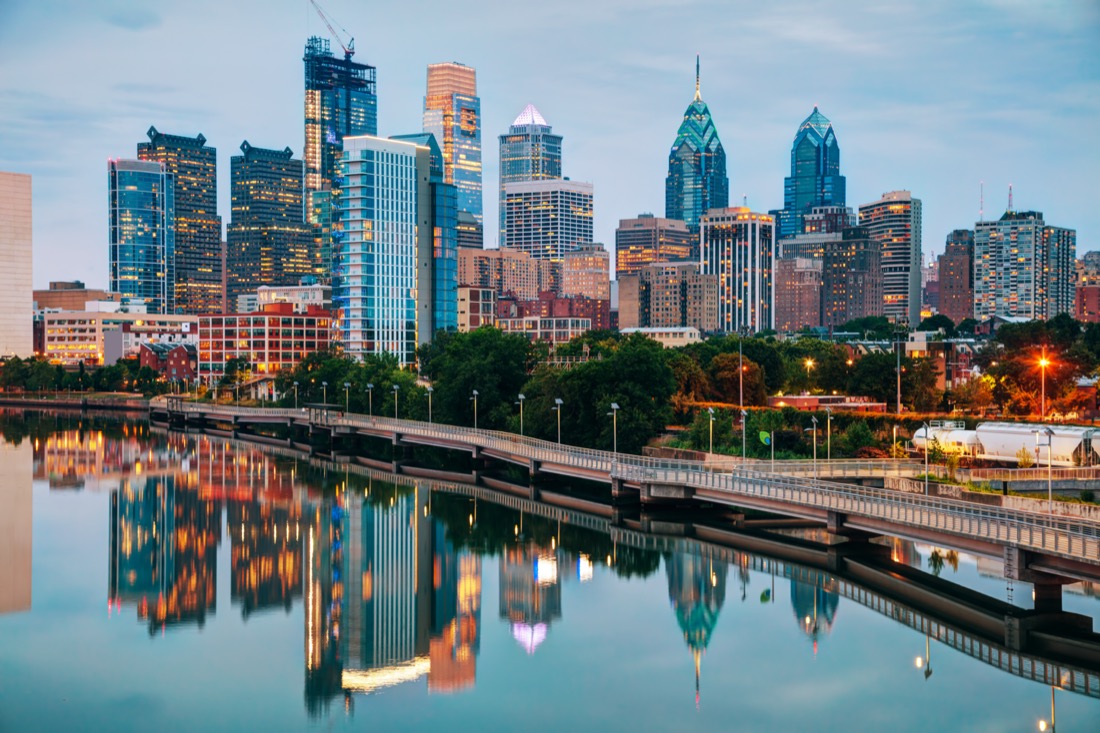 Baltimore, Maryland for American History
Charm City is only an hour north of Washington DC but has its own unique culture and feel.
A trip to Baltimore is so much more than eating Maryland Blue Crabs with Old Bay seasoning, Bohemian beer, and getting called "hon" (although those are some of the best parts); it's actually a historic epicenter for the country – this is where the national anthem was written.
Where else can you be steeped in American history, have drinks and eat fresh-caught seafood on the water, catch a baseball game, AND find amazing arts and culture?
You'll find out the answer to that on your spring break trip to Baltimore.
Know Before You Go
The closest airport is the Baltimore Washington International Airport, only about 15 minutes outside of the city center.
Average springtime temperatures are low 60s during the day and high 30s at night.
Be sure to pack light layers, including a raincoat or an umbrella and a good coat for nighttime.
You can get around town via public transportation options such as a bus, subway, light rail, and train, as well as by taxi or car or on foot in the downtown areas.
It is good to be vigilant with yourself and your belongings, particularly if you are alone or at night.
Things to Do in Baltimore, Maryland
See the iconic Mount Vernon Place – You can't miss the famous Washington Monument in the middle of downtown Baltimore; while you're there, you can explore the popular area.
Check out Lexington Market – The Lexington Market has been thriving for over 225 years and is now hosts nearly 100 independent eateries where you can find authentic Baltimore dishes and other tasty food.
Chow on a Crabcake Sandwich – Inside of Lexington Market, you'll find the family owned Faidley Seafood where you can get one of Baltimore's favorite crabcake sandwiches – be sure to add some Old Bay seasoning!
Watch a Baseball Game- Grab Baltimore's favorite beer, National Bohemian (known as Natty Bo) and, see the Orioles play at Camden Yards.
See the Inner Harbor- The most popular sport in the city, the Inner Harbor posts scenic waterfronts, bars, museums, restaurants, and more; find a spot with a view and a glass of wine to watch the sunset, catch a show, or try (another) crab cake.
Learn the Maritime History – The Historic Ships of Baltimore is a floating museum; step about the U.S.S. Constellation from the Civil War to learn all about this long history in Baltimore.
Fells Point Walking Food and History Tour- Eat & drink your way through the neighborhood on this tour (including the famous Baltimore crabs) while you see the most well-known spots and some hidden ones too, get your tickets here.
Asheville, North Carolina for Arts, Beer, Culture & Nature
Don't want to trade stunning outdoor scenery for some quirky and very cool artistic vibes?
Asheville is definitely one of the top places to go for spring break to get the best of both of those worlds.
The US's beer city is an obvious choice for students who love craft beer.
Asheville is two hours west of Charlotte, NC, and only an hour away from the Tennessee border, a great place to stop off if you're heading west to the Great Smoky Mountains National Park.
Still, we recommend spending at least a long weekend here – if not longer.
Know Before You Go
The closest airport is the Asheville Regional Airport that is 20 minutes away from the city, but if you can't get a flight there, the Greenville-Spartanburg International Airport is just over an hour away.
Average springtime temperatures are low 60s during the day and low 40s at night.
Be sure to pack warmer layers for nighttime and insect repellant if you plan to venture further out into nature.
You can get around town on the historic trolley, bus, taxi, car, bike, or by foot in the downtown area.
Beware of bears, especially when hiking; they live in the mountains surrounding Asheville and have been seen in the city from time to time.
Things to Do in Asheville, North Carolina
Craft beer hop between Hi-Wire Brewing, The Funkatorium and many other breweries in Asheville.
Check out live music at Isis Music Hall, The Orange Peel or Boiler Room.
Enjoy a boozy breakfast with music at Jack's Bluegrass Brunch
Drink by the water at The Getaway dive bar

Guided bike tour – Spend a few hours on an electric bike seeing the amazing scenery and architecture of Asheville and learn the stories behind it all;

get your tickets here

.

Pisgah National Forest for day hikes in the stunning Appalachian Mountains.
See America's largest home – The Biltmore estate was established in the late 1800s and has 250 rooms, including 35 bedrooms, 43 bathrooms, and 65 fireplaces; you can tour the home and the gardens.
Wander Biltmore Village – With cobbled streets flanked by boutiques and restaurants, Biltmore Village is like a step into a quaint English village surrounded by mountains.
Biltmore Village McDonald's – Usually, people try to try new things when they go on vacation, but you absolutely have to visit this McDonald's; it is adorned with chandeliers, a self-playing baby grand piano, and a fireplace it's well worth the happy meal.
Visit the Local Art Scene – The River Arts District is full of hundreds of artists who practice everything from basket weaving to sculpting to ceramics; you can see their studios and buy their works here.
The Folk Art Center – See live demonstrations and view the exhibitions and galleries of the clay, wood, jewelry, leather, glass, and more and grab some of your favorites to take home at the Folk Art Center.
Grovewood Village – Eleven acres of gorgeous scenery surrounds Grovewood Gallery, Estes-Winn Antique Car Museum, and the Biltmore Industries Homespun Museum.
Las Vegas, Nevada for the High Life
Situated at the bottom of the state makes Las Vegas easily accessible from so many places; it is only 40 minutes from the Arizona and California borders and an hour and a half from the Utah border; but no matter which direction you come from, you'll spend that time driving through the desert.
It's not very hard to convince people why they should visit Las Vegas; drink and dance, gamble and party, watch a show, walk the strip, see some magic and hopefully strike rich!
So when you're looking for fun places to go for spring break, you know to add Vegas to that list.
Know Before You Go
The closest airport is the McCarran International Airport, which is only 15 minutes from the city center.
Average springtime temperatures are high 70s during the day and mid 40s at night.
Be sure to pack sunscreen and a variety of clothes to accommodate for the cold desert nights.
You can get around town by taxi, bus, or by the Monorail or foot if you're on the strip.
"Downtown" and "The Strip" aren't interchangeable; Downtown is in the City of Las Vegas, north of the Strip, and the Strip is Clark County, and they're about a 10 minute car drive apart.
Alcohol is allowed but must be drunk from a plastic cup; glassware or cans are not allowed on Fremont Street.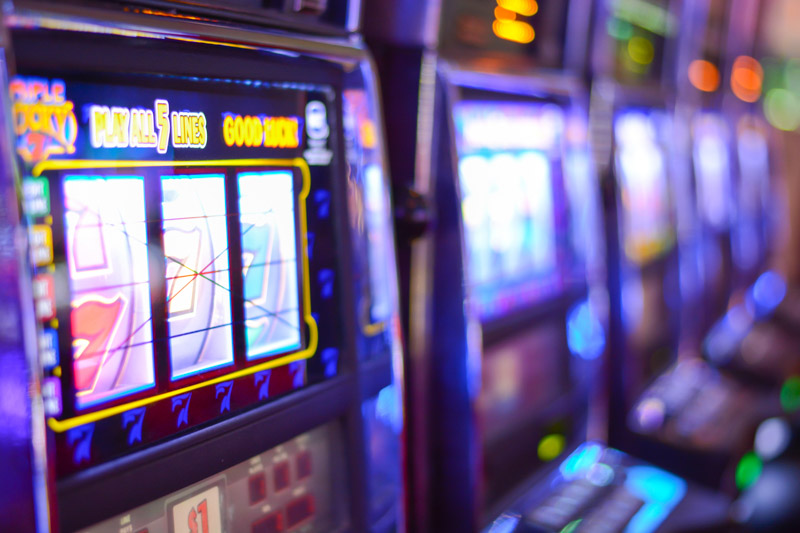 Things to Do in Las Vegas, Nevada
Walk Around the Fremont Street Experience – The Fremont Street Experience has nightly live music, the SlotZilla zipline, get amazing food and drinks, watch the night Viva Vision Light Show, and more!
Bellagio Fountain Display- With regular shows at 15 or 30 minute intervals, the Fountains of Bellagio are an iconic Las Vegas sight, and while you're there, head in to try your hand at the casino.
Head High on the High Roller – Take a ride up into the sky and see the city from a different view; the High Roller is 550 feet high and the largest observation wheel in North America.
Chill at a pool party with live DJs
Ladies! Take advantage of the free coverage at many of the Vegas nightclubs

See the Mirage Volcano -Before you test Lady Luck at The Mirage, check out The Volcano, erupting every hour on the hour nightly from 7:00 to 11:00

The Strip – The most well known and iconic part of Las Vegas, The Strip is home to upscale casino hotels, concert venues, restaurants, bars, attractions, shops, and anything else you could possibly want.
Downton Vegas – The city's historic center and home to the Fremont Street experience, shopping, Arts District, Financial District, performing arts venues, museums, and more.
Eiffel Tower Viewing Deck- You don't have to go to Paris to get to the top of the Eiffel Tower; see the strip all lit up from the viewing deck; get your ticket here.
Only have a few days, this 3 day Vegas itinerary is perfect.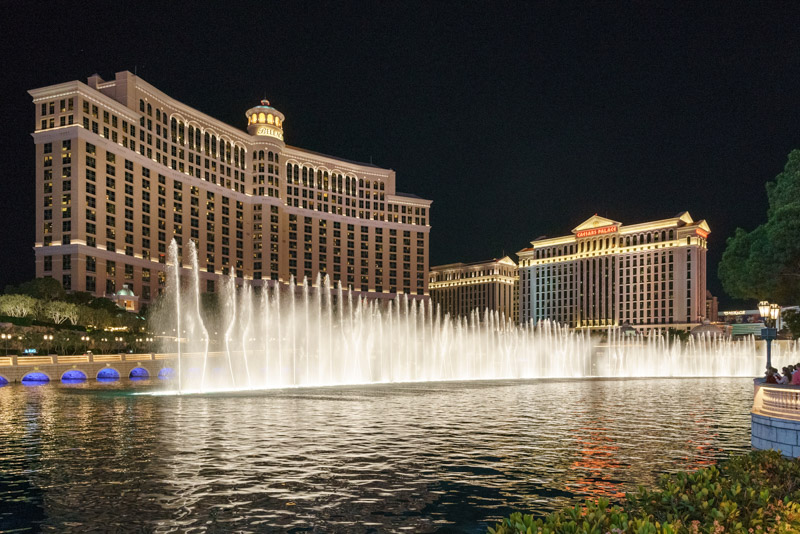 Final Thoughts
When you're ready to start plotting spring break trip ideas with your roommates and can't seem to choose a spot, pull out this guide and see if there's something to make everyone happy.
Stick with the classic beach scene or opt for a city break or break out of the norm and go for a town in the mountains; you're sure to have the best spring break trip if you choose one of the destinations in this guide.
Check out this guide for more ideas of places to go in April.