This article has links to products and services we love, which we may make commission from.
Visiting New Orleans in fall is always a great idea as the temperatures become milder at around 70℉ or 60℉ in October and November.
Located at the base of the Mississippi River, the city is one of the oldest in the United States and is filled with a rich history.
It has a unique blend of French, Spanish, and African-American influences, making it a distinct place to experience during the autumn months.
Nicknamed The Big Easy and the Crescent City, it is known for many things, including extravagant Mardi Gras celebrations, Voodoo, delicious Creole and Cajun cuisine, and the birth of Jazz.
The following list will explore things to do in New Orleans during the fall season, including outdoor activities, indoor attractions, food, and festivals.
You can even find unique things to do in NOLA during your visit.
Top New Orleans Activities to Do and See in Fall
Here are our top picks for activities to enjoy in the fall.
New Orleans also made it to our list of the best places to visit in November in USA for its food, drinks and fun.
Visit the Garden District For History and Decorations
The Garden District is one of the most beautiful places in New Orleans in October.
The streets are filled with beautiful twisting old oak trees and intricately crafted mansions.
The Garden District also contains the historic Lafayette Cemetery No. 1.
See all the Garden District has to offer and even enter an old mansion with a half-day tour.
It is also where the St. Charles Avenue mansions go all out for Hallowe'en decorations!
You've maybe seen The Skeleton House (6000 St Charles Ave) on social media, so now you can see it in real life!
Also, The Buckner Mansion (1410 Jackson Ave) was featured in the hit TV show American Horror Story.
See City Park's Fall Garden Festival
City Park (1 Palm Dr.) is a huge, beautiful park that has existed since 1850.
It's one of the largest parks in the US and features bridges, ancient oak trees covered in Spanish moss, and water features.
The 1,300-acre park includes attractions like the New Orleans Botanic Garden, the New Orleans Museum of Art and Sculpture Garden, Golf, Carousel Gardens, Storyland, and a Train Garden.
During the fall season, the annual Fall Garden Festival is held at the park's New Orleans Garden, featuring plant and garden exhibits, children's activities as well as and educational programs for gardeners of all levels.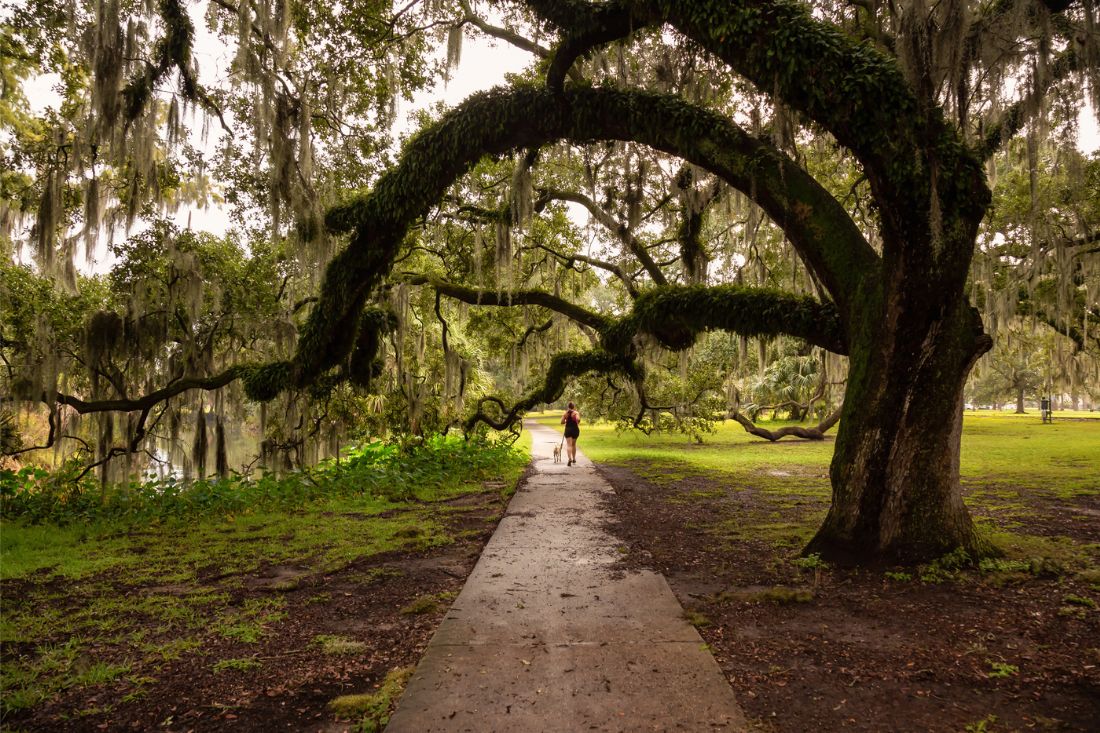 A Spooky Cemetery Tour
Touring an old cemetery is the perfect fall in New Orleans activity.
New Orleans cemeteries have been around since the late 1700s, and now, there are 42 cemeteries in the New Orleans area.
Some of the oldest cemeteries include St. Louis Cemetery No. 1 (425 Basin St) and Lafayette Cemetery No. 1 (1427 Washington Ave).
Many famous people are buried within the old cemeteries like in St. Louis, including Voodoo Queen Marie Laveau.
The oldest cemeteries in the city can only be seen through a guided led tour.
Take a 2-hour night haunted city tour to see all the best spots.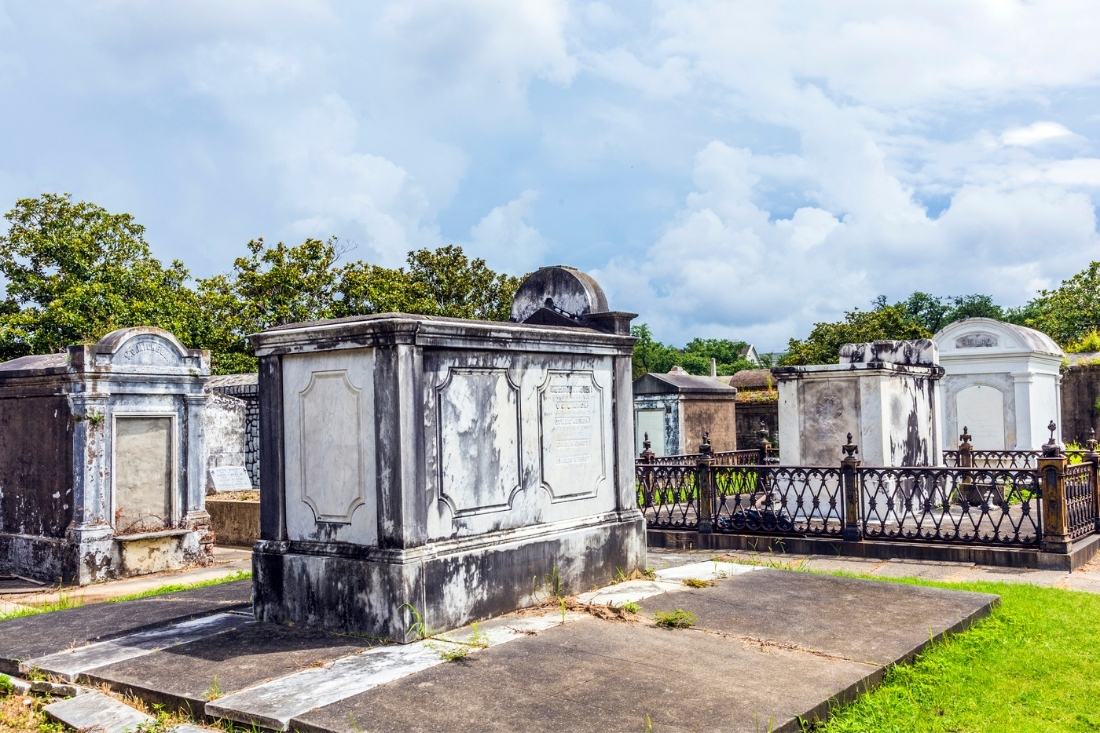 Museum of Death New Orleans
Located in the French Quarter, the Museum of Death (227 Dauphine St) features exhibitions with body bags, coffins, and skulls, as well as crime and morgue scene photography.
Its Theater of Death of plays true crime stories.
Watch a Scary Movie
If Bourbon Street at 1 am isn't scary enough for you, catch the latest release or a vintage horror movie at one of the New Orleans theaters.
Check out the Prytania Theatre (5339 Prytania St) for a classic movie house located in the Garden District.
Pumpkin Picking
Pick the perfect pumpkin at St. Andrew's Episcopal School's Pumpkin Patch.
Pumpkins line the building for picking and there is also some Hallowe'en decor around the building.
Mississippi History Cruise
Fall in Louisiana can be seen comfortably from a steamboat or paddle wheeler.
These are two iconic, authentic types of boats that made trade and travel on the Mississippi a possibility.
Now, take a tour through history aboard the Creole Queen and see some major sights like the French Quarter, St. Louis Cathedral, and the steamboat houses of the Holy Cross neighborhood during autumn.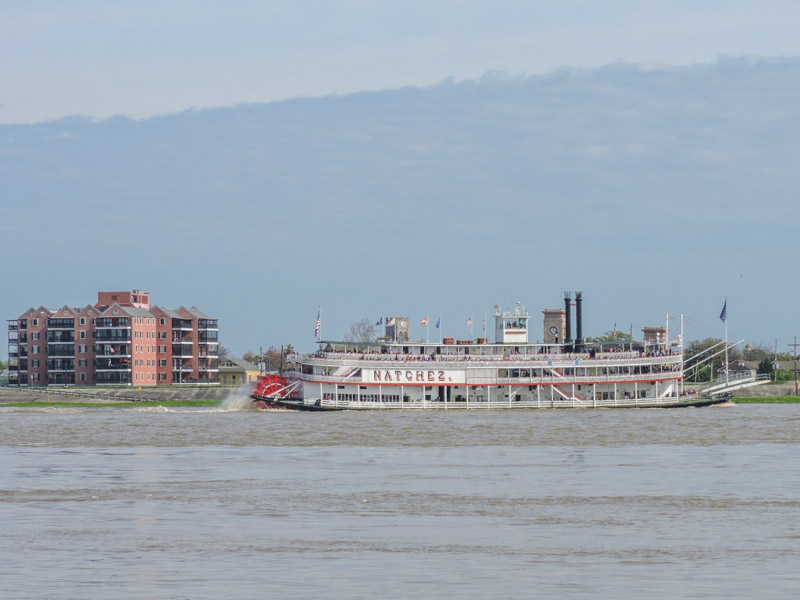 Ghosts, Vampires, & Voodoo French Quarter Tour
This 2-hour walking tour takes you through the streets of New Orleans' French Quarter while a local guide tells you stories about vampires, voodoo, and witchcraft.
This is also an excellent opportunity to learn about the rich history of New Orleans' most famous streets and to visit the neighborhood's haunted sites like the LaLaurie Mansion (138 Royal St).
Stay in a Haunted Hotel
Hotel Monteleone is known as New Orlean's haunted hotel!
It has a door in the restaurant which opens every night, even though it is locked!
The elevator is known to stop at the wrong floor, and some guests have seen ghosts of kids playing.
Would you dare?
Book your room here.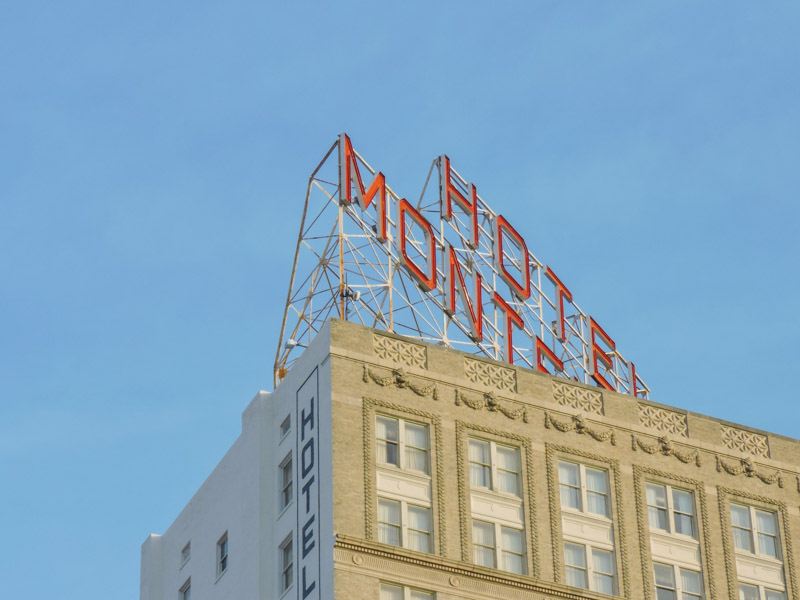 New Orleans Museum of Art Fall Schedule
The New Orleans Museum of Art (NOMA) (1 Collins Diboll Cir) was founded in 1879 and is the oldest public art museum in the United States.
NOMA's collection consists of over 40,000 pieces spanning 5,000 years, and the exhibits change frequently, so check out what's on during the autumn schedule.
It also consists of an outdoor sculpture garden which is a lovely walk during fall.
Wednesdays are free entry days which is great if you are on a budget!
Try a king croissant at the cafe for an indulgent fall treat.
Mardi Gras World
Although not fall-specific, it is worth visiting Mardi Gras World (1380 Port of New Orleans Pl) to see what New Orlean's biggest celebration is all about.
Here you will find out more about the location where the floats for Mardi Gras parades are built and decorated.
Guests can tour the 300,000-square feet warehouse and see the entire creation process, plus learn about Mardi Gras' history.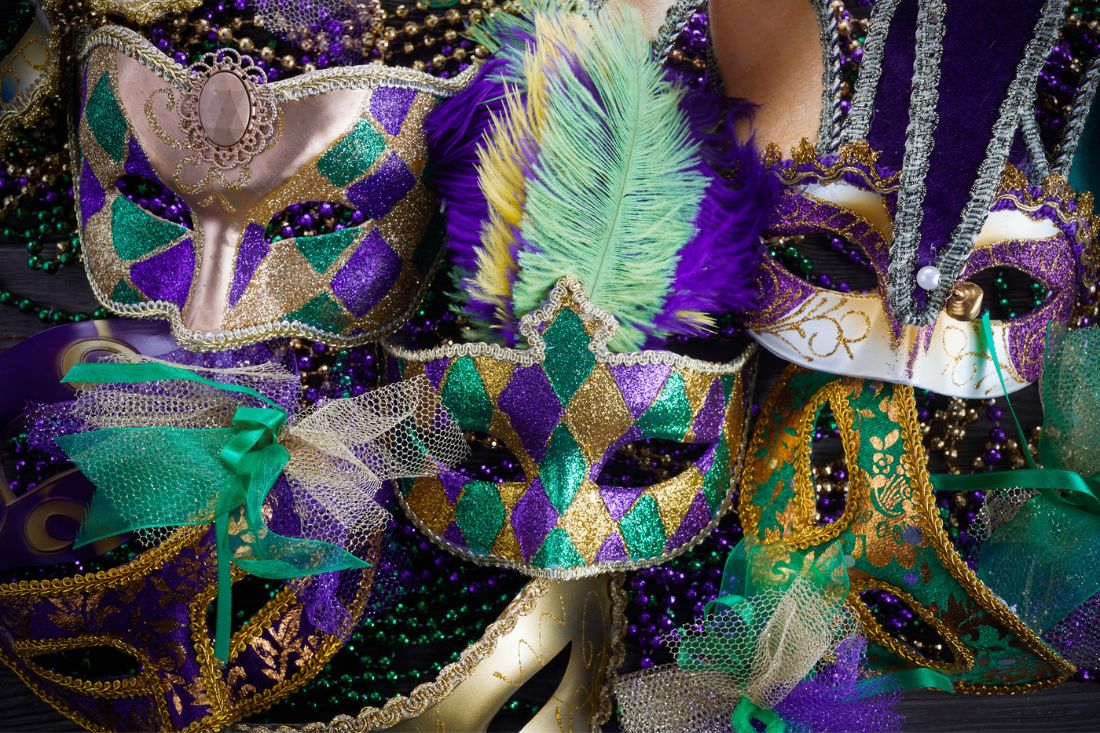 Visit the Shops of the Colonnade
The Shops of the Colonnade (1008 N Peters St), also called The French Market, is a huge market of various sellers that spans six blocks.
It was originally a Native American trading outpost that existed before European colonization.
The vendors sell beautiful handmade goods such as jewelry, clothing, and artwork.
There is also live music and great food to enjoy in this vibrant marketplace.
The French Market puts on events, so check out its fall calendar for more.
New Orleans Pharmacy Museum
The New Orleans Pharmacy Museum (514 Chartres St) is a unique museum focused on medical history.
It is located at the site of the first licensed apothecary shop and exhibits old cures that existed in the 19th century.
Today, the museum houses over 1,500 items, including antique medical equipment, rare books, and historical photographs.
A spooky thing to do in New Orleans this fall!
Pub Crawl
If you're looking for things to do in New Orleans in October, a pub crawl with all the best locations might be your most memorable night out.
In New Orleans, many older buildings that are also bars are supposedly haunted.
So, why not check it out for yourself and enjoy a cold drink while you're at it?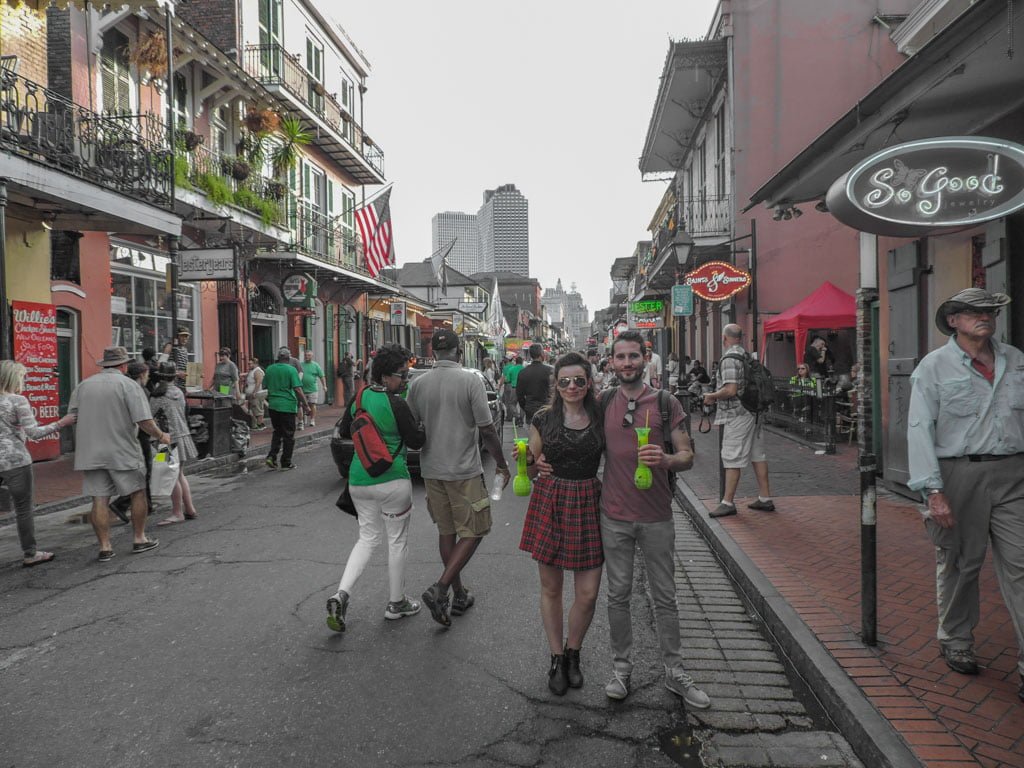 National WWII Museum
The New Orleans National World War II Museum (945 Magazine Street) is a museum dedicated to preserving the history of the American people during World War II.
The museum was established in 2000 and has striking exterior architecture.
See the history for yourself throughout the museum's over 200,000 square feet area.
Magazine Street For Seasonal Shopping & Food
Magazine Street is packed full of cafes and vintage stores, so plan lunch and a shop for seasonal souvenirs or, dare I say it, start your Christmas shopping after a visit to the museum!
NOLA has a variety of restaurants that lean into the farm-to-fork mantra for their menus, for example, the 'made-from-scratch' Le Petite Grocery (4238 Magazine St).
While we don't tend to promote chain cafes, there is a Starbucks on Magainze Street for those needing their pumpkin spice latte hit.
It is also where the Greetings From NOLA street art mural is located at 2014 Magazine St.
See a Saints Game
Fall marks the start of the Saints season, with games scheduled from September to December at the huge Mercedes Benz Superdome.
See what the hype is all about, and enjoy a game this fall.
Coffee & Beignets
Coffee and beignets are the perfect duos on a cooler New Orleans in November.
A New Orleans staple, Cafe Du Monde (848 Decatur St.) supplies both and has been known for it since 1862.
Chicory coffee has a unique flavor that contrasts nicely with the sweetness of a powdered sugar-covered beignet.
Sit in the outdoor cafe and enjoy your hot beverage and sweet treat while you take in the scenery.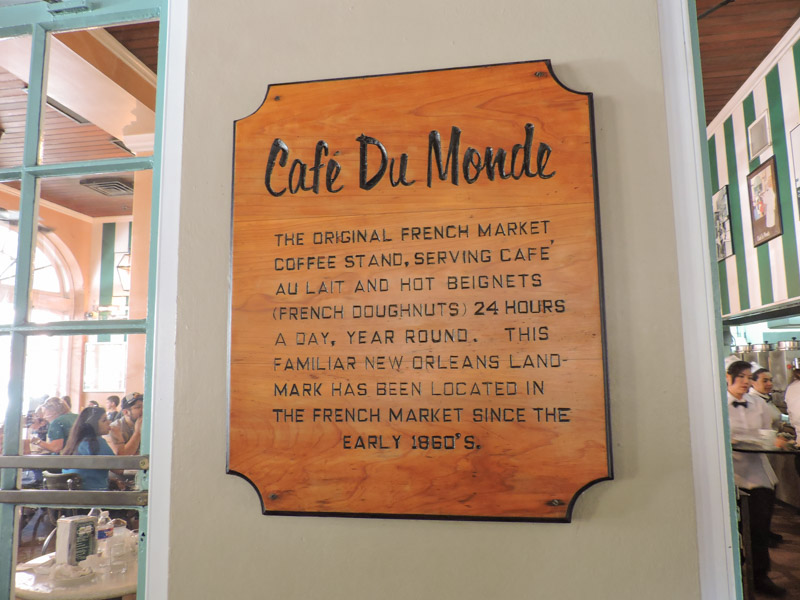 Enjoy Gumbo
National Gumbo Day is October 12th and is best celebrated in New Orleans.
Gumbo is a traditional Cajun stew that originated in the French-speaking region of Louisiana.
It is a thick soup that contains seafood, meat, vegetables, and seasonings and consists of a roux (a paste of flour and fat) base seasoned with spices and stock.
Other variations may use tomatoes, okra, peppers, or even chicken.
You can head to the Gumbo Shop (630 Saint Peter St) to taste their award-winning okra gumbo.
Court of Two Sisters Jazz Brunch Buffet
The Court of the Two Sisters (613 Royal St.) Jazz Brunch Buffet is a renowned restaurant that offers a wide variety of dishes, including breakfast, lunch, dinner, and dessert.
The menu includes items like poached eggs, omelets, pancakes, waffles, crepes, French toast, biscuits and gravy, grits, salads, sandwiches, burgers, seafood, pasta, steak, ribs, chicken, pork chops, and much more.
There is also a full bar where guests can enjoy speciality drinks and cocktails.
Both alcoholic and non-alcoholic beverages are served at the restaurant.
The Court of the Two Sisters has daily jazz brunches that are the perfect activity if you're spending autumn in New Orleans.
Eat Oysters
Delicious Gulf oysters are enjoyed year-round in New Orleans.
However, they're especially bountiful starting from September since this is when the oyster season arrives.
Prices are also lower around this time since there is a higher supply.
Visit one of New Orleans' many oyster houses or bars to partake.
Oceana Grill at Conti St and Mambo's at Bourbon Street is among the most popular spots.
New Orleans Fall Festivals and Events
This list will explore New Orleans fall events you can look forward to on your next trip.
Planning to stick around until winter? New Orleans is one of the warm places to visit in USA in December, with lots of fun and festive things to do.
Krewe of Boo
Krewe of Boo is a fun parade for both children and adults alike and has been thrilling crowds with its spooky floats for more than a decade.
Founded in 2007, the event became New Orleans' official Halloween parade.
Riders in the Krewe of Boo parade will throw various items to onlookers as they go by, like candies, toys, and other collectable items.
The parade usually starts at Elysian Fields Avenue.
Crescent City Blues & BBQ Festival
The Crescent City Blues & BBQ Festival is a wonderful free event to hear great music in New Orleans during the fall.
You'll also have access to the best BBQ vendors while you experience the genres of jazz and blues up close and personal.
It is held in October at Lafayette Square Park (602 St. Charles Ave).
This is also a great opportunity to explore the park's historic 150-year-old location.
New Orleans also made it to our USA bucket list for its jazz music.
New Orleans Film Festival
The New Orleans Film Festival is a huge event celebrating amazing filmmakers.
It is cited by the New Orleans Film Society to attract 30,000 people, 500+ filmmakers, and 240 films each year.
The event has been occurring annually since 1989 and is Oscar-qualifying.
Enjoy movies and partake in some parties throughout the festival.
Oak Street Po-Boy Festival
New Orleans is known for its Po-Boy (Poor Boy) sandwich.
It is a delicious sandwich served on french bread and filled with your choice of meat, usually roast beef, fried shrimp, or even oysters.
Then, they're piled high with lettuce, tomatoes, and pickles.
Try all the different styles of this mouth-watering delight from over 30 vendors at the Oak Street Po-Boy Festival.
There's also great live music and shopping to enjoy and you learn about the history behind the sandwich.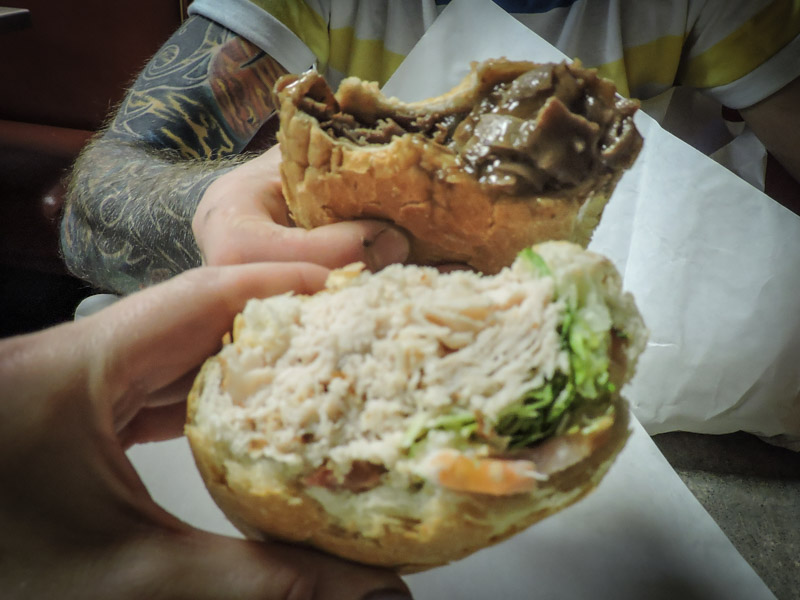 Big Easy Halloween Half Marathon & 5K
Pretend you're running for your life from a haunted house with ghouls and zombies at your tail, then use all of that adrenaline to run the New Orleans half marathon or 5k!
The race course is set up along the stunning New Orleans Lakefront, just 6.2 miles from the French Quarter!
Sign up here.
Oktoberfest
Experience Germany in New Orleans at a big Oktoberfest celebration.
Partake in the great German food, drinks, and activities while immersing yourself in the culture.
There are also children's activities like arts and crafts and games.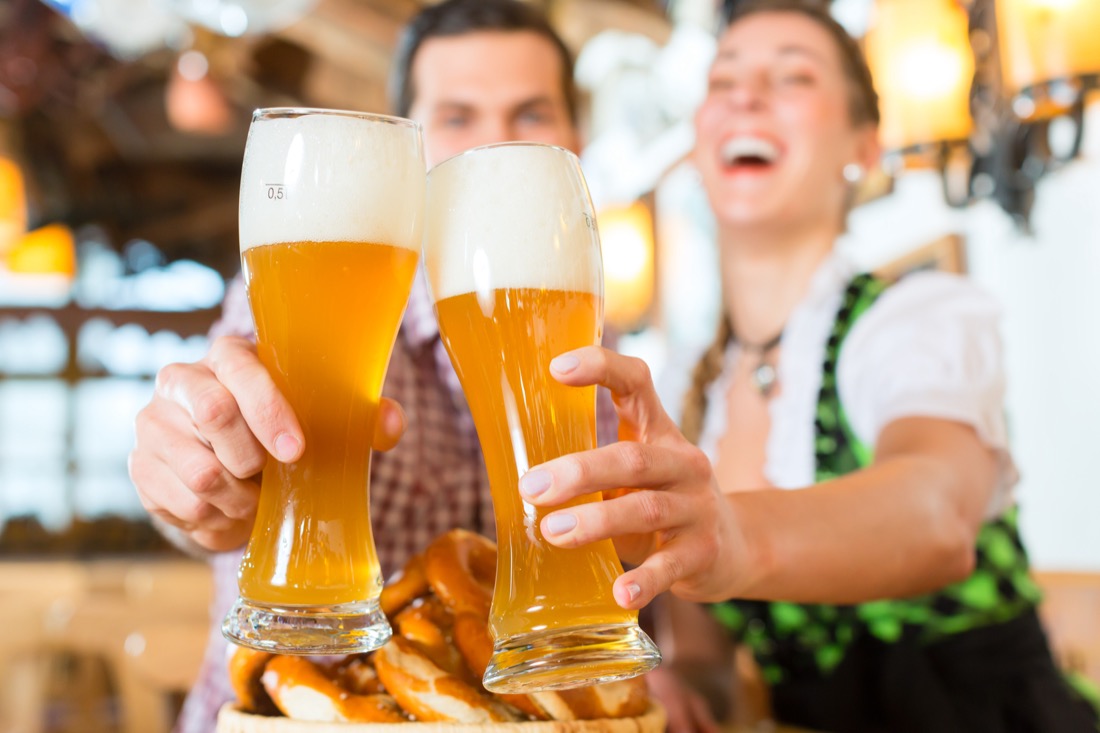 Autumn Activities Fall Foliage Near New Orleans
If you have access to a car, head out on a leaf-peeping road trip from New Orleans this fall.
You may also like our guide to the best places to visit in October in USA.
Natchez Trace Parkway
Also known as the Old Natchez Trace, the Natchez Trace Parkway takes drivers through three states, Natchez, Mississippi, Tennessee, and Nashville, during this 444 miles route.
Track the fall foliage reports to see when the best time to visit is.
Check out our guide to Nashville in the fall next.
Kisatchie National Forest
Kisatchie National Forest is Louisiana's only National Forest.
Located 190 miles from New Orleans, this recreational area boasts 604,000 acres for hiking, biking, camping, and fishing.
Final Thoughts
We hope this guide helped you plan for a fun fall getaway in New Orleans.
Share your favorite thing about fall in New Orleans in the comments below- we'd love to hear it!