This article has links to products and services we love, which we may make commission from.
Californian in fall is known for its west coast wonders—from the stunning Burney Falls in the north to the lively San Diego in the south.
The state is known for its varied landscape so there are plenty of opportunities to enjoy the changing leaf colors and cooler temperatures.
To help you plan your trip, this guide will explore the fun activities during fall in California, including the best places to see the foliage, routes for fall hikes, pick-your-own farms, vineyards, autumn festivals, and more!
Most of the destinations and activities listed below are divided into attractions, parks, cities and towns, starting from the north.
Remember, autumn is never far from snowfall in some parts of The Golden State so plan and pack accordingly!
You may also like our California bucket list.
Fall in Northern California
Burney Falls in Fall
Burney Falls is a popular National Natural Landmark at Burney Creek, located in McArthur-Burney Falls Memorial State Park.
Most visitors see the falls in spring and summer but you can also enjoy the 129 foot high waterfall in autumn, with water flow staying strong through to October until the snow stops melting.
President Theodore Roosevelt called the falls the Eighth Wonder of the World so it's fair to say, they are worth a visit.
Things to do in Burney Falls in fall include listening to the falls from the overlook, hiking the 1.2 miles loop, and getting a picture at the nearby Sand By Me Bridge which was used in the filming of the 80s classic movie.
Burney Falls fall colors can be seen framing the waterfall.
Avenue of the Giants
Avenue of the Giants (Humboldt County) is a majestic place to see and worth a visit during the fall in northern California.
Seeing ancient redwoods standing over 260 ft tall and 24 ft in diameter can put things in perspective.
Relax and unwind at one of the many campgrounds available.
Take an on-site tour through redwood groves, which span 51,222 acres.
Lake Tahoe in Fall
Fall is a lovely time to visit Lake Tahoe.
Eagle Lake & Eagle Falls is sees fewer crowds than summer, and there are a number of foliage spots close to the lake including Highway 89.
North Canyon Road and Hope Valley near Lake Tahoe are also celebrated for their fall colors.
If you like beer, you'll want to visit Lake Tahoe for its Oktoberfest or if you prefer sports-related fall fun, it's marathon.
Find out more in our Lake Tahoe in fall guide, and free things to do there.
Napa Valley in Fall
Napa in the fall is a breath of fresh air after the summer heat; wine tasting in Napa Valley is great because it's harvest time and is crowd-free.
Whites and red varietals are favorable during the fall, with harvest time happening August-December.
Take a gondola ride down the Napa river to experience beautiful displays of fall colors in northern California, compliments of the planted Silver Maples and Liquid Ambers.
Walk the Redwood trail and witness bright yellow maples in Bothe Napa Valley State Park.
San Francisco in Fall
San Francisco is a great fall location as it enjoy similar temperatures all year round, and some of the locals go to town on Halloween decor!
The Japanese Tea Garden, SF Botanical Garden, and The UC Berkeley Botanical Gardens are options for fall foliage in the city or you can do a day trip to the Bay Area, Napa, or Uvas Canyon County Park.
Find out more in our San Francisco in fall guide.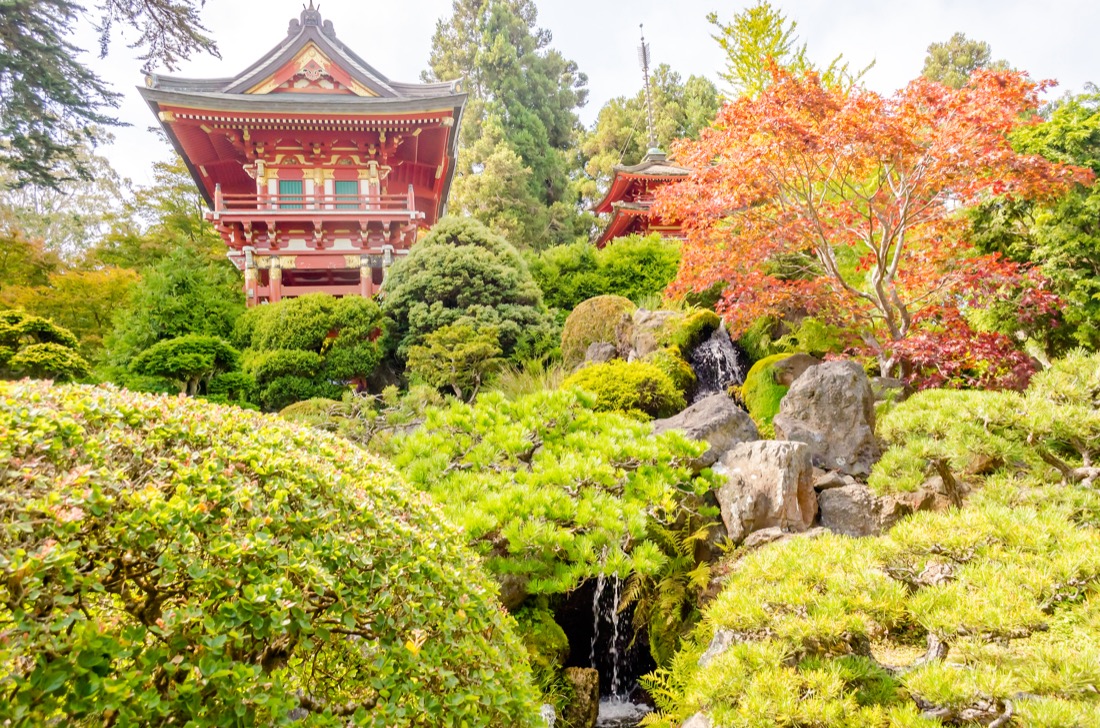 Bay Area in Fall
Bay Area fall colors can be enjoyed at Tilden Park (2501 Grizzly Peak Blvd, Orinda) and Rancho San Antonio Preserve (Cupertino).
Henry W. Coe State Park ((9000 E Dunne Ave, Morgan Hill) and Samuel P Taylor State Park (8889 Sir Francis Drake Blvd) are also options for scenic fall trails.
Apple Hill
An hour's drive from Sacramento, in the El Dorado Hills, is U-pick apple patches and some of the best fall colors in California.
In addition to picking apples, you can feast on their famous apple donut and other warm apple treats.
Yosemite National Park in Fall
Yosemite in the fall is serene and almost sacred.
The park is wrapped in yellow and orange fall colors.
Leafy red maples are visible at the Tuolumne Grove trailhead.
Yosemite Valley has an iconic view of Bridalveil falls and granite cliffs.
Near the east entrance at Tioga Pass, aspen's unique yellow color with the sun's reflection this time of year can be a site to see.
Yosemite also features in our guide to most romantic national parks.
Convict Lake in Fall
Convict Lake has a story, and beautiful fall leaves in California.
Convict lake got its name in 1871 after prisoners were captured after escaping a nearby prison.
Fifteen minutes from Mammoth, Convict Lake has gorgeous scenery.
Mountains and beautiful fall leaves surround the lake.
Convict Lake is a great spot to fish, hike around the lake, and have a fall picnic.
Bishop in Fall
About a 55-minute drive from June Lake, Bishop California's motto is that they are a "small town with a big backyard."
Take a drive through Bishop Creek Canyon to see the mountains and yellow, green, and orange Bishop fall colors.
Stop for a picnic at South Lake and see the mountain peaks covered in snow.
Hike the Bishop Pass trail, with closer views of the lake and the mountains.
Several paths lead down to the lake if that is your goal.
As you continue on the trail, the views of Bishop in the fall become more breathtaking.
Up U.S. 395, Lake Sabrina and the Sabrina Trail are other destinations in Bishop worth seeing for more fantastic mountain views along the lake.
Fall in Central California
In this section we take a look at what LA in autumn looks like, what to do outdoors at Sequoia National Park and Joshua National Parks.
Plus, lakes with fall foliage.
Sticking around until December? Read our guide to California in December.
Halloween Tricks and Treats
California in the fall isn't complete without Halloween Tricks and Treats at California's Great America (4701 Great America Parkway).
With the fall festival and party combination, you can't go wrong.
The theme park transforms into a Halloween wonderland.
Meant for everyone, so there's no age restriction, and there is live entertainment, rides, and tasty treats.
Rides are open, and costumes are allowed and encouraged.
Make lasting memories as the entire family partakes in the foam pit, coloring station, hay maze, and other special Halloween activities.
Sequoia National Park in Fall
Sequoia National Park in fall is known for its Giant Sequoias, 800 miles of trails and over 800,000 acres of forest, perfect for a wilderness getaway this fall.
The park became federally protected in 1890 and is the homelands of the Nyyhmy (Western Mono, Monache), Yokuts, Tübatulabal, Paiute, and Western Shoshone tribes.
For an easy hike, check out the 1.7-mile trail to Tokopah Falls, a 1,200 foot high waterfall.
For a challenging hike, consider the 23-mile Mount Langley Loop around the 9th tallest peak in California.
There are 14 campgrounds dotted around the park which you can reserve in advance to secure a place, Hume Lake Recreation Area is one of the most popular areas.
Griffith Observatory, LA
The Griffith Observatory is one of the most visited places in Los Angeles.
The views from this high up are incredible.
You can see the Hollywood sign from one side and downtown Los Angeles on the other.
The inside exhibits are free, making this a must-do if you are looking for things to do in Los Angeles in fall.
Taking in all the views and watching the sunset makes Griffith Observatory a repeat visit for so many.
Tip: Parking is challenging, so arrive early to beat the crowds.
Check out our LA bucket list for more.
Hollywood Sign, LA
Probably the most iconic association with Los Angeles, the Hollywood sign is something everyone wants to experience.
For an up close and fantastic view, hike the steep Wisdom Tree trail in the slightly cooler fall temperatures to the Hollywood sign.
This route gets you the closest to the sign that is permitted.
The views of Los Angeles with the city in the distance are breathtaking and provide an excellent opportunity for selfies.
Olvera Street and Dia De Los Muertos
Olvera Street was established in the 1700s and is one of the most historical locations in Los Angeles, with lots of shops and vendors.
For over 30 years, The Dia de Los Muertos has happened on Olvera St.
The celebration takes place every October to honor the cycle of life and is worth attending.
This two-day holiday reunites the living and departed, and families present offerings of gifts and flowers.
The Latinx community welcomes everyone to join the Day of the Dead celebration, which includes food, drink, and face painting.
Universal Studios
With sinister scare zones and heart-pounding mazes, be prepared to be scared.
Experience the fright of your life at Universal Studios Hollywood's Halloween Horror Nights.
Tickets sell out quickly, so get yours early for fall in central California.
You don't want to miss out on the Terror Trams, the Texas Chainsaw Massacre, The Bride of Frankenstein, and AMC's Walking Dead.
Don't go alone!
You can also visit The Wizarding World Of Harry Potter at Universal in California!
West Hollywood Halloween
West of downtown Los Angeles and home to over 32,000, West Hollywood is a small city with a big reputation.
Halloween in West Hollywood is one of the most popular gatherings during fall in central California.
Thousands take to the streets, elaborate costumes or not, to visit the bars and other venues this time of year.
Big Bear Lake In Fall
Big Bear Park is a great place to visit in the fall. The weather is pleasant, and fishing is ample.
Big Bear fall foliage, compliments of the dogwood and oak trees' amber, gold, and orange colors, favor leaf peeping in California.
The Town trail is frequented by locals and out-of-towners and is excellent for hiking, biking, camping, and solitude.
The trail is an easy gradual rolling course, about 2.5 miles round trip.
Oak Glen in Fall
Oak Glen is known for its abundant apple harvest in the fall.
Oak Glen has four seasons at 4,000 feet above sea level, making it a popular fall outing for the entire family.
Stop by the Oak Glen School House Museum (1191 South Oak Glen Rd) for area history and education.
Lake Arrowhead in Fall
Lake Arrowhead is located in the San Bernardino Mountains, surrounded by the San Bernardino National Forest.
Not only is there foliage around the lake but also a big event to celebrate autumn in the area, Oktoberfest!
Shops and restaurants line part of the lake if you want to browse or go for a bite to eat.
You can feed the local ducks too, pick up some food at the local shop!
Joshua Tree National Park in Fall
One of the best fall places in California is Joshua Tree National Park, as the temps are pleasant during this time of year and attract rock climbing enthusiasts.
Pack layers for highs of 81F and lows into the 50s.
For an easy hike, consider Arch Rock or drive to Skull Rock/
Cholla Cactus Garden provides a unique landscape and see the Joshua Trees from Park Boulevard near the West Entrance.
Joshua Tree is accessed from several California cities such as LA or Palm Springs as well as Las Vegas and Phoenix.
There are no gas stations or stores in the park though, so plan ahead.
You can camp but it is advised to arrive early at White Tank, Belle and Hidden Valley, or make reservations at the handful of campgrounds you can book, Blackrock, Cottonwood, Indian Cove, Jumbo Rocks, and Ryan.
Joshua Tree also features in our guide to the best National Parks to visit in October.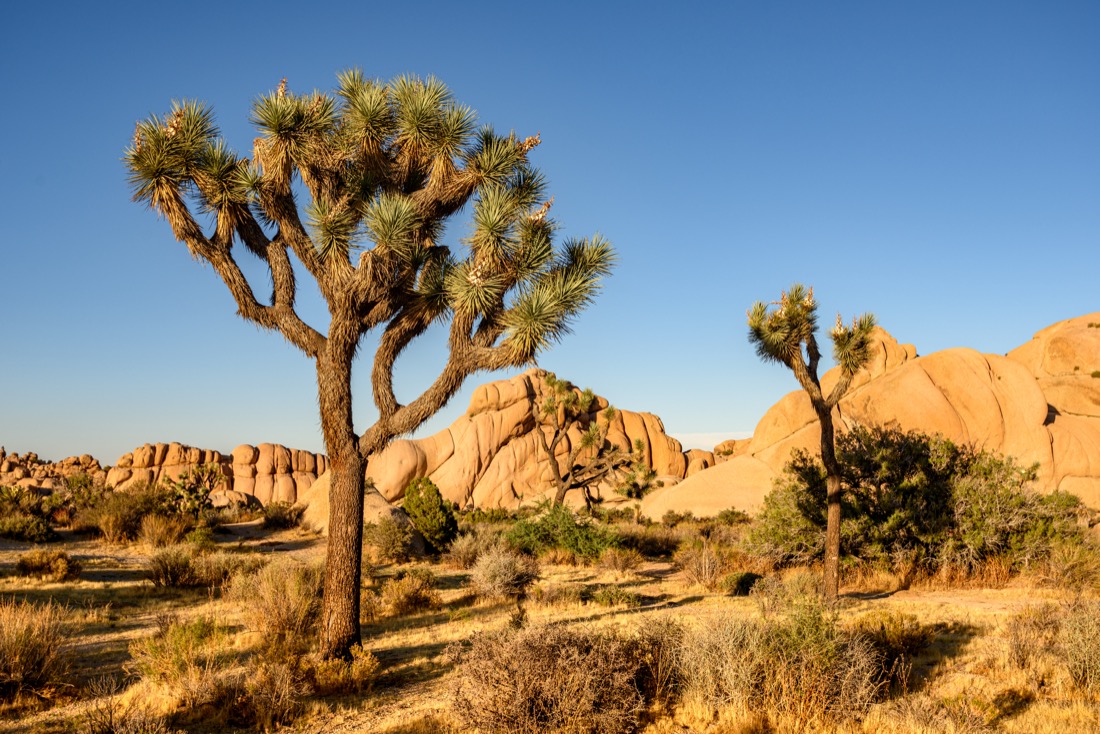 Eastern Sierra in Fall
The Eastern Sierra region of California includes the counties of Mono and Inyo.
Its landscape is rugged and features cities, towns, and parks including part of Yosemite National Park.
Mono County in Fall
If you are looking for reliable foliage, consider Mono County in fall which includes mountains, lakes, and alpine trees.
Mono County is located in Eastern Sierra Nevada between Yosemite National Park and Nevada.
June Lake in Fall
Just 11 miles north of Mammoth Lakes, June Lake in the fall is a lovely 16 miles loop of fall hiking, biking, horseback riding, or just a scenic drive.
You will pass four picturesque lakes when you take the loop (June Lake, Silver Lake, Gull Lake, and Great Lake).
There are plenty of areas to stop for a picnic day and observe the aspens mingle with evergreen pines around the forest, mountains, and lakeside.
Mammoth Lakes in Fall
Visitors head to the mountain town of Mammoth Lakes in fall to see the leaves change color around the water, then again in winter for skiing!
Mammoth Lakes Basin is home to a number of alpine lakes and trails.

From Lake George you can hike to Crystal Lake, Barrett Lake and TJ Lake.
From Coldwater Creek you can hike to Arrowhead Lake, Barney Lake, Duck Lake, Emerald Lake, Heart Lake, Skelton Lake, Pika Lake, and Woods Lake.
There's so much opportunity and diversity in trails!
Other Mammoth Lake fall colors locations include Mammoth Creek, Sherwin Creek, and Old Mammoth Road.
Technically, the more elevated the lake and hike, the sooner the fall colors will change so if you plan to visit early in the Mammoth Lakes fall season, head there first.
If you arrive later in the season, go for the lower elevation lakes like Twin Lakes at 8500 feet.
Fall in Southern California
Let's head south to see what autumn offers in San Diego, and surrounding areas.
Plan for city escapes, pick-your-own, and fall hiking trails.
If going to the beach is your thing, check out our guide to beach towns in California featuring destinations in the southern region of the state.
Balboa Park, San Diego
Everyone is invited to a free Harvest Festival Dance at Balboa Park in San Diego.
There will be dance performances, free dance lessons, and opportunities for couple dancing
There are several food vendors and activities for the kids.
There's so much to see in the park, so you can skip the lines and go on one of several Balboa Park Tours.
Balboa Park has plenty of cultural museums with its rich history, beautiful gardens, and inviting walking paths.
On tour, you will experience an overview of how this park became a city symbol.
Pumpkin Festival, San Diego
About a 40-minute drive east of San Diego, the Great Annual Pumpkin Festival is a delightful event for the entire family for fall in southern California.
Visit the spooky pumpkin patch or walk through the maze of olive trees at the Children's Nature Retreat (5178 Japatul Spur).
Anza-Borrego Desert State Park
Anza-Borrego Desert State Park is a two-hour drive from San Diego and offers majestic California views in the fall.
Walk through the sandstone canyons while observing the roaming sheep in the area.
Named an International Dark Community, star gazing is a popular attraction as the temperature is cooler and the sky is full.
Camping is allowed.
Tip: When using an app to find the park, it is wise to search for directions to the Visitor Center–anything else may lead to a dirt road.
Apple Picking In Southern California
Take the kids and spend a lovely fall day picking organic apples and pears at Apple Star orchard (1020 Julian Orchard Dr).
You can pick your own, or pre-picked bags of fruit are also available.
Enjoy gourmet apple pies and downtown Julian in the fall.
The more popular attraction, Apples and Art Orchards, is just a few minutes away for larger groups.
For groups of 20+, you can spend a memorable day in Julian's charming mountain orchard and gold-rush-era town.
Learn some facts about apples while touring the orchards and making apple cider.
The apples are accessible for children to pick also.
Tip: Wear comfortable shoes; there is a lot of walking.
Mount Laguna, San Diego
Mount Laguna is located on the eastern edge of the Cleveland National Forest and sits at around 6,000 feet above sea level.
It is an all four seasons day trip from San Diego, with a number of hikes including the Big Laguna Trailhead, Red Tail Roost Trailhead, and Desert View Trail.
Mount Laguna fall colors can be seen along the Big Laguna and also the Sunset Trail.
Mount Laguna is one of the best places to see fall foliage near San Diego.
Our California Guides