This article has links to products and services we love, which we may make commission from.
If you're looking for stunning foliage and leaf peeping opportunities in a lesser-known location consider the state of Wisconsin!
This guide shares the best things to do in Wisconsin in the fall including train rides, autumn nature walks, seasonal events, food, drinks, and lovely foliage in Wisconsin.
We share recommendations on how visitors and locals can spend time during the shorter fall days in the Badger State.
The article also includes annual festivals, so if you're local and you think you have exhausted the generic Wisconsin fall activities, you might still pick up a few tips for this year!
So let's take a look at the fall in Wisconsin suggestions for couples, friends, and families starting with eastern Wisconsin.
You may also like our guide to Wisconsin in winter.
Fall Activities in Eastern Wisconsin
Eastern Wisconsin consists of two of the most popular regions for Wisconsin fall getaways – Door County and Lake Geneva.
We'll discuss where to see fall colors in Wisconsin in each region.
Door County
Spend a Weekend in Door County in Fall
Door County, WI has been nominated one of the best place to see the leaves color change in the US.
This county is located on a peninsula between Green Bay and Lake Michigan.
The northern section of the peninsula tends to change first, migrating its way down as the season goes on, maximizing your chances of experiencing the award-winning foliage with mid-October usually enjoying peak season.
You can track the progress of the colors using this map.
The Westwood Shores Waterfront Resort (4303 Bay Shore Dr, Sturgeon Bay, WI) is the perfect place to spend a relaxing weekend.
Located right on Sturgeon Bay, the Westwood Shores Waterfront resort offers some of the best spots to watch the Door County leaves change.
Door County Boat Tour
Not only is Door County one of the best place for foliage in the States, it has also been awarded the title of one of the top places to leaf peep from a boat!
Enjoy a cruise aboard a 69 passenger partly covered, partly open tour boat docked from downtown Fish Creek.
Sail by Eagle Bluff Lighthouse, Peninsula State Park, Millionaire's Row, Eagle Cave, Egg Harbor, Ephraim, as well as the islands, bluffs, and beaches surrounding Door County in fall, while listening to the expert tour guide's narration.
Explore the Caves and Enjoy the Fall Colors at Cave Point County Park
Cave Point County Park (5360 Schauer Road, Sturgeon Bay) is home to some of the state's most unique natural wonders.
It is known for its Dolomite/limestone ledges, underwater caves, and watersport opportunities on Lake Michigan.
You might just see some brave cliff jumpers at the start of the fall season.
The fall color trees really pop against the limestone cliffs.
Visitors love that there is no fee here.
Fun fact! Cave Point has the first solar power restroom in the county park system.
Cherries and Cider
The Door County is known for it production of cherries but come fall, its 500 acres of apple orchards are the stars of the show.
You can pick-your-own at the likes of or Robertson Orchards and Cherry Lane Orchards, both at Sturgeon Bay, or choose apple based dishes on Door County restaurant menus for fresh, seasonal options.
Of course, it would be rude of you not to sample the local cider too!
Door County Wine Trails
Apples aren't just used for fall cider in Door County; expect to see the fruit in wine during the Door County Wine Trails too.
The trail features nine wineries; Anchored Roots Vineyard & Winery, Door 44 Winery, Door Peninsula Winery, Harbor Ridge Winery, Lautenbach's Orchard Country Winery, Red Oak Winery & Vineyard, Simon Creek Vineyard & Winery, Stone's Throw Winery, and Von Stiehl Winery.
Visit the Historic Lambeau Field for a Packers Game
Lambeau Field (1265 Lombardi Ave, Green Bay) is one of the most historic stadiums in all of football.
Fall in Wisconsin revolves around the Packers and attending a game at Lambeau is one of the best fall activities in Green Bay, WI.
Lambeau Field has great food and plenty to do for the whole family including a football museum and play area for the kids.
Milwaukee, Lake Geneva, and Surrounding Areas
Next in our guide, places to visit in Wisconsin in fall we head to Milwaukee and the dreamy Lake Geneva.
Plus small towns close by.
Take to the Train Tracks in Search of Fall Foliage
The East Troy Electric Railroad (2002 Church Street, East Troy) offers train rides through untouched landscapes with all of the fall colors that peek through in Wisconsin in October.
The Milwaukee Electric Railway & Light Company officially retired the railroad in 1939 but the Village of East Troy took over ownership until the Millennium.
The route runs from The East Troy Railroad Museum to The Elegant Farmer in Mukwonago.
The train is one of the best ways to see the natural beauty that many other forms of transportation do not have access to.
Don't forget to check out the museum before or after the ride; the East Troy Electric Railroad has 32 pieces of equipment for visitors to explore, some of which were still in use up until the year 2000.
Visit One of the Many Craft Breweries and Try Their Seasonal Offerings
Wisconsin is well known for the beers that it produces and the same is true with seasonal brews that taste like fall.
Lakefront Brewery (1872 N Commerce St, Milwaukee) and 3 Sheeps Brewing (1837 North Ave, Sheboygan) both offer tap rooms with a great atmosphere.
Visit the Apple Orchard
Apple Holler (5006 S Sylvania Ave, Sturtevant) is one of Wisconsin's best apple orchards.
Set on 78 acres, families can take part in pick-your-own apples while appreciating the 150-year-old apple trees.
There is a Country Store, Bakery & Gift Shop and Red Barn Restaurant on-site making Apple Holler one of the best places to spend an afternoon in Wisconsin in October.
Take a Bike Ride Around Lake Geneva
Lake Geneva isn't just a lake, it is also a resort city.
It has a 26-mile Shore Path which features a number of Gilded Age Mansions and wealthy estates nestled among the Lake Geneva fall colors.
One of the most popular ways to get around the Shore Path is by bike; stopping along away at a few of the 100+ public beaches by the lake for a breather.
If you are more of an off-road cyclist, consider the nearby 11.4 mile White River Bike Trail too.
Lake Geneva Pumpkin Drop
If you love a thrill with a Halloween twist, check out this zip-lining pumpkin drop!
The annual event see visitors attempt drop a pumpkin on a target, definitely one of the more unique things to do in Wisconsin in fall.
Take the Lake Geneva Walking Ghost Tour
The Lake Geneva Walking Ghost Tours (515 Baker Street Lake Geneva, WI 53147) is the best way to get into the spooky spirit while enjoying all of the great architecture of Lake Geneva.
See all of the historic and haunted spots on this 90-minute walking tour around downtown Lake Geneva.
Visit the Scenic Tower at Holy Hill
There is no place more majestic than the tower in Holy Hill, WI (1525 Carmel Rd, Hubertus) in the fall.
Sat atop a hill amidst 435 acres, the Holy Hill Basilica features a lookout which is the highest elevation in Southeastern Wisconsin offering some of the best fall foliage views in the state.
To get to the top of the tower, you need to conquer the 178 steps but the reward, the view, is worth it.
The site below is a popular photography spot as the cauliflower-like orange, red and yellow trees look as if they are propping up Holy Hill Basilica.
Visit the Cheese Castle
It wouldn't be Wisconsin if there was not an entire castle dedicated to cheese.
Mar's Cheese Castle (2800 W Frontage Rd, Kenosha) is an actual castle that is filled with multiple restaurants and a huge marketplace dedicated to dairy, wine, beer, and meat all made in Wisconsin.
Fall in Wisconsin is the perfect time to visit the Cheese Castle because you can try all of the wonderful seasonal products from local experts.
Check out this map for the fall activities mentioned above.
Fall Activities in Western Wisconsin
In the final region we look at fall activities in Wisconsin's west including state parks, dells, and the state's capital city, Madison.
Go for a Fall Foliage Hike at Devil's Lake State Park
Devils Lake State Park (S5975 Park Rd, Baraboo) is one of the hidden natural gems of central Wisconsin.
Devil's Lake or "De Wakacak", which means Spirit Lake, is located on ancestral Ho-Chunk land and features a beautiful 300-acre lake enclosed by high rocky bluffs that make for some of the best hiking in the state.
There's nearly 30 miles of hiking opportunities including the 3-4 hour East Bluff Trail which includes an overlook.
When fall rolls around and the leaves start to change, the picturesque views from the bluffs are breathtaking.
Mirror Lake State Park
The 2,179-acre Mirror Lake State Park (E10320 Fern Dell Rd, Baraboo) has been putting on a firework of fall color explosion since it opened in 1966.
There are over 100 camping spots at the park, some of the campgrounds close around mid-October so arrive early in fall to avoid disappointment.
The most common mammals spotted in the park are deer, raccoons, squirrels, bats, chipmunks, and muskrats.
Take a Haunted Boat Tour of the Wisconsin Dells
The Dells Ghost Boat (11 Broadway Ave, Wisconsin Dells) takes guests on a tour of all of Lake Delton's most haunted spots.
Experience the season of the witch by taking a boat ride around the lake.
Keep your eyes peeled to the water, you never know what apparitions you may see.
Go for a Ride at the World's Biggest Indoor Waterpark
Fall and waterparks do not often go hand in hand.
However, the Kalahari Resort in the Wisconsin Dells (1305 Kalahari Dr, Baraboo) is the world's biggest indoor waterpark and can be enjoyed year-round.
Go down some of the best indoor waterslides and rides and return outdoors to the crisp air and beautiful fall colors.
Pick a Pumpkin at the Biggest Patch in Wisconsin
Nothing says fall like picking a pumpkin straight from the patch.
Waldvogel Farm (N7416 County Road I) in Juneau is the biggest patch in the entire state.
In addition to the widest selection of pumpkins available, Waldvogel Farms also features plenty of fall fun for the whole family including fun photo props, a corn maze, candy apples, and food.
Jump Around at Camp Randall Stadium
The Wisconsin Badgers football team is famous for their Jump Around tradition that takes place between the third and fourth quarter of every football game in Camp Randall Stadium (1440 Monroe St, Madison).
Visiting Madison in the fall is always special if you go to a Badgers game.
Be a part of the ground-shaking tradition that makes the University of Wisconsin special.
Madison Farmers Market
Located just steps from the state capitol, the Madison Farmers' Market/Dane County Farmers' Market is a staple of weekends in Madison WI in the fall.
Vendors from all around show off their beautiful fall produce and delicious food products.
The Madison Farmers' Market is a great way to get all of the farm-fresh fall staples you need without ever leaving the city.
You'll also want a picture of the State Capitol in full bloom this fall.
Here's a map of the western Wi fall activities mentioned above.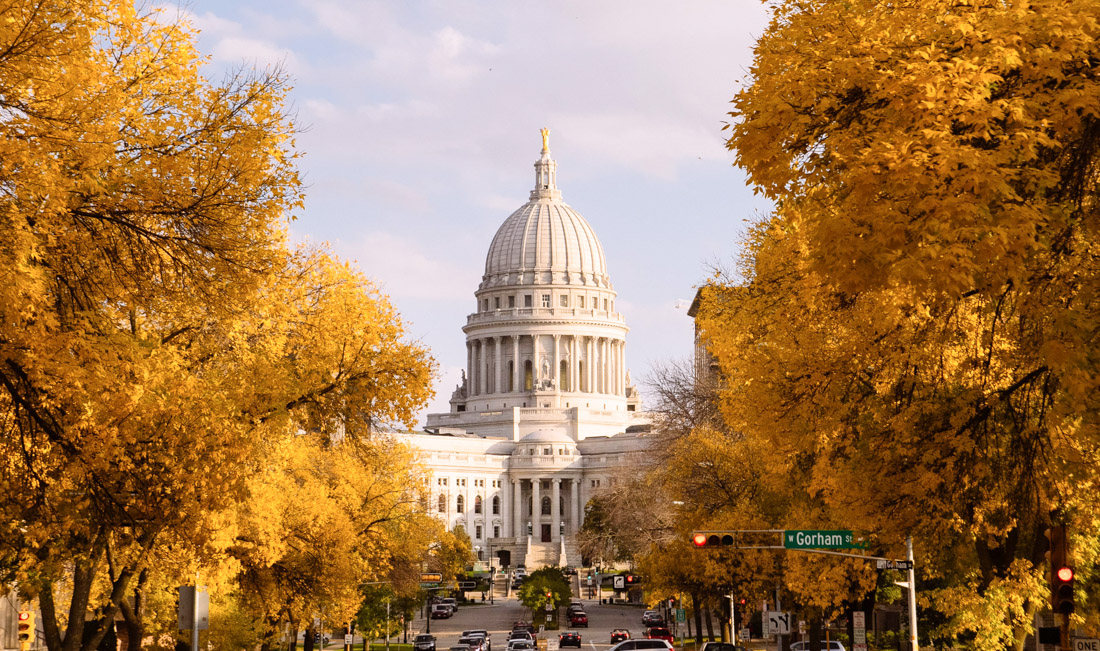 Fall Activities in Northern Wisconsin
Zipline Through the North Woods
Get immersed in the fall foliage by taking a zipline tour through the North Woods in Minocqua, WI.
Northwoods Zipline Tours (7849 Hwy 51 Minocqua WI 54548) offers an extensive trip through the colorful canopy of Wisconsin's North Woods.
Mt Ashwabay Haunted Trail
Just before the ski season kicks off, spooky season fans can get a fright at the Mt Ashwabay Haunted Trail.
Expect zombies, reapers, and chainsaws as darkness falls.
Bayfield Apple Festival
The Bayfield Apple Festival comes to Bayfield, WI every October and features some of the state's most tasty offerings of apple-based products.
Located right on Lake Superior, Bayfield has been voted one of the nation's best small towns.
The Bayfield Apple Festival features tons of baked goods, a fish fry, and even a crowned apple queen.
Warrens Cranberry Festival
The Cranberry Festival in Warrens (402 Pine St, Warrens) is the world's biggest cranberry fest and has everything you need to get the most out of the fall cranberry harvest.
From baked goods to juices, this festival features a variety of delicious and unique cranberry products.
With live music and other events, Cranberry Fest should not be missed.
St Croix River
The 169 miles long St Croix River runs through states of Wisconsin and neighboring Minnesota.
It also provides a natural border between the two states and is protected by the National Park Service as a National Scenic Riverway.
Head to St Croix Valley, which includes Taylors Falls, MN and St. Croix Falls, WI, to get lost in dreamy fall foliage.
There's also ample outdoors opportunities from hiking, biking and rock climbing.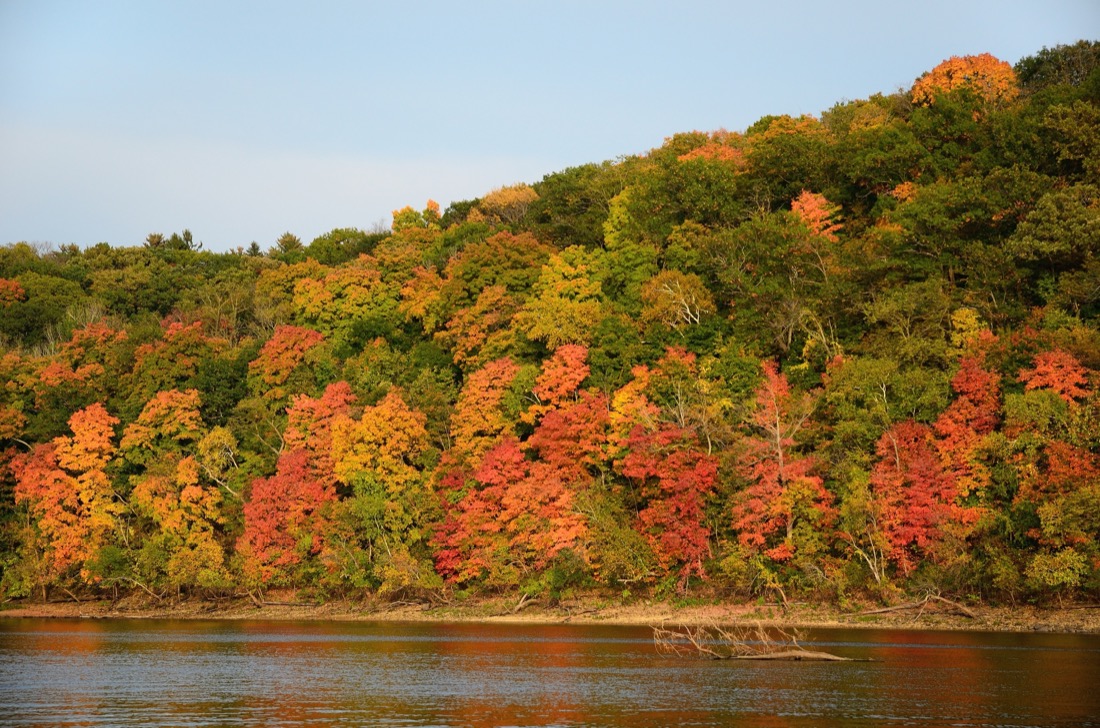 Fall Festivals in Wisconsin
Harvest Fair at State Fair Park
The Harvest Fair (640 S 84th St, West Allis) is held every year on the State Fair Park Grounds.
The Harvest Fair features fun activities and rides for the whole family.
Hundreds of vendors sell all your fall favorites including fresh produce, hot apple cider, and over 50 microbrews.
Harvest Fest is a great way to celebrate fall in Milwaukee.
Oktoberfest USA
Oktoberfest USA in La Crosse, WI is one of the nation's biggest and oldest Oktoberfest celebrations.
Try amazing German food and beer and dance to the state music of Wisconsin, the polka.
Oktoberfest USA takes place at the end of September and is one of the top ways to spend autumn in Wisconsin.
Check out our guide to Oktoberfest in the US if you love beer!
Cedarburg Wine and Harvest Festival
The Wine and Harvest Festival in downtown Cedarburg is one of the best things to do in Wisconsin in October.
All of the local wineries and vendors come together in late September to put on a fun and fall-inspired festival with all of the favorites.
Try all the local seasonal wines of Wisconsin and get your hands on the freshest fall produce while enjoying the small-town joys of downtown Cedarburg.
Wisconsin Fall Color Report
To find the best time to plan your autumn visit, check out the Wisconsin Fall Color Report which details when regions are starting to show and when they hit past peak.
Planning to stay until winter? Read our guide to winter in Wisconsin.