This article has links to products and services we love, which we may make commission from.
Aside from being recognized as "America's Dairyland", Wisconsin is also known for its freezing cold winter.
Temperatures can drop to around -40F during the coldest month, which is usually January.
But fret not, Wisconsin in winter is a fantastic destination.
The state's snow-covered landscapes are like straight out of a storybook and many of its towns and cities offer plenty of opportunities to have some frosty fun.
To help plan your trip, this guide will discuss the amazing things to do in Wisconsin in winter like snowshoeing, sledding, ice skating, visiting scenic spots, and many more.
The activities listed below are sectioned by regions where they are located.
So get ready to put on your layers and prepare for your next winter adventure in Wisconsin.
You may also like our guide to Wisconsin in fall.
Activities in Door County, Wisconsin in Winter
Located on a peninsula between Green Bay and Lake Michigan, Door County is a winter wonderland with plenty of outdoor activities, cozy retreats, and amazing winter views.
Go Ice Skating at the Teresa K. Hilander Outdoor Ice Rink
The Teresa K. Hilander Outdoor Ice Rink (Autumn Ct., Sister Bay) is a great place to enjoy the winter air and ice skate with a beautiful backdrop.
Open from Mid-December through February, the rink features skate rentals and a concession stand.
If you are looking for a fun and competitive winter activity, this rink also offers broomball a few nights a week.
Take a Candlelight Snow Hike
Peninsula State Park (9462 Shore Rd, Fish Creek) offers candle-lit hikes through the Wisconsin snow every winter.
Enjoy the calm silence of a winter hike lit by the warm glow of a hand-held candle.
The trail used for the candlelight hike is easy and meant for a relaxing walk through the snow.
Visit Door County's Longest Running Inn
The White Gull Inn (4225 Main Street, Fish Creek) is a beautiful inn that has been open for over 120 years.
With an onsite restaurant and cozy fireplaces, the inn provides a warm and nice place to stay during your Wisconsin vacation in winter.
Explore the Frozen Beaches of Door County
The beaches of Door County in winter offer the wonderful experience to take in the views of Wisconsin's frozen lakes.
All of the shoreline surrounding Door County gets cold enough to freeze around the beginning of January and you can see the huge chunks of shifting ice on both the Green Bay side and Lake Michigan side of the peninsula.
Door county also features in our USA bucket list for its beaches.
The beaches of Door County in winter offer the unique experience to take in the views of the frozen lake.
Visit the Cave Point Park
Check out Cave Point Park (5360 Schauer Rd, Sturgeon Bay), a popular photography spot known for its wave-worn limestone cliffs.
During the winter, the constant wave activity at Cave Point forms icicles that stick to the rock formations, creating a spectacular scene during the season.
If you're out exploring the area, rocks can become slippery when wet or covered in ice, so it's best to proceed with caution.
Ice Fishing at Sturgeon Bay
Ice fishing is one of the most popular activities in Sturgeon Bay in winter.
Some of the areas where you can fish are around the Sturgeon Bay Shipping Channel or the Little Sturgeon Bay.
You can bring your own equipment and expect to catch northern pike, whitefish, lake trout, salmon, and more.
There are also plenty of charters available to take you out on the frozen waters like the one with the Sturgeon Bay Sport Fishing Association.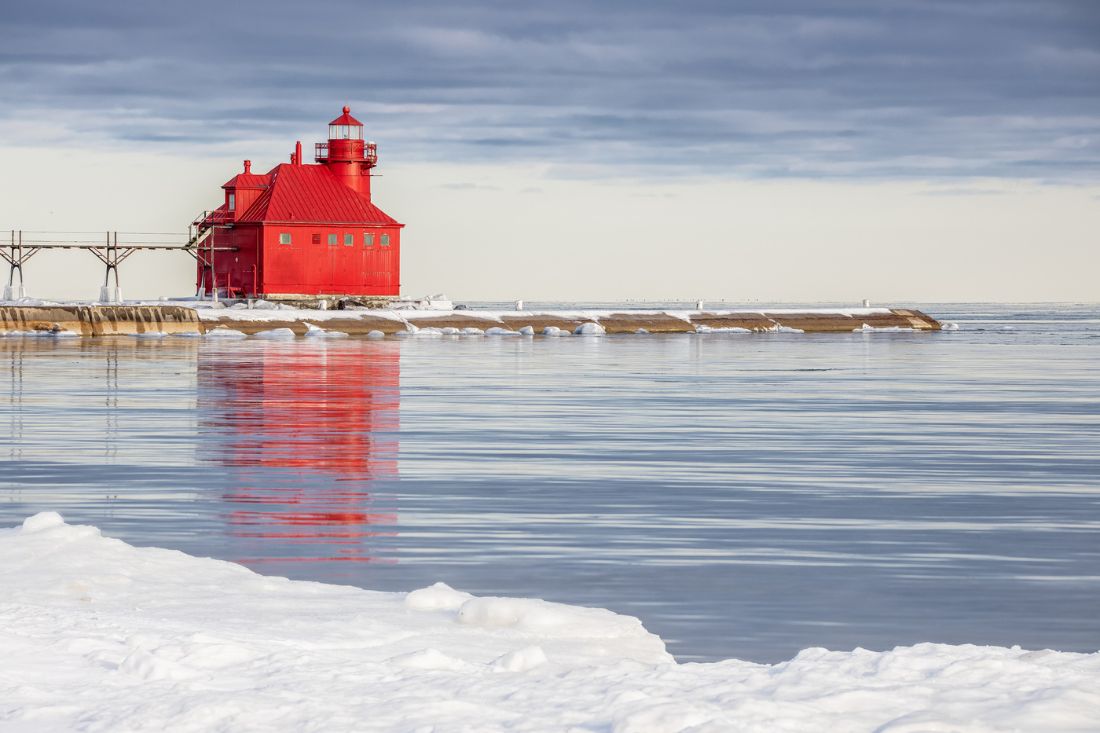 Things to Do in Wisconsin Dells in Winter
Winter may be the last thing that comes to mind when you hear about Wisconsin Dells, the city also known as "The Waterpark Capital of the World".
While many enjoy going here in the summer, did you know that there are also plenty of exciting things to do in Wisconsin Dells in the winter?
Listed below are some of them including skiing, visiting spots with great winter scenery, mouth-watering eats, and more- activities in nearby areas are also included.
Ride on the Winter Zipline
Bigfoot Ziplines (1550 Wisconsin Dells Parkway, Wisconsin Dells) offers winter zipline tours around Lake Delton in the Wisconsin Dells.
Each zipline tour comprises 6000 feet of lines that go through the snow-covered wooded area surrounding the lake.
Eat and Drink at a Traditional Wisconsin Supper Club
The best way to take a break from the cold Wisconsin weather in winter is to spend the evening hours in a warm and cozy log building eating prime rib and drinking brandy old fashions (a Wisconsin specialty)
The Ishnala Supper Club (S2011 Ishnala Rd, Lake Delton) has been voted the ''Best Supper Club'' in the state for four consecutive years since 2019.
Ishnala has a great atmosphere with views of Mirror Lake from the dining room and a delicious menu of traditional supper club dishes.
Go to a Waterpark
Want to enjoy taking some splash in a waterpark despite the frigid Wisconsin winter?
Head to the Kalahari Resort (1305 Kalahari Dr, Baraboo), one of the biggest indoor waterparks in the world.
Go down the slides, ride in the wave pool, or float around the lazy river all in the temperature-controlled comfort of an indoor waterpark.
Explore the Ice Formations at Fern Dell Gorge
Fern Dell Gorge is located in Mirror Lake State Park (E10320 Fern Dell Rd, Baraboo) and is a great place to see the natural beauty of winter in Wisconsin Dells.
The geography of the gorge creates the perfect environment for giant ice formations to fill the area in the winter.
These formations can even form ice caves that you can walk in and explore.
Downhill Ski and Snowboard at Cascade Mountain
Cascade Mountain (W10441 Cascade Mountain Rd, Portage) is just 10 miles outside of the Wisconsin Dells and offers the best downhill skiing and snowboarding opportunities in the state.
The place features a fully equipped ski lift and multiple hills for skiers and snowboarders of all ability levels.
They also rent out skis and snowboards, so everyone can get in on the fun.
Winter Activities in Madison
Madison is Wisconsin's capital and the second largest city in the state.
Check out all the fun winter activities to do in the city listed below.
You may also like list of free things to do in Madison.
Visit a Brewery and Eat in a Heated Outdoor Dome
Karben 4 Brewing (3698 Kinsman Blvd, Madison) is a local brewery that offers plenty to do in Madison in winter.
After a tour of the brewery, you can eat lunch and try local beers in one of their outdoor heated domes.
Enjoy local brews paired with the perfect meal in the privacy and warmth of your own heated bubble.
Visit the Winter Farmer's Market
Farmer's markets are not the first thing that comes to mind when you think of Madison in winter, but The Dane County Farmers Market continues to host events throughout the year.
The Farmer's Market moves indoors for the winter, but still features the fresh produce and seasonal items as it does all year long.
See the Holiday Fantasy Lights at Olin Park
Olin Park (1156 Olin-Turville Ct, Madison) has hosted a huge holiday lights display for over thirty years.
Their displays feature thousands of holiday lights and music.
In the last few years, Olin Park has hosted an immersive drive-through experience where you can travel through the park and see all of the dazzling light displays.
Go Cross Country Skiing at University Ridge
University Ridge (9002 County Road PD, Madison) is a golf course that converts to ski trails in the winter.
You can find over 10 km of trails at the site that you can explore on a pair of skis.
There is a small fee for a day pass and they do offer ski rentals for those who do not have their own.
Visit the Capitol Building to See the Holiday Tree
The Wisconsin Capitol Building (2 E. Main St. Madison) has erected a holiday tree in the center of the rotunda for decades.
Visitors can enter the Capitol to see the tree and are even able to go on multiple levels of the rotunda to walk around the massive tree on every level.
What to Do in Milwaukee in Winter
If you're thinking about where to go in Wisconsin in winter, why not head to the city of Milwaukee?
Milwaukee is located in the southeast part of Wisconsin, along the shores of Lake Michigan- and is the largest city in the state.
And in the winter, the city offers tons of activities perfectly enjoyed during the season- from snowshoeing to seeing some holiday light displays.
Escape the Cold with a Visit to the Domes
The Mitchell Park Domes (524 S Layton Blvd, Milwaukee) are a set of three giant glass domes that house a horticulture conservatory.
The Domes offer three different biomes to walk through all featuring a unique collection of flora.
See tropical flowers and cacti in the middle of an ice-cold Wisconsin winter.
Go Snowshoeing at the Urban Ecology Center
The Urban Ecology Center (1859 N. 40th Street, Milwaukee) offers snowshoe rentals so you can explore the nature around Milwaukee.
Snowshoeing is a unique way to experience the Wisconsin winter and The Urban Ecology Center has plenty of preserved natural habitats and river-front areas to explore.
Visit the Fiserv Forum for a Bucks Game
Basketball season is big in Milwaukee.
With the Bucks recently winning a championship, the Fiserv Forum (1111 Vel R. Phillips Ave, Milwaukee) is a must-visit location during the winter season.
The Milwaukee Bucks' games are fun for the whole family and there is plenty to do even if you are not interested in basketball.
Go Sledding at Pulaski Park
Looking for more spots to enjoy some of Wisconsin's winter activities?
Pulaski Park (1644-1712 W Cleveland Ave, Milwaukee) is one of Milwaukee's best public parks for sledding.
Race down the hills and enjoy the thrills of sledding on a cold winter day.
Pulaski Park has multiple hills to use for sledding that are all completely free, but you will have to bring your own sled.
Go for a Polar Plunge in Lake Michigan
Make the most of your winter trip in Wisconsin by going for a dip in the ice-cold Lake Michigan.
The Polar Plunge (Bradford Beach 2400 N. Lincoln Memorial Drive, Milwaukee) is a yearly tradition for many Wisconsinites and a quick swim in freezing waters is almost a right of passage.
This is a unique event with food and entertainment for the whole family even if you decide to stay dry.
Things to Do in Lake Geneva in Winter
Lake Geneva is a resort city and a popular tourist destination located southeast of Wisconsin.
You can find lots of shops, restaurants, and hotels in the area making it an ideal spot for your Wisconsin winter vacation.
Listed below are some of the things you can do around Lake Geneva when you visit in the winter season.
Stay at the Grand Geneva Resort
The Grand Geneva Resort (7036 Grand Geneva Way, Lake Geneva) is a historic resort in Lake Geneva that has all the amenities for the perfect Wisconsin winter getaway.
Lounge by the fire both in your room and outdoors, pamper yourself in the spa, eat at the award-winning restaurant, ski or snowboard down the Grand Geneva Mountaintop, or ice skate on their outdoor rink.
The resort is family-friendly and offers hotel rooms, condos, and cabins.
See Giant Works of Snow Art at Winterfest
Winterfest is an annual festival in Lake Geneva that centers around a snow sculpting competition.
See giant snow sculptures, have bonfires on the beach, and enjoy the great winter atmosphere of Lake Geneva at this fun winter event.
Wisconsin Winter Travel Tips
If you are planning to drive around Wisconsin in the winter, you should prepare for traveling on snowy roads.
The Wisconsin snow is unpredictable and can be expected anytime from October to March.
If you are driving on the Wisconsin winter roads, it is best to have a vehicle with four-wheel drive.
You may need to drive under the speed limit to ensure the safety of your vehicle.
Give yourself plenty of room to stop between vehicles and take turns cautiously.
Final Thoughts
We hope you find our list of activities and destinations helpful in giving you ideas about what to do in Wisconsin in winter- and use it to plan for your next trip.
And don't forget to share your experience in the comments below.