This article has links to products and services we love, which we may make commission from.
Madison is the state capital of Wisconsin and offers visitors and residents a wide variety of attractions and activities.
As one of the largest cities in the state, you can find a lot of free things to do in Madison, WI.
With four lakes, hundreds of parks, and numerous bike trails, it's a great place to enjoy the outdoors.
Its convenient location in Southern Wisconsin also makes it a great place to take a day trip from or to large cities like Milwaukee and Wisconsin Dells.
Here are some free activities you can do when visiting Madison, whether you're looking for a fun outdoor adventure, relaxing strolls, or fantastic sights.
You may also like our guide to Wisconsin in the fall.
Free Outdoor Things To Do In Madison
Relax At The Memorial Union Terrace
If you're coming to the city to visit its attractions, the Memorial Union Terrace (800 Langdon St. Madison, WI 53706) is one of the most famous ones.
It's located on the UW-Madison campus and offers some of the best views you'll find, which is what makes it so popular.
You can enjoy a beautiful lake view while eating some snacks and taking in some sunlight.
There are nearby cafes and restaurants to catch some lunch or dinner.
It's a hot spot for events, so you can enjoy some music and other entertainment if you come on the right days.
Bike Around The City
Madison is one of the most bike-friendly cities in all of the Midwest.
There is an endless number of bike trails throughout, making it easy to ride your bike across the city.
You can ride through many scenic trails like the Lake Monona Loop, which passes through the Olbrich Botanical Gardens, or the Lake Shore Path.
If you're more into mountain biking, there are also several of those trails nearby, like the Tour of Blue Mound.
It's a great pastime and a perfectly healthy activity to stay fit.
Get Out On Lake Monona
In summer, kayak or paddle board and in winter get your skates on for Lake Monona!
When the lake freezes over you might just catch Four Lakes Ice Yacht Club racing too.
Look Out For Pink Flamingos
Kid you not, Madison enjoys an annual flamboyance during the Fill The Hill event.
Each year thousands of pink flamingos take over Bascom Hill as part of a fundraiser for the University.
Madison Mural Alley
Check out the colorful street art around Madison which has been created as part of a community project with Bubbler.
The murals were put together by five artists and teams working with local Madison teens.
Go On A Peaceful Hike
Just like there is a multitude of biking trails, there is just an equal amount of hiking trails to explore in the city.
There are nearby state parks like Governor Nelson State Park and the Capital Springs Recreation Area that offer several hiking trails for beginners and experienced hikers.
You can get beautiful sights of nature and gorgeous landscapes.
But you don't need to visit a state park for hiking since there are plenty of local parks with their own trails.
You can bring dogs along to some of these trails, but you may need a dog permit, depending on where you're going.
Visit The Allen Centennial Garden
The Allen Centennial Garden (620 Babcock Dr, Madison, WI 53706) is located on the UW-Madison campus and is completely free to the public, including non-students.
The botanical garden is managed by the universities Horticulture Department and hosts a variety of different plant groups.
It's pet-friendly, so it's great if you're visiting the city with a dog. All ages are welcome, so it's also a perfect family activity.
You can find benches around the area which offer their own beautiful views of the place.
Stewart Lake County Park
Stewart Lake County Park (3106 Co Hwy JG, Mt Horeb, WI 53572) is located 40 minutes drive from Madison and offers picnic shelters, hiking trails, canoe and kayak launch site, and fishing!
This is also where you will find the six acre, artificial lake, Stewart Lake.
This spring fed lake is accesible for trout and bass fishing.
Go Stargazing
Head to Halfway Prairie Star Trail for uninterrupted night's sky and star gazing.
The 1.8-mile loop is said to be relatively easy but not well marked.
Take A Day Trip
Madison is located in a convenient place close to other major and popular cities in Wisconsin.
It's about an hour's drive from places like Wisconsin Dells, Lake Geneva, and Milwaukee.
These places have their own free attractions, including hiking trails, museums, and more.
You can take a trip to Wisconsin Dells, known for its numerous indoor and outdoor water parks, so it's perfect for visiting with kids or friends.
Milwaukee is famous for its beer and for hosting popular events like Summer Fest.
If you don't mind spending some money or splitting it with friends, there are plenty of cabins you can rent throughout Wisconsin and outdoor areas to explore, especially up north.
Day trips are perfect for getting away from the city and enjoying some new sights and experiences.
Free Indoor Things to do in Madison
Explore The Madison Museum Of Contemporary Art
The Madison Museum of Contemporary Art (227 State St, Madison, WI 53703) offers rotating art exhibitions and galleries, as well as free art-related activities for kids.
With different art pieces shown here, there is always something new offered each time you visit.
It's located in downtown Madison, so if you're in the area, visit it to check out some interesting sculptures, paintings, and more.
While it's not as large as other museums in Madison, it is one of the few that don't cost anything at all.
Tour The Governor's Mansion
Visitors can go on free tours that run from June to August at the Governor's Mansion (99 Cambridge Rd. Madison, WI 53704).
It's the place where the current governor of Wisconsin resides.
You can see several art pieces and rooms in the three-story high building, as well as garden areas.
If you're interested in learning about the politics of the city and state, it's a must-visit.
Tour The Wisconsin State Capitol
Unsurprisingly, touring the state capitol is one of the most popular free activities to do in Madison.
There are free tours each day that run Monday-Saturday starting at 9 am and ending at 3 pm.
It's a great way to learn about the history of the capitol and the architecture of the building.
Visitors can also simply explore by building by themselves.
If you're bringing a large group of more than ten people, you will need to make a reservation.
The capitol is located on East Main Street.
Cheap Things To Do In Madison
Enjoy The Olbrich Botanical Gardens
The Olbrich Botanical Gardens (3330 Atwood Ave, Madison, WI 53704) are free if you're a member, but if you're not, you can visit for under $10.
Stroll along the area to find gorgeous landscapes and Midwestern plants.
You will also find the Thai Pavillion, which is famous for being the only one found in the United States itself.
Overall, the entire garden expands over 16 acres and gives visitors the opportunity to see a diverse natural landscape filled with different plants.
Try Different Foods At The Dane County Farmers' Market
The Dane County Farmers' Market (Capitol Square Madison, WI 53701) is an old Madison tradition that started back in 1972.
Hundreds of sellers offer fresh local goods like vegetables, meats, fruits, flowers, and other products every Wednesday and Saturday morning until late afternoon.
The Dane County Farmers' Market starts in July and doesn't end until November.
Free Events in Madison
Art Fair on the Square
Each July, there is a grand art festival called the Art Fair On The Square (2 E Main St – Madison, WI 53702).
It offers those who attend a fun mixture of live music, iconic art pieces including sculptures, paintings, prints, and an abundance of food choices.
You don't have to pay to get in since it's open to the public, but you may want to spend some money on souvenirs or dinner.
It typically occurs on a weekend.
The Bird & Nature Festival
The Bird & Nature Festival (2930 North Sherman Avenue Madison, WI) is a family-friendly free thing to do in Madison that takes place on the last Sunday of April each year.
As can be expected by its name, there are live bird shows that include hawks and eagles.
You can also enjoy fun events throughout the day like tree planting, how to use garlic mustard, bird watching with a telescope, and more.
It's the perfect festival to entertain children if you bring them along.
Apart from bird shows, expect entertaining music and delicious food.
Taste Of Madison
Taste of Madison (Capital Square, Madison, WI) is a yearly food festival that typically occurs in September.
It's free to attend and hosts dozens of food vendors, live music, and several drinking options.
While you don't have to spend money to get in, consider bringing some so you can try different foods.
There are all kinds of foods from BBQ, tacos, chicken, pastries, and much more.
It's a fundraising event that's heavily managed by groups of volunteers, so volunteering is a great way to spend the day helping set up the festival if you're up for the task.
Free Things to do in Madison in Winter
Go Sledding At Several Parks
Wisconsin is a cold state, and the city of Madison doesn't differ in weather.
The snowfalls during the winter can be quite heavy, and with beautiful outdoor landscapes, Madison is one of the best cities for snowsports.
You can go sledding at any of the numerous parks throughout the city, with the Elver Park sledding hill being one of the most popular options.
Discover more winter activities in Madison featured in this guide.
Ice Skate At The Many Ice Rinks
Madison has a variety of ice skating rings throughout the city where no reservation or entry fee is required.
Some of the popular options include Tenney Park, and there is also an ice-skating rink at the Henry Vilas Zoo park.
While you won't have to pay to skate, shoe rentals can cost between $5-$6 per hour.
There are also free ice skating events like Groove & Glide that feature lights and music throughout the winter months.
Affordable Accommodations In Madison
You have quite a few options for any budget when it comes to staying somewhere in the city.
The Radisson Hotel Madison is an affordable choice at $80-$100 a night that's only a 15-minute drive from downtown.
You also have the AmericInn by Wyndham Madison West, which is another excellent budget hotel.
If you're looking for apartments, check out the Willy St Apartments.
How To Get Around Madison On A Budget
Madison has bike trails spread all around the city, making it a great way to move around at no cost.
Avoid any expensive Lyft or Uber by bringing a bike along and riding it all around the city.
However, the diverse landscape makes it an excellent place for hikers and joggers alike.
If you're near the downtown area, you can visit a lot of places on foot to save yourself the expense of using gas or paying for a taxi.
Madison is also well-known for its organized public transit systems, so riding the bus is also a cheap option to consider.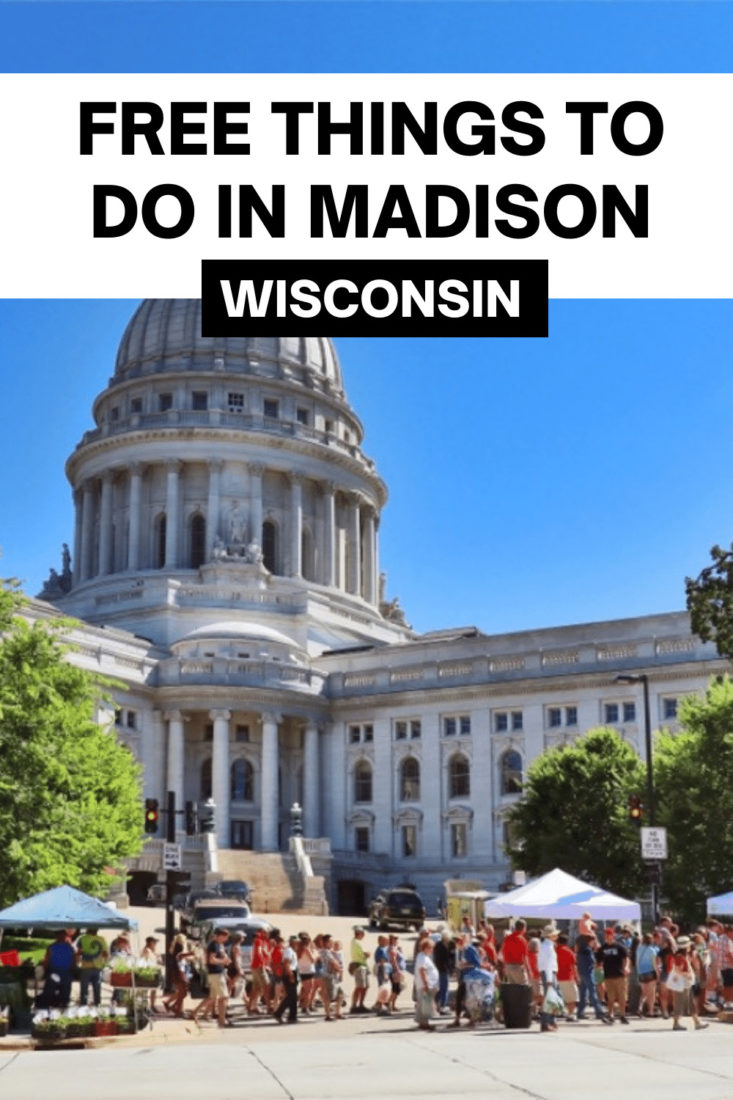 About The Author
Martin Soto is a lifelong Wisconsinite and currently lives in Milwaukee, Wisconsin. He has visited Madison along with other popular cities like Wisconsin Dells numerous times. Martin currently runs the travel blog Travel Explorator where he covers travel in the Midwest and tropical places in the U.S.