This article has links to products and services we love, which we may make commission from.
Looking for a fun and exciting way to spend your night in San Francisco?
Whether you like to see the lights brighten up the streets as you explore the city or looking for activities and attractions that are best enjoyed after the sun goes down, San Francisco at night has a lot to offer.
To help plan your visit, this guide compiled a list of things to do in San Francisco during nighttime including tours, theater shows, sightseeing, bar hopping, and more.
For something a bit romantic, check our guide to date nights in San Francisco.
Things to Do in San Francisco at Night
Alcatraz Night Tour
Going on a night tour in Alcatraz is probably one of the best things to do in San Francisco at night.
The Alcatraz offers an entirely different vibe after sundown especially when you explore the prison that once housed infamous convicts like Machine Gun Kelly, the Birdman, and Al Capone.
Aside from this iconic site, you'll also be able to stop by places like the Fisherman's Wharf and the famed Boudin Bakery.
Musee Mecanique
Want to visit some of San Francisco's unique attractions?
Open until 8 pm every night, Musee Mecanique (Pier 45) offers vintage arcade games that are fully functional and would be one of those fun, quirky cool things to do in San Francisco at night with the kids.
Bring your quarters to play the games, but entry into the San Francisco museum is free.
Museum of 3D Illusions
A five-minute walk from Pier 39, the Museum of 3D Illusions (55-61 Jefferson St) is open until 8 pm, and the entire family will love it.
Be a part of the illusion with 40 + pieces to see; this place delivers the best photo-ops for your loved ones to capture.
Museum Nights
A favorite pastime event in San Francisco is museum nights.
Few museums offer an after-dark experience every month where patrons can view the exhibits with drinks, and some even have a DJ.
Exploratorium (Pier 15 Embarcadero at Green St) has an after-dark event with a bar, DJ, and full access to the science exhibits, for adults only.
Comedy Club
Most comedy clubs require a fee to enter, but there are several that you can consider if you are looking for things to do in San Francisco at night for free.
Cobb's Comedy Club (915 Columbus Ave) has many top standup comedians grace their stage.
There is a nice meet and greet at the end of the show.
Decent food, strong drinks (2 drink minimum), and an intimate setting.
Polk Street
Polk Street at night is more of an older crowd looking more for having drinks with friends while watching a Warriors game and less dancing.
If you are into Trivia, Soda Popinski has Tuesday trivia night.
Polk Street is great around the holidays as it is even more alive for special occasions such as St. Paddy's day, Halloween and SantaCon.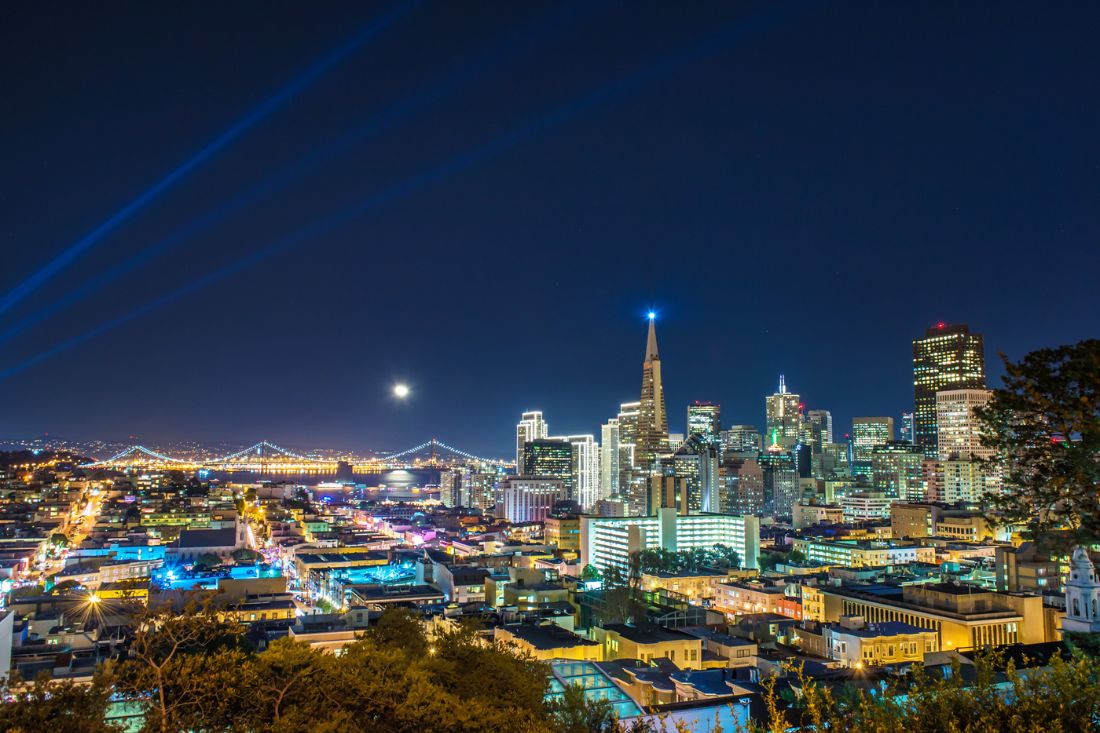 Marrakech Magic Theater
When you go to the Marrakech Magic Theater (419 O'Farrell St), be prepared to be thoroughly entertained in this Moroccan-style bar shrouded in mystery.
The evening begins an hour before the main event with a pre-show and a meet and greet.
They are confident you will love the 75-minute experience that follows; you are offered a money-back guarantee if you are not completely satisfied.
Cheaper Than Therapy
A comedy club run by comedians, Cheaper Than Therapy (Shelton Theater 533 Sutter St) is an excellent option if you are looking for things to do in Union Square San Francisco at night
They rotate the comedian lineup often, so you can go back often to see fresh content.
Large group and LGBTQ friendly and wheelchair accessible.
Tip: For good seats and cheap drinks, arrive early.
Union Square Ice Skating
The Union Square Ice Skating Rink (333 Post St) is a great winter activity if you visit downtown San Francisco at night with the kids.
The scenery at night is gorgeous, and polar bear and penguin-shaped walkers are available for the little ones.
For a romantic, fun date night, skate under the stars with your partner if you are in San Francisco in the winter.
You may also like our guide to San Francisco in December featuring ice skating in Union Square.
Broadway Show
See one of the phenomenal Broadway shows in Union Square at one of the three Curran (445 Geary St.), Golden Gate (1 Taylor St), and Orpheum theaters (1192 Market St).
There are performances year-round, and indeed something that will entertain you if you are a theater lover looking for ideas about where to go in San Diego at night.
Skate & Bowl
If you are under 21 and the nightclub scene isn't your thing, but you and your friends still want stuff to do in San Francisco at night, go bowling or skating, your choice, at Yerba Buena Ice Skating and Bowling Center (750 Folsom St).
A fun spot to hang out and bowl or skate with your friends, there is also comfort food available, making this an ideal spot to go on the weekends.
The NHL rink has an advanced skating area in the middle.
A wide range of skills, bowling, and skating, come to enjoy a night out.
City Nights
If you are looking for things to do in SF at night under 21 then City Nights (715 Harrison St) is worth mentioning.
Under 21 years old patrons are welcome to access a full bar but don't have to drink to have fun.
The club spans 15,000 square feet, offers two dance floors, and regularly hosts themed events that attract visits from celebrity performers.
Panoramic Night Tour
The Big Bus tour is one of the best things to do in San Francisco at night with family.
Tour begins at Fisherman's Wharf and provides a fantastic opportunity to see a completely lit-up panoramic view of the San Francisco skyline.
The double-decker bus wraps up back in the city with amazing views of glittering lights along the wharf.
Ride the Cable Car
The only moving national monument in the country, San Franciso Cable Cars, provides a great family outing at night.
Riding the cable car (Powell Hyde & Mason) at night brings a different perspective of the city.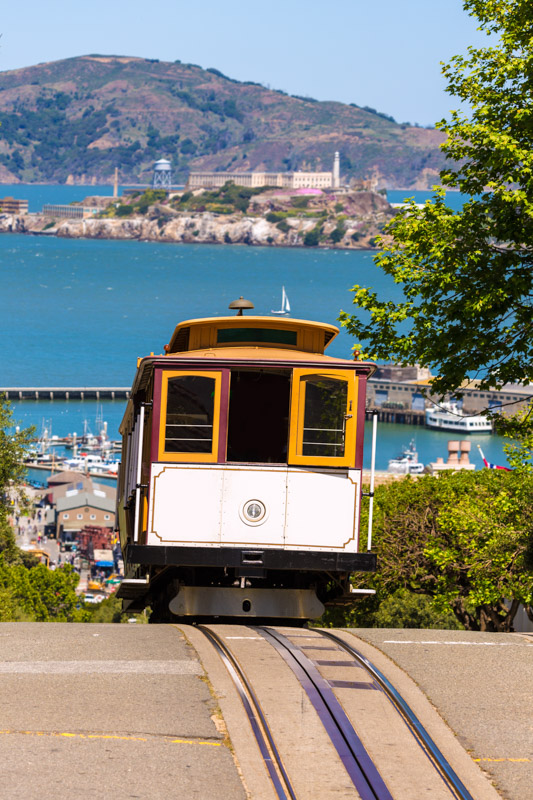 The Escape Game
The Escape Room (150 Kearny St) delivers one of the best things to do at night in San Francisco with kids, as there's something for the entire family.
With five (5) one-hour games from which to choose, each game offers a fun way for the family to bond and work together and challenges the problem-solving skills of each family member.
See the Bay Bridge Lights
Viewed and one of the most iconic San Francisco night attractions, the Bay Bridge light show is spectacular and worth seeing if you are looking for fun things to do in San Francisco at night.
Designed by light artist Leo Villareal, the lights at night are practically mesmerizing and run from dusk to dawn.
Bay Bridge also features in our San Francisco itinerary.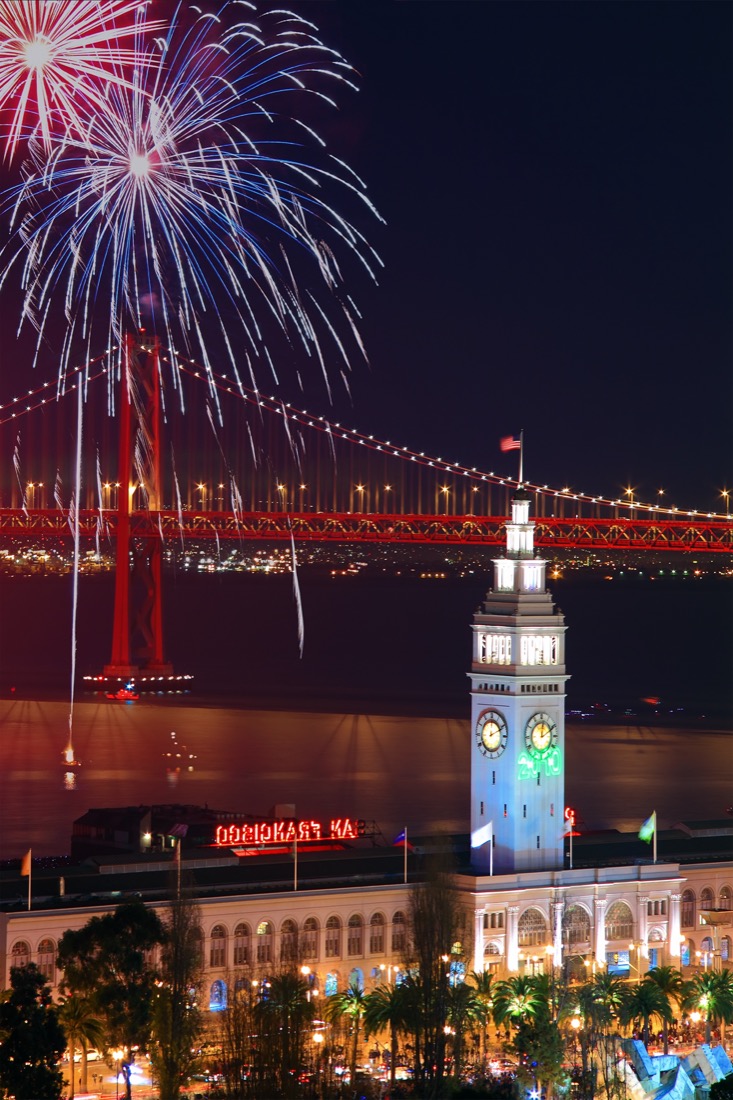 Take The Ferry to Sausalito
Taking a ferry ride to Sausalito is one of the best San Francisco things to do at night.
Extend the night with a cozy dinner for two and take advantage of one of the best ways to take in the views of San Francisco at night from the water.
Just 11 miles from San Francisco, Sausalito's vibe has been compared to a quaint town in Italy with picturesque views.
Ghirardelli Square
Take an after-dinner stroll to Ghirardelli Square for some ice cream or some frozen mocha in the summer or hot cocoa in the winter.
Ghirardelli Square is a landmark and famous for its chocolate, ice cream, and other sweet delicacies and you can snag a piece of free chocolate.
Ghirardelli Square also features on our San Francisco bucket list.
California Cannabis Tours
California Cannabis Tours (2607 Mandela Pkwy) is a short 15 min drive from San Francisco and is open 24 hours.
Their signature Wine and Weed Tours are recommended for uplifting San Francisco night activities.
Register for their Puff Pass & Paint or Puff, Pass & Pottery to explore your creativity at another level.
Puff Pass and Pastry is their Cannabis cooking class.
Sing-A-Long
Grab a good friend and sing-a-long to your favorite movie soundtracks and other classics at the Castro Theatre (429 Castro St).
The show begins with timeless movie soundtracks with subtitles, so there is plenty of opportunity for vocal preparation.
You are encouraged to come dressed in costume as the show begins with a costume competition.
Sing to the top of your lungs, with everyone else, while watching the movie play on the screen ahead.
This fun activity also includes free prop bags for the audience.
Foreign Cinema
Offering Californian-Mediterranean cuisine while films play in the background, Foreign Cinema (2534 Mission St) is a popular date night activity booked up well in advance, so that should tell you something.
Foreign Cinema has ranked as one of San Francisco's top 100 restaurants, and more than just couples come to enjoy the sensual atmosphere and delicious food.
The Mission District
One of the places to visit in San Francisco at night is the Mission District for a casual, laid-back evening adventure with live music and a hippie vibe.
If your thing is authentic dive bars and trendy drinking holes with live music The Mission is one of the best late-night San Francisco activities and areas to visit.
You will find all ages and a mixture of cultures here with some of the best restaurants; however, some bars have age restrictions.
Trick Dog
Located in the Mission District, Trick Dog (3010 20th St) should go on your list of fun things to do in San Francisco at night.
Housed in a converted warehouse, Trick Dog, is a trendy place with a hipster feel where you can just hang out for drinks and overall ambiance.
Known for its hamburger in a hot dog bun and great cocktails, Trick Dog also offers out-of-towners unique views of San Francisco from their bar seats.
Final Thoughts
Did you enjoy our guide to San Francisco at Night? Let us know in the comments.
If you want to explore more places in California, be sure to check out our other guides below.