This article has links to products and services we love, which we may make commission from.
San Francisco is filled with enchanting activities and experiences that are perfect for a romantic date night.
From dinner with a view to exploring its stunning winding streets, there's something for everyone in the City by the Bay.
And if you're looking to add a little excitement to your evening out, the vibrant nightlife scene is sure to provide plenty of opportunities for fun and adventure.
To help you get started, we've rounded up ideas for date nights in San Francisco- whether you're looking for a memorable first date or a grand romantic gesture.
And for those looking for something a bit budget-friendly, included in our list are inexpensive and free date ideas you can find in the city.
This is also a perfect time to enjoy many of San Francisco's night activities.
Date Night Ideas in San Francisco
If you're looking to impress your special someone with a memorable evening out, listed below are some date night ideas in SF you two can enjoy.
Take a Panoramic Night Tour
Spend an evening sightseeing in San Francisco with your date.
You can take the Big Bus tour which will take you to the Fisherman's Wharf -a fantastic opportunity to see a completely lit-up panoramic view of the San Francisco skyline.
The double-decker bus wraps up back in the city with amazing views of glittering lights along the wharf.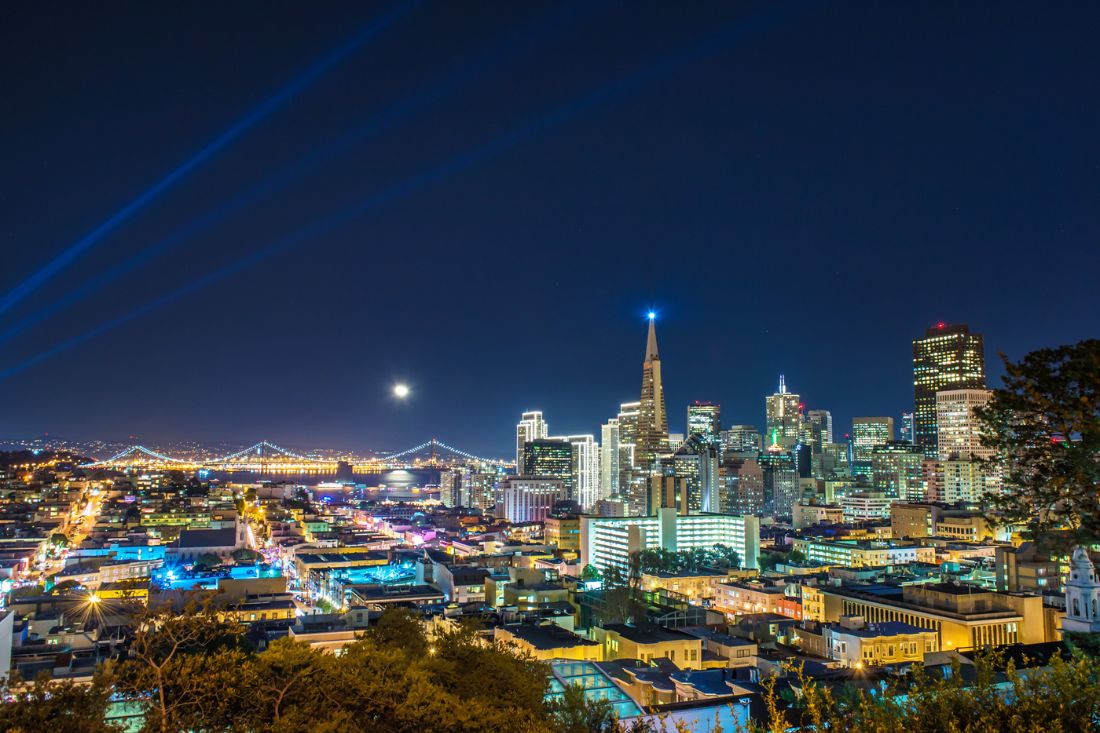 Bay Sunset Cruise
Some of the best date ideas in the bay area don't have to cost a lot but are worth every penny, including taking a romantic sunset cruise on San Francisco Bay to see iconic landmarks.
Enjoy a glass of wine as you take in views of the beautiful Sausalito shoreline and even Alcatraz island on your date cruise.
A dinner cruise is one of the most popular anniversary date ideas in San Francisco and a fantastic way to celebrate your time together; as the sun descends and you and your partner enjoy dinner.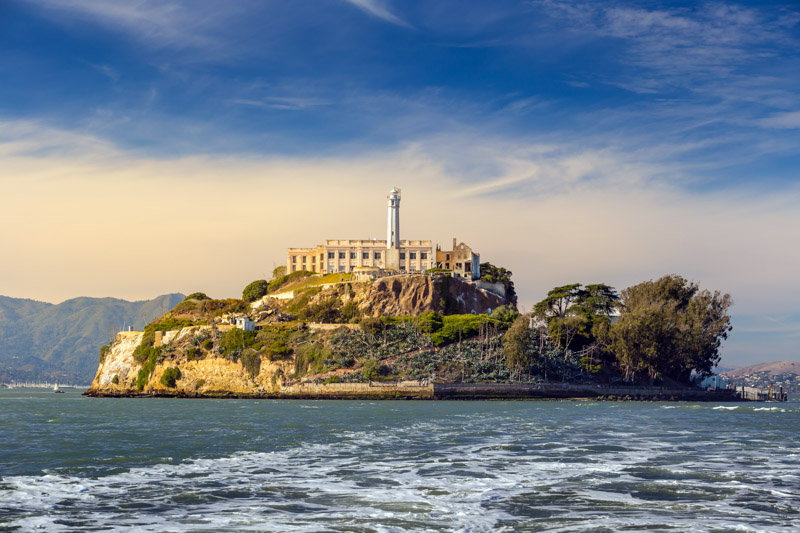 Skunk Train & Rail Bikes
Some of the best date spots in SF Include packing a picnic basket and taking a train ride on the historic Skunk Train (100 W. Laurel St) through the redwoods.
Sip a glass of red wine, and get to know your date better as you take in the fantastic views.
There are day and night train rides, but on the night ride, waiting at the end, there's a live band, ambiance, and romantic lights.
Wait for the next train back, take advantage of the opportunity to explore a little, and snap a few selfies to remember such a unique experience.
Take the rail bikes (motor-assisted) instead if you are feeling adventurous as you and your partner work together to peddle and ride on the rails, get a fresh breeze, and experience the iconic scenery of the redwoods up close.
Tip: Wear a face covering as the debris is genuine.
Museum After Dark
If your date is interested in art, culture, science, or history- spending time at a museum can be a good option.
There are a few museums in San Francisco offering an after-dark experience every month where patrons can view the exhibits with drinks, and some even have a DJ.
Exploratorium (Pier 15 Embarcadero at Green St) hosts events in the evening with a bar, DJ, and full access to the science exhibits.
See a High-Flying Love Story
This will be a date night to remember when you see the heart-pounding acrobatics of the High-Flying Love Story at Club Fugazi (678 Green St).
You can see a fantastic performance and enjoy something light to eat and drink.
Go Dancing at the Academy of Sciences
For an unforgettable date and a one-of-a-kind experience, go dancing at the California Academy of Sciences (Golden Gate Park 55 Music Concourse Drive).
By day it's a learning experience for the entire family, and by night (Thursday night), there's the opportunity for dancing, drinks, and a DJ.
Go to a Theater
A great date night idea and one that will provide lots of conversation topics and an opportunity to dress up is an evening at Broadway, SF (1182 Market St, Suite 200).
But if Broadway is too formal for what you had in mind, there's no shortage of theaters to catch a movie.
AMC Metreon 16, Century San Francisco, and Center 9 & XD Regal Stonestown Galleria 12 are three of the largest movie theaters.
Go for Dinner and Drinks
Some of the most exciting bars and restaurants offer the best atmosphere for a first date, such as Causwells (2346 Chestnut Street), a popular spot for martinis and burgers.
For some of the best food and hospitality in San Francisco, have your date at Cassava (401 Columbus St).
Keep reading for more romantic restaurant ideas in San Francisco.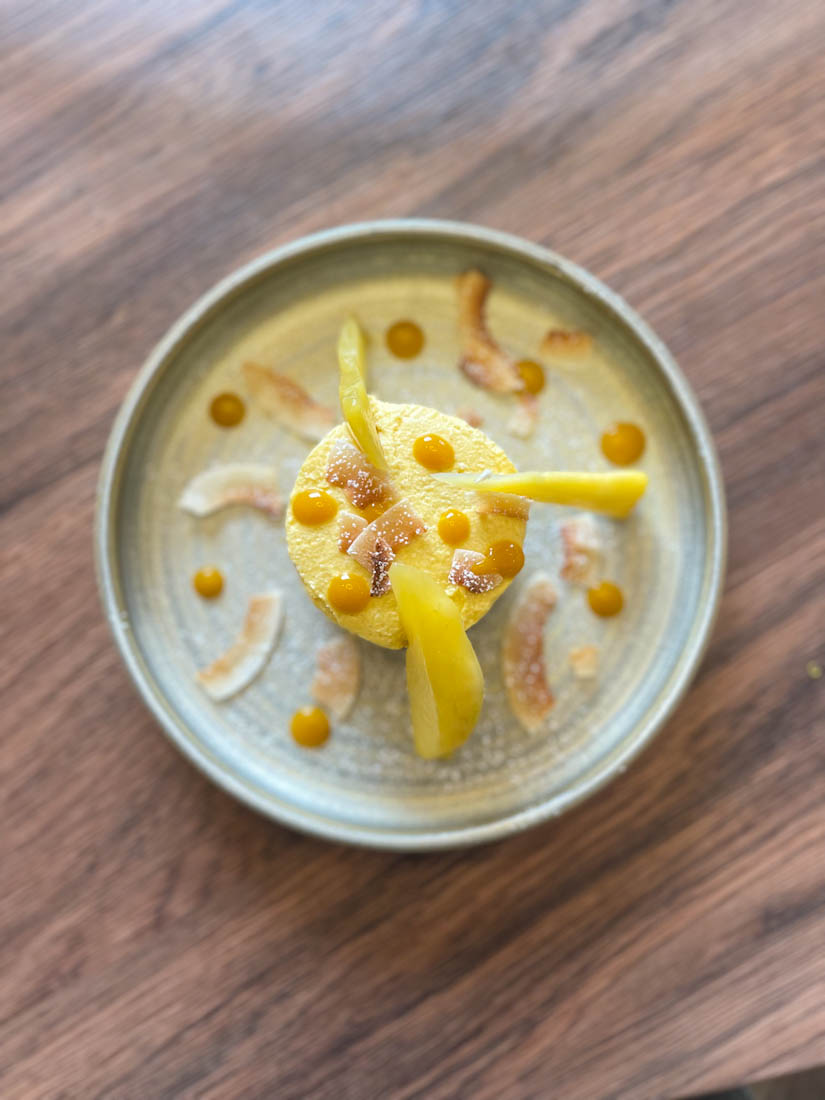 San Francisco Romantic Dinner
Nothing quite sets the mood and creates an unforgettable experience like a dinner date if you're looking for romantic things to do in San Francisco.
To help you plan, below are some of the romantic restaurants in SF to take your date.
Visiting San Francisco during the holiday season? Read this guide.
Dinner at the Boulevard
For a San Francisco romantic dinner, pair a night at the theater with dinner at the Boulevard (1 Mission St).
There is a multi-course menu available, including seafood, meat, and vegetable dishes as well as desserts, wines, and cocktails.
Quince
If you're feeling fancy, take your date to Quince (470 Pacific Avenue), a three-star Michelin restaurant in San Francisco.
The place has a refined and elegant setting and features Californian contemporary cuisine with Italian influences.
You can also contact them to make arrangements if you have food restrictions (like vegans or pescatarians).
Bix Supper Club
Impress your date with plush booths, art deco, and live jazz music at Bix Supper Club (56 Gold St).
The place offers modern American cuisine and features a bar where you can get cocktails.
Top of the Mark
Looking for dinner with a view?
At Top of the Mark (999 California St), you can have a romantic meal with your special someone while enjoying the sight of San Francisco's skyline.
You can find the restaurant on the 19th floor of the Mark Hopkins Hotel.
The place has a mid-century feel to it and offers a great selection of food items like artisan bread, caviar, crabs, scallops, steak, chicken, and more.
Reserve a seat by the window to get the full experience while having a glass of martini or champagne with your date.
Cheap Date Ideas San Francisco
If you're looking for an inexpensive way to have fun with your date, here are some of our favorite cheap date ideas in San Francisco.
Looking to explore more places in San Francisco? Check this guide.
Rent a Rowboat
Take a romantic and inexpensive spin around Stow Lake (50 Stow Lake Dr.) as you and your date paddle together at your own pace.
Have lunch at the cafe, where you can find great coffee, beer, wine, and various healthy food options.
Off the Grid: Fort Mason Center
For cheap date ideas in San Francisco, visit Fort Mason Center (2 Marina Blvd) for 25+ food trucks, a full bar, and live entertainment.
A great way to spice things up with fun vibes, great food, and drinks, they offer different Friday theme nights each month and games to play.
With a wide variety of food trucks, this is a fun place for a first date to hang out and get better acquainted.
Tip: Dress warmly, as it can get windy/chilly during the evenings.
Go Bowling
Bowling might not be one of the most prominent ideas for a date, but it is still a great idea if you are looking to learn more about your new friend.
Head to Presidio Bowl (93 Moraga Ave) for a few rounds to gain more insight into your date's personality: are they competitive? or do they eat with their fingers and like to have fun?
Coffee Bar Montgomery
If you are looking for first date ideas in San Francisco, check out the Coffee Bar (101 Montgomery St) if you are in the area.
The atmosphere is such that you will have the opportunity to get to know your date over hand-crafted coffee.
The Alamo Drafthouse Cinema New Mission
The Alamo Drafthouse Cinema New Mission (2550 Mission Street) is a cinema house to take your date to watch either new or classic movies.
If you want to go extra, one great thing about this place is that they offer a full, multi-course menu prepared from scratch as well as craft beers, cocktails, and milkshakes.
Roxie Theater
Check out the Roxie Theater (3117 16th St) for something a little quieter and thought-provoking.
They have a theater room called the Big Roxie that can seat 234 people and a smaller theater room that can accommodate 47 seats.
You can find movies from San Francisco's local film community being played here as well as shows in the Spanish language.
The historic theater operates as a non-profit and one of the oldest in the US – been running since the 1900s.
Ice Skating
Yerba Buena Ice Skating & Bowling Center (750 Folsom Street) delivers two fun activities in one location.
You and your date can have fun bowling at this place or can enjoy ice skating.
Free Date Ideas San Francisco
While it's almost impossible to go on a date without spending a dime, there are some spots in San Francisco where you can take your partner for free- and simply enjoy your time together.
You may also like our San Francisco itinerary.
Film Night in the Park
Date night ideas in San Francisco are as simple as grabbing a blanket and some food and heading to whichever is nearest, Dolores Park, Washington Square Park, and Union Square, to watch a movie under the stars for Film Night in the Park.
The cost to view the film is free, so it's a great inexpensive date night idea.
Arrive early to snag a good spot; layer up depending on the time of year, as the evenings can be chilly.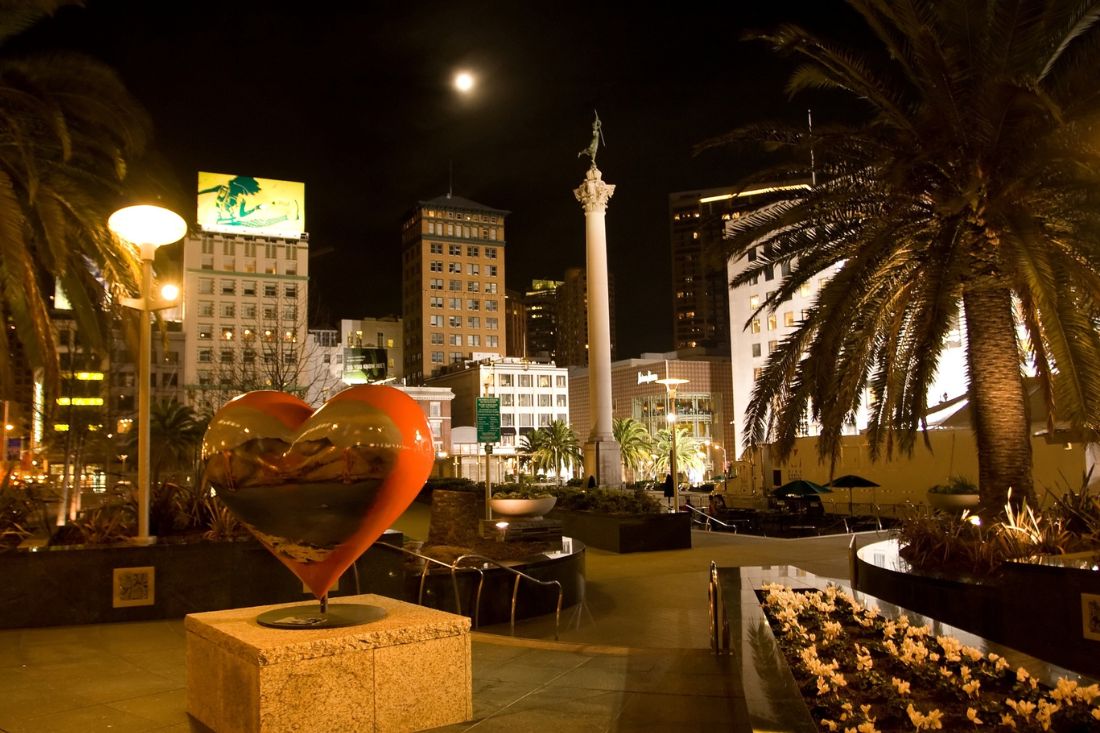 The Cable Car Museum
Put the Cable Car Museum on your San Francisco date ideas list for something unique and different.
As the name suggests, the Cable Car Museum (1201 Mason Street) preserves the history of the cable car system as it evolved from 1873.
Here you can get to know your date as you learn the differences between cable and street cars.
Working objects are on display for the viewer's pleasure, and entrance to the museum is free.
Walk Across the Golden Gate Bridge
SF Date night ideas don't have to be complicated or cost anything; you and your partner can get up close and personal and witness iconic views when you stroll across the Golden Gate Bridge.
Reaching the other side is just under two miles and an ambitious and doable goal when walking and conversing with your date.
You can opt to walk to the middle of the Bridge and back, which takes about 30 minutes.
Bring a jacket or sweater, as it can be windy and chilly.
Golden Gate Park
When planning out your date, The Japanese Tea Gardens (75 Hagiwara Tea Garden Drive) and the Botanical Gardens (1199 9th Ave) offer free access on certain days and times of the week.
While many attractions are fee-based, most of the park is free to wander.
With over 1000 acres to explore, spending hours lost in conversation with your date would be easy.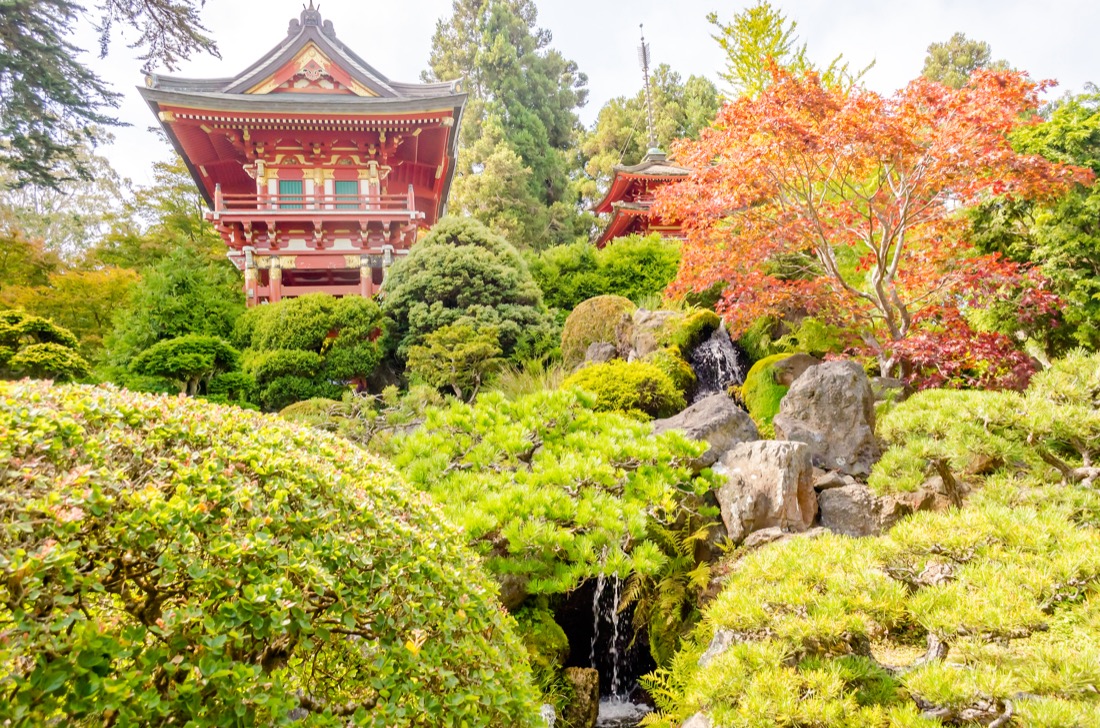 Art Gallery and Museum
Learn a little more about your partner as you stroll through the various galleries and museums throughout the city, such as the De Young Museum (Golden Gate Park 50 Hagiwara Tea Garden Drive) and SFMOMA (151 Third St).
Both museums offer free admission on selected days of the month so be sure to check their website for the updated schedule to help you plan ahead.
Stroll Around Crissy Field
On a clear day, Crissy Field (983 Marine Drive) is a beautiful place to take a walk along the water with your date.
The view is stunning, with the Palace of Fine Arts on one end and the Golden Gate Bridge on the other.
Stop at the coffee shop along the trail and take in the views of the bay.
Clarion Alley Street Art
Take a walk down Clarion Alley and get a feel of the pulse of what is going on locally and in the world as local artists collaborate in this free open street art housed in the Mission District.
The art project began in 1992 and is ever-changing, so you may see something different each time you visit.
If the date is going well, grab some lunch and drinks in the area.
Lovers' Lane Trail
With a name like Lovers' Lane Trail (1750 Lincoln Blvd), it just makes sense to add it to your list of romantic date ideas San Francisco if you are a lover of nature and history.
While here, you can explore Andy Goldsworthy's Wood Line installation.
Finish with a picnic on the grass, or head to Presidio Social Club Exchange (563 Ruger St) for burgers and margaritas​​ and one of the best date spots in San Francisco.
Learn Bookmaking
Learn the art of bookmaking if you need fun date ideas San Francisco at the San Francisco Center for the Book (375 Rhode Island St).
You and your date will learn the basics of the art of bookmaking, booking binding, and letter pressing, and it won't cost you anything.
Free gallery talks and open houses are also available.
Romantic Hotels in San Francisco
1 Hotel San Francisco is a luxury hotel with spa and stunning rooftop.
Some of the rooms at the Ritz-Carlton, San Francisco have marble baths, perfect for lazy afternoons in the hotel room.
Final Thoughts
Hopefully, you'll be able to plan for your best date night in San Francisco using this guide.
Don't forget to share your favorite date spot in SF in the comments below.