This article has links to products and services we love, which we may make commission from.
If you're looking for a fun snow adventure or sunny escape in December, look no further than California!
The Golden State is basking in glorious weather this time of the year, with temperatures ranging from 48°F to 67°F on average.
You'll get to enjoy fewer crowds and there are plenty of activities and attractions to keep you busy.
To help you plan your trip, we compiled some of the best places to visit in California in December including the best spots for winter activities and holiday events.
Listed below are destinations and activities categorized from snowiest to warmest and ordered north to south.
Also, note that December is also the month when some parts of California may experience rainfall, so be sure to pack an umbrella just in case.
You may also like our California bucket list.
Best Snow Places in California
If you're looking for snow in California in December, you'll likely find it in both the northern and southern regions of the state.
Most areas that have higher elevations and low temperatures, like around the Sierra Nevada Mountains for example, generally see their first snowfall as early as November.
So if you want to enjoy snow activities like skiing and snowboarding, you'll want to head to the places listed below.
Mount Shasta
About a four-hour drive North of San Francisco, Mount Shasta sees snow in the winter.
If you dare, you have an opportunity to snowboard down an active volcano at Mount Shasta Ski Park (4500 Ski Park Hwy, McCloud)
If you want something less challenging, the area also offers snowshoeing opportunities.
Lassen Volcanic Park
Often overlooked as one of the best snow places in California, Lassen Volcanic Park can get up to 30 feet of snow starting in December.
Sledding and skiing are popular activities, and visitors can also take free snowshoe tours led by rangers to see some of the most captivating winter views in the state.
Soda Springs
Head to Soda Springs to find one of the longest-running ski resorts in the state.
Soda Springs Ski Resort (10244 Soda Springs Rd) is where you can enjoy wide-open slopes that are perfect for exciting snow activities during the winter.
Their kid-friendly tubing is a must for your little ones.
Older kids and adults get their own area for tube sliding at the Woodward Start Park.
They also offer ski and snowboarding lessons as well as lift rides.
Truckee, California
Truckee's Johnson Canyon (Billy Mack Rd) can't be missed if you're looking for a great destination to enjoy the snow during your California winter vacation.
There is a 5.6-mile out and back trail in the area featuring moderately challenging slopes that is perfect for skiing or snowshoeing.
You can also bring your sled or go tube sliding at one of the monitored lanes of Tahoe Donner.
Tip: In the Sierras, snow chains are mandatory, and you can be turned back without them.
Lake Tahoe
If you're looking for one of the best places to visit in California in December, Lake Tahoe should be on your list.
The area averages 75 inches of snow during the month and offers ample opportunities for winter recreation.
It is also home to some of the most scenic slopes combined with enchanting resorts, casinos, and shopping.
The Village at Northstar is especially popular as it has an ice skating rink and gondola rides- and hosts holiday events in December.
If you want to explore the outdoors, the surrounding mountains offer activities like skiing, snowboarding, and sledding.
Find more activities in Lake Tahoe during winter featured in this guide.
Sequoia National Park
Set amongst the Sierra Nevadas, Sequoia National Park is one of the snowy places in California that's worth visiting.
It gets about 45 inches of snow so it's a great place for skiing, snowshoeing or just taking in the scenery.
It's also a great opportunity to see some of the largest trees in the world covered in a blanket of sparkling snow.
Yosemite National Park
California in December is off-season, which means there will be fewer crowds in many of its parks and more play space for you.
Yosemite National Park becomes a winter wonderland when the snow covers the valley floor.
Head to the Badger Pass Ski Area for sledding and snow tubing opportunities.
You can also go on a winter hike close to Mirror Lake for breathtaking views of Half Dome in a wintery landscape.
Yosemite also features in our list of backpacking national parks.
Tip: Safety and preparation should be the priorities. Wear proper winter gear like hiking shoes with traction to avoid slips.
Mammoth Mountain
Head to Mammoth mountain for some of the best skiing and snowboarding in California in the winter.
From Los Angeles, the drive is just over four hours and worth it if you want to play in the 30 feet of snow that the mountain gets in the winter.
Big Bear Lake
Visit Big Bear Lake in winter to take advantage of one of the best snow places in California.
If you're looking to experience adrenaline rushes, head to Big Bear Snow Play for activities like snow tubing during the day and glow tubing during the night.
Make it worthwhile financially by staying the entire day; you can leave and return.
No steep hill to walk up (unless you just want to) because they have an escalator to take you to the top.
Parking is free and close by, which is always a plus.
Tip: Bring cash or use the available ATM, as credit cards aren't accepted.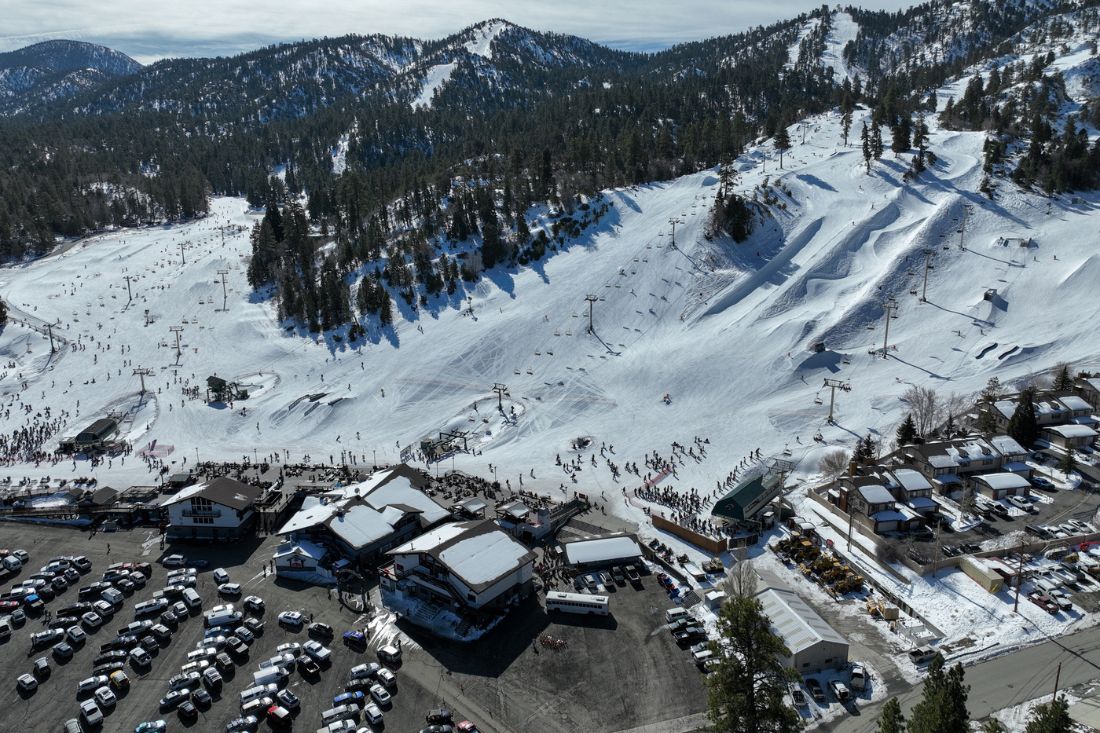 Other Places to Visit in California in December
Check out other places to visit in California in December.
Though the following destinations don't really get lots of snow, they still boast activities and events that are perfect for the winter season.
Planning to visit in the autumn? Read our guide to California in the fall.
Napa Valley
Napa Valley is magical in December and makes the list of things to do for the winter season in California.
Journey to the north pole, with Santa, on the Napa Wine Train, which is transformed into Santa's coach.
Kids and the young at heart will enjoy hot cocoa, live entertainment, singing, and games.
Napa also features in our guide to fun bachelorette ideas.
Sacramento
Sacramento in winter enjoys relatively mild weather; in December temperature ranges from 39°F to 59°F.
There's something for everyone in this charming city – whether you're looking to soak up the holiday spirit or just enjoy the season.
If you're around the downtown area, check out the majestic Theatre of Lights at the Old Sacramento Waterfront- a spectacular annual event where lights and festive decor adorn the city.
Or you can go ice skating at Downtown Sacramento Ice Rink (7th & K Streets) which is open from November until January.
San Francisco
San Francisco is a fun city all year round but it sparkles in winter.
See the Fisherman's Wharf Holiday Boat Parade light up the water, watch the San Francisco's Nutcracker at the War Memorial Opera House, and the tree lighting at The Bank of America Tower or Union Square.
Take advantage of fewer crowds at Muir Woods or Presidio for a winter hike.
Finally, support the Golden State Warriors in December at the Chase Center.
For more on San Francisco in winter, read our guide.
Death Valley
Believe it or not, Death Valley is one of the best places to visit in California during winter.
You can see mountain peaks dusted with snow and waterfalls continue to flow.
The landscape contains yellow, gold, and tan hues from the dunes and colorful rocks.
Sunrise and sunset views at Zabriskie Point are gorgeous and photo-worthy.
Death Valley also made it to our list of the best national parks to visit in November.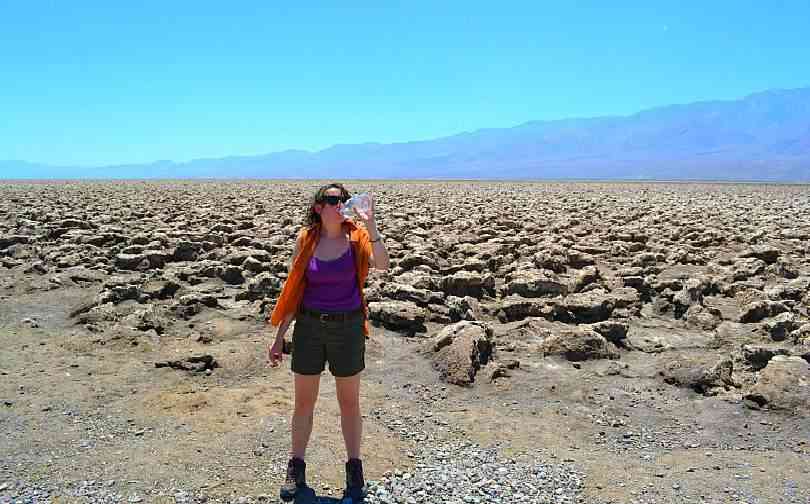 Joshua Tree
Joshua Tree is not too far from Los Angeles, and an opportune time to visit in December as the temperature is doable.

See the famous yucca trees and hike the trails.
Hidden Valley Trail is one of the most popular as it is an easy one-mile loop.
Skull Rock Nature Trail is equally as famous and a relatively easy, partly paved two-mile hike with incredible rock formations at the end worth seeing.
Although December offers manageable temperatures in Joshua, it has little shade, so as you explore, bring a sunhat and plenty of water.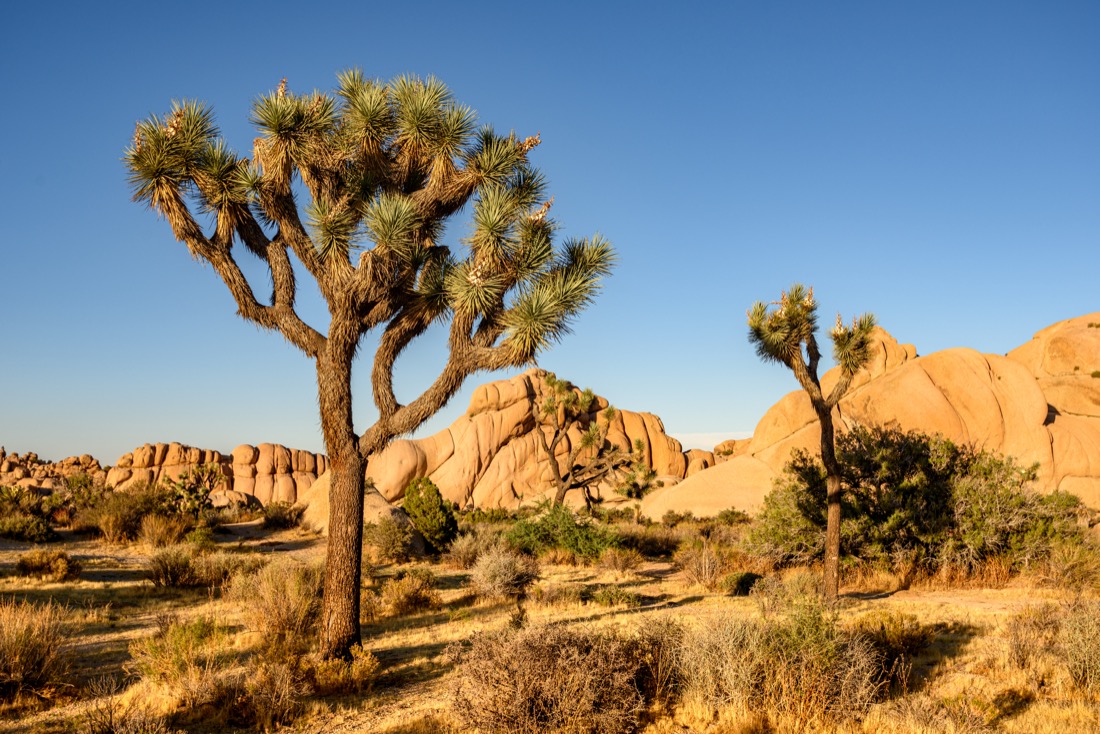 SkyPark at Santa's Village
One of the most popular places to visit in winter in California for biking, climbing, and zip lining, plus Christmas entertainment, is a forested park in the mountains.
If you're spending winter in Southern California, go to SkyPark at Santa's Village (28950 Highway 18, Skyforest).
You can pop in and say hello and take pictures with Santa or shop for your Christmas list at the on-site store.
Take photos with the park characters that roam free for your amusement.
For the best cookies, Cinnabons, and ginger doodles, visit the Gingerbread House Bakery.
Metal Sculptures in Galleta Meadows
The Galleta Meadows metal sculptures are a one-of-a-kind attraction that some people may not know about and that you won't see anywhere else.
About three hours from Los Angeles and a 2-hour drive from San Diego, there are predominantly scattered along Borrego Springs Road and a total of 26 sculptures.
December is an excellent time to visit the sculptures as the temperatures are pleasant and it is free.
Warmest Place in California in December
If you're not a fan of the chilly winter weather, there are actually warmer spots to visit in California in December.
Read on to find out some of the best places that offer great escapes from the winter's cold temperatures in the state.
If visiting in December or January, you'll want to look out for orcas who are also migrating to warmer ocean!
You may also like our USA bucket list featuring sites and activities in California.
Los Angeles
In Los Angeles in the winter, temperatures approach around 67 °F, making for excellent walking weather and exploring outdoors.
You can go on a guided afternoon tour of famous spots in LA including Downtown, Hollywood, and Beverly Hills.
In the evening, these places are especially beautiful with all the holiday lights and decor that fills up the area.
Los Angeles also features in our guide to the best places to spend New Year's in the USA.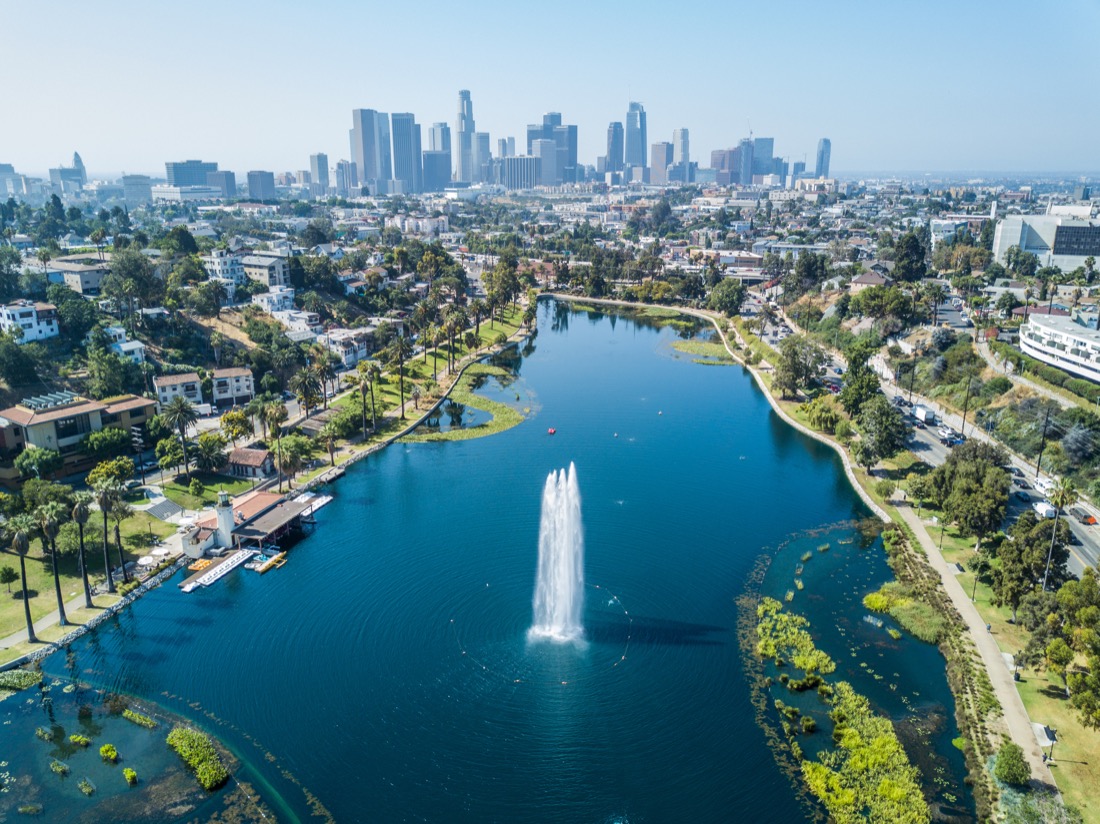 Venice Beach
The summer crowds have gone, and so have the high temperatures, so grab a slice of pizza and sit on a bench, and people watch along Venice beach.
And while you're here, catch the annual changing of lights of the iconic Venice sign from white to red and green during the Venice Sign Holiday Lighting ( Windward Ave and Pacific Ave).
The event features live music, exhibits, contests, and sometimes special guests including celebrities.
Venice Beach is also featured in our guide to spring break in California.
Santa Monica Beach
Santa Monica beach boasts a lively atmosphere not only during summer but in the winter as well.
Aside from stunning ocean views, you can find winter-themed events held around the area starting in December.
The Holiday Cheer on the Pier is a month-long event in Santa Monica Pier featuring live art installations, family-friendly activities, and holiday programs.
Visit this website for the updated schedule.
Long Beach
Long Beach is south of downtown Los Angeles and with temperatures ranging between 48°F and 66° in December
With waterfront activities, bike-friendly pathways, and cultural festivals, Long beach is a favorite winter destination in California for locals and travelers alike.
You may also like our guide to beach towns in California which features Long Beach.
Anaheim
Anaheim, home of Disneyland Resort and Knotts Berry Farm, is one of the two warmest places in California in December–the other being Palm Springs.
December is the first winter month in Anaheim, with daily high temperatures ranging between 67°F to 69°F.
Laguna Beach
Centered between Los Angeles and San Diego, Laguna beach has so much to offer, including festivals and events that promote art and culture, making it a top pick for winter getaways in California.
Catch the Sawdust Winter Fantasy Festival, which runs on weekends from November to December, for some live music, holiday lights, community performances, food and drinks, and more.
Temperatures in December in Laguna beach average about 67°F, making it a hiking, biking, and exploration paradise.
Temecula
About 90 minutes south of Los Angeles and 60 minutes north of San Diego, Temecula is the spot for wine tasting in southern California.
In December, temperatures stay pleasantly in the 60s, which might explain why travelers come to Temecula for patio dining and outdoor recreation.
Annual Tree Lighting in Palm Springs
Palm Springs in December rarely goes below 59°F and rarely exceeds 80°F.
There is so much to do in Palm Springs this time of year, but the annual tree lighting is one of the most popular.
Take a ride on the Aerial Tram and watch to see which celebrity will flip the switch to illuminate the Coachella Valley sky.
San Diego
San Diego has a number of family-friendly festive events running throughout the winter season including the annual Winter Wonderland Festival, Holidays at Legoland, and Encinitas Holiday Parade.
Locals and visitors will also enjoy the Christmas lights and decor in the Old Town, Balboa Park, and Botanic Garden Lightscape.
Take advantage of crowd-free hiking and cooler temps at Torrey Pines State Park, or winter surfing at La Jolla (Black Beach), Oceanside, and Grandview.
For more, check out our guide to San Diego in December.
Final Thoughts
We hope you find this guide helpful in planning your next trip to California in December.
And don't forget to share your favorite spots or activities in the state in the comments below.