This article has links to products and services we love, which we may make commission from.
San Francisco is a vibrant city where you can find world-famous attractions.
But there's more to it than just the Golden Gate Park and the Golden Gate Bridge.
If you're looking for something different on your trip to the City by the Bay, away from the classic tourist hot spots, then this guide will direct you to lots of San Francisco hidden gems.
From surprising museums to lesser-known parks, discover all the unique attractions you can find in the city.
Find more things to do in San Francisco featured in this guide.
San Francisco Hidden Gems
Angel Island State Park
Take the ferry 30 minutes to Angel Island State Park, learn the history, and experience some of the most jaw-dropping views.
You can get food in the area before taking the Ferry.
On your way to the largest natural island, you pass historic Alcatraz and get impressive Golden Gate Bridge views.
The Island is tent-camping friendly, so check in with the ranger for camping instructions and a map when you arrive.
Hike to the top of Mount Livermore for amazing views, and for sunset, bring your flashlight to find your way back to your campsite.
Make it a day trip or a weekend getaway, this is one place you don't want to pass up.
Dogs are not allowed, so that may be a turnoff for some.
Magowan's Infinite Mirror Maze
Magowan's Infinite Mirror Maze (Pier 39, 0-11 Beach St) is worth visiting for the young at heart as part of a fun date night. 
Play hide and go seek with friends.
Great photo-taking opportunity with friends or just yourself.
Take the piano stairs down on your way out for an added musical treat.
Musee Mecanique
Filled with nostalgic arcade games of all types, Musee Mecanique (Pier 49) is one of San Francisco's hidden gems.
The arcade machines will take you back to your childhood days of spending time playing pinball or one of the other 300 coin-activated machines.
USS Pampanito
Just a few steps from Musee Mecanique, the USS Pampanito was once an active US Navy submarine.
Now a floating history museum that you can count as one of the unique things to do in San Francisco as there are military gadgets, engine rooms, and torpedos on display.
Umbrella Alley
Fun for the entire family, Umbrella Alley was erected during covid to bring joy back to the community by local mural artists whose work is featured here.
The location is attracting Instagram influencers as the murals make for Instagram-worthy images.
Check out the Greetings from San Francisco sign that makes a great selfie option.
Fay Park
Fay Park (2366 Leavenworth Street) is one of San Francisco's hidden gems for taking engagement or wedding photos or just sitting under one of the two gazebos to read a book for the day.
Nestled near Lombard Street, this small park is a tranquil escape from the hustle and bustle.
In her will, the property owner donated the park to SF to be used for public access.
In 1996 the park was renovated and reopened.
This quiet space is well maintained, and some people think they can't enter, which is why it is a hidden gem.
Macondray Lane
Looking for secret places in San Francisco that look like something from a novel?
Macondray Lane is a small cobblestoned pedestrian lane with flower gardens, fruit trees, and a little zen fountain.
It's located on the southeastern side of the Russian Hill neighborhood in San Francisco and was added to the National Register of Historic Places in 1988.
You can go here for a leisurely stroll or snap some great photos.
The spot was even used as an inspiration for Barbary Lane in the Tales of the City series by Armistead Maupin.
Lyon Street Steps
The Lyon Street Steps (2545-2551 Lyon St) is another off-the-beaten-path attraction in San Francisco.
It's located between the Pacific Heights neighborhood and Presidio, taking up two blocks on the side of a steep hill, with breathtaking views from the top.
There are over 300 steps, so it's a good workout if you want to get some exercise.
At the top, you'll have spectacular views of the Palace of Fine Arts, San Francisco Bay, and more.
They are free to visit and open to the public 24/7- so there is no reason not to go.
The Wave Organ
Constructed in 1986 and free to visit, the Wave Organ (Pier 15 Embarcadero at Green St) interacts with the bay's waves to produce unique sounds that listeners can hear at different stations.
The sounds of the wave organ are best heard at high tide.
Fort Point National Historic Site
The Golden Gate Bridge is one of the cool places to go to in San Francisco and certainly one of the most popular.
However, if you want to experience the Golden Gate Bridge differently, head to Fort Point National Historic Site (201 Marine Dr).
You'll be able to get right underneath the iconic bridge where the site is located while discovering San Francisco's military heritage.
Explore the site to see the old cannons and other historic items used by the military in the past- or you can watch a short film featuring the history of the port.
And the best part? Admission is free.
You may also like our San Francisco itinerary featuring the Golden Gate Bridge.
The Cable Cars
The city's oldest manually operated icon, the Cable Cars, has to be added to the list of cool things to do in San Francisco because you get to cover so much ground when visiting and sightseeing.
The museum is a bonus as it is one of the must-sees when visiting San Francisco.
And what's great about this is it's one of the fun things you can do even during the night in San Francisco.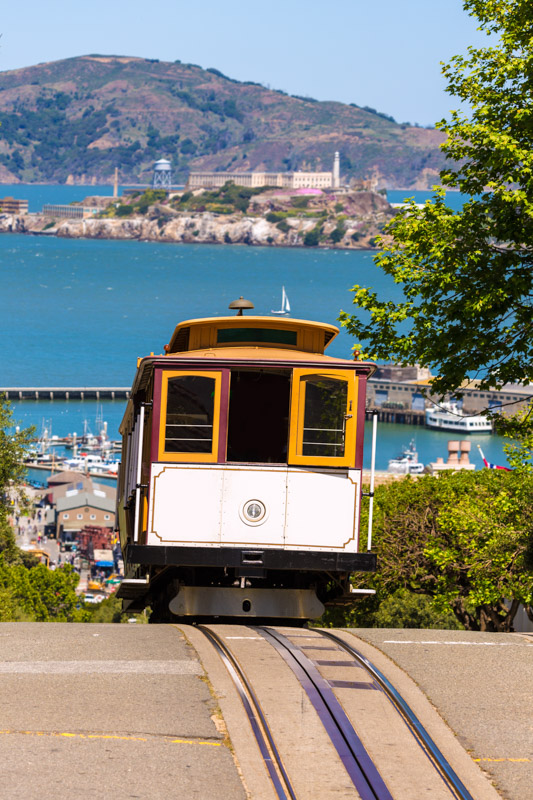 Lands End Labyrinth
At the mouth of the Golden Gate, the Lands End Labyrinth is one of the secret places in San Francisco you must visit for breathtaking views and sunset.
One of the most spectacular secrets of the city was created by artist Eduardo Aguilera.
Although destroyed several times, the Labyrinth continues to be rebuilt by locals.
This area is not maintained by public works, and caution is necessary as it can be slippery and windy.
The hike is considered intermediate as there are a lot of stairs.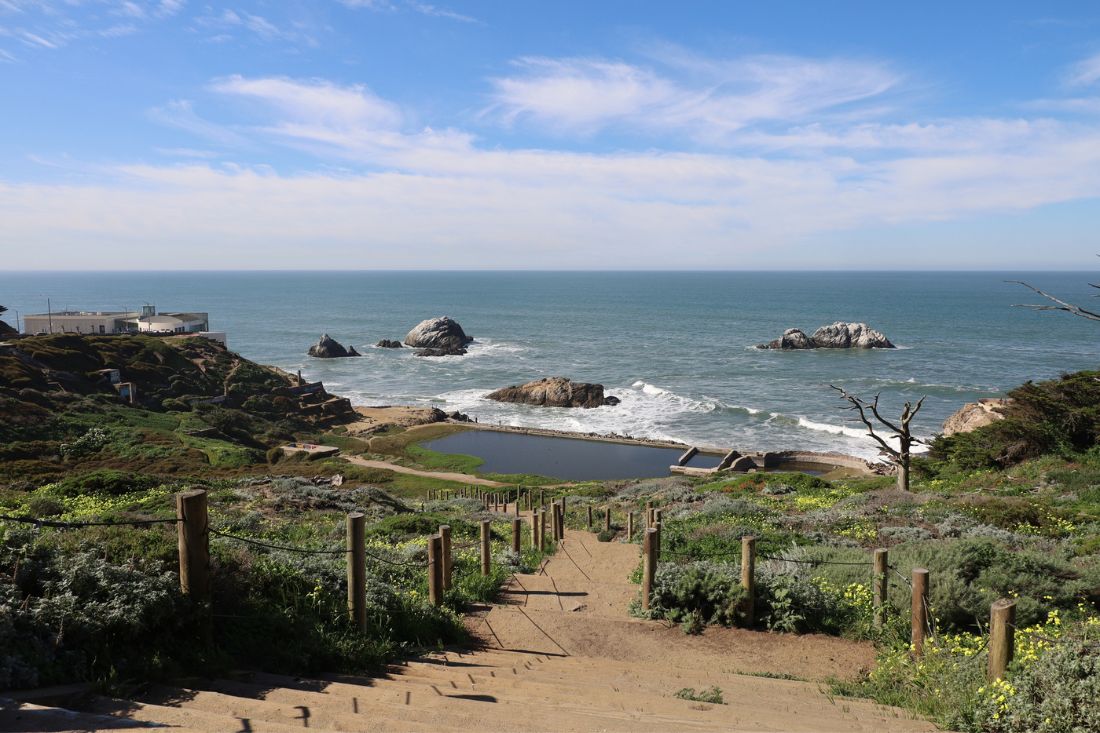 Queen Wilhelmina Garden
Queen Wilhelmina Garden (1690 John F Kennedy Dr.) is one of SF's hidden gems, and you may feel like you were transported to Amsterdam with its Dutch windmill and ocean waves playing in the background.
They open year-round, but the Tulips make an amazing display in the Spring.
The windmill backdrop makes this place Instagram-worthy for photos.
Aunt Charle's Lounge
Cheap drinks and veteran drag performers make Aunt Charle's (133 Turk St) one of the best places for hidden things to do in San Francisco.
Come see the Hot Box Girls and celebrate the fabulous history and proud culture.
Pirate Supply Store
The Pirate Supply Store (826 Valencia) is for avid Pirate fans looking for a unique and quirky place to visit. 
There are abundant hand hooks, peg legs, and treasure chests.
Although free to visit and browse, a small donation will help students with inspiration and creative writing skills.
Tank Hill
Tank Hill (Twin Peaks Blvd) is another secluded gem for amazing views of all of San Francisco.
The place has few visitors and is pretty hidden, making it more special.
You might even get an opportunity to swing on one of the rope swings locals put up throughout the city.
Note the city does not authorize these rope swings, so they get cut down, but locals continue to put them back up anyway.
It gets extremely windy, so layer up.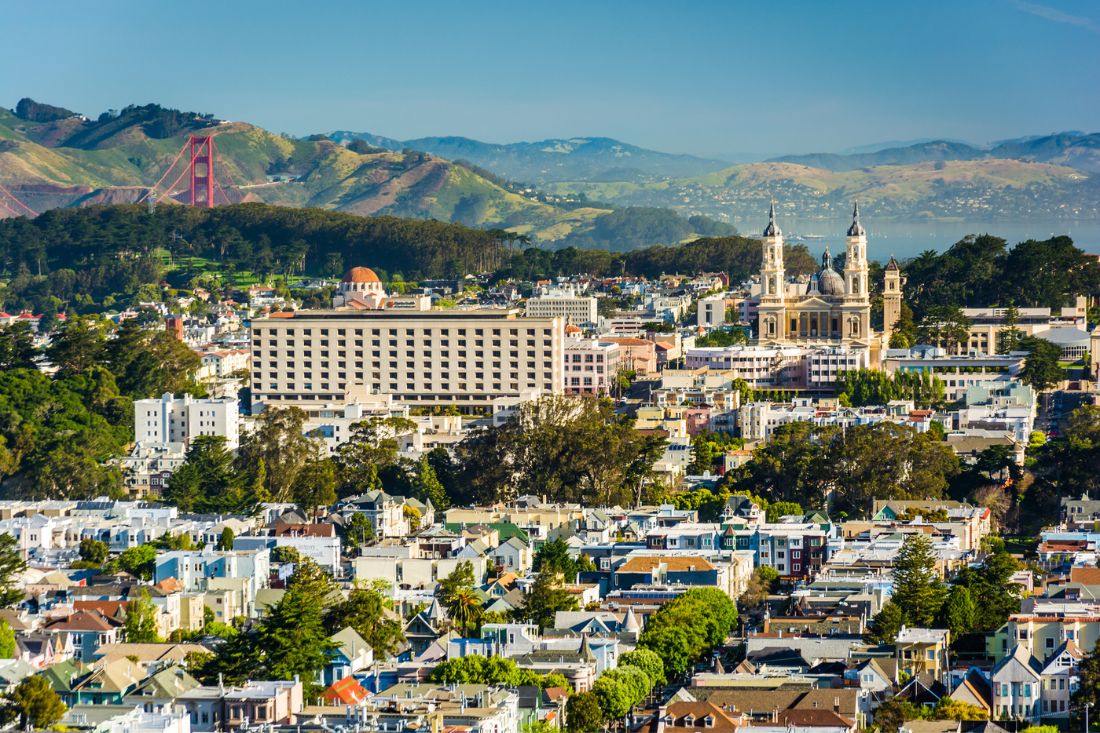 16th Avenue Title Steps
A community collaboration, 16th Avenue Tile Steps (Moraga St between 15th and 16th Ave) is a must-see for art lovers and if you can appreciate a collective project.
From the top, the steps appear as normal stone steps but from the bottom up, you witness the incredible workmanship of the artists.
Walk up 163 steps, admire the artistic energy, and experience one of the coolest places in San Francisco.
Mt Davidson Park
Mt Davidson (Myra Way) is one of the cool places in San Francisco at the city's highest peak and delivers amazing panoramic views, a few hiking trails, and a serene location to hang out.
One of the secret things to do in San Francisco is to view the huge hidden Mt Davidson Cross (125 Dalewood Way.
You don't have to be religious to find the 103-foot-tall cross impressive.
Balmy Alley
Balmy Alley (50 Balmy St) is one strip passageway with the city's most condensed everchanging collection of murals and could be considered one of the hidden things to do in SF.
Best viewed on foot at your one pace, the collection of artists' expressions began in the mid-'80s and represents countless styles.
Seward Street Slides
Seward Street Slides (70 Corwin St) is one of the best secret places to visit in San Francisco and was inspired by a teenage girl who enter the idea for a huge slide back in the 70s in a design the park contest and won.
The area has grown to include a community garden and benches.
Bring your cardboard box if you don't want to dirty your clothes to experience the thrill of sliding down the steep concrete plunge.
Billy Goat Hill
Bill Goat Hill (30th Street and Castro) is a small park with big trees and big beautiful views of the skyline of downtown San Francisco by day.
Stay until the evening for incredible sunset views and to witness how the city beneath twinkles after dark.
For even better views, continue the small steep climb to Walter Haas Playground.
Mildred Howard Frame
Mildred Howard is an African American artist, who resides in Oakland, and her 20-foot Frame (101 Horne Ave) was inspired as a way to pay homage to her parents, who worked in the area's shipping yard.
The frame is certainly one of the best offbeat things to do in san Francisco for photo optics.
Secret Side Walk
Not for the faint at heart, Secret Side Walk (1430 Old Canyon Rd) has several advanced climbing paths to get up to, and it is well worth saying you did it.
Tunnel 1 is the easier access point, and you can explore to the end and back.
The ghost story associated with the Secret Side Walk is about the Nile Witch, who appears in a white dress on Feb 26 each year.
Tip: Cover up, as there's lots of poison oak in the area.
Moss Beach Distillery
Moss Beach Distillery (140 Beach Way) is one of San Francisco's hidden gems that deliver amazing views, good food, and a ghost story.
The Blue Lady is said to have frequented this location in the 1930s but was killed and returns to search for her lover at certain times a year. 
There's even a drink name after her.
The distillery is a pleasant surprise for hikers coming off the beautiful walking trails nearby.
Dog-friendly patio seating fills up quickly, so reservations are recommended.
Final Thoughts
Hopefully, this guide helped you discover many of San Francisco's hidden or lesser-known attractions that are definitely worth checking out.
Any favorites? Let us know in the comments.
Looking to explore more places in San Francisco? See our guide below.