This article has links to products and services we love, which we may make commission from.
The holiday season is in full swing, and there's an air of excitement and celebration in San Francisco in December.
If you're planning to visit, this guide will explore all the festive things to do in San Francisco during the month including Christmas-themed events, shows, lights, parades, and more.
Also on this list are some of the city's great restaurants and bars that are worth visiting for their special holiday features and seasonal menus.
Looking to visit more places in San Francisco? Read this 3 days itinerary and California in December.
Holiday Events and Festive Activities in San Francisco in December
Check out all the holiday events and activities lined up during the month, from tree lighting and window displays to Christmas Carol and Winterfest.
Fisherman's Wharf Holiday Boat Parade
Starting at Pier 39, the largest parade of boats (75-100) on San Francisco Bay happens in December.
A tradition since 1994, the waterfront transforms into a dazzling sight at the oldest, largest, and brightest holiday decoration parade.
After the parade, Jefferson Street, at the Sportfishing Harbor, is the place to be as the lights continue to be spectacular and prominent.
Santa in San Francisco
December is a busy month for Santa as he makes several appearances around San Francisco.
Another place to be sure to see Santa is at Ghirardelli Square, where he is ready to meet and greet and is photo-ready.
While at Ghirardelli Square, grab some of the most famous chocolate around as you take in the sights, including charming repurposed restaurants and shops.
San Francisco's Nutcracker
A holiday tradition since 1944, The San Francisco Ballet's performance of the Nutcracker is one of the most anticipated events in December.
All performances are at the War Memorial Opera House (201 Van Ness Avenue), and the young and young at heart attend.
A Christmas Carol
San Francisco at Christmas wouldn't be complete without a least one viewing of Charles Dickens's classic A Christmas Carol at the American Conservatory Geary Theater (415 Geary Street​​).
One of the Bay Area's favorite holiday performances includes a live cast and music you don't want to miss.
Christmas Tree Viewing
The Bank of America Tower (55 California Street) is the most recognized tower on the West Coast, and its tree lighting ceremony draws a large crowd in San Francisco in December for the dazzling lights and the singers who perform.
Holiday Music and Christmas Tree at Pier 39
See the Christmas tree at Pier 39 lit up from late November to early January, decorated with special lights and ornaments.
There will be holiday music and if you want to explore the area, shopping and dining spots are also available.
Civic Center Plaza Annual Tree Lighting Event
See San Francisco's City Hall lit up in beautiful holiday lights along with its big Christmas tree.
And on the first week of December, you can attend the annual Civic Center Plaza Tree Lighting just across the City Hall, which also features a magnificent Christmas tree and a beautiful light display.
It's an event the whole family can enjoy as it includes a Christmas parade, a theater performance, and a toy giveaway for children.
Christmas Tree Lighting in Union Square
Macy's annual Christmas Tree Lighting in Union Square is a big deal and kicks off in November and stays lit until the New Year.
The event is also ideal for Christmas shopping in the area since many sales are geared toward the event.
Union Square also features in our guide to date nights in San Francisco.
Macy's Holiday Window Display
If you are wondering what to do in San Francisco in winter for the day, go see the Macy's Holiday window display.
Since 1870, Macy's has enchanted generations of spectators with its spectacular window displays for the Christmas holiday.
While you are here, say hello to Santa, as he is always available for photo opportunities in Santaland.
Winterfest at Great America
Winterfest will amaze the entire family, home of one of the winter's most significant festivals in the San Francisco Bay Area.
With over seven million lights, giant toy soldiers, and rides for all ages, Winterfest at Great America is one of the best things to do in San Francisco in winter.
More Things to Do in San Francisco in December
This list features more activities you can do in San Francisco in December including guided tours, sightseeing spots, live music, shopping, and more.
For more things to do in San Francisco at any time of the year, visit this guide.
Muir Woods Half-Day Trip
Take a guided tour of the giant redwood trees and Muir Woods National Monument.
The tour is 4 to 5 hours, and pick up from San Francisco is included.
Extend your day, rent a bike to explore Sausalito, and return by ferry.
Presidio of San Francisco
Wear comfortable shoes, pack your lunch, and spend a perfect December day at Presidio—once an old army base and now a national park.
With 24-plus miles of hiking trails (one goes to the Golden Gate Bridge) and at least eight scenic park overlooks, Presidio offers a lot of history in their detailed guided and self-guided tour.
San Francisco Bus Tour
One of the best ways to see San Francisco in the winter is from the top deck of a big bus.
Take a hop-on hop-off bus tour and experience San Francisco at your own pace.
You can choose a 24 or 48-hour ticket, and there are several hidden gems on this tour, including the Golden Gate Bridge and the Transamerica Pyramid.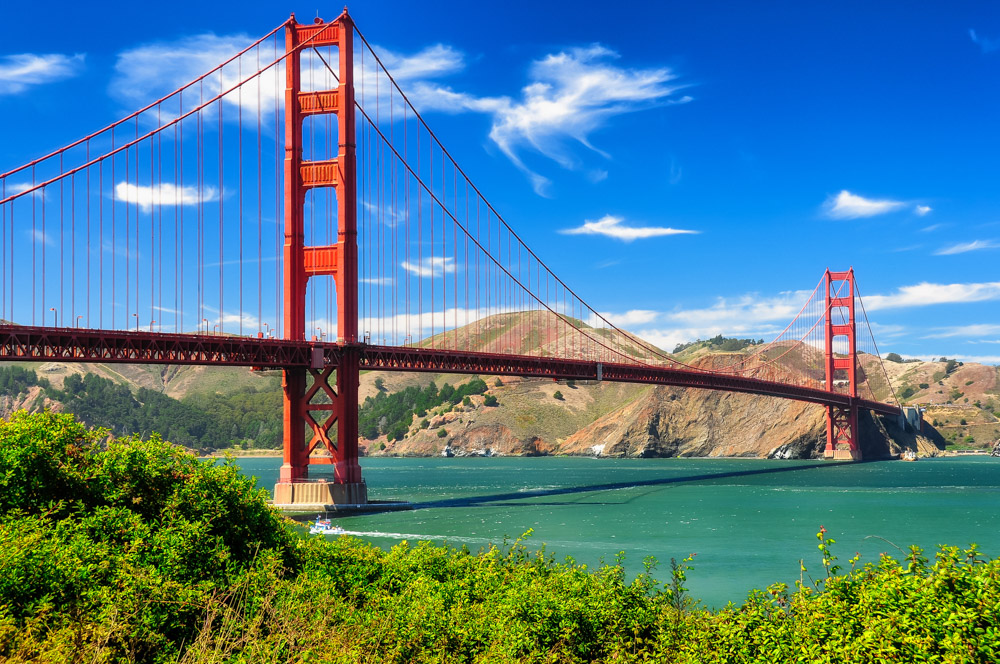 Free Days at the Museum
San Francisco's things to do in December do not have to cost a lot or anything at all when you consider the museums offer free days to see their temporary or permanent collections.
Consider visiting one each week as the free day varies per museum.
For instance, The Asian Art Museum (200 Larkin St) has over 18,000 artifacts in their collection of at least 2000 you can see up close.
Take the Cable Car
San Francisco in December is unique and familiar through a cable car ride.
You have two options; The Powell Hyde line is the most popular and a bit of a
tourist attraction year-round.
The second, less crowded option but still a fantastic way to experience San Francisco is the California Street Cable Car at Van Ness.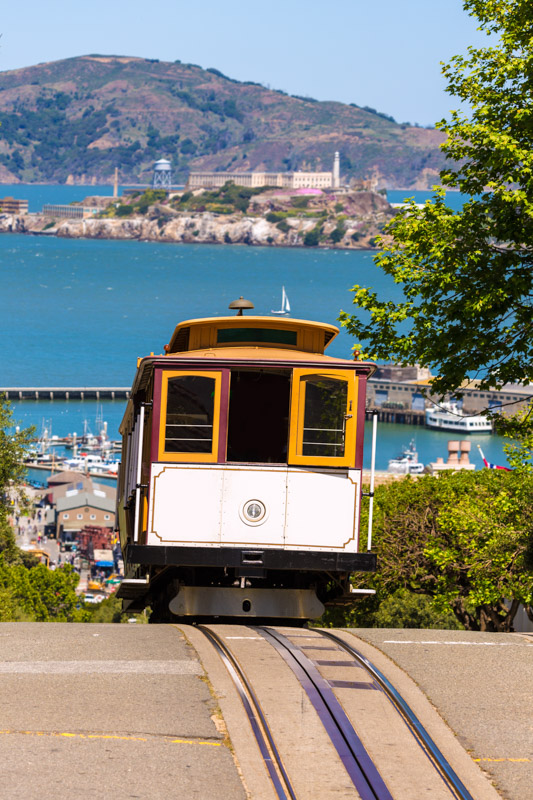 Concerts and Live Music
In December, winter activities in San Francisco include concerts and live music venues
for music lovers.
The Bill Graham Civic Auditorium, the Fillmore, and the Hill Masonic Center are just three venues to see top performances in or around the San Francisco Bay Area.
Shopping and Sightseeing
Getting in the holiday spirit in San Francisco in December is a good idea for bargain hunters doing their Christmas shopping.
Union Square is the heart of luxury shopping with the outdoor shopping mall, but each district has its array of shops to explore.
Haight Ashbury area shopping is excellent if you want something vintage and unique.
Pacific Heights has something for everyone: high-end fashion and showrooms, art galleries, and toy stores.
The Castro District
With all the things to see, do and eat, you can always expect an exciting and enjoyable time in the Castro District, one of San Francisco's historic areas.
Tour the welcoming LGBTQ+ community on foot as walking tours are readily available or on two wheels and see something unique at every turn.
Sports Fans Delight
For Golden State Warrior sports fans, San Francisco winter activities must include seeing their favorite team as they grace the court in December at the Chase Center (1 Warriors Way) in San Francisco.
Experience the purple and yellow fan rave during one of the most exciting times of the season.
Things to Do in San Francisco in Winter at Night
Ready for some nightlife fun in San Francisco? December's cool weather is a great time to check out the city's bars and night tours.
You may also like our guide to San Francisco at night.
Brewster's Miracle Pop-Up Bar
Just an hour's drive from San Francisco, head to Brewsters Beer Garden (229 Water St, Petaluma) in December for its Miracle Christmas pop-up bar that runs until early January.
The place gets decorated with mini Santa Clause, lights, gift boxes, and tinsels hanging by the ceiling and walls.
There are also holiday-themed drinks served like their Grinch's Grog, a mix of rum, peppermint, and hot chocolate.
Cobb's Comedy Club
Cobb's Comedy Club (915 Columbus Ave) seats 400 and offers a flavor of old San Francisco and the city's changing dynamic nightlife.
Celebrity comedians like Dave Chappelle, Russell Peters, Angela Johnson, and more have graced the club's comedy mic.
For updated performers in December, be sure to check their events calendar.
Tinsel Time at Trade Routes
From December through January, Trade Routes (1750 Polk St) hosts its annual Tinsel Time holiday pop-up.
The bar interior gets decked out in Christmas decor and lights along with some festive music.
They also serve a seasonal menu of delicious holiday cocktails and punch bowls.
Alcatraz Afterdark
Alcatraz is an entirely different experience at nightfall, and what better way to experience it than taking a tour?
This tour also provides access to captivating audio narrated by former guards and inmates.
Note that during the winter months, Alcatraz City Cruises only runs one tour a night to the island and is closed during Christmas.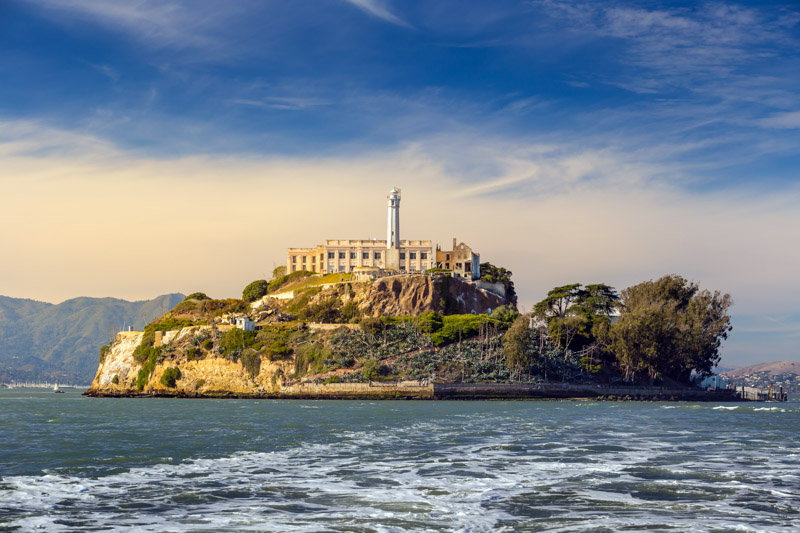 Sippin' Santa at Kona's
Want to spend your December night sipping some festive cocktails?
Head to Kona's Street Market (32 3rd Street) for their annual pop-up, Sippin' Santa.
The place gets decorated with holiday lights, trees, and tinsels for that Christmas vibe.
21st Amendment Brewery
If you are looking for good pub food, craft beer, and a great way to spend a casual San Francisco night with friends, then head over to 21st Amendment (563 2nd Street)
A combination of brewery and restaurant with several varieties of beers to sample.
Non-alcoholic beverages and veggie food choices are also available for non-drinking vegetarians.
Open seating for easy conversation, games, and lots of parking.
Tip: Order the sampler and be delighted with the many selections of seasonal winter beer.
Alchemist Bar & Lounge
The Alchemist Bar and Lounge (​​679 3rd St) is a great place to have a night out as they serve food and drinks until midnight.
If you head here in December, you'll see the place come alive with all the holiday lights that decorate the place.
Deck the Halls Bar
Deck the Halls Bar (546 Broadway) is a holiday pop-up bar that is open until Christmas Day.
There will be holiday lights, trees, as well as drinks served for the season.
One of the most famous is their Krampus shots, which is a mixture of stout, egg, sherry, rum, agave, and fire.
Non-alcoholic drinks like ciders are also served.
Rickshaw Stop
Rickshaw Stop (155 Fell St) is a popular spot for live music, dancing, and legit drinks.
If you are looking for an intimate dive feel to enjoy with close friends, Rickshaw is a great outlet to go at night in San Francisco.
You can find performances scheduled for the month of December on their website's calendar.
The Chapel
The Chapel (777 Valencia St) is a church turned music venue that features live jazz with a soulful folk sound.
You can check the venue's calendar to see performances scheduled in December.
Tip: Sit 30 feet from the front for the best acoustic sound.
San Francisco Weather
The San Francisco winters are crisp but cozy enough to explore the beautiful city on foot or bike.
Temps can drop in the 40s in the evening and go as high as 60 degrees mid-day.
Comfortable shoes and warm layering clothing are ideal for visiting San Francisco in the winter.
The city may also experience a bit of rain in December and in case it happens, check out things you can do in San Francisco on a rainy day.
Final Thoughts
We hope you enjoy our list of activities and events in San Francisco in December.
Which one is your favorite? Share your thoughts in the comments.