This article has links to products and services we love, which we may make commission from.
Whether you're looking for an adventure-filled winter vacation or a relaxing getaway, Illinois has something to offer during the season.
Winter in the state can be cold, with temperatures that can drop to 10°F in the north and upper 20s in the south.
You'll find snow-covered grounds presenting a beautiful landscape, and there are plenty of winter activities to keep people busy.
To help plan your trip, this guide will explore the things you can do in Illinois in winter like skiing, ice skating, snowboarding, winter hiking, and some winter-themed events.
Things to do in Illinois in the Winter
The activities listed below are sectioned by regions where they are located.
So get ready to put on your layers and prepare for your next winter adventure in Illinois.
You may also like our USA bucket list which features Illinois.
Northern Illinois Winter Getaways
Start your winter getaway in Illinois by visiting the northern part of the state for some awesome activities like skiing, snowboarding, and holiday light displays.
The following list will feature destinations in Northern Illinois including the town of Galena, Campton Hills, and Rockford.
Visit the Beautiful Town of Galena
Galena is one of the best places to visit in Illinois in winter because it offers lots of activities you can enjoy during the season.
If you look forward to skiing or snowboarding, you can go to Chestnut Mountain Resort (8700 W Chestnut Mountain Rd).
It features a 7-acre terrain park and 19 ski runs.
For beginners, they also offer skiing and snowboarding lessons.
Once you've had your fill of skiing the slopes, book a room at the Chestnut Mountain Resort Inn.
Cross-Country Skiing at Eagle Ridge Resort and Spa
For more things to do in Galena, Illinois in winter, you can head to the Nordic Center at Eagle Ridge Resort and Spa (444 Eagle Ridge Dr).
The resort features facilities where you can do ice skating, snowshoeing, sledding, or cross-country skiing- and offer equipment rentals for these activities.
Winter Carnival
The best part of Galena's winter season is the amazing Winter Carnival at Eagle Ridge.
There are arts and crafts activities, bonfires, ice carving, and more to enjoy.
Visitors can also find treats and drinks that are perfect for the season like hot chocolate and S'mores.
Ice Sculpting Contest in Rockford
For even more wintry wonder, make plans to attend the yearly Ice Sculpting Contest (1401 N 2nd St) in Rockford.
Located in the historic Sinnissippi Park, the Ice Sculpting Contest is a favorite event for locals and travelers alike.
For three days every January, the best sculptors from across the state go head-to-head to create the best ice sculpture.
Admission is free, which makes this an awesome winter activity for anyone.
Witness the Amazing Light Show in Elburn
Visiting the free Larsen Light Show (42W891 Beith Rd, Campton Hills) is one of the most festive things to do in Illinois in the winter.
From the end of November to Christmastime, you can stop by as soon as the sun sets and be amazed by a truly spectacular light display.
Be sure to enter by way of Route 38 or Route 64, as no traffic is allowed from the east on Beith Rd!
Wander Around the Morton Arboretum
Despite the bitter cold, winter in Illinois can be a magical time.
The Morton Arboretum (4100 Rte 53, Lisle) is open year-round and affords one of the best snowy walks in northern Illinois.
With 16 miles of trails and tens of thousands of trees, you'll love strolling around the gardens and collections as the snow falls.
You won't want to miss the winter event called Illumination: Tree Lights at the Morton Arboretum, so be sure to get tickets now!
Things to Do in Chicago in Winter
Even though Chicago is located in northern Illinois, there are too many things to do in the city that shouldn't take away from other winter activities in Illinois's northern region.
You may also like our guide to Chicago at Christmas.
Ice Skate at Maggie Daley Park
For the most magical and romantic ice skating date, head to Maggie Daley Park to skate around the Ice Ribbon (337 E Randolph St).
The Ribbon is open from November to March and can be pretty crowded, especially on the weekends and holidays.
Reservations are required, whether you need to rent skates or not.
Explore the Frozen Lake
Winter in Illinois wouldn't be complete without a visit to Lake Michigan to check out the frozen shore.
While the lake never completely freezes over, you'll be able to see 'ice pancakes' in the water, and the edge usually freezes solidly.
Only if it's safe to do so, walk out a little bit onto the lake's frozen surface and explore!
You might even see the spectacular waves of frozen shards that occur from time to time.
If you're not into the frosty winter weather, you can visit Chicago in fall and find many things to do.
Shop, Drink, and Eat at the Christkindlmarket
There is almost nothing more festive than Chicago's own Christkindlmarket (50 W Washington St)!
The yearly market is modeled after the 16th-century holiday market in Nuremberg, Germany.
You'll love the beautiful gifts, delicious foods, and all the opportunities to make lasting holiday memories with friends and family.
The market truly is one of the best things to do in Illinois in winter.
Go Sledding at Soldier Field
The midwest can be hopelessly flat, which usually makes it tough to find a good sledding hill.
Luckily, Soldier Field (1410 S Museum Campus Dr) built a 220-foot sledding hill as part of their landscaping design.
Pull on your snow pants and a warm coat and sled down one of the biggest hills in the city.
Take a Speakeasy Cocktail Tour
If you're wondering what to do in Illinois during the winter, you'll probably find that bar-hopping is the simplest and warmest activity.
This 3-hour speakeasy tour is a luxury experience in Chicago.
Visit the most coveted speakeasies once visited by gangsters and bank robbers, and taste all the best cocktails the city has to offer.
Plus, you'll hear the incredible Prohibition-era stories that make Chicago so unique.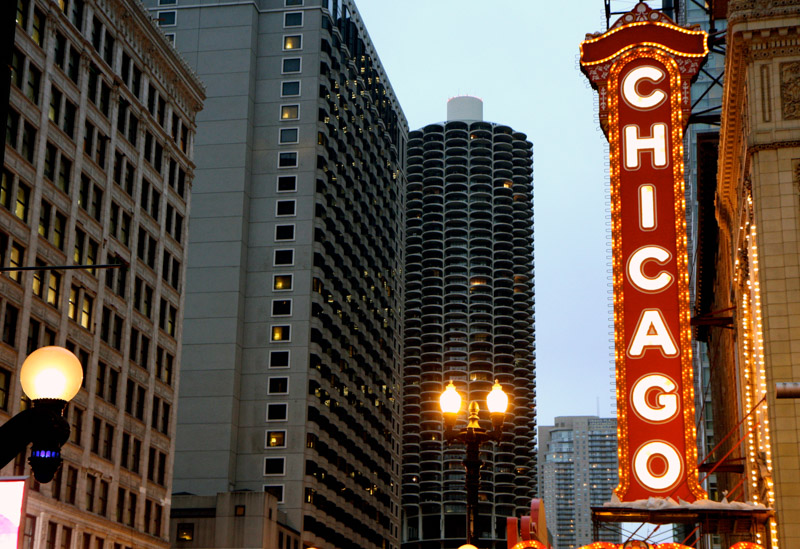 Things to Do in Central Illinois
If you're wondering what to do in Illinois during winter, the central part of the state has small towns and mid-sized cities that offer plenty of activities for the season.
Featured below are towns like Springfield, Quincy, and Andalusia.
Head to Starved Rock for Unique Illinois Winter Activities
Starved Rock State Park is one of the best places in Illinois in winter.
If you are a more adventurous winter person, there are tons of opportunities for ice climbing, cross-country skiing, and hiking on miles of trails.
If you're interested more in winter wildlife, Starved Rock State Park is a hot spot for bald eagles in the winter.
For the best Illinois winter getaway, you should not miss the #1 attraction in the state of Illinois!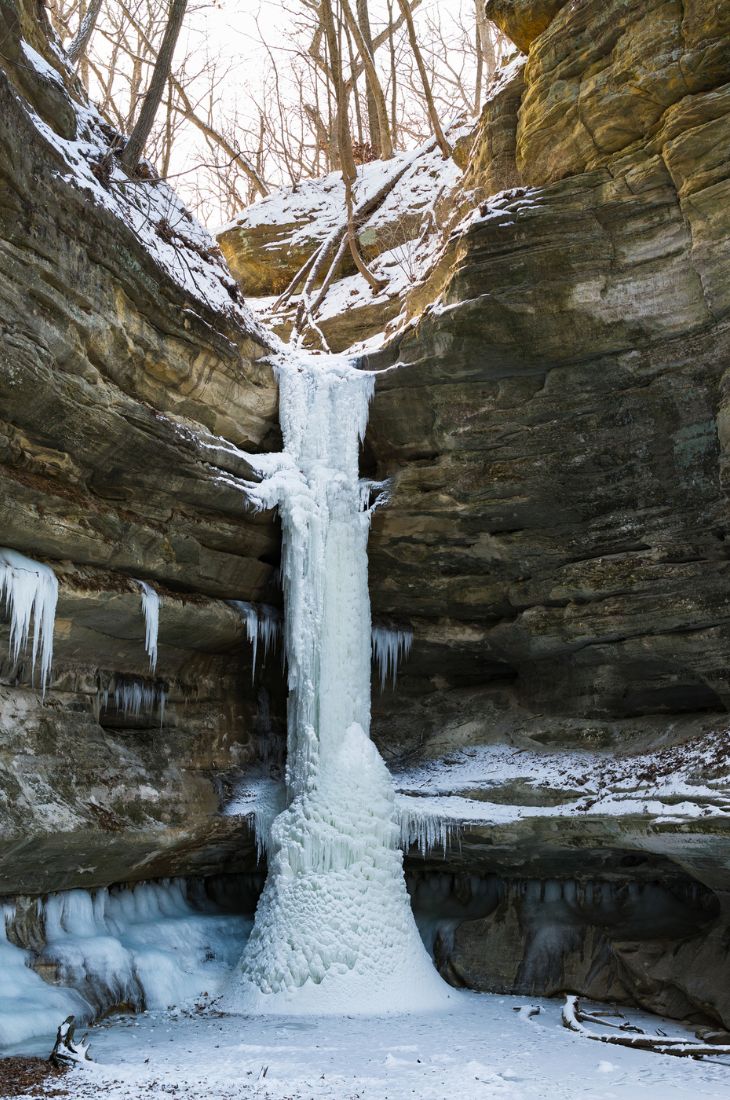 Adventure at Ski Snowstar Winter Sports Park
If you're planning the perfect Illinois winter vacation, make sure you stop by Ski Snowstar Winter Sports Park (9500 126th St W, Andalusia).
Some of the best winter sports are here, including skiing, snowboarding, tubing, and more.
The lift tickets and season passes are for sale on their website, so be sure to reserve ahead of time before you visit.
Check out the Soderstrom Castle
If you'd like to step back in time and explore the wintry wonder of a castle, including the Soderstrom Castle in your plans for a romantic getaway in Illinois in winter.
The stately towers, beautiful views, and charming atmosphere make the Soderstrom Castle a truly unique place to visit in Illinois in winter.
Visit the Historic Town of Springfield
Springfield is one of the best places to go in Illinois in winter because it's a place for history buffs.
The hometown of Abraham Lincoln, many of the attractions in the town center around his life.
Even still, places like Custom Cup Coffee (319 E Monroe St) and Obed & Isaacs Microbrewery (625 S Second St) are fun spots to visit when you're passing through.
Make sure to visit the Dana Thomas House (301 E Lawrence Ave), designed by Frank Lloyd Wright, before you leave!
Visit the Washington Botanical Garden
Located in Springfield, Illinois, the Washington Botanical Garden (1740 W Fayette Ave) is a little oasis in the middle of winter.
The star of the garden is definitely the Conservatory, a 50-foot glass dome that houses more than 150 species of rare and exotic plants.
Enter the Conservatory to feel the warm air, enjoy a bright burst of greenery, and escape the winter's chill.
Explore the Quaint Town of Quincy
Quincy is actually called "Gem City," and for good reason.
This small, cozy town is a perfect place to go in winter in Illinois because the downtown area is gorgeous.
There are multiple historic areas of Quincy that you should explore when you visit: the Downtown Quincy Historic District and the South Side German Historic District.
As small as this town may be, you're still in for a treat if you book a room at the cozy Stoney Creek Inn (3809 E Broadway St), perfect for winter!
Dark wood interiors, an indoor pool, and a sauna are all featured at the inn.
Southern Illinois Winter Getaway
Southern Illinois, also known as the ''Little Egypt', is home to many historic and cultural sites as well as beautiful sceneries.
And despite the winter weather, this region of the state has plenty of activities to offer that you can enjoy during the season.
Dine at the Oldest Cafe on Route 66
Illinois in the winter can be a brutally cold place.
That's why you should make sure to get out of the cold and duck into Ariston Cafe for a hot coffee and a hearty sandwich.
Ariston Restaurant (413 Old Rte 66 N, Litchfield) is one of the oldest restaurants on the historic Route 66 highway.
Enjoy a delicious sandwich at this iconic American cafe.
Visit Cedarhurst Center for the Arts
Another great place to see in Illinois in winter is The Cedarhurst Center for the Arts (2600 Richview Road, Mt Vernon), a 33,000-acre cultural center that comes with art galleries, a learning center, and a performance hall.
If you go here during the winter, especially in December, you'll be able to catch The Lights– an annual event featuring around one million holiday lights.
The whole area transforms into a winter wonderland and you can enjoy lots of family-friendly activities like a holiday movie showing, photos with Santa, art activities, games, and more.
Photograph Mary's River Covered Bridge
Lots of people prefer covered bridges in the fall, but of all the places to visit in Illinois during winter, covered bridges are some of the best.
Mary's River Covered Bridge (US Rte 50) is located between Briarhill Rd and Surman Ln.
It was built in 1854 and was key for tolls and agricultural transport.
The covered bridge is a historical site and has a lovely picnic area to rest and set up the perfect photograph!
Hike in Giant City State Park
Winter hiking is some of the best and most serene hiking, especially if you come prepared with enough layers.
One of the best spots to hike in Illinois in winter is at Giant City State Park (235 Giant City Rd, Makanda).
This southern Illinois natural area is a treat to explore in the winter.
Find miles of trails, wildlife sightings, and so much more in this amazing state park.
Have a Tasting at Blue Sky Vineyard
A chill winter's day is a perfect time to indulge in a glass of local wine.
Blue Sky Vineyard (3150 S Rocky Comfort Rd, Makanda) is a staple of the southern Illinois wine country.
Visit the vineyard, sample some of the best wines in the region, and even take a few bottles home with you as souvenirs!
This winery is a 'true taste of Tuscany,' even in the dead of winter.
Final Thoughts
We hope this guide helps you discover what to do in Illinois in winter for your next trip.
Feel free to share your experience or favorite places in the state in the comments below.