This article has links to products and services we love, which we may make commission from.
Is there WiFi in Cuba? Yes! However, usage differs to what we are accustomed to in the USA, Canada and Europe. To use the internet in Cuba, you can purchase a Cuba SIM card with data (expensive) or an ETECSA internet card (affordable), making use of the many WiFi hotspots around the country. This guide will explain the best ways to get logged on (and off), current pricing and time-saving tips so you can stay connected while in Cuba without breaking the bank.
WiFi access in Cuba differs to access in Europe/USA/most of the rest of the world because:
There is no free WiFi in Cuba – it can be expensive
Access to the internet in Cuba is restricted and censored by the government – remember this if you choose to log on
Cuba is a great destination but still a communist country
---
» Don't miss our Cuba travel cheat sheet – cost, accommodation, itineraries and scams
---
WiFi in Cuba Options
1. ETECSA Nauta Cards
ETECSA (Telecommunications Company of Cuba SA) is the state-owned company responsible for providing communication throughout Cuba. This includes telephone, internet and wireless services.
ETECSA produces the pre-paid Nauta (WiFi) card which allows locals and visitors to log on. There are four ways to purchase, one of these lifesavers.
ETECSA Stores
You can buy the pre-paid Nauta (WiFi) card by ETECSA from any of the official commercial stores in most major towns in Cuba and José Martí International Airport.
This is the cheapest method of getting onto the web but you can expect to wait in very long lines.
A reader advised us he waited for two hours at the Havana Obispo Street center.
Don't be surprised when locals 'jump' the line. They are not actually skipping, they're just leaning on the wall on the other side of the street in the shade!
They have bills to pay hence their presence.
If you ask 'ultimo' when joining, they will let you know where the end is. Smile, you are participating in Cuban culture!
Waiting in line is a fave pastime in Cuba. Make some amigos, ask for local recommendations.
→ Warning: You must take your passport with you to purchase the card. No passport, not card. Make friends with a local. This is the same for money exchange. Check out our guide to Cuban currency here.
This link will take you to the official site (in English) and details the ETECSA store locations in Cuba. You can use the dropdown to set your location.

WiFi Cards at Cuban Hotels
Alternatively, you can purchase a Nauta card at many of the popular hotels. You may have to pay a premium price for this card and here's the kicker, it is the exact same card.
So, if you are staying in a hotel and have some time to burn, buy your ETECSA cards at the official stores before logging on at your hotel. See below for more on WiFi in Cuba's hotels.
If you are staying at an all-inclusive resort and are on a budget, maybe you take this time to do a digital detox?!
Some hotels may not charge more. A reader kindly left a comment below to say Hotel Inglaterra in Havana (416 Paseo de Martí) is selling cards for face value, 1 USD/1 hour, no passport required for them.
Another reader who lives in Cuba says that some hotels are only letting you use cards bought on their premises.
→ Let us know your experience below too. We love to hear about your Cuba adventures!
Buy On The Street
The third way may seem a little shady but visitors do it so it is your choice.
You will see locals hanging about the ETECSA lines (and at the WiFi spots, see below) selling the Nauta cards for an inflated price, double the amount of the normal rate.
It takes two minutes versus two hours waiting in line.
Just make sure that the password strip hasn't been scored off.
---
» Read next: Scams to avoid in Cuba
---
Local Community
Finally, the most recent method of purchase, find out where the cards are being sold in the local community.
It is less likely that this is an option in Havana, but there are some locals who sell from their casas (houses). There will be a sign in the casa window.
Brush up on your Spanish and ask your new friends where to get Nauta cards in the area.

You can also try the Post Offices and the Etecsa-kiosk by the Havana Viazul station.
→ Note: it is not guaranteed that there will be cards available.
Summary
Wait in line and buy from the official

ETECSA store

Buy at a from a hotel, with no line but potentially at a higher rate
Seek out the locals near the store/WiFi spots selling cards
Less available and obvious, casa selling cards
Try the lesser-known post offices and kiosks
Pre-paid Nauta (WiFi) card by ETECSA
---
WiFi
ETECSA

Card Login

Once you buy your card with your passport, and money of course:
Find a WiFi spot inside or outside, see below for more details
Use a credit card to scrape off and reveal your code. Do not use a coin as this may ruin the card
Go to your WiFi log on settings on your phone, tablet or laptop and choose

ETECSA WiFi option

Type in your login username digits and password, copy and paste to notes on phone to save time next time
Enjoy the internet, if it is working
ETECSA Logout
Cuba WiFi logout is pretty straight forward:
Type 1.1.1.1 into the search bar (if it takes you to a Google search of 1.1.1.1 ignore this and try again)
Here you request to log off and select 'cerrar sesión'
If you have not used your full one hour then the credit will be available for you to use again. So remember =

1.1.1.1. logout WiFi and save cash

1.1.1.1 does not work? A reader has advised us that 'forget this (WiFi)' option did on the iPhone
1.1.1.1 ETECSA wifi logout – WiFi Cuba essential tip
---
2. ETECSA in Cuba – Cubacel SIM Card
There is also the option to buy a temporary Cubacel SIM for phones through ETECSA.
Customers must be over the age of eighteen, you must have a passport to purchase and you are restricted to three active services.
With this cell phone service in Cuba, you can call, text and browse the web and apps using data.
So why do more visitors go for option one, the card? Expense!
---
Cuba WiFi Costs
1. ETECSA Nauta Cards
The Cuba WiFi card is your cheapest option. The card should cost 5 USD/$5 for a 5-hour card and 1.00 USD/$1.00 for one-hour of internet access in Cuba.
Prices have gone down rapidly for foreigners. In 2015, a one hour card was 4.50 USD!
Think about how much time you want to spend online before purchasing. If you think you will use 5 hours, get that card to save waiting in line and wasting time during your trip.
Remember to take your passport.
---
2. Cubacel SIM Card
The temporary SIM card is more expensive. The initial cost is 40 USD, which gives you 10 USD of data. You do not get back the remaining 30 USD.
You can then top-up if need more data.
Cubacel Rates

According to the ETECSA website, the rate for internet consumption is 0.10 USD p/MB and the fee for the consumption of national sites is 0.02 USD p/MB.
With the Nauta scratchcard, you can get 10 hours of usage with 10 USD, just to put it into perspective.
It is free for you to receive texts and under 1 USD to send texts in Cuba and to outside of Cuba.

Mobile Recharge For Cuba From Abroad

If you happened to have a Cubacel SIM card already, there are a number of linked prepayment top-up companies such as Ding and Recharge.
Ding's customer service would not tell me the prices of topping up a Cubacel SIM. They stated I had to top up first. Eventually, they sent me a screenshot which ranged from 11 USD to 50 USD packages.
When I asked what this meant in deliverables, Ding said I would have to ask my provider. I responded that this would be Cubacel but they could not tell me any more. A cloak and dagger response!
Recharge's packages start from 10-40 USD and the site directs you to the ETECSA/Cubacel tariffs page for further details.
Trustpilot awards both Ding and Recharge both 7/10 for customer satisfaction.
---
Casas with WiFi
It is not uncommon for casa particular (accommodation type in Cuba, stay in them! Read our guide here) owners to offer their home WiFi SIM card which you insert into your phone and they charge you once you have finished.
Obviously, you run the risk of not knowing how much data you have used.
Casas now advertise via Airbnb!
Speaking Spanish is a great advantage in Cuba.
We lucked out travelling with a Brit who lived permanently in Mexico so benefited from her fluent Espanol when attempting to book casas and taxis.
I would recommend taking a phrasebook with you at the very least.

---
Cuba WiFi Hotspots
There are WiFi hotspots throughout the country. You won't have to look far to find one as there will be a mass of people on their phones if there is a signal.
There are over 100 in Havana alone. Below is a summary of popular tourist spots. Here's the full location list.
The Castillito
Karl Marx Park Havana Center
Trillo Park
Pier. Exterior area Hotel Deauville
Karl Marx Park. Havana Cente
Park of the Martires Centro Habana
Viñales – internet in Cuba for tourists, no different for locals
---
4G in Cuba
Is there 4G in Cuba?
On paper, yes. In reality, providers can only work with what they've got which is similar to a 2G and 3G service. Visitors and locals get by on this, however.
You can check out cell phone coverage in Cuba using this map created by ETECSA.
Peak traffic hours are from lunchtimes at 1:00 pm to 2:00 pm and in the evening from 9:30 pm to 10:30 pm.
While you may roll your eyes at this information please be aware that the 4G monthly package for Cubans is £30 which is a monthly state wage.
ETECSA state that, they are testing 4G capabilities in Havana.
---
WiFi in Cuba Hotels
The more expensive hotels, like Iberostar, are the hotels with WiFi in Havana and Trinidad.
If you are not a guest, it is expected that you purchase something like a drink or swimming pool day pass to use the WiFi signal (with your card).
Remember, the WiFi cards can be more expensive in the hotels so purchase before you go.
Today, many hotels like the Iberostar family are offering 30 mins to one hours worth of free WiFi access to use in the hotel common areas as a bonus for choosing to stay with them.
The tourism minister has pledged better access for four and five-star hotels (what about the locals though?!)
Hotel Sevilla in Havana was one of the first hotels to offer WiFi access and it has a swimming pool which anyone can pay to use. It is cheaper for you to go with a Nauta WiFi card though so purchase at a center beforehand then pay to use the pool for 20 USD/$20. You get 15 of this back to use as credit at the bar.
---
WiFi in Cuba Resorts
I would take the advertisement of internet access in Cuba resorts cautiously.
We did have two computers to access the internet on at our resort, Brisas del Caribe, in Varadero but access was temperamental.
WiFi in Varadero
Varadero is an extremely popular package resort area of Cuba, Google is awash with a question regarding free WiFi in Cuba, internet access in hotel bedrooms etc for this area. For now, you just have to accept that WiFi access is not definite! According to TripAdvisor, there is access to the internet in the following places in Varadero.
Blau Marina
Blau, Varadero
Iberostar Varadero WiFi
Iberostar Laguna Azul
Melia Las Americas
Melia Sol Palmeras
Memories Varadero
Ocean Varadero
Paradisus, Varadero
Royalton Hicacos (lobby bar and pool)
Villa Cuba
Roc Barlovento
Our hotel, Brisas del Caribe had two PCs in the computer room which you could log on to, only one worked and it was sporadic.
---
» Going to Havana? Here are the best things to do there – castles, cocktails and Cuban salsa!
---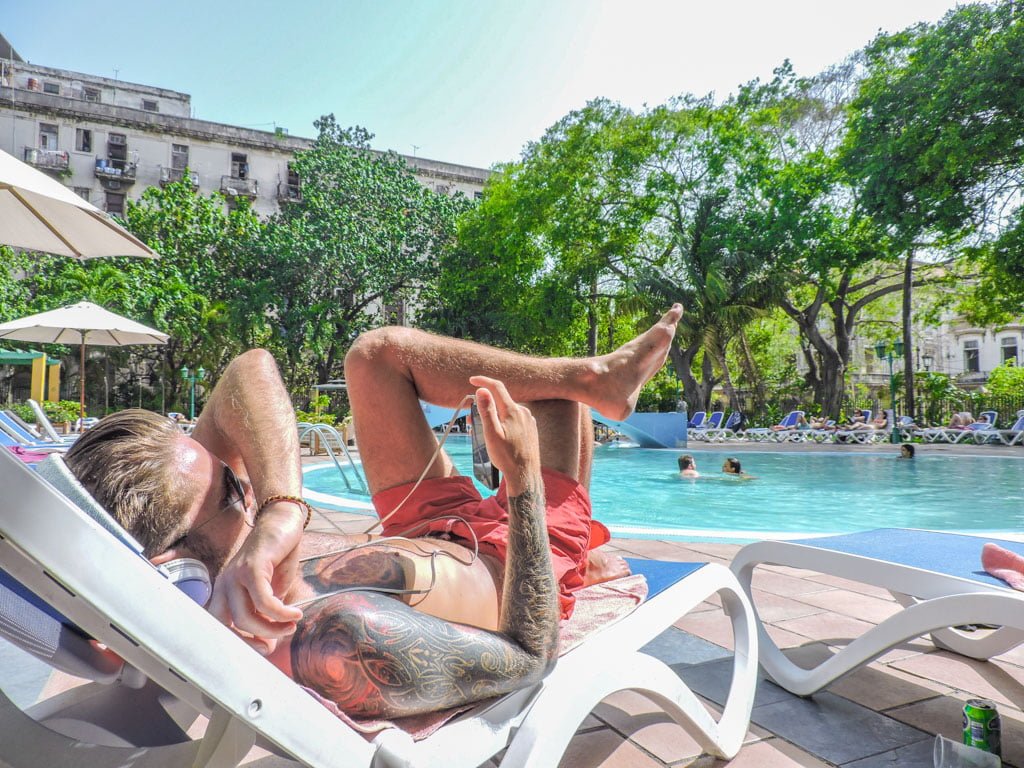 WiFi in Cuba hotels – Sevilla
---
Cuba WiFi Access and Quality
Accessibility is not only restricted to where you log on but the strength of the WiFi is not always great.
It's often slow and can stop working. I lost a lot of time online because the network dropped and I could not log out.
In Trinidad, Iberostar showed excellent customer service and gave me my money back. I'm doubtful this would happen in the telecommunication centre!
When we tried to use Iberostar in Havana we were told that the WiFi was playing up in the business centre.
How Fast is the WiFi?
This question can't really be answered because it differs by area and what is fast one day will be slow the next, or even down completely.
Cuba and Google have been in talks in the hope that they can start the process of making WiFi faster for Cuban citizens.
If you are looking for a digital destination, Cuba is not it.
You won't be streaming TV from Netflix! Use the download function on TV and music apps before you leave so you have some entertainment.
---
Time Saver Tips – Before
You will not realise how much you rely on WiFi and 4G until you go to Cuba.
With the touch of a button, we have instant access to bus times, weather forecast, flight delays, the closest emergency rooms etc.
You may want to take note of the following before you go:
Print out all of your documents – flight details, insurance, tours, etc
Screenshot Cuba TripAdvisor's advice on restaurants. I really hate saying that but the food is so hit and miss (and pricey). Remember to scroll down so you capture the address
Buy a travel guidebook. Not something I say often but it is a must in Cuba
Before you fly to Cuba, copy and paste information from online, Two Scots Abroad's Cuba backlog obviously, to Google Docs, download as a PDF and save to your device
Maps.me works well in Cuba, Google Maps won't
Buy the Guides
Time Saver Tips – During
Write a list of priorities before you log on so you don't get sucked into Facebook stalking (thanks to Sam for this tip)
Type messages into your notes app and then copy and paste over to your email, text, Whatsapp. This will save you time
Edit photos using offline apps before posting/emailing
Set the timer on your phone as soon as you log on. Time flies when you are having fun
Or be like me and embrace the holiday away from social networking, blogging and emails!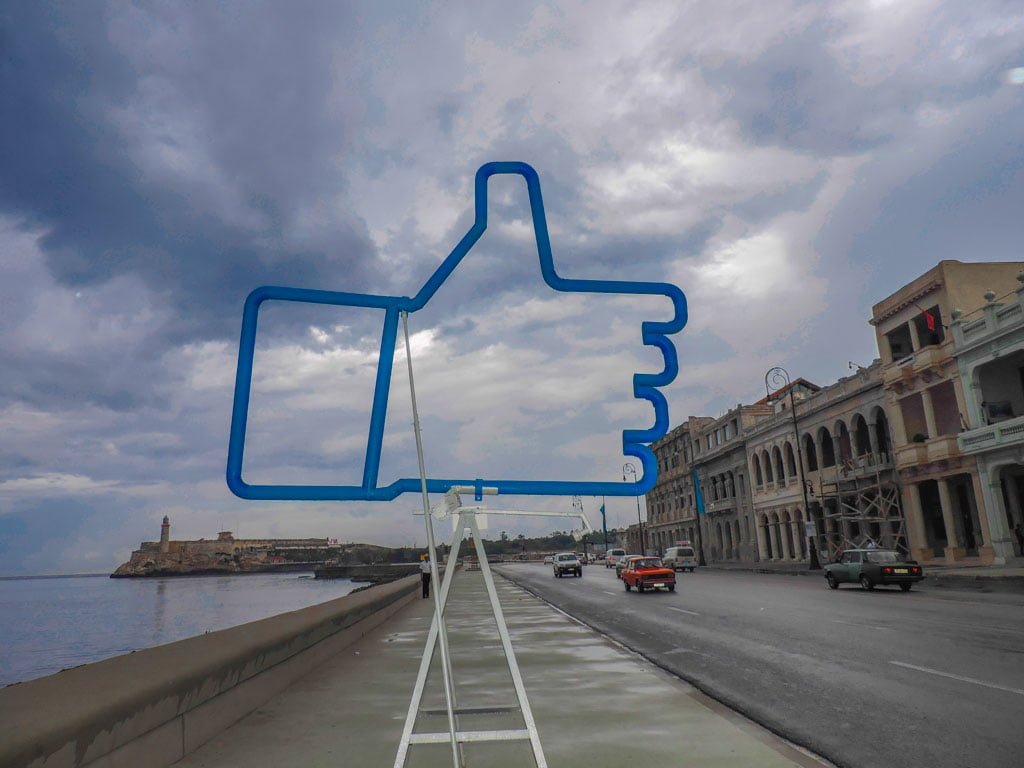 WiFi in Havana Cuba – Thumbs Up!
---
Take a Break
If you are looking to switch off and chill out here you will want to invest in reading books and/or download music and podcasts beforehand.
Here are some Cuban based and nothing to do with Cuba books for you to consider:
Books (read to get in the mood)
Books (poolside reads)
Marching Powder by Rusty Young
Skagboys by Irvine Welsh
The Last Mrs Parish by Liv Constantine
The First Wife by Paula McLain
Drinks and WiFi in Trinidad Iberostar
---
Is WiFi in Cuba Safe?
Like in any country, if you are logging on to an unsecured connection so you are putting yourself at risk of hacking. Please remember that this system was not set up for holidaymakers and it is likely that it will not be able to handle an influx of new tourists trying to log on.
---
FAQS
Does Cuba have WiFi?

Yes, as explained above you access it differently from what you may be used to at home. You can purchase a Cuba SIM card with data or an ETECSA internet card.
Is there internet in Cuba?
The majority of visitors combine the terms internet and WiFi when discussing accessibility in Cuba. Locals and tourists alike use WiFi spots to browse the web. We did not see any internet cafes. You? Tell us in the comments below.
Why Can't I Use my Own Phone?
If you have roaming, you can! I wouldn't want your phone bill though… For example, T-Mobile charges $2.00 USD per minute and $2.00 per MB while roaming in Cuba.
Does Whatsapp Work in Cuba?
Sure! If you can get WiFi coverage.
What about Twitter, Facebook and Instagram?
Same as above. even the president has Twitter. Locals used the platform to voice their opinion about WiFi prices too, remember this is still a communist country so it is interesting to observe this digital protest.
Does José Martí International Airport have WiFi?
Patchy! Yes! No guarantee it will work. Just the like the ATMs which didn't work when we were there. Cue sweating at the thought of not having money to pay our exit tax which, fortunately, was already paid via our ticket.
Can I charge my iPhone in Cuba?
Yes! And Android.
Just remember your handy universal travel adapter with USB charging slots like this one by Skross US / UK.
What's Cubamessenger?
Cubamessenger is a service which allows people outside of Cuba to contact friends and family outside of Cuba.
The original sender covers the charge and the recipient can receive and send texts, voice messages and calls for free, mostly.
Users in Cuba need a Nauta email to set up the service at their end so it is not aimed at tourists.
---
Final Words
I hope that you have found our guide to WiFi and internet in Cuba useful. Let me know how you find the information in the comments below.
Obviously, there is the glaringly obvious point – you are on holiday! I embraced the digital detox. Maybe you could too?
So when someone asks, why is there no WiFi in Cuba? You can assure them that there is, and the scene is changing rapido!
---
Did you find this useful?
Pin for others to read about Cuba internet WiFi too
What tips do you have for using the internet and WiFi in Cuba?
Tells us in the comments below.