Cuba's currency has changed – locals and tourists say goodbye to the so-called dual currency system and hello to the reactivation of the historic national currency, the Cuban Peso (CUP). However, visitors are reporting that you might not actually use any Pesos while visiting Cuba.

This guide will detail everything you need to know about Cuban currency, answer whether you can use your credit card in Cuba and discuss the rumoured USD tax AND exchange fee!
Want to share your currency in Cuba experience? Please leave a comment at the end of this guide or contact us.
Traveling to Cuba soon? Here's our first timer's guide to Cuba
What Type of Cuba Currency Is There?
There is now one unified currency in Cuba, the Cuban Peso (CUP).
The CUP which should trade at 24 pesos to the US Dollar.
However, travelers who have recently returned state that they didn't need Pesos at all.
Previously, there were two currencies.
The CUP, outlined above, which tourists only really used for street food, and the Cuban Convertible Peso (CUC).
The Cuban Convertible Peso (CUC pronounced Cook), was the so-called Cuban tourist currency, used daily by foreigners to pay for accommodation such as casas particulares, buses, taxis, tours and food.
The CUC will be phased out, making way for the CUP.
Here is how to tell the difference between the two notes.
CUP = Pesos, pictures of people on the bill/note.
CUC = Convertibles, pictures of monuments on the bill/note
1 CUC = 24 CUP, check the up to date rates here
The 3 peso note is popular with visitors as it has Che Guevara face on it.
Can I Get Cuban Currency in the UK/US/Etc?
No, you can't exchange your native currency for Cuban in your home country or anywhere in the world apart from Cuba.
However, it is looking like you don't actually need to worry about Cuban Pesos as hotels, restaurants and taxis are accepting US Dollar (USD).
Previously Pound sterling (GBP) and Euros (EUR) were also accepted although this may not be the case anymore.
You can also exchange money at these places too and it is being suggested that the street exchange value is much better than rates offered at official places.
Thanks to Tim, Carl, and Vader in the comments for this update.
Note: Some locals refer to the Pound as Sterling or Libra, just remember that if you are trying to exchange money.
It's a little muddier for US Dollars (USD) with some saying that they are accepted on the street and others saying restaurants and taxis will take USD but not all hotels.
Some hotels are offering 25% discount off the food bill if you pay with credit card using GBP or USD.
Thanks to A. Loch for the feedback from their most recent trip to Cuba.
You may also like our guide to scams in Cuba that actually happen.
What Currency to Take to Cuba?
You can't buy CUP in other countries like you can buy euros for your trip to, say, Paris.
Previously, visitors took Pound sterling (GBP), Euros (EUR), and Canadian dollars (CAD).
However, a reader called Carl has returned from Cuba and states:
"Under no circumstances should you take GBP/pound sterling to Cuba to exchange for Cuban Pesos or even for spending in restaurants/shops/on tours.
They can be used, but are converted at the same rate as Euros/USD & Canadian dollars when changing on the street/using in shops/hopping into taxis.
So you'll effectively lose up to 30% of its value.
We spent time in Havana, Playa Coco, Santa Clara, Trinidad…
Time and time again we were repeatedly told that the GBP (known locally as 'libra') rate was the same as the USD./Euro/C$.
The 'street' USD rate was as high as 217 pesos to the dollar/Euro.
So for example changing GBP/£200 at CUP215:USD1 we were effectively losing USD60 or CUP12,900.
The official state-run bureau rate was CUP150 for the GBP.
We had no problem changing GBP on the street. Just check the notes carefully for rips.
So Brits should really only bring USD / Euros or even Canadian dollars.
Another thing to be aware of is that a lot of prices (restaurants, tours, taxis, public transport, shops) are quoted in USD or Euros.
If you want to pay in CUP/pesos they will use an exchange rate of 200-220. So unless you've changed money near that rate you'll lose money."
Vader also says:
"Take US Dollars. Current street rate is 255 CUP to the Dollar.
Ensure you receive notes that are not torn.
Easy way to ensure you are not scammed is by recognising CUP have faces on the notes whilst the old CUC has monuments."
What is the Cuba Exchange Rate for USD?
Up until July 2020, there was a 10% conversion fee on the US "greenback" dollar.
This meant visitors were charged the 3% conversation fee discussed above and a further 10% fee so 13% fee in total.
Previously, this would have meant:
$10 USD – 13% (1.30) = $8.70
$100 USD – 13% (13) = $87
According to many news outlets, as of July 2020, the 10% tax has now been scrapped. Do you have experience of this? Please leave us a comment or email gemma(at)twoscotsabroad(dot)com.
However, the official Banco Central De Cuba still shows GBP, EUR and CAD to offer better conversions than the USD.
How to Get Cuban Currency
As mentioned above, you might not need to Cuban currency during your trip.
However, for your own knowledge, here is how to get Cuban currency.
The official Cuba money exchange is called CaDeCa (Casa de Cambio).
They can be found everywhere in Havana and the bigger cities but less so in smaller towns.
We were caught out in Caleton by Playa Larga as the bank hours were limited.
Luckily new friends lent us some CUC so we could go diving at the Bay of Pigs the next day.
To exchange money at CaDeCa you need:
An early rise
Your passport
Patience
Be prepared to wait in long lines.
I read that CADECA shops close at 3pm so get there early, at opening times is recommended.
Although changing money in Cuba is not impossible, it can be taxing on time.
There are two CADECA at Havana airport, check upstairs for the quieter one which had no line when we arrived.
It is recommended to exchange as much as you are comfortable with at the airport.
The airport ATM did not work during our departure.
Cue panic as we were not aware that there was a tax you have to pay to leave. Luckily our airline had already covered it.
Read our guide to Cuba to avoid the silly mistakes we made.
You can also exchange USD, GBP or EUR to Peso locally; ask your casa host, hotels or taxis drivers.
Should I Exchange Money at my Casa?
It is common for visitors to exchange money at their casa.
Not all casas will offer this service but they will point you in the right direction of who can help if you want to exchange money.
You can shop around this way too.
Have you exchanged money at your casa? Please share your experience in the comments below.
Read next: a guide to casas in Cuba.
What about ATMs in Cuba?
There are 'hole in the wall' ATMs in Cuba and we used them after our cash ran out.
Non-US Visa is the preferred card. Others may not work.
Again, there may be lines and there are instances when the money runs out. ATMs also max out so you may have to return for more.
Cash may come out before your card so remember to lift it out the machine or it will get swallowed. We had a swallowed card incident in Peru and it sucked, boom boom!
Overall, getting cash in Cuba is relatively easy if you have a non-US card that works, can beat the crowds and don't mind making a few runs.
Can You Use Credit Cards in Cuba?
Increasingly, hotels, restaurants and tour accept non-US credit cards.
It isn't certain whether your credit card will work in Cuba so it is best to have cash too.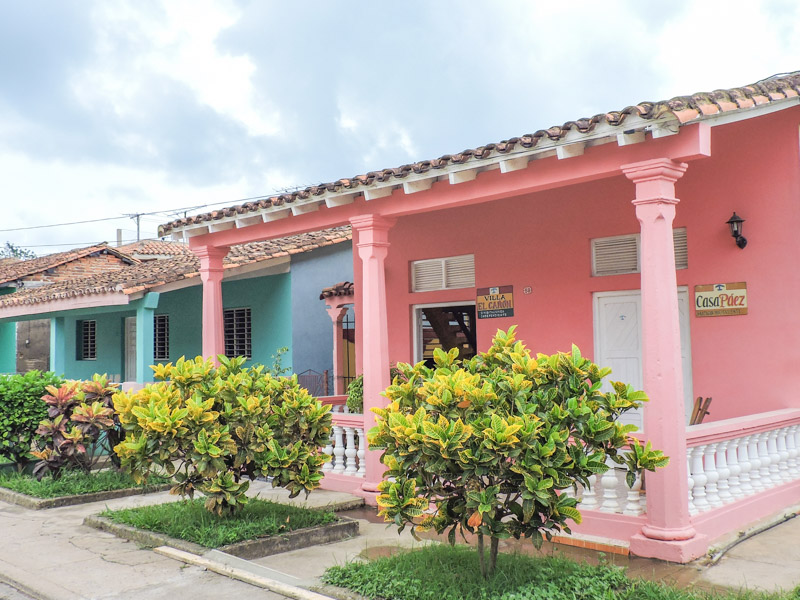 So How Much Does Cuba Cost?
The total budget for 3 weeks in Cuba came to 1903.50 USD.
That's 90 USD per day for two people with limited activities and one week in an all-inclusive resort.
You can read the full details here in our breakdown guide.
Frequently Asked Questions
What money is used in Cuba?
Officially, the currency used in Cuba is the Cuban Peso (CUP) but USD, EUR or CAD are widely accepted.
Can I use USD in Cuba?
Possibly. Some say the street value for USD exchange is good.
Should I exchange my USD before I go to Cuba?
You can't actually exchange USD to CUP outside of Cuba.
Should I exchange my USD to another currency before I travel?
Readers in the comments below suggest USD is now widely accepted.
If the rate is poor, it may be worth you taking USD.
If it involves you having to drive for miles and eats into your time, just take USD and be prepared to wait in line.
Further Reading
Final Words
I hope this has helped answer your question – what currency do you use in Cuba?
To recap, the best currency to take to Cuba was either USD, EUR, or CAD, depending on where you are traveling from.
In the comments section, readers suggest USD.
Did you find this useful?
Why not over image and pin to Cuba travel board?
Any questions or comments?
Have the experience to share?
Please leave below.