I dare you to name another city as sexy at Havana! Cuba's capital city is electric. This high-charged city simmers with salsa, cocktails and classic cars. Havana has a population of over two million who reside in Centro Habana, La Habana Vieja (Old Havana) and Vedado. Here's your guide to the unforgettable 10 things to do in Havana.
10 things to do in Havana
Malecón
Take a stroll along the 8km seawall of Havana which starts from La Habana (Old Havana), runs past Centro Habana into Vedado. Grab a 1 CUC pizza from a 'hole in the wall' café and head for the waves.
Plaza de la Revolución

Be like Obama! Capture that that iconic Che Guevara monument at Plaza de la Revolución. If you are slightly besotted with the handsome freedom fighter try to get your hands on the 5 CUP note which has his face on it. Need to more about the currency? Check out our Cuban money guide.
Revolution Museum
To cast your eyes on legitimate clothing worn by Cuban soldiers during the revolution as well as newspaper articles and authentic bullet holes check out Havana's Museo de la Revolucion. You can't miss the striking old Presidential Palace building as it is surrounded by Cuban artillery. There are scripts of information (some poorly) transcribed from Spanish to English which details the events of the revolution.
Tip – don't be fooled if a local tells you that the museum is closed and then tries to tempt you to a bar of their choosing. This happened to us! It's one of the many scams in Cuba, I detail more here.
Entry fee: 5 CUC / $5 / £4
Address: Avenida Bélgica, La Habana, Cuba
Fortaleza de San Carlos de la Cabaña
Every night at 9 pm tourists flock to the Havana's La Cabaña (fort) to watch the cannon show, cañonazo ceremony, where locals re-enact an 18th – century shoot out over the water. In addition, I would recommend going for sunset to watch the sky flood with baby pinks and blues before dark falls. By day travellers can visit La Cabaña's museums, there is often art shows around the area too.
Entry fee: 4 CUC / $4 / £3.20
Take a ride in a classic car
 Yes! The number one thing to do in Havana is to take a spin in one of those famous Cuban 1950s cars. We jumped in the back of a yellow (my favourite colour!) mustang during a full day tour of Havana. The experience took us through the streets of Vedado to Havana forest and along the Malecón. Check out our honest review. Alternatively, you can hire a car (with driver) for 40 CUC per hour and up. You'll see lots of cars and PRs outside of the main hotels.
Visit Vedado

The 'newer' area of Havana has restaurants and bars and can be reached by cocotaxi, the tiny yellow helmet looking cars. We watched a young salsa/rock fusion band play at a venue in Vedado which was not what I expected to be doing in Havana, the city if full of surprises.
Cocktails in Havana

Much of life in Havana is built around socialising and salsa and when the rum is so damn tasty why not?! You'll want to try a mojito at Hotel Nacional de Cuba (Calle Obispo Esquina) and a margarita at La Floridita on Obispo (expensive, had better). For modern cocktails and tasty food check out 304 O'Reilly (O'Reilly).
Hey, beer drinkers! You'll find a craft beer distillery called Factoria Microbrewery at Plaza Vieja. I love the art sculpture by Roberto Fabelo in that square too. Check out how much we spent in Cuba, it was surprisingly more than we hoped.
Stalk Hemingway 
The American novelist, Ernest Hemingway, was a big fan of Havana and you can follow his footsteps by having a drink in his favourite haunts La Bodeguita del Medio and La Floridita, then a nosey at where he collapsed at night at the Hotel Ambos Mundos. Head to the top of this elegant hotel (aka The Mirador of Old Havana) for lovely views of the city.
The lungs of Havana
Feeling a tad claustrophobic in the city? Head to Cuba's green space El Bosque de la Habana and breathe in some fresh air. This swamp-like forest is home to Almendares River and is a popular spot for with wedding shoots. There is something quite enchanting about the area.
Escape Havana! 
If you have more than three days in Havana I would recommend taking a day trip to the lush Viñales Valley to see where the tobacco for Cuba's cigars are made and the unique limestone hills called mogotes. This is what we did (and where we stayed if you have longer) in Valle de Viñales.
Getting to Havana + getting around
Most nationalities require a Cuba Tourist Card which can be purchased through most airlines. Cheap flights to Havana are often made cheaper by going via Mexico, be flexible in your flights search for the best rates. Many Americans have been visiting Cuba through Mexico during the stricter entry days which are now becoming more relaxed.
Cuba is notoriously difficult to get around. The local bus service, Viazul operates in most towns and cities but due to the lack of Wi-Fi availability and the Cuban desire to make cash, getting honest bus times is tough. Print out all potential route times before you leave.
Although hiring a car in Cuba sounds like a dream, the reality is painful. We met couples who were hanging around Havana for a few days, waiting on cars returning. Again, a tranquillo outlook and lots of patience are required. Another couple who had successfully hired a car were often told that petrol stations and roads were closed when they were not. We mindful of the Cuban hustle.
Where to stay in Havana
Daily, I receive frantic comments and emails regarding accommodation in Cuba. Please believe me, if you plan to stay with locals in casas particulares it is the norm to rock up to Cuba and book on arrival. However, I understand that might seem daunting. You can research casas online and read reviews from fellow visitors or check out Airbnb which is becoming increasingly more popular. We've used Airbnb all over the world, get $30 / £25 off your first stay with our referral. Airbnb will let you filter to meet your budget, we never spent more than $10 each per night.
Check out our guide to casas particulares for more information.
Alternatively, if you'd prefer to stick to hotels in Havana, there are many to choose from but at a hefty price starting at £156 per night. There are hostels in Havana, three at last count (this will explode soon I am sure), which will suit those on a budget as well as solo travellers. Booking into a dorm for a night or two is a great way to meet fellow travellers to take a trip around the island with (we ended up touring with two fellow Brits and their Dad!) Beds can be found for under $12 / £9.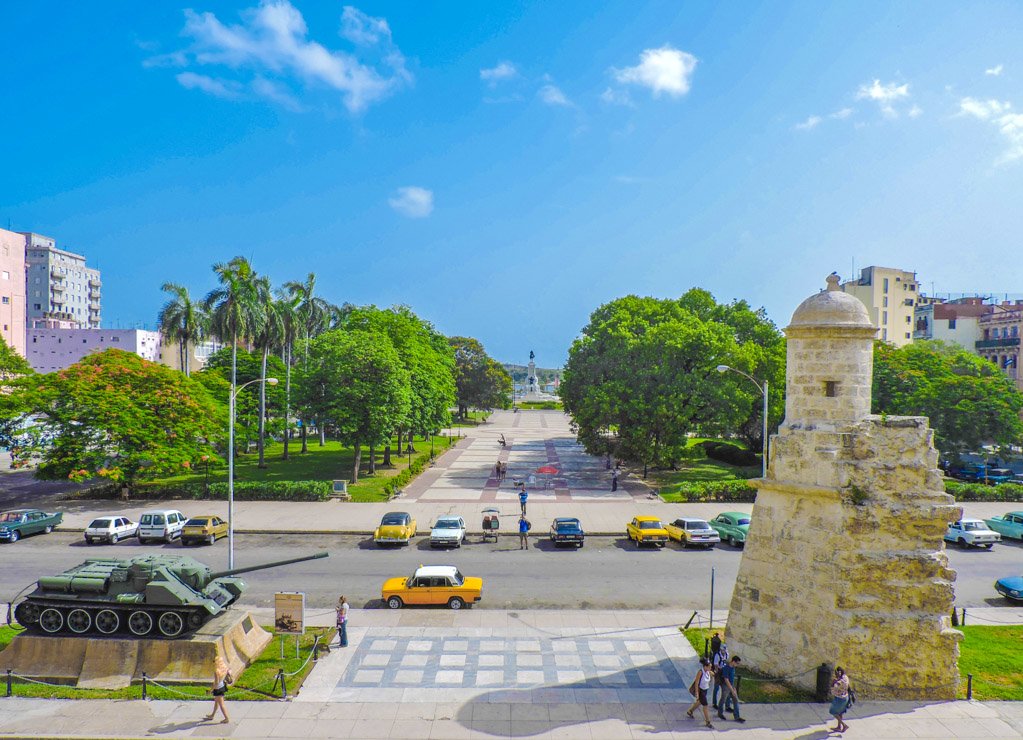 Havana and beyond
You could easily spend four nights in Havana then move on to the other cities and towns of this Caribbean island or marry up a Havana city break with a week relaxing at the turquoise beaches of a Cuban resort at the touristy Varadero.
Dreaming of Cuba?
Why not hover over image and pin to Pinterest?

We'd love to know what we missed?
Pop a comment in the box below.