This article has links to products and services we love, which we may make commission from.
I dare you to name another city as sexy at Havana! This high-charged Cuban city simmers with salsa, cocktails and classic cars. The three main areas Centro Habana, La Habana Vieja (Old Havana) and Vedado each offer something unique so let's dive into the best things to do in Havana, Cuba.
---
» You may also like: our guide to Cuba for first-timers.
---
Fun Things to do in Havana
1. Take a Ride in a Classic Cuban Car
 Yes! The number one thing to do in Havana is to take a spin in one of those famous 1950s cars.
Feel the wind in your hair as the welcomed breeze generated by speed picks up.
You can't actually drive a vintage car yourself in Cuba, believe it or not these cars are used in everyday Cuban life too. It's not just a tourist gimmick although you will notice the best-kept ones are parading around Old Havana for your coin.
We had the privilege of riding in a yellow mustang which drove us through the streets of  Vedado to Havana forest, along the Malecón and to Revolution Sqaure.
Pre-book your Havana car tour here and avoid the bartering process on the street. This two-hour tour includes a cocktail at the impressive Hotel Nacional. Hence why it's best you don't do the driving!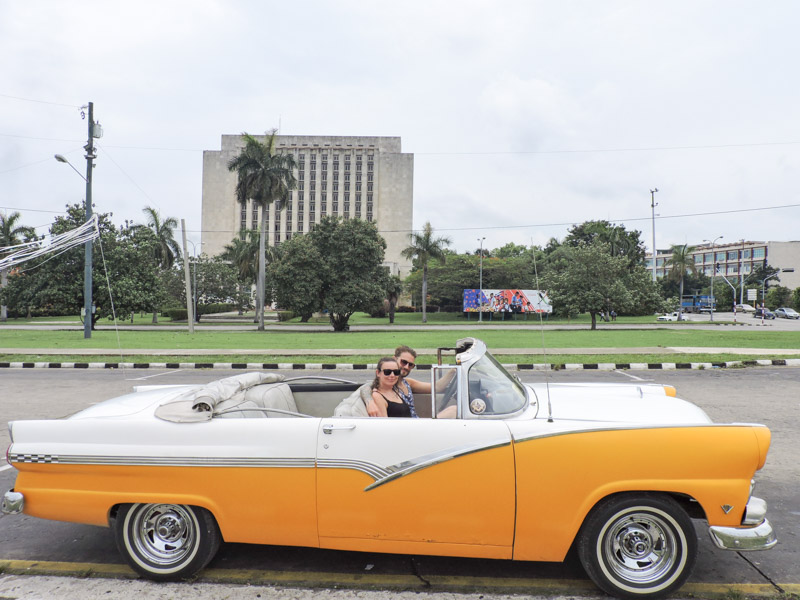 2. Plaza de la Revolución

Be like Obama!
Capture that that iconic Che Guevara monument at Plaza de la Revolución.
If you are slightly besotted with the handsome freedom fighter try to get your hands on the 5 CUP note which has his face on it. Need to more about the currency? Check out our Cuban money guide.
What's the best way to get to Revolution Square? The cheapest is to jump on the hop on/off double-decker Habana Tourist Bus. The fastest is to hire a taxi. The coolest is to rent a classic car and add the square to your Havana itinerary. See above for more details.
3. Drink Cocktails in Havana

Much of life in Havana is built around socialising and salsa and when the rum is so damn tasty why not?!
You'll want to try a mojito at Hotel Nacional de Cuba (Calle Obispo Esquina) and a margarita at La Floridita on Obispo which was relatively expensive, I've had better.
Check out how much we spent in Cuba, it was surprisingly more than we hoped.
For modern cocktails and tasty food check out 304 O'Reilly (O'Reilly).
Hey, beer drinkers! You'll find a craft beer distillery called Factoria Microbrewery at Plaza Vieja. I love the art sculpture by Roberto Fabelo in that square too.
4. Stalk Hemingway 
The American novelist, Ernest Hemingway, was a big fan of Havana and you can follow his footsteps by having a drink in his favourite haunts La Bodeguita del Medio and La Floridita, then a nosey at where he collapsed at night at the Hotel Ambos Mundos.
Head to the top of this elegant hotel (aka The Mirador of Old Havana) for lovely views of the city.
There is a tour of Hemingway's home outside of Havana as well as his known spots in the city. Fans can read more about it here.
5. Take a Walk Along the Malecón
Take a stroll along the 8km seawall of Havana which starts from La Habana (Old Havana), runs past Centro Habana into Vedado. Grab a 1 USD pizza from a 'hole in the wall' café and head for the waves.
After a day strolling among the crumbling colonial buildings and dusty streets you will be thankful for space the breath that this city ocean provides.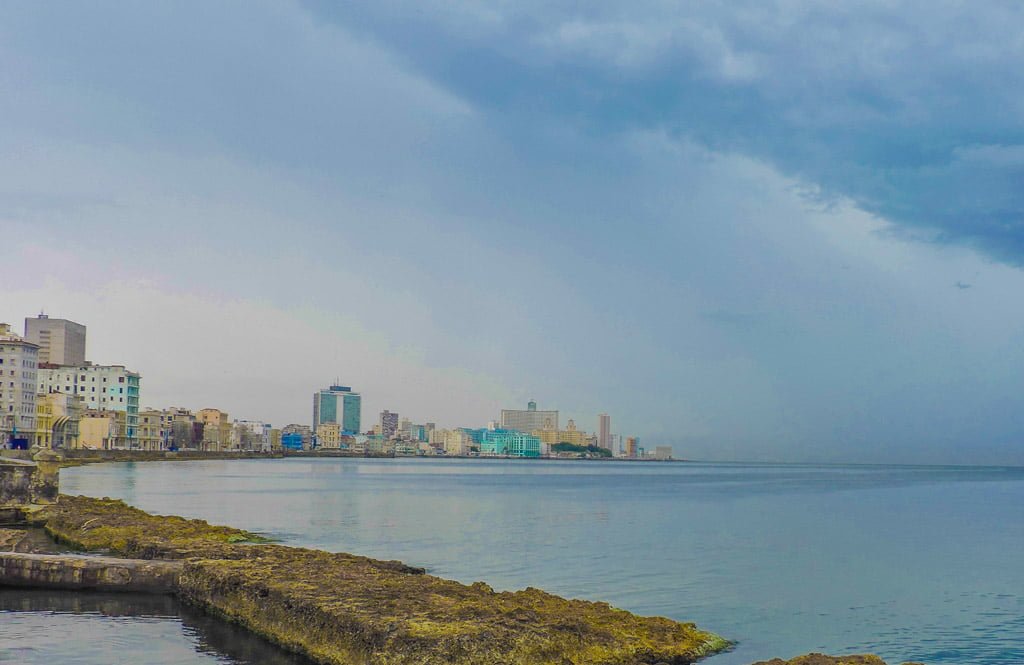 6. Revolution Museum
To cast your eyes on legitimate clothing worn by Cuban soldiers during the revolution as well as newspaper articles and authentic bullet holes check out Havana's Museo de la Revolucion.
You can't miss the striking old Presidential Palace building as it is surrounded by Cuban artillery.
There are scripts of information (some poorly) transcribed from Spanish to English which details the events of the revolution.
→ Tip: don't be fooled if a local tells you that the museum is closed and then tries to tempt you to a bar of their choosing. This happened to us! It's one of the many scams in Cuba, I detail more here.
Want detailed stories with your sightseeing? Check out this affordable private tour of Havana.
Entry fee: 5 USD
Address: Avenida Bélgica, La Habana, Cuba
7. Fortaleza de San Carlos de la Cabaña
For things to do in Havana at night, check out Havana's La Cabaña (fort).
Every night at 9 pm tourists flock to the Havana's La Cabaña (fort) to watch the cannon show, cañonazo ceremony, where locals re-enact an 18th – century shoot out over the water.
In addition, I would recommend going for sunset to watch the sky flood with baby pinks and blues before dark falls. By day travellers can visit La Cabaña's museums, there is often art shows around the area too.
8. Visit Vedado

The 'newer' area of Havana has paladar restaurants (privately-owned) and bars and can be reached by cocotaxi, the tiny yellow helmet looking cars.
We watched a young salsa/rock fusion band play at a venue in Vedado which was not what I expected to be doing in Havana, the city if full of surprises.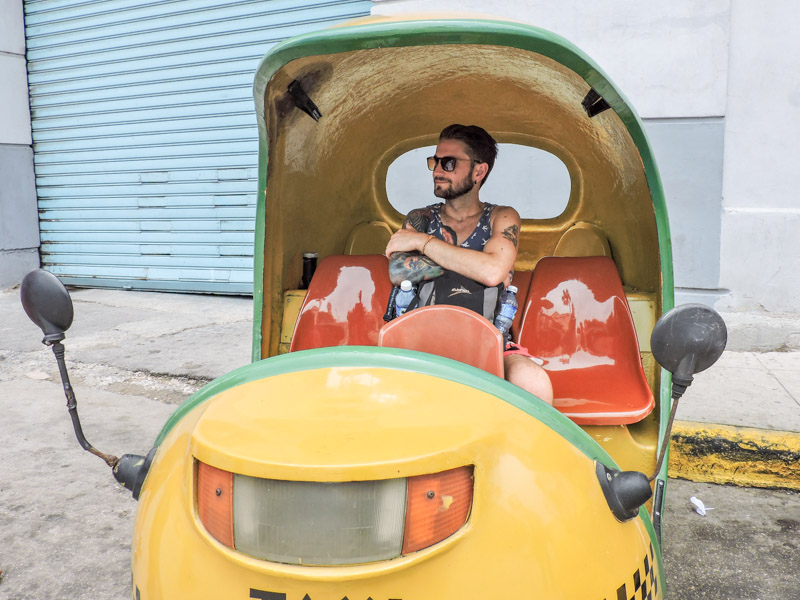 9. The Lungs of Havana
Feeling a tad claustrophobic in the city?
Head to Cuba's green space El Bosque de la Habana and breathe in some fresh air.
This swamp-like forest is home to Almendares River and is a popular spot for with wedding shoots. There is something quite enchanting about the area.
10. Escape Havana! 
Wondering what to do in Havana when you've drunk all the rum?
If you have more than three days in Havana I would recommend taking a day trip to the lush Viñales Valley to see where the tobacco for Cuba's cigars are made and the unique limestone hills called mogotes.
You can visit Viñales independently using the public bus, Viazul which you can book online before you travel to Cuba. The downside to that is you then have to get to the plantations and mogotes yourself which requires a taxi or bike hire.
Another option is to take a full-day tour from Havana to Viñales. It's an early start but you don't have to worry about language barriers, transport, getting to the tours in Viñales or lunch as it is all included.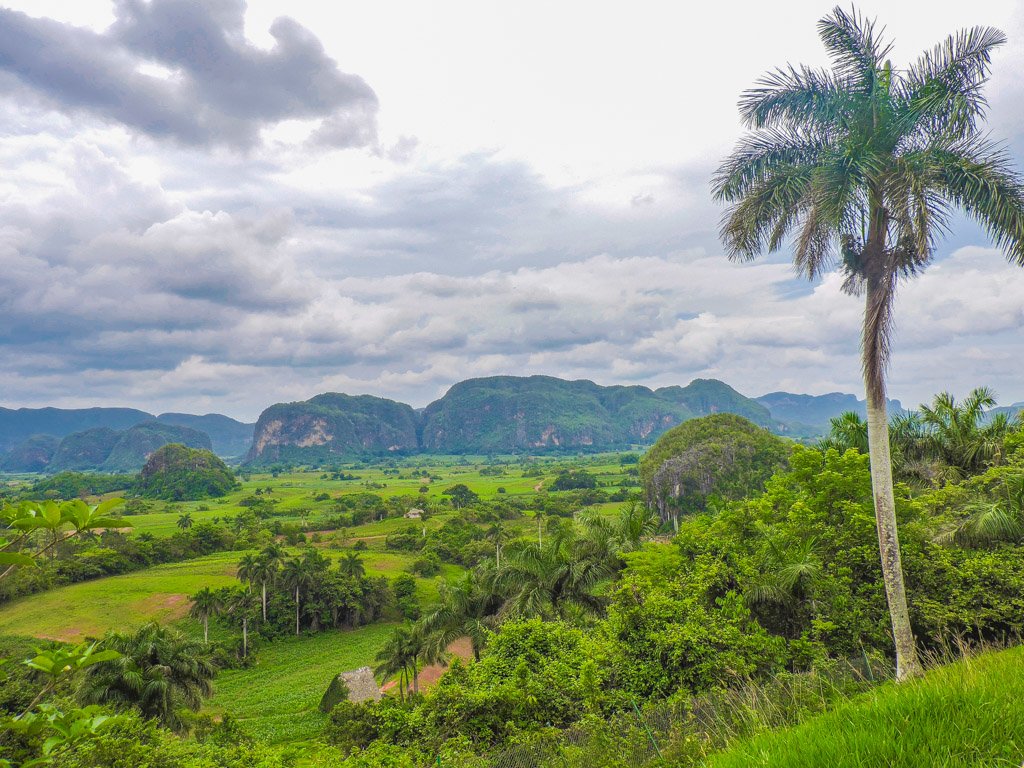 ---
Havana Travel Tips
Getting to Havana
Most nationalities require a Cuba Tourist Card which can be purchased through most airlines.
Cheap flights to Havana are often made cheaper by going via Mexico, be flexible in your flights' search for the best rates.
Getting Around Havana + Cuba
Cuba is notoriously difficult to get around.
The local bus service, Viazul operates in most towns and cities but due to the limited Wi-Fi availability and the Cuban desire to make cash, getting honest bus times is tough.
Print out all potential route times before you leave. Be ready to accept that some buses won't have space if you don't pre-book them.
Although hiring a car in Cuba sounds like a dream, the reality is painful.
We met couples who were hanging around Havana for a few days, waiting on cars returning.
Again, a Tranquillo outlook and lots of patience are required.
Another couple who had successfully hired a car were often told that petrol stations and roads were closed when they were not. Be mindful of the Cuban hustle.
While getting around Cuba is a challenge, there are many ways to get around the city which is great as there are so many things to do see in Havana but they are not all next to each other.
Havana transport:
By foot
Cocotaxi
Car taxi
Classic car
Tuk-tuk
Hop on/off bus
Accommodation in Havana 
Havana has a good mix of hotels and casas particulares which are private homes with rooms to rent. Don't be put off by the latter, it is very common to stay in one during your trip to Cuba,
Check out our guide to casas particulares for more information.
Airbnb in Havana
There are a variety of casas available via Airbnb in Havana, Cuba and the average price for a private room in Havana is 45 USD.
There are few things to consider before booking a casa via Airbnb in Havana:
The app doesn't work so you can't contact the host as you may elsewhere
Airbnb isn't new in Cuba! Cubans have been doing it themselves since the 90s! Casa owners create a group throughout the island and call ahead to book for you, they get commission in return
It is not unusual for the casa booked for you to get a better customer (longer) so you are moved elsewhere and you might not know it. You will know it if you book via Airbnb
Read reviews on Airbnb to check whether amenities promised are provided. Hot tubs?… Nah. It's too hot anyway
Lots of casas advertise via Booking and Hostelworld now too. Since WiFi is not as readily available the response may be slower than you are used to
Casa owners may be slow to update when rooms are booked/casas are sold out because of WiFi availability
Airbnb works though! 
You get peace of mind – you can see images, reviews and a picture of the owner
Pre-pay by credit card, less cash required – read our guide to currency in Cuba here
Book with Booking.com 
If you don't want to wait until you get there or use Airbnb heaps of the casas are now on Booking.com.
Hotels in Havana
Alternatively, if you'd prefer to stick to hotels in Havana, there are many to choose from but at a hefty price.
Hotel National: Historically important hotel in Havana, lovely gardens, not in walking distance to Old Havana
Hotel Sevilla: Excellent location, very nice pool area which we used on our last day in Havana
Hostels in Havana
In this section, we are going to look at Havana's hostels and by hostels, I mean the definition – social accommodation for backpackers.
The reason I am explaining this is that some casas use the term 'hostal' but they are mostly private rooms, not dorms with areas to hang out, chat and play drinking games.
Club 58: Outstanding reviews, friendly staff, very social, super central and safe
Ronaldo's: This is the first hostel in Havana and a bit of an institution. Nice rooftop. Friendly staff
Paradise: This is where we stayed for two nights as Ronaldo's was full. Nice rooftop. Hot rooms
If arriving solo and looking to meet friends I highly recommend staying in a hostel first and meeting travel buddies as casas can be very private.
WiFi in Havana
There is WiFi in Havana, it just takes an extra step to get access to it. You won't want to use 4G on your home phone package unless you plan to remortgage when you return.
The extra step is to purchase a card from an ETECSA telecommunications centre, hotel, casa owner, or Cuban on the street (no official).
Using the card you log on to use the internet at any of the WiFi points around the city.
You'll know the points as you'll see lots of locals looking at their phones. Read the full guide to WiFi and 4G in Cuba here.
Cuba Travel Costs
Cuba is not as cheap as the likes of Colombia or Bolivia in South America, which is where we left for Cuba from.
Our Cuba daily budget was 90 USD per day for two people with limited activities and one week in an all-inclusive resort.
Full details of our Cuba travel costs can be found here: 3 weeks in Cuba budget costs.
---
Personal Experience
Cuba is a fun country but I would not advise a visit as a part of an around the world trip where you are on a tight budget.
Here's what I would do differently:
Make a copy of the bus times. WiFi is not readily available
Take a note of recommended restaurants for each stop. Some restaurants are pretty poor, even Cubans will tell you this
Think about the activities you'd like to do and get a ballpark price during planning
Rent a car! You may have to wait a few days in Havana for one to come in but having that flexibility to move around will be liberating
Remember that kitchens aren't really an amenity you get to use. Hard for long-term travel trips and vegans
Cuban hustle! Meh! It's tiring but this two-tier economic system has allowed Cubans to survive and thrive
---
---
Going to Cuba? Pin to board for later

We'd love to know what we missed?
Pop a comment in the box below.