Let's get our creative hands dirty with these tried and tested, cheap and cheerful, homemade gift ideas. No breaking the bank while saving for travel, weddings, babies, houses, that trip to the Canadian Rockies.
Great Gift Bake Off
This super cheap gift idea is running as strong as the TV programme, even if it has moved channel and is supporting new presenters. Get the pinny out, it's cake time. Everyone likes some kind of food. If you want to avoid handing over Mars bar cake wrapped in tin foil to your Granny then why not create an IOU for a cooked meal? Culinary skills and company – a greatly appreciated homemade gift!
Homemade Candles
If you are not crazy for cooking why not try melting up a storm with homemade candles? Wax, wick, and dye can be purchased for relatively cheap online and is actually fun to play with (but a pain to clean afterwards).
Charity shop-bought teacups make a nice holder or candle filled jam jars is a new hip idea hitting the shops!
[amazon_link asins='B06Y3T5RV4,B015W8DWUO,B00WZ6N1QW' template='ProductGrid' store='twoscotsusa-20′ marketplace='US' link_id='f0c9508a-baa3-11e7-9c01-3f837fea98e8′]
Cost: low to medium
Effort: medium to high (skills depending)
Tasty Tea
I love tea, I am British after all, so personally, I would love nice teacups and loose tea for homemade presents! Mmmm. You now get jazzy tea drainers like these cute strainers.
[amazon_link asins='B073YQNNC1,B00V6AJN5Q,B06ZZMQFBD' template='ProductGrid' store='twoscotsusa-20′ marketplace='US' link_id='28676644-baa3-11e7-b969-998311889f8f']
Tea-rific
Family Calendar
This is a family tradition for us and I've managed to land myself the role as Chief Calendar Maker. I order family prints online in large bulk, buy calendars from the £1 shop (you can get them on Amazon for a few more pounds if in a rush), glue the photos to each month and wrap them up for each family household at Christmas. My cousin keeps some of the images and frames them!
[amazon_link asins='B002C4WVJU,1449486185,B071FQKPJD' template='ProductGrid' store='twoscotsusa-20′ marketplace='US' link_id='528edf7b-baa3-11e7-a0e7-2d1798bccd6c']
Music Mixtape

Select your favourite, their favourite, team favourite, songs, whack on a Spotify playlist. Name it something cute that means something to you and your loved one.
Homemade Hampers

Homemade hampers not only look impressive but they are also very personal and easy to compile.
Pick up a wicker basket for a budget shop and fill it with nice food, smelly stuff, makeup, holiday gear etc. I spotted a basket made from magazines in a cheap gift and home shop (Tiger) which would add a unique kick to a traditional homemade gift!
Cost: medium (depends on the items)
Effort: medium (a bit of shop dash required)
Pretty Prints In Frames
There are multiple options for prints in frames! One homemade gift idea could be to print out nicely typed up lyrics to a favourite song or poem and frame it.
A4 frames can be bought relatively cheap in pound/dollar shops.
Another gift idea, a personal favourite of mine for weddings, is to purchase a record of the first dance (if it is an oldy) and frame it.
LP frames can be purchased from Amazon US / UK in plastic or metal form, depending on your budget
A sweet, personal touch, believe me, this gift always goes down well with the bride and groom!
Finally, acquire nicely printed wrapping paper from a card shop, cut out a heart, star, square etc and glue to card then frame it.
I did this for Craig's birthday, cut into a heart around Southeast Asia as that was our next trip (you can read about the trip here).
[amazon_link asins='B00I5JQ2F0,B06XS31TB2′ template='ProductGrid' store='twoscotsusa-20′ marketplace='US' link_id='c04ac2f9-baa3-11e7-935d-a9d907195b76′]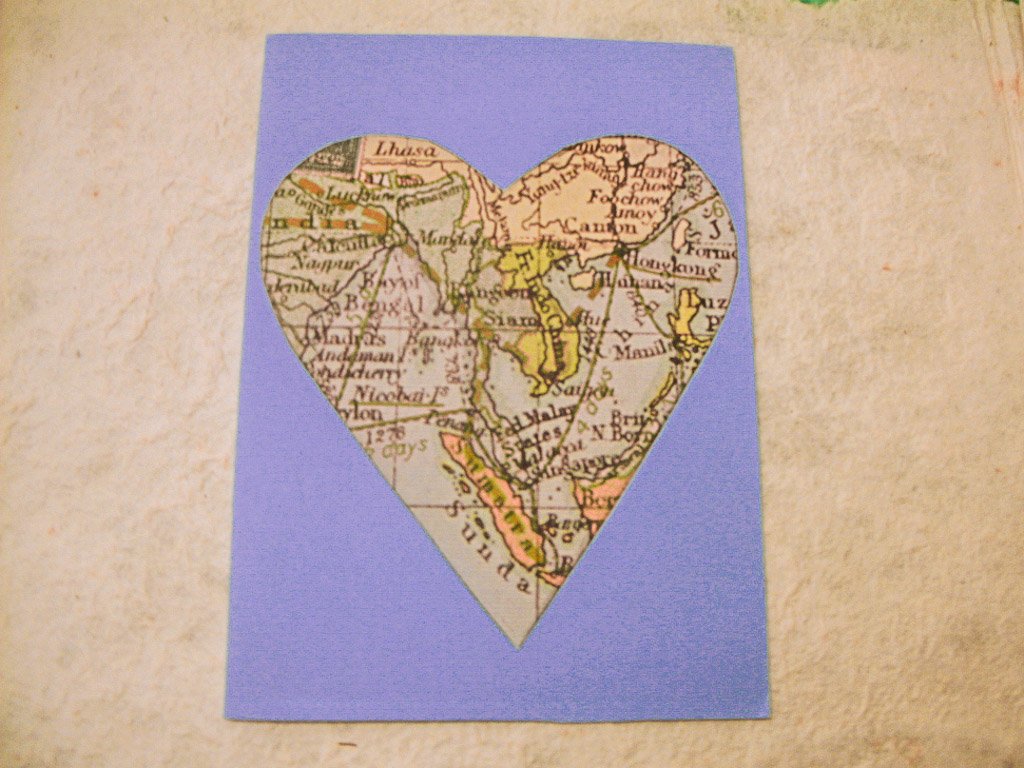 Cost: low to medium
Effort: low to medium (could be tricky getting The Beatles-White Album on white vinyl, rake your Dad's record collection)
An obvious freeby thrown in….
Why don't you do something
(as Britney said)
Spend time with a loved one instead of buying commercial crap which may be given away to the work tombola the following year. Homemade high tea, long walks, cocktails – whatever your style.
Cost: low (activity depending)
Effort: medium (you need to actually interact with the person)
Final Word Homemade Gift Ideas
Not everyone has to be a whizz with a whisk or a super with scissors, to create a welcomed thrifty homemade gift with a personal touch for loved ones at Christmas, birthdays, or life events!
Super Saving Articles
I'm a super saver! Here are more tips on how to save for travel, weddings, rainy days.
What ideas of yours can I steal? Tell me the comments below…