'Tis the season to be spending money on travel gifts! But what do you buy the loved ones that prefer the minimalist nomadic life (20kg maximum!) or the friend that is making the move from armchair to airport? Here are our top 10 travel gift ideas, for the thrifty spender to the over-indulger!
Headphone Music Splitter
You know those 10 hour bus journeys, like the ones we took with Bolivia Hop? A music splitter is ideal for those rides – kick back, relax with a TV series on the MacBook and the music splitter will allow two of you to listen to the show! Such a cheap crowd-pleaser.
Belkin do a no frills, bog standard cable for a couple of pounds / dollars. The 'half way there' (yeah! Jovi fans!) music splitter, by
Boompods is little more expensive but is far more attractive. The 'end of the road' (hit it – 90s RnB lovers!) is still under a tenner ($15) – again by
Belkin but is a multi- 5 way – I'm not entirely sure why you'd need that many ports, but, it might be a great way to make friends on the road! One of our sound travel gifts from the list….
Clothes Vouchers
A very appreciated travel gift! My friends, Gordon and Grant, bought me a $100 CAD voucher for Forever 21 in Canada. It's amazing how they saw into the future – by the time we moved to Vancouver (four months into travelling) I was ready for burning my clothes. There are lots of options here – you could go for an outdoors shop in your home area for a pre-travel gift if you are not sure of your travelling friend's itinerary! You know how little I am 'in' with fashion (I did volunteer at Vancouver Fashion Week after all!) but you can't beat the opportunity to buy a fresh T and winter boots without actually digging into your own budget.
Buy experiences, not things!
Remember we are very limited in what we can pack but what we lose in space we make up in time so why not buy us backpackers an experience to remember? Tinggy offers over 500 experiences in over 100 countries from cycling the Death Road in Bolivia to wine tasting at Niagara Falls. Since there are so many options you don't have to bear the brunt of actually choosing the activity, you can simply purchase a Tinggly gift box, which is delivered to your inbox, and gives you travel-loving friend the freedom of choice! No ties to dates or locations.
Alternatively, you can select a specific adventure. What about hiking up an active volcano and boarding down it in Nicaragua like we did?!

Waterproof Bag Cover
Hot torrential rains in Thailand or wet autumns in Britain, you can't go wrong with a waterproof bag cover. The
Osprey bag cover stretches over the bag, has a clip to secure at the back, and a pull string to fit to size. The bag comes in three different sizes online we use a small for our day packs. No need to let the weather dampen your belongings and spirit again! We did scrimp on costs and bought a cheapy from eBay, it was useless! From personal experience, when your camera switches off due to wet weather, so does your heart. Check out the sizes best prices
here. Looking for a new camera too? Check out this guide on the best cameras for travel.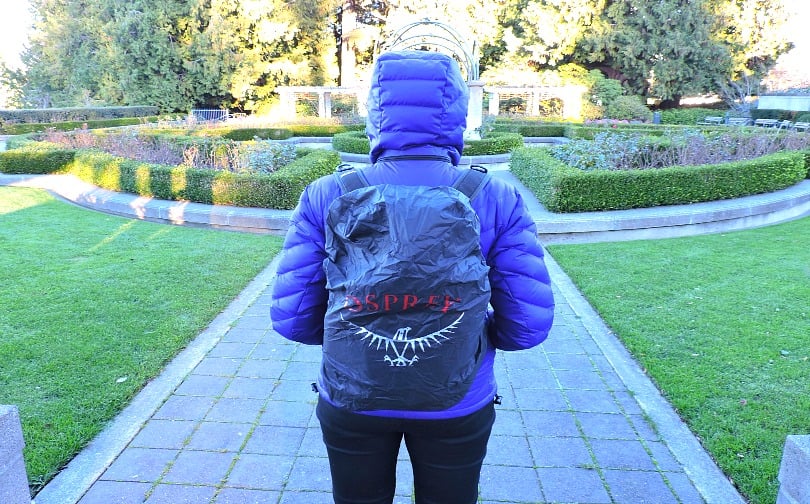 Travel Gifts For Chicks – Makeup Palette
I love makeup, and yes I do tend to wear a lot less whilst on the road with a sun-kissed tan but you can't beat feeling like a million dollars after putting on 'your face' for a night out on the town! I carry Urban Decay's On the Run (Approx. $45 U.S / £30) in my makeup bag. The shimmery copper, and the highlighter make excellent day shadows and the darker browns are nice for night wear. It comes with a mascara, eyeliner, and lip gloss too. The only thing that it is missing is a black for smokey eyes but the darker browns are a good enough compromise. What is your favourite palette?
Expensive Essentials
Travel insurance, vaccinations, visas – the essentials which no one wants to pay for but 100% has to cough up for in case they are caught out whilst travelling. How about contributing to the £300 plus vaccination bill? We use True Traveller for our travel insurance, there were cheaper options however they did not cover altitudes of 3000m above sea level, which we needed for the Lares Trek to Machu Picchu! Now we can break a body part whilst diving in Cuba or skiing in B.C without breaking the bank! Check our rates for your loved ones travel trip here.
Spotify Vouchers
I honestly don't know why I hadn't started using Spotify sooner! Spotify voucher cards can be bought online, or picked up at local supermarkets, an ideal travel gift for the music loving nomad! There is also a sweet deal where a full paying customer can offer a 'live in family member' half price so Craig pays full price (£120) and my brother bought me £60 worth of
Spotify voucher cards (U.S only link) for last Christmas. Now I can listen to albums, make playlists, and download to my phone when I am out of wi-fi. I also love their Discovery Playlist, every Monday Spotify creates a list of suggested music for me! The related artists button is also great for new music. If you are a fan of indie and electro, head over to Craig's Spotify and follow his banging playlists!
Purifying Water Bottles
Last year we were adding this to our Christmas list, now I would not travel without it! A genuine life saver! We drank the tap water throughout Peru, Bolivia, Colombia and Cuba and *touch wood* have not been ill yet. Our weapon of choice is DrinkSafe's Travel Tap  but there are lots of alternatives on the market such as
LifeStraw and
Water to Go – read our water filtering and purifying bottle review. The great thing about these bottles is that they filter and it also purifies, so there is no need to faff about with tablets. You just fill up in the sink (or stream!), screw the lid and, suck up the water (do not tilt!) It also saves money at airports, we take the bottle empty through customs, and fill it up at the other end. No more dehydrated flights or Delhi belly!
»»» Check out more gift ideas for eco friendly travelling.
Teach English Abroad
Are you traveller, or a family member of one, who is worried about making money whilst on the road? We saved £20K for this 18 month career break and I can already tell you that in month seven, it is not going to be enough! We wrote extensively about ways to be savings savvy whilst long term travelling but what about being independent, making money, and building on your skills and resume? There are many online internationally endorsed language course providers. Once certified you can travel the world, teaching English as a foreign language. Go on, challenge yourself this New Year! This means you can get cosy under the Christmas lights, working through the online course, knowing that you'll be teaching in Cambodia (and sipping the occasional Chang beer) in the coming months!
Did you find this post useful?
Why not save this pin for later!
Travel Inspired Gear
I've fallen in love with travel related clothes and accessories. From
Harry Potter attire (my friend is an English teacher and wears a Harry Potter dress to school!) to
wanderlust shower curtains (plan while you wash).

Competition Time – A Festive Giveaway!
Our first giveaway! Two Scots Abroad turned one year old back in October and to say thank you, you guys rock, we have a giveaway this Christmas! Our lovely friends over at Comuse Travels have donated a Whimsy in Plane Sight necklace to give to one of you lovely readers!
How Do I Win?
Competition is now closed.
---
Our top 10 travel gifts that'll keeps you bank balance happy and please your vagabond! Want more? Why not check out Useful Travel Gift Ideas Under $50 and the £20 Christmas Challenge!
What was the best gift you received?
Feature image via Flickr CC 2.0 Christmas 2013 Twilight – Tim Evanson
Disclaimer: this is a paid advert by Tinggly, we are their ambassadors