This article has links to products and services we love, which we may make commission from.
Looking for unique travel gifts because the ones with wanderlust in your life respect the 'buy experiences, not things' mantra? We're confident that you will discover a travel present that your adventure enthusiast will love in our guide to 20 travel items under $20. Forget the passport covers and luggage tags, we're talking extremely useful and unique travel gift ideas.

20 Under $20 Unique Gifts for Travel Lovers
1. Skross Universal Adaptor

It's universal (boom boom!), that there are never enough plug sockets in accommodation but Skross has come up with a solution to this nightmare, the universal plug that has two USB sockets attached.
Skross understand that between phones, cameras, and battery chargers we need lots of plugs but can't hog them all in hotels dorms! This nifty device can be used in all countries too because it has every prong possible. See the range here US / UK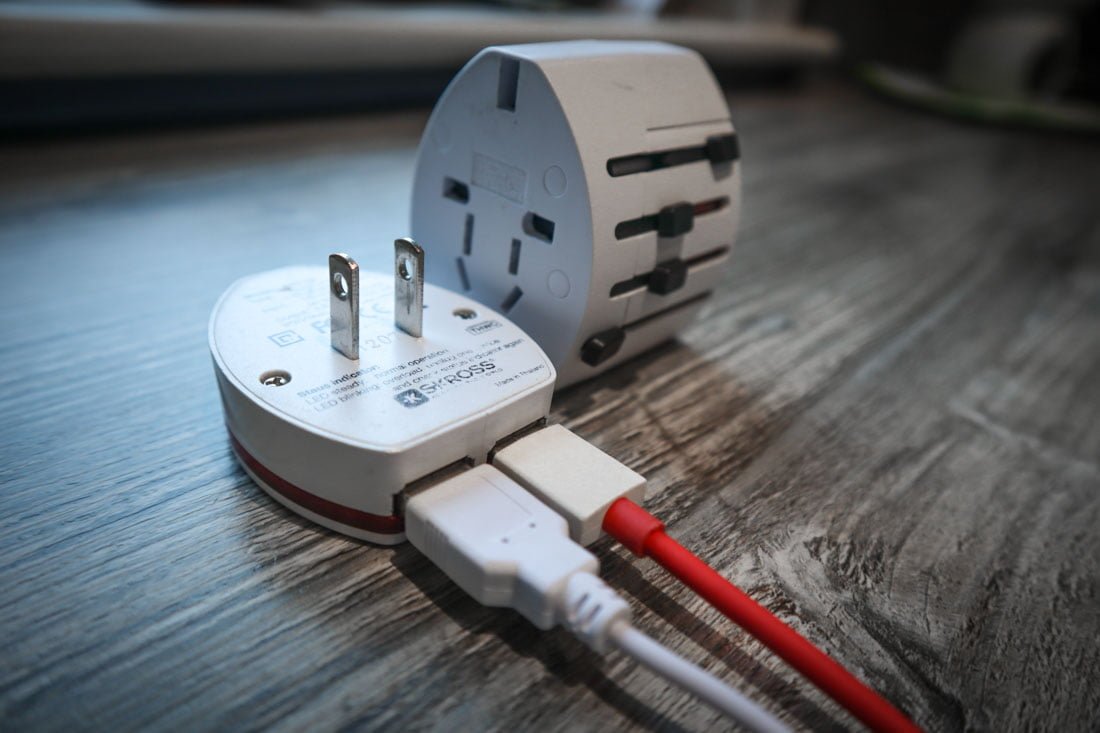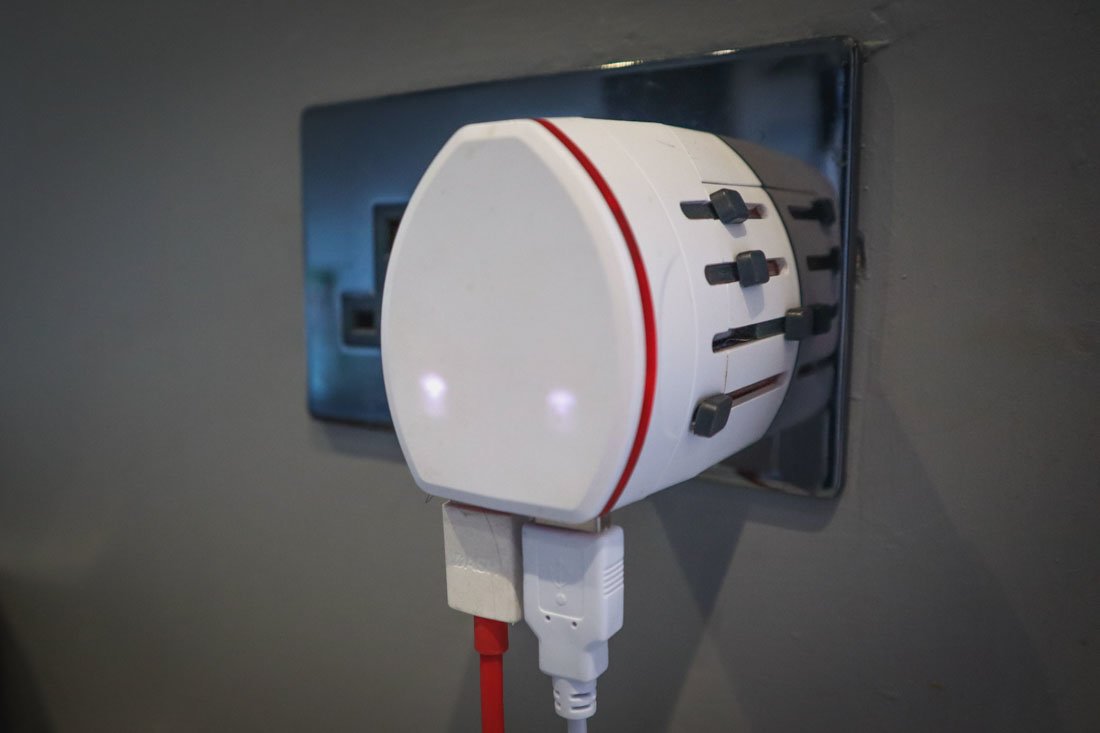 2. Anker Power Bank

I recommend the Anker Power Bank US / UK.
often because we use it, daily. As sad as this sounds, our phones do play a massive part in our lives – maps, banks, entertainment, communication lines.
We run the battery down then get annoyed when they shut down.
Never be annoyed again with the Anker power bank.
Juice this capacitor up before you leave using the provided cable and pack it in your day bag along with your phone cable.
When the low battery warning flashes, charge your phone with the Anker. If you want more than one charge you can upgrade to a bigger storage power bank.
3. Earphone Headband
Red-eye flights, long-ass overnight bus rides and busy hostels rooms make the need for ways to drown out the lights and noise a necessity.
What about a travel item that can do both? Enter the earphone headband!
The fleece headband is worn over your eyes and acts as an eye mask. Inside the headband are two adjustable disc inserts which are the earphones.
This is one of Craig's favourite Christmas presents from last year. He is a big fan of falling asleep to podcasts (Joe Rogan fan) so uses it at home too.

4. Earphone Splitter

Couples that travel together, stay together. Couples that watch Netflix together have something to talk about so why not get them a device which lets two earphone headsets use the one earphone jack?
Perfect for long bus rides and hiding away in noising hostels. See the cuteness: USA / UK.

5. SD Cards Case

This sounds like such an obvious gift but SD cards US / UK are sneaky wee things that go missing as soon as you eject them. An SD card case keeps them safe. Pro tip: I never delete images on an SD card. This acts as a backup in case I lose any precious holiday pics from my hard drive.
6. Bum Bag/Fanny Pack

This idea isn't as funny as it used to be now that a 90's revival has taken over the catwalk but I maintain that a bum bag or fanny pack, whatever you choose to call it, us Brits find the US version hilarious of course, is one of the most underrated travel gems in any backpack or suitcase!
The bum bag/fanny pack is the perfect size for a mobile phone, some money and a bit of makeup.
Since it sits on the front of the stomach it is easily accessed during hikes and if you want to go super cool, the bright colours look great at beach parties.
You don't put it down and forget about it and it is way harder to detach so less likely to get stolen in comparison to a bag being carried on a shoulder.
7. Foldaway Tote Bag
I know what you are thinking, how many bags does one person need? However, the tote is different to the bum bag or a day bag.
Firstly, as the tote is foldaway it doesn't take up too much room in day bags.
Another reason I love a tote is that it is useful during transit. I pack the items I want for the journey into the tote then store it in my carry on bag until the flight/bus/train journey.
Before settling, I remove the tote and store my cabin bag in the overhead.
In the majority of European countries, it costs money to buy a plastic carrier bag for goods bought in shops.
Why? Because the governments of these countries are trying to tackle the plastic tide. The tote is a great way to reduce single-use plastic.
8. Bamboo Cutlery Set
While we are on the topic of plastic, you will be disgusted at the amount of plastic cutlery you come across on your travels.
Environmental care is out and convenience is in.
That's why I pack this bamboo cutlery set US / UK in my day bag.
The kit includes a bamboo fork, knife, spoon, straw and straw cleaner.
It rolls up into a neat canvas case.
9. Collapsible Tupperware
Mind blown. This collapsible Tupperware US / UK flattens down to the width of the lid and pops out to create a box.
Ideal for doggy bags and packed lunches – we're all about the affordable travel tips at Two Scots Abroad!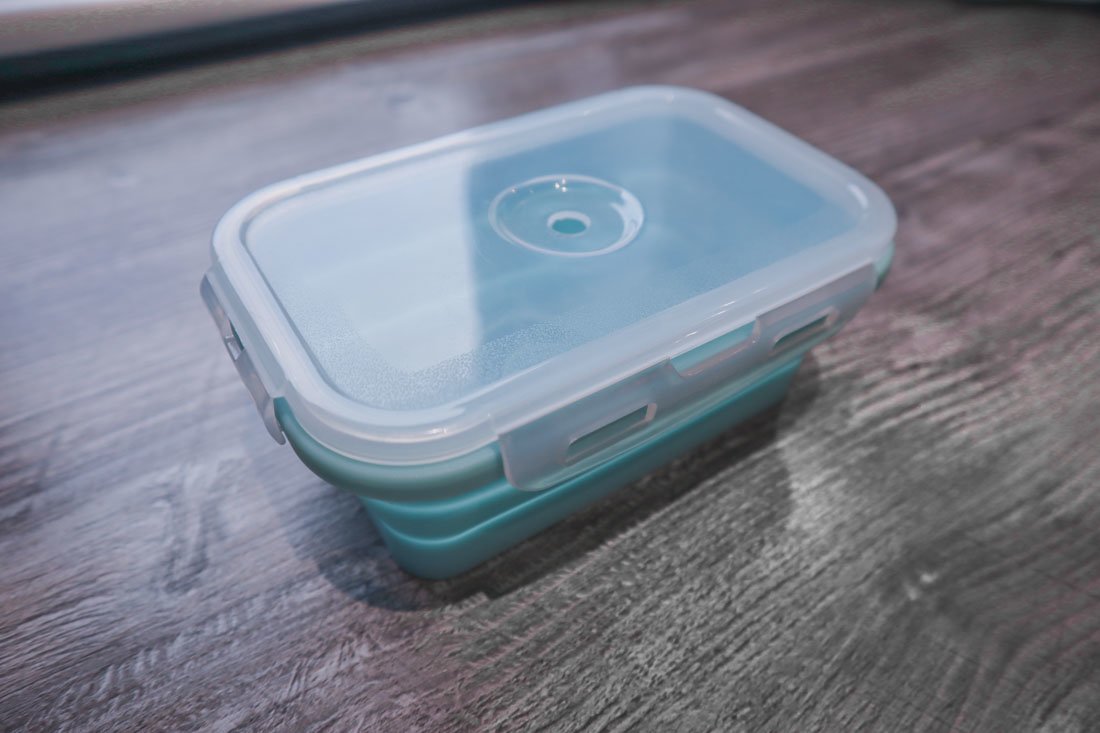 10. Solid Shampoo
Budget airlines don't let you pack anything bigger than 100ml if carrying a cabin bag. Plus bottles/tubes break in transit.

This makes solid shampoos and conditioners a great travel gift. I use solid avocado conditioner all year round. Smells like sunshine, delicious.
11. Packing Cubes
It has taken me a long time to come round to packing cubes but they really are revolutionary.
I used to use large zip lock bags but eventually, they get tatty and break.
I like how packing cubes come in a variety of sizes, allow easy access to your belongings and have handles so you can grab them out of your luggage quickly.
Check out these afforable cubes US / UK.
12. Solid Cologne/Perfume

Again, another winner for the cabin bag only crew – this perfume is solid. That means it is compact, won't spill and comes in a tin. I picked up this solid cologne (aftershave) for Craig when I was in London.
Great travel gift in my opinion.
13. Hydration Electrolytes
These are one of our best sellers, I think that says something about our alcohol consumption but…
No travel trip should be taken without packing a tube of hydration tablets US / UK.
Flying causes dehydration as does cocktail drinking! Pop one of these tablets into a pint of water before you go to bed then one again in the morning and you'll feel like a new person, after a bacon sandwich.
We were actually recommended electrolytes by a doctor friend wh0 we met on our Cuba travels. Follow doctors orders…
14. Menstrual Cup

Getting personal here but sanitary products are expensive, especially in the likes of Canada.
Another zero waste travel gift suggestion is a menstrual cup. The most popular on the market, the menstrual cup, but there are alternatives that do the exact same job (slightly over £20 in the UK).
Menstrual cups do take a while to get used to, I am now alternating with period pants.
How to insert a menstrual cup

Hop in the shower.

Give the cup a rinse.

Create a c shape with the cup.

Put one leg on the side of the bath or up the air.
Insert the cup.
Here's the fiddly bit, you need to get the 'c' to pop out so it creates a vacuum.
Try moving the base of the cup a little until it pops out.
If you fail, try again (I still fail).
How to remove a menstrual cup
Sitting on the toilet, carefully pinch the base of the cup.
The pinch should break the vacuum.
Carefully remove keeping the cup upright.
Flush away contents.
Wash.
Insert again (most likely in a seated position).
15. Havaianas
Havaianas US / UK are the best flip-flop range in my opinion. Durable, reliable and come in a variety of colours.
Flip-flops aren't just for beachwear, they are essential for communal shower use and nipping to the toilet in the middle of the night while camping. I also recommend taking a pair on hikes to give your feet a rest in the evenings.
Clip to the outside of your day bag for easy access.
16. Ponchos
I do not mean one of the condom-like ponchos you get at Niagara Falls. A travel poncho is an awesome gift because it plays the role of many things.
Ponchos/capes US / UK are predominantly cardigans to keep you warm but they also double up as blankets, bags, and tents when you don't want anyone to see you sleeping like a fish in public. Just me?

17. Leukotape Tape
Prevention is better than cure! Prone to nasty blisters?
Those pesky little bubbles are not welcome on any travel trip.
Tape this baby (US / UK) to the backs of your ankles where your skin touches your shoes, there's no amount of wear getting through this bad boy tape.
I can't' take credit for this tip, it came from an avid hiker we met trekking up a volcano in Nicaragua.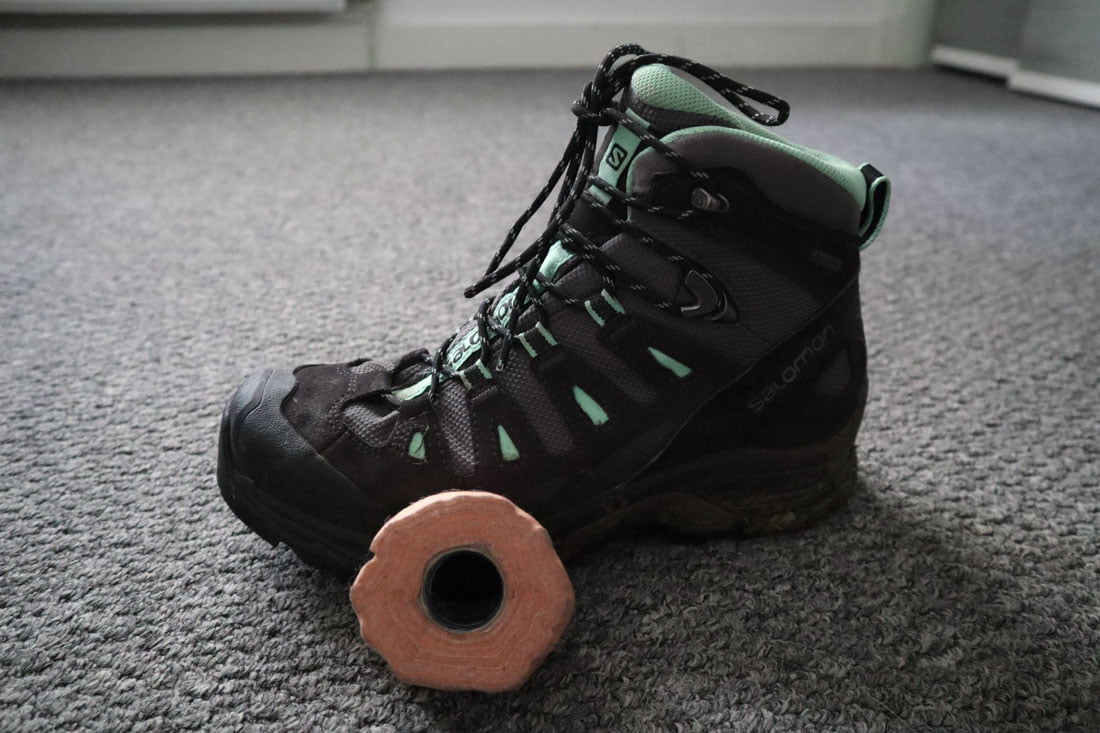 ---
» » You may also like: Our review of lightweight hiking boots « «
---
18. Map Inspired
I've mainly focused on practical gifts that can be used for travel but there's a whole new category: travel-inspired gifts!
There are heaps of map-related items from unique maps of destinations US / UK. The world is your travel gift!
19. Amazon Gift Card
Still can't decide? It's maybe best you let them do the shopping.
It's better to get a gift that will be used than one that is going to next year's tombola.
Amazon gift cards US / UK come in a variety of values so you dictate the budget.
20. Buy An Experience

Don't you just love when a gift guide comes full circle?
Succumb to your travel-loving friend's mantra and buy them an experience.
Yes, for under $20 you can treat them to an eclectic mix of travel activities from Harry Potter tours in Edinburgh to island hopping on longtail boats in Thailand. Just pop the dates of the trip and choose a tour that suits them best.
» » Shop for tours « «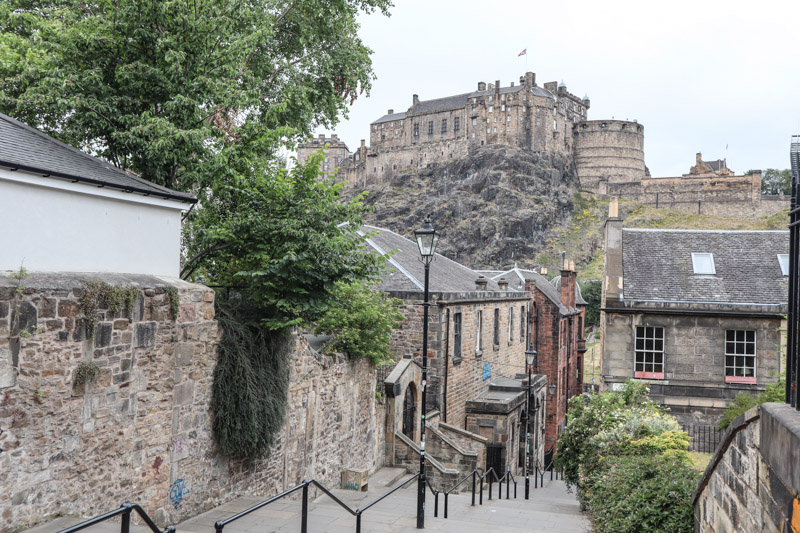 ---
Final Words
We really don't believe in buying for the sake of buying and know that most travel enthusiasts feel the same. We genuinely use the above travel gear because it makes our lives easier on the road. Many of these items were actually gifts given to us and now we pass the idea on. Enjoy!
Pin to your gift inspiration board!
What present ideas have you toyed with?