This article has links to products and services we love, which we may make commission from.
Portland, Oregon is known for beer, food, makers and nature and one season really shows off this Oregon city's best of – winter.
November through to the end of December are great months to visit because the city is packed with Christmas Portland events.
We (Gemma and Craig) visited Portland during winter and take it from us, the sunrises were still lovely and the crisp air was refreshing! Enjoy our guide on things to do in Portland in winter.
You might also like our three-day Portland itinerary which you can read here.
Winter Things to do in Portland
1. Portland Christmas Ships – Willamette or Columbia Rivers
The award-winning Christmas Ships Parade sees ships decorated in lights and Christmas twinkle taking to the water for 15 nights in December.
Sparkling ships can be seen at Willamette and Columbia River, in previous years there were 59 boats on the water.
To celebrate people and events close to Portland, there are sponsored nights throughout the 15 days.
For example, a parade dedicated to fallen firefighters highlights the community Christmas spirit of Portland.
There are also a couple of 'meet and greet the skipper' nights if you want to shake hands with the Santas of the sea!
Best Place to See the Christmas Boats in Portland?
The ship path depends on the time of night so it is best to check the Christmas Ship Parade website here before you pick your location. There are individual sails and combined fleet nights.
Some of the locations include I-5 Bridge, Lake Oswego and North Portland Harbour. There are restaurants and bars on the route but you need to book seating promptly.
Check out this charming video created by the incredible Travel Portland team.
2. Pioneer Courthouse Holiday Ale Festival
Many of the things to do in Portland, Oregon in December evolve around Pioneer Square.
Pioneer Square is called the city's living room for a good reason. It is an urban park located in downtown Portland where anything goes.
Throughout the year there are different kinds of events, but December is known for the beer festival, obviously because this is Portland – the craft beer capital of the USA.
The Holiday Ale Festival is the trademark of the December holiday, and it is an opportunity for beer-lovers to meet like-minded ale fans and have a good time.
To keep the punters warm, there is a large tent with gas heaters. Naturally, it is advised to wrap up and mandatory to dress up! OK, it's not essential but we do love a good old fancy dress party.
At this Christmas beer festival, there are over 50 festive ales to try and Santa might just there tasting along with you. I hope he leaves Rudolph at home.
3. Peacock Lane Portland
Do you know in the movies when the neighbors try to outdo each other in an unofficial Christmas house decoration competition?
Well, that's just what the Tudor houses of Peacock Lane look like come December 15th.
However, it is all done in the name of community spirit so much so the city pedestrianizes Peacock Lane for the first couple of nights to give visitors a chance to see the lights safely.
This is not a commercial shopping street so please respect the families who live here.
Contrary to rumors, this is still one of the many free Portland Christmas events.
Address: SE Peacock Lane between Belmont and Stark.
4. Portland Holiday Christmas Market
Sadly, the city has said goodbye to the longstanding Bazzar coined America's largest bazaar. However, shoppers can now check out local craft and gifts at Portland Holiday Christmas Market at the Portland Expo Center.
"Shop outside the box" for four nights in November. Check the most up to date information on the official website.
5. Christmas Festival of Lights
Portland is known for the popular Christmas Festival of Lights at the Grotto. Someone switched the lights and cheer on here!
Expect enthusiastic choirs and performances from 5-9pm.
Portland Christmas Lights is mainly aimed at families with high school choirs performing.
To access this event, you can buy tickets at the Grotto gift shop, but there are also tickets that are sold at the gate.
Address: 8840 NE Skidmore St, Portland.
6. Portland Light Festival
If you are around the city in February you might also be impressed by the Portland Winter Light Festival.
Over 40,000 visitors walk along the Willamette River (and other locations) to see stories of dragons, folklore, and cocoons come to life through light.
Many of the 100 installations are interactive such as pong tables and musical hubs. This is a free winter event in Portland and takes place over a three-day weekend.
Note: The streetcar is free to ride to discourage car use.
Food/drinks: Available at one of the main hubs.
Photo credit [+ feature]: PWLF.
Portland Light Festival is also featured in our guide to free things to do in Portland, Oregon.
7. Oregon Zoo Lights
Portland Zoo Lights are a city holiday tradition, attracting local visitors and international guests. Why? It is estimated that it takes around 1.6 million bulbs to make the zoo lights.
Don't just expect hanging lights, the animals come to life from the end of November until January. Revelers can purchase 'light up' cotton candy (great for the 'Gram!) and hot cocoa onsite to keep warm. ZooLights can get busy with crowds so be prepared to arrive early to see the magic.
Many cities like Edinburgh in Scotland have started copying this tradition of celebrating animals through lights.
Kudos to this festive event.
Address: 4001 Southwest Canyon Road, Portland.
Times: 5pm-9pm (ticket sales from 4pm).
Image credit: Oregon Zoo.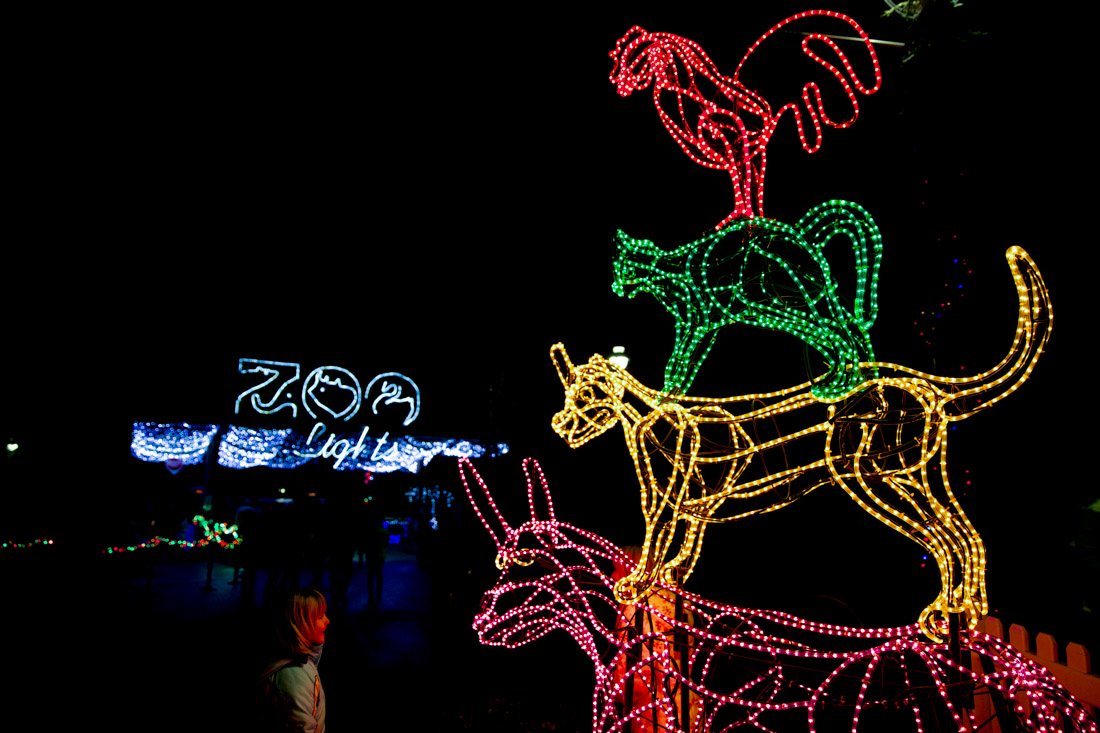 8. Pittock Mansion at Christmas
Pittock Mansion is a favorite all year round but the 'mansion on the hill' is especially decadent come Christmas.
Over 50 volunteers decorate the 1914 home and visitors lose count of how many Christmas trees are decked out!
Musicians often volunteer their time to create some festive ambiance too. Been before? You've not seen it all because every year there is a different theme.
Address: 3229 NW Pittock Dr, Portland.
Note: There is a free shuttle from the number 20 bus stop.
9. Frock Boutique Rooftop
The colorful Frock Boutique (1439 NE Alberta Street) displays a variety of vintage blow molds that have been collected over the years on their roof!
Pop into the store to pick up a Christmas outfit, gifts or unusual decorations.
10. Portland's Singing Christmas Tree
For half a century, the Portland Singing Christmas Tree has been entertaining crowds with its choir performances, dance shows, and cinematic living nativity.
A family tradition for many in Portland, not to be missed by visitors either. Portland also features in our guide to the best US cities to visit in winter.
11. Treat Yourself to a Spa Day
Christmas is hard work, you deserve some time to yourself.
Fly solo or grab your friends for a session at Knot Springs (33 NE 3rd Avenue) or a day trip to the Allison Spa (2525 Allison Lane, Newberg).
Book a facial or massage and enjoy the relaxing facilities before the true madness of Christmas Eve kicks in.
12. Silver Falls State Park
Plan a day out to Silver Falls State Park, which is around one hour drive from the city.
The 'crown jewel' of Oregon State Parks, is home to lots of waterfalls, the most famous being South Falls. Be prepared for wet and icy paths, wear hiking shoes with grips.
You may also like our guide to coastal towns in Oregon.
Getting Around Portland in Winter
It is strongly advised to leave the car at home while enjoying Christmas in Portland but that's not a stress in the city when there are so many public transport options.
The city of the four Ts – trail, tram, trolley and trains! TriMet rides are $2.50 for up to 2.5 hours.
Portland Winter Weather
You can expect rain, clouds, and sunny spells in Portland in December. Lows of 26 Fahrenheit versus highs of 50.
There is more rain than snow so pack a decent waterproof raincoat and shoes. When it does snow (we experienced the tail-end of a freak storm) it does not lie for long, turning to city sludge quickly.
Accommodation in Portland
Looking for something unusual with an intriguing story? We stayed at The Society Hotel in Chinatown.
This boutique hotel was a treasure trove of stories when the top floor was opened up during restoration. Uniquely the owners used many of the vintage items found such as the newspaper cuttings which are displayed in the hotel rooms.
There is also a cheaper modern dorm option for those on a budget. Each bed has its own curtain for privacy.
The dorm features a kitchen too.
You can read our full review here.
If you prefer a more central hotel, check out the Radisson Red Downtown for a modern hotel at a reasonable price under $180.
There are not many hostels in Portland but one of the top-rated is the HI-Portland.
Visitors like its central location in Portland's historic area and popular Nob Hill (Northwest) District which is packed with bars, galleries, breweries, and nightlife. Dorm beds are around $30 in December.
Packing List for Portland in Winter
Hat, gloves and scarf

Camera and battery
Money! Buy local.
Affordable Travel Tips
Portland downtown is accessible on foot
Everyone bikes in Portland and there are many rental stores
TriMet buses and light rail cost $2.50 for 2.5 hours
Food truck food is mostly economic and filling
Many of the Portland Christmas activities put on free transfers
Tap water is drinkable, bring an eco bottle
Many coffee shops discount drinks if you take your own cup
Final Words
As you can see there are many Christmas things to do in Portland and other winter months. From shopping at local makers, getting merry at festivals, and watching ships sail with seasonal spirit. Many of the holiday festivities are unique to Oregon's Portland and we wouldn't expect anything less from this all-year-round endearing city.
Portland also features in our guide to the best places to visit in December.
Like it? Pin it!
Have we missed anything? Tell us in the comments.