This article has links to products and services we love, which we may make commission from.
The West Highland Way is one of the best hikes in Scotland. Why? Because revellers trek through the rolling hills and by the calm lochs of the west coast of Scotland which is deemed to be one of the most beautiful areas in the country.
This 96-mile hike starts just outside of Scotland's friendliest city, Glasgow at the town of Milngavie (pronounced Mill-guy) and ends at the outdoor capital, Fort William.
Walking the West Highland Way – 5 days is the most popular time frame however many visitors like to take longer, covering fewer miles in each day and spending more time in the towns, villages or campsites of the west coast.
This guide includes
The West Highland Way route(s)
Advice on accommodation
West Highland Way packing gear list
West Highland Way – 5 days Route
The longest day of the 5-day route is 22.5 miles with the shortest being the last (15 miles).
Refreshment stops and a variety of types of accommodation can be found in most areas.
There is no strict way of planning your West Highland Way hike but all routes begin in Milngavie.

Day 1: Milngavie To Balmaha (20 miles)
The first day is relatively easy.
The West Highland Way starting point takes places in Milngavie and is identified by a large cement monument on Douglas Street.
Next head through a small car park behind Milngavie's town centre shops.
The first stretch takes you along fields and farmland all the way to Dumgoyne where you can buy refreshments at The Beech Tree Inn and then on to Drymen for another refreshment or overnight stop.
The next stage is on to Conic Hill, which is a little trickier to find.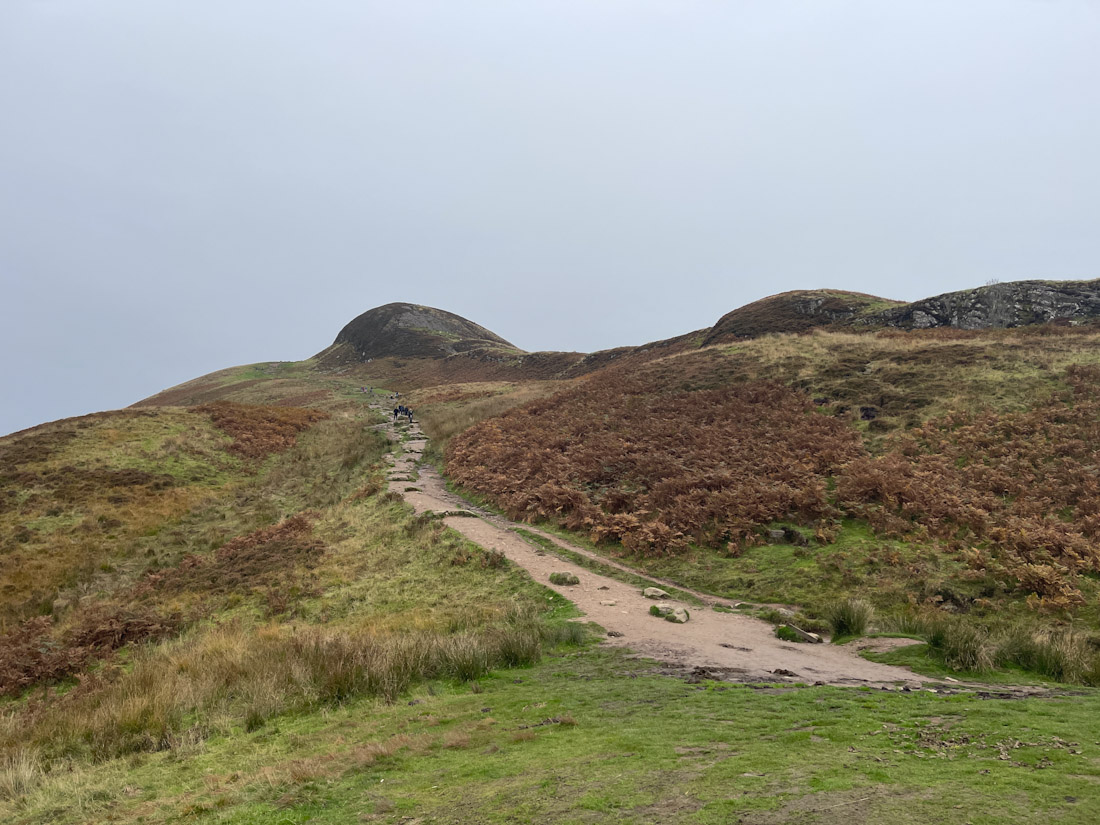 Keep an eye out for the signposts (marked with the thistle) which take you through a forest then up and over Conic Hill with stunning views of Balmaha.
Alternatively, keep walking through the village to Rowardennan.
Personally, I found this leg relatively easy, hopes were high and the weather was dry!
Unfortunately, one member of our group could not go on at this stage and was picked up in Balmaha (she rejoined us at Bridge of Orchy).
We stayed at Bay Cottage and recommend it highly. There's a hot tub and the breakfast is superb.
---
Read more | Day 1 of the West Highland Way (blisters and Balmaha)
---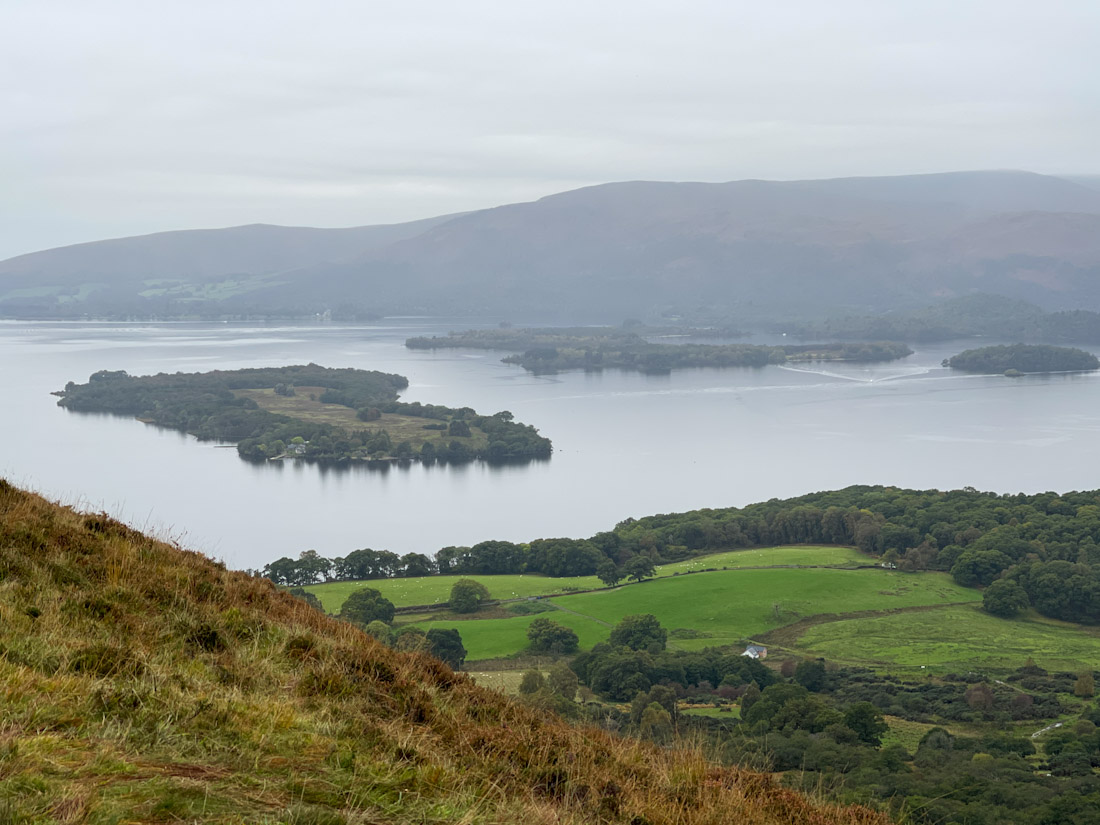 Day 2: Balmaha to Inverarnan (21.5 miles)
Leaving the beautiful town of Balmaha with Loch Lomond at your side, walk past the shores to Inversnaid with refreshments at Inversnaid Hotel.
Here a small passenger ferry runs to the opposite side of the loch for non-hikers.
Next, it's on to Inverarnan, sleeping options are limited to a popular and pricey hotel so WHWers often opt for the town of Tyndrum which has more options such as Tyndrum Lodges or Beinglass campsite.
Read about WHW accommodation options in detail, here.
---
Read next | Day 2 boots, boats and automobiles
---

Day 3: Bridge of Orchy to Kinlochleven (22.5 miles)
This is the longest day of the West Highland Way hike and if it is raining you really can suffer.
The first leg takes you through farmland and on to Strathfillan (refreshment stop/small shop) then easier terrain to Tyndrum for the famous touristic Green Welly Stop serves food and snacks.
Some Wayers may choose to stop here for the night to break the hike into 6 days.
Others may continue on to Bridge of Orchy which has one hotel and a couple of guest houses.
A bus from Glasgow runs to and from Bridge of Orchy. The village also has a train station.
---
Read more | The day of doom – Achilles pain ruins the day
---
Day 4: Bridge of Orchy to Kinlochleven (18.5 miles)
This day includes walking over Rannoch Moor which can be brutal if the weather is poor (no coverage) and then on to visit the friendly deer at Kings House (refreshment stop).
Kingshouse Hotel has a snug with pies and casual dining, indoor seating at its restaurant and outdoor pods for food and drinks.
It is quite pricy so save your pennies.
This is where our party stopped for the night as we completed the West Highland Way in 6 days.
However, if you choose to power through, head behind the King House Hotel to the Devil's Staircase which is not as scary as it sounds!
Again, the weather can be against you at this leg.
The descent leads you into Kinlochleven which has a handful of restaurants, accommodation and a Co-op shop.
It really is cool getting to sleep in a valley for the night.
---
Read more | Out last day of the WHW
---

Day 5: Kinlochleven to Fort Willian (15 miles)
The final day starts with a tough climb which rewards you with views of the valley.
As you head towards Fort William, views of Ben Nevis become apparent. Will get to see the tip? It's often hidden!
Some Wayers rest for the night in Fort William then tackle the UK's highest mountain the next day. Will you?
End the Way with a picture of the man resting his feet.
Dine and have a celebratory drink at Tavern (try the skewers), The Volley Arms or The Crofter.
Pick up some pastries at Rain for breakfast the next day or snacks later.
---
Frequently Asked Questions About the West Highland Way
How long is the West Highland Way?
The hike is 96 miles starting at Milngavie and ends in Fort William.
What is the West Highland Way weather like?
You can expect four seasons in one day in Scotland. The west coast can be especially wet.
May tends to be one of the nicer months, April-October will be more pleasant that October-March.
Dark nights creep in around 4pm during winter.
Is the West Highland Way wild camping friendly?
Wild camping is legal in Scotland which is great for those looking to keep costs down.
Be sure to read the Scottish Outdoors Access Code for rules which include being respectful of locals and animals, picking your rubbish after you, not parking close to roads.
We talk extensively about this in our camping guide to the North Coast 500 (very popular road trip in Scotland).
Do I need to carry my own bag?
There are companies that help you transit with their West Highland Way baggage transfer options.
This means they collect in Milngavie and your bags arrive at your accommodation each day before you do (usually).
If you would prefer to carry your own bag, that's perfectly fine.
Many hikers do. Just keep in mind that there is limited drying space in some of the accommodation and if you are camping there could be nothing available.
Invest in an Osprey bag cover US / UK to keep your belongings dry.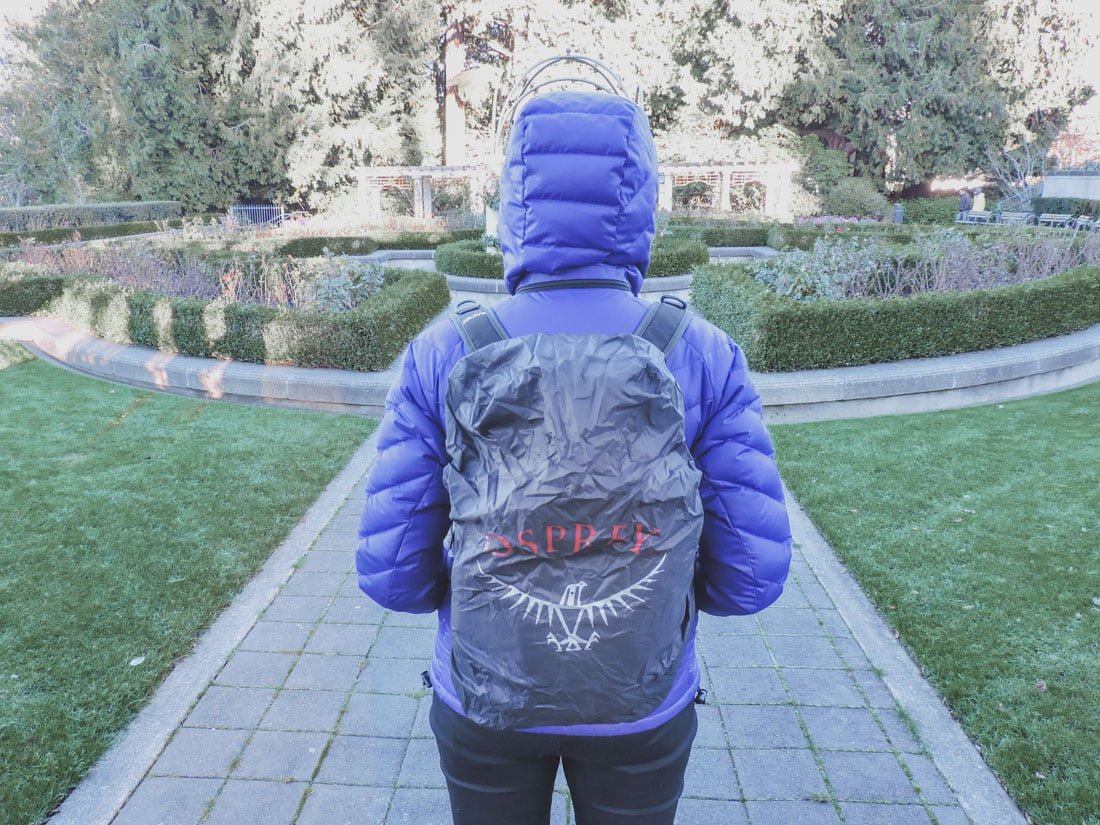 I'm a solo traveller, do I need to do the WHW myself?
We're a social bunch in Scotland, why not join one of the many West Highland Way tours?
During the peak months, the route is like M9, busy!
There is a good chance you will meet fellow Wayers at each stop if you don't want to commit to a tour.
Another option is to do a callout in one of the many Europe backpackers Facebook groups, a Scotland tips Facebook group or the specific West Highland Way support group.
These groups have developed into great wee communities for those looking for support and ideas.
How bad are the West Highland Way midges?
Argh, those blasted wee winged beasties can really ruin your holiday in Scotland.
From June – August we see the worst of the swarms. Purchase Avon Skin So Soft US / UK to ward them off.
What are your biggest West Highland Way tips?
Like all of my articles, I don't hold back any information but in a nutshell, my biggest tips are
Break in your shoes/boots months before attempting the West Highland Way trail
Train – attempt as many 20-mile day hikes as you can. Aim for at least one two-day hike
Pack flip-flops for the evenings to give your feet some breathing space
Have fun but don't be ashamed if you have to admit defeat at any stage. Bridge of Orchy is a good place to sit out as you can catch the bus to Kings House and start again
---
Here's our lightweight hiking book comparison guide
---

West Highland Way Accommodation
There is every type of accommodation along the West Highland Way which makes the trek very inclusive of all budgets.
Wild camping keeps costs down and campsites throughout the route offer basic facilities.
Hostels with drying rooms and kitchens can be booked at Balmaha, Tyndrum, Bridge of Orchy, Kingshouse and Kinlochleven.
Bed and breakfast guest houses are very popular in Scotland and found at each stop of the Way.
Most of these bed and breakfasts offer packed lunch service too.
Staying in B&B is a really pleasant way to do the WHW as you get to meet locals and enjoy a hearty breakfast before you trek again.
Hotels are also available throughout, naturally, these are pricier than the alternatives mentioned here.
---
Read more | Where we stayed on the West Highland Way
---

---
West Highland Way: What to pack
Your packing list will depend on whether you are carrying your own bags or using a transfer company. Essentials include
Hiking socks
A good quality waterproof coat, I wear Mountain Equipment Rupal jacket US / UK which is thicker than my Marmot which is great for dryer weather, small showers
Day bag with snacks and water
Walking sticks (optional, saved me on day three)
---
You may also like | Our full WHW packing list
---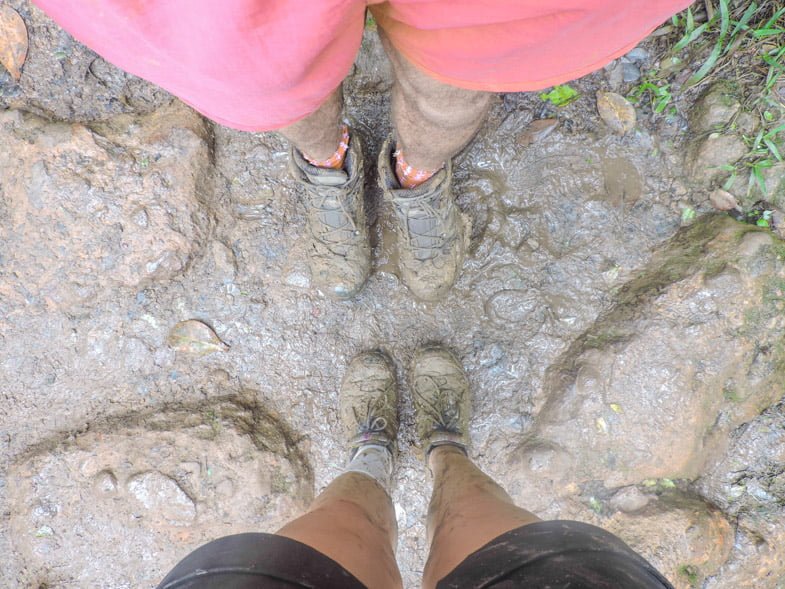 Final Words
This West Highland Way route planner can be adapted to meet the needs of any hiker.
If you plan to bring your dog remember to check where lambing season is taking place as you won't be able to walk through that area and keep your pup on the lead as they do double the number of miles that we do which can blister their paws.
Save for later! Pin to your Scotland board
Any questions? Ask in the comments below.