This article has links to products and services we love, which we may make commission from.
Scotland's West Highland Way is a 96-mile trek which starts in sunny Milngavie, just outside of Glasgow and concludes in Fort William. I had the pleasure of hiking it over six-days with friends to celebrate a year of 30th birthdays. The full story starts here.
If you are reading to find out about West Highland Way accommodation, this guide details where we stayed each night with additional options for those West Highland Way camping/or struggling to get a reservation.
Do consider the delightful Scottish weather if you plan to camp!
Not into camping or carrying your pack? West Highland Way baggage transfer is available and the hotels and hostels are accustomed to this.
Companies meet you at your starting point to collect your luggage then drop it off at your accommodation each day.
Naturally, you will need to pack a day bag with waterproofs and snacks, read our packing list guide for more.
Planning your WHW adventure? Start here for our full guide.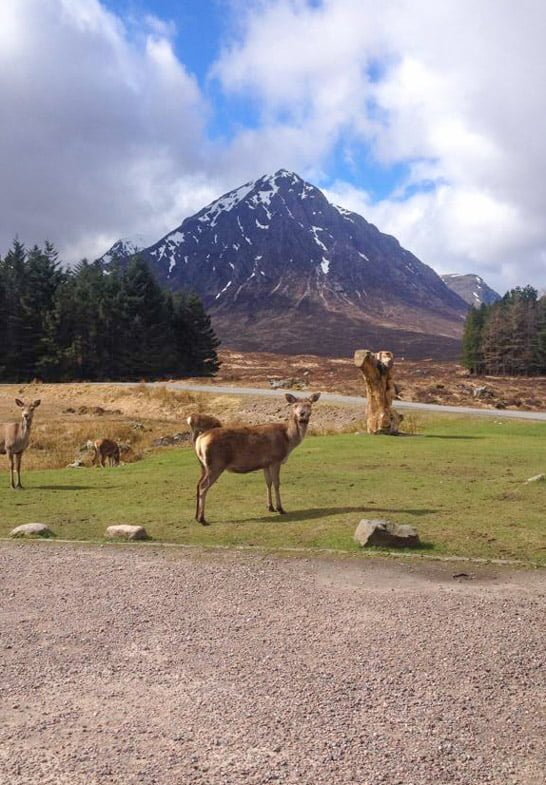 ---
West Highland Way Accommodation List
The great thing about this hike is that there are so many different types of accommodation.
Most stops have a hotel, guest houses, bed and breakfasts (B&Bs), apartments, hostels, and campsites.
Some even have hot tubs so you can soak your screaming muscles at the end of the day!
This guide will include all of the mentioned types of accommodation to cater for all kinds of hikers.
Day 0: Milngavie
The official start of the West Highland Way is located 7 miles outside of Scotland's biggest city, Glasgow, in a town called Milngavie (Mill-guy).
Many WHWers start their adventure from Glasgow, taking the train from the city.
However, some prefer to get a good night's sleep in Milngavie and set off early to ensure that they arrive in Balmaha to see the beauty that is Conic Hill.
Milngavie Accommodation
Milngavie has an affordable Premier Inn budget hotel.
Unfortunately, are no hostels in Milngavie, however there are a couple in Glasgow. Check out the full list here.
---
Day 1: Balamaha Accommodation
Balamaha is a beautiful village on the eastern shore of Loch Lomond.
You will find this scenic spot at the descent of Conic Hill after the first day of the West Highland Way hike.
The Oak Tree Inn is a favourite for food and the well-deserved pint at the end of day one.
Please note, wild camping is now illegal around Loch Lomond's west shores.
Bed and Breakfast
Bay Cottage was the best West Highland Way bed and breakfast, highly recommend. Photos don't do it justice.
Cost: £90 per room
Pros: Large room to ourselves (sleeps four, there are smaller rooms), breakfast choice (hot or continental), the packed lunch for £6 and the hot tub! Scones and tea on arrival and drying facilities for clothes
Cons: None
Balmaha Hotel
Oak Tree Inn is a popular hotel for food and drink.
Cost: Under £100
Pros: Nicely decorated rooms, rooms above Inn or cottages available, restaurant, shop, views!
Cons: On the more expensive end of the scale, budget depending
Read reviews at TripAdvisor
Balmaha Hostel
Balmaha bunkhouse is currently closed for renovations.
Cost: TBC
Pros: Good for large groups (can hire out full dorm – stags/hens welcomed), social area, kitchen, cereal breakfast included
Cons: Weak WiFi (who cares?)
Notes: Dog-friendly for additional £5 (Bunkhouse only) / No cards, cash only

---
Day 2: Inverarnan Accommodation
The main attraction around Inverarnan is the 300+-year-old pub/restaurant/hotel, Drovers Inn.
Each of the 15 rooms differ and the hotel caters for solo travellers, double rooms, families and a jacuzzi room.
Room 6 may be of interest to ghost hunters!
Cost: Starting at £35 (single low season) to £260
Pros: The restaurant food is nice, the entertainment was a laugh
Cons: Nice rooms but cold, shared bathrooms – not for everyone (ensuite is available), catering staff spoke limited English (requests not met)
---
Day 2: Tydnrum Accommodation
The next stop, Tyndrum, is a popular alternative second night and has more to offer accommodation wise.
Tyndrum Hotels
Muthu Ben Doran Hotel is located on 7-acre grounds within Loch Lomond & The Trossachs National Park.
Cost: Under £90 for double room with ensuite
Pros: Beautiful location, features a restaurant, bar, breakfast
Cons: Rooms a tad run down according to guests
Tyndrum Lodges
Guests love Tyndrum Lodges and find it hard to fault it!
Cost: Under £100 for double room with ensuite
Pros: Location, takeout breakfast
Cons: Guests love these lodges!
Tyndrum Campsites
There are two campsites in Tyndrum that offer a variety of accommodation.
Campsite: Beinglass
Cost: £8 per person, no refunds, 100 pitches
Info: Campsite has shower facilities, an on-site bar/restaurant
Campsite: By the Way Hostel and Campsite
Cost: £10 per person, 2 man tent max
Pros: Huts, cabins and dorms also available
Cons: Does get waterlogged, staff will try accommodate you in hut
---
Day 3: Bridge of Orchy Accommodation
Bridge of Orchy, or Drochaid Urchaidh in Gaelic, is a hamlet or village in the Argyle and Bute region of Scotland.
There are limited facilities in Bridge of Orchy (as in, there are none).
Hikers not walking the West Highland Way may be interested in Beinn Dorain and Beinn an Dothaidh.
You will want a decent night's sleep as the next leg over Rannoch Moor can be brutal if windy.
Bridge of Orchy has a bus route that goes from Glasgow through to Kingshouse, Glencoe and a train station. It is the best connected stop during the WHW.

However, the area is expensive and limited to one restaurant and the Bridge of Orchy Hotel.
Bridge of Orchy Hotel
A popular hotel surrounded by mountains and a river, the Bridge of Orchy Hotel is a hit with WHWers who don't mind paying a bit more than a B&B and don't want to camp.
The restaurant is also recommended by guests. I had a hot chocolate here as I waited to get the bus when I was injured.
Cost: £200 +
Pros: Restaurant, cosy, one of the upmarket West Highland Way hotels
Cons: A bit of the pricier scale, area is just expensive
Bridge of Orchy camping
There is no official camp site here but West Highland Way wild camping is allowed, as with any camping in Scotland follow the Scottish Outdoors Code.
Day 4: Kings House (Glencoe) Accommodation
Glencoe is one of my favourite spots in Scotland.
You really lose yourself to hills here which leave you feeling inferior.
Look out for the friendly, photogenic deer who hang outside of the Kingshouse Hotel. Don't feed them please.
Kingshouse is a popular stop for food and a drink.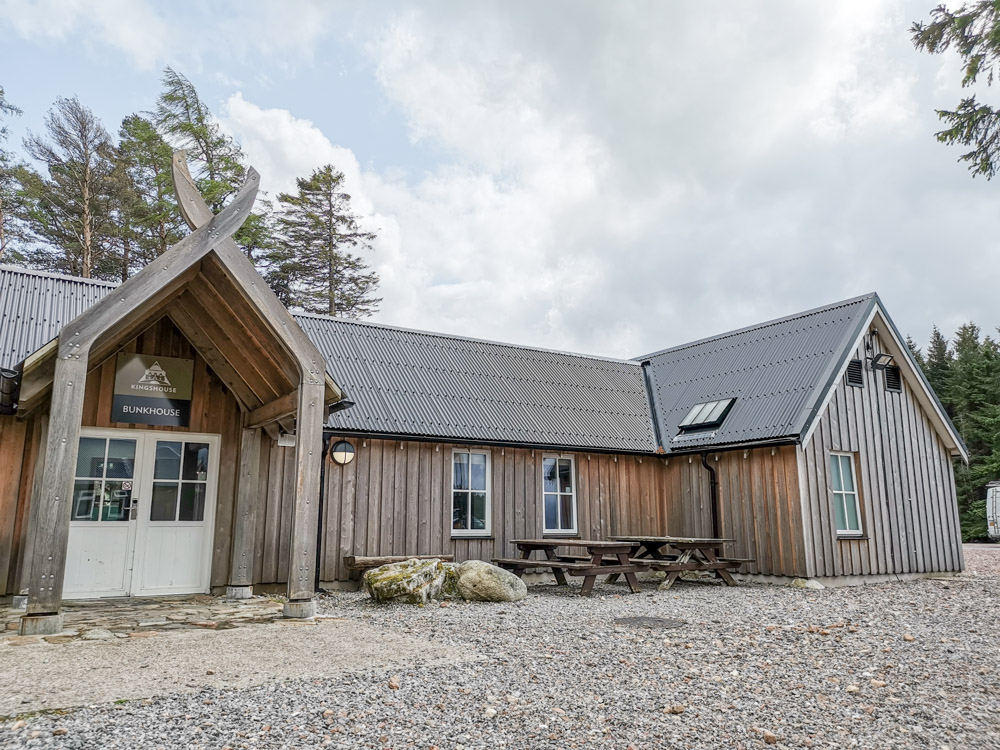 Glencoe Hotel
The Glencoe Inn is a striking hotel located under the Pap of Glencoe and surrounded by the beautiful Ardgour Hills.
Cost: £200+
Pros: On-site restaurant and bar
Cons: Pricier side of WHW accommodation
Hostels at Glencoe
Glencoe Independent Hostel is where we stayed. They can help organise a pick up and collection from Kingshouse approx. £15 per person.
The building is an old croft and it has a drying room which is ideal.
The hostel has big rooms for groups to reserve in full.
Cost: £200+ for groups
Pros: Large room (one room for all six of us), breakfast packs adequate, drying room, codes for security, shared showers hot
Cons: Those fire doors, slammed all night
Day 5: Kinlochleven Accommodation
I really enjoy spending time in Kinlochleven.
I've stayed over twice to hike and have also spent the day indoor ice hiking and climbing.

It's such a great spot for outdoor fans.
Unfortunately, neither of the accommodation options I stayed at are taking bookings. Here are some alternatives.
Kinlochleven Pods
A popular choice for visitors and WHWers, Coe Pod glamping huts have ensuite bathrooms to ensure a comfortable stay.
Cost: £120
Pros: Comfortable, private, ensuite
Cons: Only one chalet so books out fast
Day 6: Fort William Accommodation
You'll never be so thankful to see a town centre! Fort William is the final stop on the West Highland Way hike.
Some hikers head straight to the train station to get home, others stick around for a few nights to chill or hike Ben Nevis!
Fort William Hotels
There are over 20 hotels in Fort William to choose from, catering for every budget and type of traveller.
The Garrison is a popular with guests for its modern decor, bar, central location and friendly staff.
Cost: £350+
Pros: Guests love it, parking for hikers meeting family
Cons: Luxury end of the hotel market so pricier, treat yourself!
The Distillery Guest House has comfortable rooms, great breakfast and is located on the banks of the River Ness.
Cost: £150+
Pros: Scenic location, breakfast, rooms
Cons: 10 mins walk to town
Fort William Hostels
The Glen Nevis Youth Hostel is situated at the foot of Ben Nevis so an ideal base for those looking to hike Scotland's highest Munro Ben Nevis!
Cost: £170 double room
Pros: Location for hikers
Cons: 45 mins walk to Fort William centre
There are currently 5 hostels in Fort William.See here for reviews.
---
Save for later! Pin to your WHW planning board.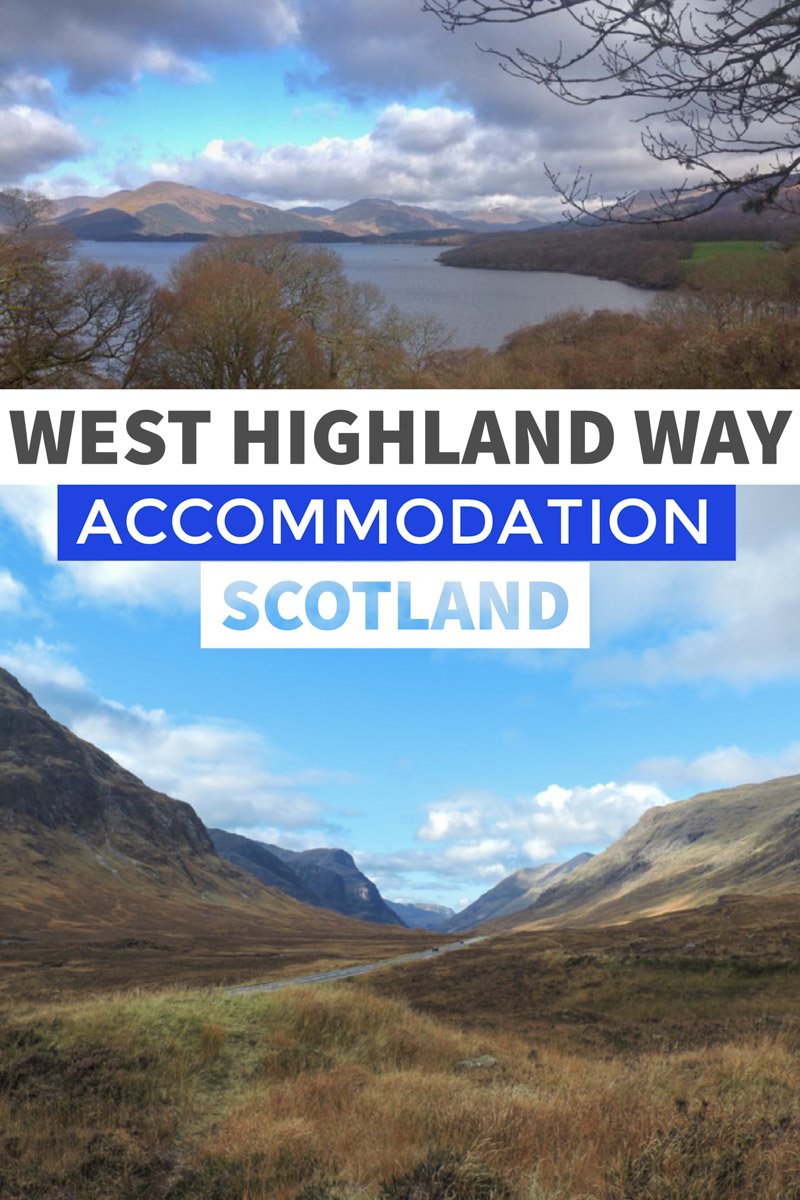 ---
You May Also Like Our Other WHW Guides