This article has links to products and services we love, which we may make commission from.
The West Highland Way is a 96-mile hike which starts just outside of Glasgow in Milngavie and ends in Fort William (many then go on to hike the Munro, Ben Nevis).
The trek takes you along the West Coast of Scotland and this West Highland Way packing list will advise you on what best to take in your backpack and day bag.
We divided the hike up over six days, if you are aiming to complete in less or more time, adapt this guide accordingly.
To reduce the stress of the hike, we (hi, my name is Gemma and I hiked with my friends for our 30th birthdays) paid a West Highland Way baggage transfer company to take our backpack bags from one location to the next.
There are several companies who do this for a fee.
Don't forget your travel insurance; my Achilles went for the first time and I've been very active all of my life.
For ease, most recommended products are available on Amazon Prime. Check out their free 30-day trial clicking here for US Prime or here for UK.
West Highland Way Packing List
Here is a West Highland Way checklist for what to wear hiking in Scotland
1 x raincoat (decent quality – see below).
1-2 fleece tops or as many as you require, sweat can smell.
2-4 Icebreaker Merino wool base layer USA / UK. They are not the cheapest so I would possibly go for 2 merino and 2 not. I really do love them and think they are worth investing in as they keep you cool if hot, warm if chilly. They also came with me to Snowbombing ski/music festival in Austria.
1 t-shirt for every 2 days.
2 x walking trousers. The drying options in our B&Bs weren't great and if you are camping you'll struggle even more.
Waterproof overtrousers USA / UK – by the last day, I just wore leggings and pulled these waterproofs on top when it rained. This is my staple hiking outfit while travelling to save space (worked for trekking to Machu Picchu, Peru!) They often come with a wee pouch which you can stuff the wet trousers in and have slit access to trouser pockets if worn underneath
Gaiters – material that goes over your shoes and covers your ankles. I never had these but will consider them now I wear trek trainers instead of walking boots (see here for this story). My friend, Gemma T, liked her gaiters, click these links USA / UK for the variety of prices, they are inexpensive
Pants (as in knickers).
Sports bra and 'normal' bras.
Socks: very important 6 pairs of clean cotton socks and 4-6 pairs of walking socks.
Midge nets: you will 100% need these if hiking during midge season, the West Coast midges are horrors.
Midge hat: if you don't want to wear a face net over your head, try the hat with a net.
Evening Clothes
Once you've removed your soggy clothes, you will want to change into something clean, or dry at least.
Lounging, comfortable clothes to dine drink in.
Socks and pants if you want clean ones after a shower.
Shoes/flip flops (my trainers ended up being my saviour).
PJs (bed socks? Some hotel rooms were cold, others toasty).
A towel (although all of our accommodation options provided them for free).
West Highland Way Footwear
This is the most important part of hiking gear – boots/shoes must be broken in or you will be in the world of pain!
West Highland Way Day Bag
A small day bag is an essential part of your walking gear for hiking in Scotland as the weather can be pretty temperamental! You'll need access to a raincoat, hat and of course, snacks.
Here is my day packing list for the West Highland Way
1 x water bottle like the Tree Tribe' US / UK which has a hook on it for attaching to your backpack (Scottish tap water to great).
Trail mix snacks
Packed lunches – bought at accommodation for approx. £5, for accommodation options, see our guide to West Highland Way accommodation.
Clean socks – cotton socks as well as and walking socks.
Gloves.
Hat/woollen headband.
Plastic protective case for phones and cameras (or plastic sandwich bag) to keep dry.
1 x phone and charger like the Anker battery pack – US / UK. I always pack one when I travel/hike/leave the house for more than 3 hours.
Camera.
Suncream.
Lip salve/chapstick.
Tissues.
Baby wipes.
Plastic bag (for litter).
Notebook and pen.
Sunglasses.
Map…. and printed directions/accommodation information (signposts signal the way).
Hiking sticks/Walking poles (my heroes)
Torch and batteries (used once to get to hostel in Glencoe from pub).
Hiking games like A to Zs of 90s bands, celebs names which sound like food (Salami L Jackson, Andy Murray Mint, you are welcome)
First Aid Kit
Blister pads, second skin is best (loads of it, go wild on eBay).
Ankle support (I needed both supports by Day 4).
Plasters.
Bandages.
Pins (so you can burst her blisters, sexy, refrain from this for as long as possible).
Antiseptic.
Paracetamol.
Wine (red or white, if you are not picky about it being chilled).
Travel Insurance
Naturally, being a Scot, I get access to free healthcare through our National Health Service but I am aware that many of my readers are not actually British so word of warning – get travel insurance before you leave for the UK.
I never travel without insurance when heading further afield. I even had to claim to Vancouver and the cost of visiting the GP alone was $100 never mind the two trips to the physiotherapist which followed.
Luckily my extensive research had paid off (literally) as our insurer, True Traveller, refunded us speedily and without fuss. Heading to Scotland to hike? See if True Traveller works for you by searching their rates here.
You can read our insurance comparison guide here.
---
Details – W
est Highland Way Kit List
Quality Raincoat
I did not have the best hiking gear for walking the West Highland Way. My £25 Trespass from TK Maxx was poor quality, selected because of the colour.
I now have two of these 'alright' quality raincoats, I will never again scrimp on cost (as I ended up buying two anyway). My advice is – splurge, buy one decent one, named brand. I was envious as the other girls all had coats where the raindrops balanced neatly on top of the material whereas they doused mine.
For Iceland, I invested in a Mountain Equipment Rupal US / UK and it is one of the two best hiking gear decisions I've made. The second is purchasing Salomon Quest boots.
The Rupal is made from GORETEX which makes it waterproof, not just showerproof like cheaper coats. It is flattering and comes in decent colours.
The back of the coat covers my bum which is great in wet weather. There are two large pockets on the front of the coat which store phones, maps and even a small camera.
For long-term travel hikes, I pack a Marmot PreCip Jacket US / UK because it is water-resistant, thin, light AND folds away into its own pocket.
Although I do think something heavier like the Rupal would be better for the WHW. When it rains it pours!
Footwear
I killed my Achilles on Day 4 and I blame heavy overly supportive walking boots and my ineptness for not breaking them in.
Hiking for beginners biggest rule – do not buy boots one week before the trek, you have to break them in and mould them to your feet. In saying that, my companion, Julie's boots were years old but she still suffered.
Helen has had her boots since she was 19 years old and she had no issues. They are leather walking boots like Scarpa US/ UK (which Craig wears).
You are mainly walking over farmlands and much of it is flat, trek trainers with gaiters over the trouser' would suffice.
My top pick for walking boots now has to be Salomon Quest as mentioned above.
They are comfortable, waterproof and look great. My only complaint is that sometimes the lace loop catches on the tie bracket and causes me to trip.
I did the Devil's Staircase in Nike trainers (as I could not get the boots over my ankles). What a boss I hear you say, not.
Since the West Highland Way, I've broken in a pair of Salomon Ellipse trek trainers over mountains, volcanoes (even sledging down it using my feet as brakes!) and through rainforests.
I honestly wish I had them during this hike then maybe I would not have had Achilles issues? Heading elsewhere in the UK for trekking? Check out this UK hikes packing list.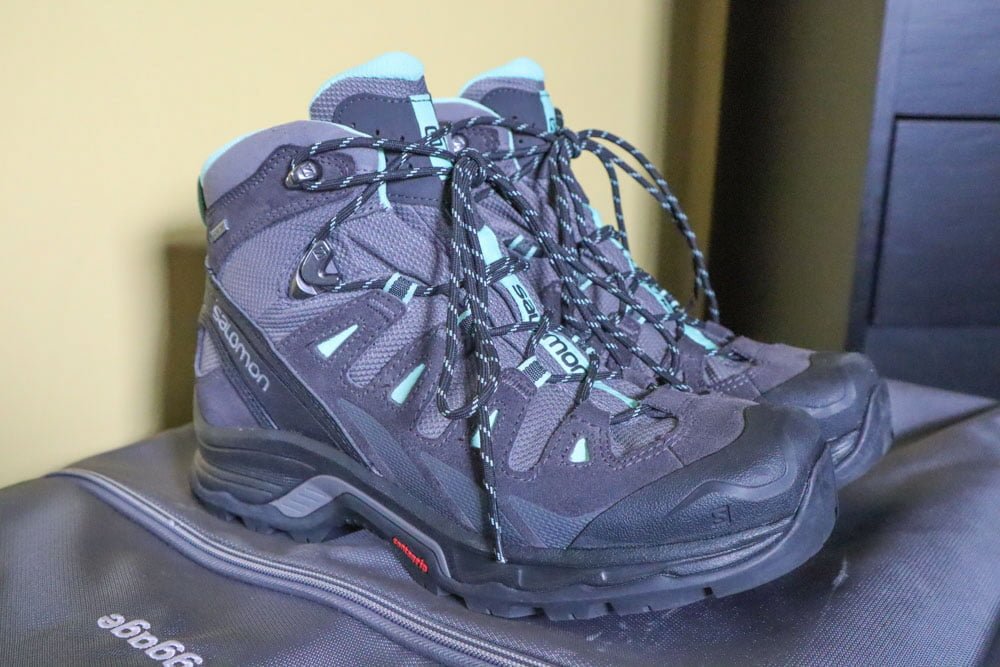 Socks/Vaseline/Boots Rule
Lube your feet up, seriously. Get in between the toes too. An alternative is to vaseline your feet but not your toes then tape up your toes with sports tape (which I ended up doing by the end of the week, I had comical blisters on my toes but never on my feet). And cut your toenails!
Once you are slimy put on cotton socks, walking socks and then boots.
West Highland Way Equipment List
To pole or not to pole, that is the question. I borrowed walking poles from my Mum's friend who highly recommended them.
I could not have done it without them as they became crutches on the day of doom! Others in the group did not bother with them. Personal preference.
Midge nets. Either a face covering or hat (see here) with a net to protect your face is a must if you are hiking during midge season which starts mid-May to mid-late September.
I experienced the West Coast midges at their worst during a recent trip and I was so thankful for having face nets.
At one spot they didn't leave after dusk! You've been warned.
Final Words
The West Highland Way was certainly an endurance test for me. It was my first multi-day hike, the first time my Achilles played up, and the first time I had to sit out of a challenge for one day to recover. Would I do it again? Sure thing, but only now I have a decent raincoat and walking boots moulded to be my feet!
Planning Your WHW Hike?
West Highland Way route – Day by day: starting here
Accommodation guide: here
West Highland Way map: here
Find this post useful?
Pin to your hiking Pinterest board
Oh, the fun you will have, I am actually jealous of you.
Have I missed anything out?