This article has links to products and services we love, which we may make commission from.
White sand beaches and blue turquoise water in – Scotland? That can't be right! You bet your bottom it is. These are the kinds of sights that you can see along Scotland's North Coast 500 road a.k.a. "the Scottish Route 66" and the following North Coast 500 campsites are not to be missed. This guide will include official campsites with options for campervans on the North Coast 500.

Why Camp Along the North Coast 500?
Besides the tropical-like scenery, you'll be able to enjoy the grandeur of the Highlands with its emerald hills and lochs (lakes), while driving along this road. What more could nature/adventure enthusiasts ask for?
As hotels, hostels and B&Bs book out fast on the NC500, camping is the ideal form of accommodation for those who are booking in a hurry.
If you prefer to book self-contained apartments, here's our guide.
Plus, North Coast 500 camping is economical, for the most budget-friendly option adheres to Scotland's wild camping rules.
Unfortunately, there are have reports that some visitors have not been following the Scottish Outdoor Access Code when it comes to camping resulting in fragile areas of the Highlands being used as a base.
Please do not do this. 
Read below for an outline of what wild camping in Scotland means.
Of late, locals have not been so welcoming to wild campers so please be considerate to those who live in the Highlands.
North Coast 500 Campsites
The North Coast of Scotland boasts a variety of different landscapes.
Camping allows you to get up close and personal with nature, disconnecting from technology if you so wish!
The Highlands is geared up for campers and camper vans with its campsites offering shared bathroom facilities, recycling, hookups, waste disposal and sometimes even WiFi.
Where To Camp?
There are a number of fantastic NC500 campsites starting at Inverness and dotted around the map up to Thurso and down the west coast.
There are also a number of private spots for those looking to go off the grid during their NC500 camping trip.
In this section, let's explore the sites and their facilities.
1. Applecross Campsite
Applecross is a very popular camping spot in the Scottish Highlands and one of Scotland's most popular camping spots.
Often the first main stop road-trippers make after taking on the hairpin Bealach na Bà road.
So what's the appeal?
Applecross boasts of views over to the Isle of Skye and a hoaching eatery called the Applecross Inn.
Applecross campsite is a 10-minute walk from the Inn.
The site offers large tent areas, free hot showers and toilets, shaver points, dishwashing facilities and free WiFi around the reception area.
Applecross also caters for camper vans and motorhomes via ten serviced hard-standing pitches and 9 electric grass pitches.
Don't fancy camping? There are glamping huts on site too.
Applecross used to be popular, now it is off the chart in demand so book using their online system.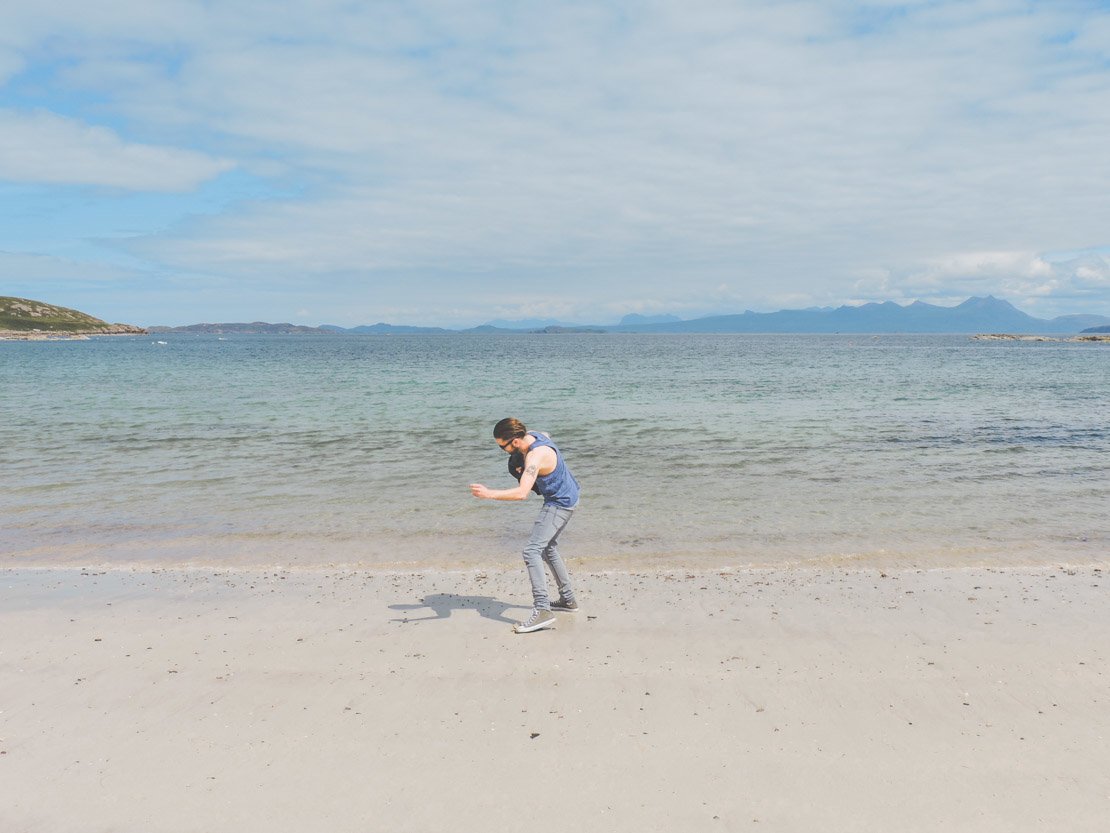 2. Achmelvich Bay The Shore Caravan Site
This award-winning beach sits next to the family-friendly Shore Caravan Site which offers no-set pitches but aims to not turn anyone away.
They have an overrun campsite close to the caravan site.
Facilities include toilet block with showers, launderette, on-site shop, on-site chip shop and WiFi.
Campfires are allowed (not on the grass).
Shore Caravan Site is open end of March to mid-October. Prices range from £7-£16.
3. Clachtoll Beach Campsite
The family-run Clachtoll Beach Campsite welcomes eco-friendly guests to their campsite close to the town of Lochinver.
Facilities include electric hook-ups, toilet and shower facilities, hair straighteners points, dishwashing, laundry, eco-friendly toilet waste disposal, a vending machine with hot drinks, media charging lockers and WiFi!
Prices range from £10-£21.
4. Loch Laxford
This sea loch is located in the northwest, between the villages of Durness and Scourie, roughly.
Scourie Campsite is close by.
5. Sango Sands
At the top of the NC500 route lies the town of Durness. Durness is home to Smoo Cave and Sango Sands campsite.
You really feel like you are at the end of the world staying at this campsite on the North West.
Sango Sands is open from April to the end of October and offers 58 electric hooks up points, hard standing and on the grass.
Facilities include toilets, shower block, kitchen, waste disposal, dishwashing, laundry facilities and a restaurant with a bar.
Furry friends are welcome at this pet-friendly campsite. Like many of the northwest Scotland's campsites, there is a lack of shelter so it can get windy up there.
---
» Stop right there! Don't miss our jam-packed NC500 itinerary 
---
6. Ceannabeinne Beach
To reach Ceannabeinne Beach, take the A838 road east of Durness.
It is located in a small bay that faces north towards Eilean Hoan island.
Golden Eagle Zipline at Ceannabeinne Beach is one for adventure lovers.
The nearest campsite is Sango Sands Oasis.
7. Thurso Caravan and Campsite
Thurso Caravan and Campsite is a large campsite with individual plots, shared bathroom facilities and public picnic tables.
Showers are hot and the site is across from a supermarket.
The site has views of Orkney and nice pathway walk along the coast.
Prices start at £9.50 for tent pitches.
8. Sandy Bay near John o' Groats
As you reach the John o' Groats tourist info centre, stop by to grab a map of the area, and on it, you'll see a clearly marked Sandy Bay.
It is a 10-minute drive away from the centre, and when you get there, you will see off-road, grass parking.
John o' Groats Caravan and Campsite is the closest park with facilities.
9. Ardtower Caravan Park
A very busy and friendly campsite in Inverness, Ardtower books up fast so reserve early.
This site has shared shower and toilet facilities, a shop and a shared cleaning area.
Really nice vibe plus views over the Kessock Bridge.
---
North Coast 500 Wild Camping
The beauty of camping in Scotland is that you can camp anywhere, to an extent. The Scottish Outdoor Access Code states you must:
Respect the interest of locals – this is especially true when camping on land
Care for the environment – leave the land as you find it, no digging or fires at cultural sites
Take responsibility for your own actions – be safe, stay away from buildings, farms and roads

Here is advice on

how to deal with emergencies while camping

.
The grey area with NC500 wild camping is that the main way to get around the route is by car and wild camping in other areas of Scotland is often utilised by those on foot. See our West Highland Way guide for more details on Scotland's West Coast hike.
As you are not supposed to wild camp near roads you will need to leave your car as you hike to your camping spot.
That being said, these rules are in place to protect you, locals and the environment and not infringe on your rights to explore the Highlands so be smart but have fun.
The Equipment
Before you set out on your NC500 adventure, you will need to have your equipment in order.
So what is it exactly that you'll need? Everyone's packing lists may vary, but here is how a list of the essentials might look like:
A quality tent that will keep you safe from wind and rain
Layers
Waterproof jacket and overtrousers
Personal hygiene products and sunscreen
Portable cooler
Bag to collect rubbish – leave nothing behind
A strong stomach, you shouldn't do the toilet in a public place
Don't forget to bring a lot of money for petrol/gas and food/water!
The Best Time for Camping
In case you didn't know, the weather in this region is unpredictable, and some would say that you can experience multiple seasons in one day.
However, when it comes to camping, there are some months that are obviously preferable to others.
Late spring to late summer is the best time to go here. May is often a great time to visit Scotland, just before the dreaded midgies take force.
The daylight lasts for about 16 hours a day during the summer, which gives you a lot of sunlight to enjoy the scenery.
North Coast 500 Motorhomes
Camping not your cup of tea?
Hiring a campervan or motorhome for the NC500 is very common and is a relatively easy way to get around.
Obviously, you do have the winding roads of the Bealach na Bà to content with (close to Applecross on the West Coast) and Scotland's 'A roads' (single roads) make driving on the other side a slight challenge but fellow drivers are courteous if you are too.
There are plenty of 'passing places' for you to pull over in to let other drivers past.
If you see lots of campervans together it is not a sign that it is a good overnight stop. It's a signal to move on and find somewhere else…
There are many benefits of taking a North Coast 500 motorhomes trip such as flexibility with your itinerary (accommodation like hotels book up really quickly) and a bit of luxury!
North Coast 500 caravan sites tend to run alongside the camping sites mentioned in this article. The facilities available at each one have been mentioned above.
To save money you can always create your own stops, nip into the supermarkets (there are a few on the road at Inverness and Ullapool, eating out can get expensive) and pack a filter bottle, Scotland's drinking water is very nice.
---
» You may also like | How to plan the ultimate Scotland road trip
---

Conclusion
This NC500 camping guide has detailed where to stay on the NC500 if camping or campervanning.
In case camping is not your thing, I'd still recommend you to check out this road and all it has to offer, as you can find plenty of decent accommodation here too.
If all this sounds interesting to you, read on and find out more about the North Coast road, as I've only covered the very basic information in this article.
---
Our North Coast 500 Guides
We have written in detail about the NC500. Please see all of our posts below:
---
Why not pin to your Scotland board?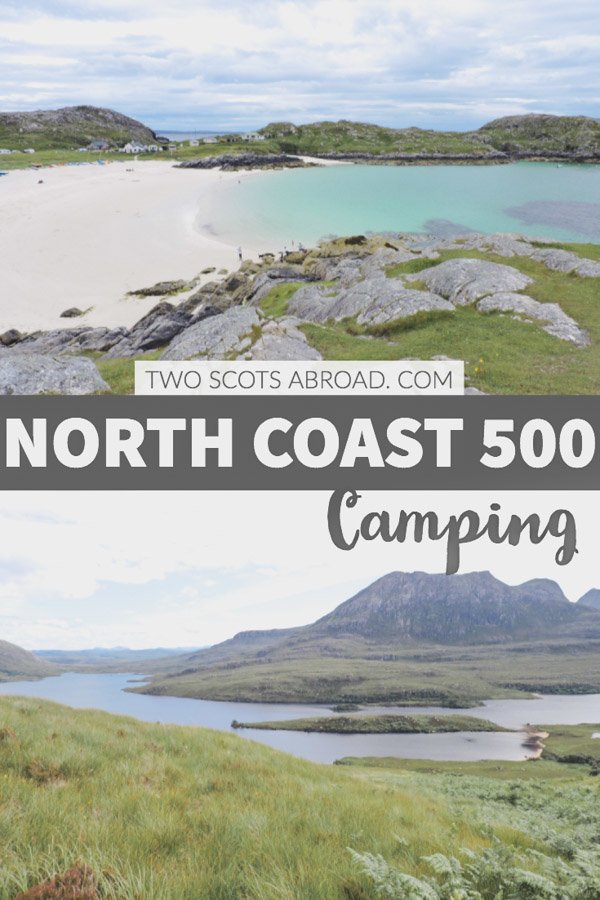 Please leave comments and questions below