This article has links to products and services we love, which we may make commission from.
When you're looking for the best area to stay in Dubai, you should look at what's affordable but also located close to tourist attractions.
This is very important because public transport in Dubai isn't the best. The Metro only goes to certain areas mostly along Sheikh Zayed Road, and the buses get stuck in traffic a lot, so their timings aren't reliable.
This guide discusses the best districts for tourists and which recommended Dubai hotels are in that area. Why trust me? I'm Shipra and I'm a local.
---
» Don't miss the Dubai itinerary jam-packed with ideas from morning 'til night
---
Dubai Districts
There are 14 main districts in Dubai. Each of them has their own number of communities. Some are a lot more expensive than others.
A few of them are too far from the main attractions. If you don't have a car, it can be difficult to get around.
---
The Best Districts in Dubai for Tourists
Close to top attractions: Zabeel (aka Downtown)
Marina views: Jebel Ali District (Dubai Marina)
Beach trips: Jumeirah District (where lots of residents live too)
Historic and affordable: Deira District
Hip crowd: Bur Dubai (Al Karma area)
→ The closer you are to Downtown, the more expensive it gets to live and breathe in Dubai.
---
Choosing Which Area in Dubai to Stay
When you're trying to pick which area to stay in, the closer to Downtown the more convenient it will be for you to get around.
You want to make sure that there is regular public transport running in the area.
If you're a tourist, you'll want to be near all the tourist attractions to avoid wasting too much time and money commuting from far away.
If you're looking for an affordable hotel, there are some good ones that are a little further away from Downtown but don't worry, you're not in the middle of the desert!
You'll also want to pay attention to which airport is the nearest. There are two main airports in Dubai – Dubai International Airport, and Al Maktoum International Airport.
Dubai International Airport is in the Deira district, which is right in the city center. Despite the usual peak hour traffic, it shouldn't take you a lot of time to get to from most hotels.
Al Maktoum International Airport is very far from the center of the city. It's closer to Abu Dhabi!
If you have a flight that departs from this airport, make sure you leave your hotel an additional hour earlier than you normally would.
---
Downtown Dubai – Zabeel District
This is the best area in Dubai because you could be living right next door to Burj Khalifa and The Dubai Mall. There are also plenty of hotels and apartments in the area that you can stay in.
If you enjoy walking, this is a very pedestrian-friendly area. The sidewalks are very beautiful especially at night when all the palm trees are lit.
Downtown Dubai is one of the more expensive areas but it's also the best location to stay in Dubai.
There's a reason why Downtown Dubai is also called "The Centre of Now." This is where everything in Dubai happens. Every celebrity visits this area, and you could catch a glimpse of some top Hollywood stars and events in Dubai Mall.
You can also walk to The Burj Khalifa and visit viewing decks 'At the Top' on levels 124, 125, and 148. Reserve your ticket and time slot here.
If you enjoy Arabic food, especially Lebanese and Emirati cuisine, there are plenty of great restaurants along Downtown Boulevard. Check out 'Reem Al Bawadi' for the best hummus. The free Arabic bread they give on the side is to die for.
If you want even more variety of food, The Dubai Mall food court will be at your doorstep.
A lot of places in downtown are open late. You can always find a 24-hour restaurant or shop if you are jetlagged and can't sleep.
In terms of transport, Downtown Dubai is along the Red Metro Line so it's very easy to get to other parts of Dubai. In case you want a taxi, you will find hundreds of them in this area easily. Or you can catch an Uber or Careem.
---
Downtown Dubai Hotels
Luxurious hotel in Downtown. It's directly in front of Burj Khalifa.
You don't even have to go out on the street to get to Dubai Mall. There's a direct pathway which connects the hotel to the mall. Many of the rooms have their own balconies.
Request one that's facing the Dubai Fountain. This way you'll get a private show instead of being outside among the crowds.
Check the best rates at TripAdvisor and Booking.
You can stay in the tallest building in the world if you book a room at the Armani Hotel. This hotel occupies 11 floors inside the Burj Khalifa. It was also designed by Georgio Armani, hence the name.
There are also seven restaurants that you can dine at in this downtown Dubai hotel. Most of the rooms face the water fountain.
Book here at TripAdvisor or Booking.
Carlton Downtown Hotel $ (most affordable)
This hotel is only a 2-minute walk away from the metro. It is in a sleek tower building with views of the Arabian Gulf. It has six restaurants and is only two kilometers away from Dubai Mall.
Check the best rates at TripAdvisor and Booking.
---
√ Pros : Closest to the Burj Khalifa.
× Cons: Very expensive area.
---

---
Dubai Marina – Jebel Ali District
If you want to see the most beautiful skyline, Dubai Marina is the place to be.
It is one of the most affluent neighborhoods and is right by the beach. The area closest to the beach is called Jumeirah Beach Residence (or JBR for short).
This is an area where you'll also see a lot of boats and yachts.
On the boardwalk along the water, there is a row of restaurants and shops. These are always open until late and it's nice to sit by the water while eating, and watching the boats go by.
There can be a lot of traffic in this area, especially in the evenings. This is because of the Dubai Tram. The tram is a great way to get around but it's extremely slow. If you are driving in the area, you will get frustrated because of the tram.
In the winter months, walking around the marina is like paradise. You'll enjoy so many beautiful lights and will never want to leave.
---
Dubai Marina Hotels
This hotel stands out from all the other buildings in the area because it's always so colorfully lit and beautiful.
It's also right by the canal where the boats are docked. If you are planning on taking a cruise, the boarding point will most likely be closest to this hotel. It's also right by the boardwalk close to all the restaurants and shops.
The Address Hotel Dubai Marina is the most luxurious and highest-rated hotel in this area.
Check the best rates at TripAdvisor and Booking.
This incredibly elegant hotel has a lot of history because it was one of the first to be built in Dubai Marina.
Back when Dubai Marina was just a little more than a construction site, GH was the landmark which everybody used to navigate their way around the area.
Grosvenor House has two towers. One of them has hotel apartments if you would like a little more homely feel. The hotel apartments also have balconies, while the hotel rooms don't. You'll enjoy a morning coffee a lot more while sitting on a balcony while watching the boats.
Grosvenor House is one of the best hotels in Dubai, but it's also one of the best apartments in Dubai too.
Check the best rates at TripAdvisor and Booking.
These are serviced hotel apartments in the heart of Dubai Marina. They're also extremely close to the Marina Waterfront where you'll see a lot of restaurants and beautiful skyline views.
It's only a 5-minute walk from Dubai Marina Mall and there's a golf course just 15-minutes away.
Check the best rates at TripAdvisor and Booking.
---
√ Pros: Beautiful waterfront with all the restaurants, yachts, and cruise ships passing by.
× Cons: Affordability.
---
---
Al Sufouh – Jumeirah District
Jumeirah is the most popular residential neighborhood. It's right by Jumeirah Beach so there's a lot of activities for both adults and children.
You'll see the 7-star hotel, Burj Al Arab from Jumeirah Beach. It's also called Kite Beach because a lot of people hang out there and fly kites.
There are plenty of shops and restaurants in this area. You can also visit a mall called Mercato which looks like Little Italy.
You won't be able to catch a metro from Jumeirah because there aren't any stops. You'll have to get a bus or drive to Sheikh Zayed Road which isn't that far and then get on the metro.
If you're a fan of seafood, you should visit Bu Qtair which is right by Jumeirah beach. This was one of the first seafood restaurants in Dubai and still wins a lot of awards for its fresh seafood.
All you do is pick the fish you want, and they cook it for you on the spot. It's great to grab a plate full of freshly cooked prawns and eat them on the beach in the evening while watching the Burj Al Arab change colors.
The only issue with Jumeirah is that a lot of people love revving up the engines of their supercars and bikes on Al Wasl Road, so it can get noisy on the weekends.
If you want to spend a long time deciding what to eat, head to 2nd of December street, where you'll find rows of very affordable restaurants right next to each other.
There are also many schools and parks in the area which is why families love living here.
If you need to see a doctor or have any medical emergency, there's an entire street full of clinics in Jumeirah for every speciality that you can think of!
---
Jumeirah District Hotels
Al Qasr Hotel $$$
If you want to stay in a hotel where the drive up to thhttps://www.booking.com/hotel/ae/al-qasr-madinat-jumeirah.en-gb.htmlaid=933096&label=DubAlQasrLinke entrance alone will blow your mind, this is it. You have to enter through a long driveway that is beautifully lined with several palm trees and golden horses. This hotel is right beside Souk al Madinat in Madinat Jumeirah.
You'll be moments away from all the local shops and restaurants, and its own private beach. Al Qasr Hotel is owned by the same group as Burj Al Arab, so you can imagine how much luxury you'll experience by staying here.
It's also connected to the souk and other hotels through a network of canals so you can get around daily on traditional Abra boats. When it's too hot to do anything else, you'll be next to Wild Wadi Adventure Park.
This is an exciting waterpark and great fun for families with kids. It's the best place to cool off from the intense Dubai summer heat.
Check the best rates at TripAdvisor and Booking.
Atlantis is one of the most famous hotels on Palm Jumeirah. It has been featured in Keeping Up with The Kardashians, Happy New Year, and many other movies and TV shows.
It also has its own private waterpark called Aquaventure. There are two incredible buffet restaurants called Saffron or Kaleidoscope.
Or you could even dine in Gordon Ramsay's restaurant, The Bread Street Kitchen. It's a little far from the rest of Jumeirah, but Mall of the Emirates is only 15 kilometers away.
Plenty of hop-on-hop-off buses also stop at this hotel.
The hotel also has a club for children and teenagers, where staff will entertain them during the day. Then you can enjoy some quiet time on the private Nasimi beach while sipping on cocktails.
Check the best rates at TripAdvisor and Booking.
Mercure Grand Hotel Al Mina Road Dubai $
The Mercure Grand Hotel looks very upscale from the outside but is priced very reasonably. It's only 8 kilometers away from Dubai Mall and Burj Khalifa.
There are two restaurants and one of them is open 24/7. Check the best rates at TripAdvisor and Booking.
---
√ Pros: This area has a lot of tourist attractions and is closest to the beach.
× Cons Has a lot of traffic. No metro stations on Jumeirah Road.
---
Al Rigga – Deira District
Deira is the oldest and most affordable area to live in Dubai. It has a lot of rich history and you will get a feel of the old side of Dubai that many tourists don't get to see.
It's also one of the busiest areas with a lot of crowds because everyone is shopping at the souk markets. If you want a lot of high energy and cultural vibes, this is the area for you.
Deira used to be the biggest trading hub which boosted Dubai's reputation globally. You still see a lot of cargo ships on the creek being loaded. Most of the fresh seafood in Dubai is caught here using old school fishing boats.
The seafood market is right by the water with plenty of restaurants. Then you can stop by the oldest souk in the country, the Gold Souk.
You can visit the Dubai Museum and Heritage Village for a true cultural experience. If you go in the late afternoon, you'll see falcons being trained professionally.
It's also a shopper's paradise because you can find anything in Deira from spices, clothes, handbags, shoes, perfumes, to fake Rolexes.
Most residents of Dubai go to Deira if they want to buy cheaper products or get anything fixed. There's an entire mall just for electronic products and you'll see mobile repair shops on every street.
This is an area where you can find cheap hotels in Dubai. These Dubai hotels are near the airport as well, so you won't have to worry about missing your flight if you get stuck in traffic.
---
Deira Hotels
Luxury 5* hotel in Dubai. There are many shops and restaurants within walking distance of the hotel. It's also very close to Salah Al Din Metro Station, which is an 8-minute walk.
They provide free parking and shuttle buses for tourists. The hotel also has three bars, a 24-hour lounge, and a gym that's open 24/7.
Check the best rates at TripAdvisor and Booking.
Emirates Grand Hotel Apartments Dubai $$
The Grand Hotel is right next to Deira City Center Mall. You can easily cut through the mall to get to the other side of the road, where the Deira City Center Metro Station is.
You can reach Dubai airport from this hotel in 5-minutes if there isn't any traffic on the way.
Check the best rates at TripAdvisor and Booking.
This is one of the most affordable hotels in Dubai. It's also in a great area and is close to everything you need such as restaurants, cafes, public transport, retail shops, etc.
They also have a shisha café where you can try some delicious Moroccan tea. Like many hotels in Dubai, Orchid has a club. Guests sometimes complain about the noise, but if you enjoy going out then you'll find some of the cheapest alcohol here.
Check the best rates at TripAdvisor and Booking.
---
√ Pros: One of the most affordable areas to live and shop in Dubai. Closest to Dubai International Airport.
× Cons Very congested with a lot of traffic.
---

---
Sheikh Zayed Road – Hadaeq Mohammad Bin Rashid District
Sheikh Zayed Road is the biggest highway in Dubai, and you could be living in any of the buildings along this famous skyline.
This is also one of the most convenient locations because most of the metro stops are along this highway and right on your doorstep.
The streets are lined with hotels, offices, and restaurants. Most (if not all) restaurants here are open 24/7.
Many of Dubai's bars and clubs are on this road if you're seeking the good nightlife.
Because it is a highway, it's difficult to find crossings so you might have to find a pedestrian bridge or walk down further to be able to cross the street.
There is a lot of traffic from cars so it can get loud, especially on the weekends.
Make sure to stay in a hotel or apartment that provides parking for your car. Otherwise, it can be a nightmare trying to find one on the street.
---
Sheikh Zayed Road Hotels
Jumeirah Emirates Towers Hotel $$$
This hotel is owned by the Jumeirah Group, but it's not located in Jumeirah, it's one of the best places to stay, right in the heart of Sheikh Zayed Road.
It's very close to Dubai Mall and has a metro station right on its doorstep called "Emirates Towers Station." Star Trek was filmed here!
This hotel also provides free shuttle and entry to Wild Wadi Waterpark and Madinat Jumeirah because they're also owned by the Jumeirah Group. If you enjoy being pampered, make sure to check out the Talise Spa.
Check the best rates at TripAdvisor and Booking.
[Personal Favorite] Four Points by Sheraton $$
This is one of the most affordable hotels in this area, but also a personal favorite. It is known for having the best award-winning rooftop bar in Dubai, called Level 43 Sky Lounge.
The view is unbelievably breathtaking because you are right in the middle of one of the most famous skylines in the world. The hotel itself is very comfortable and is also right between two metro stations. It's only a 3-minute walk from the Trade Centre that hosts a lot of conventions.
If you're in town for the Middle East and Film Comic Con, Gitex, Arab Health, and many others, this hotel is the most convenient. It's also only a 5-minute drive from Dubai Mall and Burj Khalifa.
Check the best rates at TripAdvisor and Booking.
Two Seasons Hotel (Formerly Known as Gloria Hotel) $ 
This hotel is in Media City on Sheikh Zayed Road. It's very close to the beach and outdoor mall, called JBR.
The Wild Wadi Waterpark is only 6 kilometers away from the hotel. It's also 10-minutes away from Marina Mall and Mall of the Emirates. The Internet City Metro Station is directly opposite this hotel.
If you're interested in golf, you can go to the Emirates Golf Club which is only 5-minutes away. Check the best rates at TripAdvisor and Booking.
---
√ Pros: A lot of metro stations on Sheikh Zayed Road. Live in the famous Dubai skyline. A lot of places open 24/7.
× Cons: Expensive. A lot of noise from the highway.
---
Al Karama – Bur Dubai District
Karama is one of the best areas to live in Dubai because it's got a lot of history like Deira.
However, now it is also a fun hipster paradise with many amazing quirky cafes everywhere. These cafes have incredible food. You can even play board games in some of them. You'll also see some beautiful Banksy-style murals and graffiti street art.
Karama is one of the most affordable places to shop in. The Karama Market is an outdoor market with a lot of shops selling clothes, shoes, perfumes, and fake Rolexes.
If you don't want to be out shopping in the heat, you can also go to Karama Center which is a mini-mall.
There are 2-3 metro stations around Karama and Bur Dubai which makes it a very accessible location.
It's filled with a lot of culture and friendliness. The traffic is a little insane but there are so many things to do in Karama, that you won't be stuck in that jam for too long.
Don't forget to check out Meena Bazaar if you want to feel like you're in Little India. It's right by the Abra boat station where you can travel between Bur Dubai and Deira for just 1 AED ($0.30).
There's a Hindu Temple in this area as well if you're feeling spiritual. It's in the new souk area. The creek separates the Bur Dubai and Deira souks.
Bur Dubai souk is very close to Meena Bazaar. Deira Souk is the old one, which is also called Spice Souk. It's a lot of fun going back and forth between them on the Abra.
---
Al Karama Hotels
Luxury hotel in the heart of Karama. It also has a nightclub and a rooftop pool. The walk from the hotel to BurJuman Metro Station is only 8 minutes and it is only 8 kilometers away from Dubai Mall and Burj Khalifa.
Don't miss out on the views of the city skyline from their rooftop pool.
Check the best rates at TripAdvisor and Booking.
Golden Sands Hotel Apartments $$
Casual hotel apartments very close to BurJuman Mall, and Spinneys supermarket. It's only 8 kilometers from the Dubai Mall and Burj Khalifa, and 5 kilometers from the Gold Souk.
Check the best rates at TripAdvisor and Booking.
An extremely affordable hotel at a great location close to the metro station. It's also walking distance to BurJuman Mall. It's only 8 kilometers from the Dubai Mall and Burj Khalifa, and 7 kilometers from the Gold Souk.
It has 5 bars and restaurants and a rooftop pool. Check the best rates at TripAdvisor and Booking.
---
√ Pros: Very hip area with nice restaurants and cafes. Convenient location with metro stations and lots of shopping.
× Cons: Traffic. Starting to become more expensive.
---
https://www.instagram.com/p/Bs8_He6FxLF/
---
Getting Around in Dubai
Outside of Downtown, Dubai is not the most pedestrian-friendly city. Everybody drives here and it's difficult to get by without a car.
The metro only runs through mostly Sheikh Zayed Road and has a couple of stops near Deira. It does stop directly next to some malls such as Dubai Mall, Mall of the Emirates, Deira City Center, BurJuman, Marina, etc.
You don't even have to walk outside to get into Dubai Mall or Mall of the Emirates from the metro station.
Walking around Dubai for most of the year is impossible with the heat. Tourists are advised against it because there have been many cases of people suffering from heatstroke.
If you arrive during the winter months, it can be quite pleasant to walk and visit outdoor malls such as JBR. Otherwise, don't do it!
Taxis are cheap in Dubai. From Deira to Downtown Dubai, you can expect to spend around $16 one-way. But it's also very difficult to give local taxi drivers directions.
Dubai doesn't have a set postcode system to identify addresses, the way London does. Most taxi drivers know a lot of the hotels and malls, but it can still be a hit and miss.
Residents use landmarks to give directions. For example, I would tell the taxi driver to get to Dubai Mall, then make a series of turns until I spot my destination.
This is very difficult for tourists unless they can use Google Maps on their phones because a lot of the local taxis don't have GPS systems.
Many also don't accept card payments, so you need to carry cash with you too.
Buses go everywhere in the city, even all the way to Abu Dhabi. But they are very slow. They stop very frequently and take a long time to get anywhere.
The best way to get around Dubai is by using ridesharing apps such as Uber or Careem. You can even get your first ride free by signing up on Careem. Then you won't have to go through the hassle of explaining directions.
Uber and Careem cost around the same as local taxis unless it's peak time.
The traffic in Dubai is horrendous. If there's an accident, or you're trying to get to Al Ittihad Road during peak hour, expect to be stuck in a jam for two hours.
So now you have your bearings, you understand a little more about the transport system and the best areas to stay in Dubai!
---
» You may also like: Dubai travel tips – 10 things to do know before you go
---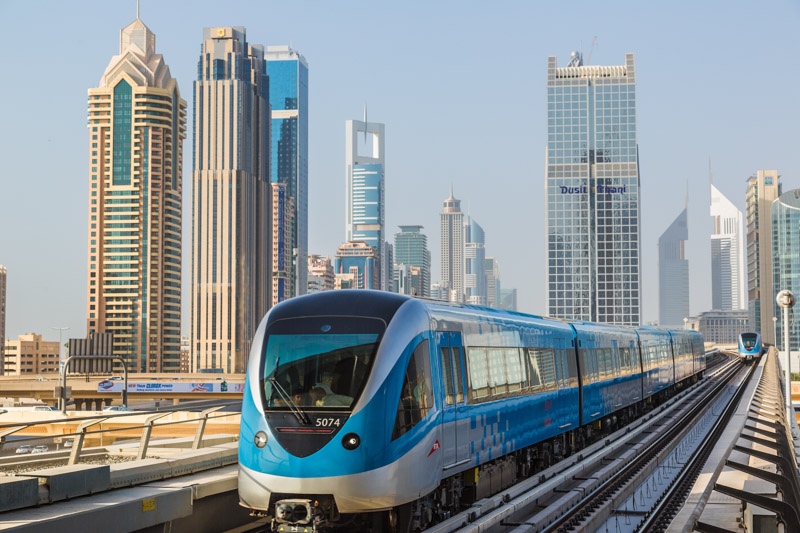 ---
Pin to your Dubai board for future planning
---
Final Words
Many of the top things to do in Dubai are located in Downtown. However, not all of the best hotels in Dubai are found there too. 

Don't be afraid to consider some of the other districts, giving your purse strings a breather! The best area to stay in Dubai may be Jumeirah if you love the ocean or the Deira if you want a bit of traditional culture. Tell us in the comments below where you book to stay.
---
About the Author
Shipra is a digital marketer who was born and brought up in Dubai and has lived here for over 30 years. Thanks to all her friends who constantly keep visiting from abroad, she has been on a desert safari 25 times!