This article has links to products and services we love, which we may make commission from.
Dubai is an incredible place to visit on vacation because the whole city is designed to give tourists the best experience. With the right Dubai passes, you can save a lot of money and get to see and do a lot of exciting activities. Otherwise, you might come back home with a large credit card bill! Let's look at the best budget-saving pass options for Dubai. Don't miss our Dubai itinerary and tips on where to stay too.
---
Dubai Passes Comparison Guide
Dubai Explorer Pass: Save up to 47% on 42 Top Attractions $$
There are at least 42 tourist attractions to see in Dubai.
An entry ticket to each of them can be anywhere from $50-$200, or even more! But with one of these passes, you can spend $180 and get to see more than a handful of places, including transport.
With the Dubai Explorer Pass, you'll save 47% on admission to 3,4,5 or 7 out of 42 attractions. You can build your own itinerary and choose which places you want to see the most.
You will save hundreds of dollars by investing in this Dubai travel pass because it allows you to skip the queues, especially in places you want to go that get very crowded.
With a Dubai Explorer Pass, you'll also get to have free desert safari dinners in both Dubai and Abu Dhabi.
---
Duration: 30 Days.
Pros: Camel Trekking, and Desert safari dinners with transport included in both Dubai and Abu Dhabi.
Cons: You'll need a very long holiday to see everything and make the most of this pass.
---
---
Dubai City Pass $$
This is one of the most affordable all-inclusive passes that you'll find online.
With this pass, you can see all the essential tourist hotspots in the city. You'll also get transportation if you buy this pass.
Otherwise, you might end up spending a lot on taxis to get around.
The Dubai City Pass will get you:
Free entry to top attractions and museums with the 1,2,3 and 7-day city pass. This is a great Dubai sightseeing pass because there's a lot to see in Dubai and the longer you stay, the more benefits you'll get in return.
It also includes free admission to the Burj Khalifa, so you can visit the tallest building in the world and get a 360-degree view of the entire city from levels 124, 125, and 148.
You'll also get a free Desert Safari Tour with this pass. You'll get picked up in a Land Cruiser from your hotel and be driven out into the Dubai desert for activities such as Dune Bashing, Camel Riding, and Sand Boarding. The Desert Safari Tour will also include an all-you-can-eat buffet, so you won't have to worry about making dinner plans.
The best way to get around Dubai especially when the weather isn't too hot is the Hop-on Hop-off bus tour. Find yourself a seat on the open top deck and take lots of great photos as you drive past the world's first 7* hotel, Burj Al Arab and many other exciting locations.
A lot of tourist attractions in Dubai are spread out across the city. There isn't just one location where you can walk around to see everything.
As part of the Dubai City Pass, you will get plenty of guided walking tours, but it will also be a combination of some bus tours too.
That way you won't have to rely on a map or wait for taxis and buses in the heat and can get around the city much faster.
If you're going to be the ultimate tourist, it's also worth visiting Abu Dhabi, the capital of the United Arab Emirates. It's a very special experience to see the world-famous Sheikh Zayed Grand Mosque. If you're a fan of fast cars and theme parks, don't miss out on Ferrari World.
Abu Dhabi is a 1.5-hour drive from Dubai and with this pass you'll get a shuttle bus tour to take you there. This will save you a lot of trouble of having to find your own transport. Other buses only go to Abu Dhabi's city center and then you'll have to take a taxi around the city.
---
Duration: 1, 2, 3, or 7 day passes available.
Pros: This is a pass to see all the best tourist sites in the city and the desert, with transportation included. You'll also get to see Abu Dhabi and Sharjah as well.
Cons: At Burj Khalifa, only level 124 might be included in the package. You'll have to pay extra to go to higher floors.
The desert safari tour will be done with their own authorized provider. If you prefer a different safari provider, you'll have to book with them separately. It might also be restricted to an evening safari so if you want to camp overnight, it will cost extra.
---

---
GO Dubai Card All-Inclusive Pass $$$
This is one of the more expensive Dubai sightseeing passes, but it also provides more savings, especially during the summer months.
It offers guided tours to 37 popular attractions that you can choose from, and it lets you design the perfect itinerary to fit your schedule.
The reason that this pass costs a lot more than the others is that it also includes meals at certain restaurants.
These meals would usually cost 30-40% more if you visited those restaurants without a pass. You'll get to try a wide variety of
Arabic or International cuisines.
This pass also includes a kayak tour so you can get up close and personal to Atlantis Hotel on the Palm.
You can also get standing paddle lessons on Jumeirah beach, iFly indoor skydiving, Ski Dubai entry, and some dinner cruises as well.
It's worth the price of the pass considering how much more it has to offer. No other pass offers a Windsurfing lesson, IMG World theme park, and a speedboat tour at the palm.
You'll also get to visit Abu Dhabi and get a kayak tour of the Mangroves, desert safaris, and sunset cruises.
---
Duration: 2, 3, 4, 5, 7 Days
Pros: This pass provides all you need for a real adventure and a lot of meals are included as well.
Cons: Some of the activities need a reservation so you need to plan this in advance. If you buy the pass last minute, then there might be some activities that you could miss out on if they are full are no longer accepting reservations. Some activities such as kayak tours and cruises depend on the weather. If there is a sandstorm, your trip might need to be canceled or rescheduled.
---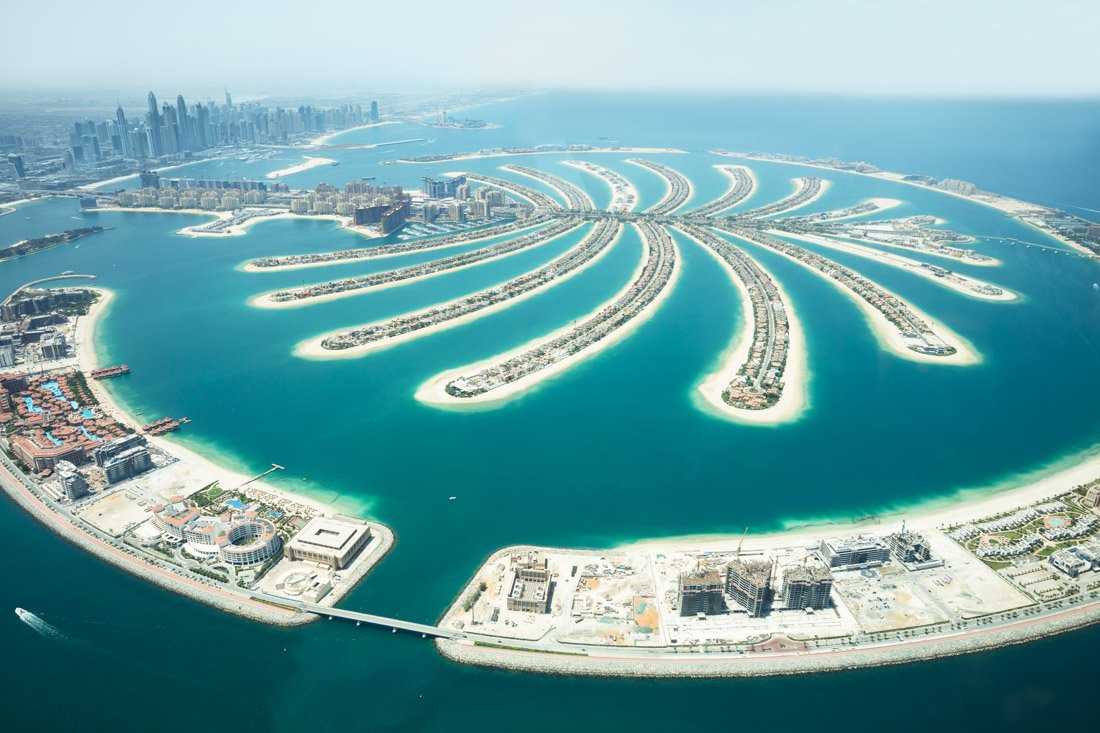 ---
UAE Sightseeing Pass with Dubai Attractions Included $
This is a cheaper Dubai city pass that gives you access to over 50 attractions and activities in both Dubai and Abu Dhabi.
Some activities may include transport such as hotel pick up and drop off. Most of the trip is a walking guided tour or you might have to visit all the locations yourself.
All you must do is print your pass or download the app and present it to all the places you want to go to. Then you won't be charged for entry.
Apart from the Desert Safaris and Dhow Cruises, meals are not included so you'll have to find somewhere to eat on your own.
There are plenty of great restaurants and cafes all over Dubai, so you won't have to worry about being hungry for long.
This pass also includes a Marhaba Meet and Greet at the airport. With this service, a member of the Marhaba staff will speed you through the airport after your plane arrives in Dubai. You will get to skip the long immigration lines and they will grab your luggage off the belt for you as well.
Depending on the time your flight arrives, the lines at immigration can take anywhere from 30 mins to 2 hours. It's worth using the Marhaba service that's included in this sightseeing pass.
---
Duration: Use this pass anytime for up to 30 days.
Pros: This is one of the cheapest passes, but it also includes the Marhaba service to help you speed through the Dubai Airport.
Cons: Most of their activities don't include meals and transport. It requires a lot of walking in order to see everything and that can be difficult when the weather is too hot.
---
---
Dubai Flexi Attraction Pass $
This is also one of the cheaper Dubai passes for tourists to save a lot of money with.
It does not include 40-50 attractions like the previous passes, but it has different activities that you won't get with another pass.
With a Dubai Flexi Attraction Pass, you will get to visit The Dubai Frame, Bollywood Parks, and Reel Cinemas, Wonder Bus, Orbi, and many more that aren't included anywhere else.
In order to help you stay connected, you will also get a pocket Wi-Fi rental device, which will come in handy when you need to access google maps or post your adventures on social media. Otherwise, you'll have to rely on the free Wi-Fi in restaurants and malls which isn't the most secure and keeps dropping if there are too many people using it.
The other passes also didn't include the Dubai Water Fountain Tour. They did take you to Dubai Mall so you can see the fountain but with a Dubai Flexi Attraction Pass, you can also take a fountain boat tour.
If you want to get even closer to the fountain show, you'll get to go on the Boardwalk which is the best spot with more privacy away from the crowds. Get ready to be sprayed by a bit of water because that's how close you will be to the dancing fountain.
---
Duration: 3,5, or 7-Day Tickets
Pros: Includes great attractions that other passes don't offer. You'll also get to enjoy the Dubai Fountain and watch a movie in Reel Cinemas.
Cons: A lot of their attractions such as a trip to Reel Cinemas, Fountain boat ride, Wonder Bus, etc will require you to make a reservation in advance. Some people are found it hard to get the timings they wanted for these attractions because a lot of the offers are only valid during off-peak hours. It will be harder to get a reservation if you're looking to go somewhere on a Friday evening. Choosing from so many attractions can be very difficult, and you might not have enough time during your trip to get the most savings from buying a pass. It could help to break down some of these into shorter trips, especially if you only want to see a few specific places.
---
---
Dubai Aquarium and Burj Khalifa Combo Tickets $
Most tourists have Burj Khalifa as their number one tourist attraction in Dubai. Since the Burj Khalifa is right next to The Dubai Mall, you can also visit the Dubai Aquarium, which is the largest aquarium in the world, especially inside a shopping center.
By getting a combo ticket, you will get a great discounted deal for both attractions instead of paying separately for each one.
This will only take you to the viewing deck on level 124 of the Burj Khalifa. If you want to go to any of the higher levels, you will need to pay extra or book a separate ticket.
The Dubai Aquarium has one of the world's largest reptiles, stingrays, and sand tiger sharks.
This combo ticket will let you explore through Aquarium tunnel, but if you want any extras such as diving with the fish, you'll need to get a different ticket.
---
Duration: 1 Day
Pros: Includes both Burj Khalifa and the Dubai Aquarium. You can skip the long lines at Burj Khalifa with this pass and go straight to the top. Instant booking.
Cons: You can only get to level 124 of the Burj Khalifa. It costs more to go to the higher viewing decks on levels 125 and 148. Does not include a visit to see King Croc.
---
---
Dubai Aquarium and Underwater Zoo Day Ticket
This is a ticket to see the Dubai Mall Aquarium and Zoo (not including Burj Khalifa). Not only will you get to see the stingrays and sand tiger sharks, but you'll also get to meet King Croc. King Croc is one of the largest crocodiles in the World. He weighs 750 kg and lives in the Underwater Zoo in Dubai Mall.
With this ticket, you will also get to meet playful Otters and take a few selfies with happy Penguins.
Duration: 1 Day.
Pros: Seeing the world's most feared reptile, King Croc.
Cons: Getting too close to King Croc and realizing how frightening that is.
Dubai Parks and Resorts: 1- Day ticket for 2 Parks
Dubai Parks and Resorts is a theme park group consisting of Motiongate, Legoland, Legoland Water Park, and Bollywood Parks.
This is a personal favorite combo ticket because you get to visit two parks for the price of one.
Each park can take up to several hours, so this combo ticket will give you plenty of entertainment for an entire day.
---
Duration: 1 Day.
Pros: Visit 2 theme parks for the price of one.
Cons: Doesn't include food or transport. Since a few of these tours don't include transport, the best way to get around Dubai is by going for a ride on a hop-on-hop-off bus.
---
Dubai: 72-Hour Hop-On Hop-Off Bus Tour $$
This sightseeing double-decker bus tour is the easiest way to see a lot in Dubai because it stops through all the top tourist attractions.
It's very convenient to catch these buses from Burj Khalifa, Atlantis, Dubai Marina, and many other locations. You won't have to walk far to find somewhere to board these buses.
It includes free entry to Dubai Museum, Dubai Aquarium, and Underwater Zoo, and you'll also get to go on a Queen Elizabeth II Heritage Tour.
This ticket also includes a Dhow Cruise experience where you'll also get a buffet dinner and catch the city lights from the beautiful skyline.
---
Duration: 72 Hours.
Pros: Includes Dhow Cruise Dinner.
Cons: Doesn't include transport from your hotel.
---
---
Dubai: Hop-On Hop-Off Bus Tour 24, 48, or 72 Hours $
This is a cheaper sightseeing bus tour because you can book it for a shorter duration if you don't need to use it for the full 72 hours.
This bus will take you from Deira all the way to Atlantis on The Palm. You'll get to see all the attractions on the way such as Burj Khalifa, Sheikh Zayed Road, Madinat Jumeirah, Gold Souk, and much more.
If you buy a 7-day ticket, you'll also get a one-hour tour of Dubai Canal, and the Flying Cup.
---
Duration: 24-72 hours Bus Tour.
Pros: You'll get a free cup of Costa Coffee.
Cons: Doesn't include Dhow Cruise Dinner.
---
Final Words
It's worth investing in any of these Dubai Passes for the best tourist experiences. You will get more than your money's worth because these tours can be very expensive on their own.
For example, a ticket to Atlantis' Lost Chambers Aquariums is $87 but if you buy the Dubai Hop-On Hop-Off Deluxe Ticket, you'll get to see those aquariums AND get a desert safari for just $83.
---
Pin to your Dubai board
---
About the Author
Shipra is a digital marketer who was born and brought up in Dubai and has lived here for over 30 years. Thanks to all her friends who constantly keep visiting from abroad, she has been on a desert safari 25 times!
---